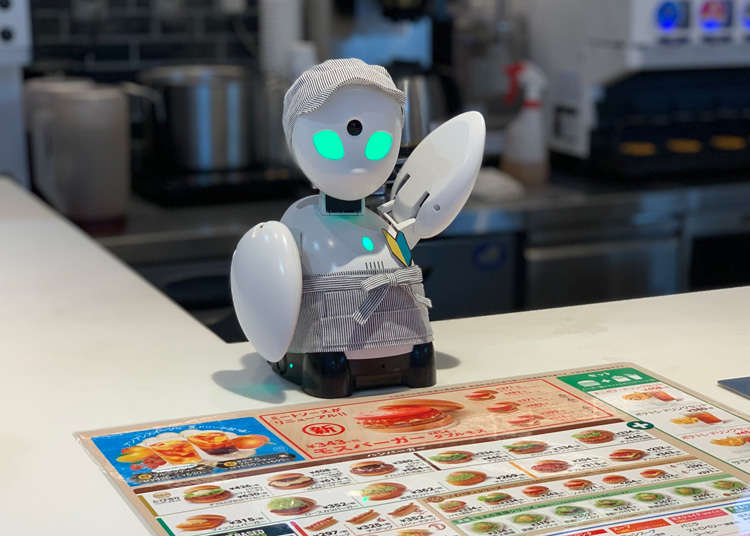 With the spread of coronavirus (COVID-19) restaurants, hotels and shops everywhere are coming up with innovative ways to allow customers to have a safe and enjoyable time, while keeping the spread of the virus at bay. One of these innovations in Japan is to use robots!

* Information displayed is as of the time of article production. Prices and contents are subject to change.
* Information provided may change in response to the spread of the novel coronavirus.
* Please contact facility operators directly for the latest information.
Mos Burger: Remote-Controlled Robot Staff
For a limited period, the Mos Burger Osaki store is trying out the alter-ego robot "OriHime" only from 14:00 to 18:00 on weekdays for about a month from July 27 (Monday) to late August. The robot will carry out salesclerk operations while actually serving customers, such as by guiding customers through menus and conducting customer service via remote control.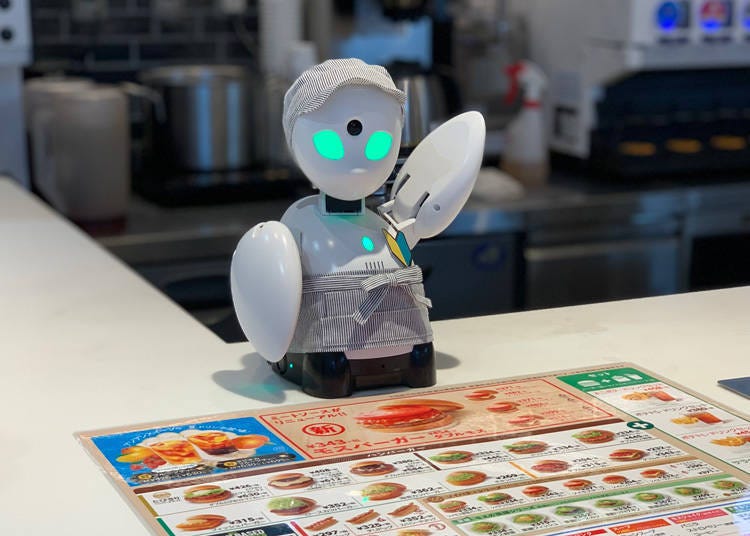 The remote-controlled robot "OriHime" is installed at the "slow cashier (yukkuri reji)". Rolled out for those struggling with the coronavirus in the Kansai area.
The robot "OriHime" is a remote-controlled robot that the Orii Research Institute has been developing since 2012 so that people who have difficulty going out can participate in the outside world, such as school and work. And at the Mos Food Service, which Mos Burger is a part of, they introduced semi-self-checkout in November 2018 and full self-checkout in December 2019 at some stores, and have been working to resolve labor shortages.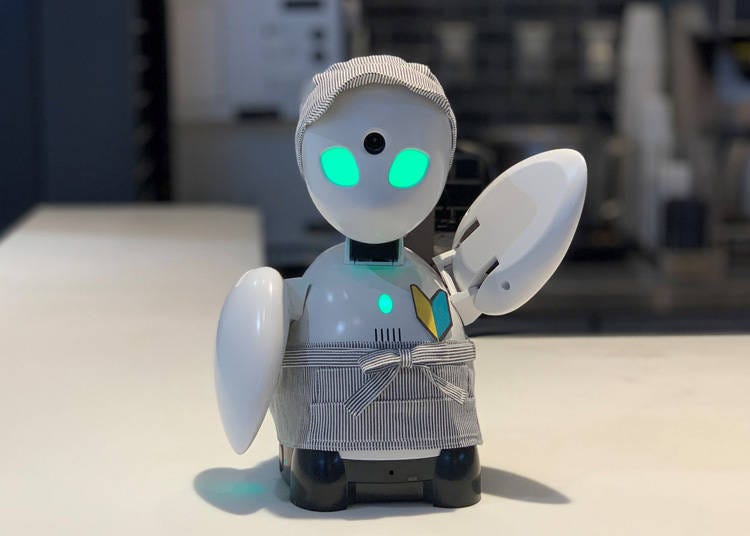 The alter ego robot "OriHime". 23 cm x 17 cm (arms folded) x 11 cm, weight: 660 g
The height of the cute OriHime robot is about 23 cm, and it is expected to play an active role in remote areas as the alter-ego or alternative for people who have difficulty going out due to social disabilities such as parenting, nursing, and physical disabilities. Dependent on the results of this trial period with OriHime, there could be plans to start using automated robots for other applications such as drive-throughs within 2020.
モスバーガー 大崎店

Address

2-1-1 Osaki, Shinagawa-ku, Tokyo ThinkPark Plaza 2F

Robot Use Date: July 27, 2020 (Monday) to late August, 2020
*Due to system maintenance, etc., there may be cases where the

"slow cashier (yukkuri reji)" is not installed even during the event period. Weekdays from

"slow cashier (yukkuri reji)" hours: 14:00 to 18:00 on weekdays.
On Saturdays and Sundays, OriHime will not be used to at the slow cashier, and Mos Burger will open as usual.
Tamagawa Takashimaya: Would you like a side with that?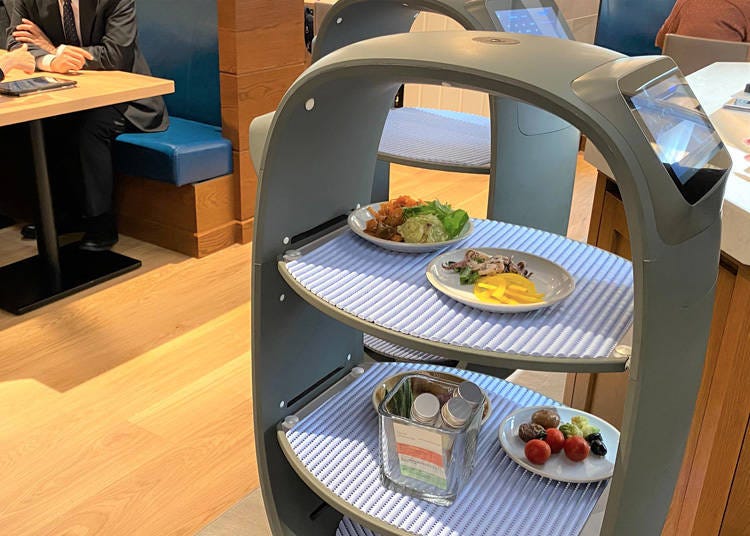 Robots to help with the policy of "no direct contact" and "no face to face contact"
QBIT Robotics' automatic transfer robot "PEANUT" was introduced at "THE GALLEY SEAFOOD & GRILL" (operated by Mikasa Kaikan), an order-style salad bar restaurant that opened in Tamagawa Takashimaya on July 6th. This way, robots can deliver the salad straight to your seat without any contact with staff!

THE GALLEY SEAFOOD & GRILL is a store that offers grilled dishes made with carefully selected ingredients such as seafood and steaks, as well as an order-style salad bar. Two automatic transfer robots play an active role in the store, delivering the ordered salad to your seat.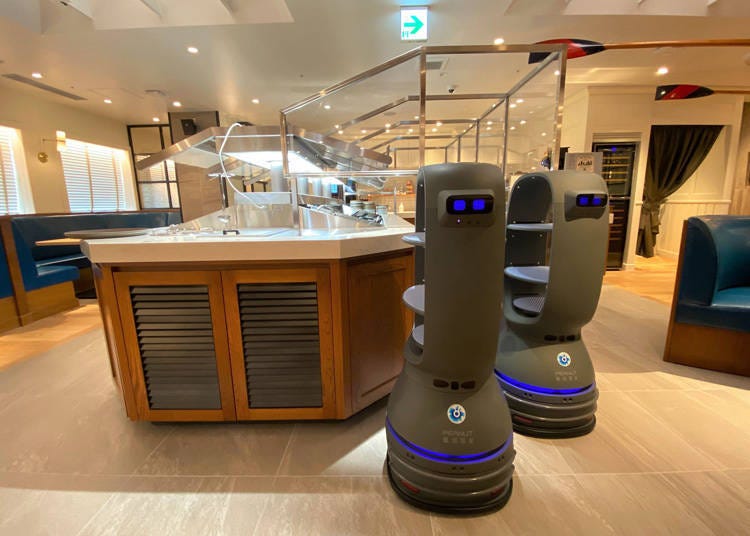 At the Mikasa Kaikan (the administrative company) for several years, they have been exploring new forms of IT innovation in their restaurants. And now with the spread of coronavirus and the "new normal," they have decided to take that opportunity to try out the robot from QBIT Robotics to create a safer salad bar.

QBIT Robotics is engaged in various robots that have been introduced in "Weird Café (Hen na Cafe)" and "Zerokenme Robo Bar". In the future, they have mentioned that they might try out robotics for birthday celebrations and dish cleaning (you've got to clean up after the party, after all)!
THE GALLEY SEAFOOD & GRILL by MIKASA KAIKAN

THE GALLEY SEAFOOD & GRILL by MIKASA KAIKAN

Address

3-17-1 Tamagawa, Setagaya-ku Tamagawa Takashimaya SC South Building 6F

Nearest Station

2 minutes walk from Futakotamagawa Station


Business hours: 11:00-22:00 (LO 21:00)
Regular holiday: Same as the regular holiday of Tamagawa Takashimaya
Estimated price: 2500-4500 yen, à la carte 1800 yen+
Medical Facilities: Remote controlled sterilization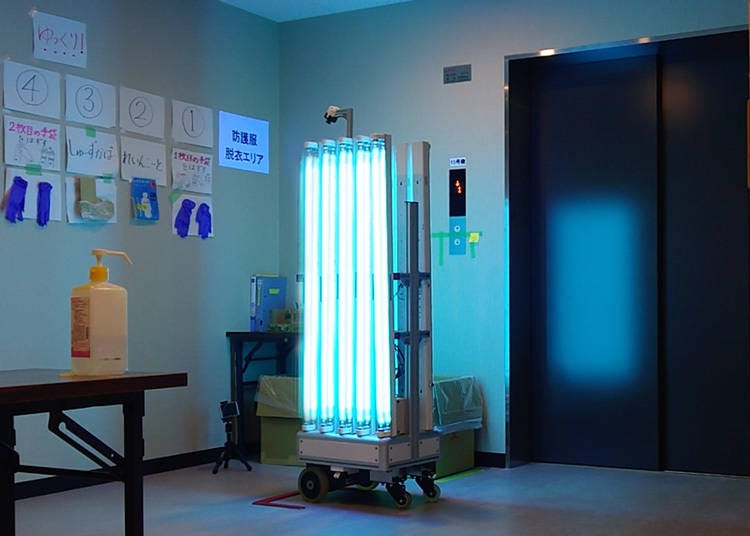 Smart robotics' "sterilization robot." Weight approx. 57 kg (excluding main battery), maximum speed 1.4 m/s
In June 2020, Smart Robotics introduced a "sterilization robot" to medical treatment facilities to aid patients of the coronavirus (mostly for mild symptoms only) in Kanagawa Prefecture. Setting up a route for the robot results in a successful sterilization of the area.

The "sterilization robot" used is equipped with a disinfectant UV lamp that emits disinfectant UV rays (ultraviolet UV-C wavelength 254 nm) that have a sterilizing effect. There were reports in Japan and overseas that UV-C irradiation was effective in sterilizing the coronavirus (virus name: SARS-CoV-2), so the company worked with the "Coronavirus Infection Kanagawa Prefectural Headquarters" to create a proof-of-concept.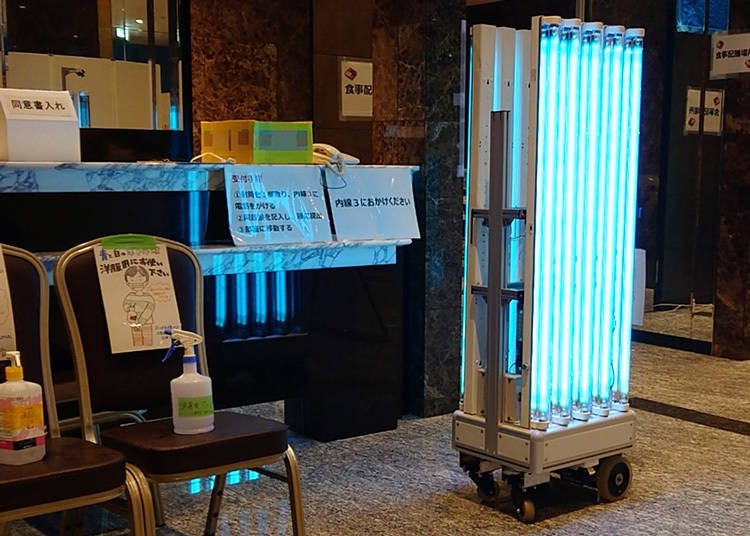 In this proof-of-concept experiment, the remote control of the "sterilization robot" was performed from the Countermeasures Headquarters floor (3F). While checking on the operation screen whether there are people nearby, and whether UV-C irradiation is being executed accurately at the target location, the best route is selected for successful sterilization. When a wipe test was performed before and after UV-C irradiation, the measured value after UV-C irradiation showed that it removed 59-83% of the infection, confirming the bactericidal (anti-bacterial) effect of UV-C irradiation.
Elementary Schools: Pet robot "LOVOT" to cheer you up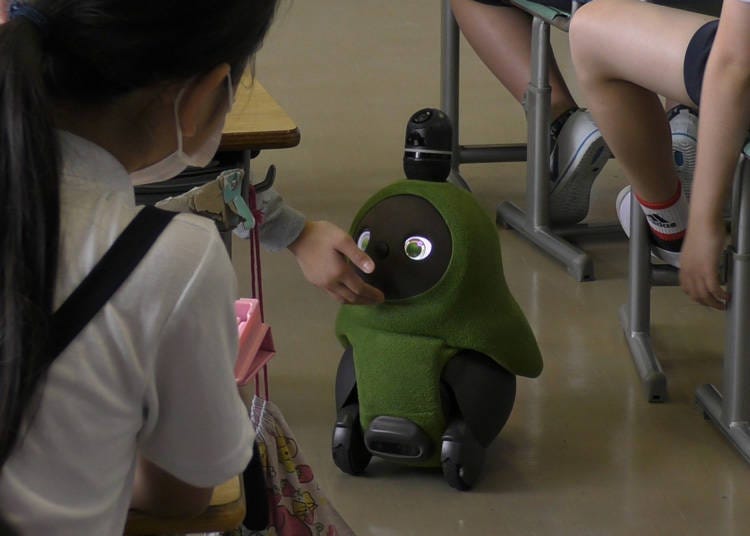 GROOVE X, a robot startup that created the pet robot "LOVOT", is introducing LOVOT to all 242 children attending Oji Daini Elementary School in Kita Ward, Tokyo for a trial period from June 25 to the beginning of October.

In this proof-of-concept, the idea is to improve the students' mental wellbeing, and the development of compassion that have taken a hit in the strange times of the coronavirus. With disruptions such as suspended school studies and remote classes, another purpose is to spark an interest in programming and technology. LOVOT has already been introduced in 26 kindergartens and preschools, but this is the first time it has been introduced in elementary schools.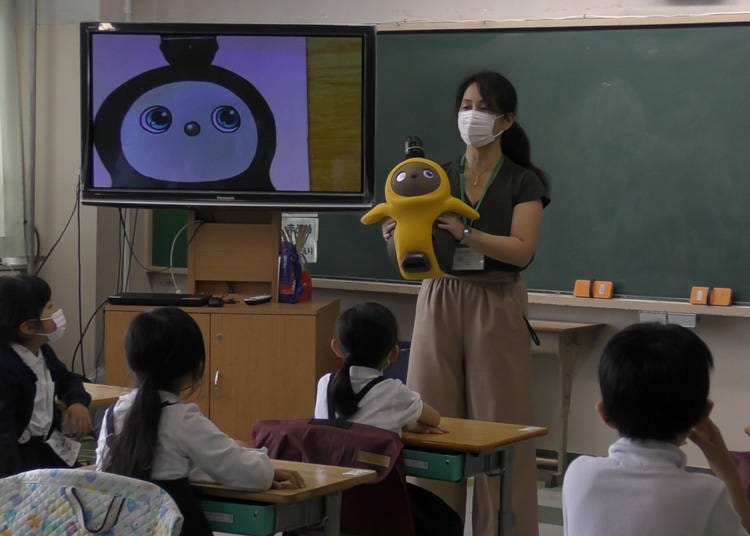 A total of 6 LOVOTs will be introduced
In the classes that have already been held, the children first learn what kind of robot LOVOT is with a picture book. So, when LOVOT enters the classroom many children will get very excited and start calling out "LOVOT!". Beforehand the rules for coming into contact with LOVOT were discussed with the children, and the meaning of the "3 Cs" (closed spaces, crowds, close contact). Even when it was time to touch and play with the LOVOT, the children followed the rules that had been set, and children waited for their turn.
On July 21st, Mr. Kaname Hayashi, GROOVE X CEO, gave an online class, talking to the children about technology. In July and September, they plan to conduct a questionnaire survey for children, parents and teachers.
*This information is from the time of this article's publication.
*Prices and options mentioned are subject to change.
*Unless stated otherwise, all prices include tax.