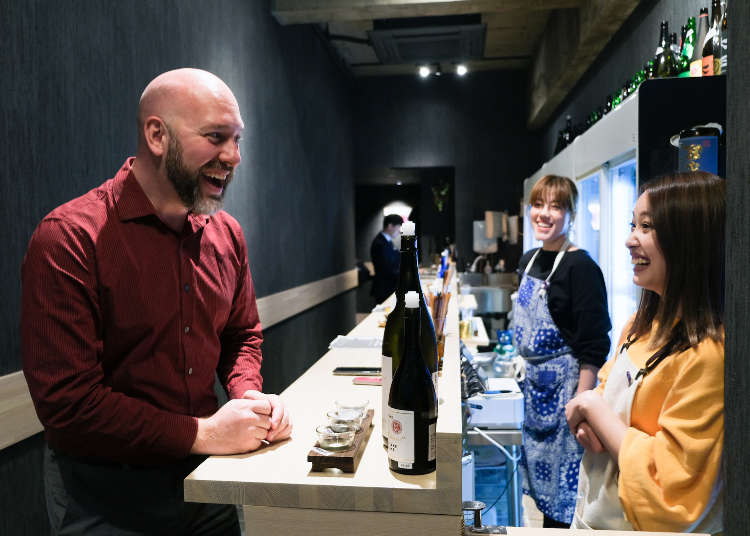 Sake comes in a variety of flavors, from clear and dry to fruity, sweet, and easy to drink - and slightly fizzy varieties. You should definitely sample a few and find your favorite when visiting Japan.

Together with our American editor, Timothy, we visited Kokushu Sakaba SAGA, a standing-only sake bar that opened in Oimachi, Tokyo in September 2019. This bar specializes in sake from Saga Prefecture, and it's the perfect place to sample many different varieties from different brewers.

Another unique attraction of Kokushu Sakaba SAGA is that you can enjoy the flavor of freshly opened sake, thanks to its internationally patented antioxidation technology. And while you're sipping, you can also enjoy delicious snacks made from local Saga products. Let's join Timothy and see what he thinks.
Chic, stylish interior and welcoming staff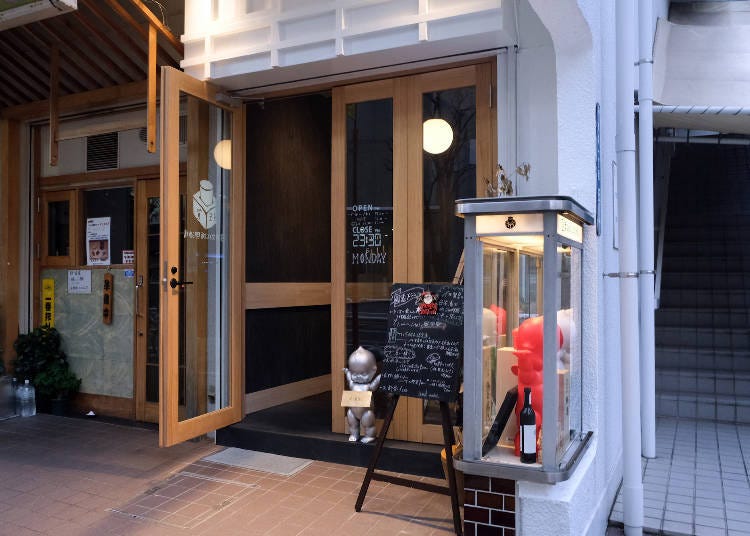 Located within a 5-minute walk from Oimachi Station (just south of Shinagawa), and not far from Haneda Airport, is Kokushu Sakaba SAGA.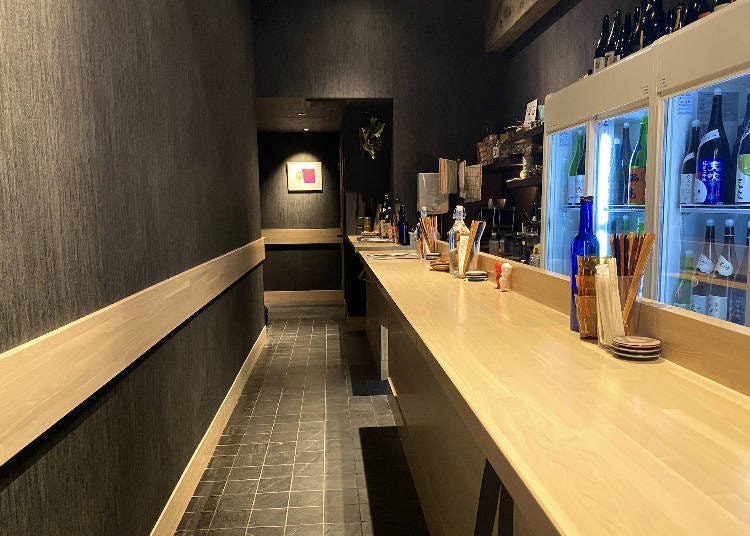 The first thing you'll notice when walking in is the row of gleaming glass-windowed refrigerators behind the bar, containing over 100 different bottles. Done in a black motif, the interior has a modern, chic style to it. The long, narrow counter is perfect for chatting with the staff, friends, or someone new.

"The atmosphere here is really stylish. I think it'd also be perfect if you're on a date," mentions Timothy.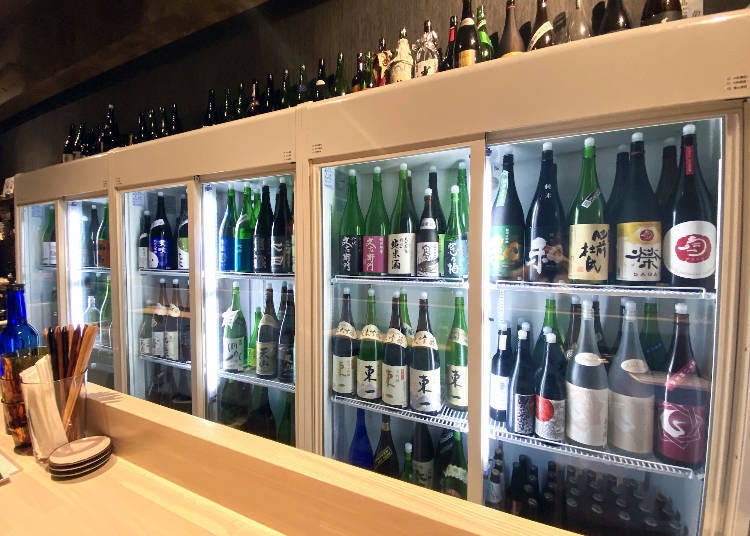 Inside Kokushu Sakaba SAGA, you'll find a wide selection of sake imported from Saga Prefecture. With so many different kinds of sake to choose from, it may be difficult to choose just one, but the staff will be happy to recommend the best one for you based on your preferences. Although it is difficult to provide complete English support, there is a "POCKETALK" translation device in the store that can help out.
Fresh sake? The only place with a patented antioxidant saver!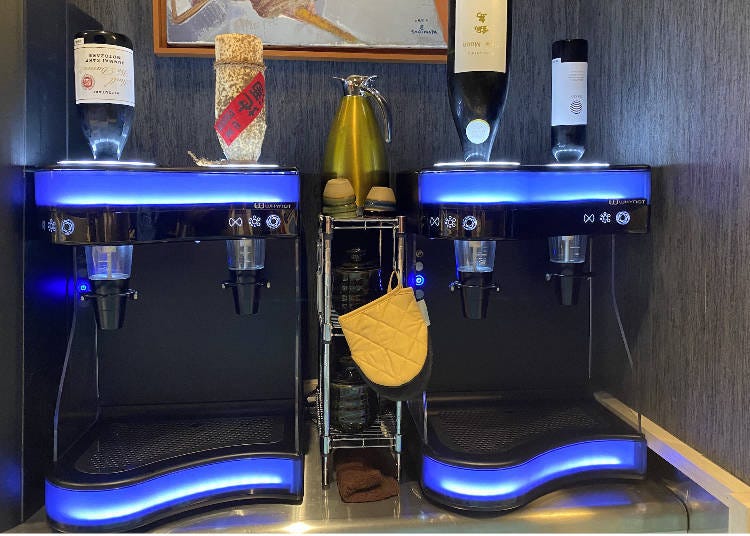 You might wonder, with so many bottles of sake, how everything might taste. Sake begins to oxidize the moment the bottle is opened, and the flavor can change dramatically as time passes. So most sake bars will have a limited selection of sake open and available, to ensure freshness.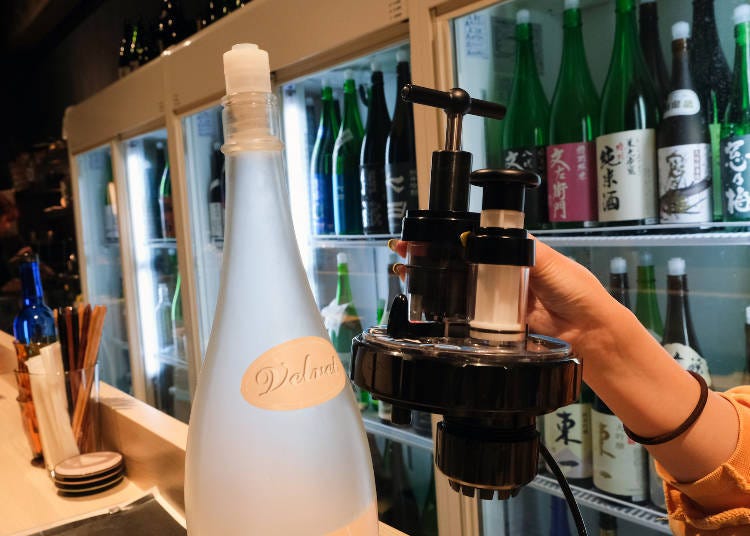 One of Kokushu Sakaba SAGA's most popular features is the internationally patented "Antioxidant Saver." This is an improved version of the "WHYNOT" saver used to prevent oxidation in wine, and is the only place in Japan that has this machine.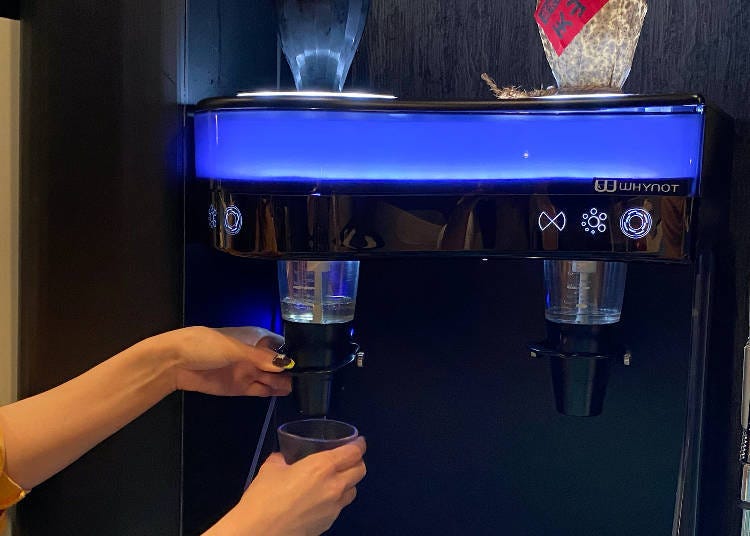 After you select a bottle that catches your fancy, the friendly staff sets it on the special nitrogen-flushing sake dispensing system, and you can enjoy drinking sake that tastes virtually the same as when it was freshly opened. It's such a luxurious sensation to be able to enjoy the fresh aroma, taste and color.
Let's start comparing sake from Saga Prefecture! This time, the staff recommended a selection of sake for us to try.
Compare unique sake from Saga Prefecture!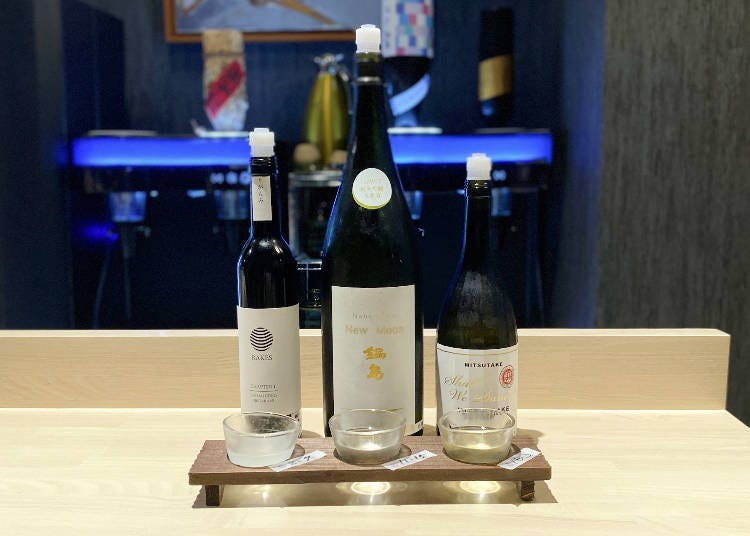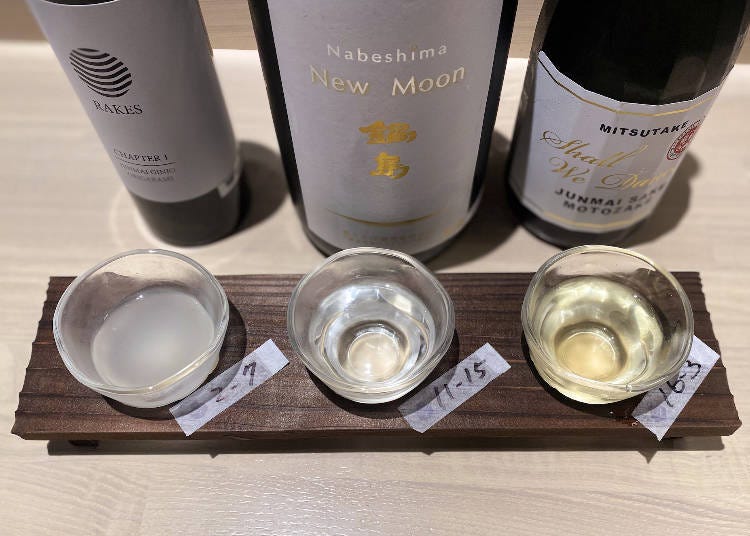 The following are the sake selected for us.

Left: Kihotsuru RAKES Origarami Nama (Motoyama Shoten) 1,080 yen
Middle: Nabeshima NEW MOON (Fukuchiyo Shuzo) 980 yen
Right: Mitsutake Junmaishu Shall We Dance (Mitsutake Shuzojo) 570 yen

They seem to have purposely selected types that are easy to recognize the differences in color and flavor.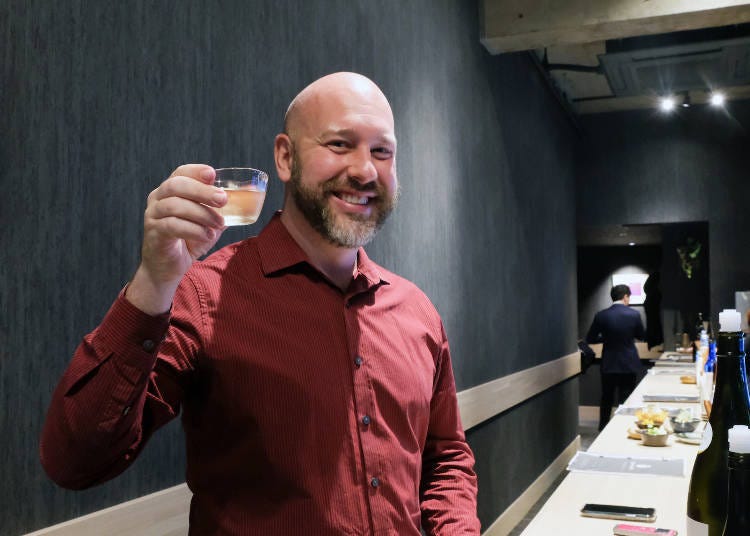 The color and cloudiness of all three types are completely different! Let's eat!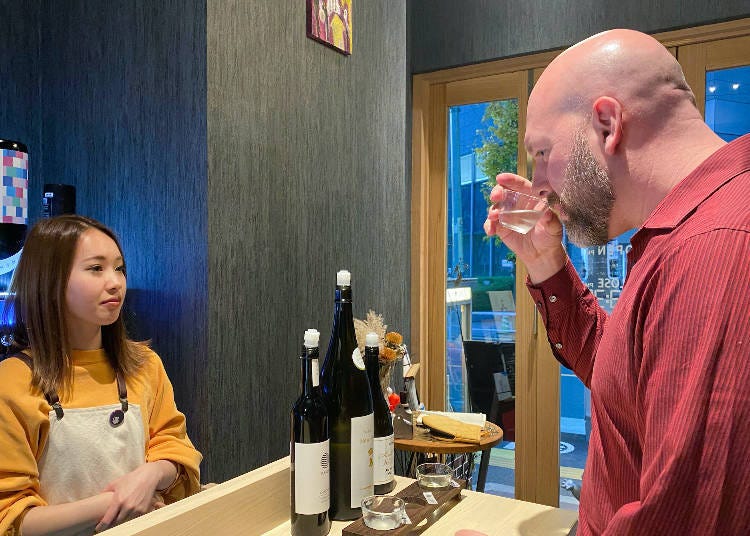 Timothy tasting the sake while talking sake with staff member Maria Sawayanagi
The best way to enjoy sake here is to first smell it when it's freshly opened, and then sip it.

"It's all delicious! But I especially love being able to discover so many new varieties that I'd likely never encounter unless I visited Saga. It's so wonderful to have a shop like this that brings everything into one place."

Timothy, a true sake lover, told us that he had chosen a variety of sake that was new and different from the ones he's used to. We recommend these three types to those who are looking for something new and different.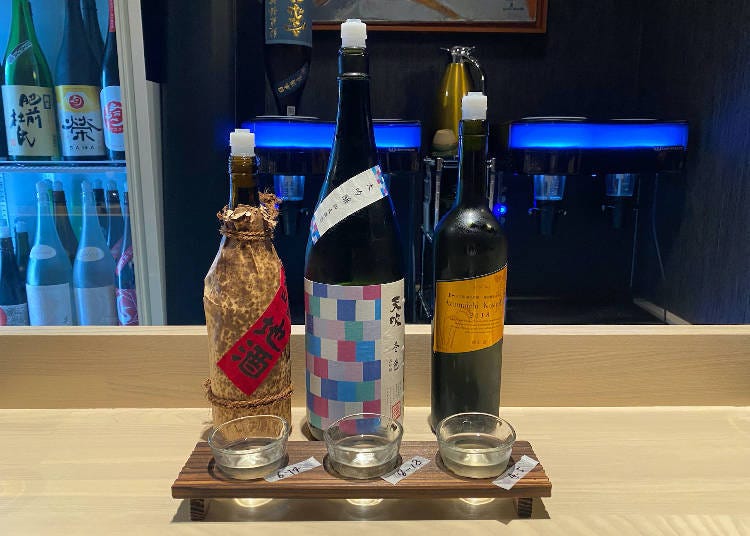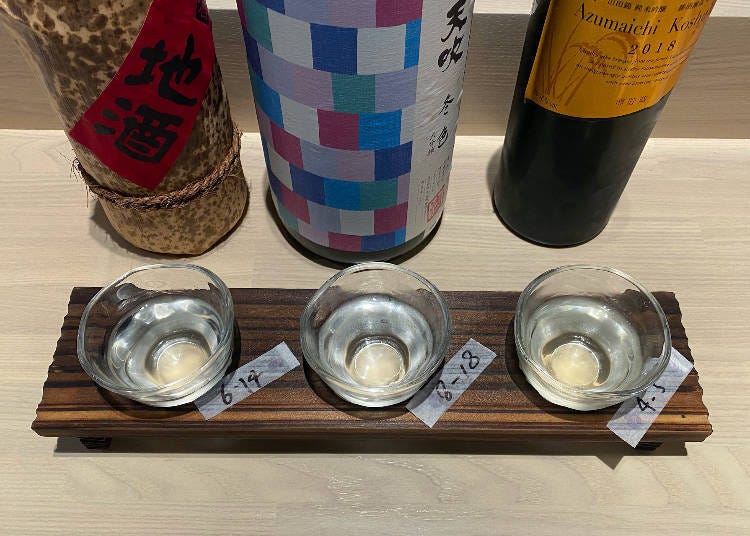 We were also given three additional selections.

Left: Tenzan Jizake Junmai Genshu (Tenzan Shuzo) 710 yen
Middle: Amabuki Daiginjo Fuyuiro Nama (Amabuki Shuzo) 690 yen
Right: Azumaichi Junmai Ginjo, Koshu Wine Oak 1,180 yen

"I'm not familiar with these breweries, actually. Each has its own distinct flavor, and they're so delicious - it's hard not to want to taste a bit of everything! I'll have to come back again several more times so I can sample more and more."

If you want to enjoy some tasty varieties of sake, you should definitely try the above three types!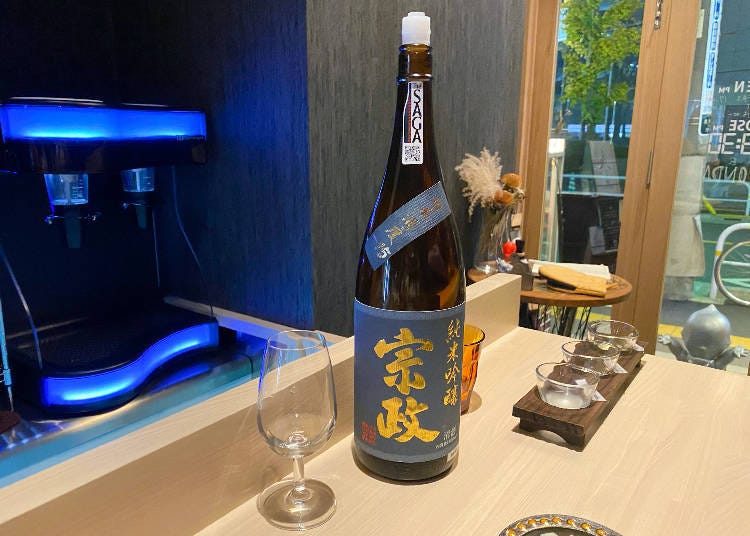 We also received a recommendation for Munemasa Junmai Ginjo (540 yen), which is best served in a wine glass.

"It's sweet and very fruity! This is something that people who like wine and cocktails should try out."

Although the store specializes in sake, it also serves beer, cocktails, and other alcoholic beverages, as well as soft drinks, so even those who don't drink sake are welcome.
Tasty dishes made from Saga Prefecture's local specialties!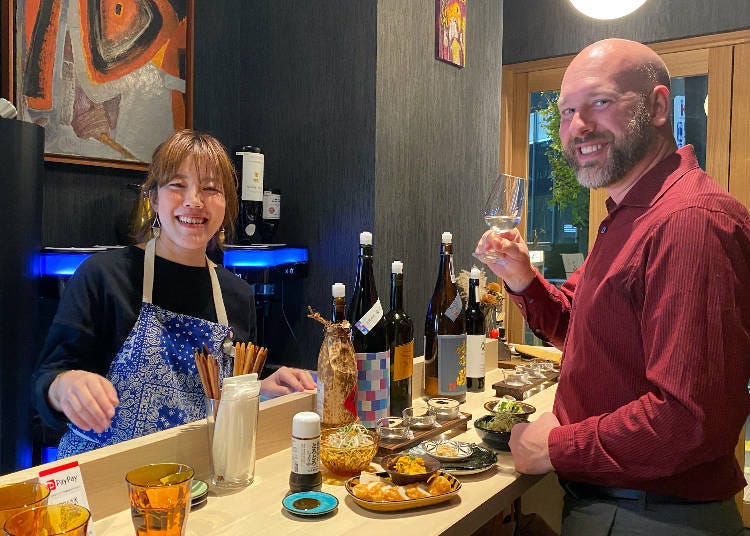 At Kokushu Sakaba SAGA, you can enjoy a variety of small dishes made using local products of Saga Prefecture, all of which are handmade by the manager, Akiko Nago (left in the photo), and are seasoned to go well with sake.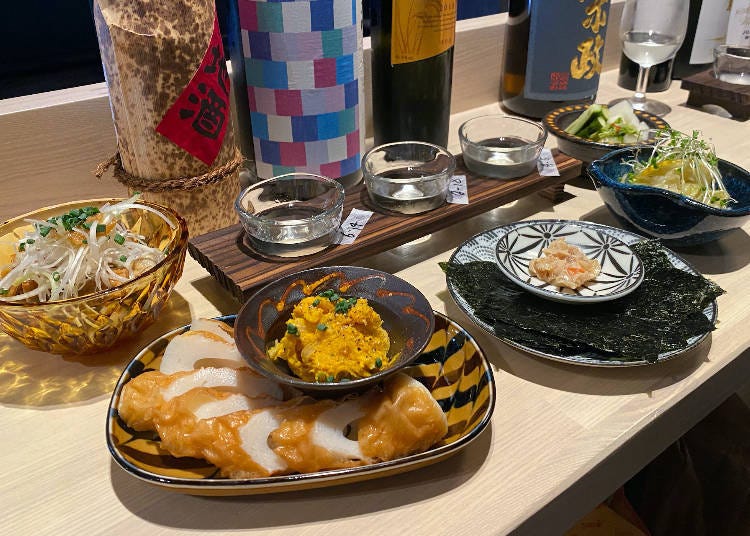 The menu is reasonably priced and full of specialties, such as the Sardine Chikuwa with Yuzu-kosho Sauce (500 yen), Ariake Seaweed with Hagakure Pickles (250 yen), and Lemon Cabbage (300 yen).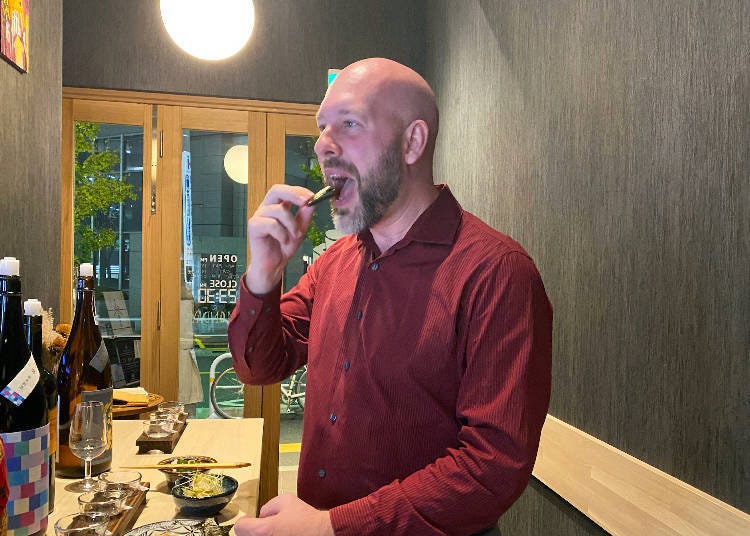 "I really love that Ariake Seaweed - it's so crispy and tasty! All of the dishes taste great on their own, but when you snack with the sake, some fantastic new flavors come out."

He didn't appear to be incredibly hungry when we first arrived, but it seems as though Timothy was savoring a bit of everything - and maybe even enjoying his sake even more.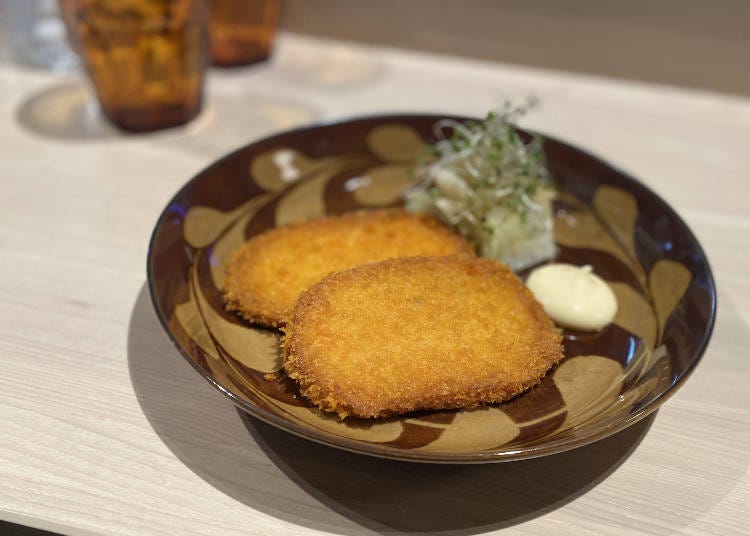 This is Magori Minced Tempura (200 yen per piece, 380 yen for two pieces), which is a tasty fish cake mixed with minced onion and with a mild spice, that's loved in Saga Prefecture. It's a popular menu item at the restaurant.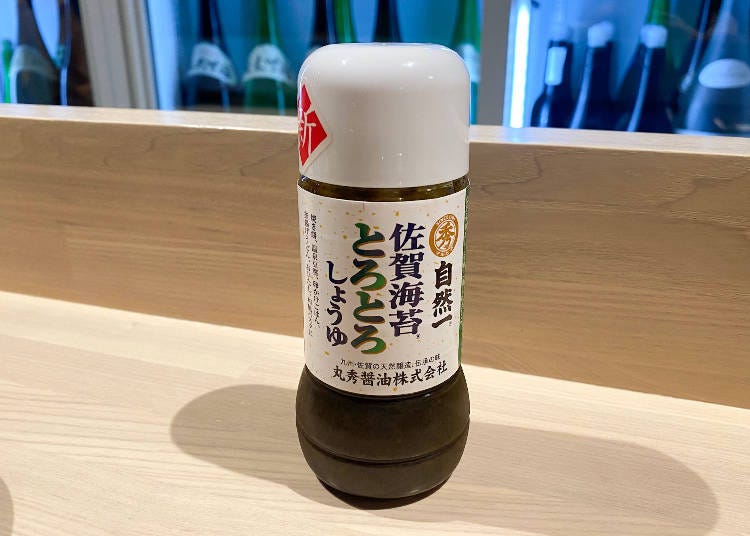 "You can eat it as it is, but if you splash a little 'Torotoro Shoyu,' which contains Saga seaweed, on it, it adds a nice umami to it. Never heard about this treat before. It's great to enjoy sake with some of the local snacks and dishes as well, to get a sense of how the people in the area enjoy it."
What is the charm of Saga Prefecture, full of attractions?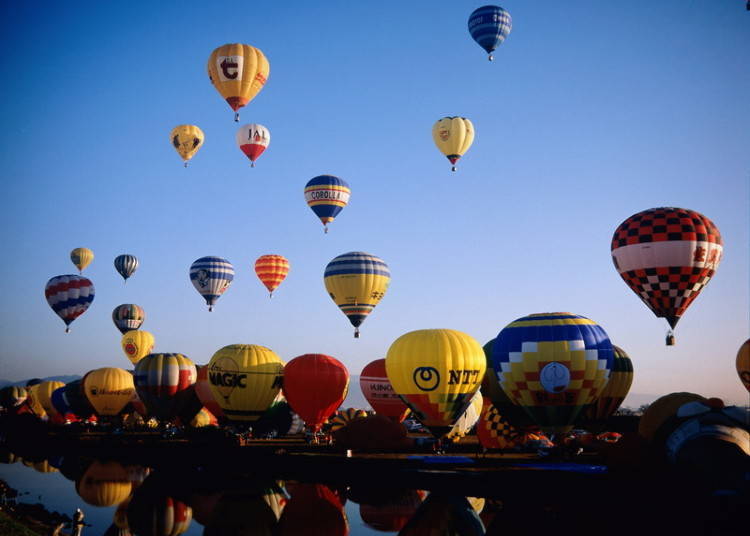 Photo courtesy of Saga Prefecture Tourism Federation
Saga Prefecture, located in the northwest of Kyushu, is easily accessible from Fukuoka and Nagasaki prefectures, both of which are popular tourist destinations. It is famous for traditional hot springs towns such as Ureshino Onsen and Takeo Onsen, seafood from the Genkai Sea, and fine pottery like Imari-yaki and Arita-yaki.

Saga International Balloon Fiesta, one of the largest international hot air balloon competitions in Asia, is held every year from late October to early November on the banks of the Kase River in Saga City. It attracts crowds of visitors thanks to the stunning scenery and colorful balloons.

When you visit Saga, be sure to stop by one of the local eateries for some sake and gourmet food!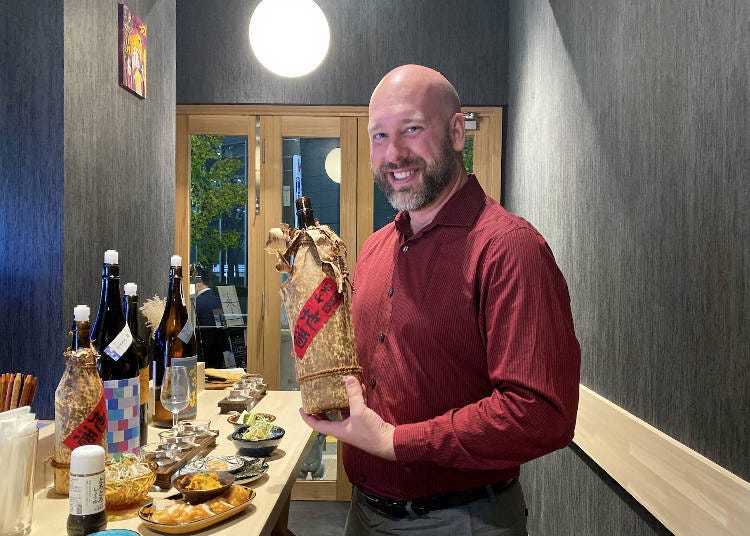 But if you can't make it to Saga Prefecture, and would like to still casually enjoy the sake and cuisine of the prefecture, the best place to go is to visit Kokushu Sakaba SAGA! Ask the staff for recommendations, and find your new favorite sake and snacks!

*All prices in this article include tax, and are as of this article's original publishing date (January 2020).
國酒文化振興酒場 -佐賀-(コクシュブンカシンコウサカバ)

Address

City Heights Oimachi 1F, 1-25-3 Oi, Shinagawa-ku, Tokyo

Nearest Station

3 minutes walk from Oimachi Station on JR Line, 4 minutes walk from Oimachi Station on Tokyu Oimachi Line, 3 minutes walk from Oimachi Station on Rinkai Line


Phone Number

03-6451-8098

・Hours: Weekdays: 5:00 p.m. - 11:30 p.m. (Last order 11:00 p.m.), Saturdays: 3:00 p.m. - 11:30 p.m. (Last order 11:00 p.m.), Sundays and holidays: 3:00 p.m. - 10:00 p.m. (Last order 9:30 p.m.)
・Closed: Monday
Written by: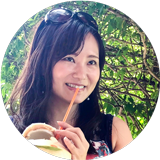 *This information is from the time of this article's publication.
*Prices and options mentioned are subject to change.
*Unless stated otherwise, all prices include tax.