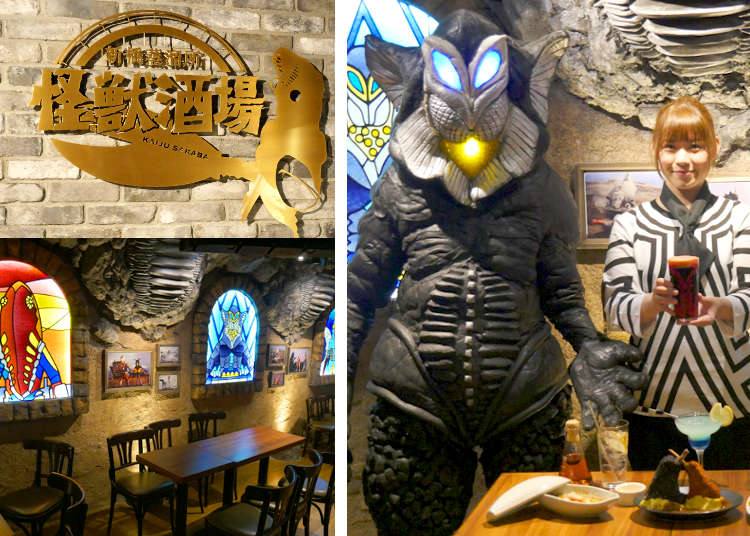 Step into Tokyo's newest theme pub, the Kaiju Sakaba in Shimbashi! While some people may already be thrilled by reading the name of the place, others might pause and wonder: what does that even mean? "Sakaba" simply means bar or tavern. "Kaiju" can be translated to "strange beast," and technically refers to a Japanese film genre.

Next to movies, the kaiju genre also brought forth one of Japan's most famous and long-running series: Ultraman, or the ULTRAMAN SERIES. Its hero Ultraman fights various creatures and threats throughout the hundreds of episodes.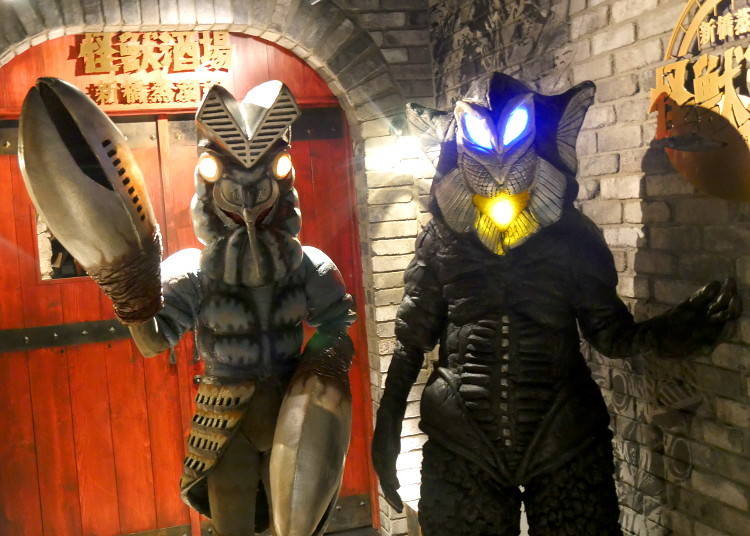 Alien Baltan on the left and their colleague Alien Mefilas on the right welcome you to Kaiju Sakaba!
Knowing the meaning behind the name Kaiju Sakaba, you can probably guess what awaits at the newly opened pub in Shimbashi – it's monsters galore! Alien Baltan, one of the ULTRAMAN SERIES' most prominent antagonist, is the manager of the Kaiju Sakaba franchise and runs the pub in Kawasaki. The Shimbashi location is in the firm grip of Alien Mefilas, another one of Ultraman's fierce opponents. He (?) gets support from Dada, a face-changing alien who also is the inspiration for the staff's uniforms.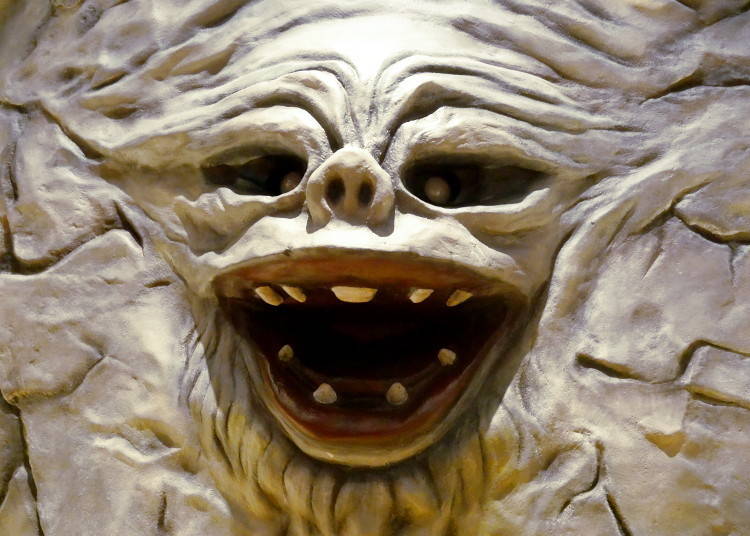 The face of Jamila curiously eyes the pub's many visitors
As with every theme café or pub, Kaiju Sakaba is wonderfully decorated, authentically evoking the image of a monsters' hideout where the various kaiju can take a rest from trying to conquer Earth, destroying cities, or enslaving humanity. "ULTRA HEROES NOT ALLOWED!" say signs at the entrance, marking the place as a kaiju-only and non-combat zone. So you don't have to be too afraid of Jamila, the mutated astronaut, staring right at you as you enter Kaiju Sakaba. Pass underneath Gomora and Zetton to enter the actual pub.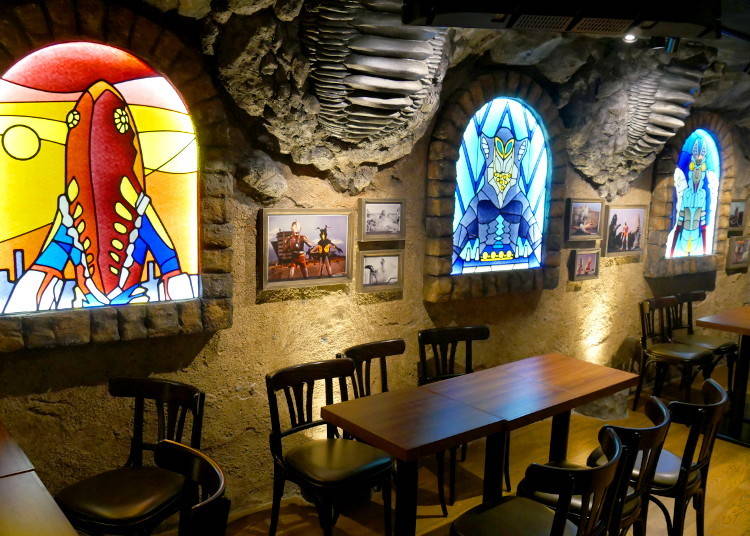 The kaiju sure know how to enjoy a drink in style
While the stone walls of Kaiju Sakaba are reminiscent of a cave, the pub is surprisingly cozy and the old Ultraman episodes playing on the installed TVs make for a weirdly classic atmosphere. In the center of the room stands a copper-colored still, and at the time of our visit, Alien Zarab was inspecting it. The kaiju brew their own spirits, you see, and if you peek closely into the windows of the still, you can spot alien plants and mushrooms growing inside of it. Are those really safe for human consumption?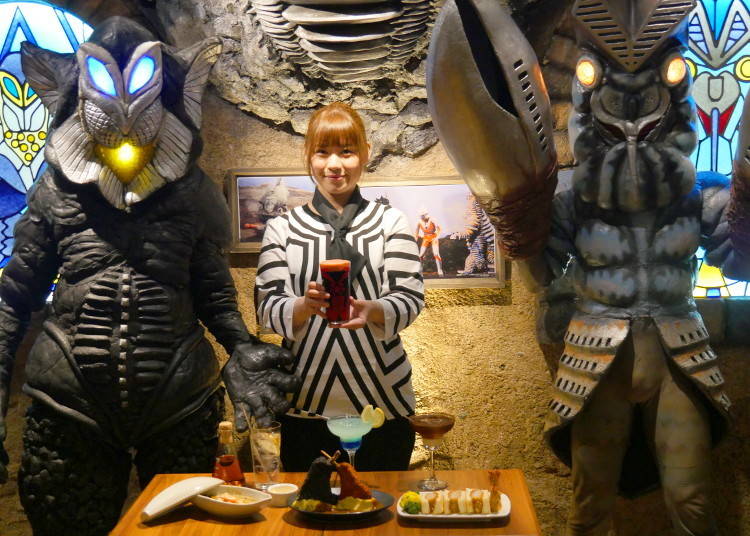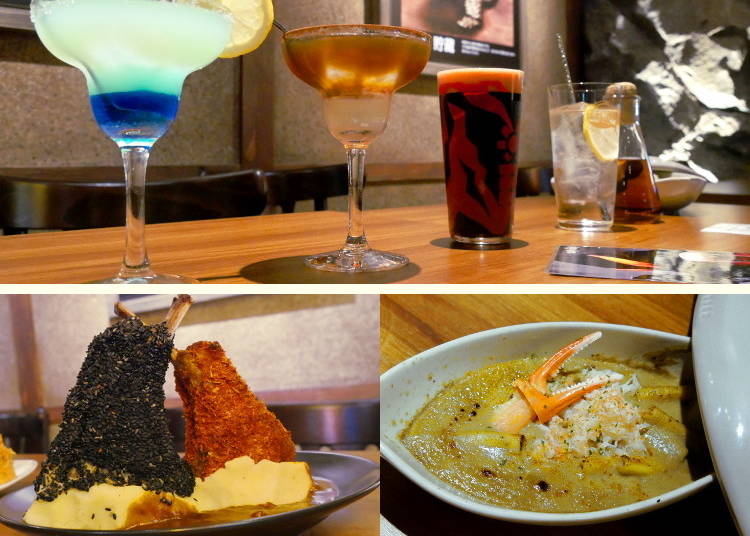 The Kaiju Sakaba also offers a great selection of creative dishes, next to original cocktails and drinks like "Ultraman Belial's Black Beer" that even comes with a Belial-decorated glass to keep (1,900 yen, Available until sold out) or Alien Baltan's Spaceship Cocktail (600 yen). A good drink needs good food to go with it, and our Kaiju Sakaba menu recommendation is the Giras Brothers' Lamb Chops Two Types Of Seasoning (1,880 yen). Seasoned with hot spices and sesame, this meat delicacy doesn't only look like a true kaiju snack but is also sure to satisfy an earthling's appetite!
Another menu highlight is Alien Baltan's Crab Gratin (980 yen) which is served with one of the kaiju's own characteristic pincers. We sure hope that Alien Baltan's arms do regrow... The menu comes with plenty of pictures, so you can get a good impression of what the food and drinks look like and are made of even without speaking Japanese.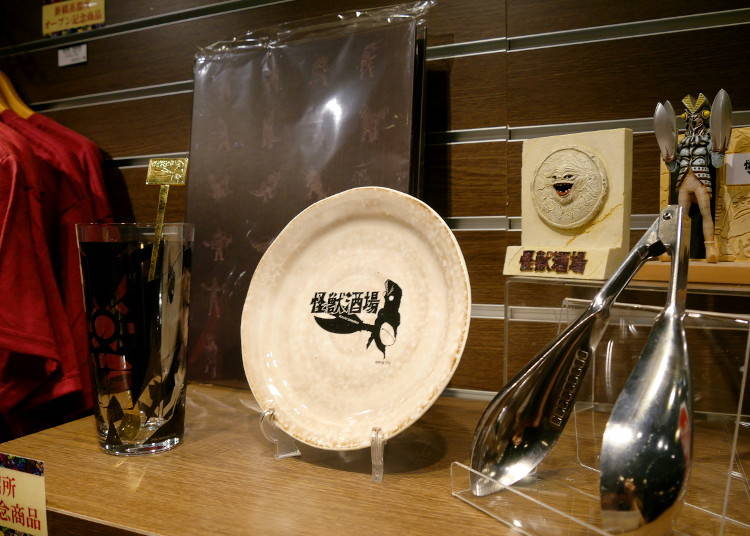 While there is no designated lunch menu at Kaiju Sakaba, the tavern opens its doors to earthlings from 11:00 a.m. every day (last order: 30 minutes before closing for drinks, 1 hour before closing for food), so feel free to enjoy a snack and a drink after an exhausting morning of sightseeing or during your lunch break. Open until 11:30 p.m. from Mondays to Saturdays and until 11:00 p.m. on Sundays and national holidays, the Kaiju Sakaba is a unique tavern to spend an evening by yourself, with friends, or even for a date!
To commemorate your visit, make sure to browse the little shop filled with unique goods centered on the ULTRAMAN SERIES and its various characters and kaiju. From beautifully designed beer glasses and cutlery and tableware that subtly hints at the aliens it was inspired by, to hand towels and T-shirts, taking home a monstertastic souvenir is a must for fans of the ULTRAMAN SERIES and fans of the pub itself.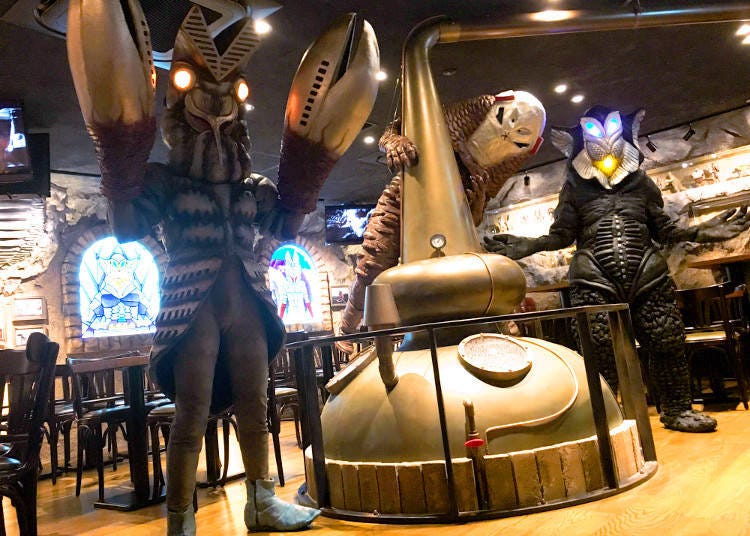 Events are taking place regularly, announced on the official "Kaiju Sakaba Shimbashi Joryujo" homepage – and who knows, there might even be surprise visits from the many monsters themselves. Remember, though: you're dining and drinking at their hideout, so stay civil and be nice when shaking Alien Baltan's pincer!

Hours:
Monday – Saturday: 11:00 a.m. – 11:30 p.m.
Sundays and national holidays 11:00 a.m. – 11:00 p.m.
Closed: always open

ⓒ TSUBURAYA PRODUCTIONS
Kaiju Sakaba Shimbashi Joryujo

怪獣酒場 新橋蒸留所

Address

Inside Keikyu Shopping Plaza Wing Shimbashi, East Entrance Chikagai No. 1, 2-chome Shimbashi, Minato-ku, Tokyo 105‐0004, Japan
Written by: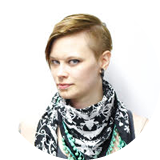 *This information is from the time of this article's publication.
*Prices and options mentioned are subject to change.
*Unless stated otherwise, all prices include tax.