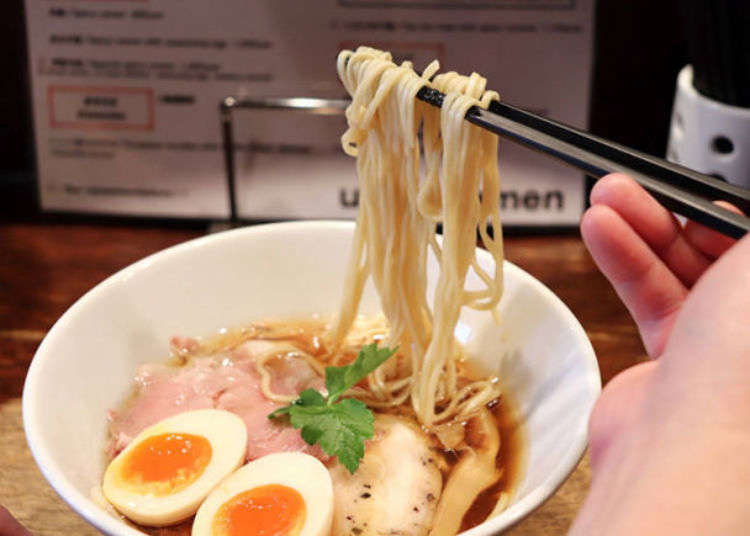 You probably know Tokyo's Shibuya as a popular hotspot for pop culture and fashion, and you would be right! The town is not just about clothing and accessories, though. Bet you didn't know it's also a reputable gourmet spot as well! Truth be told, the ramen competition here is so intense, people are constantly watching this Ramen Battlefield for the latest and greatest in delicious ramen offerings.

With so much ramen variety available, however, it can be difficult to figure out where to start, and that's why we've compiled a list of three must-visit ramen shops with the most exquisite offerings specially for our readers. From classics like shoyu ramen made with carefully selected ingredients to ramen soaked with an unusual tonkotsu broth, or special tsukemen (ramen with the broth served in a separate bowl) noodles that you can't get anywhere else, we're confident these tasty meals are everything the ramen enthusiast inside you could ask for - and more! Let's take a look at the list right away!
1. Usagi: Irresistible shoyu ramen made with the finest ingredients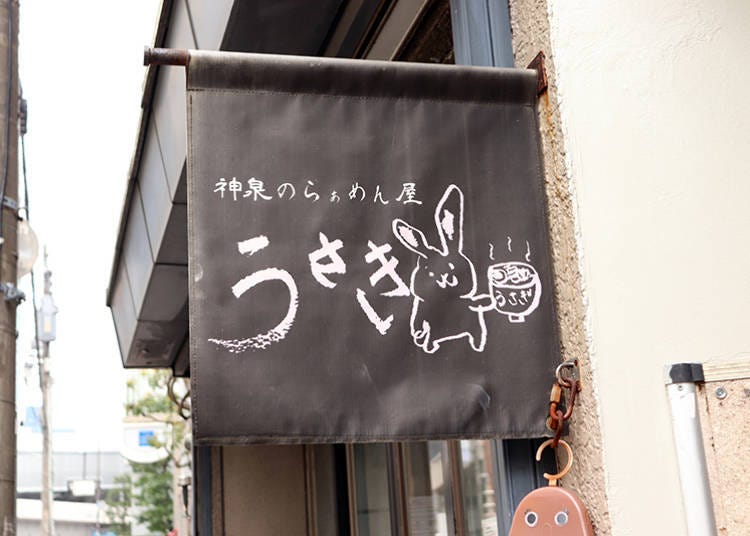 The first must-try place on our list is Usagi. The shop is about a 10-minutes' walk from Shibuya Station on the JR Lines. Walk along Dogenzaka, then turn into Urashibuya Street. After walking for a bit more, you'll find the shop as you get nearer to Shinsen Station on the Keio Inokashira Line.
Urashibuya Street, which literally means "Secret Shibuya Street" is a stylish area that has a more sophisticated vibe than the dynamism Shibuya is more commonly known for. Elegantly decorated shops line the streets here, Usagi being one of them. The restaurant's shopfront is covered from head to toe with glass panels so that anyone can peer inside. This design makes it feel warm and inviting, so that even solo travelers can feel free to walk in for a meal at any time.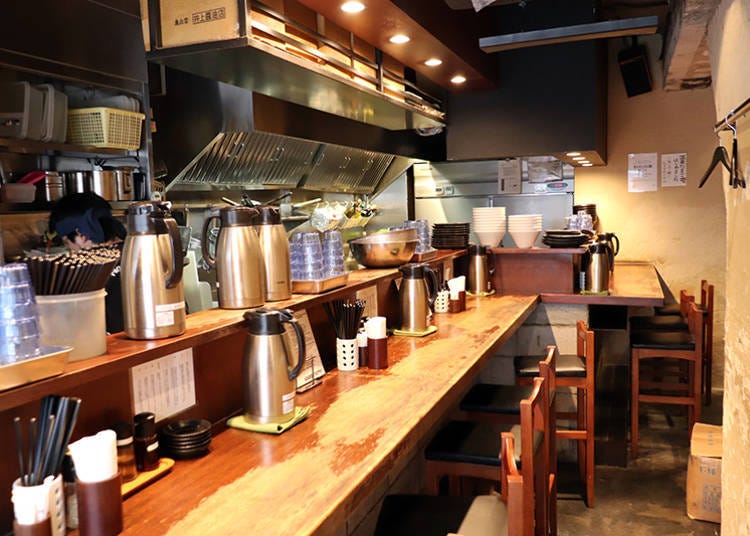 Inside the shop, there are only counter seats available, which makes it feel more like a bar than a restaurant. When the shop first opened in May of 2007, their main concept was to offer "a daily bowl of healthy ramen" for the masses, so that customers can gain strength to go through the day like an energetic bunny, which is what Usagi, the name of the shop means.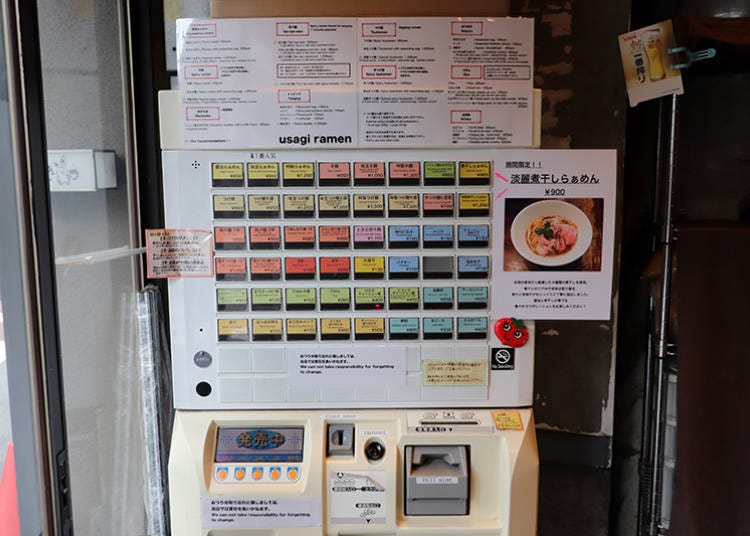 Orders are made via a ticket vending machine at the shopfront. The menu on this machine comes with English labels as well to cater to international visitors. You'll find favorites like shoyu ramen, dan dan noodles, spicy noodles, tsukemen, and other interesting dishes on the menu.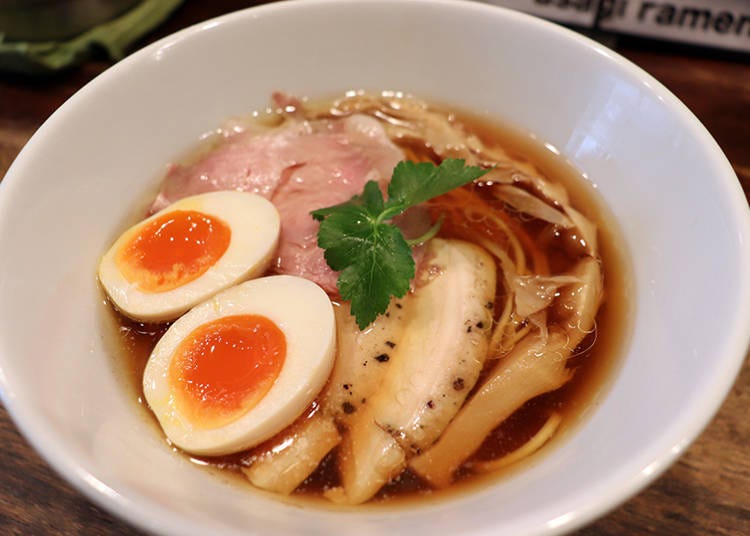 Our top recommendation is the "Special Ramen (1,200 yen, tax included)". The bowl contains shoyu ramen with two pieces of roasted pork and chicken each, topped with a cooked egg and bamboo shoot slices.

The soup broth is boiled with whole chicken as a base, then carefully selected ingredients such as seafood, seaweed, and potherbs are added to enhance its umami flavor. The kaeshi sauce used in the mixture is an exquisite blend of four types of mature fermented soy sauce, made to be extra fragrant. The main base of this sauce mix is the fresh namajoyu soy sauce shipped directly from the storehouse of Inoueshoyuten, a soy sauce specialist in Shimane Prefecture's Izumo city. All of these come together to create a bowl of supremely sumptuous ramen that pleases your sense of taste and smell at the same time.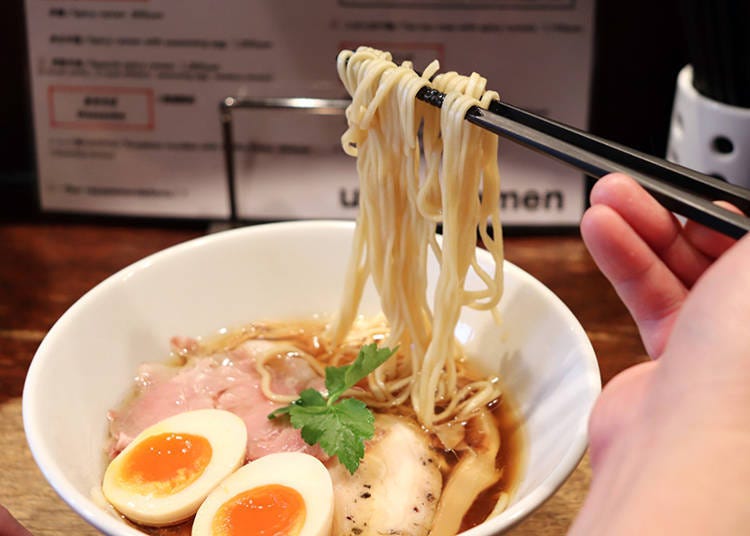 Much attention has also been given to the smooth, springy ramen noodles that seem to simply slip down your throat. The rare but superior Kitahonami wheat flour from Hokkaido makes up the main bulk of the noodle's dough mix, which contains a few other locally-produced wheat flour as well. This blend is designed to help each wheat flour bring out the best flavor in each other, resulting in noodles that command as much of a presence as the rich soup they are soaked in.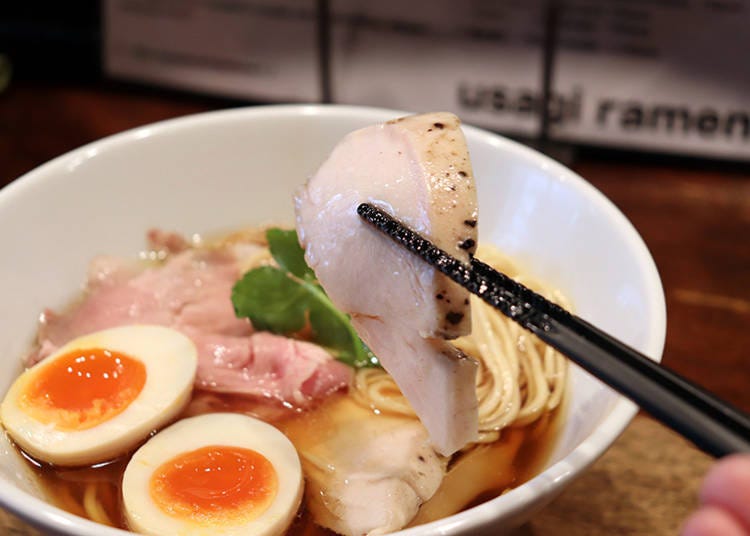 The zesty fragrance and flavor of this shoyu ramen goes extremely well with the char siu toppings, made from Yamanashi's famously tasty Mioudori chicken, seasoned with a number of aromatic herbs, and then prepared confit-style, a departure from the usual methods. This way, the meat's tasty juices stay locked-in until you bite into them!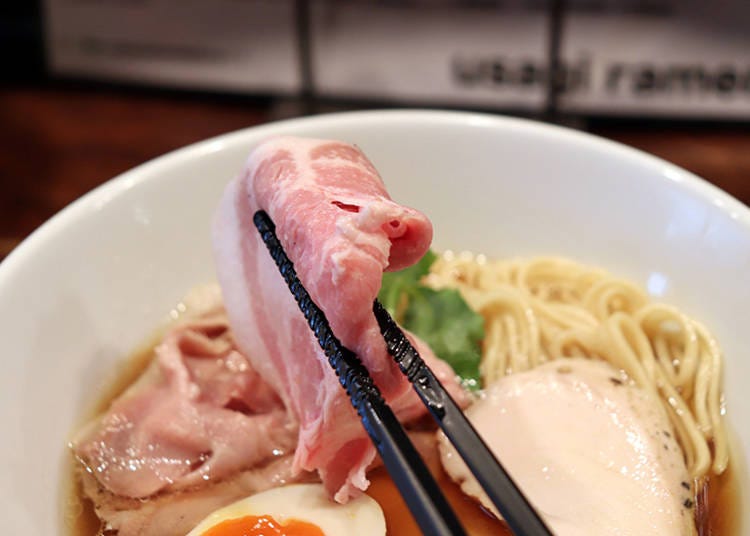 The roast pork served along with the ramen has gone through a long sous vide cooking period as well, which keeps the meat deliciously soft and moist. This softness means it goes perfectly well with the chewy ramen noodles.

Another popular item on the shop's menu is "Dan Dan Noodles (980 yen, tax included)". Freshly ground Sichuan peppers are used, and the stinging aroma is something fans of spicy food will find irresistible. The shop offers a homemade chili pepper paste of their own invention, made from a special mixture of roasted chili peppers that draws out their taste and aroma to the full. You can't get this kind of "Dan Dan Noodles" anywhere else, so swing by and try it out if spicy food is your kind of thing!
うさぎ

Address

103 Argus Shimoda Bldg., 8-13 Shinsei-cho, Shibuya-ku, Tokyo-to

Nearest Station

10-minute walk from Shibuya Station on the JR Lines
Near Shinsei Station on the Keio Inokashira Line


Phone Number

03-3464-4111

Hours: [Weekdays] 11:30 – 2:30 p.m. (last order) / 6:00 p.m. – 10:00 p.m. (last order)
[Saturdays] 11:30 – 2:30 p.m. (last order))
Closed: Sundays, holidays (except Golden Week)
2. Nanashi Shibuya Dogenzaka: New interpretations of old favorites
Next on the list is Nanashi Shibuya Dogenzaka, a shop located a very accessible 2-minute walk from Shibuya Station on the JR Lines, right after walking up Dogenzaka. The highlight of this restaurant is its mild yet richly-textured "Tonkotsu (Pork Bone Broth) Ramen", which has even captured the hearts of self-proclaimed tonkotsu haters! Let's take a closer look at what makes this dish click with almost everyone.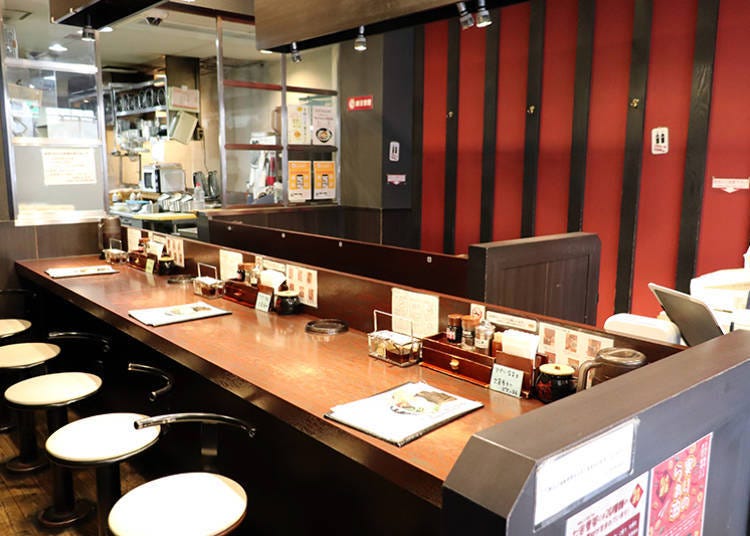 When you first step into the shop, you'll notice the stylish and bright interior, which is meant to make it easier for ladies and non-Japanese visitors to venture inside. Most of the customers are in their 20s to 30s. The first floor contains only counter seats, but there are table seats on the second floor available for group visitors. Clearly, everyone is welcome in this shop!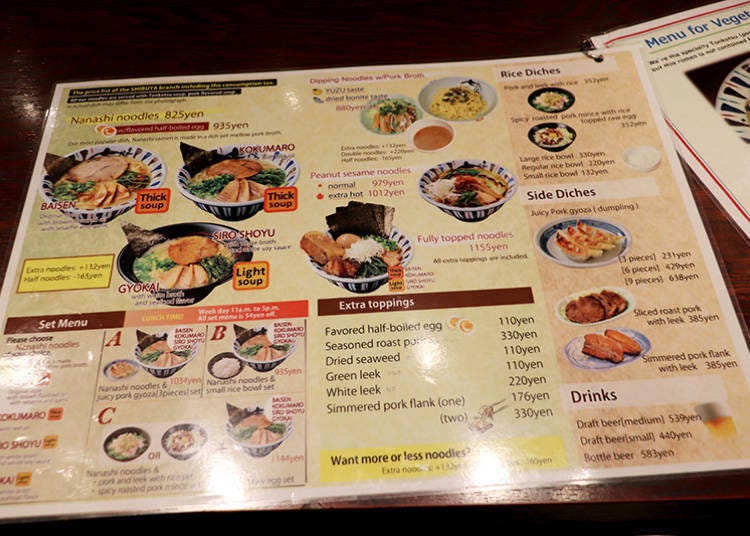 Customers have to order their meals directly from a staff member. Don't worry if you can't speak or read Japanese, because English menus and English-speaking staff are available on hand to help out if needed.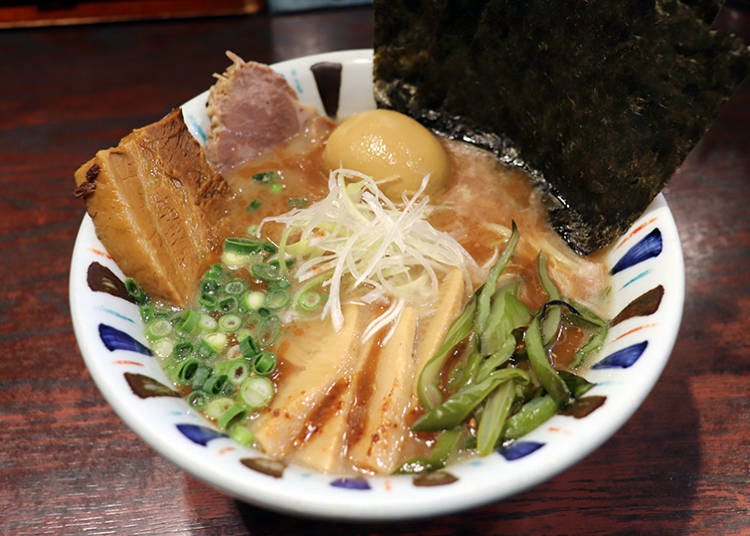 The must-try dish here is "Nanashi Ramen All Toppings (1,155 yen, tax included)". Its soup broth - the cornerstone of all ramen dishes - has been boiled with a strong fire for more than 10 hours to draw out the fullness of all the ingredients, which have had their meticulously scrutinized for impurities. The expert chefs here even control the precise timing to stop the fire, and it really shows in the soup's marvelous taste. Needless to mention, each bowl of ramen is prepared with wholehearted diligence.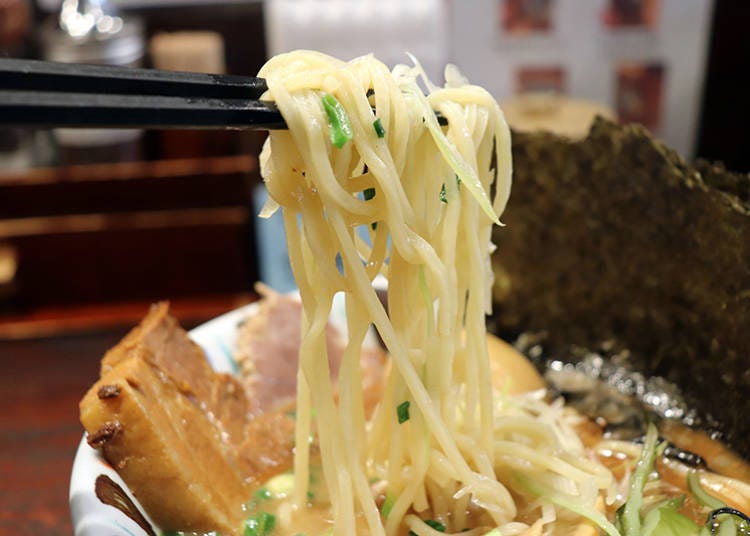 The smooth noodles offered here are slightly thicker than the ones most would usually expect to see in a bowl of ramen. They go unusually well with the rich broth that is bereft of the usual pungent aroma that defines tonkotsu soup.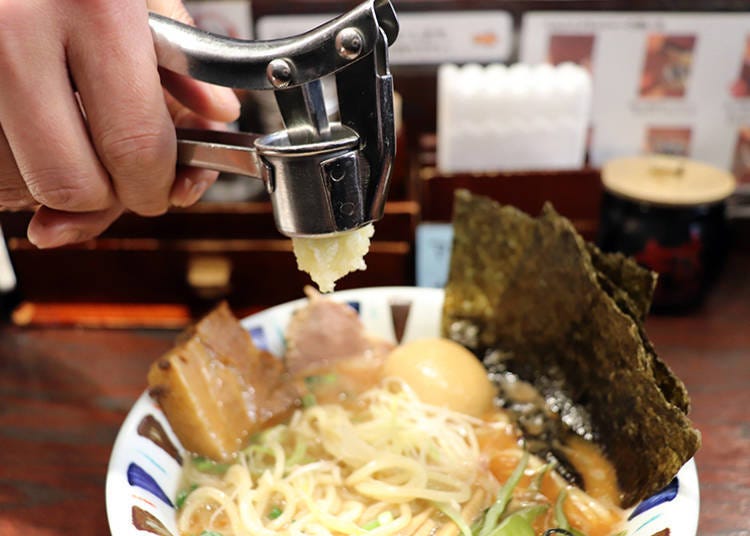 A garlic crusher has been left within easy reach on each table for those who enjoy their bowl of ramen with lots and lots of garlic toppings. Go ahead and put as much or as little as you like!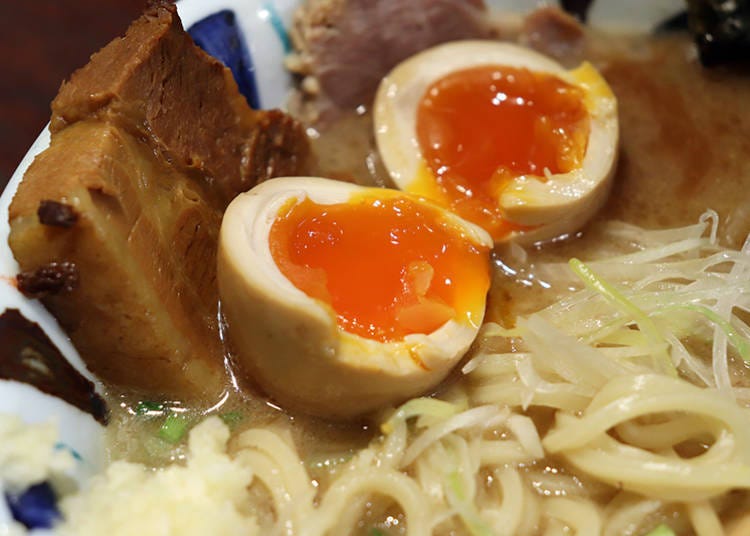 The half-boiled ramen eggs split apart to gooey yolk goodness - another tasty feature that has wide appeal. A wide variety of toppings decorate the delicacy, including crispy sliced leeks, crunchy bamboo shoots, wakame stem, and plenty of others. They add another layer of flavor to the meal, offering an interesting new kind of eating experience.

Other than their signature dish "Nanashi Ramen All Toppings", another popular dish on their menu is "Dan Dan Noodles (979 yen, tax included)", and a vegetarian-friendly ramen that only this particular shop offers out of all the branches under the same restaurant chain. Since everything is carefully prepared by consummate culinary chefs, there's bound to be something worth a try in the shop's menu, no matter what your preference may be!
Nanashi Shibuya Dogenzaka

七志 渋谷道玄坂店

Address

2-9-10 Dogenzaka, Shibuya-ku, Tokyo-to

Nearest Station

2-minute walk from Shibuya Station on the JR Lines


Phone Number

03-3464-7740

Hours: 11:00 a.m. – 1:00 a.m. the next day (last order 20 minutes before closing) *Closing time for Fridays, Saturdays and eve of holidays is 6:00 a.m. the next day
No smoking is allowed anywhere in this restaurant
3. Dogenzaka Mammoth: Delicious tsukemen made with nutritious wheat germ dough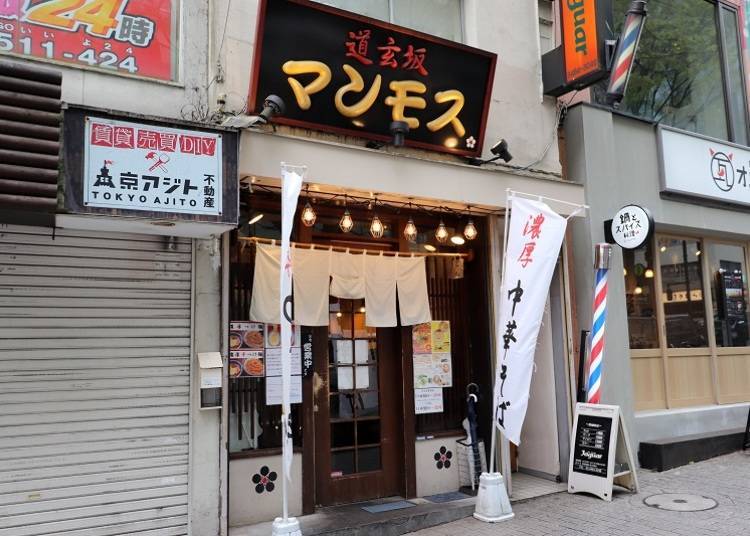 The final shop on our recommendation list is Dogenzaka Mammoth, another shop that can be reached in 2 minutes on foot from Shibuya Station on the JR Lines. Just after walking up to the end of Dogenzaka, turn left and you'll be able to see the shop. There are no table seats in the restaurant - it's a small and cozy space with 10 counter seats only. Nevertheless, you're likely to feel invigorated as you step in and are warmly greeted by the cheerful voices of the staff here.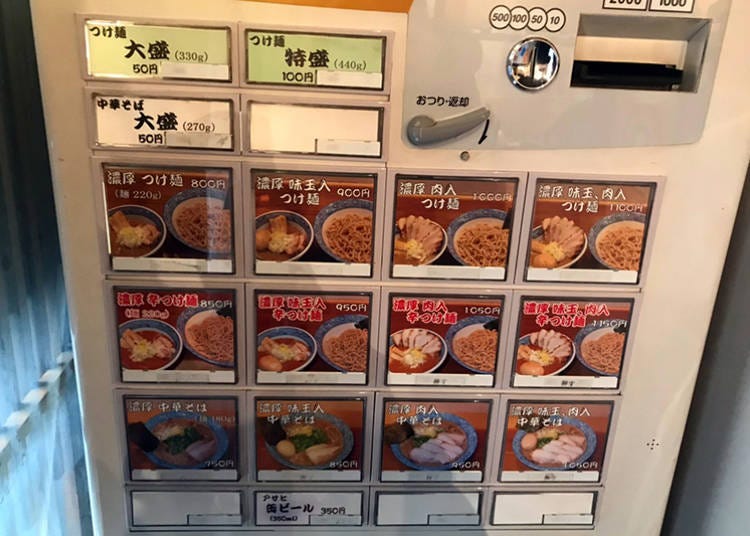 Like the first shop on the list, Dogenzaka Mammoth takes orders via a ticket vending machine as well. The menu is split into a ramen section and a tsukemen section. If you're interested in the "Rich Tsukemen" on the menu, consider also its alternate version, the "Spicy Tsukemen" which comes with a hot and zesty soup base for something different.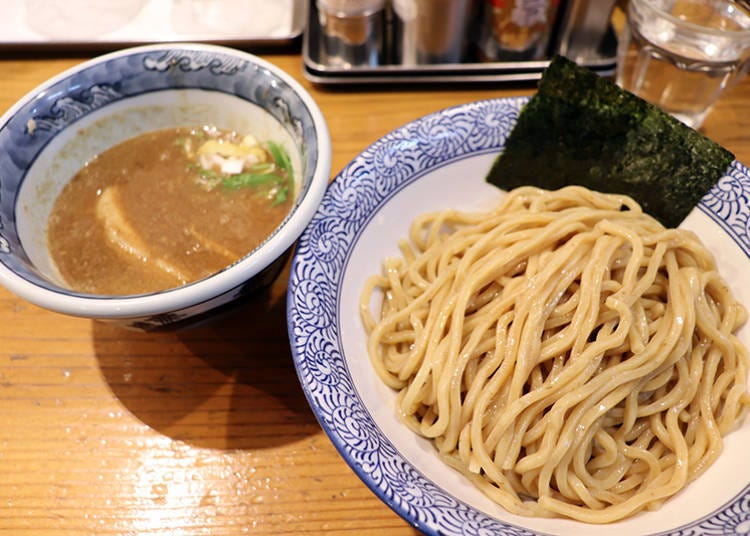 One of the most popular items here is their signature "Rich Tsukemen - 220 grams (800 yen, tax included)". Tsukemen is basically ramen served with the broth and noodles separated. In this shop, you get to choose from two types of tsukemen - "Ultimate Wheat Germ Noodles", more commonly known as the shop's "Signature Noodles" are made of highly nutritious wheat germ dough that keeps the original wheat flavor while enhancing its richness. The other type is the "Ultimate Chewy Noodles", well-loved for its smooth texture and springy bite.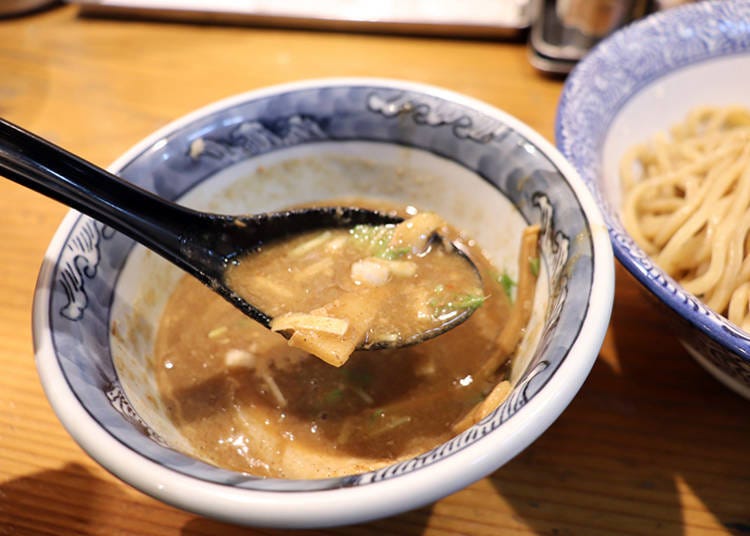 Between the two, our recommendation is the "Ultimate Wheat Germ Noodles", which comes with a rich and aromatic seafood and tonkotsu double broth. The ingredients have been added into the soup beforehand, soaking up all that thick and tasty goodness. Scoop them out with a spoon to find them ready to melt in your mouth! Dip your preferred amount of noodles into the broth one portion at a time to prevent the soup from going cold too quickly and you're all set for a wonderful meal ahead.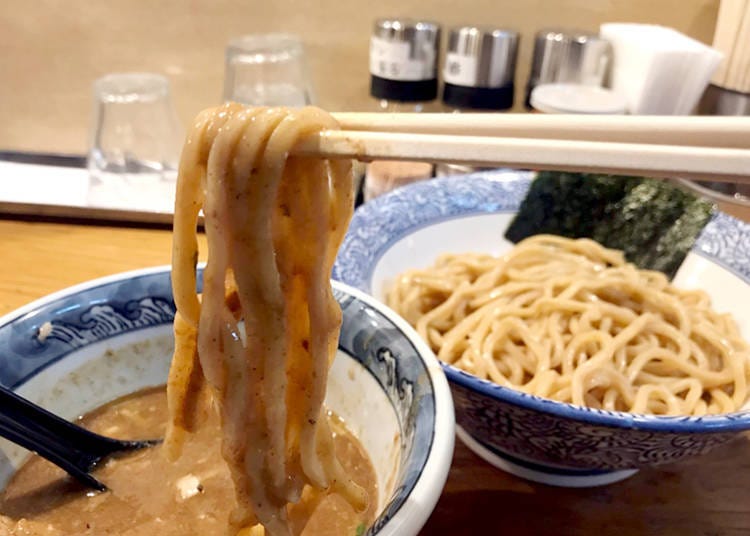 One of the first things you may notice that's special about this dish is that the noodles here have been cut shorter than regular ones to facilitate easier eating. The wheat germ noodles have been made from domestically-grown wheat, specially picked for their great taste. After kneading about 2% of wheat germ into the dough, the result is strands of savory-sweet noodles that retains its pleasant wheat fragrance while being rich in vitamin B-complex and vitamin E at the same time! These minerals are known to be helpful with weight loss, better skin, and has anti-fatigue and anti-aging properties as well.

A pot of extra soup is placed on the table for customers to adjust the richness of the soup to their preference. After you've finished your noodles, you can add some extra soup into the broth as well, to drink up the odds and ends that may have fallen inside. How you want to use this pot of soup is entirely up to you, as long as you promise to relish it down to the very last drop!
道玄坂マンモス

Address

2-10-1 Dogenzaka, Shibuya-ku, Tokyo-to

Nearest Station

2-minute walk from Shibuya Station on the JR Lines


Phone Number

03-5459-3956

Hours:
[Weekdays] 11:30 a.m. – 4:00 p.m. / 5:30 p.m. – 11:00 p.m.
[Weekends and holidays] 11:30 a.m – 10:00 p.m.
Closed: Open daily (except during end of year and start of year holidays/bon festival)
Of course, these aren't the only shops in Shibuya known for their amazing ramen. There are countless other places you can try! If you happen to go sightseeing in this vibrant town, a delicious bowl of ramen may be just what you need to complete your day!

Written by Naho Jishikyu. English translation by Huimin Pan.
*This information is from the time of this article's publication.
*Prices and options mentioned are subject to change.
*Unless stated otherwise, all prices include tax.