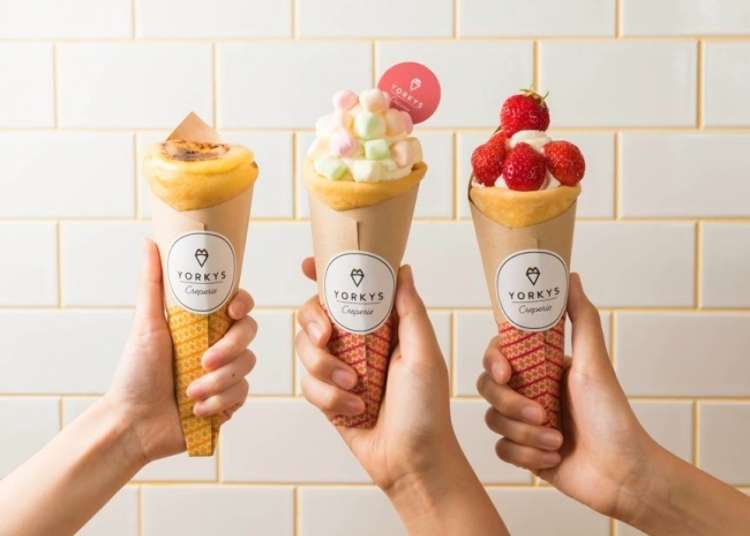 People visit Shibuya from all over the world just to get a glimpse of the latest trends amongst Japanese youth. With new food and fashion spots popping up one after another, it's no wonder there is also no shortage of people being drawn in.

Today, we would like to introduce three of our favorite gourmet hot spots, just opened in 2019! From cute, photo-worthy, popular shops to fun places you can enjoy throughout the night, these are guaranteed to be a hit with Shibuya first-timers and regular visitors alike. Feel free to reference our recommendations as you please.
1. Jazz Bar Kohaku-amber-: Open Till 5AM on Weekends! Come and Forget the Bustle of the City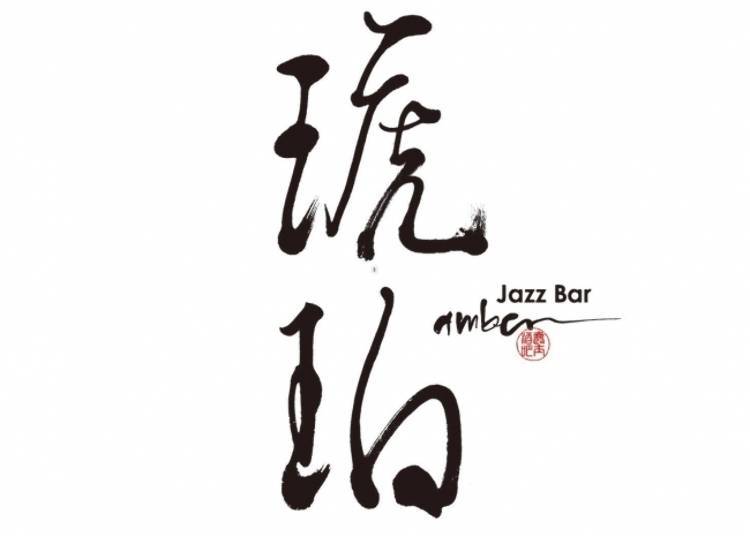 Logo Design by Sumi Artist Chieko Hara
Jazz Bar Kohaku -amber- is an adults' jazz bar, recently opened in April of this year, from the Udagawa Cafe, one of the original night cafes that helped to establish the new night culture of Shibuya. It sits cozily only 4 minutes away from Shibuya Station.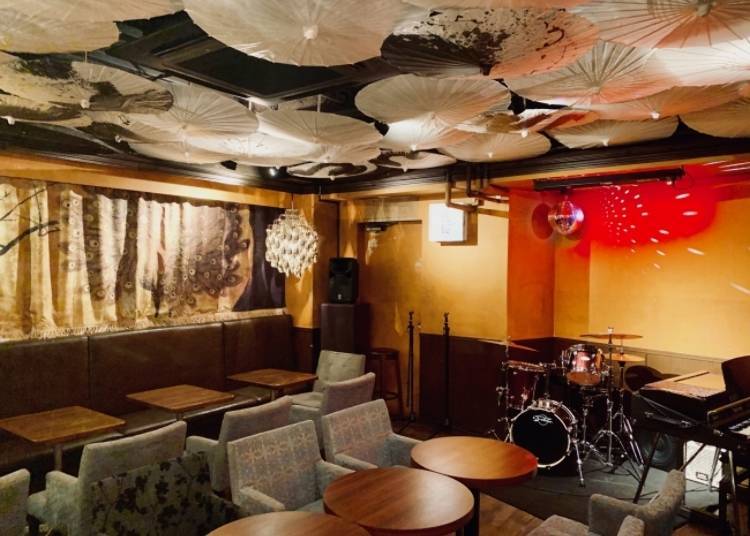 The inside of the shop has a very Japanese flair, with its own sound system perfect for musical sessions, including a drum kit and a Fender Rhodes piano. Every month they hold live shows that you can enjoy while relaxing with a couple of drinks.

Of course, they also have a wide variety of drinks on the menu such as beer, wine, whisky, shocks, plum wine, and sake. We especially recommend the East-meets-West style original cocktails, such as the Udagawa Cafe Original Blend Homemade Coffee Shochu, and the Sake Sangria, with seasonal fruits pickled in Japanese sake.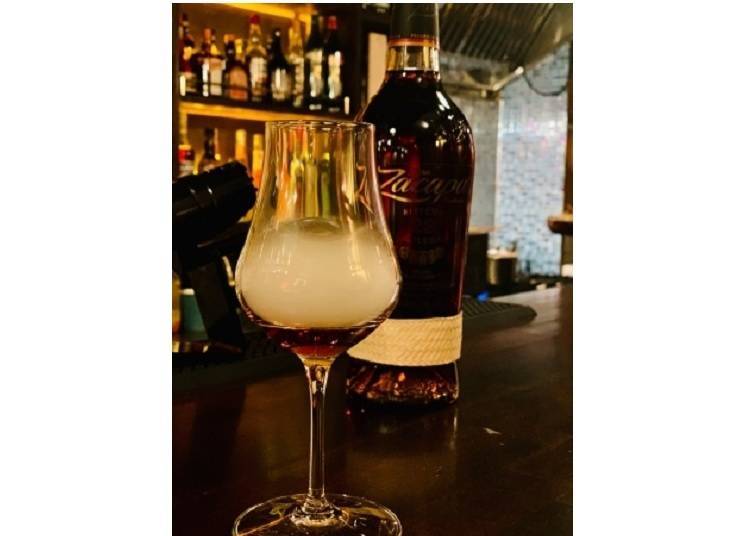 As for their food menu, you can order oden year-round. There are 7 different oden dishes available, along with single-item options such as daikon radish, sardines in soup, dumplings, and mochi kinchaku (tofu pouches).
Jazz bar 琥珀-amber-

Address

17-1 Udagawacho, Shibuya, Tokyo, Brother Bldg. 6F

Nearest Station

JR Shibuya Station, 4 min. walk


Phone Number

03-6455-0505

Hours:
Sun~Thurs: 7:00PM~2:00AM
Fri~Sat: 7:00PM~5:00AM
2. MOG MOG STAND: Lining Up for Food! Shibuya 109 Debut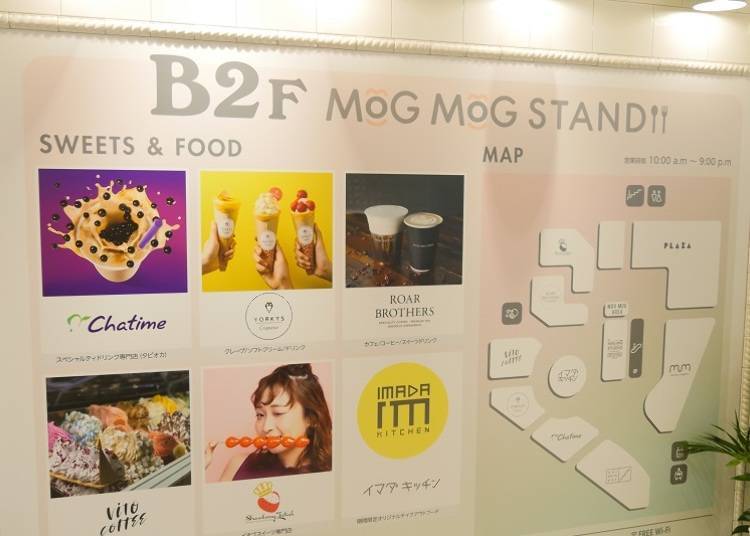 Friday, June 28 marks the grand opening of Shibuya 109's food floor, the MOG MOG STAND, located on the B2F of Shibuya 109. Here, you will find 10 gourmet "eat and walk" food spots where you can enjoy items such as sweets, gelato, crepes, drinks, and more.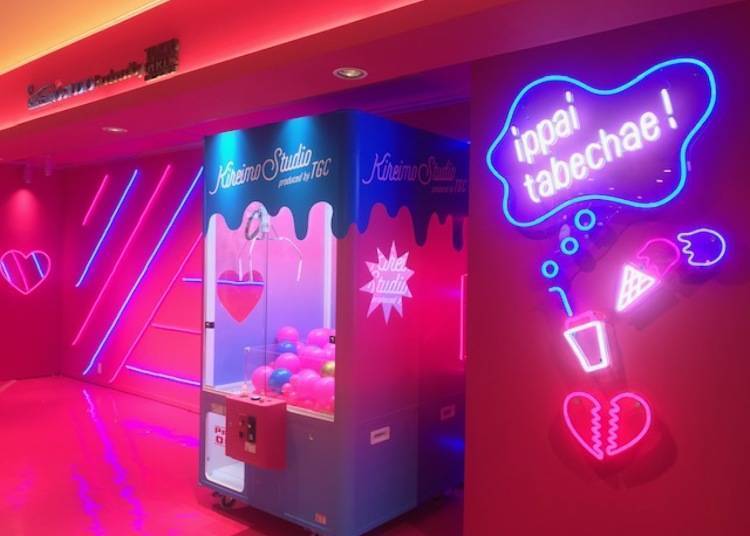 You can enjoy eating and drinking in this highly photogenic food area, complete with cute, stand-out photo spots at each shop that you just won't want to miss! It's not just delicious, it's bright and photo-worthy!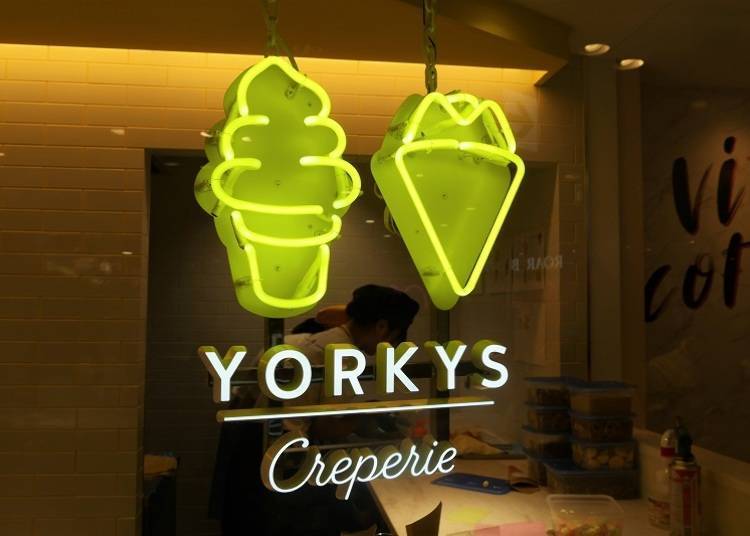 Amongst these new, soon-to-be-opened shops is LIVE JAPAN's top-recommended, popular crepe shop from Kobe, YORKYS Creperie, opening their first branch in Kanto.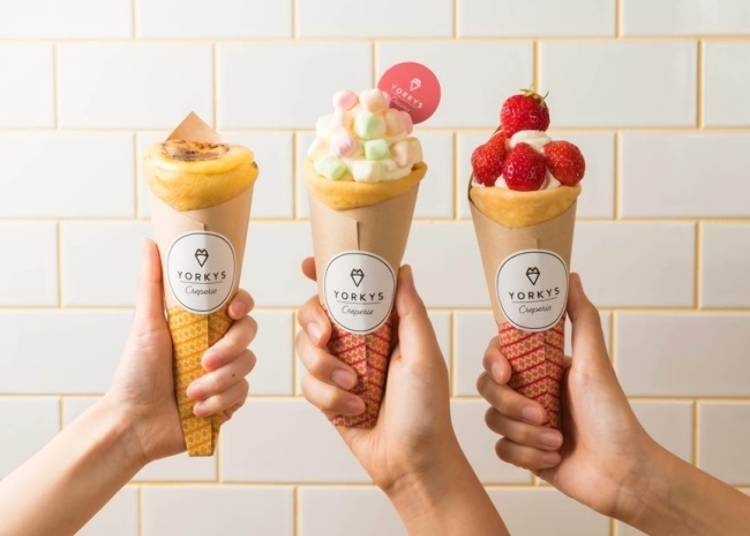 YORKYS Creperie
Their highly popular crepes use plenty of delicious, seasonal fruits for a cute, extravagant look. The "Rainbow Marshmallow Crepe" (680 yen, tax included) is decorated with lots of colorful marshmallows, and is limited to the Shibuya 109 location only! You don't want to miss this one!

There's one spot you will definitely want to take note of: "Strawberry Fetish."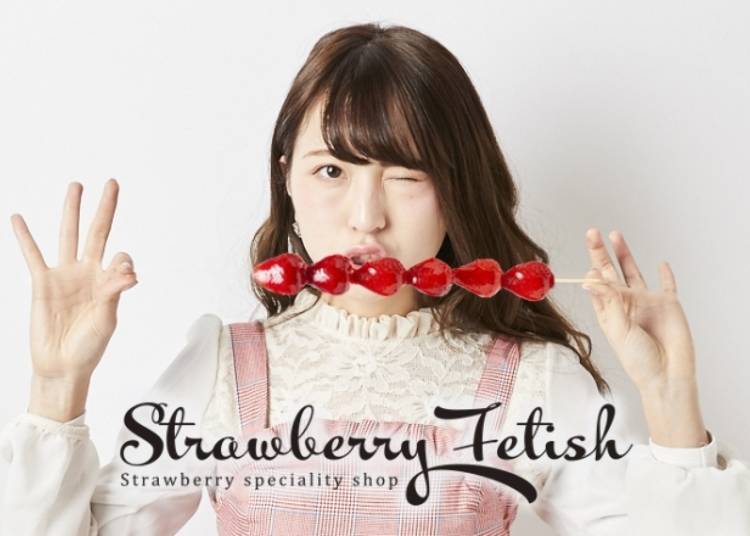 Strawberry fetish
Strawberry Fetish uses internationally recognized Japanese strawberries. In fact, this shop is a specialty sweets store specifically dedicated to strawberries, and is popular with not just Japanese locals, but overseas visitors all throughout Japan.

Their most attention-grabbing item is the "Ichigo Ame Long" (600 yen, tax included). These popular strawberry candies often sold at festivals have evolved to become even more cute than usual! The combination of fresh strawberries and crispy "ame," or candy, is superb. You can even choose your toppings! With its sizable length, it's sure to be a hit on social media, as well!

There are so many cute and delicious shops on this floor, you will definitely want to pay a visit!
MOG MOG STAND(モグモグスタンド)

Address

2-29-1 Dogenzaka, Shibuya, Tokyo, Shibuya 109 B2F

Nearest Station

JR Shibuya Station, 2 min walk


Hours: 10:00AM~9:00PM
Number of Shops: 10
3. Sake Bar Fujiya: A Whimsical Moment with Specialty Tempura Kushi and Sake from 47 Prefectures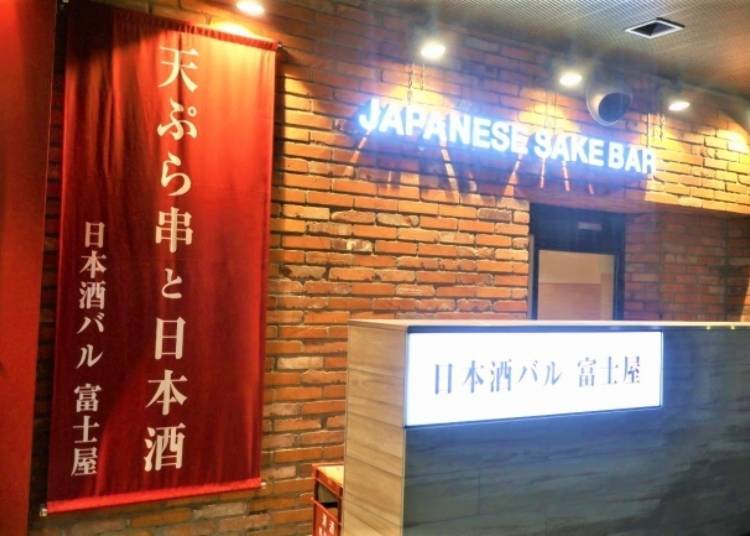 Only a 3 minute walk from Shibuya Station, Sake Bar Fujiya has opened in Dogenzaka, a place where you can enjoy Japanese sake from 47 different prefectures.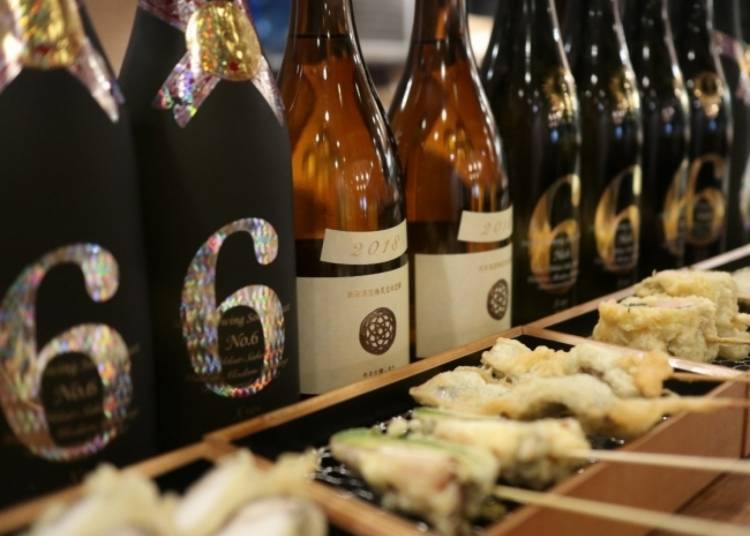 This is a new style of sake bar that offers 50 types of sake selected from all over the country, which you can drink right from a wine glass with a side of tempura kushi.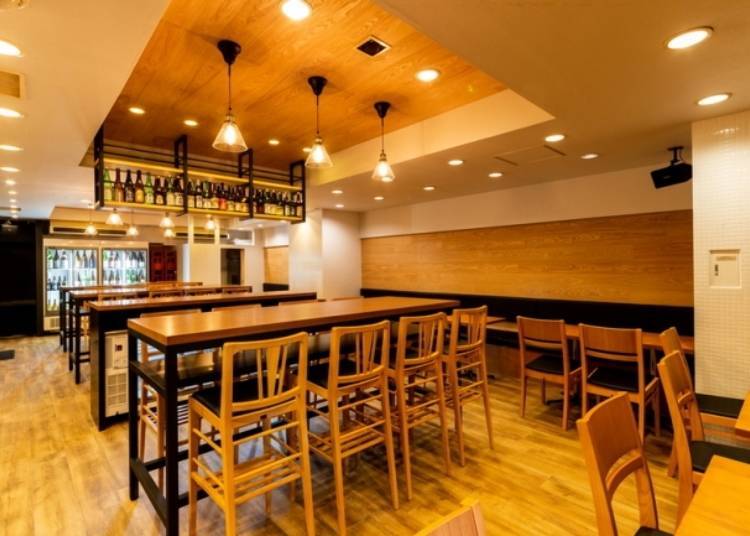 The shop features a wooden interior and a very relaxing atmosphere. Bottles of sake line the shelves and refrigerators, sure to excite any Japanese sake enthusiast.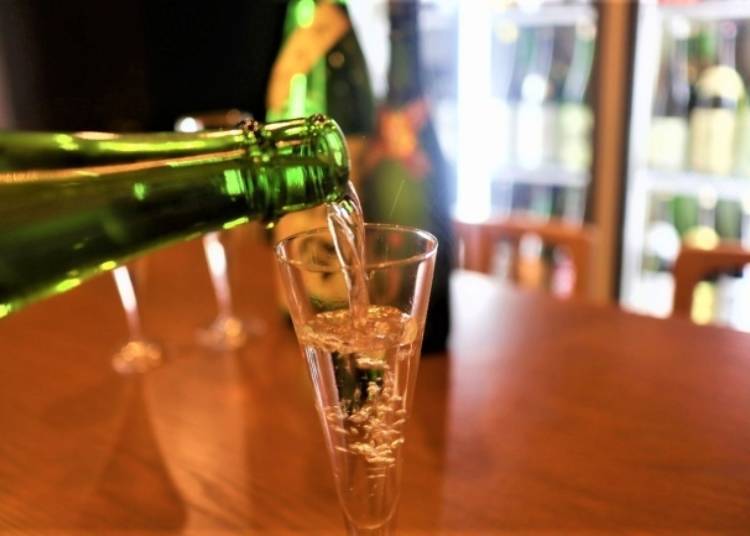 A feature of this shop is their new way of enjoying carefully selected sake, straight from a wine glass. Even visitors from overseas who may not be so familiar with the custom of Japanese sake can find peace in the atmosphere of this Sake Bar.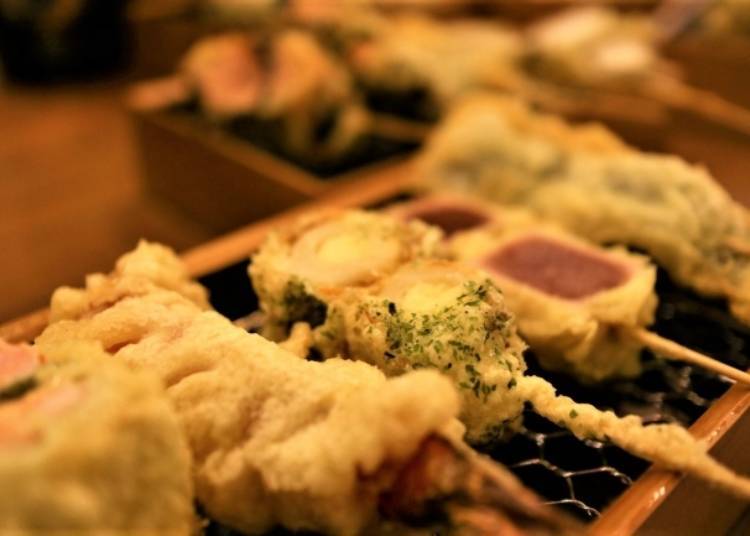 Of course, their food menu is also noteworthy. The top recommendation is the crispy "tempura kushi," the specialty of this shop that is individually fried and served on kebab sticks. There is a wide variety of options, from standard tempura to more seasonal types, as well as alternative menu items. They are flavored with specialty salts and sauces.

Another item to try as an appetizer is the indulgent "Uni Ikura Pudding," a Western-style chawanmushi (egg custard) topped with sea urchin and salmon roe. Be prepared to lose yourself to this one!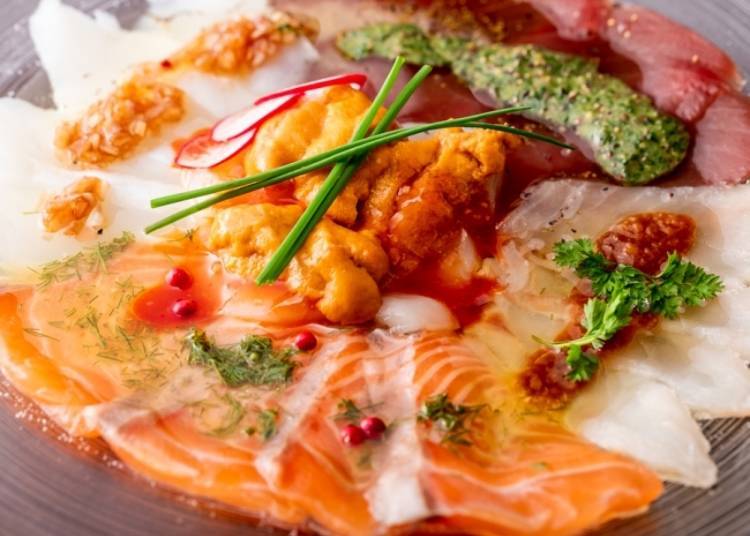 There are plenty of other dishes that pair exceptionally well with sake, including carpaccio and oyster asparagus al ajillo, both served fresh and at a reasonable price.

The shop is open all year round until midnight, so you can drink as much as you want! Why not stop by and check it out?
日本酒バル 富士屋

Address

1-10-7 Dogenzaka, Shibuya, Tokyo, Goto Ikueikai Bldg. B1F

Nearest Station

Shibuya Station (West Exit), 4 min walk


Phone Number

03-6416-9897

Hours: 5:00PM~12:00AM
Regular Holidays: None
And there you have it! There are plenty of new spots opening in Shibuya, so please check them out if you can! Shibuya is a great place, not just as a tourist attraction, but as a haven for delicious gourmet spots.

English translation by Krys Suzuki
*This information is from the time of this article's publication.
*Prices and options mentioned are subject to change.
*Unless stated otherwise, all prices include tax.