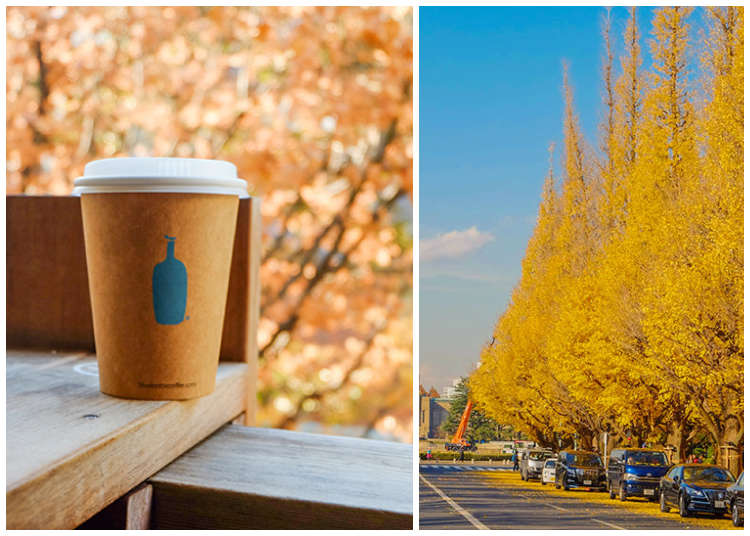 Aoyama is the epitome of Tokyo's fashionable and prosperous metropolitan style. Surrounded by Omotesando, Harajuku, Shibuya, and Akasaka, it is a stylish neighborhood featuring a quiet and high-end residential area, and buildings with tremendous sense of design.

The Prada Boutique Aoyama building, Miu Miu Aoyama flagship store, Francfranc, and many international brand stores such as Louis Vuitton, GUCCI, Kawakubo, and COMME des GARÇONS can be found in the area.

It's certainly the place for fashion trendsetting! In addition to retailers, Aoyama also features foreign consulates, Meiji Jingu Shrine, the Nezu Museum, and the Aoyama Cemetery – known for its cherry blossom viewing. Aoyama is also home to restaurants and cafes including legendary French dessert master PIERRE HERMÉ, the international fashion magazine ELLE brand ELLE café, Blue Bottle Coffee, New York's Shake Shack, and Royal Garden Café.

Meiji Jingu Gaien Ginko Avenue provides a bit of natural fashion to the area. But with so many examples of fashion, art, humanities, food in the same place, what are some of the must-visit places?

Here are a few of the highlights!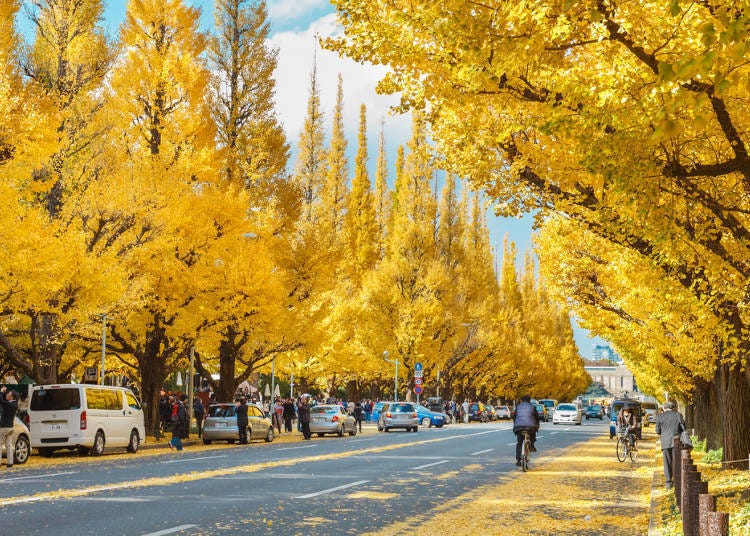 How to get to Aoyama:
1. Take the Tokyo Metro Chiyoda, Ginza, or Hanzomon Lines to Omotesando Station.
2. Take the Tokyo Metro Ginza or Hanzomon Lines or the Toei Subway Oedo Line to Aoyama-itchome Station.
3. Take the Tokyo Metro Ginza Line to Gaienmae Station

Aoyama Tokyo: Must-visit Attractions and Stores

Must visit attractions:
・Meiji Jingu Gaien Ginkgo Avenue - Beautiful autumn scenery
・Francfranc Aoyama - Elegant Home and Lifestyle Products

Must eat food:
・Blue Bottle Coffee - Enjoy a cup of coffee and a good day
・ELLE café - Healthy and Fashionable Food
・PIERRE HERMÉ PARIS Aoyama - High-end French Dessert Paradise

LIVE JAPAN's top recommendations – slow down and go shopping!
ELLE café: For a Healthy and Fashionable Meal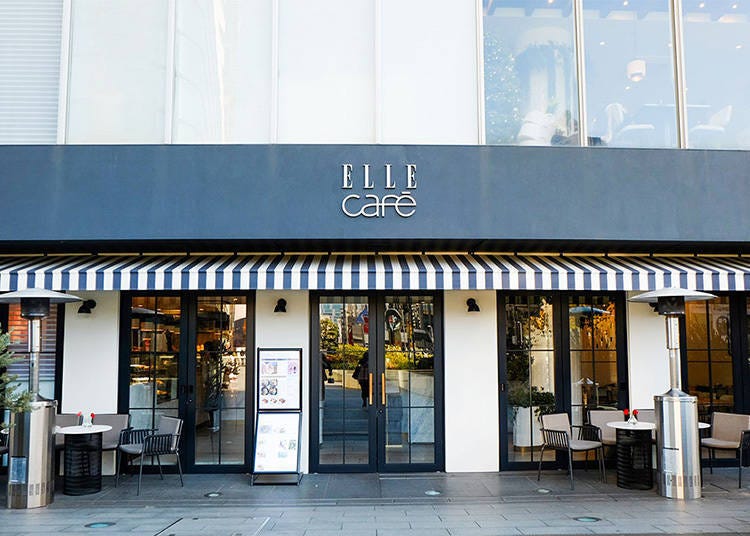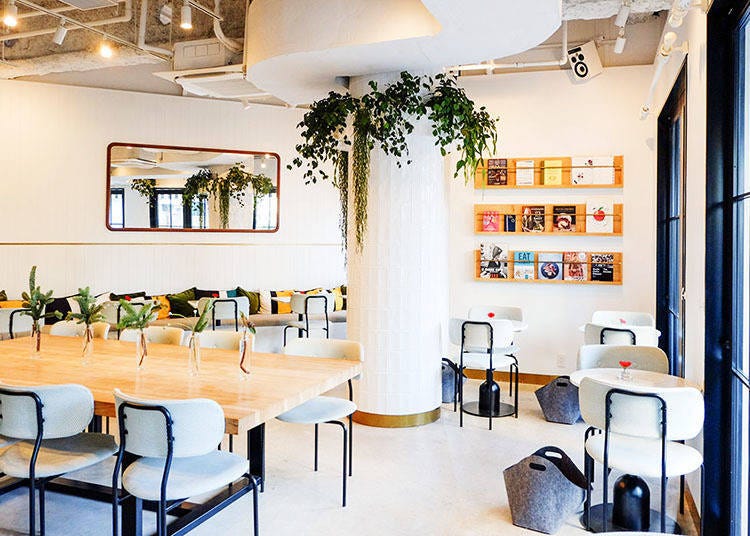 For delicious food that's healthy, low in calories, and ready to be posted to your favourite social media all in a relaxing environment, ELLE café meets all these requirements.

French fashion magazine ELLE began publication in 1945, focusing on women's fashion, beauty and taste. In 2016, the magazine opened Tokyo's first ELLE café in Aoyama with two more branches in Ginza and Roppongi Hills following soon after.

This coffee shop and restaurant adheres to the concept of making the body healthier and more beautiful, and uses carefully selected organic ingredients in its dishes.

Internationally renowned chef Melissa King has been invited as an executive guest chef, and the use of gluten-free, low-sugar, and low-calorie ingredients, and a wide range of healthy vegetables ensure healthy, natural meals.

The open-air brunch cafe and take-away counter are on the first floor, and the restaurant is found on the second floor. The beautiful interior, which is brightly decorated with flowers and greenery, was created by internationally renowned interior designer Sarah Lavoine.

The restaurant exudes a stylish atmosphere that is loved by many celebrities and has made ELLE café one of the most popular cafes in Tokyo.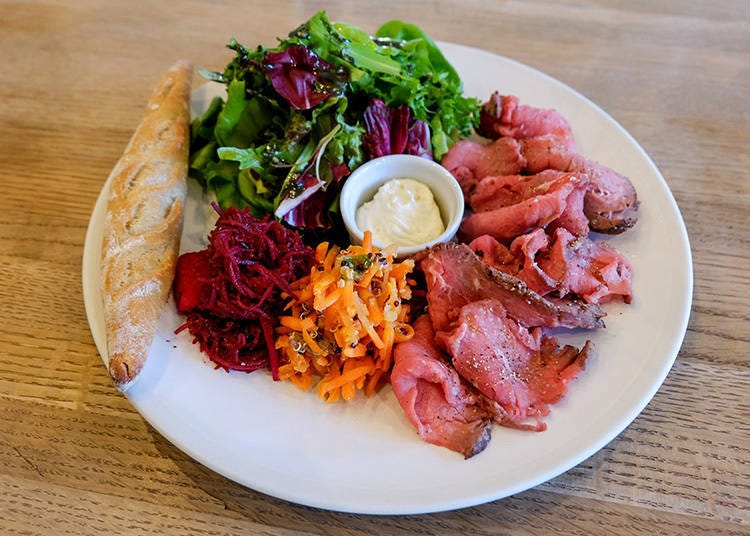 Roast Beef, \1,800
Berry & Buffalo Milk Yogurt Pancakes, \1,800
ELLE café's roast beef uses grass-fed Australian beef, and it low in cholesterol. The thinly sliced beef is tender and sweet and served with two kinds of daily vegetables, seasonal organic vegetables, bread, and horseradish sauce.

Another of ELLE café's favored dishes is their Berry & Buffalo Milk Yogurt Pancakes, made with organic rice flour. This dessert is not only gluten free, but is visually appealing. You won't even need to use a filter to get the perfect shot!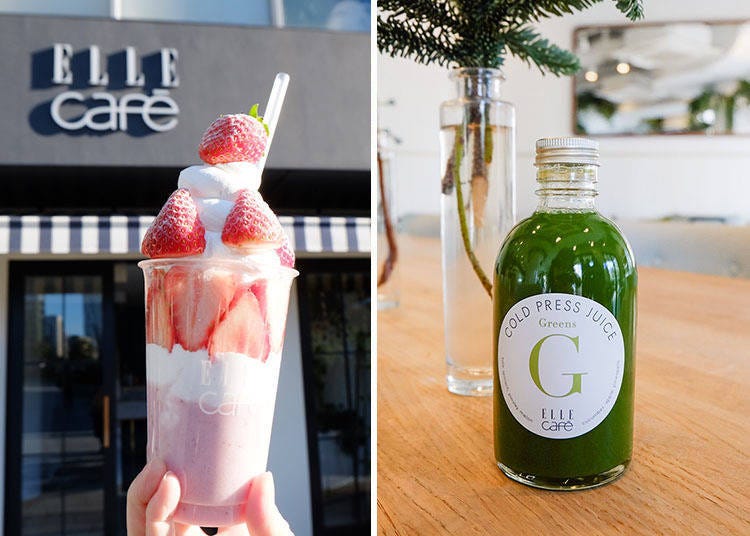 Left: SMOOTHIE BONBON (スムージーボンボン), \1,800 Right: COLD PRESSED JUICE Green (コールドプレスジュース グリーン), \1,080
Right: COYO low-sugar Coconut Yogurt ココナッツヨーグルト), \1,200 Left: Buffalo Yogurt (バッファローヨーグルト), \2,300
Another lovely dessert you can't miss is the Smoothie Bonbon. Using fresh seasonal fruits and almond milk, this delightful pink smoothie features yumenoka ichigo strawberries from Nagasaki and a delightful pink color.

The drink is completely dairy-free, and with whipped cream made from soy milk, you can enjoy a bit of guiltless indulgence.

ELLE café also serves the extremely healthy Cold Pressed Juice, which contains organic kale, bok choy, parsley, cucumber, honeydew melon, apple, pineapple, and lemon. Rich in water-soluble dietary fiber, potassium and vitamin C, this high-fiber low-calorie, low-sugar, and has just as much delicious taste as it does nutritional value!
エル カフェ 青山店

Address

5-51-8 Rapport 1F, 2F, Jingumae, Shibuya-ku, Tokyo, 150-0001

Hours: DELI Weekdays, 9:00 - 21:00 / Sat., Sun. & holidays 8:00 - 21:00;
CAFE Weekdays, 9:00 - 23:00 / Sat., Sun. & holidays 8:00 - 23:00
PIERRE HERMÉ PARIS: French Dessert Paradise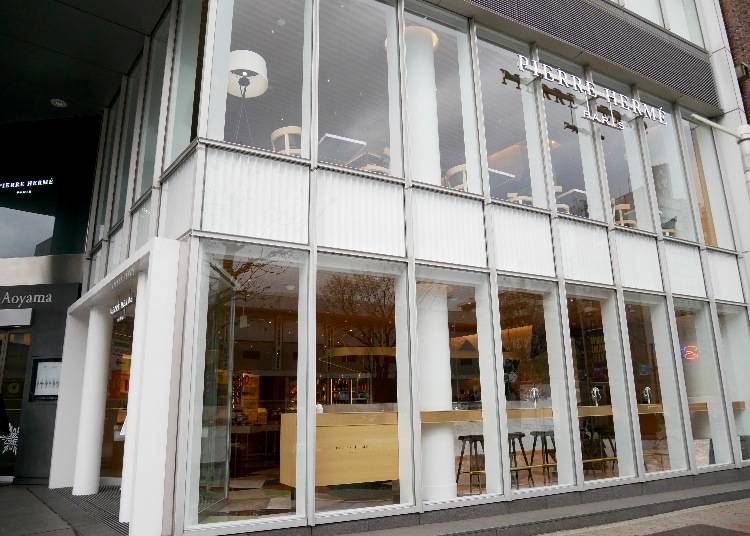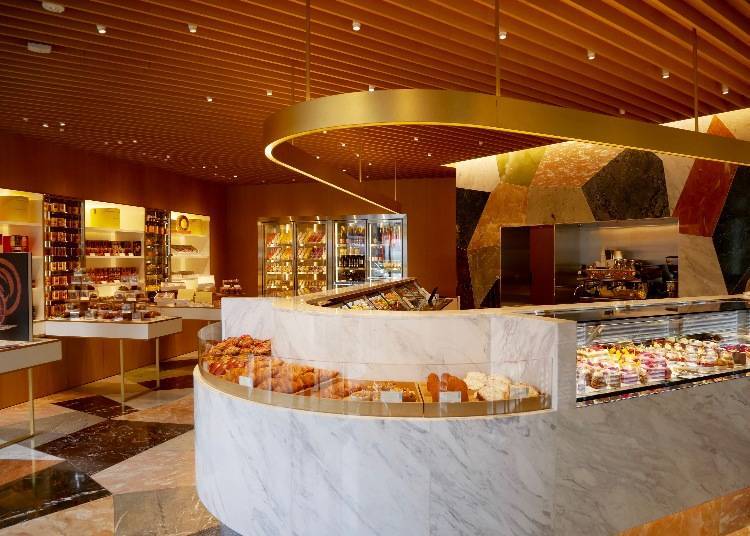 PIERRE HERMÉ PARIS Aoyama is a French dessert shop opened by the world-famous French dessert chef of the same name, but also know as "The Picasso of Pastry."

As soon as you open the door of the chic shop, you'll be amazed by the display cases and counters filled with colorful confections and baked goods.

A 2016 renovation only added to the shop's inviting display. Although Pierre Hermé developed his talents in Europe, it was in Tokyo in 1998 that he opened his first boutique, before introducing his brand to Paris in 2001.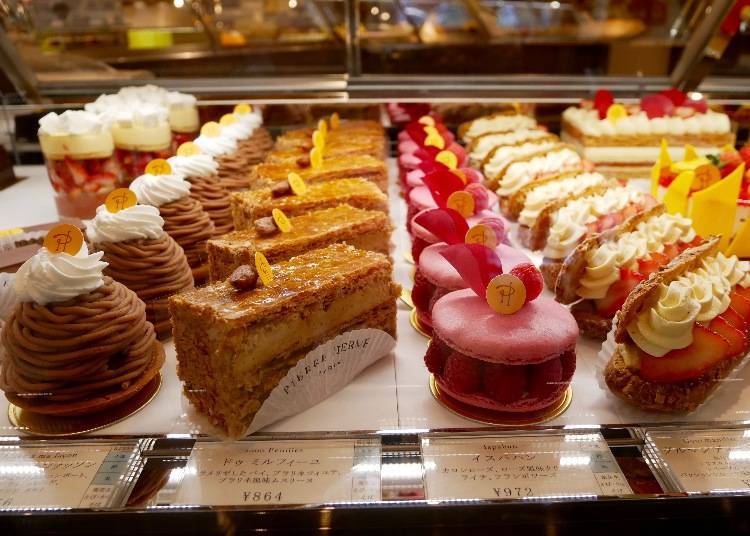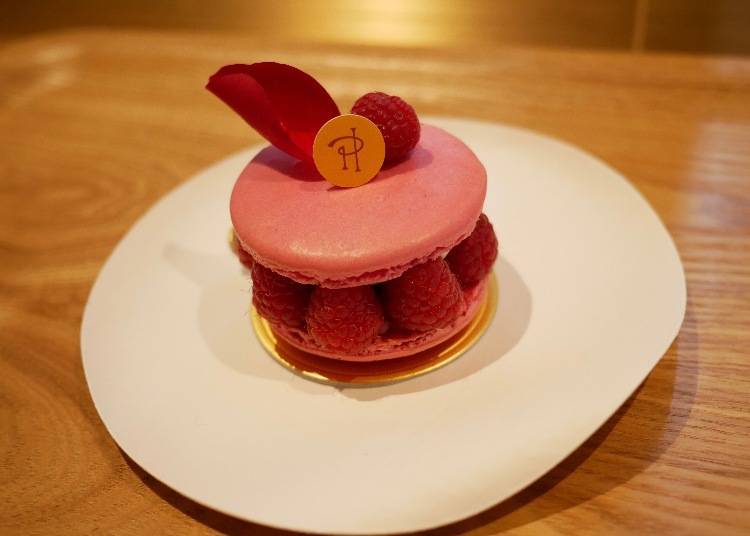 Ispahan Rose Lychee Macaron Cake (イスパハン) , \972 (tax included)
In the myriad of dreamy desserts found at PIERRE HERMÉ PARIS, the most famous is the Ispahan macaron. Chef Pierre Hermé created it when he worked for the well-known macaron brand Ladurée and it has since become famous in the international dessert industry. Red macarons, sweet lychees, tart raspberries, and the ingenious use of roses petals all combine spectacularly in this light and delicious treat!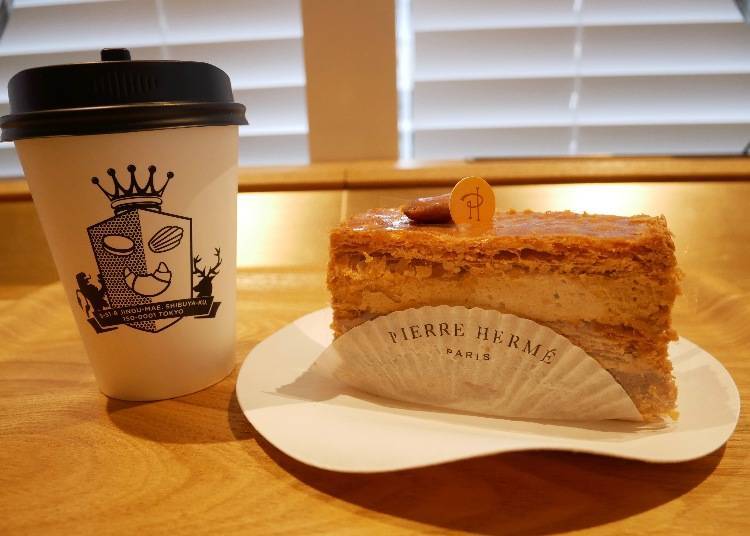 Mille-feuille (ドゥミルフィーユ), \864 (tax included)
Another of PIERRE HERMÉ PARIS Aoyama's signature desserts, the Mille-feuille and its luxurious nutty glaze, caramelized shortbread, and thick cream will have your taste buds dancing!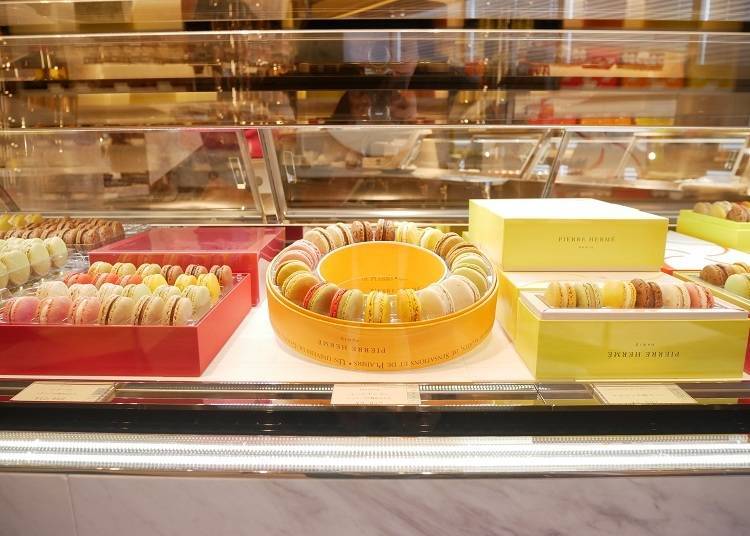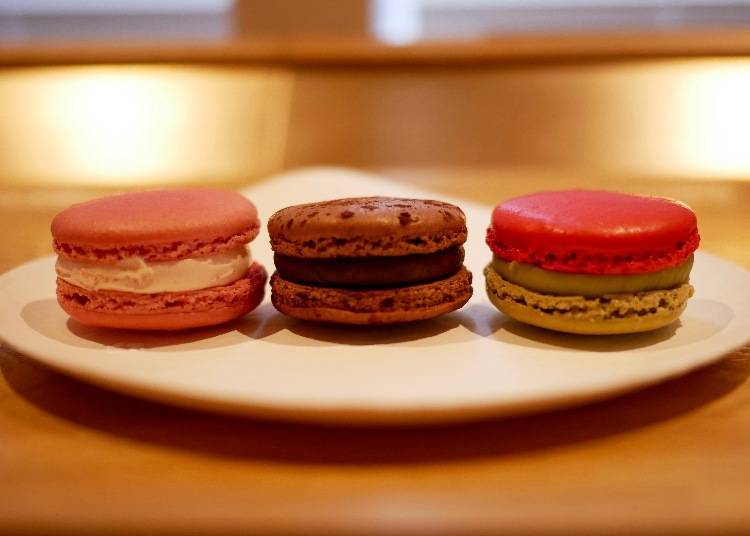 Left to right: Rose Macaron (マカロン アンフィニ マンローズ), Chocolate Macaron (マカロン ショコラ アメール), Berry and Pistachio Two-color Macaron (マカロン ズーズ ピスターシュ), \302 (tax included)
In addition to the Ispahan macaron, Pierre Hermé chefs have taken the traditional French confection and transformed it into a dessert that's much-loved the world over. Three more varieties available at the Aoyama store are the light rose macaron, dually bitter and sweet chocolate macaron, and the berry and pistachio macaron whose rich nutty and sweet berry flavor is superb.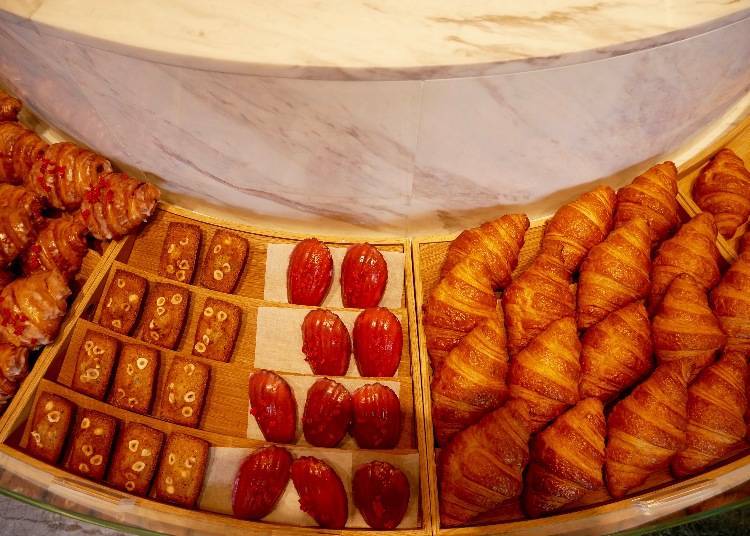 Not limited to desserts, PIERRE HERMÉ PARIS also sells many kinds of European bread. And on the second Saturday of each month, there is also a breakfast banquet (Petit Déjeuner) offering a wide selection of delicious European breads and sweet treats, all of which are freshly baked on the second floor of the store!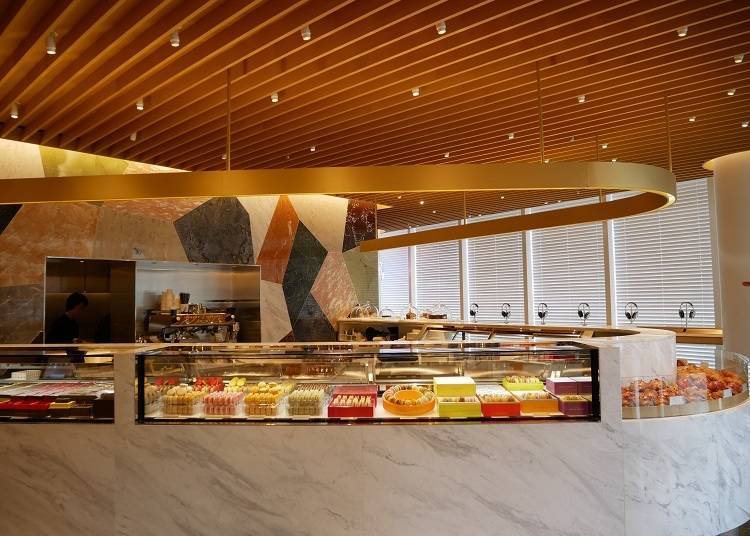 PIERRE HERMÉ PARIS Aoyama also offers dining seats with premium headphones, allowing customers to enjoy delicious desserts while listening to music in the store. Moreover, the paper on the serving trays is crafted in Japan and the small forks are made of bamboo.

This fine attention to even the smallest details is just another part of what makes a visit to PIERRE HERMÉ PARIS Aoyama so desirable. It's a wonderful balance of freshness and luxury.

The interior design of the space, desserts and bread are all very textured, but not overly luxurious or burdensome. Just like Aoyama itself, PIERRE HERMÉ PARIS is high-end but unassuming, attracting people who know how to enjoy life.
PIERRE HERMÉ PARIS Aoyama

ピエール・エルメ・パリ 青山

Address

5-51-8 La Porte Aoyama 1F, Jingumae, Shibuya-ku, Tokyo, 150-0001

Hours: 11:00 - 20:00 (L.O. 19:30)
Blue Bottle Coffee: A Beautiful Start to Your Aoyama Tour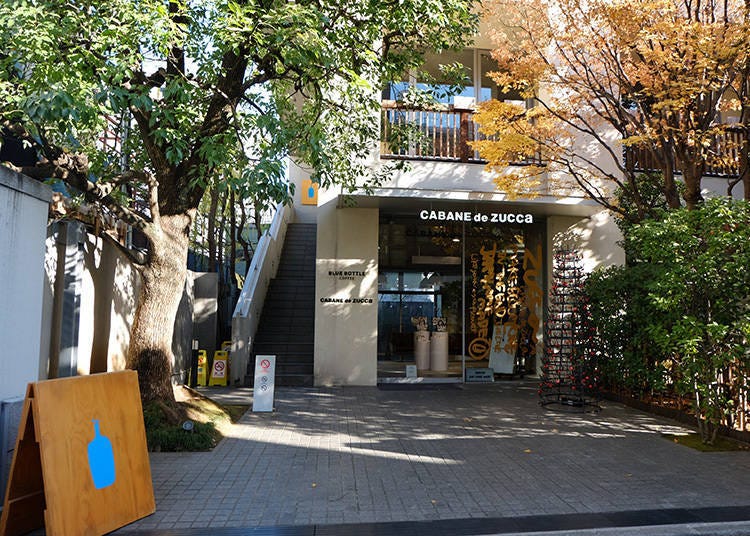 The Aoyama store was the second Blue Bottle Coffee shop opened in Tokyo. About ten minutes from Omotesando Station, the quiet coffee shop is surrounded by greenery.

The spacious second floor has warm wooden floor and large floor to ceiling windows that allow natural light to fill the room and provide an excellent view of the outside scenery throughout all the seasons from the comfort of the long bar.

In addition there are many different styles of seating both indoors and outdoors. This intimate shop is a great place to forget the bustle of the city and take a moment to organize your thoughts.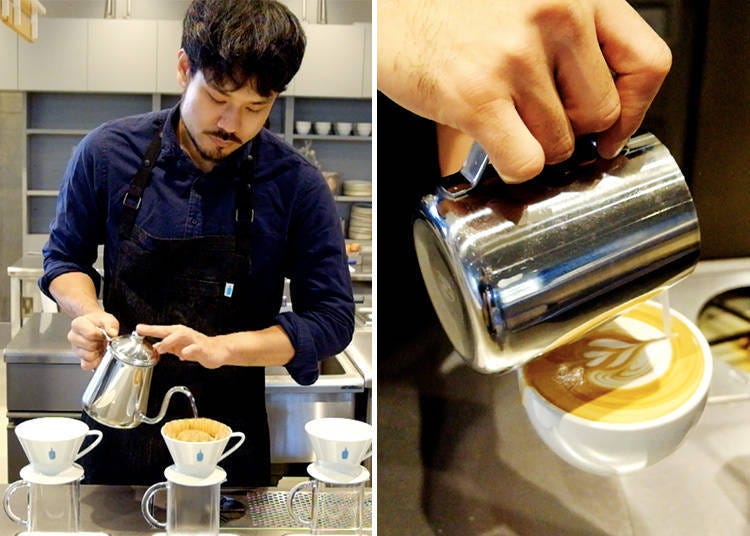 Good coffee is worth waiting for, and Blue Bottle gives its customers a wonderful taste experience. The shop's layout makes it possible to watch the hospitable baristas prepare your made to order cup of coffee. It's almost like taking a step out of time to watch artists at work!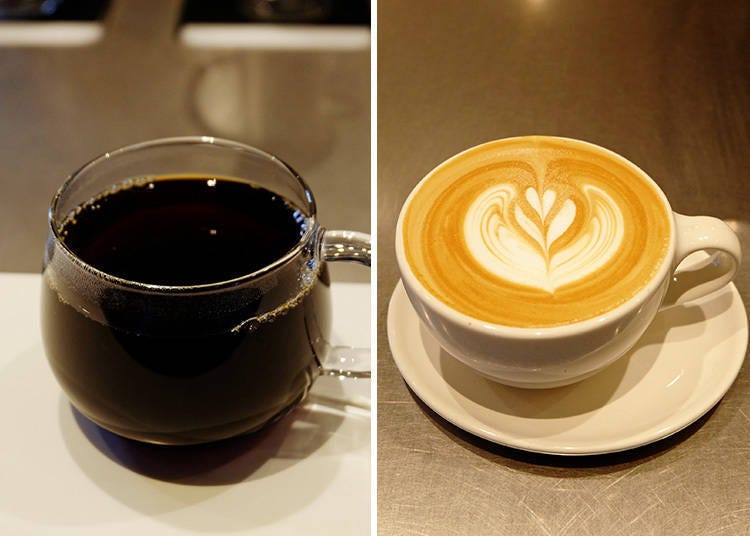 Left: BELLA DONOVAN, \450 Right: (SINGLE ORIGIN) COSTA RICA LOURDES DE NARANJO FINCA FIDEL, \650
At Blue Bottle Coffee, you can try different flavors and varieties of coffee beans every day. Bella Donovan, an organic blend of Ethiopian and Sumatran beans, has a gently fruity flavor and a rich, nutty aroma.

Well suited for drinking black to appreciate its purest taste, it's a great way to chase away drowsiness and start your day! Their espresso uses Costa Rican beans, and has an elegant aroma and a soft, pleasant taste. Soft, smooth milk foam completes its delicate flavor.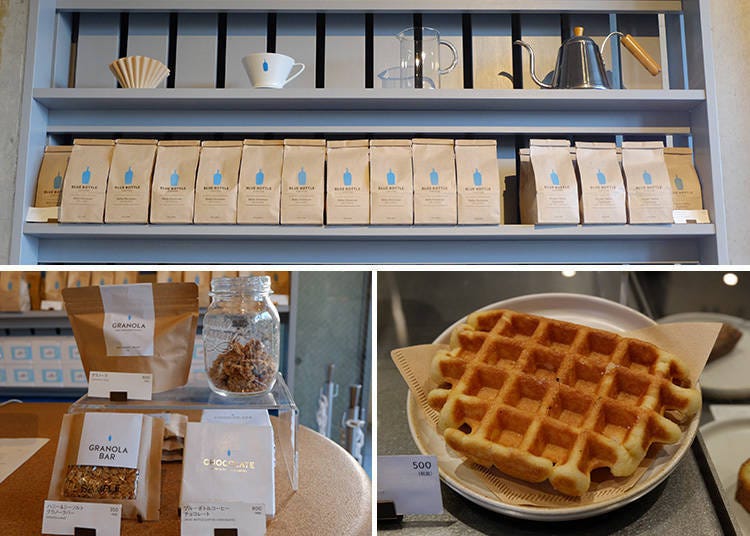 Top: Coffee beans, \1500/bag yen round Left: GRANOLA, \900; GRANOLA BAR, \350; BLUE BOTTLE COFFEE CHOCOLATE, \800 Right: LIEGE WAFFLE, \500
Customers can also purchase fair-trade coffee beans sold in environmentally friendly paper bags. Blue Bottle doesn't, however, grind coffee beans in the store to ensure the freshness of the beans' flavor, but it does sell coffee grinding equipment. Other in-store products include light meals, biscuits, and Blue Bottle Coffee mugs fans won't want to miss collecting!
Blue Bottle Coffee Aoyama Cafe

ブルーボトルコーヒー青山カフェ

Address

3-13-14 Minamiaoyama, Minato-ku, Tokyo, 107-0062

Hours: 08:00 - 19:00
Francfranc: Elegant Home Fashion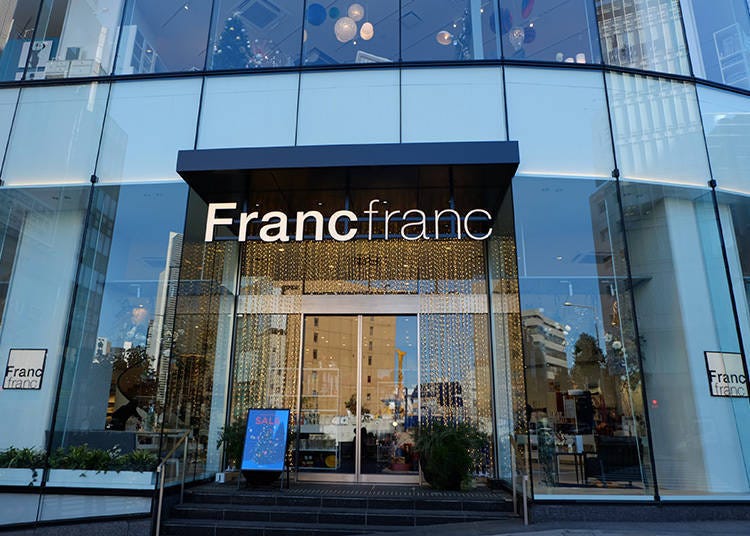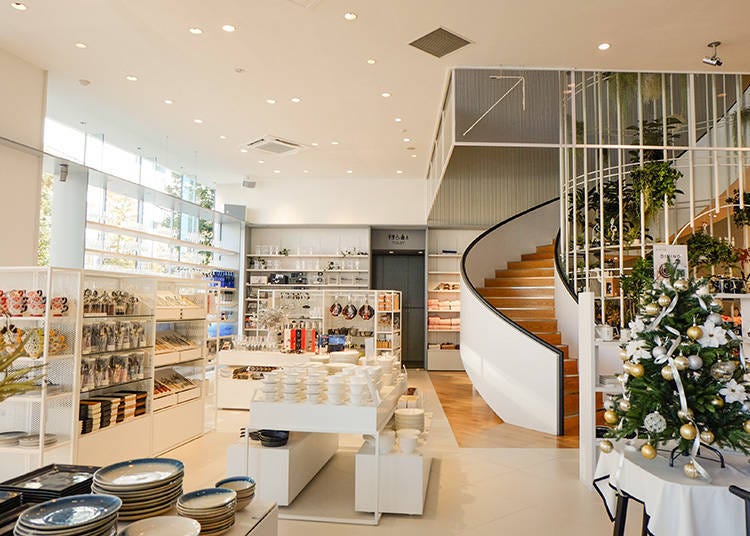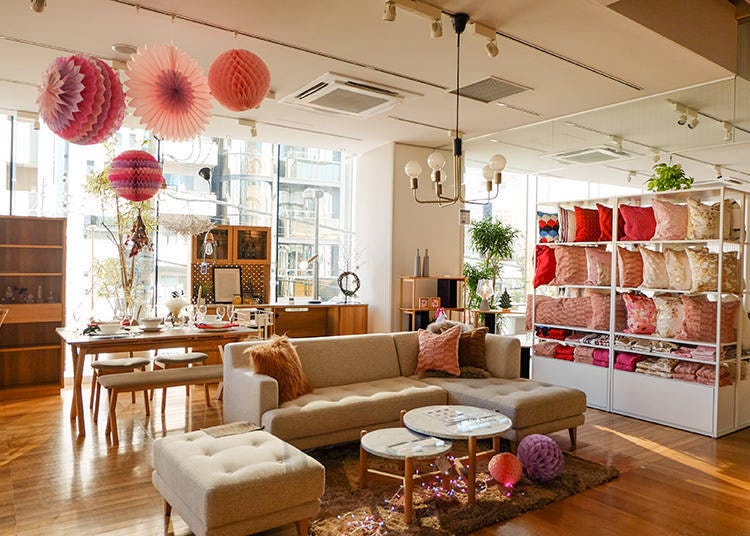 Francfranc is a well-known chain of Japanese home decor and lifestyle store. The brand's slogan "A Life of Color" advocates the use of diverse colors in design and living with a focus on comfort and freedom.

While there are more than one hundred branches in Japan, the two-storey flagship store in Aoyama is the largest. The first floor focuses on home maintenance products, kitchen and tableware, potted plants, festive decorations and, daily necessities. The second floor is dedicated to home decorations, furniture, small appliances, bedroom products, and toiletries.

The exquisite products sold in the store are full of design and texture. The simple and colorful fashion designs are full of life and showcase the brand's philosophy. As soon as you step into the store, you'll immediately be immersed in the beautiful atmosphere, and fall in love the many products!
Top: Indoor Fragrance Series (イル ラフィニ ディフューザー), \3,600 Left: Lourdes Massage Cushion (オリジナルダブルもみ), \10,500 Right: Ultrasonic humidifier, \5,000
Many people like to use fragrance products to enhance their lifestyle. In the Francfranc's Aoyama store, there are nearly one hundred fragrance products to choose from, ranging from scented candles to diffusing fragrances to body perfume. You'll certainly be able to find scented products that will help you relax, whether at home or at work.

The Francfranc limited massage cushion (Lourdes Massage Cushion) features eight pressure-sensitive massage heads that will gently soothe soreness of stiffness. The gentle color, shape, and built-in 7-color LED of the Purima ultrasonic humidifier add flavor to your home while not only moisturizing the air, but also to relieving tension calming nerves, and providing improved sleep quality!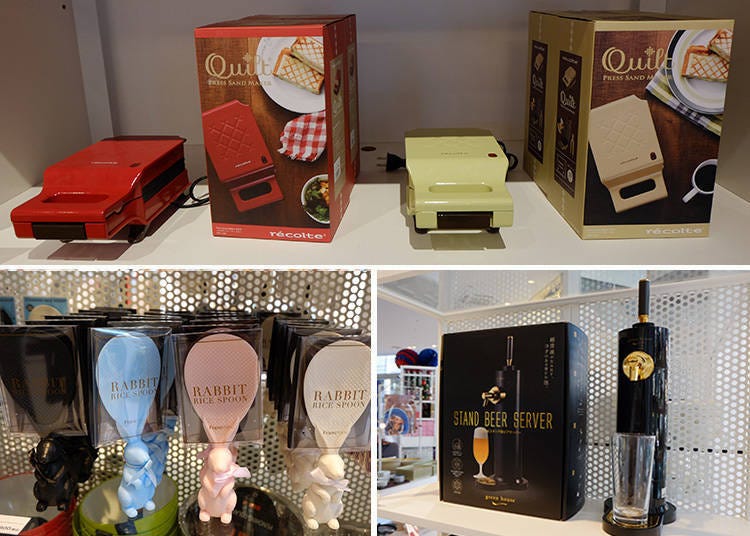 Top: Plaid Sandwich Maker, \4,320 Left: Rabbit Standing Rice Spoon (ラビット ンーン), \900 Right: Standing Beer Server (スタンド ビアサーバー ブラック), \10,778
The Quilt sandwich maker from Récolte has enjoyed recent popularity in Japan and across Asia. This compact appliance is light and easy to store, and takes only a few minutes to make a delicious sandwich or panini!

Another sought-after item sold at Francfranc is the cute rabbit rice spoon. But it's not just a practical kitchen essential! Since it can stand-up, the spoon doubles as a kitchen ornament and is perfect for gift giving!

If you're looking for an excellent addition to your home bar, Francfranc also sells Green House's Stand Beer Server. With its portable design and internal cooling system, this machine will allow you to serve the perfect glass of beer to your friends anytime, indoors or out!
Francfranc 青山店

Address

3-1-3 Spline Aoyama Tokyu Bldg., Minamiaoyama, Minato-ku, Tokyo, 107-0062

Hours: 11:00 - 21:00
The Golden Leaves of Meiji Jingu Gaien Icho Namiki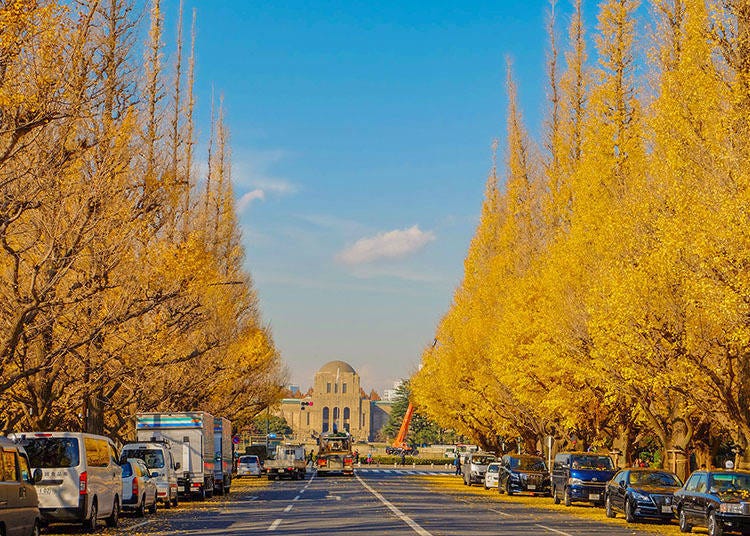 Every autumn (in late November and early December), the ginkgo trees spread across Tokyo provide a gorgeous golden hue to the city's scenery.

Ginko trees retain their autumn colors longer than maple trees, so you don't have to worry about missing out on this beautiful spectacle.

A three-minute walk from Aoyama-itchome or Gaiemmae stations will bring you to one of the best exhibitions of ginko the city has to offer. Meiji Jingu Gaien Ginkgo Avenue is lined on either side by beautiful ginko trees and leads to the Meiji Memorial Picture Gallery, which houses numerous works of art and pictures of Emperor Meiji.

The area is also the site of many sporting facilities: Meiji Jingu Baseball Stadium, a golf driving range, baseball batting cages, softball fields, a rugby stadium, futsal courts, tennis courts, an ice hockey rink, and the site of the New National Stadium, being built for the 2020 Olympics.

The Ginko Avenue is a well-known attraction, and the Picture Gallery is a good example of Japan's shift towards more Western architecture in years gone by.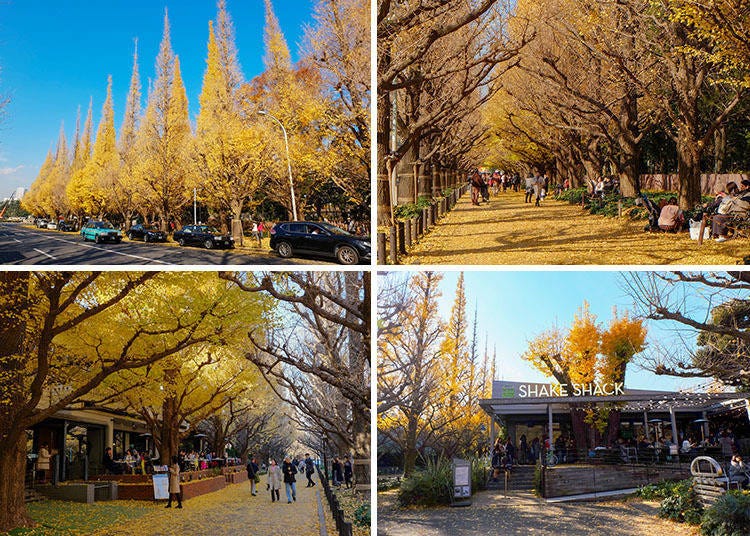 The 300-meter-long Ginkgo Avenue is wide and straight, towering ginkgo trees planted on both sides of the road.

During the day, the sunlight gives each ginkgo leaf a dazzling golden glow. The scene is both romantic and magnificent, making it a popular location for wedding photos.

There are many well-known restaurants and coffee shops along the Avenue, including the famous New York hamburger shop Shake Shack, and the always-popular Royal Garden Café.

If you stop into one of the shops, you'll be able to appreciate the ginkgo scenery the while enjoying your drink or meal!
Meiji Jingu Gaien Icho Namiki

神宮外苑いちょう並木

Address

〒107-0061 東京都港区北青山2丁目1
With its classic and modern architecture, natural beauty, and abundant shops, Aoyama's charms are almost infinite, and offer a sense of romance regardless of the season. If you want to experience internationally renowned restaurants, cafes, and dessert shops, or if you simply want to do some window-shopping, be sure to arrange a trip to Aoyama!

Written by: Yu. English by Gabriel Wilkinson.
*This information is from the time of this article's publication.
*Prices and options mentioned are subject to change.
*Unless stated otherwise, all prices include tax.