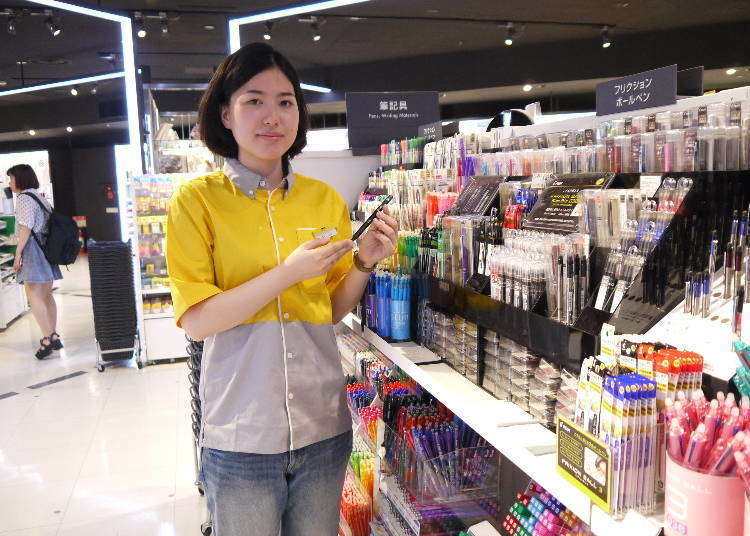 Loft is an extremely popular, large-scale variety store that has a plethora of stickers and other cute Japanese stationery goods as well as other lifestyle products such as cosmetics and even travel goods. We went to check out Loft's Shibuya flagship store to discover for ourselves what their best products were.
Pilot FriXion Ballpoint Pens/フリクションボール ノック 0.7mm 消えるボールペン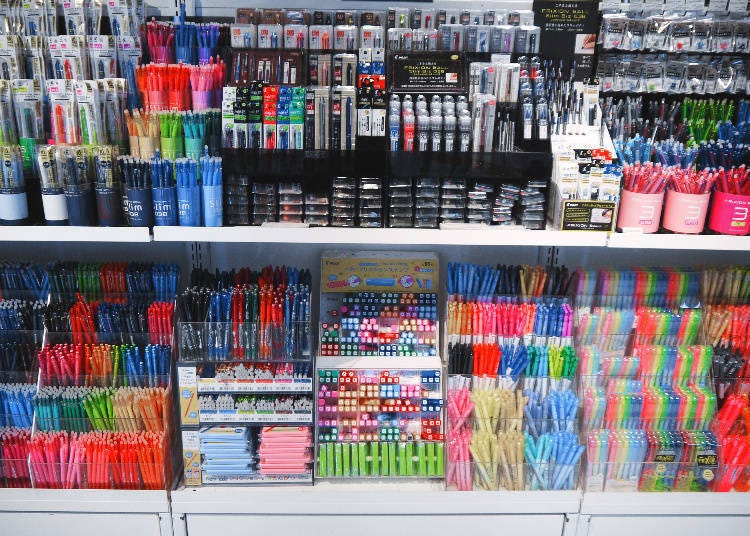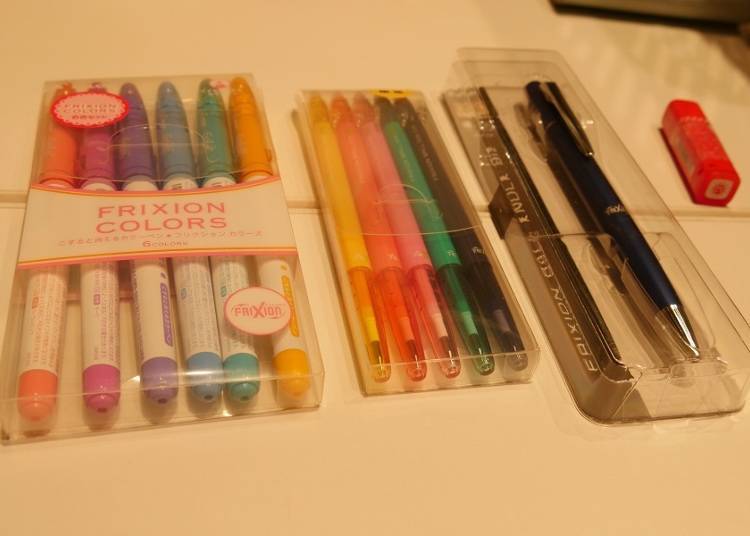 Some may think that ballpoint pens are a thing of the past, but these Frixion pens will prove them otherwise. Just like a pencil – but more permanent – you can make as many mistakes as you want because you can always erase them with these. Loft has a large lineup of the Pilot Frixion series including the slim series, business series, and even the stamp series. With such a large selection, you're guaranteed to find the "write" stuff for you.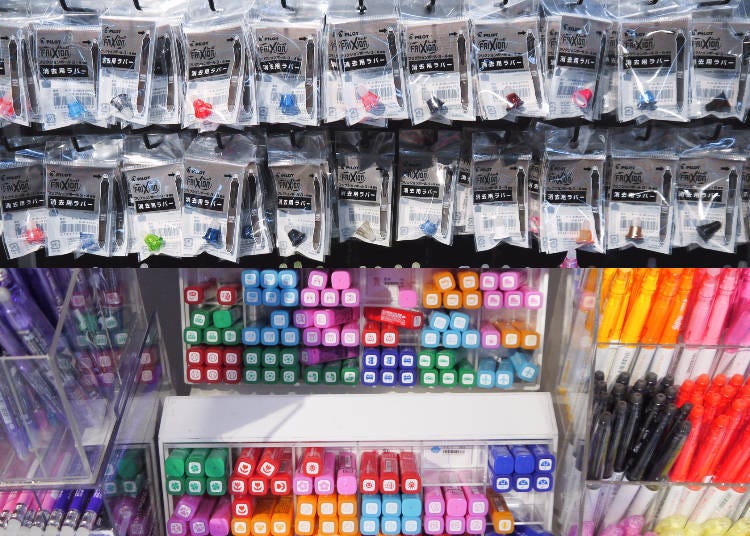 Loft has exchangeable parts for your Pilot pens as well. With exchangeable ink and erasers, you can keep your favorite Pilot pens without having to buy new ones. According to our Loft reporter, a lot of customers tend to buy these as souvenirs.

Price: 230 yen (+tax.)
Plastic Wrap Writeable Pens/サランラップに書けるペン6色セット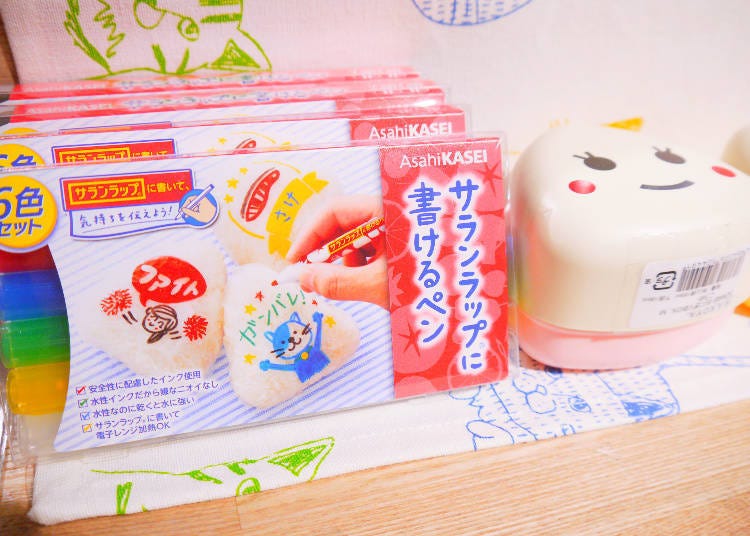 When it first became popular for wives and mums around Japan to make their husband's and kid's lunches into cute little characters, this pen that could easily write on plastic wrap was also born! Other than drawing cute characters, you can, of course, use this pen to write expiration dates or other memos on your wrapped foods as well.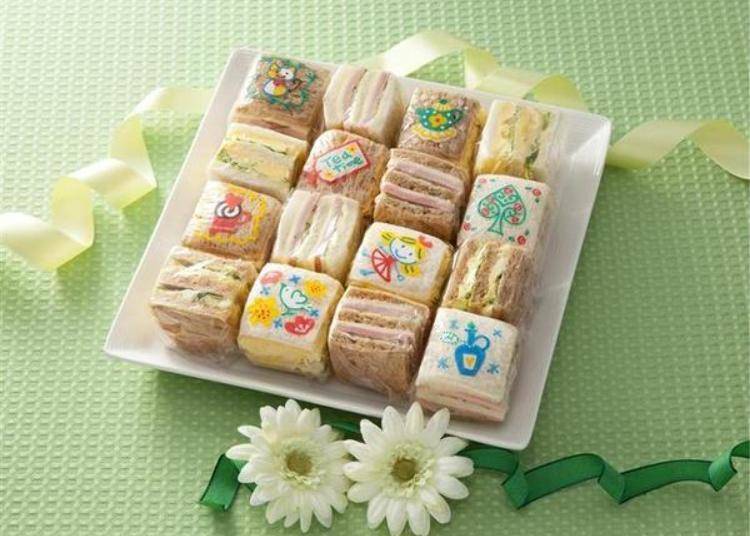 These pens are a special design that is water based so they are kid-friendly. It's even safe to put the plastic wrap you've written on in the microwave!

Price: 980 yen (+tax.)
mt Masking Tape/マスキングテープ mt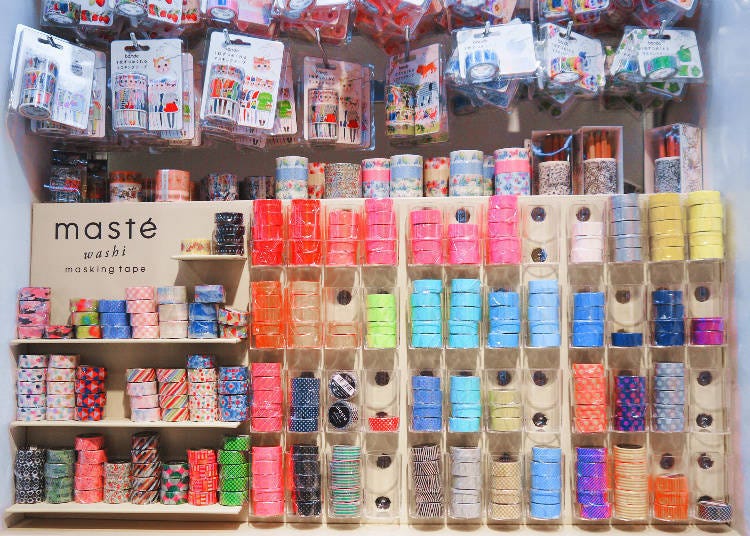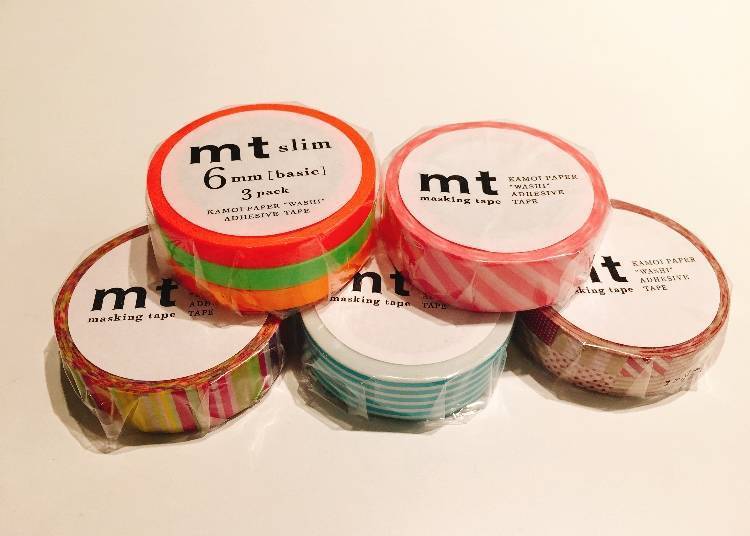 mt is Japan's most popular masking tape. It's not only popular for its cute design, but also for the fact that it sticks so well to things while also being able to peel off easily. For this reason, Japanese not only use it to decorate letters and books, but to add accents to interiors and even use as wall trim.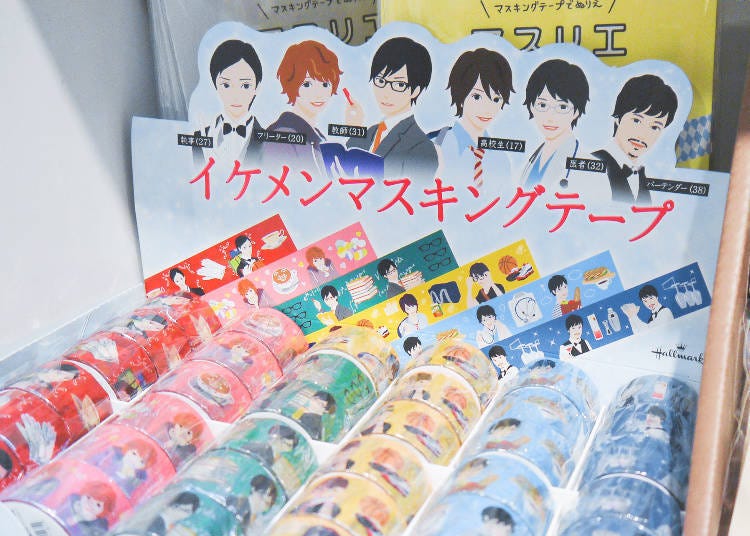 In Loft, there's a specific section dedicated to just masking tape with all kinds of choices. If you're lucky enough, you might even find some "special" designs as you browse this section. For example, the above masking tape is from the "good-looking men" series!

Price: Starting at 140 yen (+tax.)
bande: Masking Tape in the Shape of Flower Petals/
bande マスキングロールステッカー 花びらミニ ピンク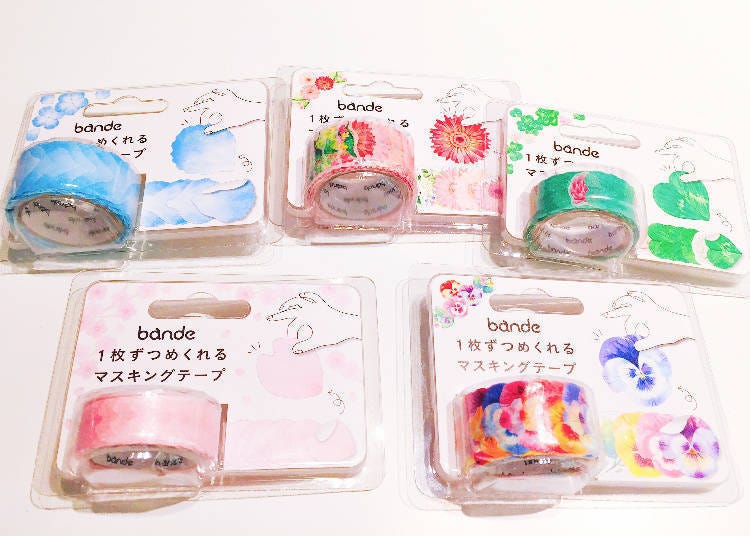 Different from regular masking tape with flower patterns in that each piece is shaped like a flower petal and you can peel them off as individual stickers. In each roll, there are three different designs and a total of 200 "petals." This product was just released in April 2017 and it's already a popular item that is a huge topic on social networking sites. They also have other flower-related series and products.

Price: 400 yen (+tax.)
Shiba Inu sticker/しばんばんシール ずらりん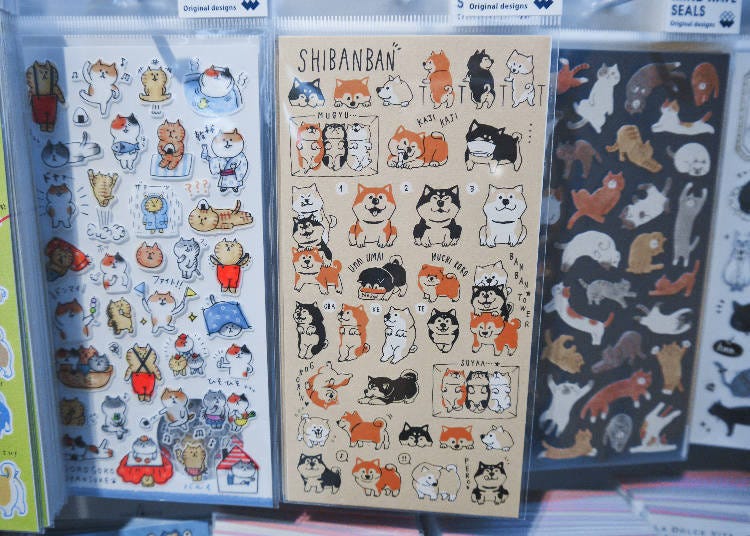 A collection of stickers themed after the Japanese Shiba Inu. A lot of dog owners in Japan prefer Shiba Inu as their dog of choice and who can blame them? They're just so darn cute! Decorate your laptop, fridge or other gear to bring a smile to your face every time you look at them. If you're not a Shiba Inu lover now, you will be after you get ahold of these stickers!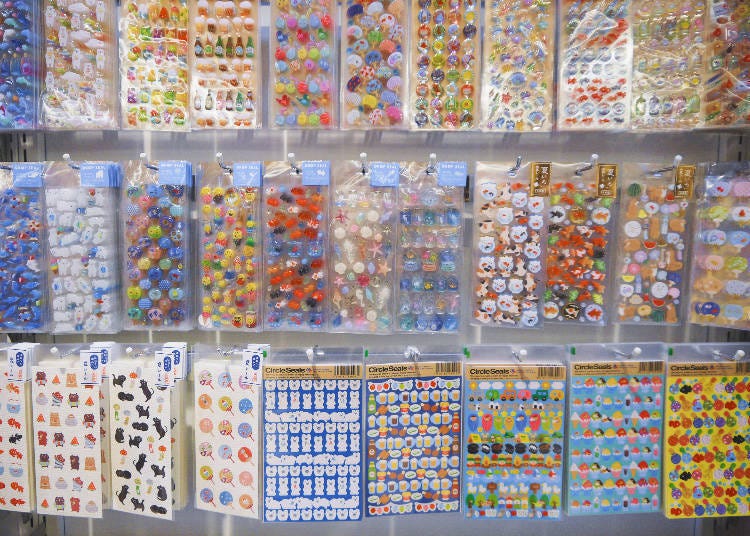 On the day our reporter went to Loft, they noticed that there was quite a large collection of stickers in one section of the store. There were not only Shiba Inu stickers, but also several stickers based on the current season, unusually thick stickers, stickers made from different materials and much more.

Price: 200 yen (+tax.)
Stickyle Scissors/スティッキールはさみ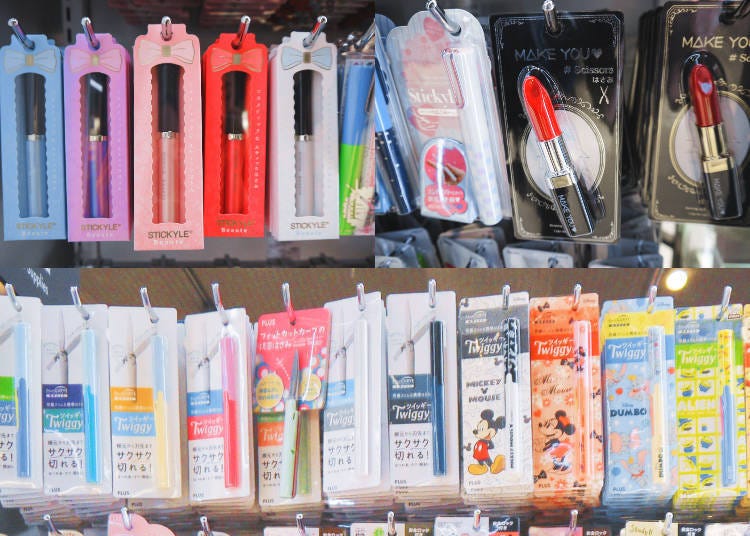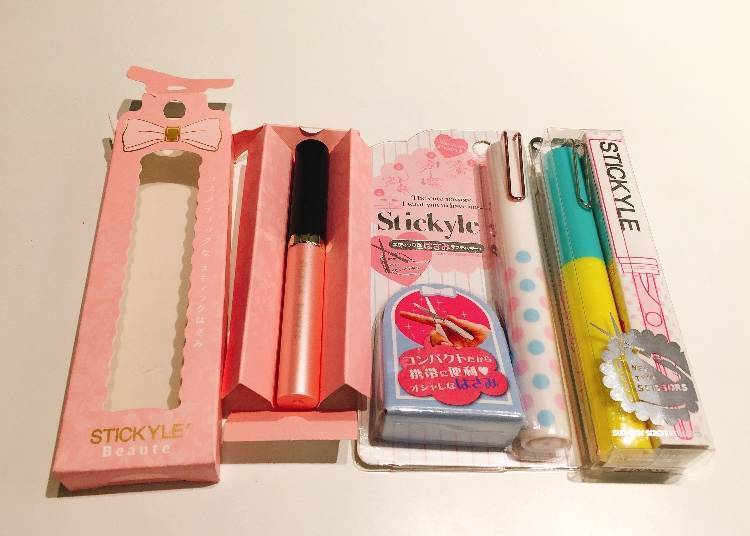 At first glance, you might think this product is a kind of lipstick, but it is actually a pair of scissors! The cute design attracts a lot of female buyers. There are many other designs including Disney-inspired patterns as well.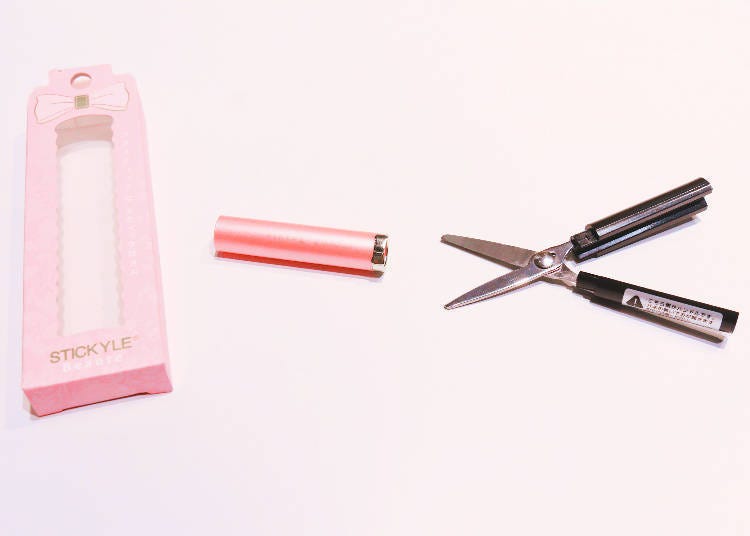 The stick shape of the scissors makes them easy to store or carry with you. We thought that the scissors looked as if they might be difficult to use, but after trying them out, they worked just as well as a regular pair of scissors, with a convenient shape to boot!

Price: 500-1,000 yen (+tax.)
Saito's Ohagiyama Series/西東(サイトウ)おはぎやま シリーズ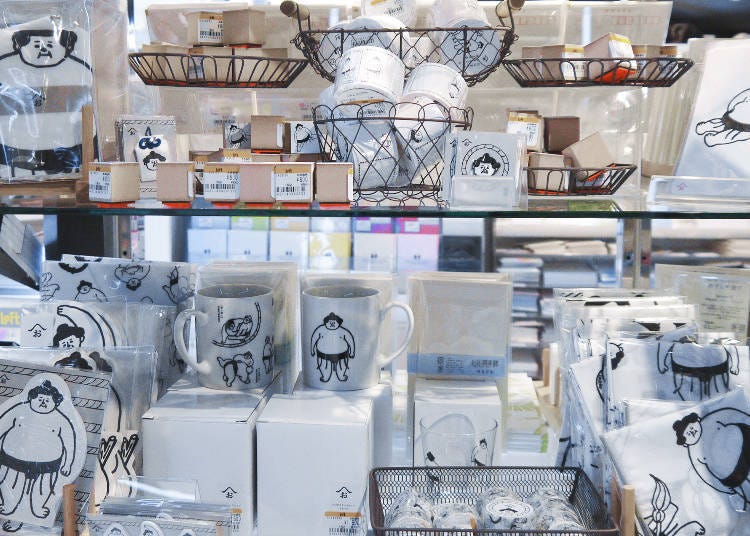 A stationery shop owner from Kansai and a designer from Kanto created a brand called "Saito" with a sumo wrestler as their character for a sumo theme. Japanese people love cute things and they can't get enough of this cute illustration. Being a big representation of Japanese culture, this brand has become very popular with foreign tourists as well.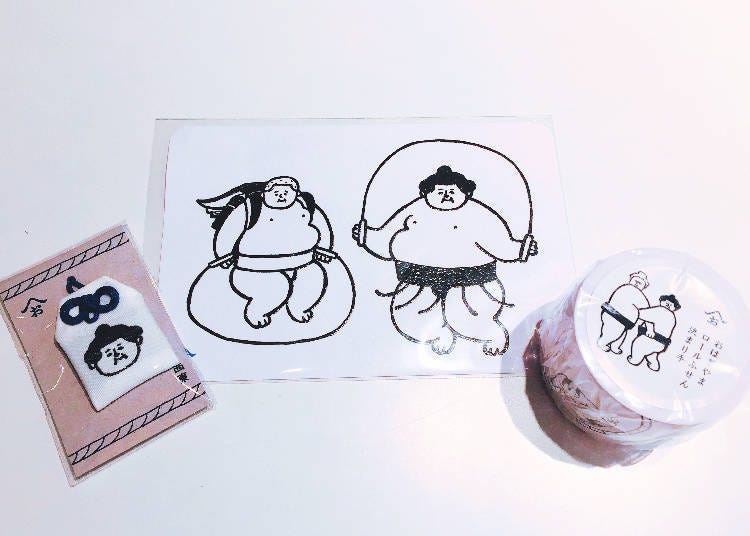 A few of their popular products include the lucky charm on the left, the postcard in the middle, and the rolled up sticky notes on the right. The sticky notes are quite useful as they're easy to carry around and pull out when you need them.

Price: Masking Tape 650 yen (+tax.)
DELDE standing pen case/デルデ ペンポーチ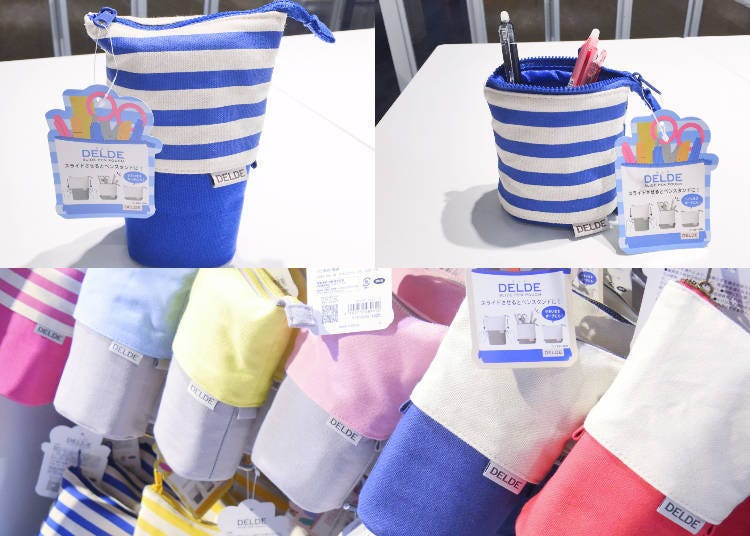 What makes the DELDE pen case unique is that, by folding the upper cloth part of the case downwards, it changes into a pen stand. In its pen stand form, you can easily see and access the pencil or pen you want to use, making it a useful little tool. Also, since it stands upright, it doesn't take much room on your desk, leaving room for all of your other important desktop items.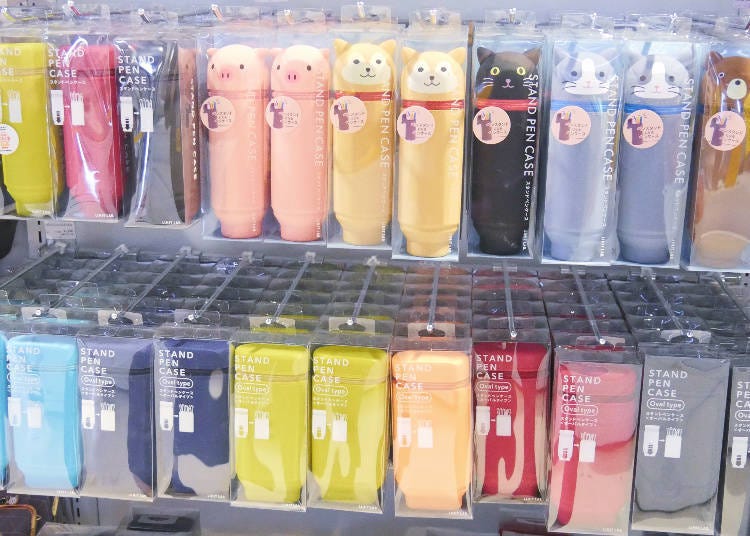 Aside from Delde, there are plenty of other standing cases such as these ones shaped like animals. Made of silicone, the cases morph into pen stands in a slightly different way by removing the caps on top. You can also store your erasers in the cap, which is pretty useful!

Price: 1,200-1,380 yen (+tax.)
Stapleless Stapler/針なしステープラー ハリナックス(コンパクトアルファ)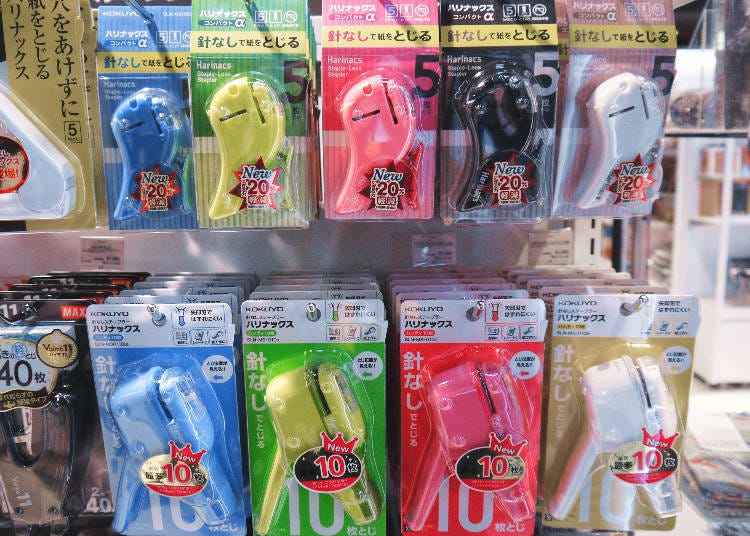 With a stapleless stapler, you never have to worry about running out of staples again! As you don't have to buy new staples either, you can save money as well and be eco-friendly at the same time. They have staplers that punch a hole through which pages are attached, and those that can staple without opening a hole. The stapler that doesn't open holes comes in two types: 5-sheet max binding and 10-sheet max binding.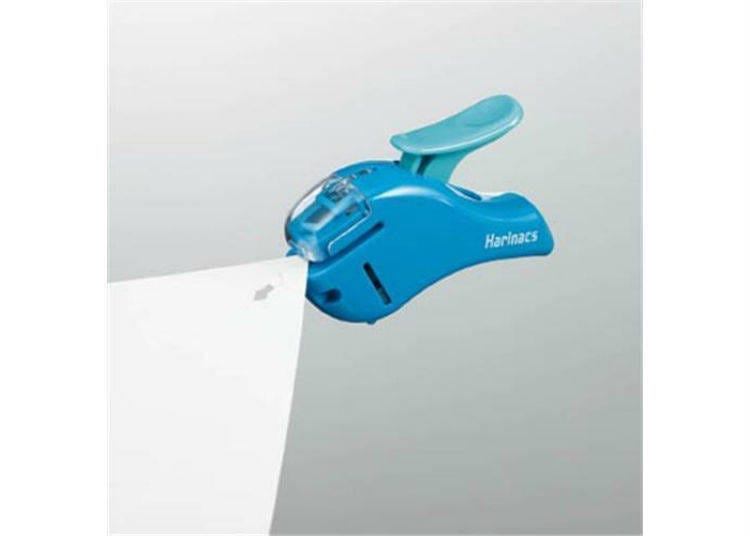 The above image is a stapleless stapler that creates an arrow-shaped hole to bind the papers.

Price: 5-sheet binding type 600 yen (+tax.)
Lifestyle Tool/ライフスタイルツール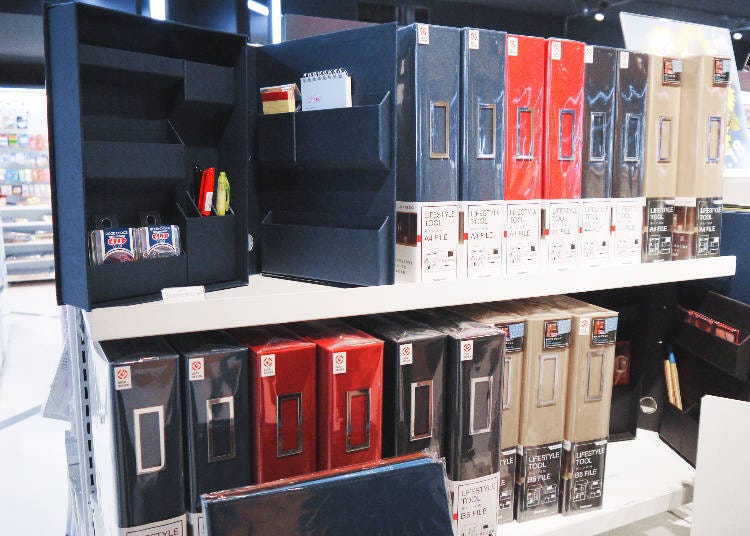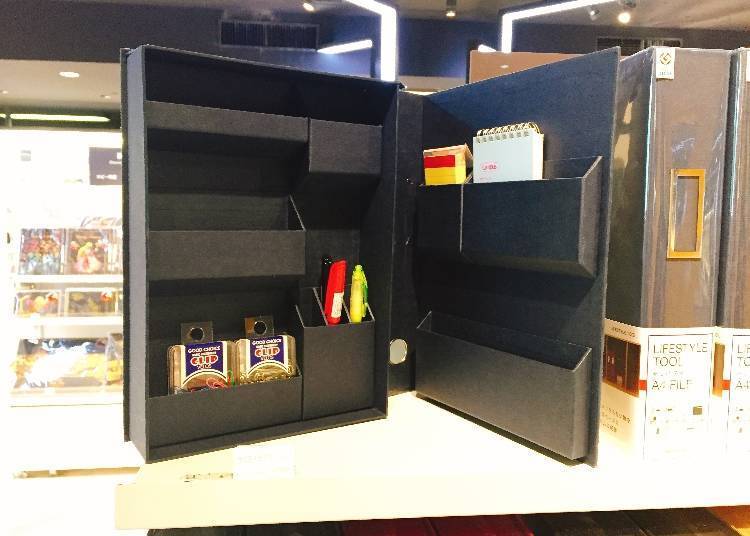 More of a stationery case than an actual toolbox, the Lifestyle Toolbox opens up to reveal a multitude of shelves and compartments for you to store all of your stationery goods on your desk. It comes in several types and sizes starting from that of a 500 ml (16.9 oz) bottle to A4 paper size (letter size).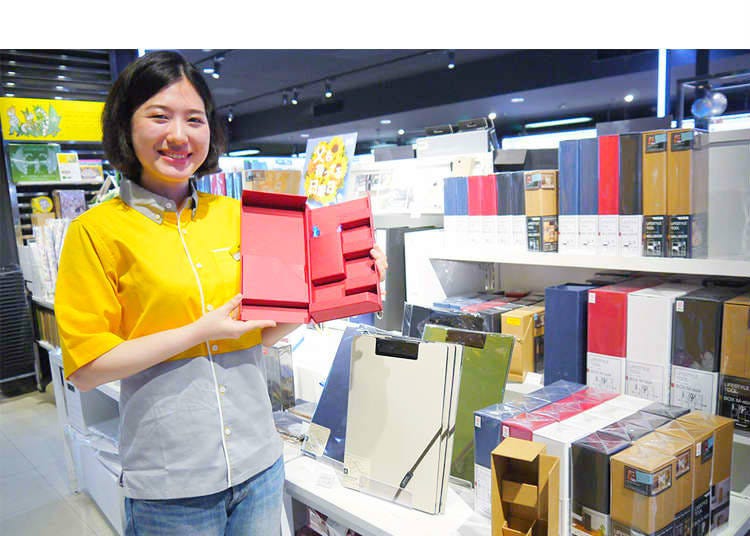 Judging only from the picture it may seem a bit heavy, but, as it's made of paper, it's quite surprisingly light. You'll never have a problem trying to grab it out of the back of your drawer as it's not heavy at all. According to our reporter, navy blue tends to be the most popular color, but we'll leave you to choose your own favorite.

Price: 1,400-2,900 yen (+tax.)
Shibuya Loft's Tax-Free Information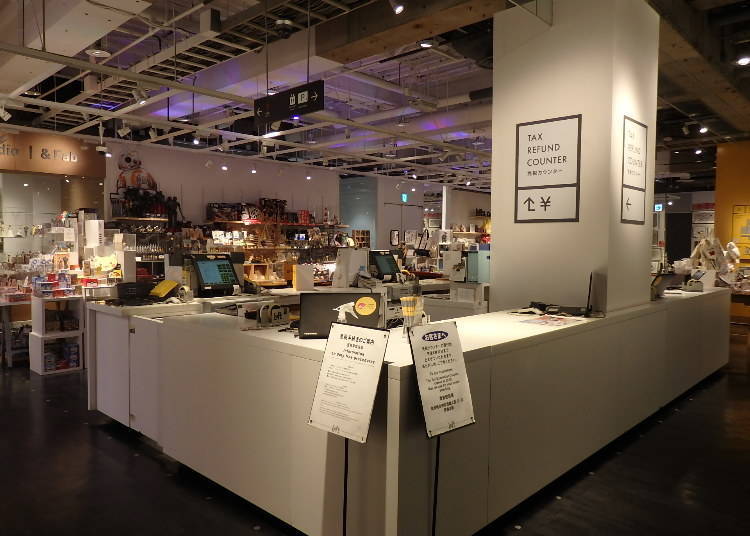 Tax-free counter: 6th floor
Cost Requirement: General goods - 5,001 yen or more (before tax); Consumables - 5,001 yen to 500,000 yen (before tax)
*Cost is based on the total cost of products bought at the same store (within the same day)
*Cannot combine the general goods cost with the consumables cost to meet the requirements
*The above cost requirements must be met with each purchase

Shibuya Loft
Address: 21-1 Udagawacho, Shibuya-ku, Tokyo, 150-0042
Hours: 10:00 a.m. to 9:00 p.m.
*Business hours for the 2nd floor Shibuya City Lounge are from 11:00 a.m. to 11:00 p.m. (L.O 10:00 p.m.
Open 7 days a week
渋谷ロフト

Address

21-1 Udagawacho, Shibuya-ku, Tokyo, 150-0042

Hours: 10:00 a.m to 9:00 p.m, open 7 days a week
*Business hours for the 2nd floor Shibuya City Lounge are 11:00 a.m to 11:00 p.m (Last call is at 10:00 p.m)
*Data is from June 2017
*Prices listed in this article are those listed at Shibuya Loft and may vary depending on store.
*This information is from the time of this article's publication.
*Prices and options mentioned are subject to change.
*Unless stated otherwise, all prices include tax.