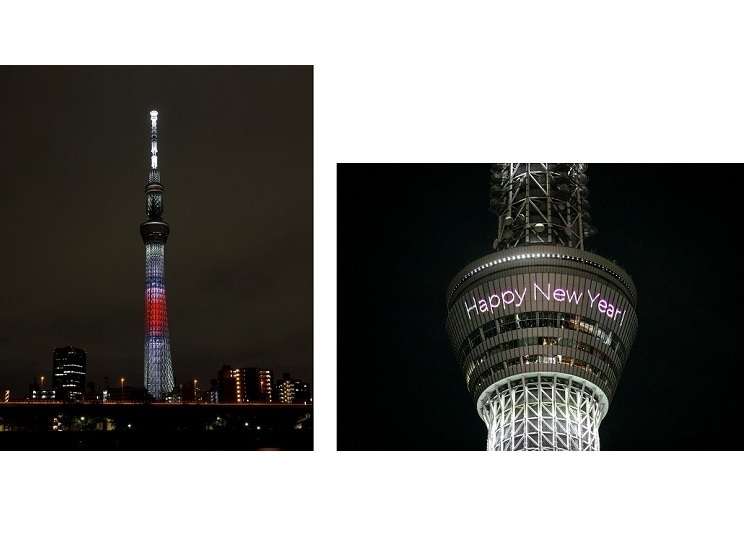 TOKYO SKYTREE®, one of Tokyo's most famous sightseeing attractions, has a lot planned for the New Year! In this article, we'll outline the exciting events, exhibitions, shopping, and more on offer at Tokyo Skytree Town between December 26, 2022 - January 9, 2023.

main image:©TOKYO-SKYTREE
TOKYO SKYTREE® First Sunrise: View the New Year Dawn From the World's Tallest Tower (Limited to 1,000 People)
The special first sunrise opening in 2022. ©TOKYO-SKYTREE
In Japan, it is customary to view the first sunrise of the New Year on January 1, and there's nowhere better than from the world's tallest tower!

TOKYO SKYTREE® will alter their hours for the New Year, opening for the first sunrise and from the early morning for the first three days between January 1-3.

TOKYO SKYTREE® First Sunrise Special Opening
Ticket reservations are issued on a first-come-first-served basis, limited to 1,000 people. From the TOKYO SKYTREE® observation deck, you'll be able to watch the first sunrise of the New Year.
・Date: January 1, 2023, 5:30 am - 7:30 am (entry between 5:30 am - 6:00 am)
・Available tickets: 1,000

How to Purchase Tickets
1. Online Presale (700 tickets)*Sold out
・Number of tickets: 700 (up to 8 tickets per application)
・Price: 7,000 yen (including tax)
*Includes an entry ticket to the special opening of the observation decks (TEMBO DECK and TEMBO GALLERIA), and a 1,000 yen coupon for THE SKYTREE SHOP (5th floor, Floor 345).

2. Official Hotels (30 people)
・How to Purchase/Pricing: Once accommodation plans have been finalized, tickets will be sold on the websites of each hotel. This includes the Tobu Hotel Levant Tokyo, Courtyard Marriott Ginza Tobu Hotel, AC Hotel by Marriott Tokyo Ginza, and Asakusa Tobu Hotel.

3. Tobu Department Store Ikebukuro and Funabashi: Hatsuyume Lucky Bag Lottery (5 groups of 10 people)
・Application Period: From December 1, 2022
・Number of Applicants: 3 groups of 6 people (Ikebukuro), 2 groups of 4 people (Funabashi)
*See details at the Tobu Department Store Official Website

4. Tobu Card Members Lottery Present Campaign (40 groups, 80 people)
・Lottery info: One share of an amount totaling 10,000 yen (including tax) at Tokyo Solamachi using a Tobu Card credit card registered with the TOBU POINT app will allow you to apply to the lottery. *Applications closed

5. Tokyo Mizumachi Official Instagram Campaign (10 groups, 20 people)
*Once finalized, application details will be announced on the Tokyo Mizumachi official website, and the official Instagram page (@tokyo_mizumachi).

6. Purchase at Tobu Top Tours (100 people)
・Available From: December 1, 2022 from 11:00 am
・How to Purchase: Sold at all Tobu Top Tours stores
Online booking: Tobu Top Tours website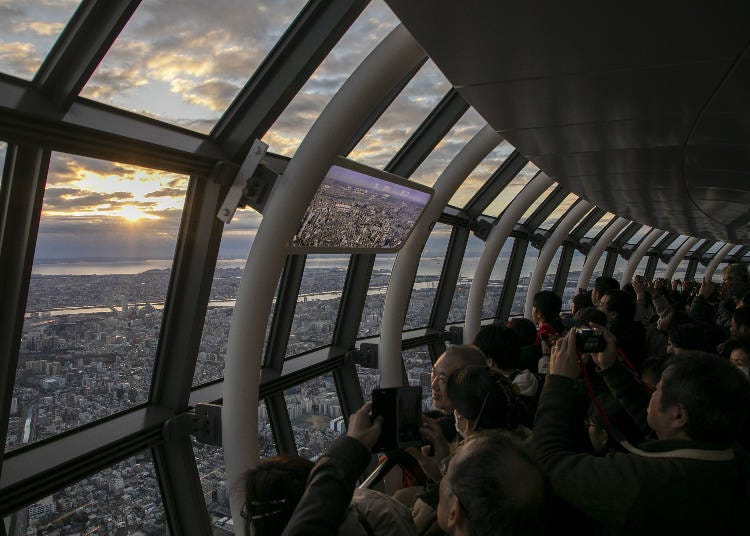 The special first sunrise opening in 2020. ©TOKYO-SKYTREE
First Three Days of the Year Early Opening
For the first three days of the New Year, TOKYO SKYTREE® will open two hours earlier from 8:00 am. Instead of a temple or shrine, you can do "hatsumode" in the sky!

・Date: January 1-3
Special New Year Light-Up and Laser Mapping Projections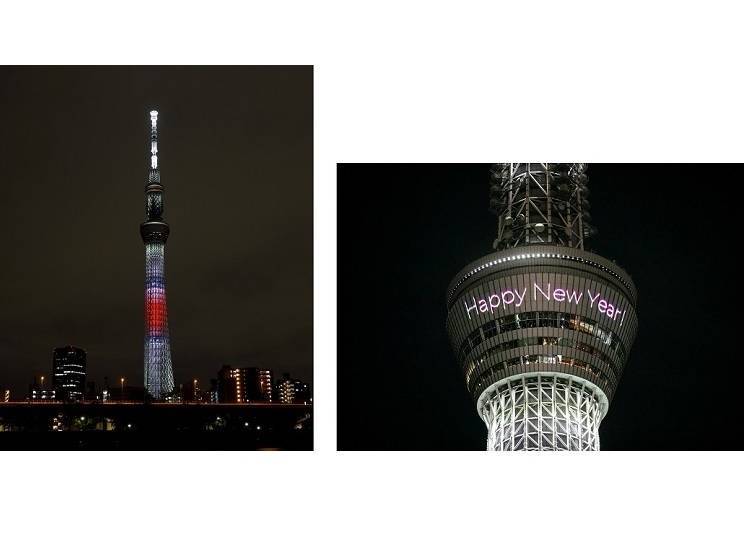 ©TOKYO-SKYTREE
TOKYO SKYTREE® will be specially lit up like the Japanese flag, while a "Happy New Year!" message is projected via laser mapping.

・Light-up Period: January 1-3, 2023
・Light-up Time: 12:00 am - 6:00 am (Jan 1), and 5:45 pm - 12:00 pm (Jan 1-3)
The Shishimai Dance: A Japanese New Year Bringer of Luck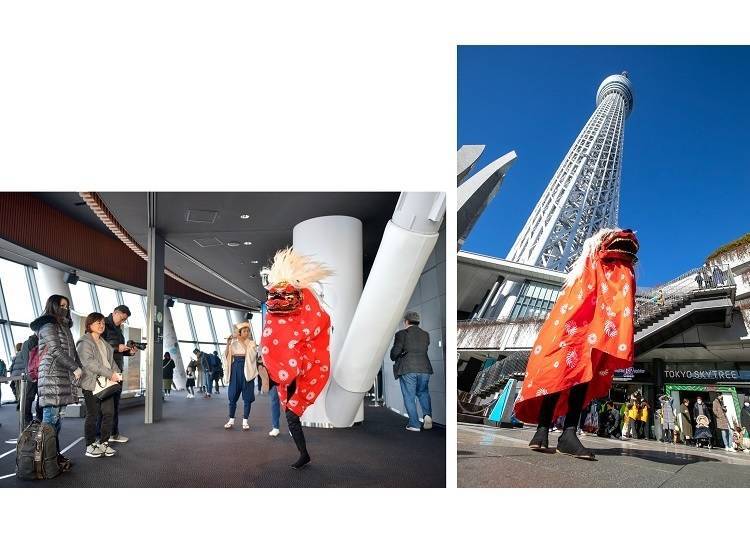 ©TOKYO-SKYTREETOWN ©TOKYO-SKYTREE
The "shishimai" lion dance is a traditional folk custom in Asia. In Japan, it is performed on auspicious dates like New Years and various other festivals to drive away evil spirits and pray for a good harvest.

During New Years, the lion will dance in time to the music of a "hayashi" band and pray for the sound health of all. Dances will last for around 20 minutes each time.

Date: January 1, 2023
Place and Time:
・TOKYO SKYTREE® Tembo Deck Floor 350: From 9:00 am
・TOKYO SKYTREE® Town Floor 1 Solamachi Hiroba: From 10:00 am/11:00 am/12:00 pm
*Locations are subject to change without notice due to weather, crowds, or other conditions.
An Adorable New Year Greeting From Sorakara-chan in a Special Kimono!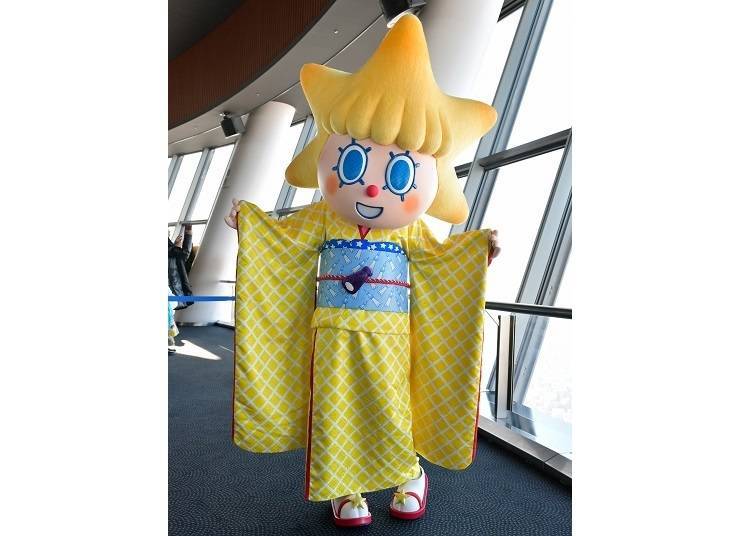 ©TOKYO-SKYTREE
Sorakara-chan, the official mascot of TOKYO SKYTREE®, will come and greet visitors wearing a limited-edition New Year-style kimono.

・Date: January 1-9, 2023
・Time: 10:30 am, 12:00 pm, 1:30 pm, 3:00 pm, 4:00 pm, 5:30 pm *15 min each
・Location: Various spots within TOKYO SKYTREE®
Awesome Items For Cheap! Tokyo Skytree Town Fukubukuro Lucky Bags, Fukumenu Foods, and Hatsuzora Bargains
The reservations, lotteries, and storefront sales of "fukubukuro" lucky bags began on December 1, 2022. The "Fukumenu," featuring celebratory platters and trays of meals will also go on sale from January 1, 2023.

Those who bought fukubukuro will also receive an "otoshidama scratch card" guaranteeing a coupon at Tokyo Solamachi. This scratch card also comes with a day ticket for Sumida Aquarium and a discount coupon for a Konica Minolta Planetarium "TENKU" viewing ticket.

Plus, the autumn/winter seasonal item sale "Tokyo Solamachi Hatsuzora Bargain" begins on December 26, 2022. Here you'll be able to pick up great discounts on all those goodies you've been saving up for!

・Dates:
- Fukubukuro: From December 1, 2022
- Fukumenu: From January 1, 2023
- Hatsuzora Bargain: December 26, 2022 - January 31, 2023
・Location: All shops within Tokyo Skytree Town
Hatsuzora Calligraphy Performance by Calligrapher Suzuki Mohri
©TOKYO-SKYTREETOWN
2023 will be the 11th New Year calligraphy performance by renowned Sumida-born calligrapher Suzuki Mohri, who will put the year's wishes into dynamic, huge Japanese characters written on a giant piece of calligraphy paper.

・Date: January 2 and 3, 2023 at 1:00 pm (*approx. 30 mins; scheduled)
・Location: Tokyo Skytree Town 1st Floor Solamachi Hiroba (*location will change if rain)
Experience an Authentic Japanese New Year at Tokyo Skytree Town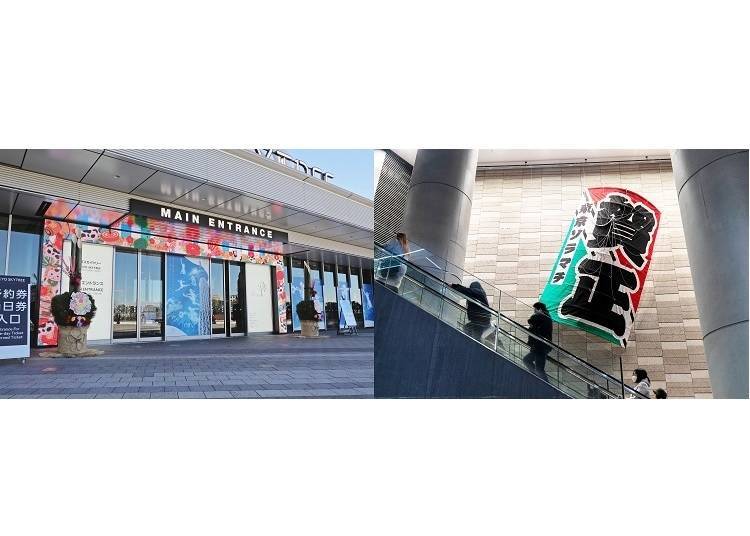 ©TOKYO-SKYTREETOWN ©TOKYO-SKYTREE
In addition to the above, the Postal Museum Japan is planning to hold a special "Year of the Rabbit New Year Postcards Exhibition," in celebration of 2023 being the "Year of the Rabbit."

Plus, there will be all sorts of gorgeous traditional New Year decorations covering Tokyo Skytree Town, including a 3-meter-tall "kadomatsu" pine decoration, giant traditional kites made in Saitama's Kasukabe (6-meters-long and 4-meters-wide at the largest), celebratory New Year's videos, and more, weaving together an authentic Japanese New Year atmosphere!

To see out 2022 and welcome 2023, we recommend heading to TOKYO SKYTREE® to make your New Year's spent in Japan even more special!
Address

Oshiage 1-1-2, Sumida-ku, Tokyo, 131-0045
View Map

Nearest Station

Tokyo Skytree Station (Tobu Isesaki Line (Tobu Sky Tree Line))


Phone Number

0570-55-0634
Written by:
*This information is from the time of this article's publication.
*Prices and options mentioned are subject to change.
*Unless stated otherwise, all prices include tax.