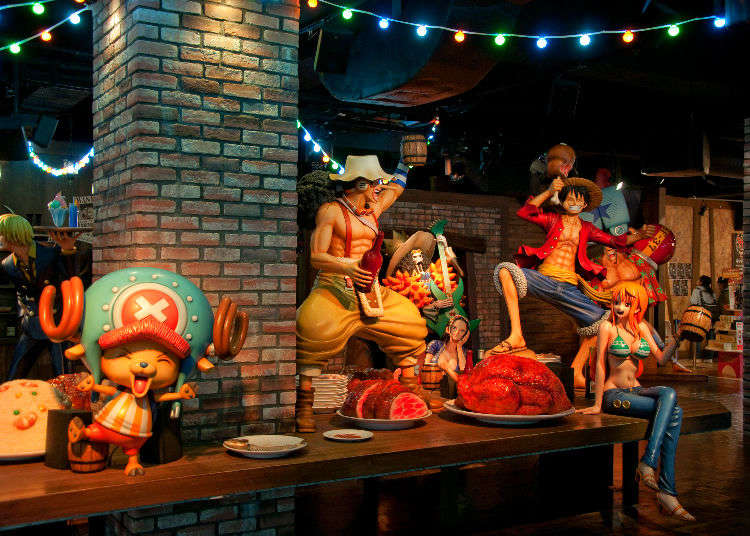 Opened in March 2015, One Piece Tower is the first large-scale One Piece theme park, with nine different attractions across four floors, each based on the main characters of the Straw Hat Crew, and includes character photo ops, and a puzzle game that has you traveling around the entire building to solve it. Get ready to go on an adventure as an inhabitant of Tongari Island (Tokyo One Piece Tower)!
Tongari Port Story World #1: Looking Back on Adventure at the 360 Log Theater!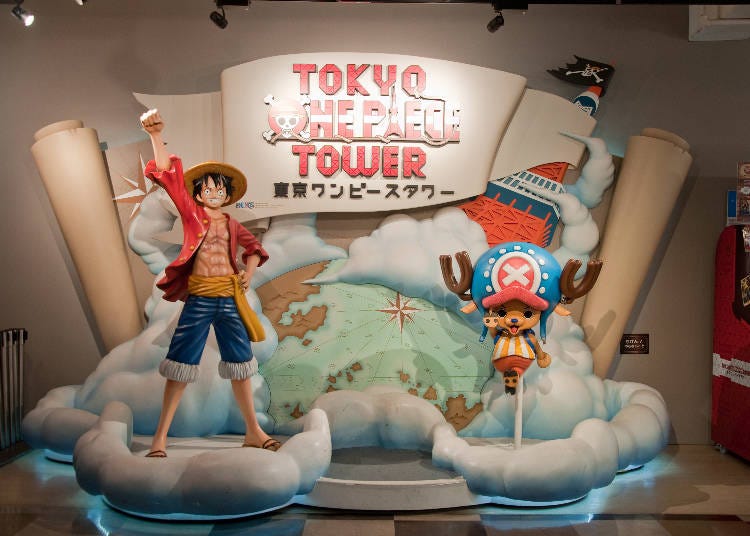 Before you begin, snap a commemorative photo!
You will be greeted at the Foot Town 3rd floor entrance by our hero Luffy and fellow crewmember Chopper. Past the ticket counter is the 360 Log Theater where you can look back on the adventures of the Straw Hat Pirates, at a total of about 3 minutes. The 360-degree screen transports you straight into the world of the characters! Even those who are not familiar with the story, or just haven't caught up with it yet, are sure to be amazed. Also, not only can you enjoy it in Japanese, but there are pamphlets available in English, Chinese, and Korean as well!
#2: Join the Straw Hat Crew with a Commemorative Photo at Tongari Port!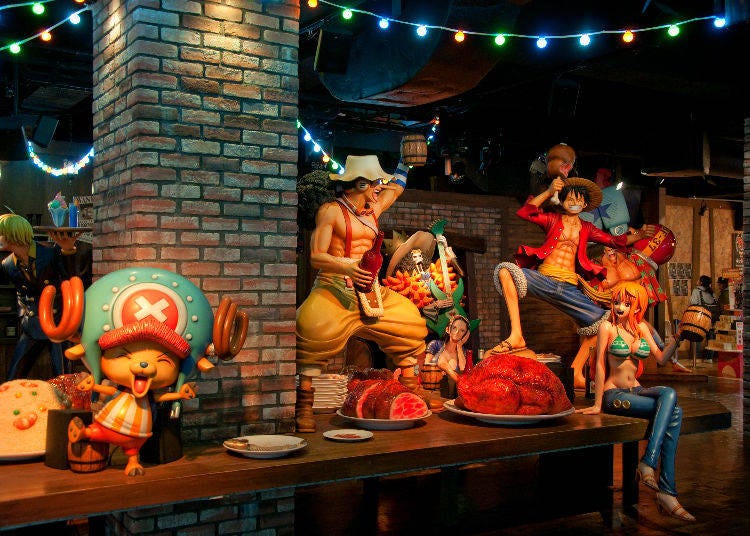 Let the Party Begin! Get Excited with our Beloved Characters
Once you leave the theater, the adventure really begins! First up we join the festivities of the Straw Hat Crew at Tongari Port, including not just our hero Luffy and Chopper but other characters such as Zoro the swordsman, Nami the navigator, Usopp the sniper, and Sanji the cook, complete with voice and music!
There is also a photo area where you can take pictures with the characters as a member of the Straw Hat Crew. The detail put into constructing the atmosphere is incredible, including the arrangements on the walls and the sake bottle decorations.
#3: Shopping for Character Goods at the Tongari Store!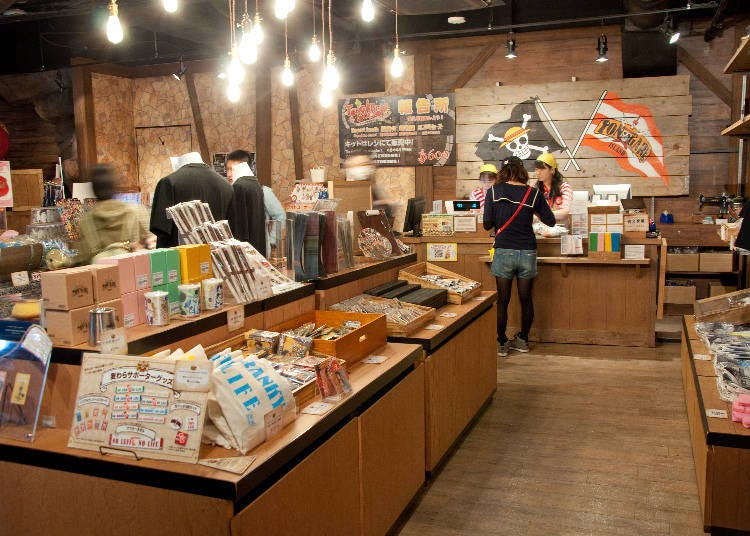 Check for limited edition items in the shop inside the park.
On the same floor is the Tongari Store, a shop only found at Tokyo One Piece Tower. There are many items that can only be purchased here, including special character item sets and ticket holders. Located right in front of the exit gate, you can take your time and shop leisurely right before heading home.
#4: The Middle Floor Attraction Challenge!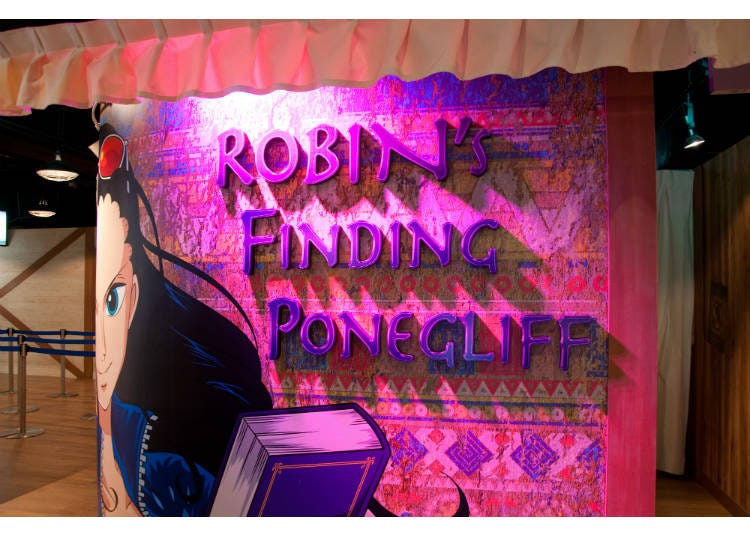 Explore the park using the Den Den Mushi right from the story!
On the 4th (middle) floor are seven kinds of attractions each named after one the Straw Hat Crew Members. One of the popular attractions amongst them is Robin's Finding Ponegliff, a game in which you acquire hints from ancient scholar Robin, and search for "ancient characters" hidden in the park, in order to solve the mystery in a 30 minute time frame. Use the Den Den Mushi and find all the walls in the park between the 3rd and 5th floors!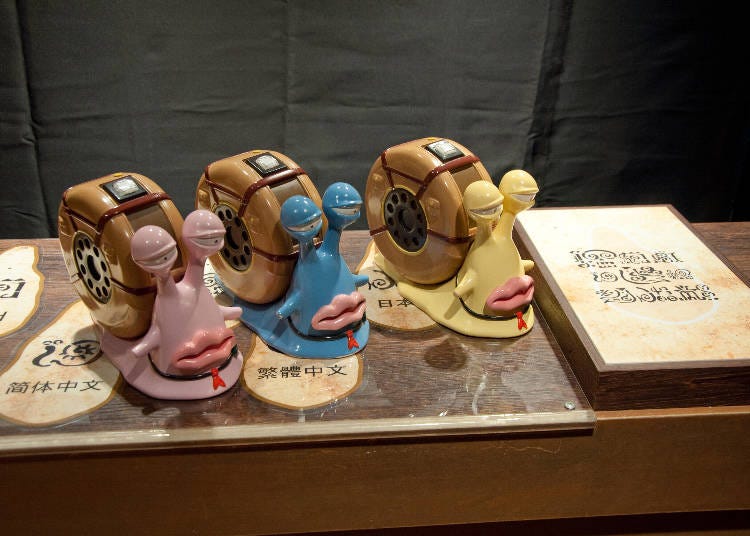 The Den Den Mushi are also available in English, Chinese and Korean.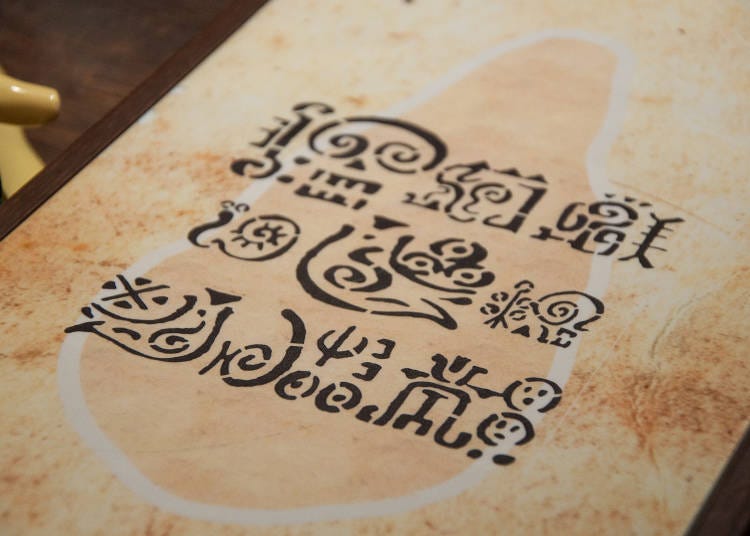 An ancient code! Let's scan it with our Den Den Mushi.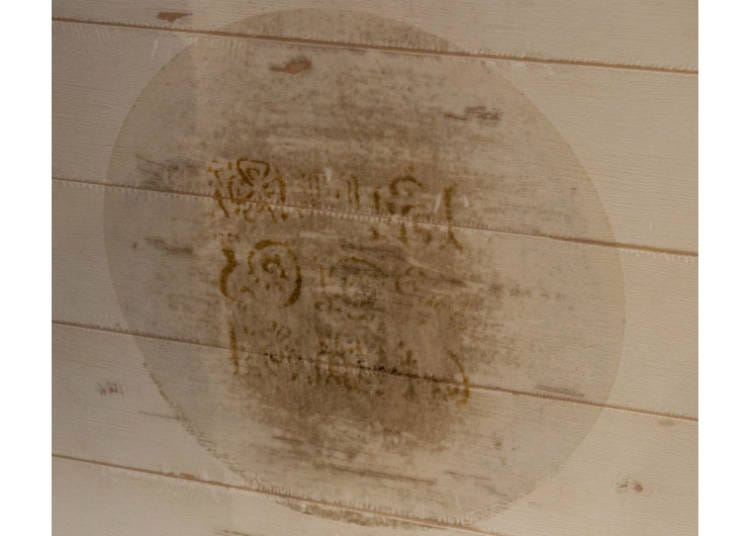 The ancient codes are integrated into the walls and well hidden, and can be easily missed.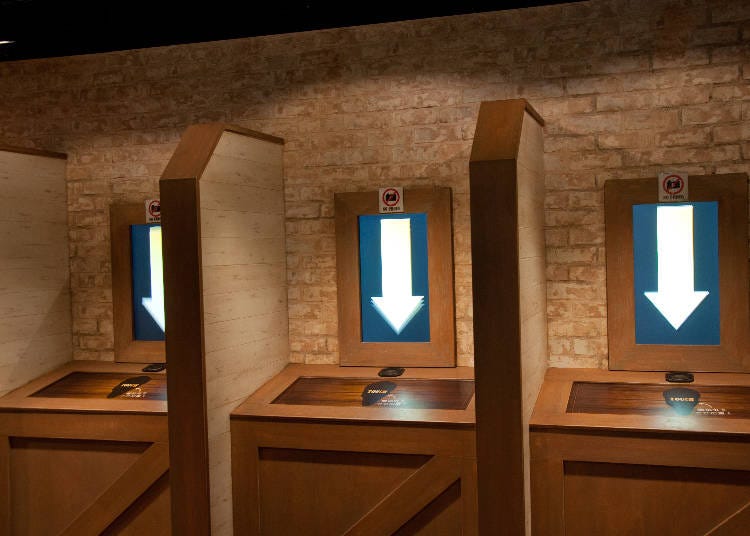 When time is up, report your ancient code gatherings at the booth to claim your prize. Prize is determined by the outcome of your findings.
#5: Family Recommendation: Chopper's Thousand Sunny Tour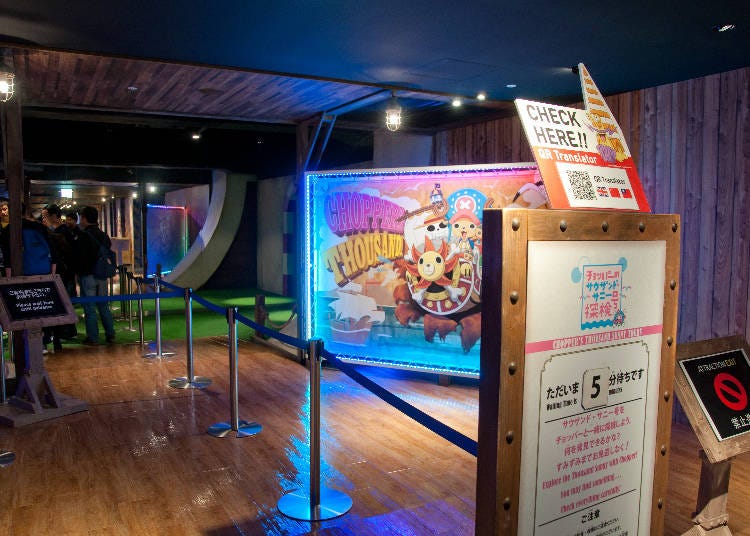 A peek inside the ship of the Straw Hat Crew
Recommended for those with young children or for those who just want to relax and enjoy with a fun little story is Chopper's Thousand Sunny Tour. Here you can explore the interior of the Straw Hat Crew's ship, the Thousand Sunny. You can sit on the sofa and the bed, and there are fun and heart warming surprises to discover hidden in holes, refrigerators, closets, and more. Be sure to check every corner! Altogether you can explore in its entirety in about 10 minutes.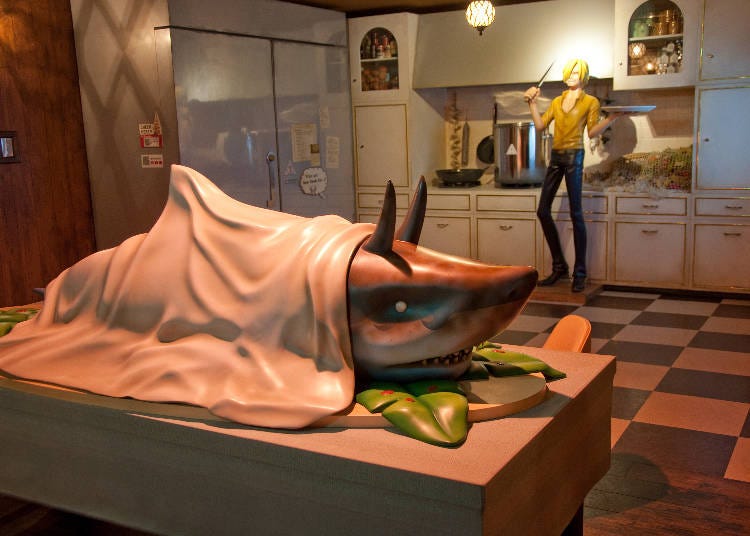 The shark our cook Sanji is trying to prepare is still alive! He moves!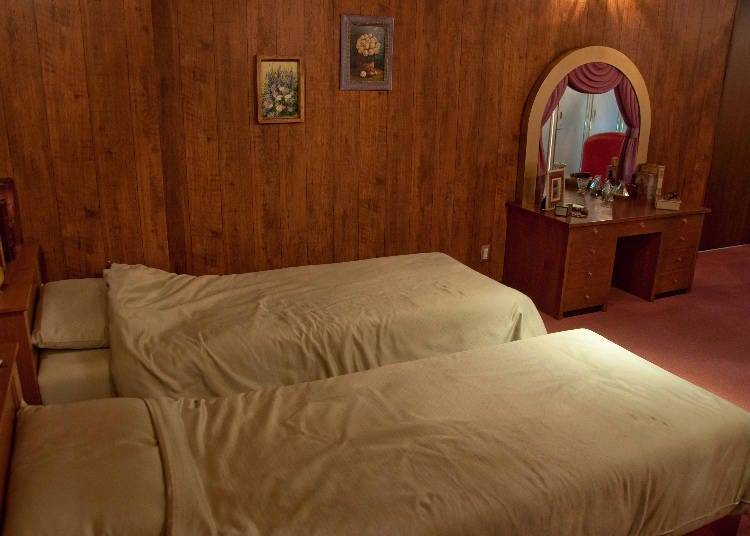 Nami and Robin's room is decorated with a cute mirror stand and closet that you can open.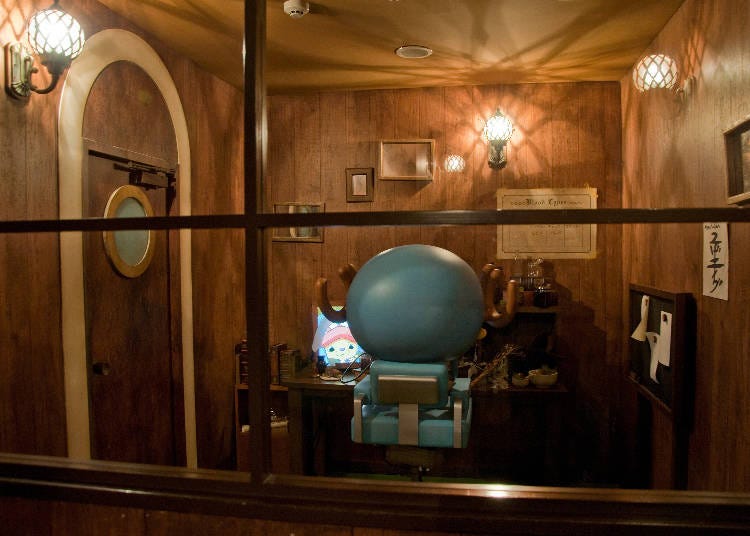 Look, there's Chopper studying medicine!
#6: But wait, there's more! Attractions of the Middle Floor
Enjoy the full experience of being one of the Straw Hat Crew! Take down as many targets as you can in a minute with a slingshot in "Usopp's Road to Sogeking," and be guided by Zoro's swordsmanship in "Zoro's Soul of Edge."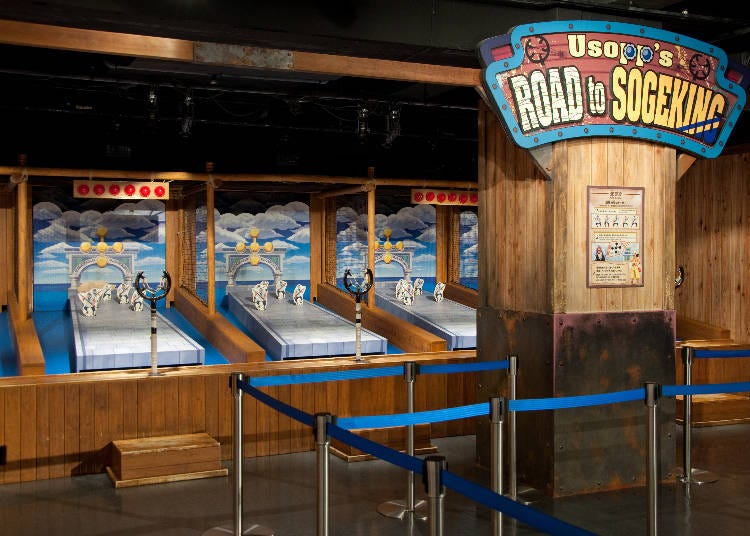 How many enemies can you defeat? Usopp's Road to Sogeking Shooting Game
Become a master swordsman at Zoro's chopping game!
#7: Break Time at Franky's Cola Bar!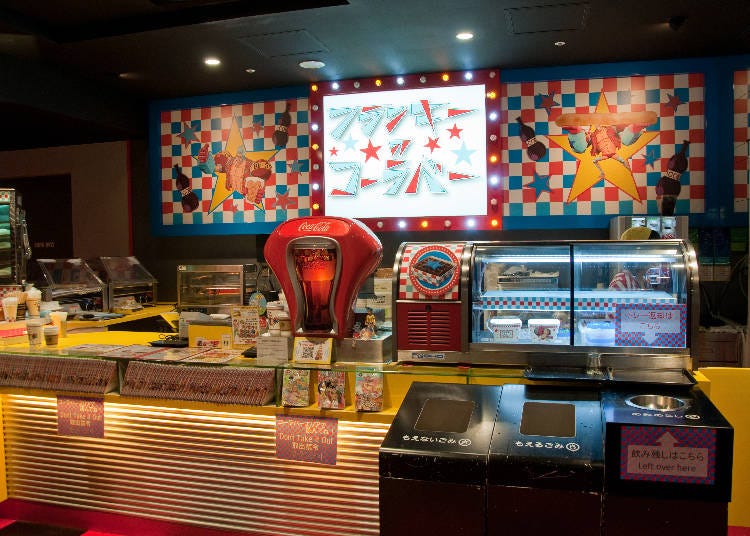 Great spot not just for breaks and snack time, but for meetings, too!
Tired and ready for a break? We recommend Franky's Cola Bar, made by the shipwright Franky who you can see right next to the kids' space. You can get Franky's Cola for ¥300 (tax included), as well as snacks and light meals such as Franky's Crunchy Ketchup Pasta (¥550, tax included) and Soldier Mini Dogs (¥400, tax included).
#8: Top Floor: Looking Back on Luffy's Adventures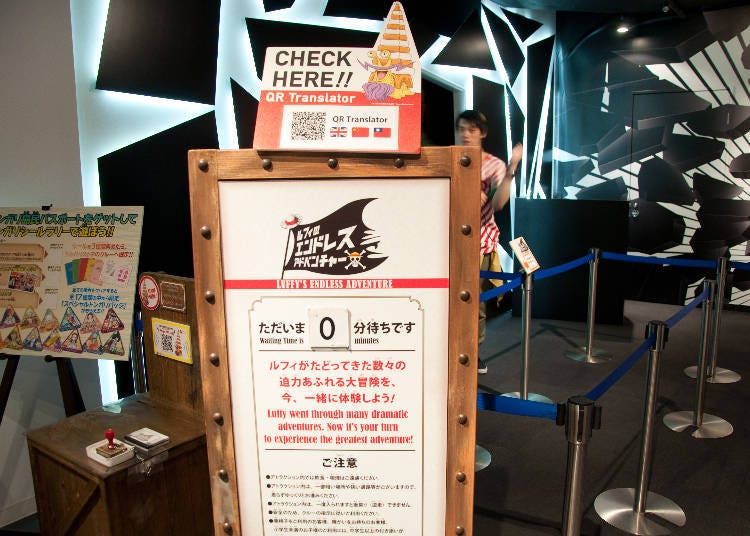 Reminisce with Luffy on his adventures since childhood!
Luffy's Endless Adventure is another recommended attraction on the 5th floor (top floor), where you will also find live shows and other exhibits.
See the exhibits that uniquely recreate the trials and tribulations of Luffy's adventures since childhood on his journey to become Pirate King. Fans themselves will appreciate the exhibit's true-to-the-story production. Towards the end you can even look forward to a 10-minute original animation.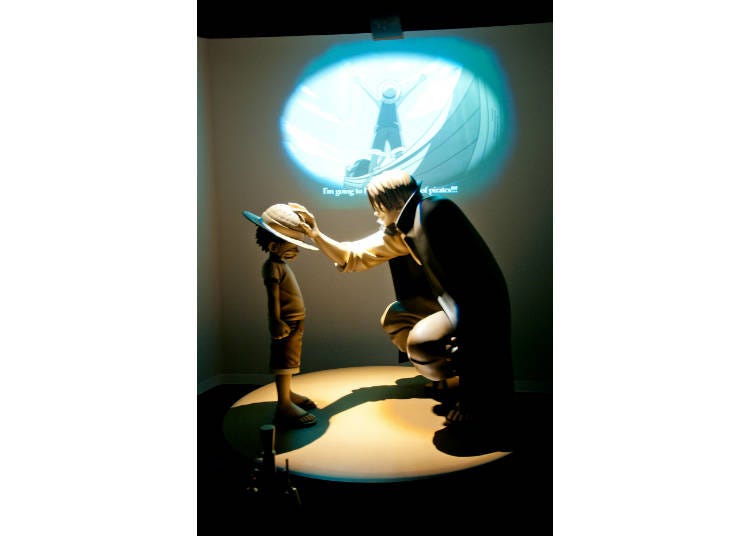 The story begins from the moment when young Luffy is entrusted with a straw hat from Shanks.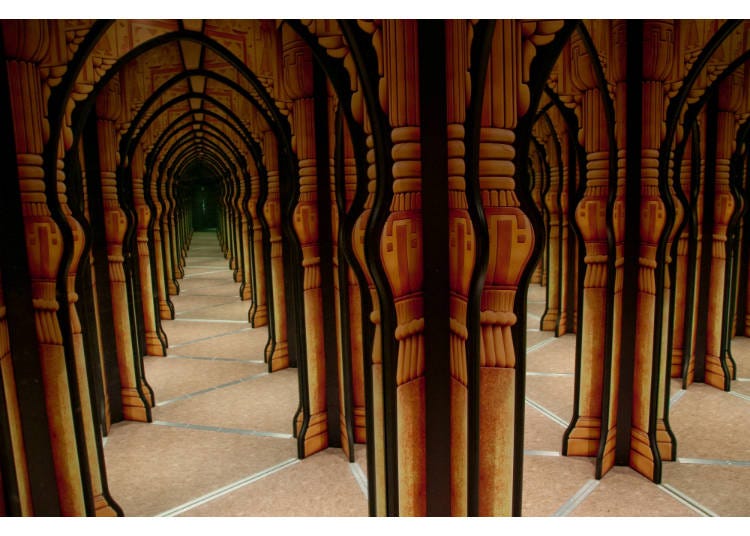 Get lost in this mirror maze where you can see yourself in every direction.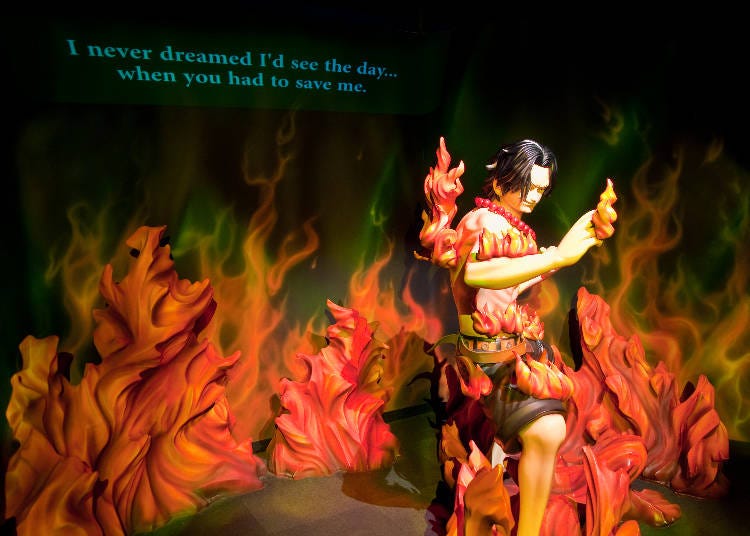 The touching recreation of the scene when Ace was captured by the Navy is an essential photo op.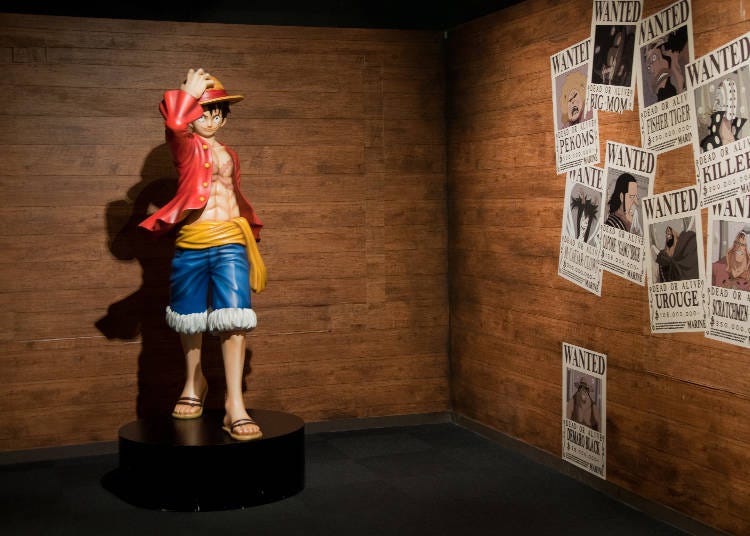 And don't forget to get a photo with the confident Luffy as he walks past the wanted posters.
#9: This Top Floor Photography Spot is Especially Popular with the Ladies!
On the top floor you will also find an attraction very popular with the girls, a photo spot where you can take a picture together with the tremendously popular ally of the Straw Hat Crew, Trafalgar Law. You and your friends may also want to catch a photo with the Three Navy Admirals, Kizaru, Akainu, and Aokiji.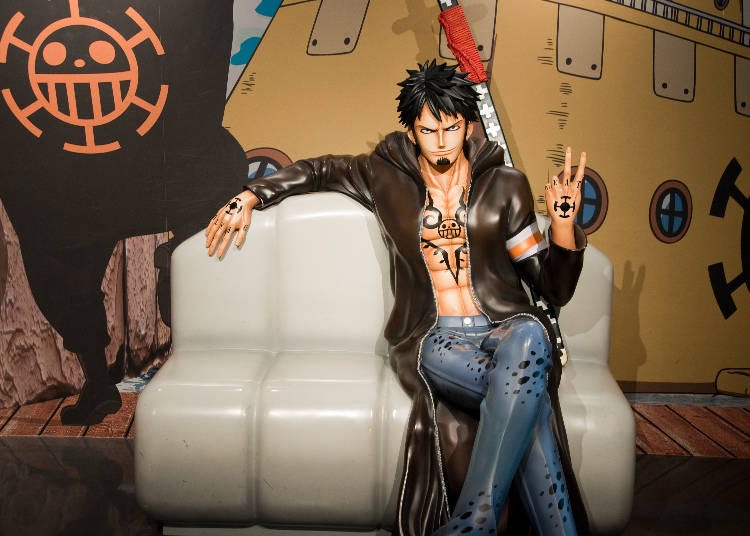 "Are you too nervous to sit next to me?"
#10: Top Floor Special Exhibition Space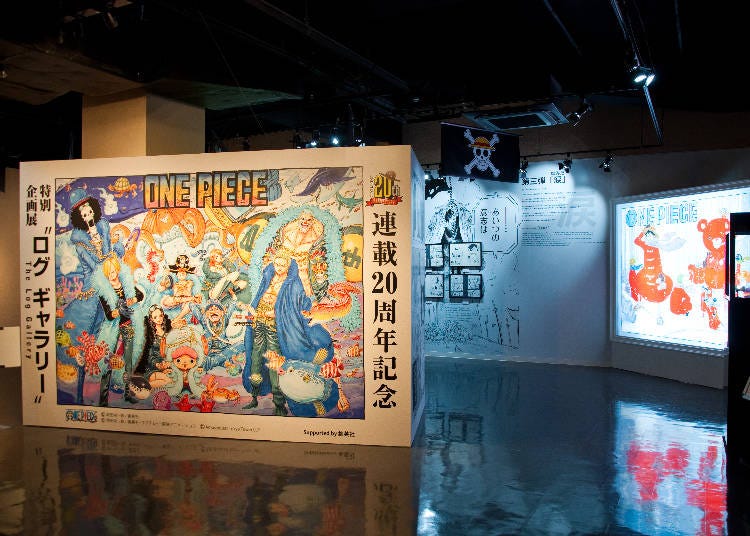 Special event exhibition "Log Gallery" displays many original illustrations. This photo shows a Season 3 exhibit, but currently on display is the Season 4 Enemies exhibit.
Also on the top floor is a special exhibition space. Depending on the exhibit you can see various special displays such as original illustrations. It is definitely a place to check out each time you stop by.
#11: Straw Hat Crew in Action! Must-see Live Entertainment Show!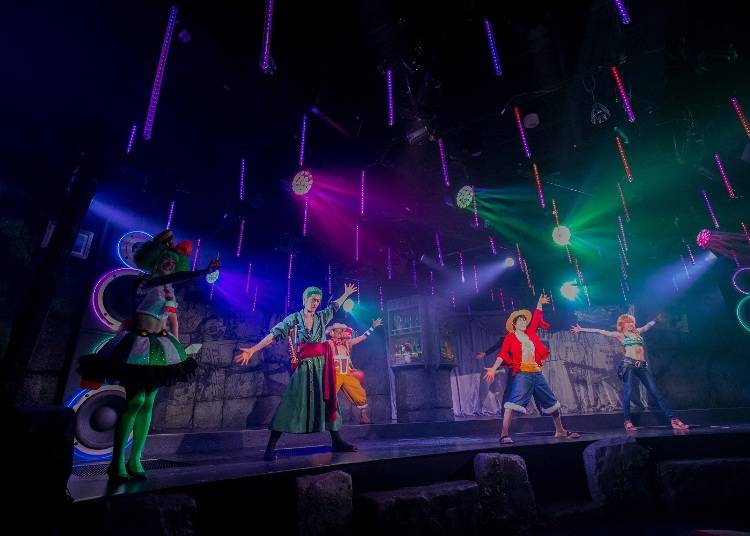 A must-see live-action show!
On the top floor you will find the special attraction of Tokyo One Piece Tower - The ONE PIECE Live Show. Using projection mapping and lighting technology, the Straw Hat Crew will put on a very powerful live performance right before your eyes, a total of about 20 minutes long. Now is June 2018, but in 2017 the original author Eiichiro Oda himself supervised the story, and the popular music group GReeeeN provided the songs, including an upgraded version of their hit, PHANTOM.
#12: 1st Floor (lowest floor) - Restaurants, Cafes, and Shops!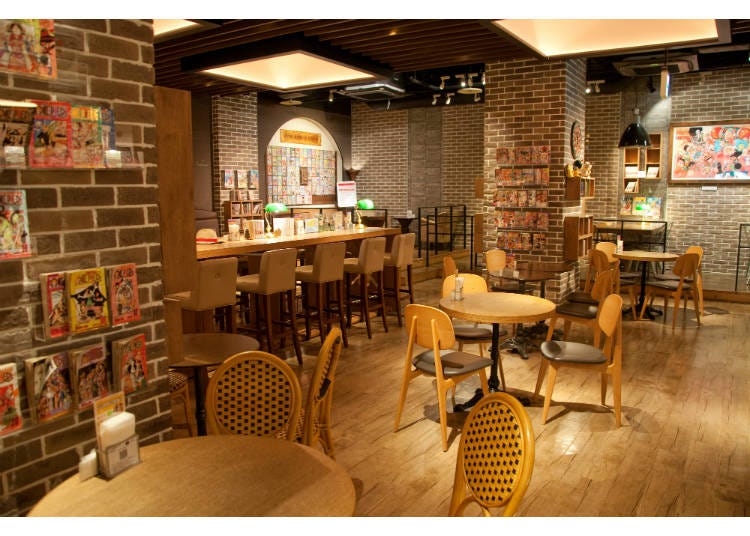 Immersed in the World of Manga at Café Mugiwara
The first floor is a must-see spot, where every shop gives you a certain feel for different parts of the world of the story. There's an open buffet & order-style shop called Sanji's Oresama Restaurant, which is available with no entry fee. At the One Piece Library Cafe, Cafe Mugiwara, you can enjoy reading the One Piece manga, translated into English, Chinese, Korean, and more. And then there is the Mugiwara Store, where you can purchase limited edition items as well as regular goods.
東京ワンピースタワー

Address

4-2-8 Shibakoen, Minato-ku, Tokyo, 105-0011, Japan

Hours: 10 am - 10 pm (Last admission at 9 pm)
Closed: N/A
Website: https://onepiecetower.tokyo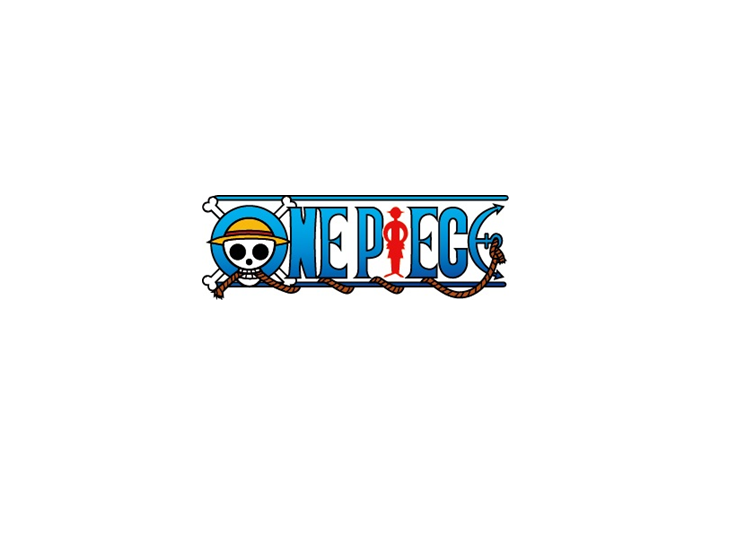 ©Amusequest Tokyo Tower LLP
©Eiichiro Oda/Shueisha,Toei Animation

*This information is from the time of this article's publication.
*Prices and options mentioned are subject to change.
*Unless stated otherwise, all prices include tax.