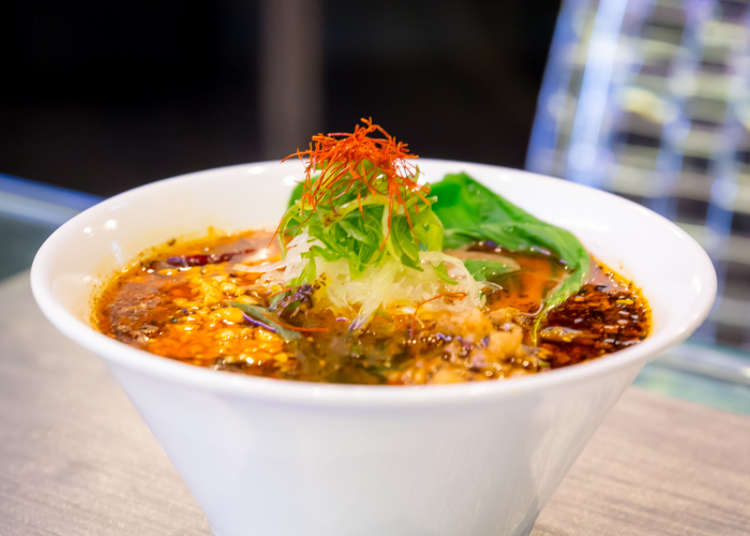 While visiting Tokyo, I highly recommend that you head on over to Roppongi and have some Ramen. For those unfamiliar with Roppongi, it's an international area where you can enjoy shopping, great meals, and nightlife.

Many of the shops and patrons there speak English, so it's easier to mingle with the crowd, even if your Japanese skill isn't up to par. "But why Ramen?" you may ask. Well, ramen in Japan has a unique culture that totally differs from China and offers a unique atmosphere that you should try at least once while traveling in Japan.

My recommendation to check out both Roppongi and Japan's ramen culture would be a shop that goes by the name: Genei Theater. Will you find entertainment there? Well, let me share my experience there with you and find out!
Not Your Ordinary Ramen Shop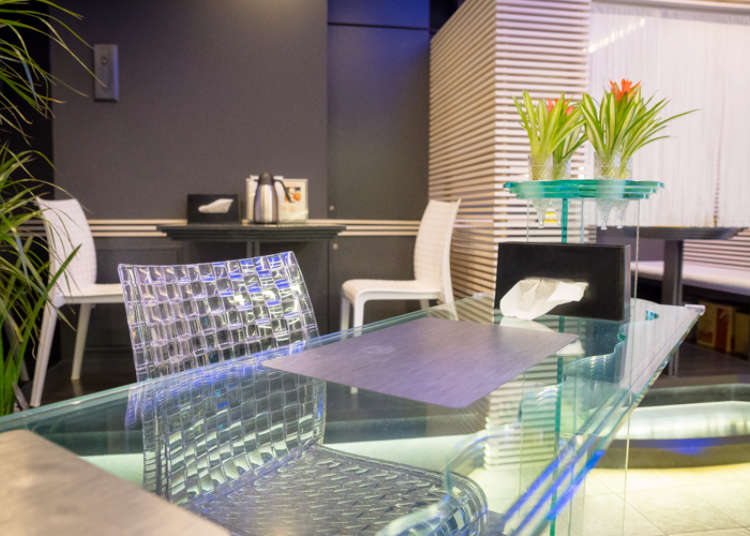 When I arrived, I was welcomed by a big lively man's voice saying "Welcome to our shop!" I felt that I had entered a run of the mill ramen shop, but at the same time, I felt a huge gap between the voice and the interior of the shop.

Brightly clean white walls, sparkling glass curtains, clear colored modern chairs, and a fancy flower arrangement were spread throughout the interior.

"Can I really eat ramen here?" I thought to myself, but proceeded to take a seat at the counter and ordered the master's recommendation.

Luckily, I was given permission to take video while he was cooking and here is the result:
Turning Ingredients into Beautiful Decorations
While taking video, I noticed that it only took 6 seconds for him to boil the noodles. I believe it's usually longer at other ramen shops, but I wasn't quite sure.

What surprised me more is that he took his time to decorate the ramen and made sure that every ingredient was where it was supposed to be. He poured the broth into the bowl, delicately placed Japanese onions and veggies, then finished it off by adding hot sauce to the bowl in a unique way.

"Beautiful..." I caught myself saying out loud. Never before have I seen a chef take such steps to ensure that a bowl of ramen is as perfect as it can be.

According to the master, the noodles, soy sauce for the soup, and all other ingredients are hand-made. As for the noodles, his staff in Hakata, located in Fukuoka prefecture, makes it and ships it to him after one week of aging.

After another week of aging at the Tokyo shop, the noodles are ready for use. As for his cooking method, he packs the noodles tightly, then spreads them in the boiling water for 6 seconds. He finishes this off with holding the noodles overhead for a few seconds in what is considered his signature pose. You can definitely tell that the master here is passionate about his art and takes a lot of consideration in making his own unique ramen.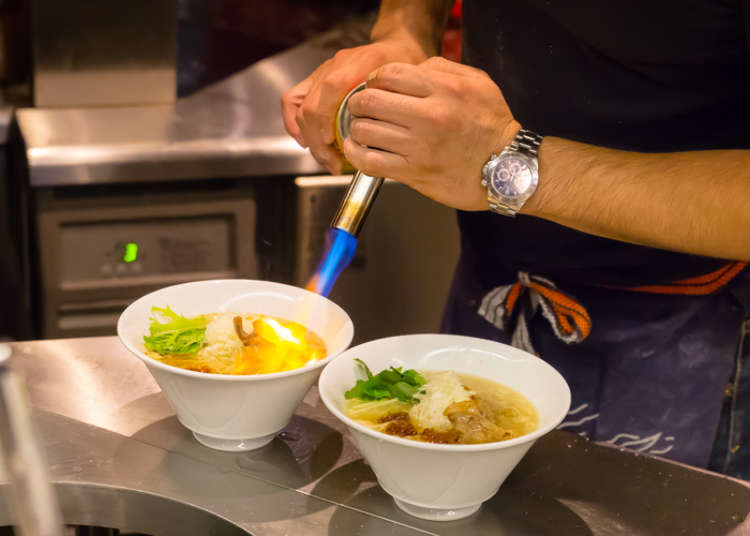 The master has actually been working for over 20 years to establish his ramen chain. His first ramen shop is located in Hakata which is otherwise known as a "Battlefield for Ramen Shops." He wanted his customers to not only eat his ramen, but to share his passion for ramen with his customers.

To do so, he created counters that envelop the kitchen counter, so that customers can see him cooking and talk to him as well. Unlike a normal ramen shop, but more like a show -- a theater.

He is really kind-hearted and loves to discuss the qualities of ramen, noodles, soy sauce with customers, as well as crack a few jokes and learn more about his patrons. It may sound uncommon, but thanks to his willingness to communicate with his customers, it creates a sense of unity and a place where you can feel comfortable coming back to, time and time again.
Enjoy New Tastes Bi-Weekly!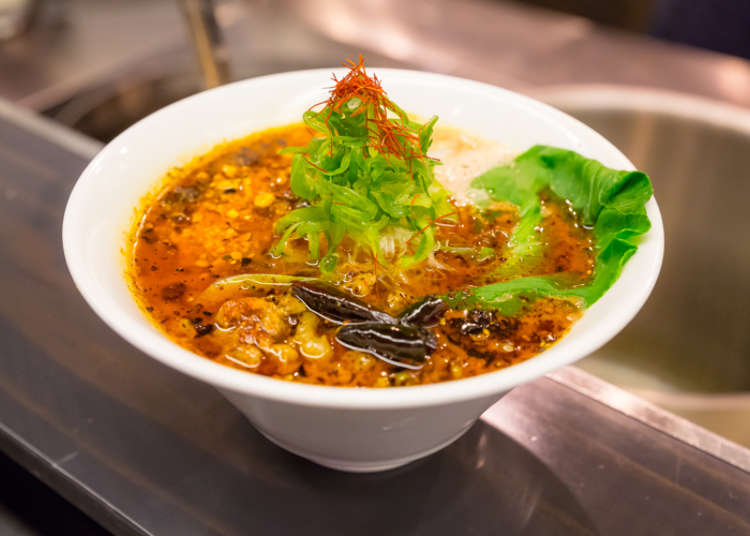 Before I forget, the ramen that was created for me was DELICIOUS! I will admit that I was a bit worried when the master added hot sauce, as I'm not good with spicy things, but this was great. The hot sauce mixed perfectly with the broth and added to the complicated taste of the ramen. Hands down, it was better than any other ramen I've tried thus far. Normally, I don't finish the broth after eating the noodles, but I did here, as the broth itself was full of flavor.
After finishing my meal, I got an opportunity to take a picture with the master, thanked him for his entertainment; his interesting conversation and his skills after creating amazing ramen. I promised that I would be back soon and he told me that he actually makes a new menu bi-weekly, so you can always find new tastes here! No wonder he has so many regulars!

So if you ever find yourself craving ramen and are in the Roppongi area, make sure you don't miss out on Genei Theater. It's definitely an experience you can only find in Japan!
麺劇場 玄瑛

Address

4 Chome-5-7 Roppongi, Minato-ku, Tōkyō-to 106-0032
*This information is from the time of this article's publication.
*Prices and options mentioned are subject to change.
*Unless stated otherwise, all prices include tax.