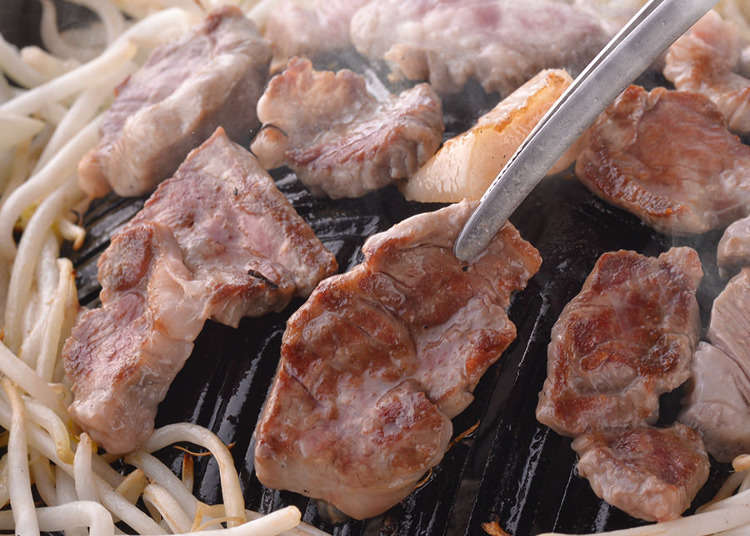 As one of Tokyo's most popular late-night districts, Roppongi has a lot of amazing meat-centric restaurants to offer. From flavorful mutton to high-class pork delights, eat your way through the four very best meat restaurants in the area!
Raw Lamb and High-Class Mutton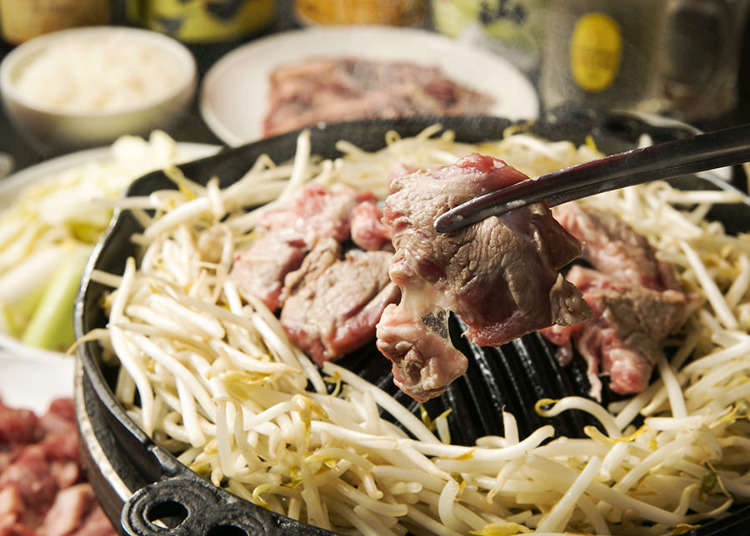 Mongolian mutton barbecue is simply called "Genghis Khan" throughout Japan and in Roppongi, there's one sheep meat specialty store from Hokkaido that is rumored to make the best Genghis Khan in the area. During summer, the restaurant uses raw lamb as well as exquisite high-grade mutton in its Mongolian barbecue that is also known as marbled mutton, directly delivered from Hokkaido. As the meat is grilled over charcoal, the ultra-red ray effect makes it particularly delicious. Served with a garlic and red pepper soy sauce, the unique flavor of the meat is brought out to perfection. The Genghis Khan set for one person is available for 972 yen.

Hours: 11:30 a.m. - 2:00 p.m., 5:00 p.m. - 7:00 a.m. the following day (until 11:00 p.m. on Sundays and public holidays)
Holidays: irregular
Lamb BBQ Genghis Khan Daruma

ジンギスカン だるま 六本木

Address

Iida Bldg. 3F, 4-12-4 Roppongi, Minato-ku, Tokyo-to 106-0032
Japanese Black Beef Shabu-Shabu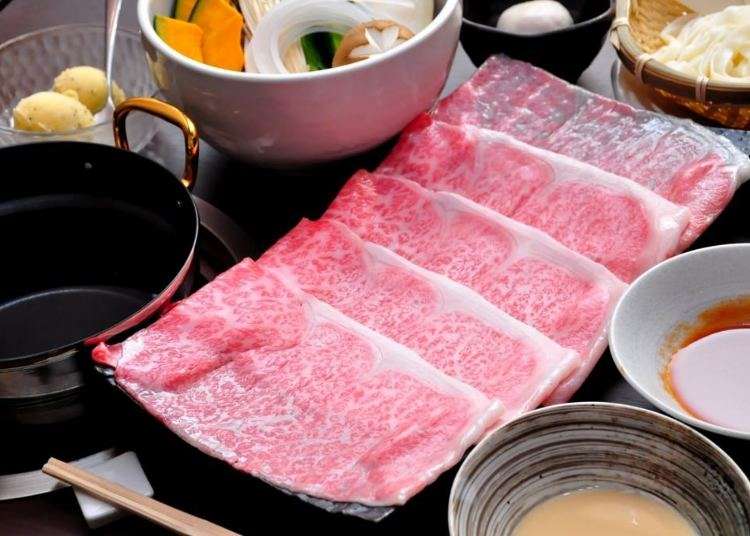 Shabu-shabu, the Japanese version of meat fondue with its thinly cut meat slices and the delicious dipping sauces, is one of the favorite hot pot dishes of the nation. It's usually enjoyed in a group but one specialty restaurant in Roppongi offers the delicacy for solo diners as well. Our warmest recommendation, however, is the "A5 Grade Black Beef Sirloin Shabu-Shabu Course" that includes aforementioned high-class Japanese black sirloin cuts, boiled gyoza, kishimen (flat noodles), as well as a dessert - six different dishes in total for 7,700 yen, available for two people or more. The four different homemade sauces include ponzu dip, sesame, tomato, and soy milk, so just choose what suits your taste best!

Hours: 11:30 a.m. - midnight
Holidays: Irregular
シェイブシェイブ

Address

Westa Roppongi 1F, 7-21-7 Roppongi, Minato-ku, Tokyo-to 106-0032
Choice Pork Shabu-Shabu Delights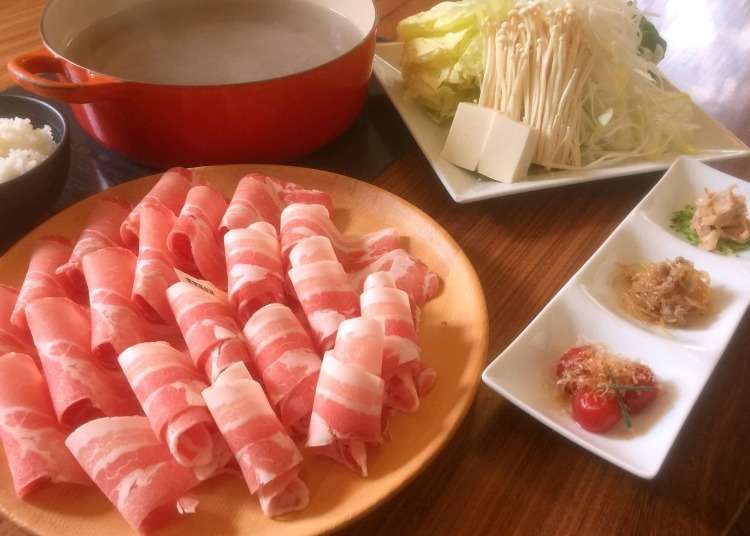 The next restaurant on our list, a pork shabu-shabu specialty store, is located directly next to the National Art Center, Tokyo. Enjoy your shabu-shabu with over twnty differend types of choice pork from both Japan and overseas, divided into four different quality grades. The "Shabu-an Course," our recommendation, is all about Japanese cuisine, featuring various seasonal delicacies served in typical little trays and bowls. Three different types of pork, standard as well as premium, can be chosen for the fondue - the premium option costs 4,500 yen.

Lunch: 11:30 a.m. - 2:30 p.m. (last order 2:00 p.m.)
Dinner: 6:00 p.m. - midnight (last order 11:00 p.m.), Saturdays, Sundays, holidays: 5:00 p.m. - 11:00 p.m. (last order 10:00 p.m.)
Holidays: none
豚組しゃぶ庵

Address

2F, 7-5-11 Roppongi, Minato-ku, Tokyo-to 106-0032
The Tenderness of Aged Beef Steak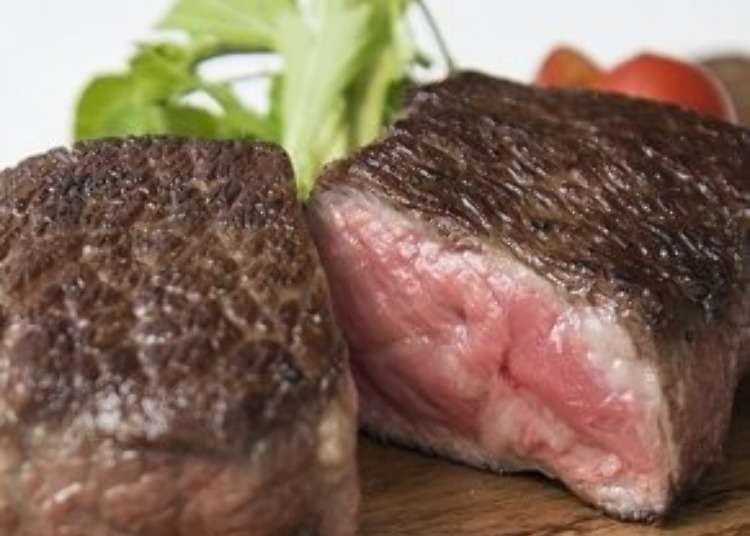 This specialty restaurant that had its grand opening in November of 2015 follows the concept of "everyday a feast." The highlight on their menu: beef that has aged for roughly fourty days, making it a lot more tender than regular beef. Once grilled, this rare delicacy will melt in your mouth in a manner that you probably can't help but close your eyes and fully induldge in the amazing flavor. Make sure to try the Ribeye Roll Steak for 4,780 yen per pound, tax excluded.

Lunch: 11:30 a.m. - 2:30 p.m. (last order 2:00 p.m.)
Dinner: 5:30 p.m. - 11:00 p.m. (last order 10:00 p.m.)
Holidays: none
ゴッチーズビーフ 六本木三丁目

Address

3-14-14 Ropponngi, Minato-ku, Tokyo-to 106-0032
*This information is from the time of this article's publication.
*Prices and options mentioned are subject to change.
*Unless stated otherwise, all prices include tax.