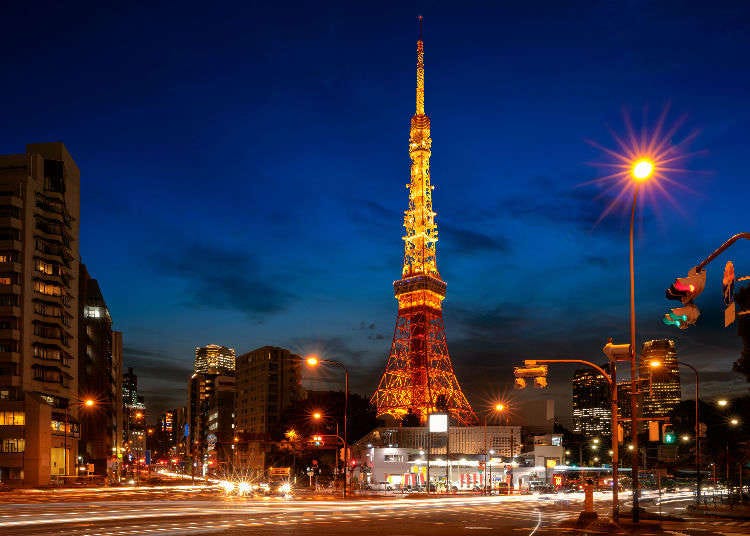 Tokyo Tower should be at the top of your sightseeing destinations. A spot visited by many tourists, it affords a perfect panoramic bird's-eye view of the world's largest city and at different times there are attractions held within the observation decks as well. Let's take a closer look at this hallmark that has been popular with so many for so long!
The construction of Tokyo Tower, rising 333 meters, was completed in 1958 as a tower for sending out television and FM radio broadcast signals. Until Tokyo Skytree® was constructed 51 years later, it was the tallest structure in Japan. To this day it is still a symbol of the city loved by citizens and one of the most popular tourist spots in Tokyo. Inside the tower there are many fun things to do for family, couples, and friends.
View the city from its center!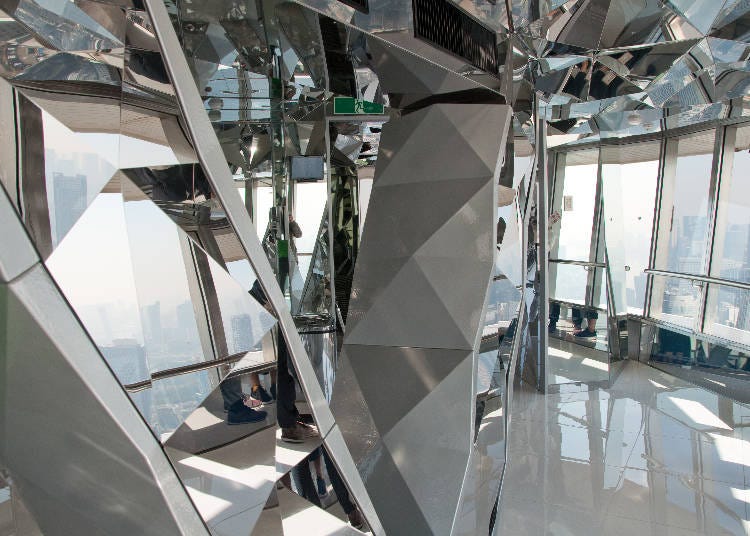 Tokyo Tower has two observation decks; the main deck at 145 meters and the top deck at 250 meters, both offering excellent views. The main deck is being refurbished in phases with the work scheduled to be completed by 2020. Refurbishment of the top deck was completed on March 3, 2018. Anyone can participate in the top deck tour (2,800 yen for adults) where they can behold a panoramic 360-degree view of the city and there are audio guidance tablets that explain the names of buildings and other key features of the city. The number of participants is limited each hour, so please make advance reservations from the website.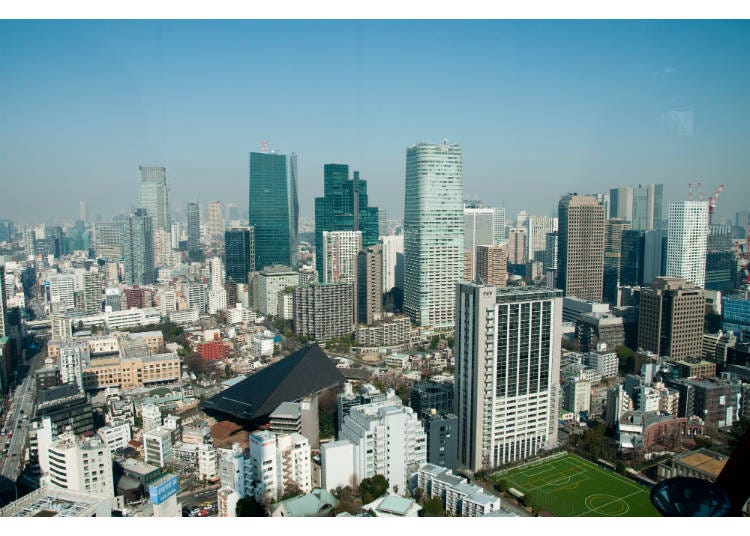 Each deck affords stunning views of all sections of the city. Looking towards Shinjuku one can see the towering buildings at Roppongi Hills, and looking towards Odaiba one can see the Rainbow Bridge. On a fine day it is even possible to see Mt. Fuji. Also when the weather is good you can see the Izu Islands floating in the Pacific and Boso Peninsula of Chiba Prefecture, across Tokyo Bay. Winter mornings, when the air is crystal clear, are the best times from seeing things in the far distance.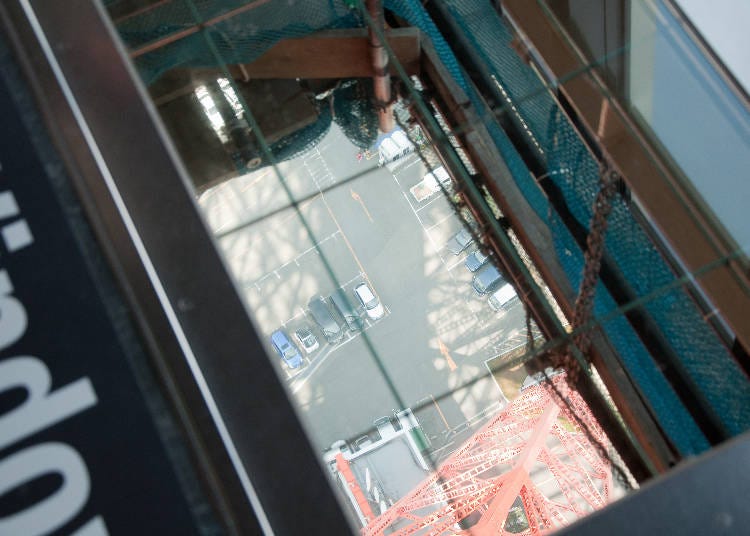 The Sky Walk Window is something you really must experience when you go up to the main deck. The glass windows enable you to see what is directly beneath you. When viewed from 145 meters up all the cars and people look like toys. Even though the glass is reinforced and sturdy, it is still a thrilling experience!

Both the main deck and top deck are open until 11:00 PM and the night views are especially romantic. At night the city looks like countless glittering diamonds. The view of Rainbow Bridge illuminated at night to the southeast is especially beautiful, but equally as stunning in the daytime. The newly reopened top deck is also stunning at night when light reflected from mirrors embedded in the floor shine brightly with the night view.
Get some Tokyo Tower souvenirs!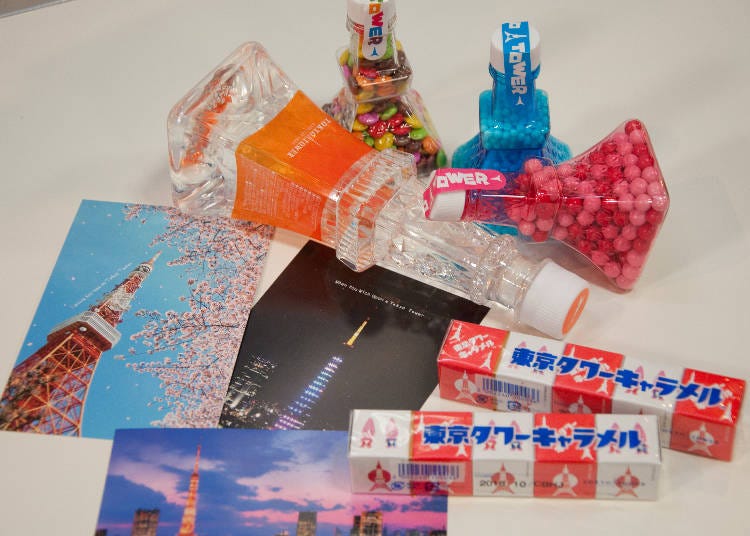 Tokyo Tower has a wide selection of souvenirs, too, offered on the main deck and Foot Town. At the official shop Galaxy there are confections, water, postcards and other items having the tower as their theme; many of these can only be obtained at this shop. Each of the various shops sell their own unique items, so be sure to check them all out.

Here are the top three souvenirs at Tokyo Tower, ranked in terms of popularity:
#1. The bottle of mineral water in the shape of Tokyo Tower (390 yen).
#2. Dice-shaped box containing 5 caramel candies (250 yen).
#3. Tower's Bottle - shaped like the tower and contains colorful chocolate and candies (510 yen).
Souvenirs are sold on both the main deck and Foot Town.
A shopping and gourmet area you can enjoy free of charge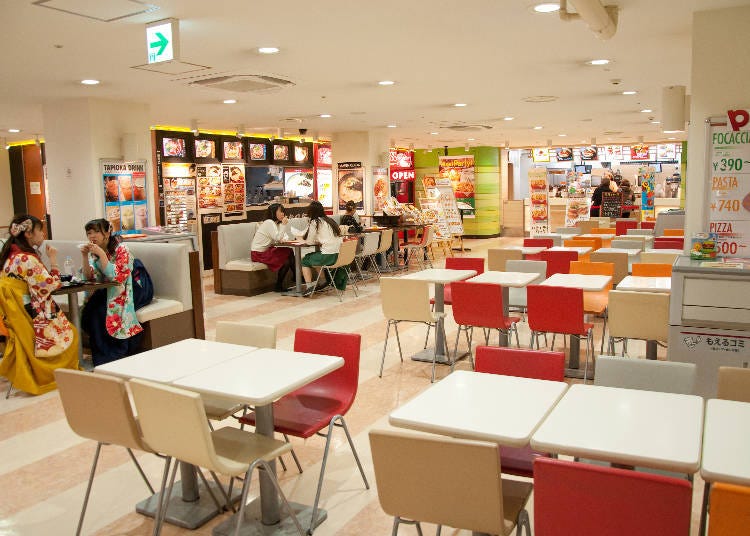 Foot Town spreads out at the base of Tokyo Tower and is an area where you can eat and shop free of charge. On the 3rd floor is the official shop Galaxy, the Mother Farm Cafe, operated by Mother Farm in Chiba Prefecture which neighbors Tokyo, and Animate which carries a selection of more than 2,000 anime and manga goods.

On the second floor there is a food court which includes shops offering Japanese soba, ramen, hamburgers, ice cream, and in addition to that, Tokyo Souvenir Town which has been there since the tower opened in 1958. It offers a selection of plates having the Tokyo Tower motif, plus Japanese dolls, and Japanese swords. More recently it also has been offering anime goods. Also, for manga and anime fans, the famous Tokyo One Piece Tower is in this area!
On the 1st and 3rd to 5th floors of Foot Town, there is Tokyo One Piece Tower, the first large-scale theme park devoted to the popular animation "ONE PIECE". You can enjoy nine different attractions on these four floors ranging from restaurants, shops and live events. In the facility, you can take pictures with the Straw Hat Pirates who are the center of the story, plus participate in mystery solving attractions using the entire facility, or purchase exclusive merchandise that is only available here. There is an admission fee for the third through fifth floors, but there is no charge for entering the Sanji no Oresama Restaurant, Cafe Mugiwara, and the Straw Hat Store Tokyo One Piece Tower located on the first floor.

The price of admission to it and admission to the main deck can be purchased in a set costing 2,900 yen (for adults). If you wish only to enter the Tokyo One Piece Tower then the cost of admission is 2,200 yen (adult ticket purchased that day); the cost for admission, attractions, and live events is 3,200 yen (adult ticket purchased that day).


Admission: Top deck tour: Adult (age 16 and older) 2,800 yen, junior (age 7 ~ 15) 1,800 yen, child (age 4 ~ 6) 1,200 yen
Main deck: Adult (age 16 and older) 900 yen, junior (age 7 ~ 15) 500 yen, child (age 4 ~ 6) 400 yen
Hours: 9:00 AM ~ 11:00 PM (top deck until 20:15 PM; hours may vary depending on shop)
Closed: Open daily
© Amusequest Tokyo Tower LLP
©Eiichiro Oda/Shueisha,Toei Animation
*This information is from the time of this article's publication.
*Prices and options mentioned are subject to change.
*Unless stated otherwise, all prices include tax.