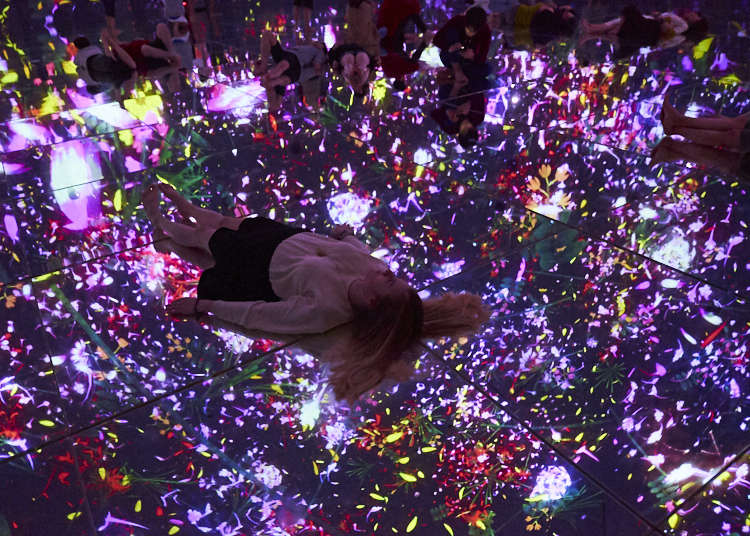 TeamLab Planets Tokyo is a massive success that has drawn visitors from around the globe. Japan's art, fashion, and anime culture have fascinated people the world over, resulting in a surge of tourists to the country. Amongst Japan's many significant attractions, art museums are an incredible way to immerse yourself in that culture truly.

In particular, the "body immersive" museum, teamLab Planets TOKYO, has won the hearts of international tourists, as it plunges visitors into the middle of massive art spaces.

Nearly a third of their visitors are people from outside Japan, and they frequently leave their passionate recollections and recommendations on social media and travel sites.

But what makes explicitly teamLab Planets TOKYO so popular with international travelers? By interviewing visitors, we were able to get their reviews. Keep reading to discover the real thoughts of such visitors and what makes the museum so appealing.
What is teamLab Planets TOKYO?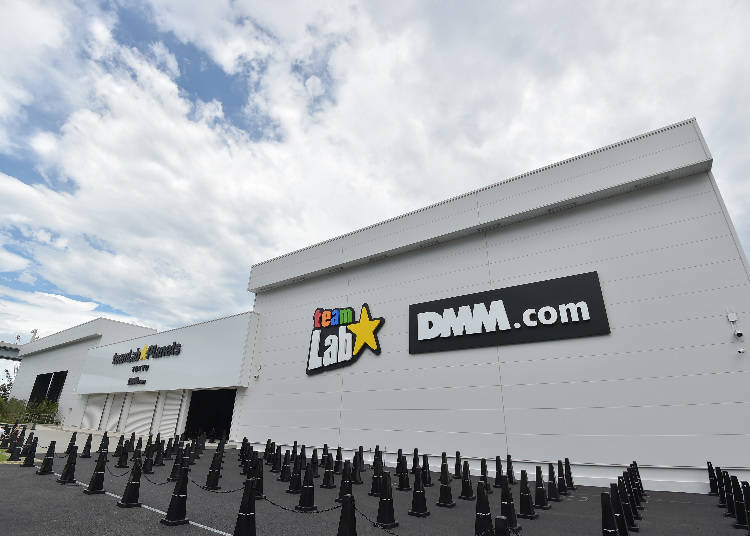 The museum exhibits pieces using water from the art collective "teamLab". There are four main artworks, then a few smaller ones, making seven in total.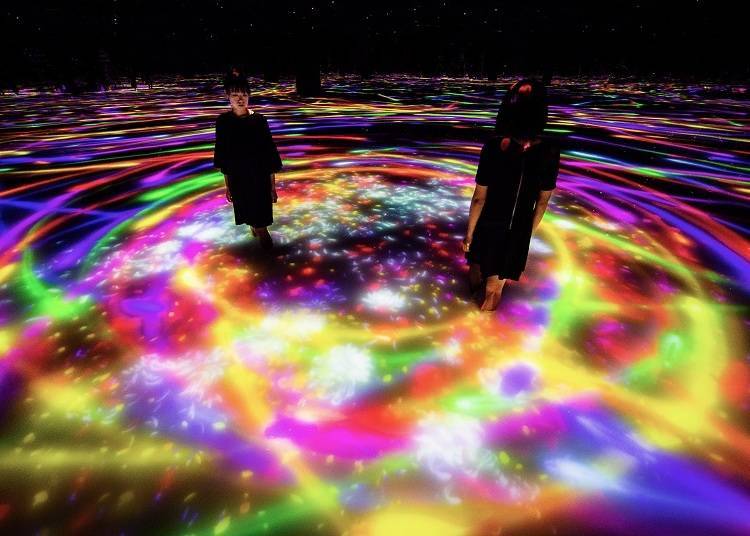 teamLab, Drawing on the Water Surface Created by the Dance of Koi and People - Infinity, 2016-2018, Interactive Digital Installation, Endless, Sound: Hideaki Takahashi © teamLab teamLab is represented by Pace Gallery
Their concept for the project was "Body Immersive," and when you enter the world of their pieces, you are literally immersed - but more on that later. Since its opening in July 2018, visitors have consistently shared their experiences in its colorful, vivid art pieces on social media, and the spot became the topic of much talk.

A must-see on any Japan trip!
Feature 1: Immerse yourself in a world of art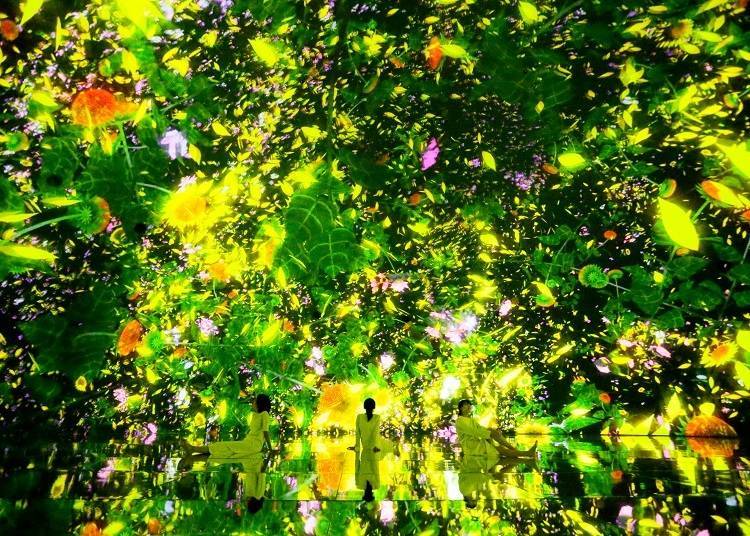 teamLab, Floating in the Falling Universe of Flowers , 2016-2018, Interactive Digital Installation, Endless, Sound: Hideaki Takahashi © teamLab teamLab is represented by Pace Gallery
Every visitor we interviewed shared a common impression: being immersed in the art felt incredible.

"Sound, light, effects. It was extraordinary, like no other museum I've been to before!" (Woman from Switzerland)

"Everything was unique. I wish I had the time to explore all of it, but alas, time flew by when I was inside!" (Man from Spain)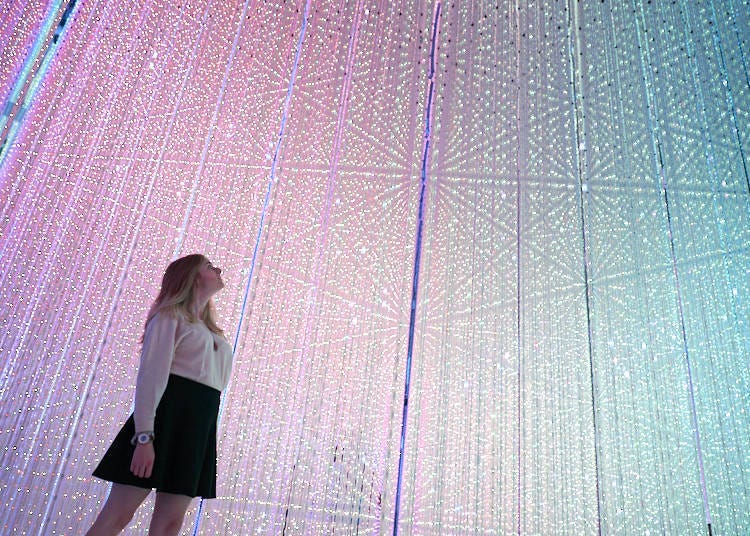 As these visitors pointed out, teamLab Planets TOKYO is the kind of museum where the lines between visitor and art are blurred. It's a cumulative experience sensed with sight, smell, sound, and touch, and a lot of work has been put into its pieces to ensure you are fully immersed in them.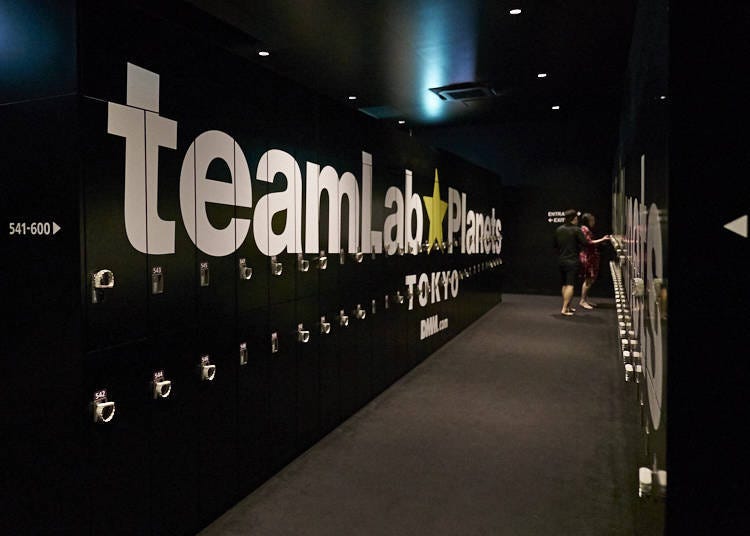 Another important characteristic of the museum is that everyone who visits must enter barefoot. Visitors take off their shoes and place them and other belongings in lockers after receiving instructions at the lobby. By putting away everything but your cell phone and camera, your load is lightened and you can focus on the art.
Feature 2: Step barefoot into the water and world of art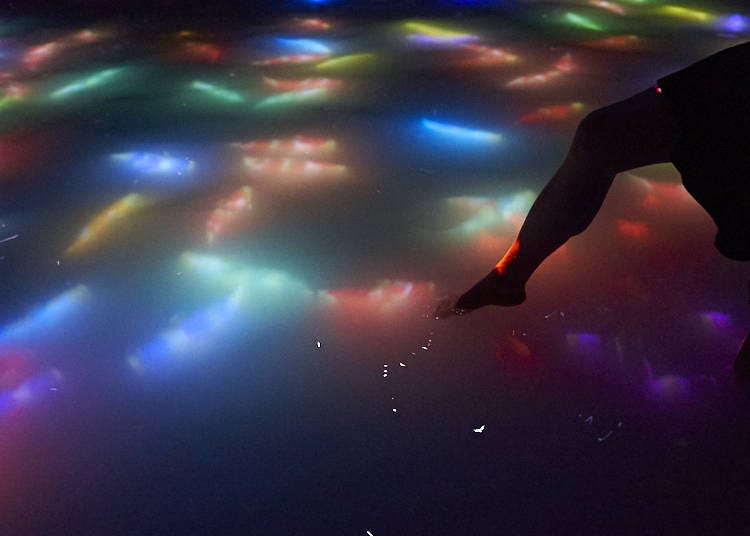 Aside from "blurring the line between visitor and art," there's another reason visitors must become barefoot: these art pieces use pools of water.

Naturally, international visitors were just as surprised for a museum to have them walking around in water.
"It felt great in the water! It was like no art museum I've ever been to before, it was incredible." (Woman from Spain)

"The water wasn't nearly as cold as I thought it would be, it felt nice." (Man from Canada)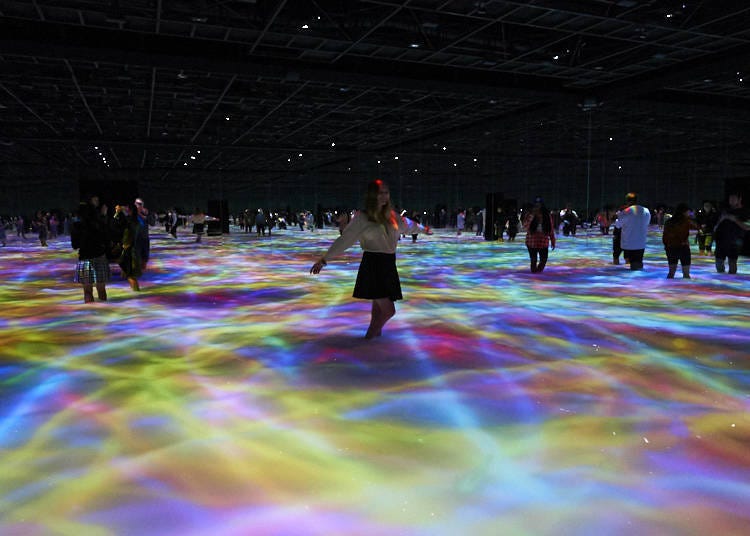 The centerpiece of teamLab Planets TOKYO is "Drawing on the Water Surface Created by the Dance of Koi and People - Infinity," in which koi fish swim around a seemingly endless water surface, interacting with people walking through it.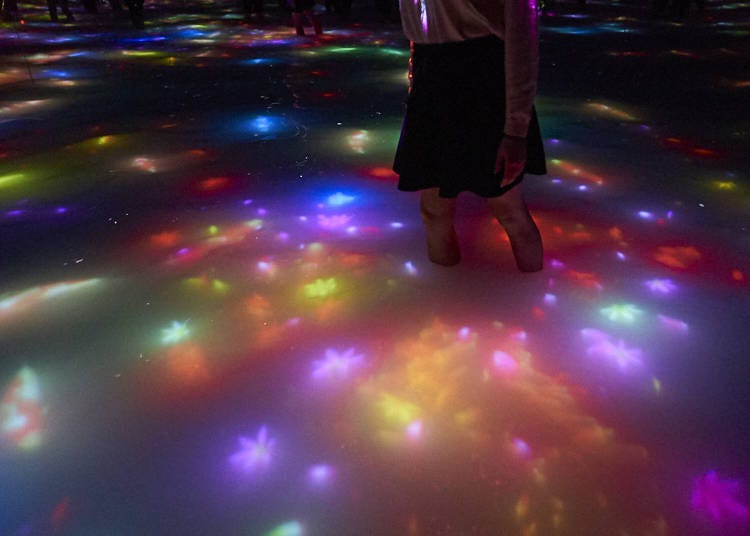 A computer program simulates the movements of the koi and their interactions with people and other fish. When they bump into people, they transform into plants. The plants match the seasons, with cherry blossoms in Spring, sunflowers in Summer, colorful leaves in Fall, and cineraria in Winter. It is truly otherworldly.
An art piece to the back called "Cold Life," is a "spatial calligraphy" work, one of many produced by teamLab since its inception. The speed and depth of calligraphy ink can be felt as it is reproduced in three dimensions, morphing into living things like butterflies, birds, and flowers depending on the season.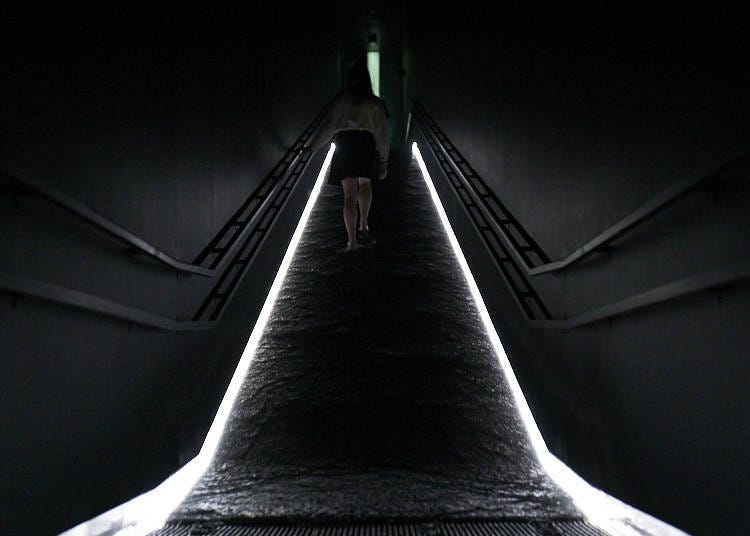 Once you enter the museum, the first work you encounter is the "Waterfall of Light Particles at the Top of an Incline", based on a previous work "Waterfall Deep in the Mountains" (2016-2017). Visitors walk up a slope with falling water, heading for a waterfall of light.
Feature 3: Don't forget to use the app to create a new experience!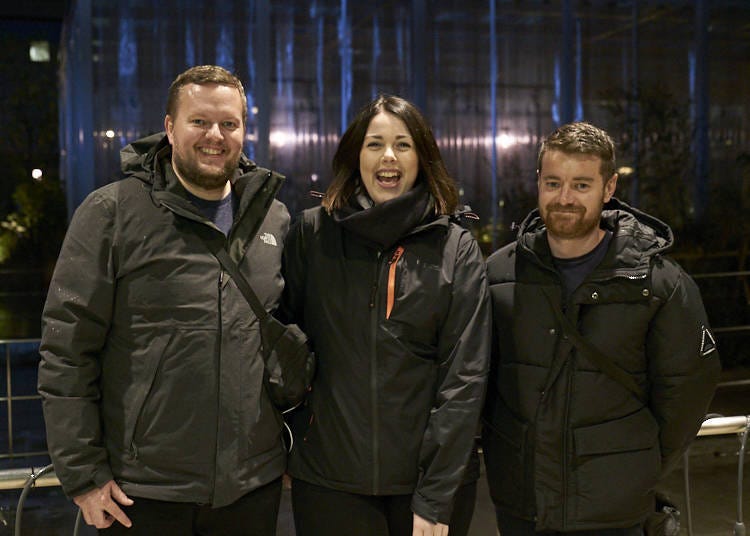 International visitors were particularly stunned by this piece: "It was fantastic, like being showered in light." (Man from Canada) "The midair effects are beautiful." (Woman from America)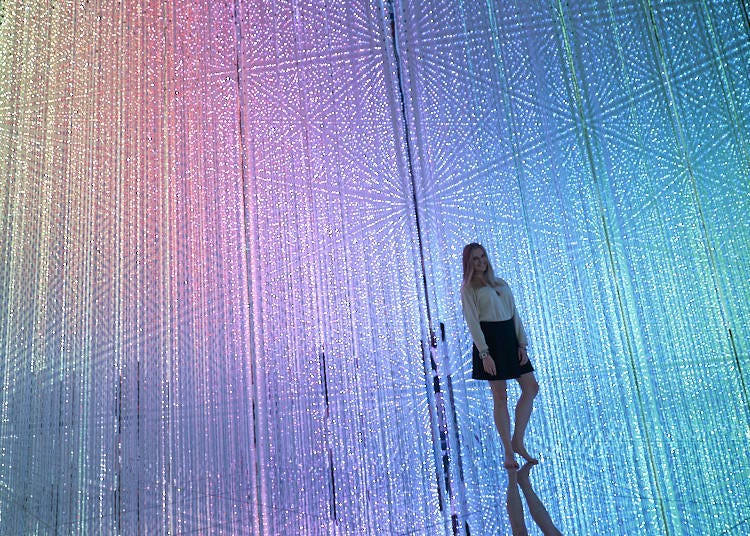 This is "The Infinite Crystal Universe," an interactive, three-dimensional field of light that stretches in all directions, from right above your head to way below your feet.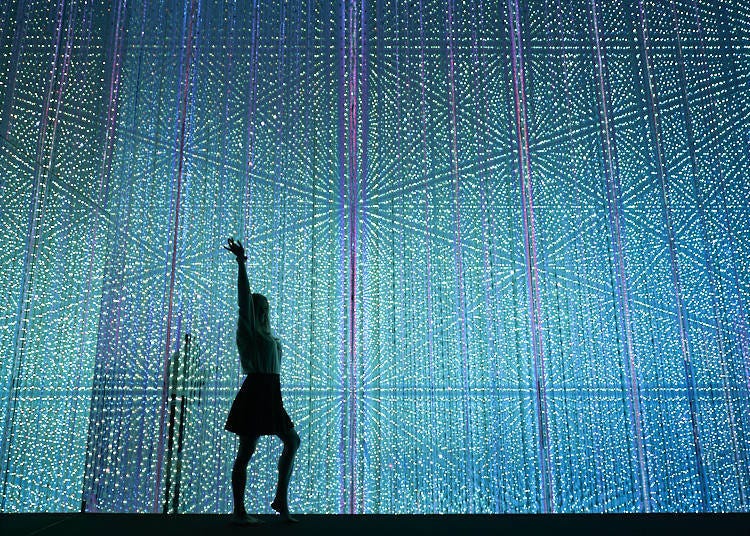 Wandering through the twinkling, colorful light, it feels as if one has been transported into space.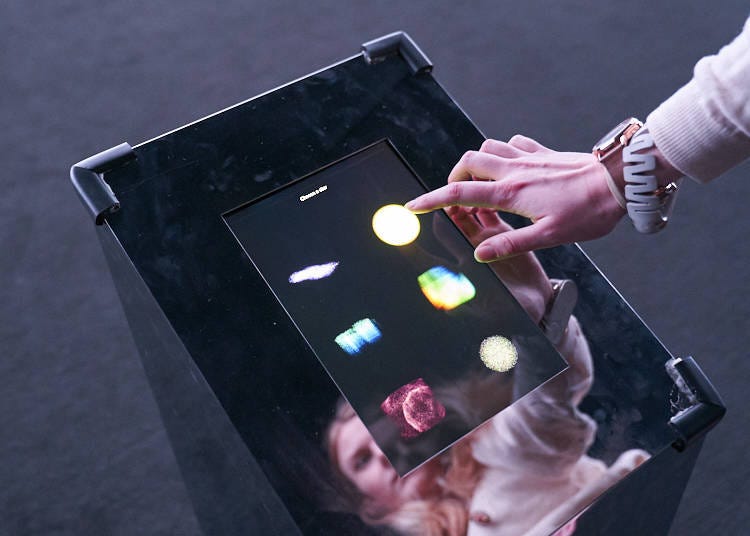 To enjoy this art piece even further, download teamLab's official phone application in advance. You can pick space visuals from your smartphone to swipe and send out into the art piece, and change the colors and movement of light on display. Even if you don't have the smartphone application, there's a tablet you can use in an adjoining room to perform actions.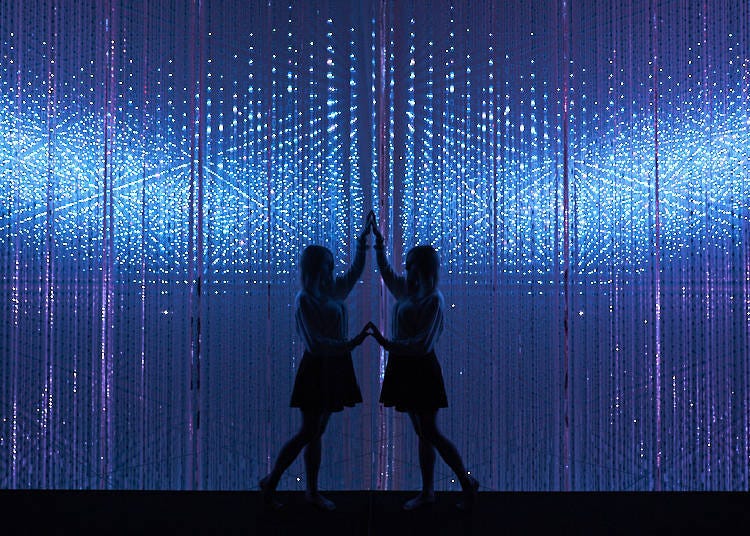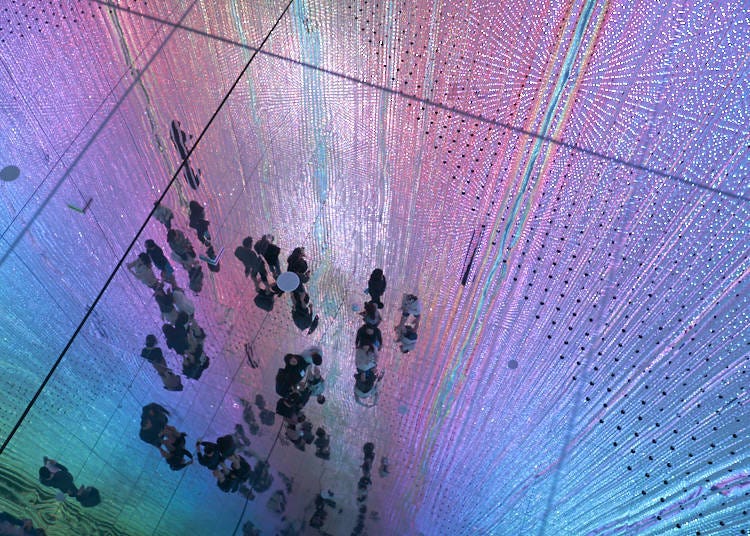 At any angle, it makes for incredible photographs. Try striking a pose, and let your imagination run wild to get that perfect picture for social media.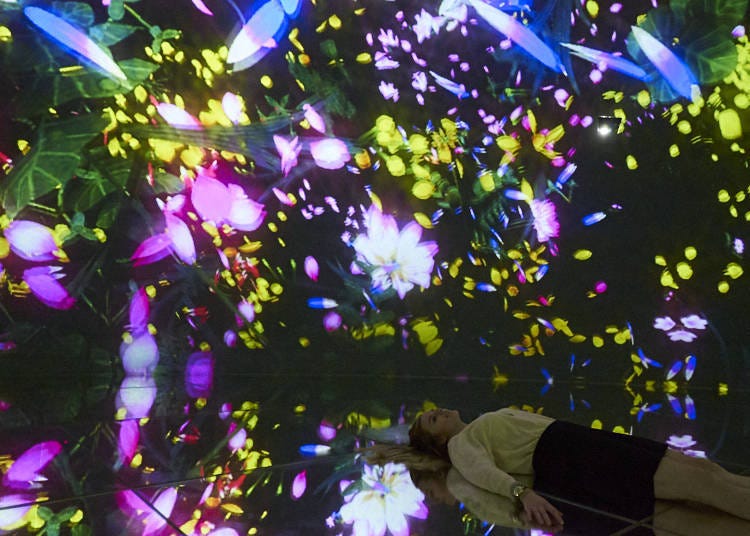 Many international travelers said the piece that moved them the most was "Floating in the Falling Universe of Flowers".
This is another fantastic "infinite space" art piece. A year's worth of seasonal flowers appear and bloom moment by moment. Their life is depicted, beginning as buds, then blooming, and finally falling. The striking movement is continuously simulated, creating an almost hypnotic space.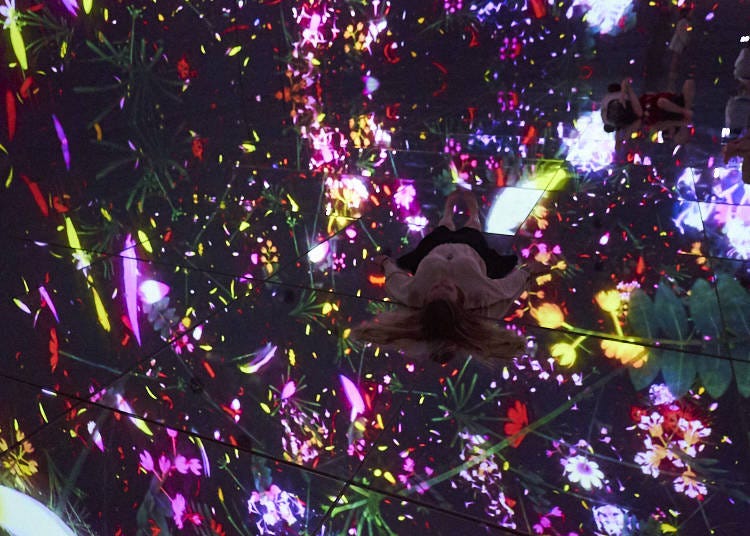 It's recommended that you lie down to experience this art piece. Even as flower petals appear to fall through the air around you, it feels like you're watching them from above... The art takes away your sense of balance and replaces it with a pleasant floating feeling.
Feature 4: Whack huge balloons around or be enveloped in darkness. Fun for kids and adults alike!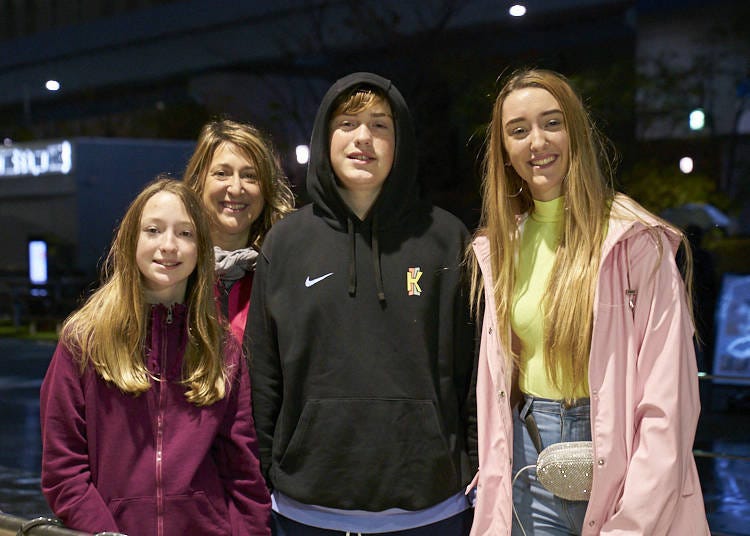 Given the interactive nature of teamLab Planets TOKYO, people of all ages will enjoy the ability to play with the art, rather than merely view it. Perhaps unsurprisingly, many of the international travelers that visit come as families.

One family of Americans we interviewed made it plain and simple: "Children and families would have so much fun here!"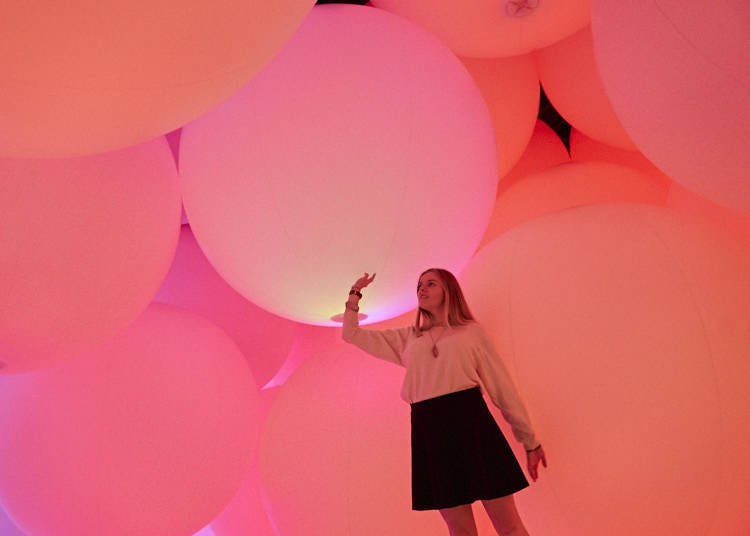 One art piece families are sure to enjoy is "Expanding Three-Dimensional Existence in Transforming Space - Flattening 3 Colors and 9 Blurred Colors, Free Floating".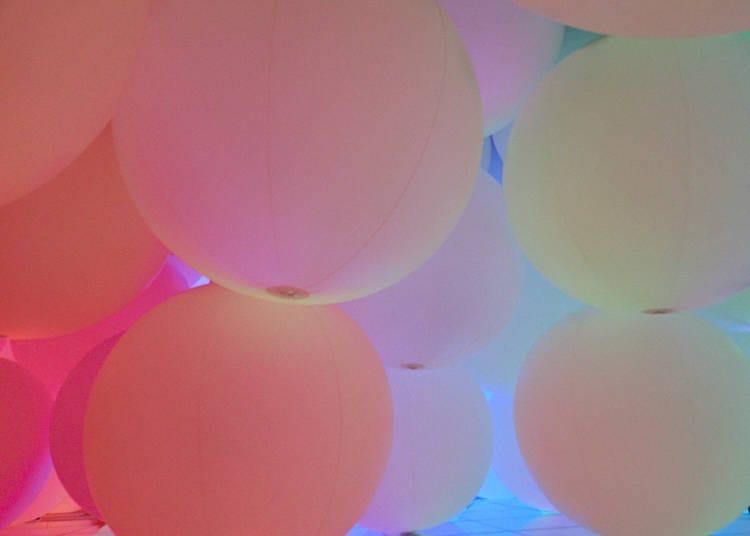 The space is filled with floating spheres, which you can push aside to make your way through. When pushed around or struck by people, the spheres change in color and produce unique sounds. Spheres nearby will respond in turn.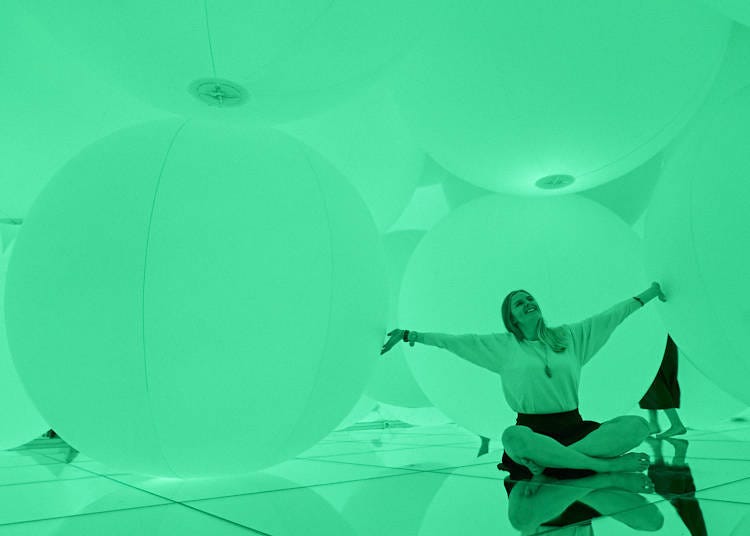 Since the sphere colors are produced by light, they can produce nine gradated colors, or space-flattening primary colors, for a total of twelve colors. Try knocking the spheres around and see what happens!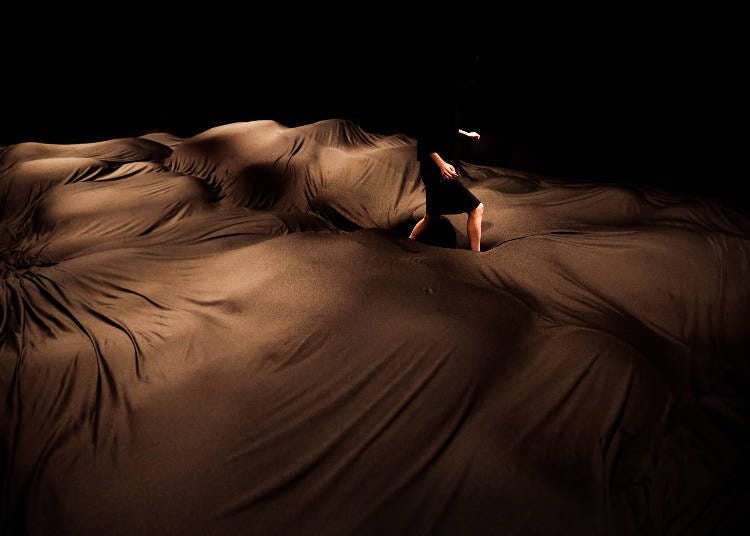 teamLab, Soft Black Hole - Your Body Becomes a Space that Influences Another Body , 2016 © teamLab teamLab is represented by Pace Gallery
The black hole is another art piece that's popular with families. The daughter of the American family from the above interview said that this was her favorite.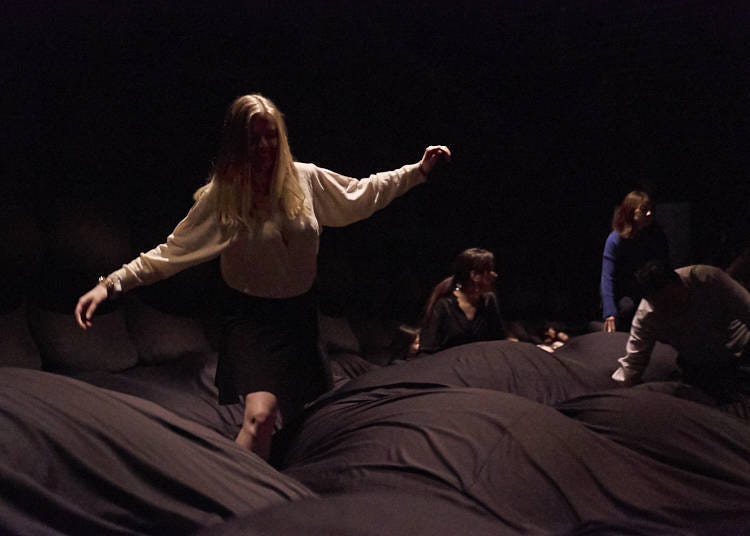 Because your feet sink down as you try to walk, and because the shape of the entire space is affected by the weight of people walking through it, it's a fun challenge to make your way forward!

It's great fun to tumble about as you try to go through, especially for kids. For adults, it offers a chance to rekindle a childlike spirit of fun.
Feature 5: With all tickets sold in advance for specific times, you don't have to wait in line!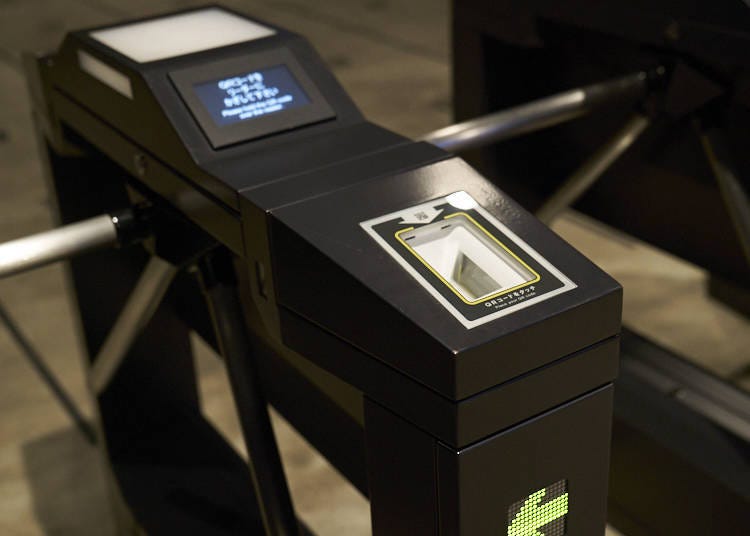 One visitor told us how "I felt at ease knowing that you can buy the tickets for specific times and dates!"

Indeed, teamLab Planets TOKYO sells its tickets for specific dates and times. You can choose a time convenient for you from their official website and get a QR code ticket to show at the gate for entry. There's no need to worry about lining up for ages to get a ticket in. And although the tickets are sold for specific dates and times, there's no limit to how long you can enjoy the facility.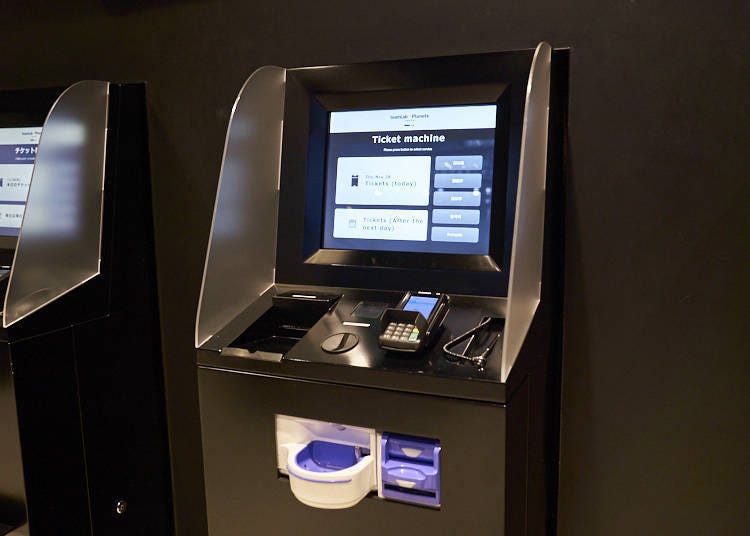 Spur-of-the-moment visits are welcome, too. Simply purchase a ticket at the venue entrance. Be aware that tickets may be sold out for certain times, however.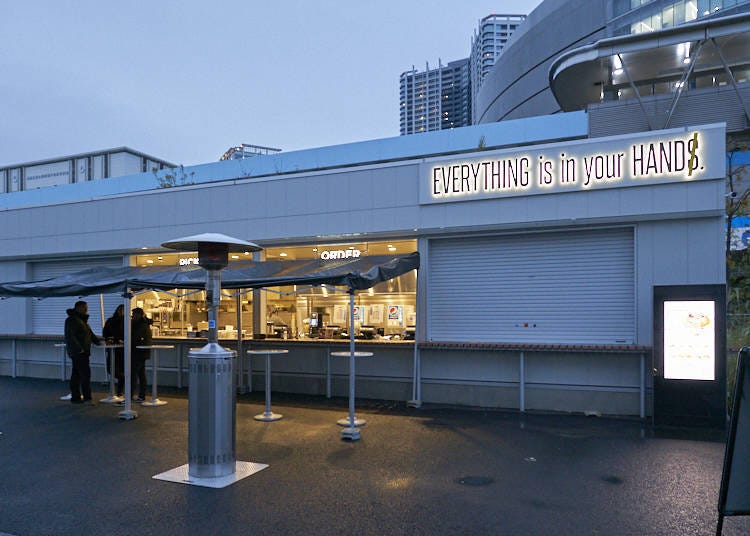 You can spend the time until you enter at the food stand in front of the museum, "Everything is in your Hand".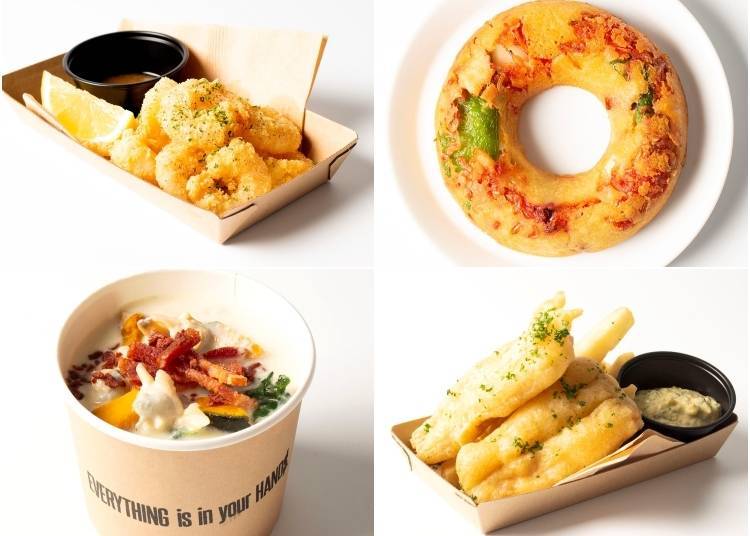 Here you can purchase fish and chips, clam chowder, and other items made with ingredients that come from neighboring Toyosu Market.
Feature 6: Seasonal displays! The two art pieces will be "sakura" themed with cherry blossoms for Spring 2020
Another great feature of the exhibition is how its art pieces match the current season. Between Sunday, March 1 and Thursday, April 30, 2020, two of the art pieces will have cherry blossom displays.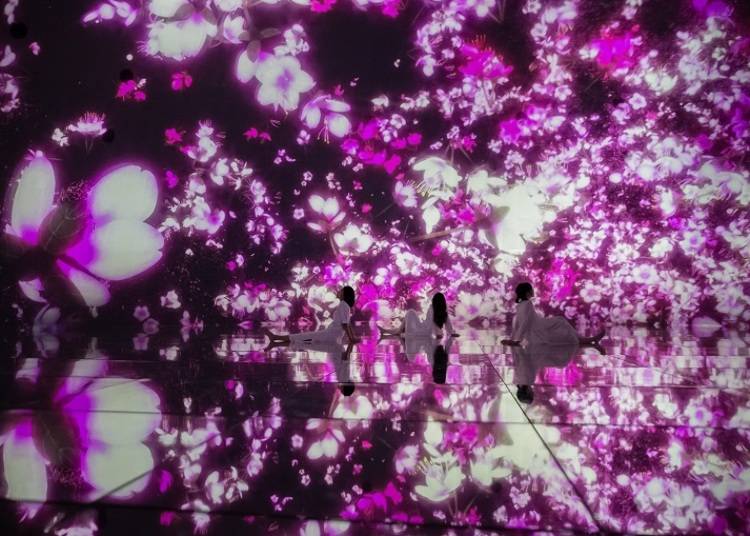 First, "Float in the Falling Universe of Flowers." Cherry blossoms will join other seasonal flowers as they morph, bloom, and fall. This is the only time of year you'll get to experience the sensation of being surrounded by beautiful pink flower petals at this exhibit.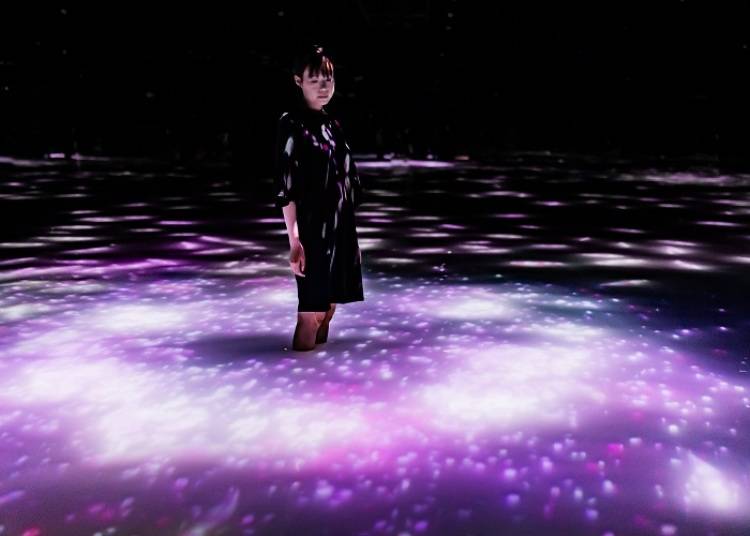 There's also "Drawing on the Water Surface Created by the Dance of Koi and People – Infinity." In this art piece, koi swim on the water surface, which seems to stretch to infinity. When the koi bump into people, they morph into flowers. For a limited time this spring, those flowers will be cherry blossoms. The wavering pink ripples should make for a purifying experience.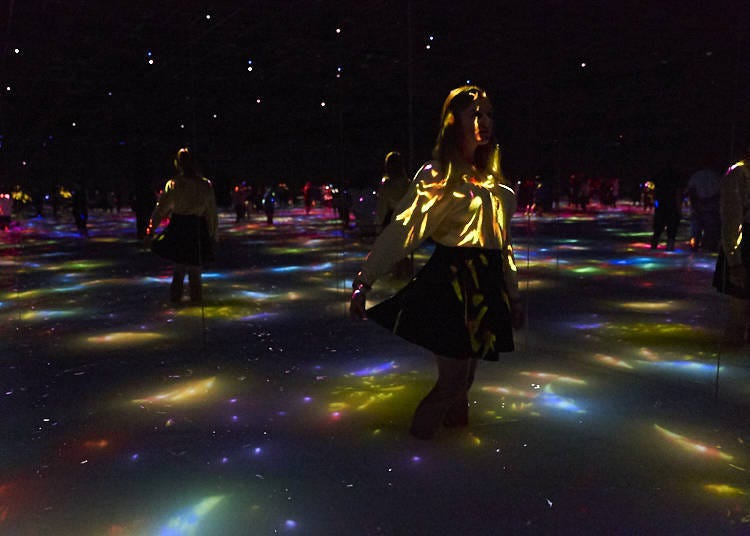 That brings us to the end of our showcase of teamLab Planets TOKYO, a museum that literally immerses you in its art. From families to groups of friends taking lots of pictures, to couples and solo visitors looking to learn about themselves, there are unlimited ways to enjoy this facility. Be sure to enjoy it now while you can!
チームラボプラネッツ TOKYO DMM

Address

teamLab Planets TOKYO, Toyosu 6-1-16, Koto-ku, Tokyo

■Open Until: Fall 2020

■Hours:
 Mon-Thur 10:00 to 19:00
 Fri 10:00 to 21:00
 Sat and day before holidays 9:00 to 21:00
 Sun and holidays 9:00 to 19:00

* Final admission is 30 minutes before closing time.
* Hours change by season. Visit the official site for details.
Take the Tokyo Monorail from Haneda Airport Terminal 1 Station to Tennōzu Isle Station, a ten-minute trip. Switch to the Rinkai Line and travel five minutes to Kokusai-Tenjijō Station. From there, switch to the Yurikamome Line via nearby Ariake Station, and travel five minutes to Shin-toyosu Station. The venue is about a one-minute walk from Shin-toyosu Station.
Take the JR Narita Line from Narita Airport Terminal 1 Station towards Tokyo Station, and take the Yamanote Line from there to Yūrakuchō Station. Exit the station and take the underground Yūrakuchō Line to Toyosu Station, a ten-minute trip. The venue is about a ten-minute walk from the Toyosu Station, or a three-minute taxi ride.
Take the underground Yūrakuchō Line departing from Ginza-itchōme Station or Yūrakuchō Station towards Toyosu Station, a roughly ten-minute trip. Exit the station and walk for ten minutes or take a three-minute taxi drive to the venue.
Take the JR Saikyo Line (which switches to the Rinkai Line) from Shinjuku Station to Kokusai-Tenjijō Station. From there, switch to the Yurikamome Line via nearby Ariake Station, and travel five minutes to Shin-toyosu Station. The venue is about a one-minute walk from Shin-toyosu Station.
*This information is from the time of this article's publication.
*Prices and options mentioned are subject to change.
*Unless stated otherwise, all prices include tax.