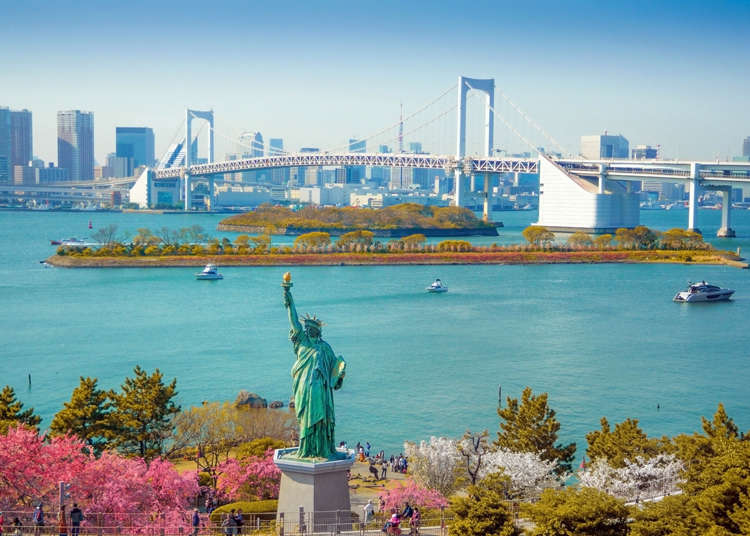 If you're planning on visiting Japan, you've probably come across Odaiba in your research before. This man-made island in Tokyo Bay has a full range of water activities to take part in due to its ideal waterfront location. Even if that's not your kind of thing, the huge amount of other shopping, recreation, and entertainment facilities available here means that Odaiba is well-equipped to provide people of all ages with the kind of fun that appeals to them the most - The best kind of place to visit if you'll be traveling with family!

We've therefore prepared a sample itinerary for Odaiba that will hopefully serve as a handy reference for families with young children planning to visit this lovely place of interest soon.
So many things to see and do in Odaiba that one day may not be enough!
You can probably finish walking around Odaiba rather quickly in terms of just covering territory, but there are so many sightseeing spots on this relatively small island that many have expressed one day doesn't seem enough to see everything it has to offer! To cover the area most efficiently, therefore, advanced planning is required. And to do advanced planning, you need information! Feel free to use this sample itinerary as a point of reference for your plans!
Intellectual Exploration at Legoland Discovery Center Tokyo
The first destination of our itinerary is Legoland Discovery Center Tokyo located inside DECKS Tokyo Beach. This entertainment facility caters to children between 3 to 10 years of age and has plenty of hands-on attractions making use of the building blocks we're all so familiar with.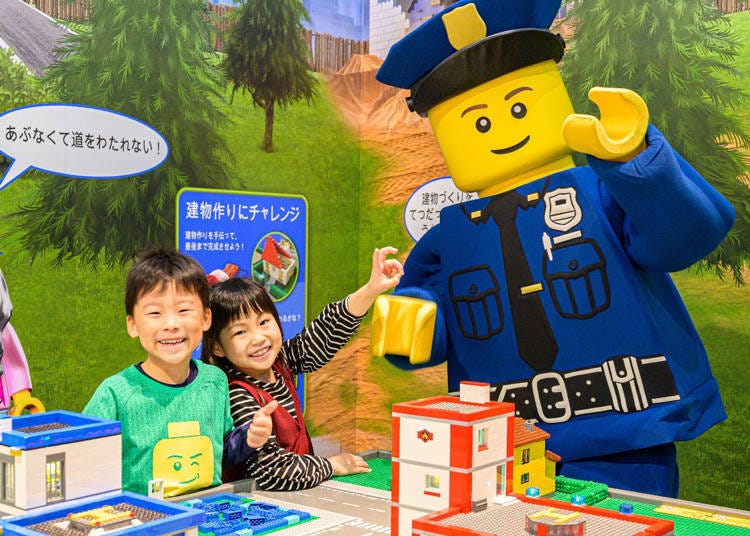 In the Discovery Center, besides a 4D Cinema that broadcasts 3D films with other sensory effects like wind and sprays of water, you'll also find family-friendly activities like Kingdom Quest, a shooting game as well as interesting areas made completely from LEGO® blocks.

If you've ever wanted to build your own race car, now's your chance to do just that at the LEGO® Racer section. DUPLO® Village is another attraction that will allow participants to exercise and strengthen their mental muscles using building blocks of all sizes. Many areas here were designed to educate visitors through enjoyable activities that stimulate creativity.

The center has full-time staff who can speak English and usage guides are available in English, Chinese, and Korean. Clearly, they're keen to welcome visitors from overseas as well!
LEGOLAND DISCOVERY CENTER TOKYO

レゴランド(R)・ディスカバリー・センター東京

Address

DECKS Tokyo Beach Island Mall 3F, 1-6-1 Daiba, Minato-ku, Tokyo, Japan

Nearest Station

2-minutes walk from Odaiba-kaihinkoen Station on the Yurikamome; 5-minutes walk from Tokyo Teleport Station on the Rinkai Line


Phone Number

0800-100-5346

Price: Entry 2,500 yen (for entry on the same day, tax included)
Hours: Weekdays 10:00 a.m. -- 8:00 p.m. (last entry 6:00 p.m.); Weekends and public holidays 10:00 a.m. -- 9:00 p.m. (last entry 7:00 p.m.)
Closed: Not fixed (depends on when Decks Tokyo Beach is closed)
DiverCity Tokyo: Shop, eat, and play!
Next, head to the hottest talking points of Odaiba - Diver City Tokyo and the life-size Gundam statue posed in front of it. Inside this commercial complex, you'll find more than 150 shops selling goods from popular local and international brands, in addition to restaurants serving all types of food. Don't miss the official merchandise shops of popular Japanese animation series like Doraemon or Gundam too, especially if you're a fan!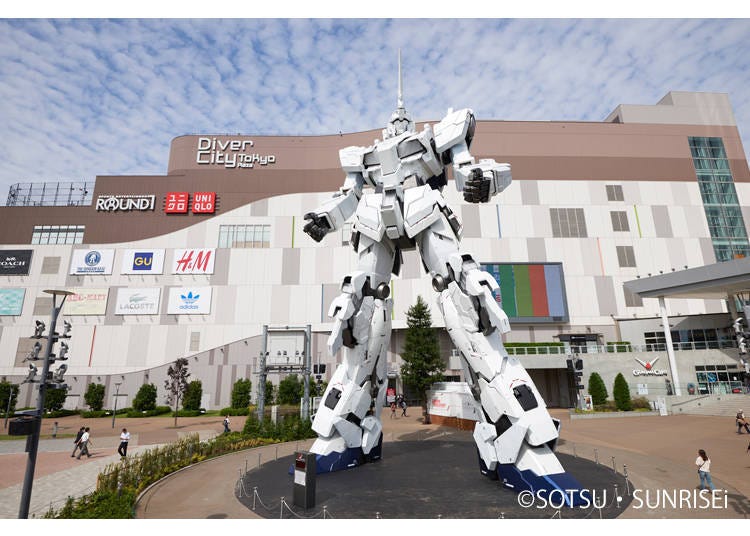 Inside the building, you'll also find oddities like the Unko Museum (it literally means poop museum!) that's adored by children from all over the world. Other places of interest include a hands-on learning digital theme park and plenty of entertainment complexes with fun activities tailored to people of all ages.

To show their hospitality towards international visitors, some restaurants here are Halal-certified so that Muslim visitors can enjoy Japanese food with peace of mind. Many shops also offer tax-free services, and signboards and bulletin boards with information in English and Chinese can be found throughout the facility floors.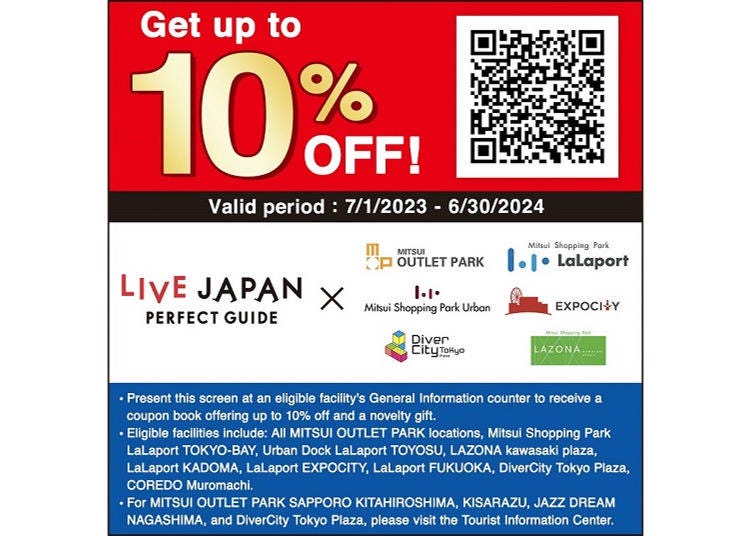 teamLab Borderless: Immerse yourself in a world of fantasy-like digital art
After shopping to your heart's content, it's time to switch gears a little and dabble in some art admiration. Inside Odaiba's Palette Town is a facility by the name of "teamLab Borderless", where artwork by the teamLab, an international art collective are on display. As the name suggests, this is a sensory museum where you can experience art without borders. The attraction employs full-time multilingual staff who can show you around in English or other languages. The exhibits themselves are nonverbal interactive artwork designed to be easy to enjoy for everyone regardless of the language they speak.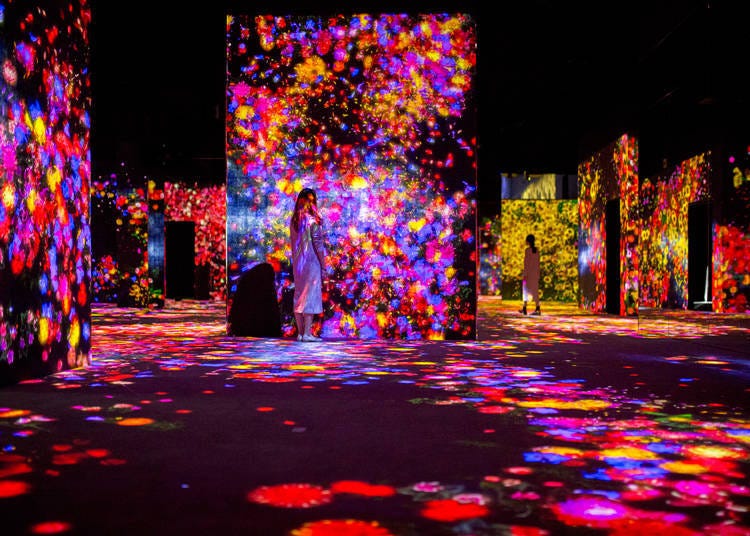 Within the art space made up of five different world views, the Athletic Forest and Future Park areas are especially educational. Trampoline and 3D bouldering installations are illuminated by vibrant and colorful lights, and children can unleash their physical energy and mental creativity here. Note that the 10,000 square meters (about 107,000 square feet) facility is mostly dimly lit, so take special care to ensure that you do not get separated from your children because they're having a little bit too much fun!
MORI Building DIGITAL ART MUSEUM: EPSON teamLab Borderless

森ビルデジタルアートミュージアム:エプソン チームラボボーダレス

Address

2F Odaiba Palette Town, 1-3-8 Aomi, Koto-ku, Tokyo-to

Nearest Station

3-minutes walk from Aomi Station on the Yurikamome; 5-minutes walk from Tokyo Teleport Station on the Rinkai Line


Phone Number

03-6368-4292

Price: Adults 3,200 yen; Children 1,000 yen; Minors below 3 enter free (prices are the same for advanced tickets or tickets bought on the day itself, tax included)
Closed: Second and fourth Tuesday of the month (building is closed on February 17, 18, and 19 and open on November 25)
VenusFort: Fun stuff to buy for everyone in the family
Next to teamLab Borderless is the VenusFort building, which is our next destination. This indoor commercial complex sports an interior decor that's patterned after the streets of a medieval European town and contains about 160 shops and restaurants. Shops on the first floor sell pet products, interior design-related items, adorable children wear, and general goods of all sorts. You'll also find an indoor park here by the name of Anebytrim Park. A very family-friendly floor indeed!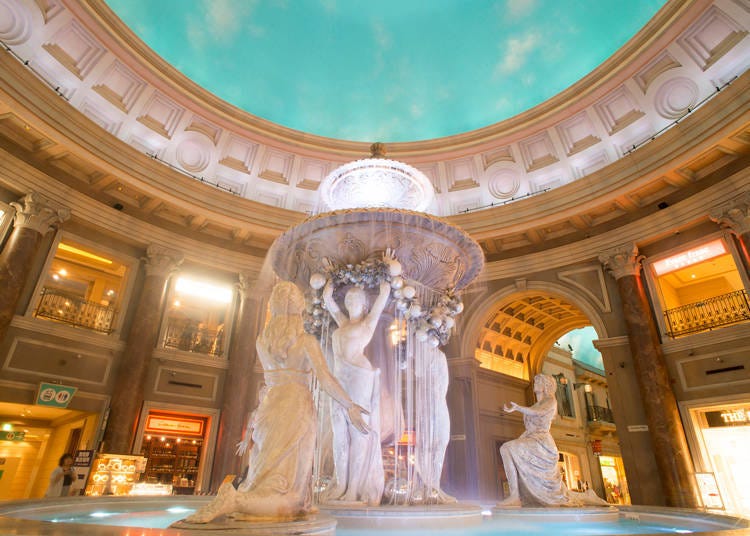 The third floor houses the only outlet mall in all 23 special wards of Tokyo. Most eateries in the food court on this floor offer a kid's menu as well, making it a great place for the family to stop for a breather in between shopping sprees.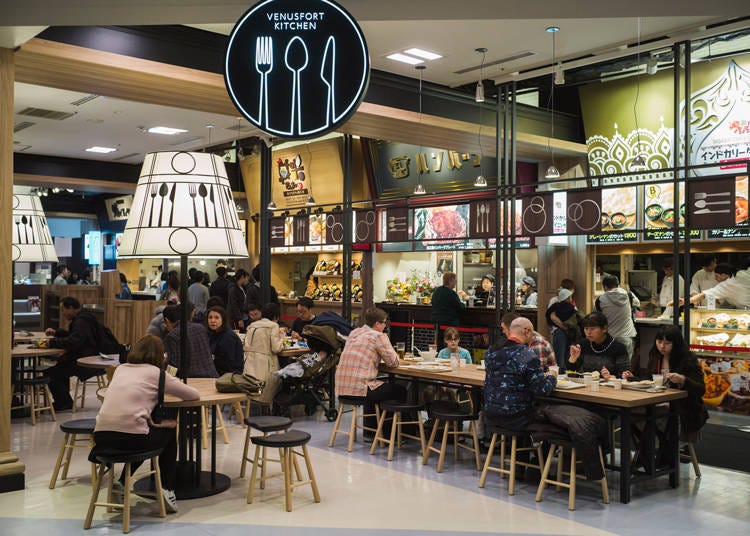 Of course, plenty of other restaurants not in the food court come with tantalizing kid's menus as well. Many shops here also offer tax-free services to draw more international visitors to their stores. What's more, free Wi-Fi is available throughout the entire building. The facility has certainly done its level best to allow foreign tourists do their shopping in ease and comfort!
Soak your fatigue away at the Odaiba Ōedo Onsen Monogatari bath facility
As the final stop of our Odaiba itinerary, step into the Odaiba Ōedo Onsen Monogatari bath facility to heal up from all those aches and pains from the day of vigorous activity. You can make it a day trip or lodge here for the night if you like - it's entirely up to you! The common bath area has a total of 13 types of baths, including one that uses natural hot spring water that wells up from 1,400 meters (about 4,590 feet) underground. Plenty of other leisure stations like foot spas and bedrock baths are available for guests to use as well. Ground rules and news bulletins are written in English, Chinese, and Korea to ensure that everyone gets to have a good time here without unwittingly disrupting another person's relaxation.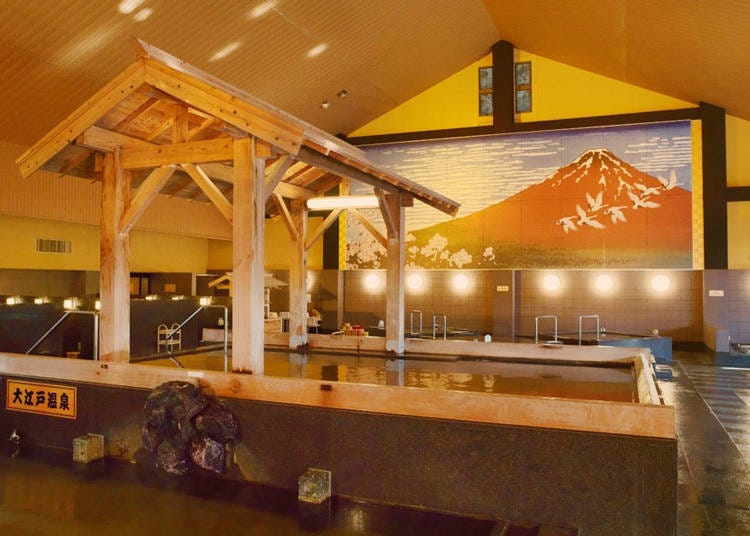 The inside of the facility is designed to look like an Edo era (1603 to 1868) street, and local delights like sushi and teppanyaki are being sold by restaurants, Japanese-style bars, food booths, and dessert shops to complete the mood. With such a wide range of activities to participate in, there's sure to be something for everyone in the family! Special corners for festivals and games are designed to appeal to children, though don't be surprised to catch not a few young-at-heart parents becoming engrossed with whatever's going on in these sections too!
Odaiba Tokyo Ooedo Onsen Monogatari

東京お台場 大江戸温泉物語

Address

東京都江東区青海2-6-3

Nearest Station

2-minutes walk from Telecom Center Station on the Yurikamome
Free shuttle bus schedule (reservation not required)
* About 6 minutes from Tokyo Teleport station on the Tokyo Waterfront Area Rapid Transit (TWR) Rinkai Line
* About 20 minutes from Shingawa Station on the JR and Keikyu Lines
* About 40 minutes from Tokyo Station on the JR and Tokyo Metro lines via Kachidoki Station
* About 70 minutes from Shinjuku Station on the JR, Keio, Odakyu, Tokyo Metro, and Toei Subway Lines
* Kinshicho/Koto Circuit (via Morishita Station, Kinshicho Station, Sumiyoshi Station, Toyocho Station, Monzennakacho Station, and Toyosu Station)


Phone Number

03-5500-1126

Price: Adults: Weekday 2,768 yen; Weekend and public holidays 2,988 yen; Special days 3,098 yen (entry fee changes for entries after 6:00 p.m.); Children: 1,078 yen (all prices include tax); Minors below 4 enter for free
Hours: 11:00 a.m. -- 9:00 a.m. the next day (bath facilities have different closing times, check the official website for details)
Closed: Open daily (one maintenance day every month)
Main ways to access Odaiba
Finally, here are some useful information about the various public transportation you can use to get to Odaiba in the first place!

・By train from the city
To get to Odaiba from the city, use the Rinkai Line and Yurikamome. The Rinkai Line is an underground train line that runs along east and west Rinkai Fukutoshin, connecting Shin-Kiba and the Osaki area. Because it runs in tandem with JR's Saikyo Line, passengers can access all the major terminal stations within Tokyo (Ikebukuro, Shinjuku, Shibuya) without changing trains, and this is often touted as one of the Rinkai Line's features. Using this line, it takes about 24 minutes to reach Tokyo Teleport Station from Shinjuku Station, making it an ideal choice for visitors who don't wish to spend too much time trying to figure out train routes.

The other option, the Yurikamome is a monorail that connects major areas in the Rinkai Fukutoshin and passes over Rainbow Bridge from Shimbashi Station. Because the trains are aboveground, passengers can look forward to enjoying the scenery fly by outside the window as the train chugs on towards its destination, giving the journey a quaint charm of sorts. It takes about 13 minutes to get to Odaiba-kaihinkōen Station from Shimbashi Station using this line.

・Water bus from Asakusa
Passengers setting off from Asakusa can consider taking the water bus to Odaiba. One to two water buses will depart from the port every hour. This option allows tourists to take in the views from Sumida River all the way to Tokyo Bay while they're on the move, and is highly recommended for visitors who are keen to admire Tokyo from another point of view. It takes about 50 to 60 minutes to reach Odaiba using this route.

・By train from Haneda Airport
The Rinkai Line is easily accessible from Haneda Airport as well. Head to Tennozu Isle Station on the Tokyo Monorail, then transfer to the Rinkai Line from there and get off at Tokyo Teleport Station. The entire journey from Haneda Airport should take about half an hour.

・By bus from Haneda Airport or Narita Airport
Visitors can also consider taking a limousine bus from Haneda Airport to Hilton Tokyo Odaiba, Grand Nikko Tokyo Daiba, or Palette Town, a journey that will take about 20 to 35 minutes depending on where you disembark.
The Limousine Bus to Hilton Tokyo Odaiba and Grand Nikko Tokyo Daiba are also available from Narita Airport, although it will take about 80 to 90 minutes to reach Odaiba from Narita.

English translation by: Huimin Pan
Recommended Hotels Around Odaiba
The following budget-friendly hotels are in excellent locations for this Tokyo itinerary.
Address

Minato-ku, Shiba 2-5-2, Tokyo-to, 105-0014
View Map

Nearest Station

Shibakoen Station (Toei Mita Line)
3 minutes on foot


Vacancy search, reservation

from

10,472JPY

1room, 2adults

Check with our partner site as the latest rates, rate details, and guest room requirements may vary.
Address

Minato-ku Daiba 1-9-1 , Tokyo-to, 135-8625
View Map

Nearest Station

Daiba Station (Yurikamome)
3 minutes on foot


Vacancy search, reservation

from

35,267JPY

1room, 2adults

Check with our partner site as the latest rates, rate details, and guest room requirements may vary.
Address

Koto-ku Ariake 3-7-11, Tokyo-to, 135-0063
View Map

Nearest Station

Ariake Station (Yurikamome)
4 minutes on foot


Vacancy search, reservation

from

15,600JPY

1room, 2adults

Check with our partner site as the latest rates, rate details, and guest room requirements may vary.
*This information is from the time of this article's publication.
*Prices and options mentioned are subject to change.
*Unless stated otherwise, all prices include tax.
Limited time offer: 10% discount coupons available now!