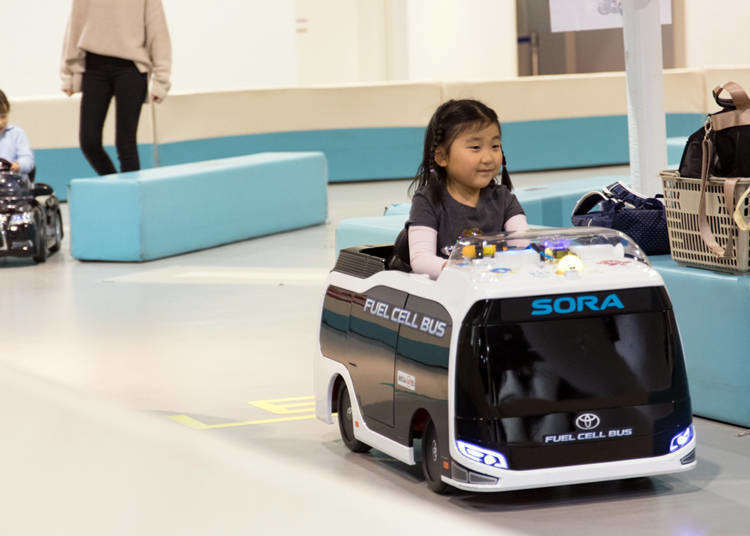 Mega Web is a theme park operated by Toyota Motor that allows visitors to try out different vehicles in a casual and enjoyable setting. Best of all, it's located in Odaiba, an easily accessible area that's already popular among foreign tourists.

One of the hottest attractions of this theme park is the Ride Studio, specially designed to entertain children by providing a safe environment for them to try out some real-life driving! Adults can have fun too, of course.

The Toyota City Showcase is where visitors are invited to test drive the latest models of Toyota cars, and the History Garage section has a load of antique cars from all over the world on display as well!

Here, we'll be focusing on a few fun activities of the theme park that cater to everyone in the family. Rest assured that no one will be left out here!
Mega Web is located in Odaiba's Palette Town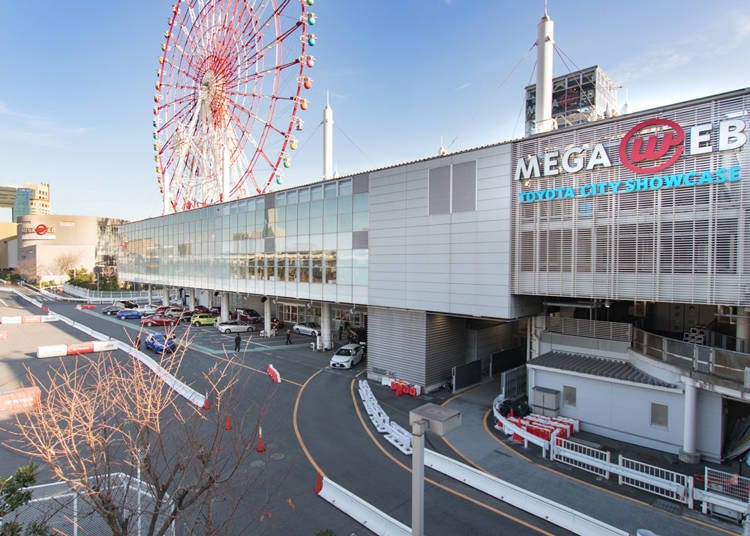 Palette Town, a popular commercial complex located in Odaiba is where you can find the Mega Web theme park, and it's a convenient 3-minutes walk from Tokyo Teleport Station on the Rinkai Line (directly accessible from the JR Saikyo Line) and directly connected to Aomi Station on the Yurikamome line.

The automotive theme park has spacious indoor facilities as well, so bad weather won't be too much of a concern if you have plans to visit.
Aim to earn a gold certificate at the Ride Studio!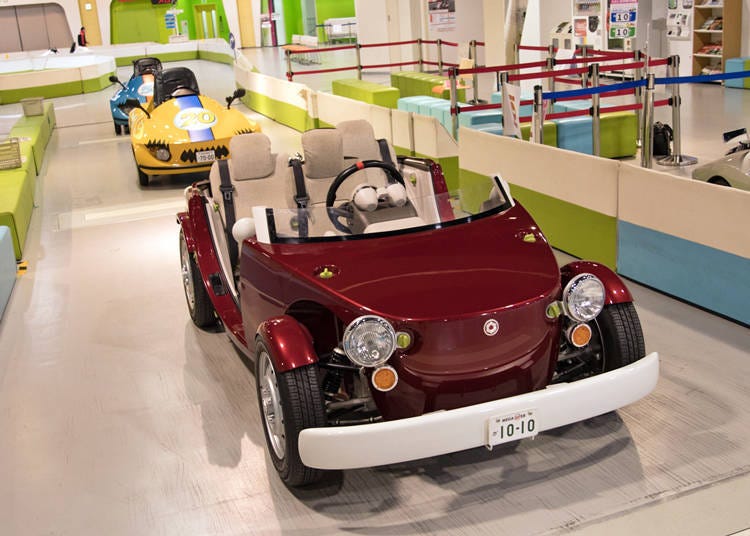 Let's start with the perpetually popular Ride Studio. Vehicles available here are the Camatte with backseats (for parents accompanying their child), and the single-seater Pius (for the adventurous solo riding child).

Unlike normal amusement park attractions, riders are required to go through a mandatory 15-minute beginner's lesson (300 yen) that teaches them the basics of vehicle operation before they're allowed to go on the ride.

*Beginner lessons are held in Japanese, English, Chinese, and Korean.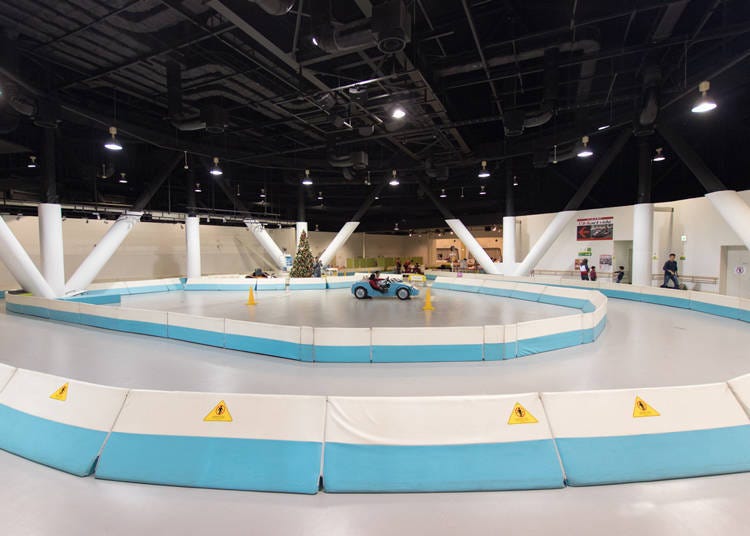 Children who have undergone their lessons and received their qualifications will then be allowed to test drive the vehicles for two rounds (200 yen) around a spacious ring. Most children will be a little nervous if this is their first time, so parents are allowed watch from the sidelines to give them that confidence boost they need.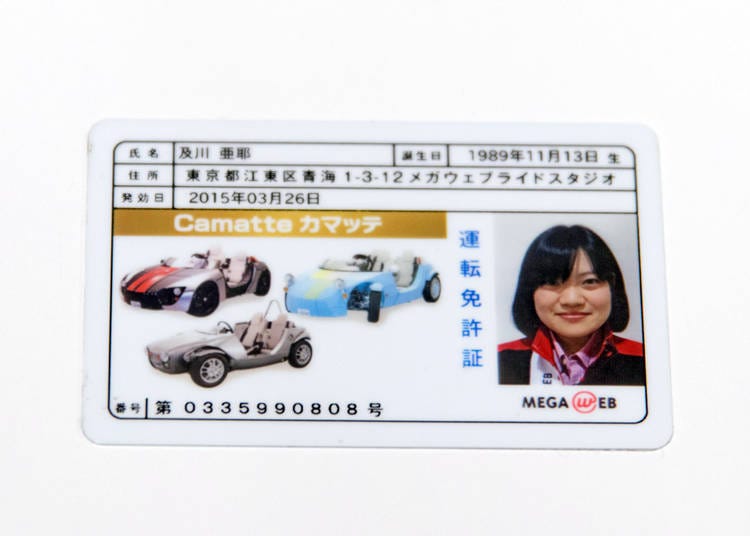 After concluding the test drive, children will receive a photograph "Driver's License" issued by Mega Web as a souvenir for their Japan trip.

Also, if the child has taken the test drive experience 10 times or more, they'll be issued a special gold license instead! It's a bit of stretch to achieve 10 rides in one day, so Mega Web allows children to come back again and again on other days to redo the course until they finally get their shiny gold license card.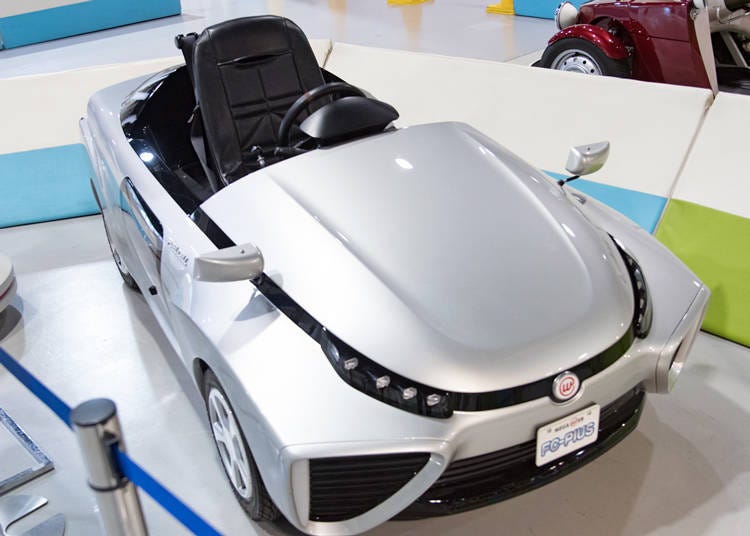 This gold license opens up the way to a new course entitled "Understanding the Mechanism of the FC-Pius", and children holding this license are given the chance to test drive the FC-Pius, a special fuel-cell automobile that runs on hydrogen power.

*The course is conducted in Japanese and English.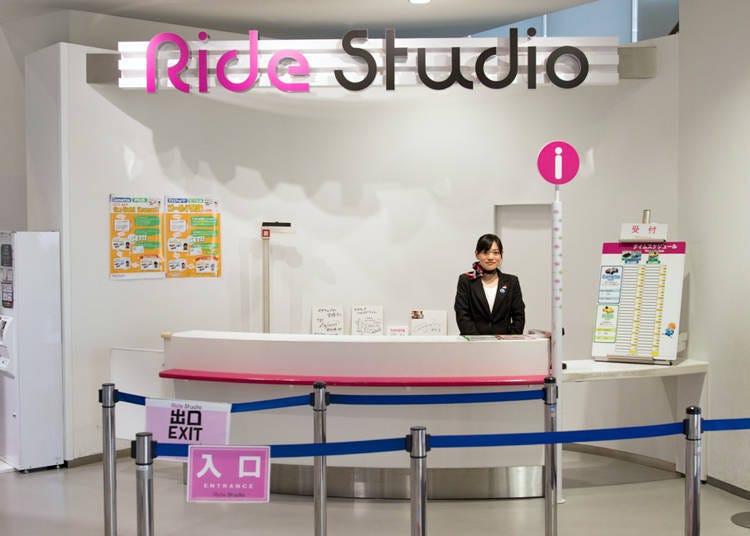 Reservations for Ride Studio can only be made on the day itself and paid for via a ticket vending machine.
Two models of popular Ride Studio cars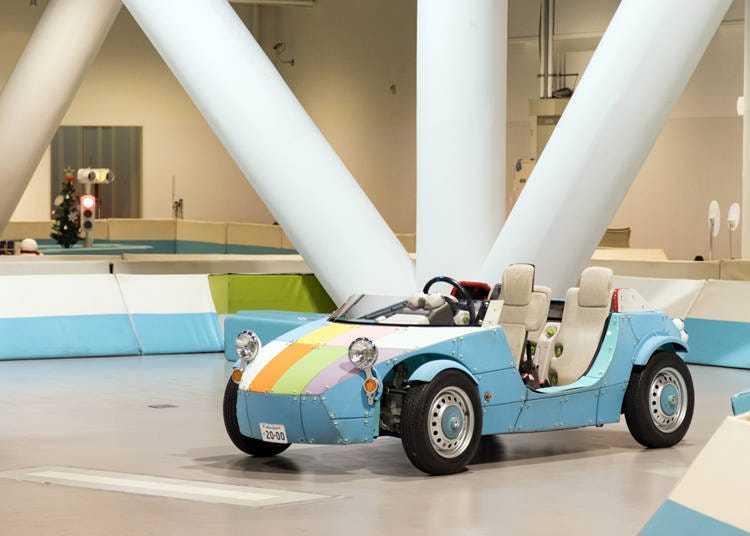 Camatte comes with backseats that parents can clamber into while their child takes the driver seat. For a few exciting minutes, the child is completely in charge! Frightened parents can rest assured that the beginner's lesson every child is required to take before getting behind the wheel prepares them to drive using safe and proper techniques. Since this will be the first time parents are being taken for a spin by their young children, the experience will certainly be more meaningful and memorable in retrospect than any regular sightseeing activities by miles!

Conditions:
Height: At least 135 cm (4′5″)
Age: At least 7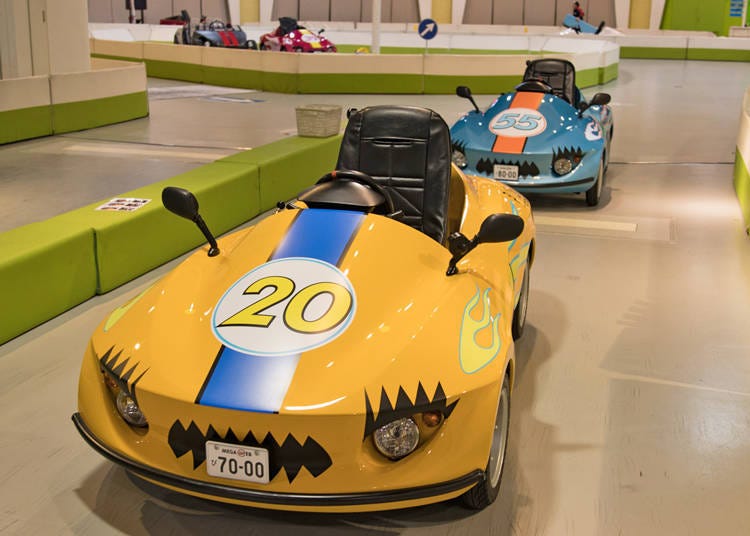 The other car model available in the studio is the Pius, a solo-seater. The vehicle is equipped with exciting features like engine roaring sounds whenever the accelerator is stepped on. It's almost like driving a real car!

Conditions
Height: At least 115 cm (about 3'9")
Age: At least 7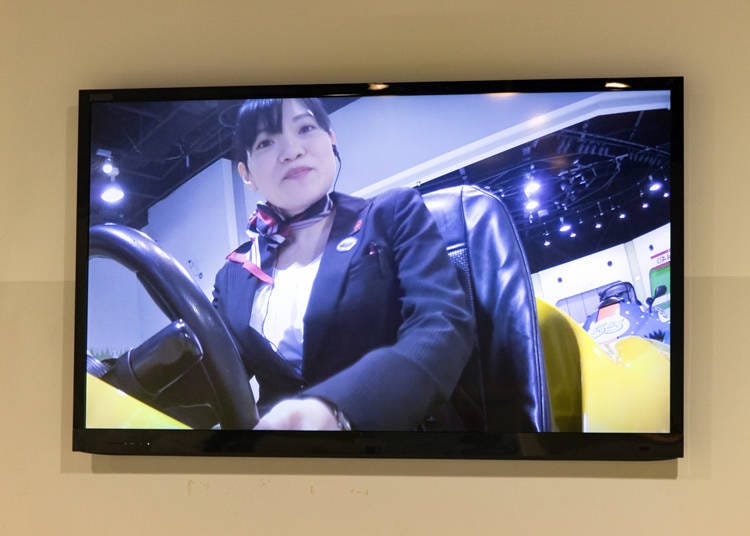 The Pius' side mirrors are installed with cameras that broadcasts the child's expression on a monitor screen as they're driving. This allows parents to experience the activity together and see a different, more serious side to their child as they concentrate on navigating around the ring.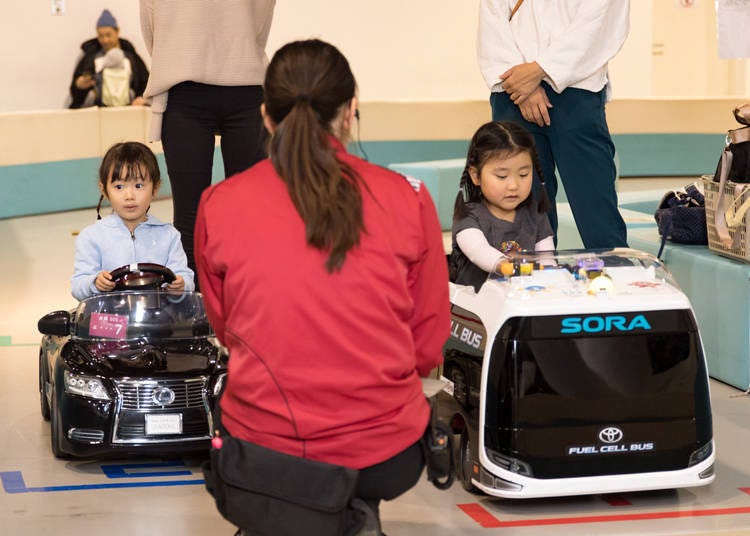 For small children, we recommend bringing them to the Mini Ride One section that comes with special mini-courses that can be tried for free for around 10 minutes. There will be instructors on hand to teach them how to operate the vehicles. However, note that each vehicle must have one accompanying guardian for driver assistance.

Conditions
Height: Less than 120cm (about 3'11")
Weight: Less than 25kg (about 55 pounds)
Age: Between 3 to 5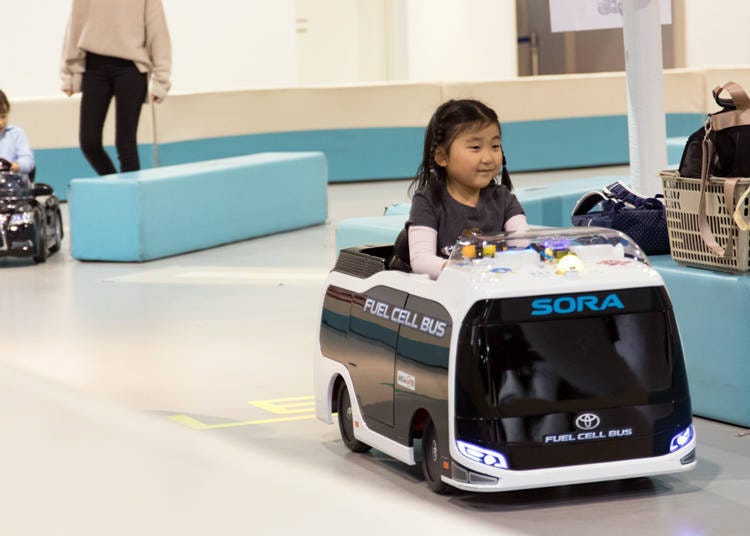 There are two types of cars available. SORA, a large, environmentally-friendly bus that runs on hydrogen-fuel cells is an excellent tool parents can use to teach their children about how fuel cells are safe for the environment, and thus, their future. It's always good to help your children learn to love the environment from a young age!

*Unfortunately, you cannot choose the type of car to be assigned to
Test Driving Latest Toyota Vehicles at the Ride One Station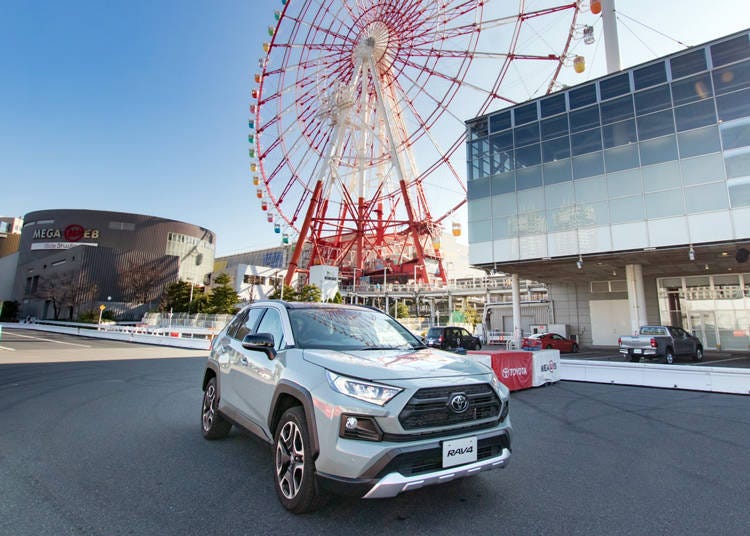 As we mentioned at the outset, Mega Web was designed to entertain both children and adults. Now let's look at Test Drive Ride One, a facility that caters to dads and moms who love taking cars out for a spin! This is where you can test drive Toyota Motor's latest cars in an outdoor course for just 300 yen. Yes, this includes the latest models that have just been released into the market! It's a car enthusiast's dream come true!

*Only drivers with an international driver's license issued by countries that have ratified the Geneva Convention are allowed to drive the cars here.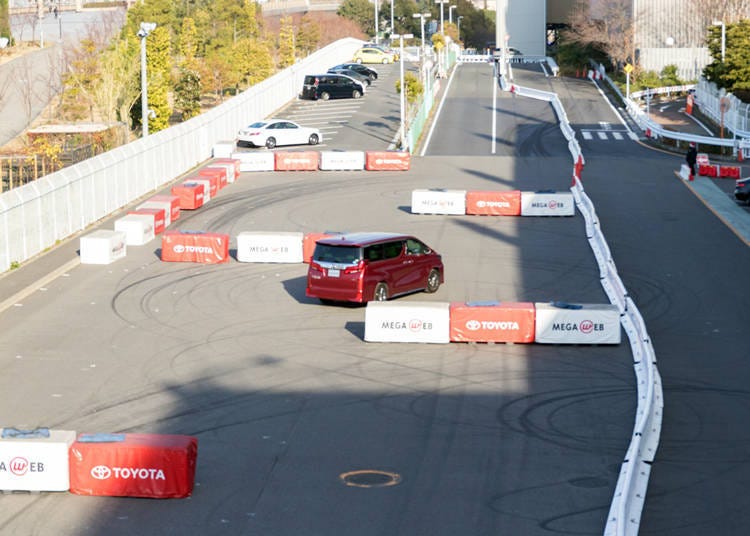 You will be allowed to go around the 1.3 km (about 4,265 feet) test course twice. This strip of road has a variety of different settings, such as cobblestone pavements and illuminations for you to try out and better understand how a certain model of car will perform under various circumstances.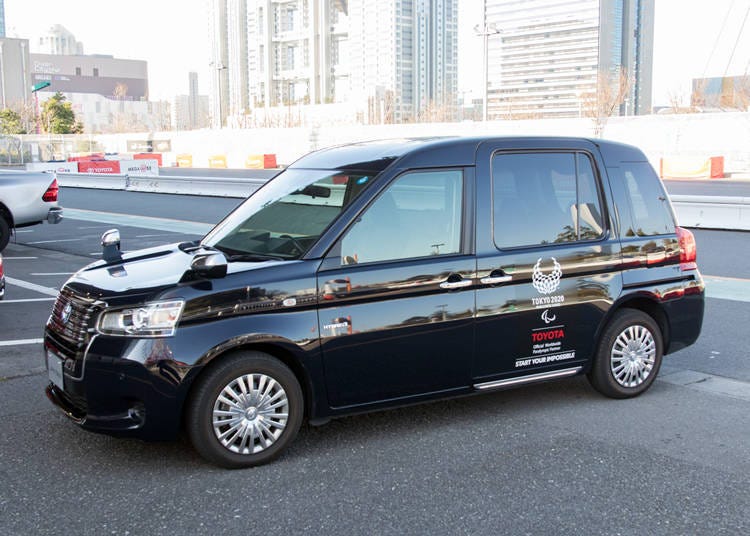 Among the vehicles you're allowed to test drive is the latest model of taxis that are already plying the streets of Tokyo. This taxi features a completely new type of chassis that was specially developed by Toyota Motor with the upcoming Tokyo Olympics in mind. Not many local Japanese would have had the chance to drive this vehicle before, so give it a go and brag about the experience to your Japanese friends!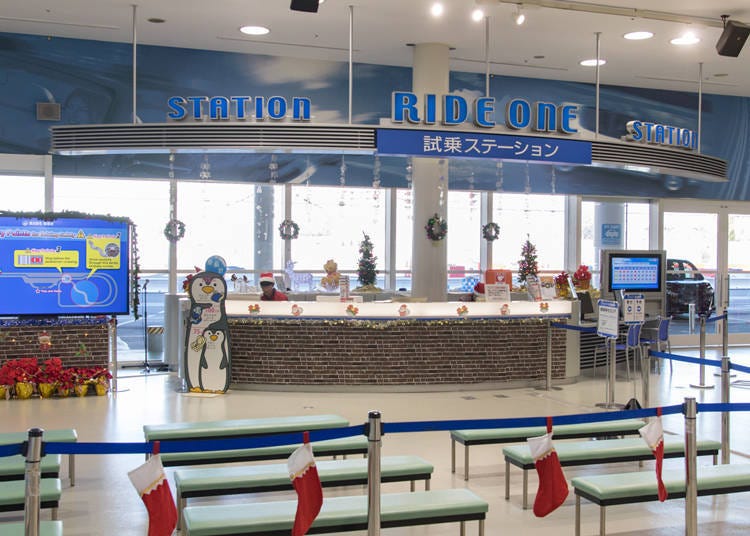 Advanced reservation is required for Test Drive Ride On. You can check out and book available slots online via their website up to two weeks in advance, and we highly recommend you do that to avoid disappointment! There is a reservation terminal next to the Ride One reception counter that you can use on the day itself as well.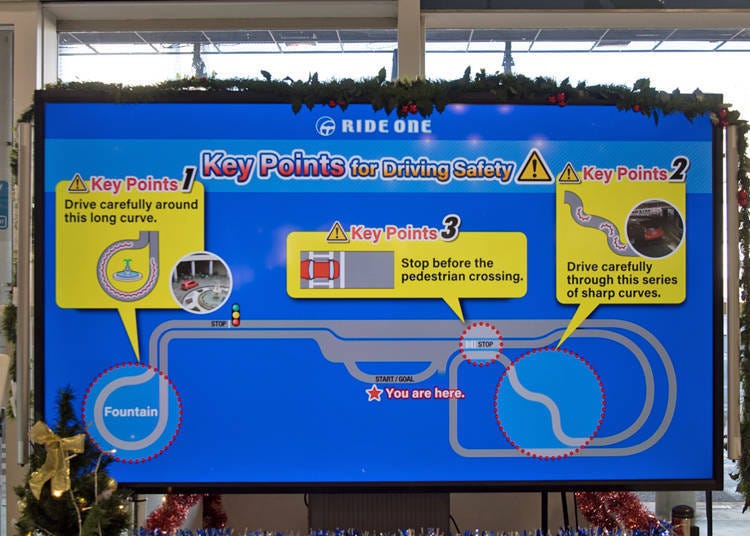 Before the actual test drive, you're required to listen to an explanation of the activity, including the rules of the course you'll be driving on and how to make the experience a safe and pleasant one for yourself and everyone involved.

*The explanation is given in Japanese, and English handouts are available.
Rookie Cafe, a place for rest and relaxation
After that nice test driving session, hop into a cafe to soothe those excited nerves. Rookie Cafe is located right within the facility at a place where the entire test drive course can be seen outside the windows. It's equipped to serve warm food and beverages to the rest of the family who might prefer to wait in comfort while dad or mom test drives to their heart's content. Children will be entertained by the many different model cars decorating the interior of the shop as well!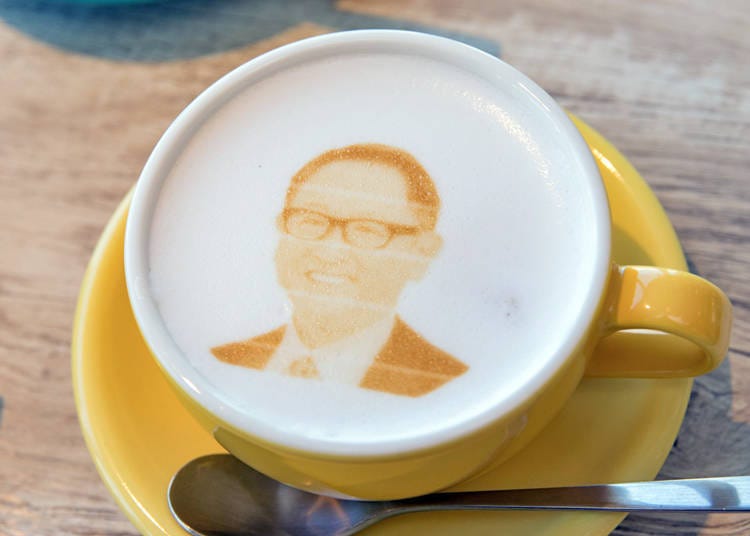 The "Cafe Latte (520 yen, tax excluded)" is a very popular item because of the latte art it features. There are four different faces of Toyota Motor's CEO you can pick to imprint on your latte foam for fun. Besides beverages, the cafe also serves sweet donuts made with soy milk and healthy lunch plates.
Toyota City Showcase Technology Zone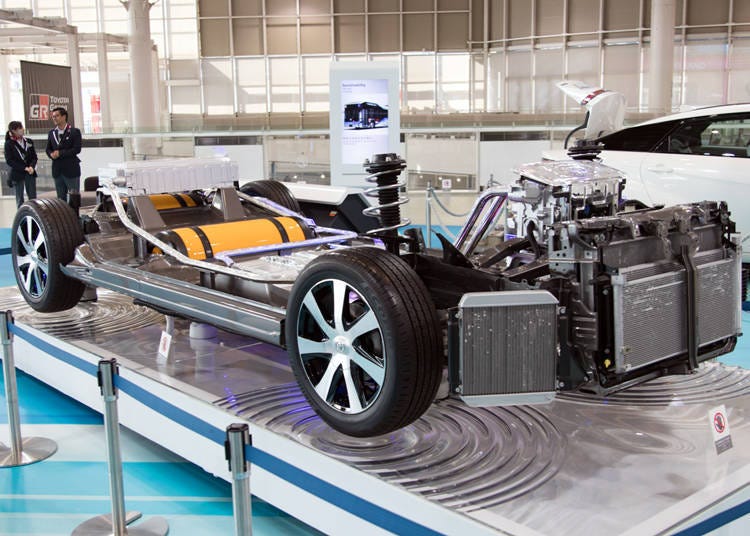 After all that driving and relaxing, it's time to take on the Toyota City Showcase Technology Zone, where all of Toyota's next-generation technology come together to deliver an unforgettable, futuristic experience for visitors. From hybrid cars to fuel cell-powered vehicles, there's plenty of environmental technology here to be explored, some of which you may not have known about before! Especially of interest are exhibits showcasing the latest safety and autonomous driving technology, developed with the goal of reducing motor vehicle accidents. As you learn more about what these new technologies have to offer, you can't help but realize how different future car driving is going to be from what we're used to right now!

*All staff on hand can speak English.
The Safety Simulator (free of charge) is a device that allows visitors to personally experience Toyota's safety technology through a video game that changes every month. You'll also get to compare mileage differences between gasoline cars and hybrid cars.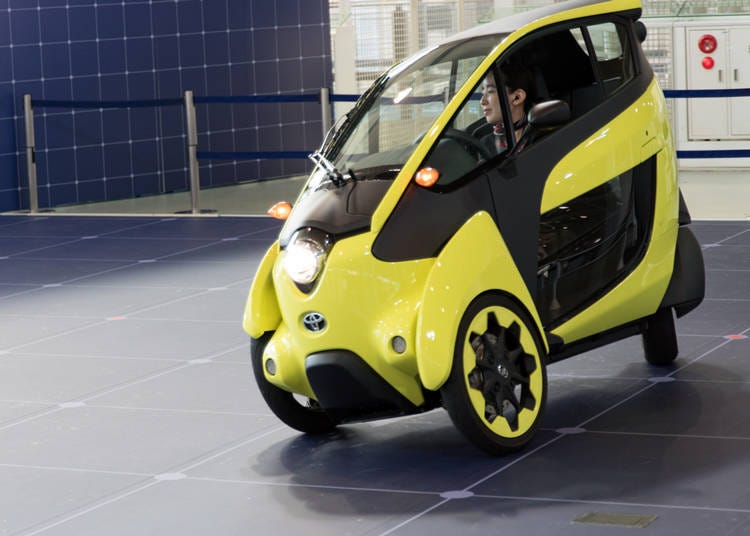 There's another interesting exhibit here on demo as well: i-ROAD, a personal mobility device that is currently being proposed as a new type of urban transportation. Unfortunately, visitors won't be able to test drive this device themselves.
Top-selling souvenir: Jackets!
The facility also houses Euro Sports, the largest F1 official merchandise shop in Tokyo. The shop has so many colorful toy model cars for sale that just looking at whatever's on display will bring a smile to your face. And it just so happens that they make great souvenirs too!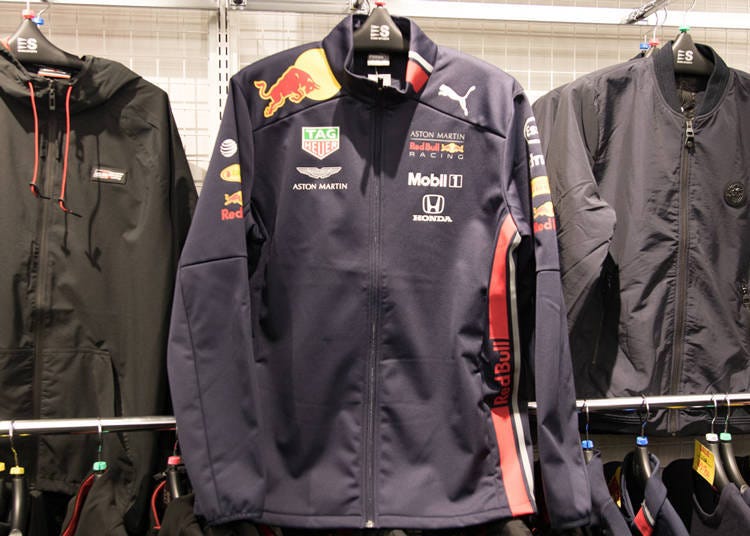 According to shop staff, the best-selling merchandise here are jackets of the PUMA Red Bull Racing team.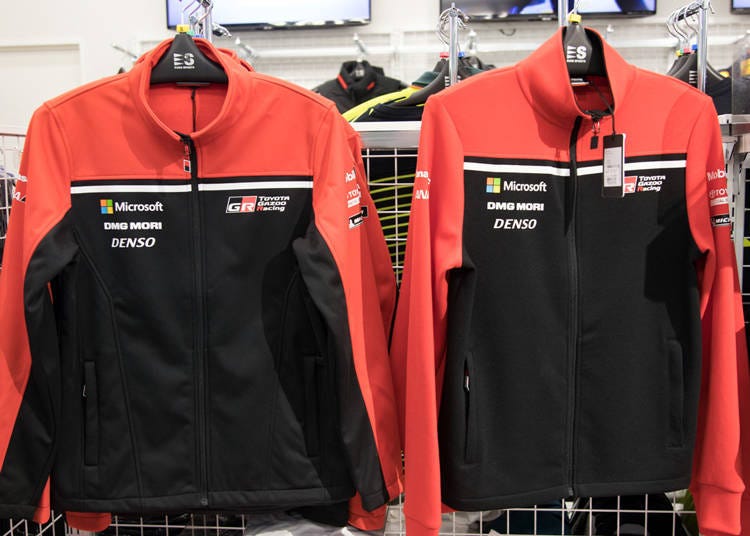 The Toyota Gazoo Racing WRC team's jackets are quite popular too!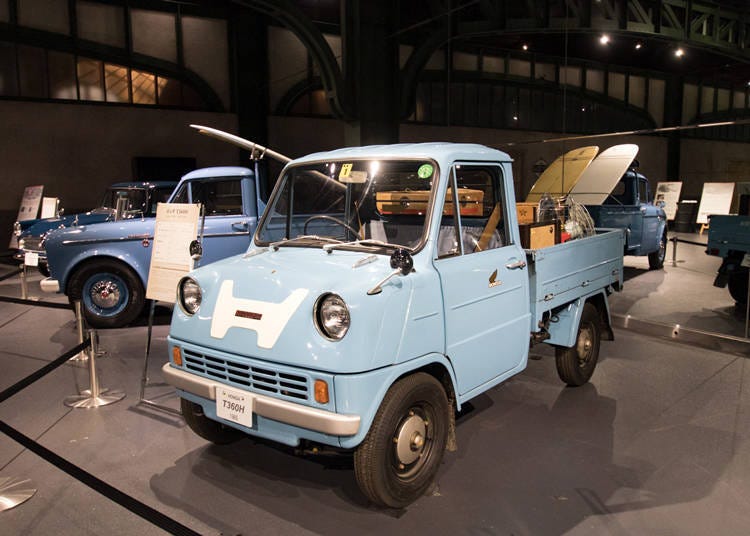 Parked in the History Garage are cars from automobile history that can be admired as exhibits. Most of the cars are display are vehicles that were well-known during the era between 1950 and 1970.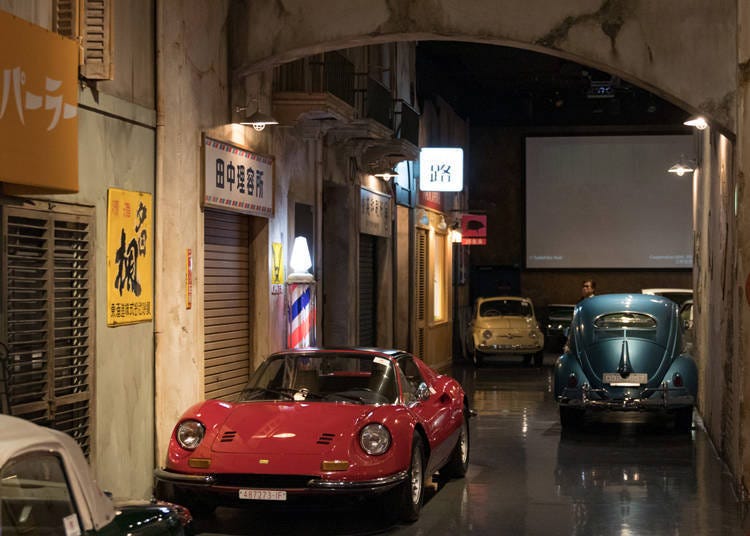 Standing at the entrance of the second floor of the Garage, you would be forgiven for thinking you've suddenly stepped through a time machine. The floor space was designed after the streets of Tokyo during the 1960s and is being used as a vintage car exhibition hall. Photographs taken with this retro-looking background are bound to look stunning no matter the angle.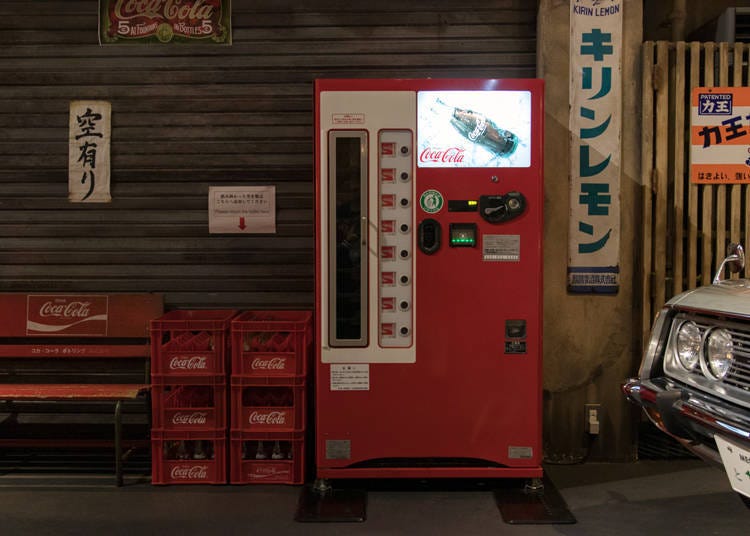 To complete the mood, there's even an antique Coca Cola vending machine installed, though plenty of people walk by without noticing that you can actually buy drinks from it!
Interested in learning more about how these famous old cars are maintained? Drop by the Restore Pit for a free tour, here you can watch qualified engineers carry out maintenance and restoration works up-close-and-personally. Don't forget to take lots of pictures!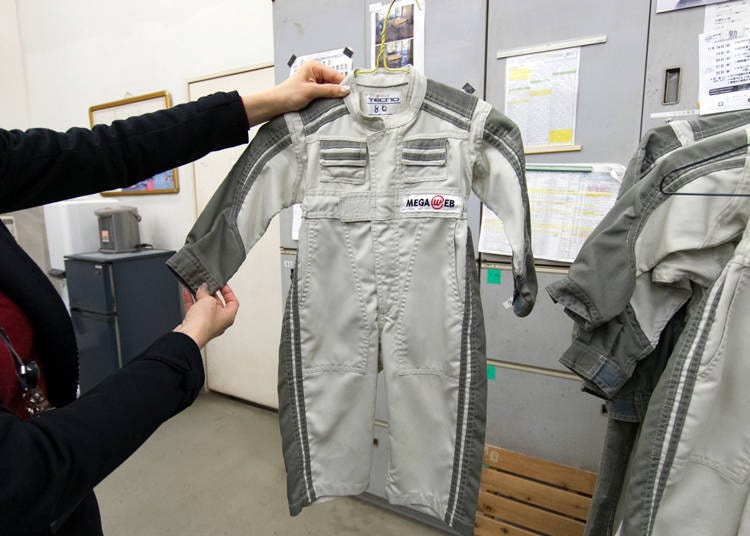 Little known fact: Children visiting the Restore Pit can borrow a set of work clothes to wear while they're there - something that will make family photographs taken here special for everyone. If you like, you can also ask the engineers if they would like to be in the photograph with you. Most are likely to oblige!

Tour times: 11:00 a.m. – 12:00 p.m.; 1:00 p.m. – 6:00 p.m.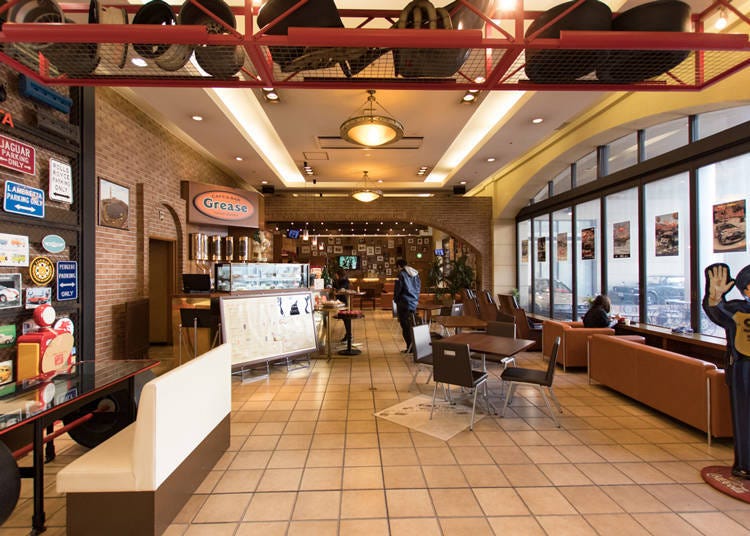 All that exploration would have burned up some serious energy, so don't hesitate to make a pit stop at Cafe and Bar Grease for a refuel. The comfortable sofa and counter seats are so cozy, you may not want to step back out again after stepping in! Regular cafe beverages like cappuccino and espresso are available here to recharge your exhausted cells, and for those looking for something more soothing to the throat, there's beer as well.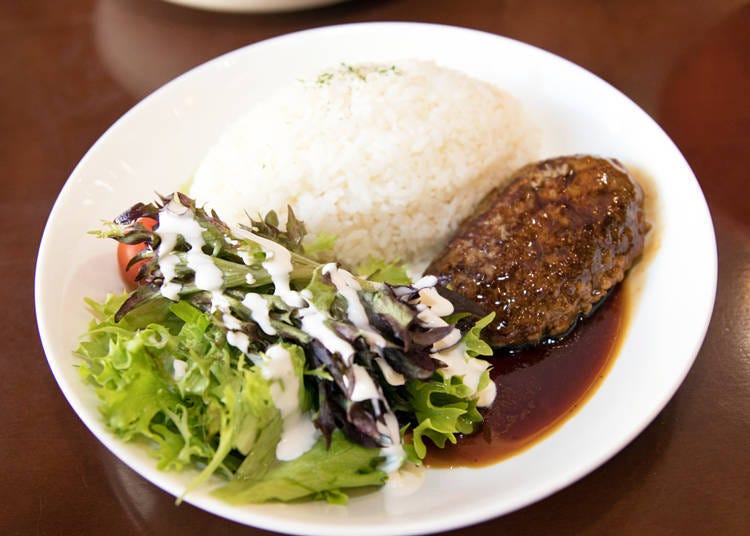 From 11:30 a.m. to 5:00 p.m., the menu offers tasty food items like "Hamburg Plate (1,000 yen, tax included)" or "Teriyaki Chicken Don (700 yen, tax included)". After 5:00 p.m., light meals that go well with alcoholic beverages such as "Mixed Pizza" and "Sausage Platter" will make an appearance as well.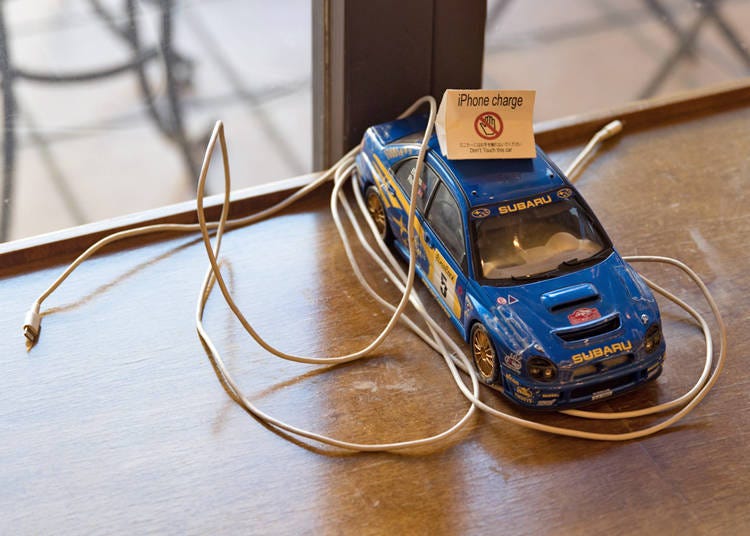 Counter seats are equipped with charging cables.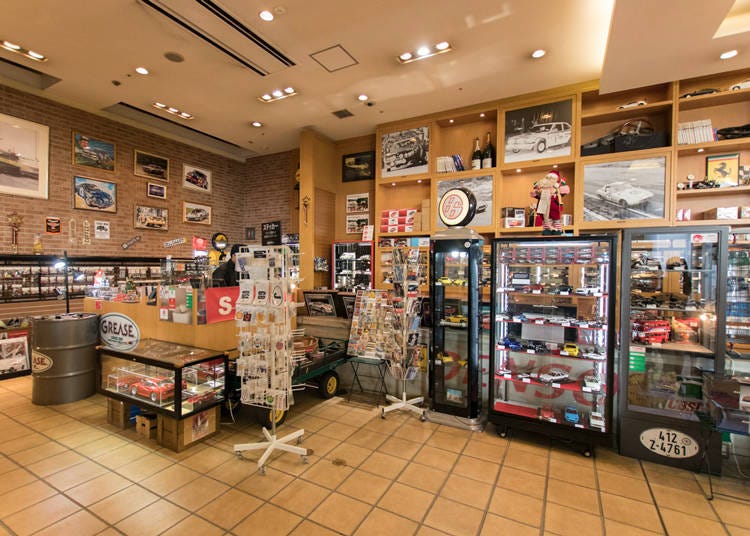 Right next to the cafe space is a mini car shop by the name of "Grease GPS". This will be your last chance to buy souvenirs at Mega Web before leaving the facility, so hopefully, there's a model of toy car here that catches your fancy! According to shop staff, toys based on "Initial D", a popular Japanese comics series about a young street racer are the most popular among both local and foreign visitors to the shop.

And there you have it! Mega Web, a theme park with exciting activities that appeal to both children and adults. Since it's located quite close to MORI Building Digital Art Museum's teamLab Borderless, another popular place of interest in Odaiba, we definitely recommend dropping by Mega Web before or after visiting Palette Town for sightseeing and shopping - especially if you'll be visiting with family!

Note: Sections of the facility may be closed before, during, and after the Tokyo Olympics / Paralympics. Check the official website for details before heading down.
Address

1-3-12, Aomi, Koutou-ku, Tokyo, 135-0064
View Map

Nearest Station

Aomi Station (Yurikamome)


Phone Number

03-3599-0808
Written by Yuusuke Ito. English translation by: Huimin Pan.
*This information is from the time of this article's publication.
*Prices and options mentioned are subject to change.
*Unless stated otherwise, all prices include tax.