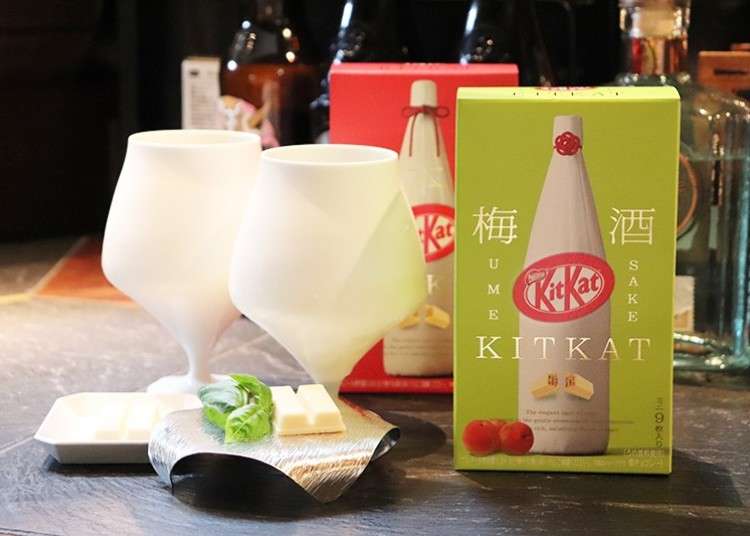 Japanese food is registered as a UNESCO Intangible Cultural Heritage and the world is in the tight, tasty grip of a Japanese food boom! Spirits such as plum liquor (called umeshu in Japanese) are part of this trend and enjoyed all around the globe. You might know it as "plum wine" on the menu of your favorite Japanese restaurant and generally speaking, there's an increased demand for plum liquor because it matches Japanese food so well (according to Nestle).

Next to food, Japan is also known for its unbelievable abundance of KitKat flavors and it is almost surprising to hear that the traditional plum liquor has only now teamed up with the famous chocolate snack! Get your taste buds ready for "KitKat Umeshu Tsuru-ume!" It's a brand-new flavor produced by the former football star Hidetoshi Nakata, who also is responsible for the immensely popular "KitKat Nihonshu Masuizumi," a Japanese sake-flavored treat.

Nakata-san is also incredibly knowledgeable about Japanese sake, visiting over 350 breweries nationwide and continuing to promote the traditional drink. You can bet that this connoisseur poured his whole heart into the new plum liquor-flavored KitKat! Curious yet?
■ Craft Sake Week @ KitKat Bar – Get a Taste!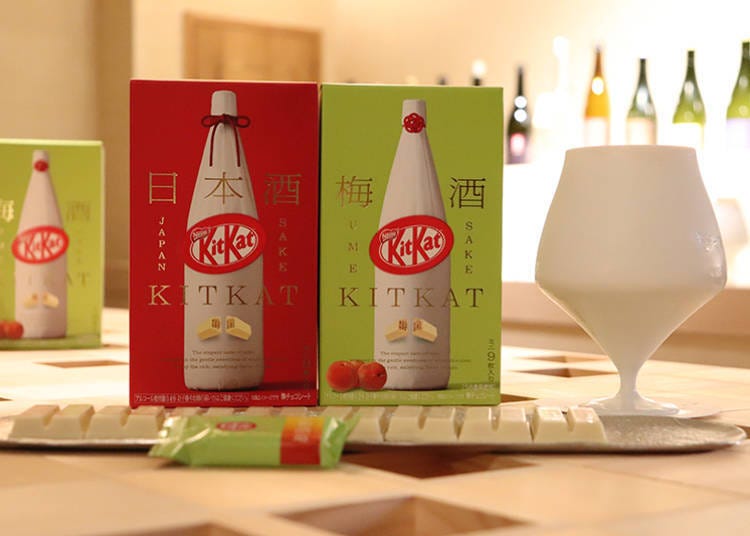 If you cannot wait to try the KitKat Umeshu Tsuru-ume, visit the Craft Sake Week @ KitKat Bar event, running from September 13 (Thursday) to 24 (Monday, national holiday). This limited-time event seeks to target international tourists to Japan to commemorate the release of the all-new KitKat flavor.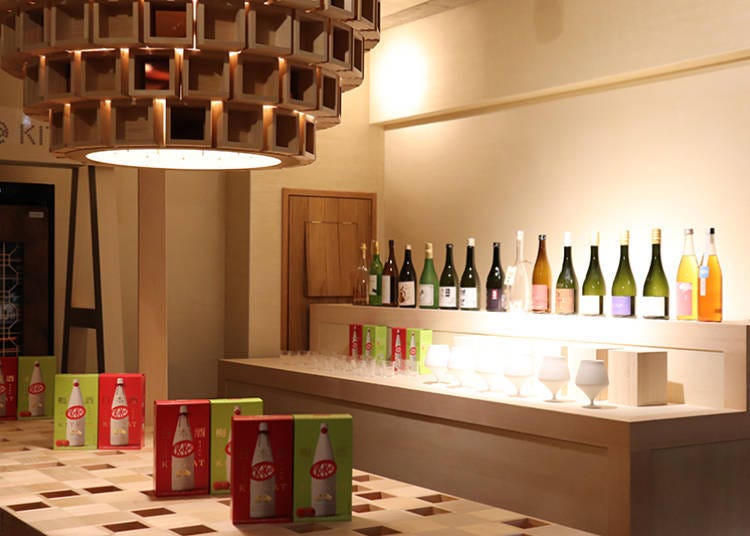 The venue is attracting attention from international tourists – you'll find the KitKat Bar event inside CITAN, a hostel on the east side of the Nihonbashi area. You're welcomed by a space designed after traditional Japanese aesthetics, using masu (the little wooden boxes used for savoring sake) as the main motif. Even the chandelier and the bar are entirely made out of innumerable masu, uniquely stylish and fashionable!

During the event, you won't just be able to try the new plum liquor KitKat but also original cocktails made to go well with the chocolate snack, as well as various Japanese sake which have been carefully selected by Nakata-san in continuous exchange with the brewers themselves.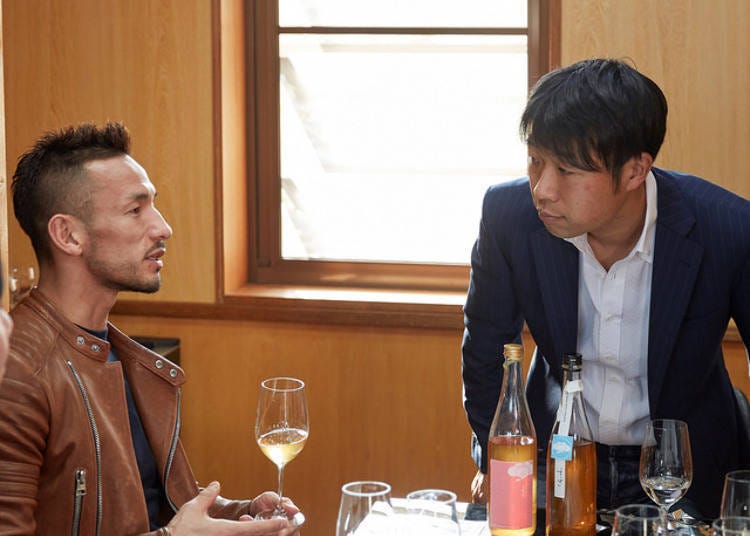 The "KitKat Umeshu Ume-Tsuru" (9 for 700 yen) is made with a Japanese apricot variety called Nankō Ume from Wakayama Prefecture and only the ripest fruits are carefully selected, making for a wonderfully rich and full-bodied flavor. By repeated "brewing," all five flavors unfold into a liquor called "Umeshu Tsuru-Ume Suppai," which is the base for the powder used to make the plum liquor KitKat. The sweet, deep flavor of ripe plum is combined with white chocolate for a match made in heaven. The rich aroma is followed by a refreshing aftertaste.

According to the brewer, it was incredibly hard to properly express the sourness and flavor of the original plum wine. But they managed, and the result is the brand-new KitKat Umeshu Ume-Tsuru that is sold from September 18 (Tuesday) in souvenir shops nationwide, at the KitKat Gift Shop, and at the KitKat Chocolatory.
■ The First of its Kind: Pairing KitKat with Original Cocktails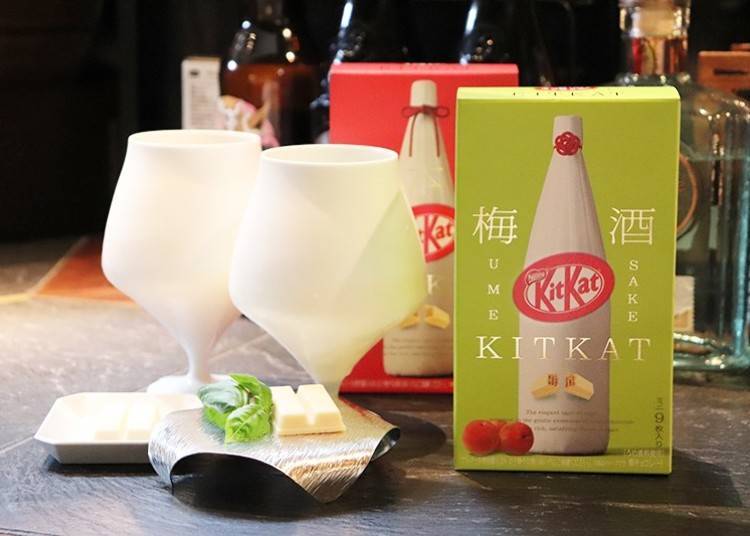 As of right now, KitKat has developed more than 350 unique flavors for their classic chocolate treat. This time, however, the newest flavor comes with original cocktails made as perfect pairings to go with the new KitKat. The reason for that is the first-ever Craft Sake Week @ KitKat Bar!

The two original cocktails were created by Bar TRENCH (in Tokyo's Ebisu)'s own barkeeper Rogerio Igarashi Vaz, a famous spot that ranked among the Top 16 of Asia's 50 Best Bar 2018 awards.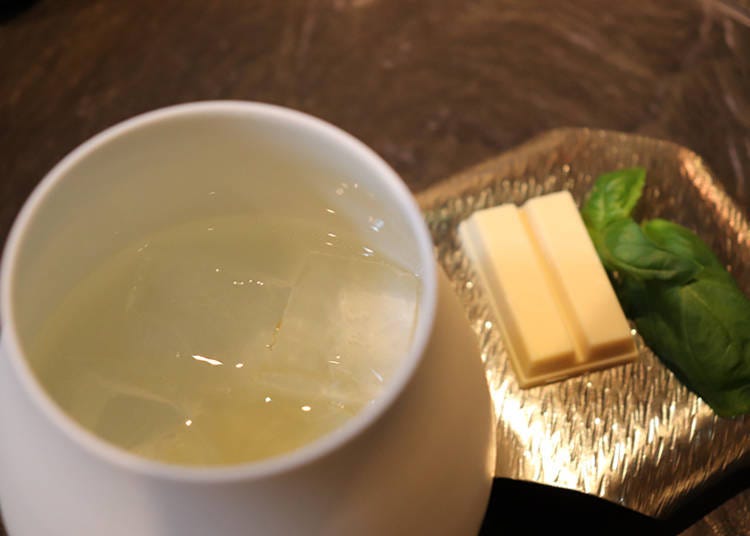 Kishū Tonic (1,000 yen)
Enjoy the Kishū Tonic (1,000 yen), a Japanese sake-based cocktail. It's mixed with "Kid Junmai Ginjō" sake by Heiwa Shuzō, a brewery from Wakaya Prefecture, as well as Bar Trench's own homemade "basil and cucumber vinegar."

A faint aroma of cucumber will tickle your nose as you raise the glass, accompanied by subtle notes of vinegar and basil. While it's hard to imagine what the taste might be, your first sip will be wonderfully refreshing and herby, much like Mojito.

It's a wonderful match for the sweetness of the KitKat Umeshu Ume-Tsuru's white chocolate. A beautiful pairing of flavors unfolds first on the tip of your tongue, then the exquisite harmony of sweetness, subtle sourness, and gentle bitterness engulfs your entire mouth.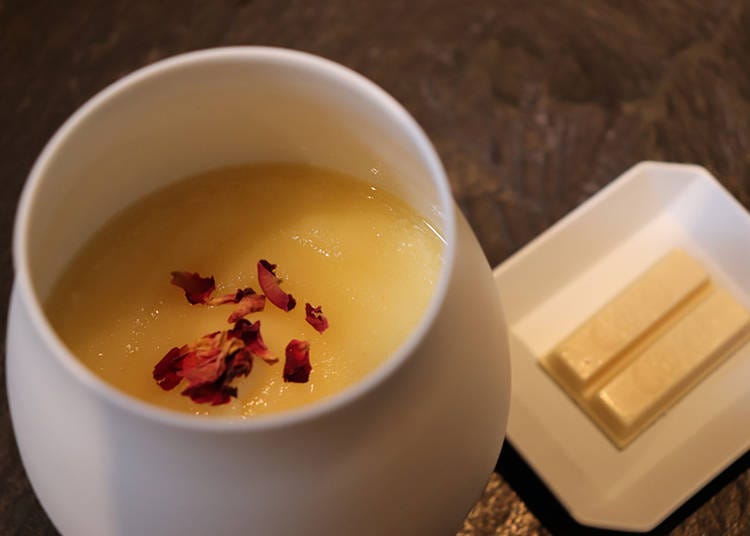 Suppai-Colada 1,200 yen
The second original creation is the "Suppai-Colada" (meaning "Sour Colada," 1,200 yen) that is centered on plum liquor, just like the KitKat. The base ingredient is the same as that of the new flavor, the liquor called "Umeshu Tsuru-Ume Suppai" by Heiwa Shuzō. It is thoroughly mixed in a cocktail blender with Yuzu sherbet and white cacao liquor.

Roses are added as garnish, finishing the calm fragrance of the white cacao with a deep aroma. The Yuzu sherbet and white cacao liquor make for a much mellower taste than the Kishū Tonic; a cocktail that is as flavorful as a dessert.

The "Umeshu Tsuru-Ume Suppai" is a plum liquor made with Japanese sake. Since Japanese sake has a natural sugar content, it is characterized by being less sweet than a plum liquor made with shōchū (a traditional Japanese liquor distilled from grains or vegetables).

The white chocolate of does a wonderful job of both balancing and emphasizing the refreshing aroma and sourness of the new KitKat Umeshu Ume-Tsuru's Japanese plum. If you want to make the most out of the plum liquor flavor of the sweet treat, we highly recommend enjoying it with this original cocktail.
■ Enjoy Hidetoshi Nakata's Selection of Umeshu and Japanese Sake and Talk to the Brewers!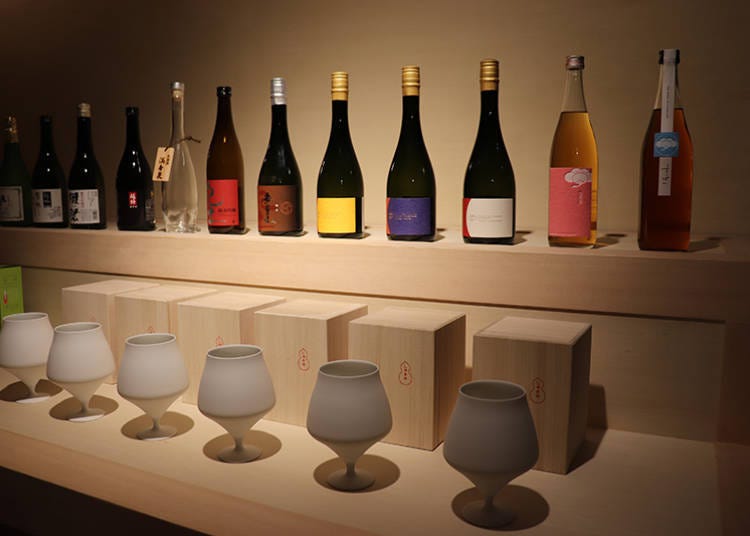 The Craft Sake Week @ KitKat Bar also lets you savor 16 kinds of spirits (4 umeshu and 12 Japanese sake) from around the country, carefully selected by Hidetoshi Nakata himself. Each day, there's a different brewer present to serve their creations, so you'll also get the opportunity to directly talk to the people behind the bottle. Ask them about everything that's on your mind, from their sake and umeshu creations to their personal sightseeing recommendations!

All of the spirits on the drink menu are stored in the world's first sake cellar called "The Cellar 'Sake Master'," a collaboration between Hidetoshi Nakata and a company called Altekna. This cellar features state-of-the-art temperature control to keep it around -5°C. Another highlight is the sake sets, provided by Japanese sake specialty company Millano, which is a joint production of Hidetoshi Nakata and the pottery artist Kyōsuke Hayashi. Those special cups will let you enjoy the aroma of Japanese sake better, just like one would enjoy good wine.

On top of everything, a "West Japan Heavy Rain Reconstruction Support Sake Set" will be on sale during the event, which features different Japanese sake in small amounts to be tried and compared. The A set (2,500 yen) includes "Jūyon-dai Junmai Daiginjō Chō-Tokusen" (from Yamagata, by Takagi Shuzō) plus two other brands, the B set (2,000 yen) features "Aramasa Amaneko Oak 2016" (from Akita, by Aramasa Shuzō) plus two other brands, and the C set (2,000 yen) includes "Tōyō Bijin Tokugin Junmai Daiginjō Banshū Aiyama" (from Yamaguchi, by Sumikawa Shuzōjō) plus two other brands.

Each set comes with two other brands that change every day, including local sake products Akita, Yamagata, Hyogo, Wakayama, Hiroshima, Toyama, Yamaguchi, and Saga. It's a wonderful way to experience the world of Japanese sake, sip by sip.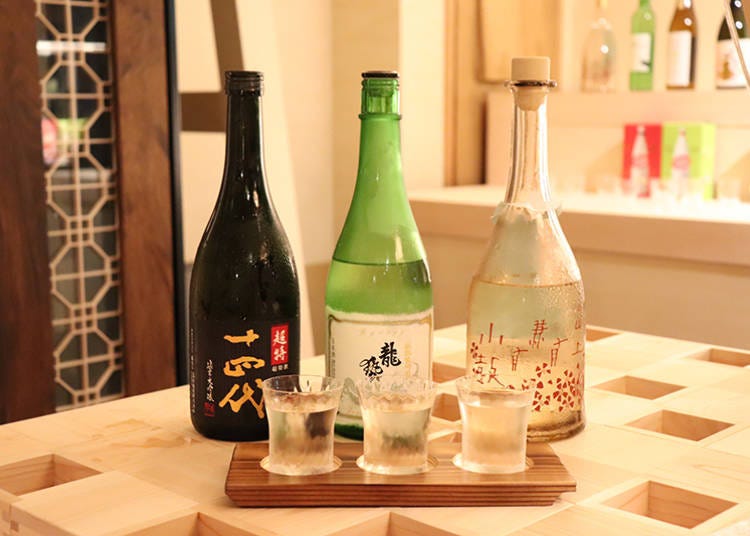 We tried the A set and got "Jūyon-dai Junmai Daiginjō Chō-Tokusen" (from Yamagata, by Takagi Shuzō), "Ryūsei Bekkaku Junmai Daiginjō Kimoto-Shikomi" (from Hiroshima, by Fujii Shuzō), and "Junmai Daiginjō Kotsuzumi Rojō Hana-Ari Tōka" (from Hyogo, by Nishiyama Shuzō).

The Jūyon-dai boasts a delicate taste with a rich and fruity aroma and a refreshing note. Ryūsei, on the other hand, feels fresh, solid, and is deep in flavor. The Rojō Hana-Ari Tōka is mellow and slightly acidic, also making for a very refreshing taste. Comparing the aroma, taste, and mouthfeel is fun and quite an intriguing experience, allowing you to actually feel the differences between the spirits with all senses.
■ The Original Sushi-like Tartine Goes Excellently Well with Japanese Sake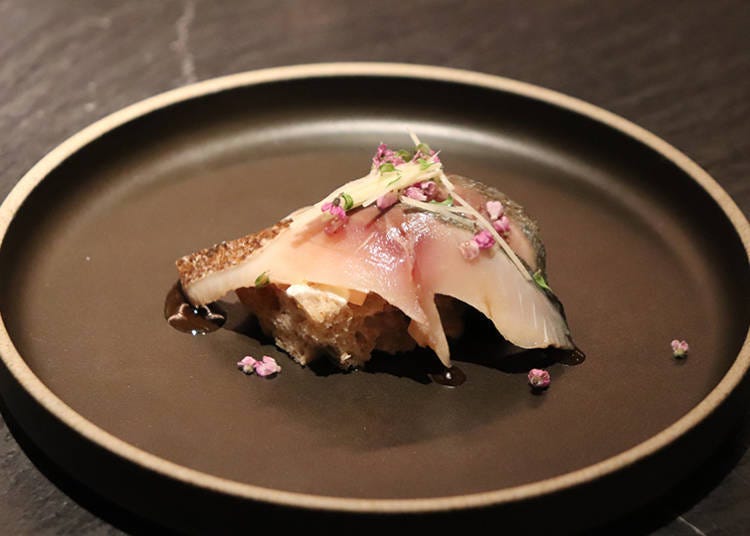 "Little Tartine of Pickled Mackerel and Sour Cream," 500 yen
The "Little Tartine of Pickled Mackerel and Sour Cream" (500 yen) also is an original menu creation only available at the event, created to be a perfect pairing with both plum liquor and Japanese sake. It was created by Shinobu Namae, the head chef of L'Effervescence, a restaurant that offers contemporary and authentic French Cuisine and holds two Michelin Stars for four consecutive years, first awarded in 2015.

The acidity of the sourdough bread and the tofu-based sour cream are exquisitely combined with pickled mackerel, rich in umami flavor and seasoned with plenty of condiments. It's almost like a piece of sushi. However, the sourness is subtle rather than prominent and does not interfere with the acidity of the plum liquor – it complements it instead. If you're not too much into vinegared rice, try this amazing snack instead.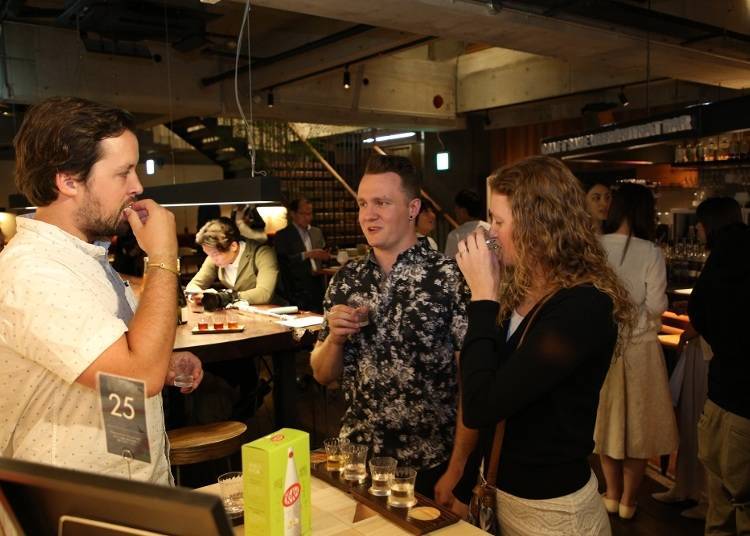 The brand-new KitKat Umeshu Tsuru-ume will celebrate its nationwide release on September 18 (Tuesday). The Craft Sake Week @ KitKat Bar is held in anticipation of this release and has been attracting both locals and tourists since the first day. Experience the exquisite pairing of plum liquor and Japanese sake with this creative new KitKat flavor for yourself!

■"KitKat Umeshu Tsuru-Ume" Product Overview
Product name: KitKat Mini Umeshu Tsuru-Ume
MSRP: 700 yen (excluding tax)
Launch date: 18 September 2018
Sales locations: Souvenir shops all over Japan, Kitkat Gift Shop (Rinku Premium Outlets mall), KitKat Chocolatory

■CRAFT SAKE WEEK @ KITKAT BAR Overview
Date/Time: 13-24 September 2018
Monday-Thursday: 6PM - midnight
Friday-Saturday: 6PM - 1AM
Venue: CITAN 15-2, Nihonbashi-Odenmacho, Chuo-ku, Tokyo
TEL: +81-3-6661-7559
Website: https://nestle.jp/brand/kit/tsuruume/

*This information is from the time of this article's publication.
*Prices and options mentioned are subject to change.
*Unless stated otherwise, all prices include tax.