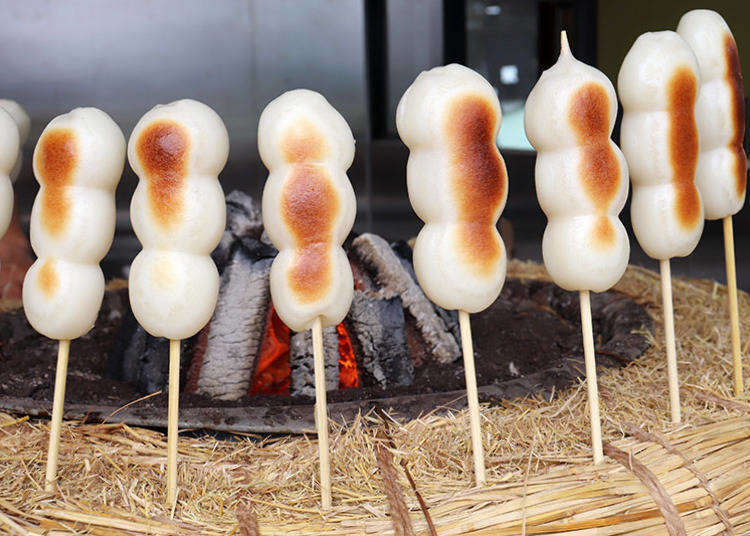 Mount Takao in Tokyo City's Hachioji Town is a Michelin Green Guide Japan three-star rated place of interest with stunning views that rival those of Mount Fuji, which received the same rating on the guide. That's the highest rating possible, by the way! In terms of accessibility from the city center, however, Mount Takao can be reached in about an hour by express train from Shinjuku Station on the Keio Line, making it by far the more convenient site between the two. Little wonder, then, that the mountain receives a large number of visitors and mountain climbers every year.

One of the most appealing points about Mount Takao is the abundance of hiking trails that cater to everyone, whether they are beginners or experts. The mountain is also known for having food stops along the way to the top. In fact, the number of teahouses that can be found on the beginner-friendly trails is part of what makes Mount Takao an inviting place to inexperienced mountain climbers. You can't mention teahouses without also mentioning the signature teahouse snack, dango, or sticky rice dumplings, and boy, are there plenty of famous dango to be found in Mount Takao and its vicinity!

For this article, we've gone ahead and sourced out the top four dango dishes you can try in Mount Takao and the surrounding area. From the most basic version of the snack to novelty surprises, you'll see as we did that all dango are not made equal. The only way to figure out exactly how different one is from the other is to try them out yourself, so without further ado, let's see what Mount Takao has to offer in terms of dango dessert!
■Mitsufuku Dango: An auspicious package of good luck, happiness, and prosperity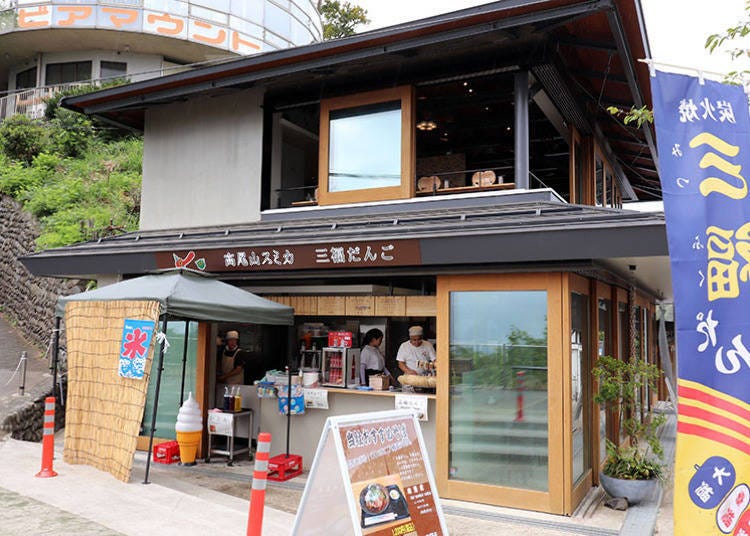 "Mitsufuku Dango" is the first dango on our list. This sticky rice dumpling snack can be found in a corner of Takaosan Sumika, a shopping complex located right next to the cable car's Takaosan Station.

Directly in front of the shop is a Trail 1 observation space, one of the best places for sightseers to gaze out at a panoramic view of the Kanto Plains, and we think having a stick of delicious "Mitsufuku Dango" in hand will enhance that enjoyable experience for sure!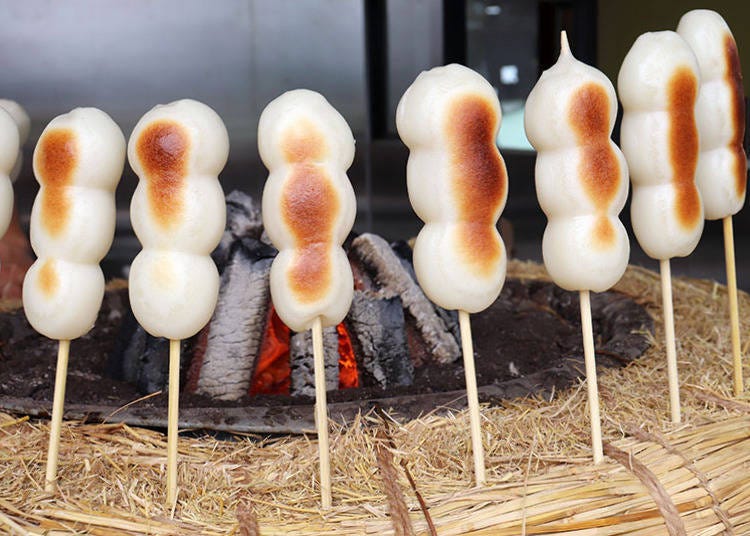 At the shop front, you'll see plenty of dango made from top quality steamed and hammered rice flour stuck on straw bales, slowly cooking over a charcoal fire before your very eyes. Once they're ready, they'll be served hot and fresh right into waiting mouths and tummies.

The "mitsufuku" in "Mitsufuku Dango" means "three fortunes", and each fortune is represented by one dango. From top down, they are, "good luck", "happiness", and "prosperity". Many thus view this dango as an auspicious food to eat. Add to that the setting of eating it while being surrounded by sacred Mount Takao's marvelous nature, and you have a recipe for boosting your success in life right here!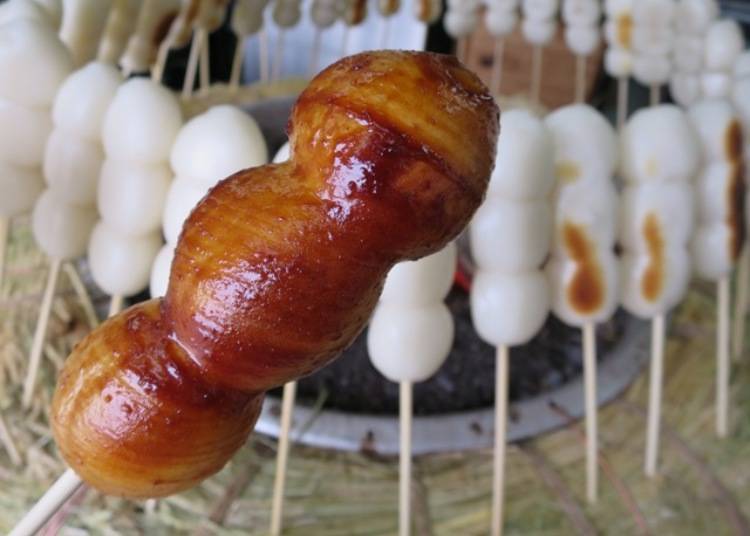 The slow-cooked dango skewers go for 350 yen per stick, including tax. A specially made walnut miso sauce is slathered on before serving. The dango itself is on the sweeter side and has a springy texture, making it an excellent match with the sauce. Since each skewer comes with three fairly large-sized dango, just one stick of the snack will have enough volume to satisfy most stomachs!

While it's true that "Mitsufuku Dango" can be eaten at stores other than Mount Takao, the sauce it comes with appears to be quite different in other places. This is definitely one of the representative snacks of Mount Takao that we encourage all to try when visiting the beautiful mountain.
高尾山スミカ

Address

2181 Takao-cho, Hachioji-shi, Tokyo-to

Hours: 10:00 a.m. – 4:30 p.m. (4:00 p.m. during winter season)
Closed: Open daily (may be closed temporarily on some days depending on the weather)
■Goma Dango: Relish the irresistible fragrance and flavor of sesame
"Goma Dango" is next on our list, and the snack is available in Gomadokoro Gogen Chaya, a teahouse located immediately after climbing the Otokozaka stairs or Onnazaka slope halfway up Mount Takao. Gogen Chaya is well-known among locals, having served as a reception teahouse for mountain climbers making pilgrimages to Takaosan Yakuo-in shrine since times past. Some may even insist that you haven't climbed Mount Takao if you haven't visited Gogen Chaya yet!

In Buddhism, "gogen" refers to the temporary avatar a bodhisattva takes on when appearing in the mortal realm to help humans, and the shop has likely wisely included this phrase into its shop name to receive whatever blessings such an act of faith may bring. Sesame of all kinds is the main ingredient used by the shop, and we highly recommend that you try the delicious "Goma Dango"!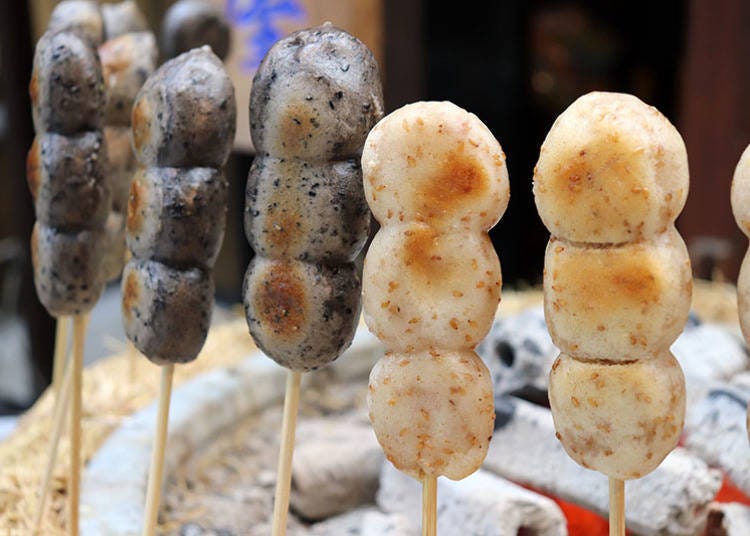 Two types of dango are available here - golden sesame and black sesame. All dango are cooked in front of the shop and cost 350 yen per stick, including tax. The skewers are stuck onto straw bales arranged around a charcoal fire and slowly cooked to perfection, releasing a tantalizing fragrance that draws many curious customers.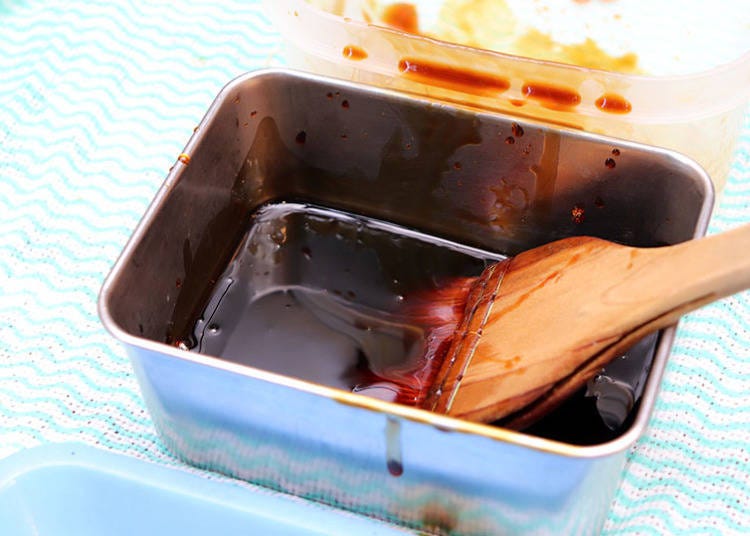 Once you've gotten your hands on your own stick of freshly cooked dango, you'll also be provided with a salty-sweet soy dipping sauce to apply to the dango as generously as you like. The sauce is more savory than mitarashi sauce, the usual sauce that dango snacks are provided with, but its saltiness is also what makes it a perfect complement to the slightly sweet chewy dango made with sesame and non-glutinous rice.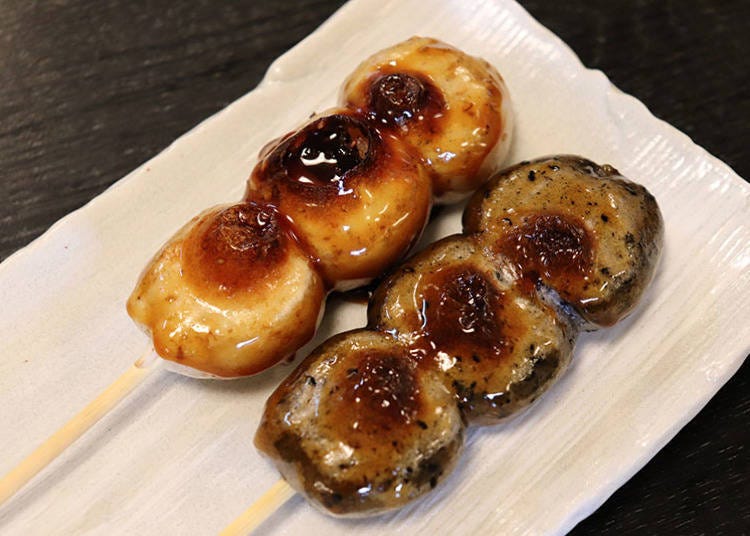 The golden "Goma Dango" is not as sweet as the black "Goma Dango", but both come with such a fragrant sesame aroma that you may find yourself wolfing down a stick or two in record time despite their substantial sizes! The dumplings are made of pure rice without fillers like eggs or milk. Each stick of black "Goma Dango" has more than 2,300 sesame seeds on it as well, something that will surely appeal to the health-conscious.
ごまどころ 権現茶屋

Address

2177 Takao-cho, Hachioji-shi, Tokyo-to

Phone Number

0426-61-2361

Hours: [Inside] 11:00 a.m. – 4:00 p.m.; [Outside] Weekdays 10:00 – 4:00 p.m. / Weekends and public holidays 11:00 a.m. – 4:00 p.m. (depending on season and weather)
Closed: Not fixed
■Tengu no Jukkokuri Dango: Available right within the famed Takaosan Yakuo-in shrine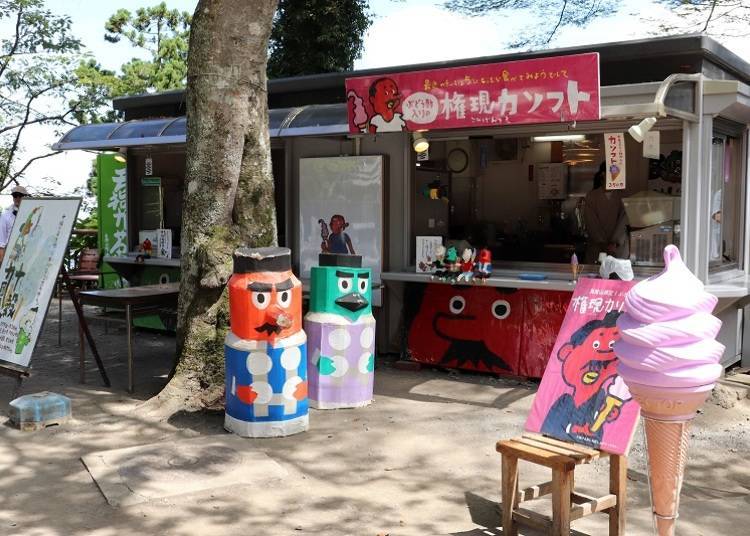 Here's our next recommendation: "Tengu no Jukkokuri Dango", which is being sold in a store by the name of Kissa Kobo Ippuku right within Takaosan Yakuo-in shrine itself. Takaosan Yakuo-in Yukiji is one of the three main temples of Shingon Buddhism's Chizan-ha Sect, the other two being Naritasan Shinshoji Temple and Kawasaki Daishi Heiken-ji. Eye-catching Tengu-based posters and decorations with colors that pop are probably the last thing you would expect to see in such a somber and historical temple, and yet there they are, catching your eye and drawing your attention to the store they advertise.

One of the snacks being sold here is the popular "Gogen Soft", a soft-serve ice-cream that uses grape vinegar as one of its ingredients. Right beside the ice-cream booth is where you'll find the famous "Tengu no Jukkokuri Dango" that has our seal of recommendation!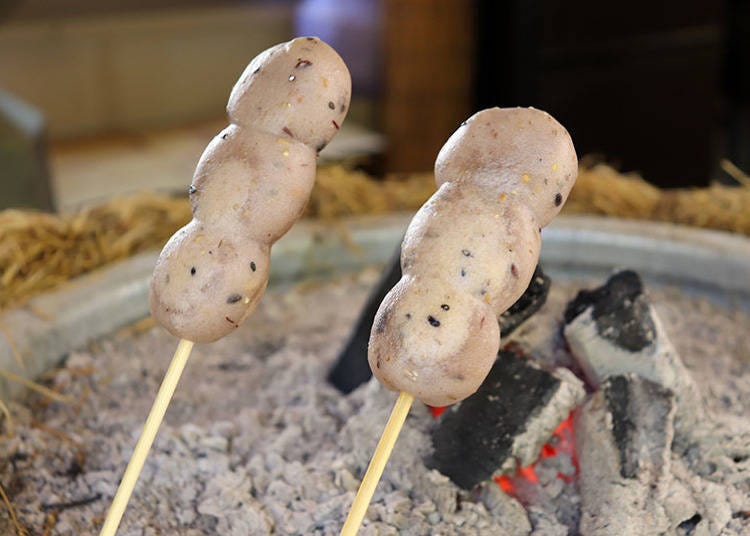 Much like the other shops so far, you'll also find the dango here being slowly cooked over a charcoal fire outside. Here's a little story about the origin of its name, "Tengu no Jukkokuri Dango": Since ten types of gu, or ingredients have gone into the making of this specialty dango, it was named "Tengu", which is both the name of the guardian deity of Mount Takao and a homonym for "ten gu", or "ten ingredients". This high-level (?) pun that makes deft use of the English and Japanese languages may make you chuckle under your breath for a second, but rest assured that there's nothing punny...that is, funny about the quality of this delicious dessert at all.

The ten ingredients used to make the dango are all whole grains, and they are: barley, brown rice, sticky millet, glutinous millet, black beans, green beans, red beans, black sesame, amaranthus, and high quality rice flour.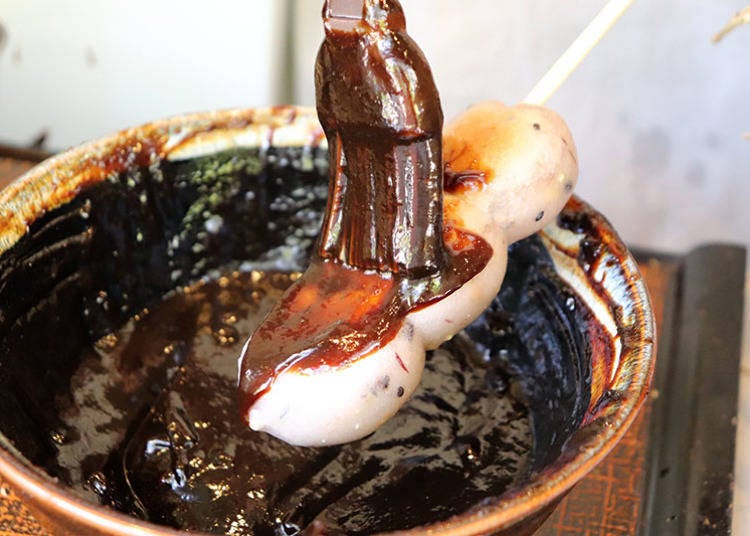 After the dango have been slowly roasted over a charcoal fire until perfectly golden brown, a walnut miso sauce will be applied to them before serving. Each stick will set you back 350 yen, including tax. The dango itself has a slightly sweet flavor to it that brings out the taste of the sauce, making them the perfect match for each other.
The generous size of the dango along with its chewy texture makes it a solid snack to consider, especially since the shop is located inside Yakuo-in, which is just a short length away from the mountaintop. Being able to reach the mountain summit with a full heart and stomach will be an experience worth trying out for sure!
喫茶小坊 一福

Address

Inside Takaosan Yakuo-in, 2177 Takao–cho, Hachioji-shi, Tokyo-to

Phone Number

042-661-1115

Hours: 10:30 a.m. – 3:00 p.m. (closing hours may be extended depending on season)
Closed: Open daily
■Isobe Dango: Charmingly small and basic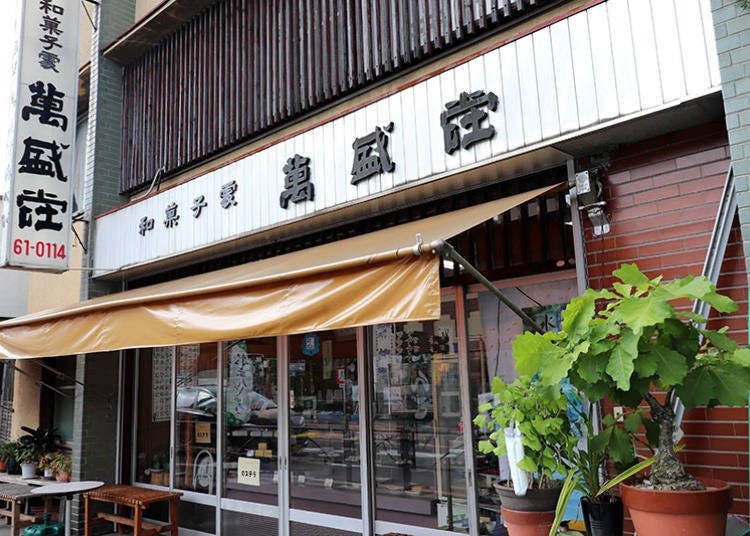 Manseido's "Isobe Dango" is our last dango recommendation on the list. The nearest station to this shop is the station after Takaosanguchi Station, said to be the gateway to Mount Takao. You'll need to walk for about five minutes from Takao Station on the JR Chuo Line or Keio Line to find this long-established Japanese confectionery store that has been in business since 1908.

Since the shop's creed is to create safe and secure products for all, all the classic Japanese snacks they sell are plain-flavored, with nothing fancy added to them. The most popular item during summer is the old-style Hachioji sake manju (sake buns), whereas bean daifuku sticky rice dumplings are hotter during winter.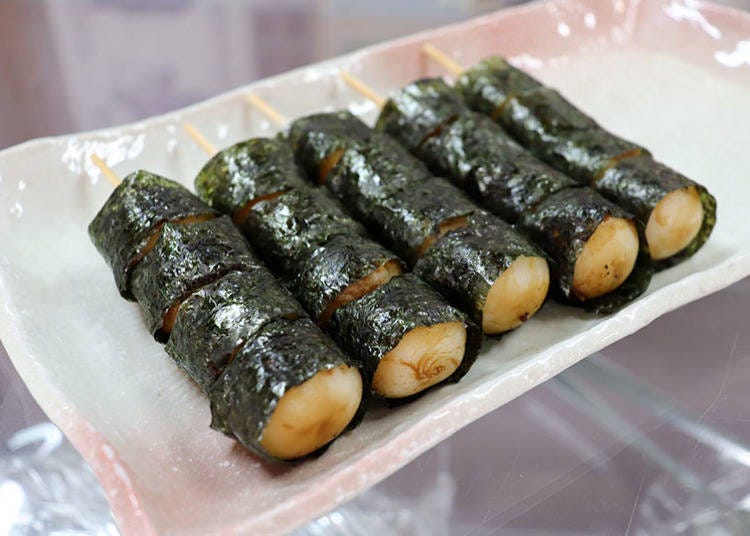 The dango being offered in a long-established shop like this is absolutely worth a try. In order to draw out the full taste of the original ingredients, no preservatives have been used throughout the dango-making process at all, giving the dumplings a soft texture and full-bodied flavor. This also means the dango here won't last the day, so the best way to enjoy these little food gems is to either eat them on-the-spot, or if you're buying some to take away, ensure that they're eaten by the end of the day.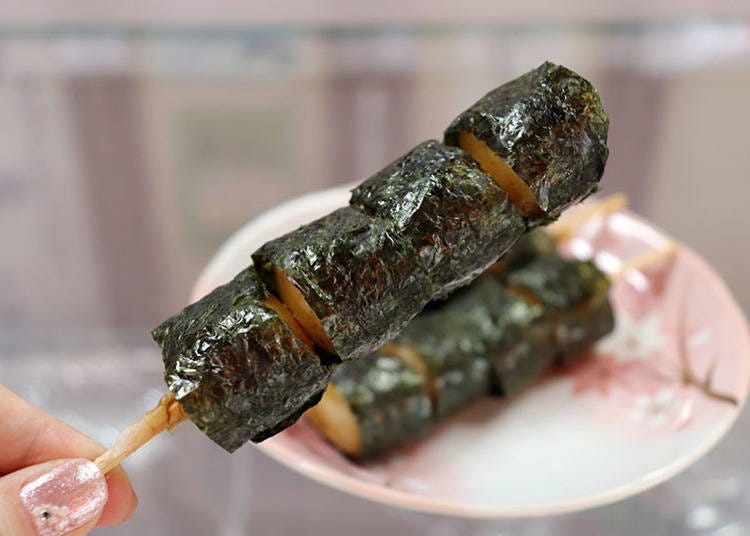 Our recommendation is the "Isobe Dango", which costs 75 yen per stick, including tax. Each stick is a tantalizing combination of soy sauce fragrance, seaweed aroma, and sticky rice sweetness.

Dango of Mount Takao tend to be on the larger side, but the dango sold here are smaller in comparison, making it much easier for you to go for more sticks should the taste suit your palate. Seaweed is carefully wrapped around each individual dango, so there's no need to worry that you might pull the seaweed away when biting down on the top piece. Each dango will always have its seaweed partner that enhances its taste, another point that appeals to foodies wanting to get the best out of every bite.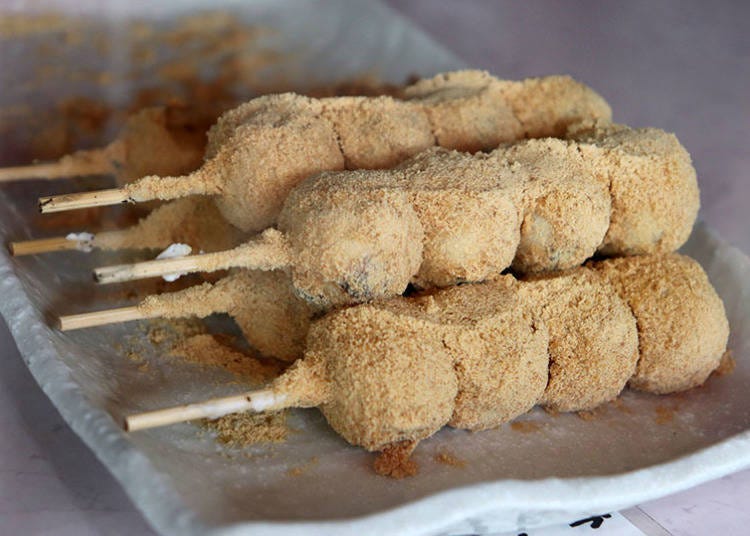 There are other dango being sold here as well, like "Kinako Dango" and the mitarashi-flavored "Yaki Dango", both going for 75 yen per stick, including tax. This lineup of classic specialty dango makes it easier for you to try them all out at one spot to see which is your favorite! Manseido is a great place to satisfy your dango cravings and comes highly recommended by us, especially if you'll be in the vicinity of Mount Takao.
萬盛堂

Address

1618 Takao-cho, Hachioji-shi, Tokyo-to

Phone Number

042-661-0114

Hours: 9:00 a.m. – 6:00 p.m.
Closed: Wednesdays
*Wi-Fi available
As you can see, Mount Takao and the area around it are full of teahouses and restaurants that offer interesting specialty food and snacks. Besides the shops we've recommended in this article, you'll be able to find plenty of other places selling specialty dango as well. Make your mountain climbing trip more fun and fulfilling by adding a dango stop or two along the way!

Written by: Naho Jishikyu. English translation by: Huimin Pan.
*This information is from the time of this article's publication.
*Prices and options mentioned are subject to change.
*Unless stated otherwise, all prices include tax.