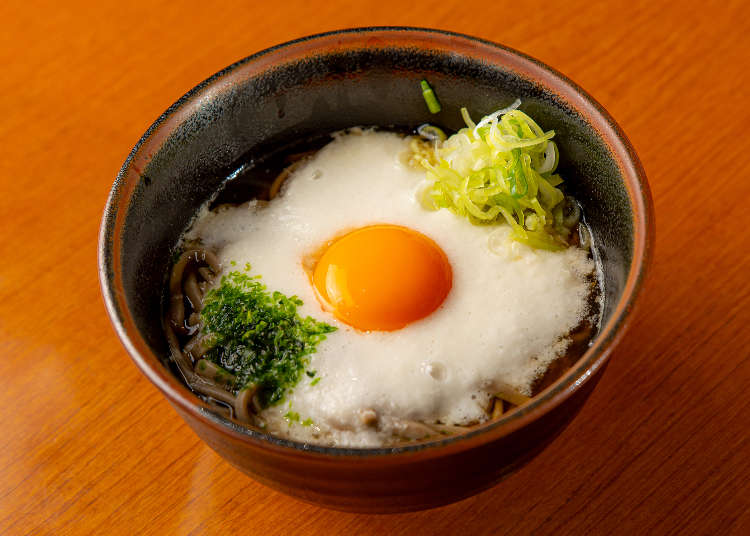 Mount Takao is an iconic place of interest in Tokyo that tons of local and international tourists visit every year. It takes only about an hour by train to reach from the city center, yet you'll feel as if you've entered into another region altogether.

On the mountain, you'll find wildlife like flying squirrels, regular squirrels, and owls in addition to about 1,300 species of higher plants that are native to Mount Takao - a rare sight indeed for something located within an urban metropolis!

Soba, or buckwheat noodles, is also one of the draws of this place. And no wonder, considering how many delicious restaurants offering this Japanese staple there are that you can drop by on the way up or down the mountain!

This article, penned by a soba enthusiast who enjoys about 250 bowls of the tasty treat every year will therefore be introducing you to a couple of shops offering great-tasting soba that are absolute must-try if you're planning to make a trip to the beautiful Mount Takao!
How to Enjoy the Luxuriant Greenery of Mount Takao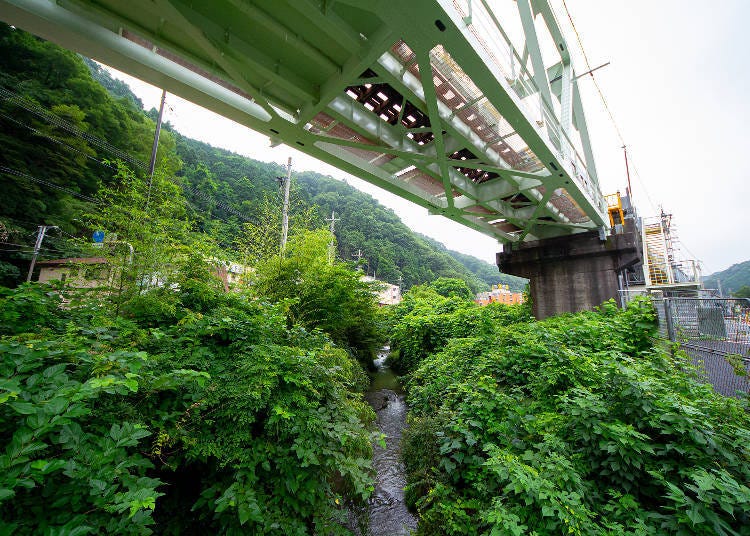 For readers who have never been to Mount Takao before, here's a brief introduction of what it has to offer.

First of all, this mountain started attracting more attention when it was given a three-stars rating in Michelin Green Guide Japan, a travel guide released in 2009. This is the highest rating possible!

On the mountaintop is the approximately 1,250 years old Takaosan Yakuoin shrine, known as a site of spiritual energy where visitors can receive health, luck, academic success, safety, and other blessings.

An endless stream of visitors pour into the shrine at all hours of the day, and some of them having trekked up on mountain trails for 45 minutes or more! Yet others may have taken lifts or cable cars (ticket price for both: 480 yen one way; 930 yen round trip) being operated by Takao Tozan Railway to get there while gazing admiringly at the scenic landscape along the way.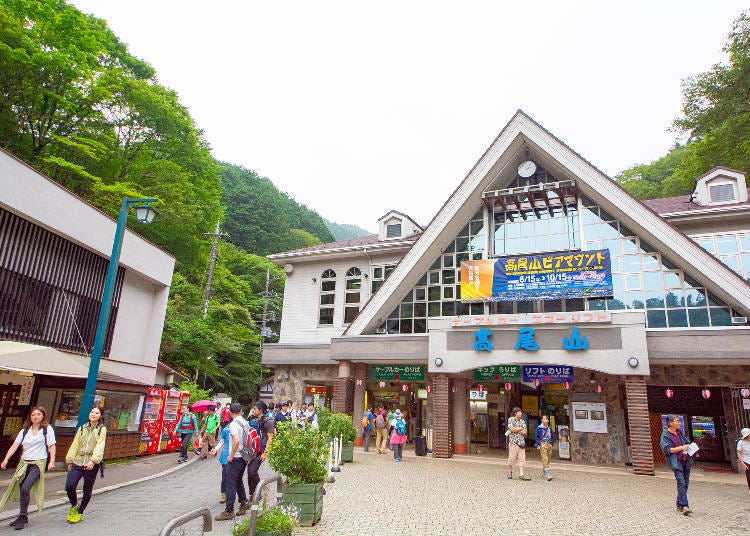 Did you know there's a certain spot along the cable car route that has a gradient of 31.18 degrees? That makes it the sharpest cable car slope in Japan, and hopping onto a cable car to see it in person is the best way to understand how dynamic it looks and feel!

The station is connected to Keio Takaosan Onsen Gokurakuyu, a public bathhouse that's in the perfect position for hikers to freshen up after scaling the mountain.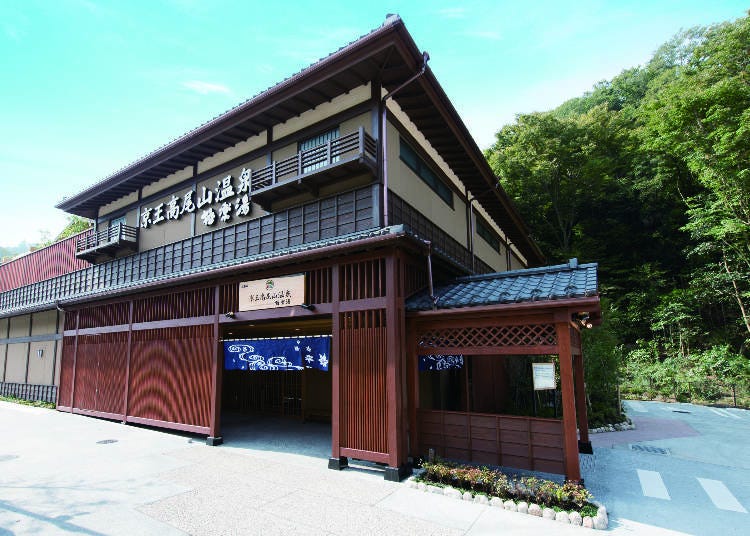 Address

2229-7, Takaomachi, Hachioji-shi, Tokyo, 193-0844
View Map

Nearest Station

Takaosanguchi Station (Keio Takao Line)
2 minutes on foot


Phone Number

042-663-4126
From foot to peak, the interesting Mount Takao contains about 25 restaurants offering unique and sometimes elaborate soba dishes on their menu, from little hole-in-the-wall eateries to well-established soba houses with plenty of history.

Whether it's the healthy "Tororo Soba" that people around Mount Takao have been eating for ages or the "Tempura Soba" that uses fresh local produce, these are shops absolutely worth dropping by on your way up or down the mountain for a satisfying bowl of fresh noodles.

Without further ado, here are two of our recommended shops!
1. Soba to Toto: Freshly made soba with local produce cooked tempura-style
After you walk for about 15 minutes via the Kōshū Kaidō Avenue in front of Takaosanguchi Station on the Keio line in the direction of Takao Station, you'll see a banner with the characters for "Toto", the restaurant's name.

Make a turn there and there's your destination! This soba shop that quietly stands among rows of residential houses is the center of attention among those in the know.

It opened in 2012 in a renovated house after the owner trained at a well-known shop in Hachioji town and returned to the area, determined to open a restaurant in his beloved locality.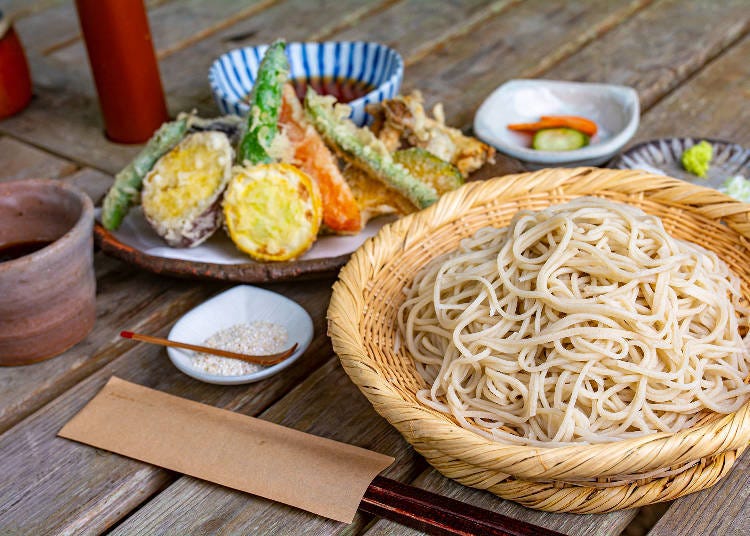 According to the owner, Takao was chosen because the area has fresh air, greenery, and water, all of which are ideal for making delicious soba.

Most visitors come from Japan, but there's been an uptick in the number of foreigners lately as well. On the day we visited, a group of mountain climbers who were on their way home were waiting on the bench outside for the shop to open as well, craving the soba being served here.

A lady from the group said with a smile that they had altered their route to come down the mountain using a path nearer to the restaurant instead, because having a soba meal here would be their hard-earned reward for making it to the mountaintop.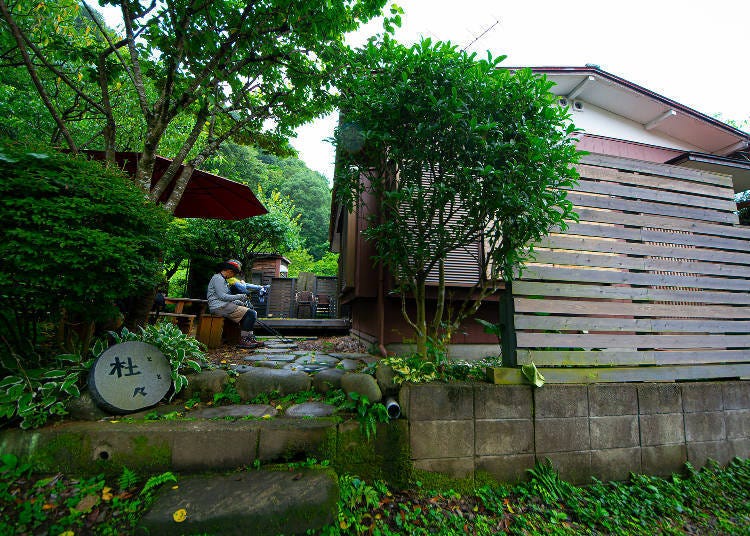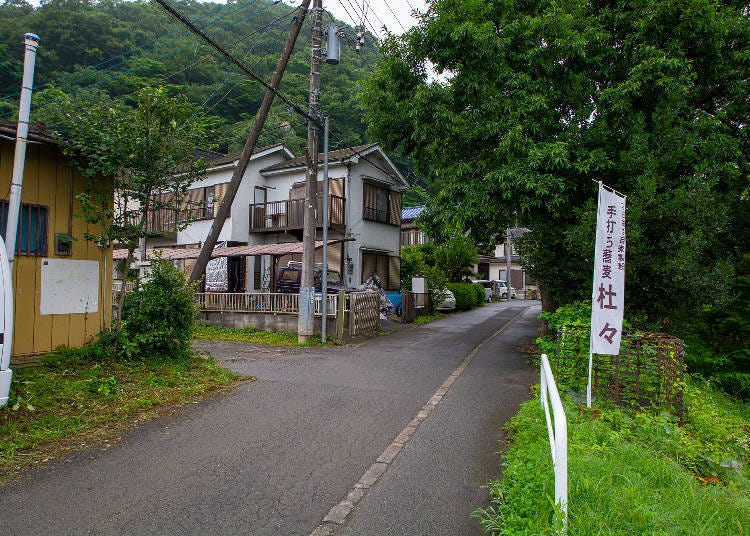 The fresh noodles here are made with a unique blend of Niigata buckwheat directly bought from contract farmers as well as buckwheat flour from Hokkaido and Fukushima.

The ratio of flour to thickening agents is 9:1. This gives the finished noodle, called "Oseiro (850 yen, tax excluded)" a deep flavor that's easy on the throat. The more you chew on these noodles, the more it whets your appetite with its buckwheat fragrance! They go especially well with moritsuyu, soba sauce packed with the umami flavor of dried bonito.

The soba tea offered after your meal is made with water that's left over from boiling the noodles, allowing you to relive the exquisite taste of soba stock and salty-sweet kaeshi sauce even after a satisfying meal.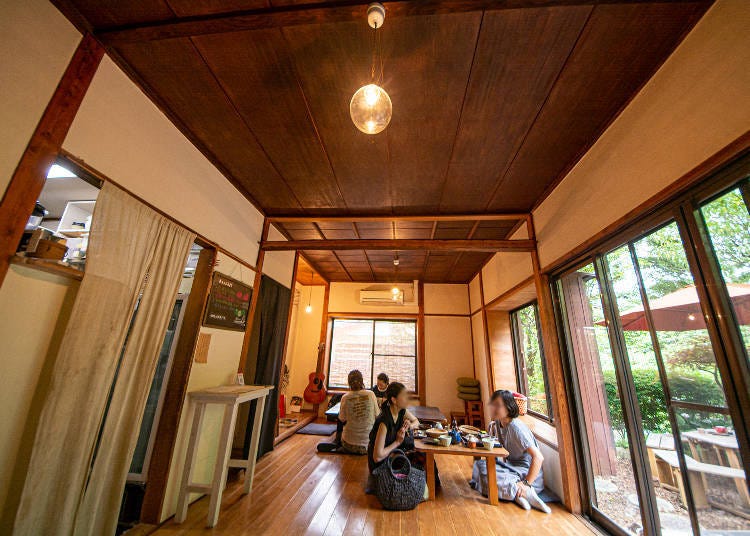 "Tenseiro (1,590 yen, tax excluded)" is a popular set meal that comes with a generous serving of "Oseiro" soba alongside plenty of deep-fried tempura and pickled dishes.

The crisply deep-fried eggplant, green beans, zucchini, green pepper, and other fresh and sweet vegetables do not weigh down the taste buds. To fully enjoy the fresh flavors contained within these ingredients, first sprinkle the accompanying portion of salt onto the tempura items before eating them without mixing other food items in between bites.

The simple yet luscious taste will pamper your senses and make you wish you had some good sake to go along!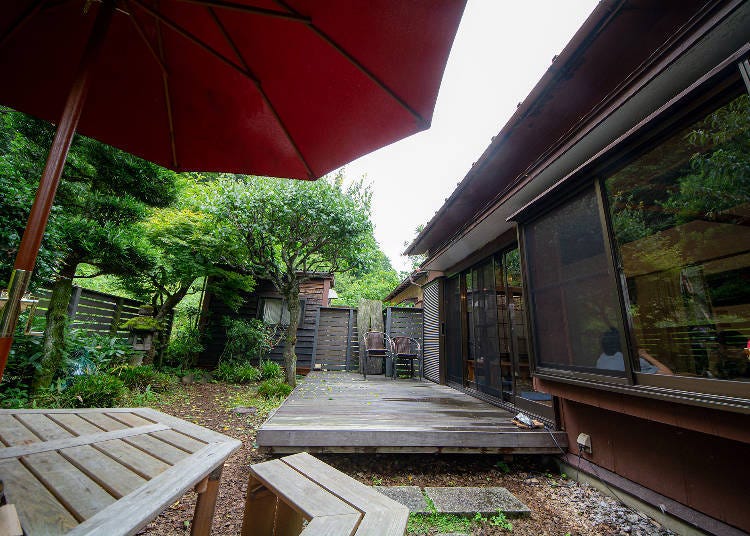 Speaking of sake, the restaurant also serves sake side dishes, one of the most popular dishes being the "Dashimaki Tamago (850 yen, tax excluded)". The light and fluffy texture of the cooked egg belies the rich and mellow taste hidden within, made possible by preparing the dish with the shop's special soup stock.

Add some soy sauce onto the grated radish, then sprinkled the mixture onto the eggs to enjoy it the way it should be enjoyed!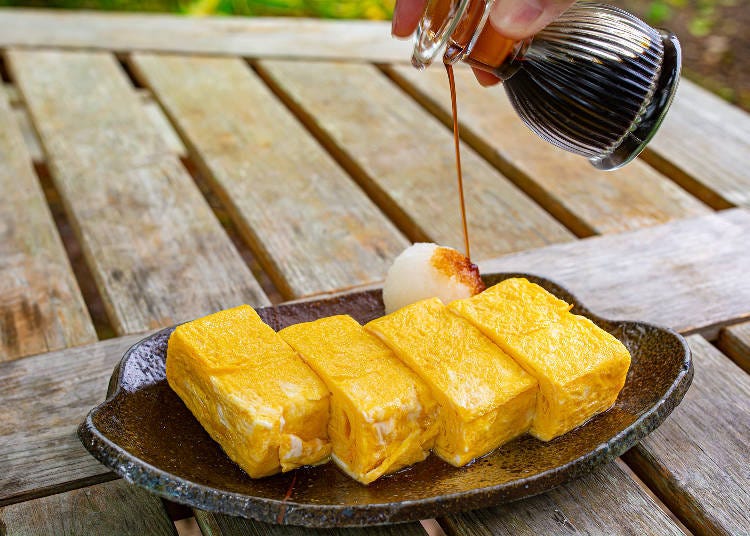 On our visit, the menu was only available in Japanese, but we were informed the shop was considering adding an English language option as well.

The owner stated it was because he wanted more people to understand the appeal of Mount Takao and was willing to work hard to be able to communicate with potential foreign guests in simple English.

Toto is also the only shop in the area offering a free baggage check service. This can be especially handy if you're visiting it first thing in the morning, or can't find any available coin lockers at the station.

You can drop off your baggage any time between 8 a.m. to 12 noon at the shop front and store it there until 5 p.m. at the latest. This is absolutely something to consider if you're keen to try out a mountain climbing route at Mount Takao after a hearty meal here!
蕎麦と杜々

Address

〒193-0844 2031 Takaocho, Hachioji City, Tokyo

Nearest Station

Access: 15 minutes walk from Takaosanguchi Station on the Keio Line or Takao Station from the JR Lines; 5 minutes by taxi; 3 parking spaces available


Phone Number

042-673-5592

Hours: 11:00 a.m. -- 5:00 p.m. (8:00 p.m. on weekends and public holidays with a break between 3:00 p.m. -- 5:30 p.m.)
Closed: Tuesdays
* The baggage check service will not entertain requests for storage of valuable items or live animals. Collection of baggage after 5:00 p.m. will also not be entertained.
2. Juicchome-Chaya: The best "Tororo Soba" with the best view
This restaurant is about a 2 minutes walk from the cable car terminal station Takao Station. Established 120 years ago in 1899, it is widely considered one of the best soba shops of the area.

The name of the shop, which means the 11th cho (cho is a unit of measure equivalent to 109.09 meters, or about 358 feet), originated from the fact that the shop was located 1.2 kilometers (about 3,937 feet), or about 11 cho away from Takaosan Yakuo-in shrine, the symbol of Mount Takao.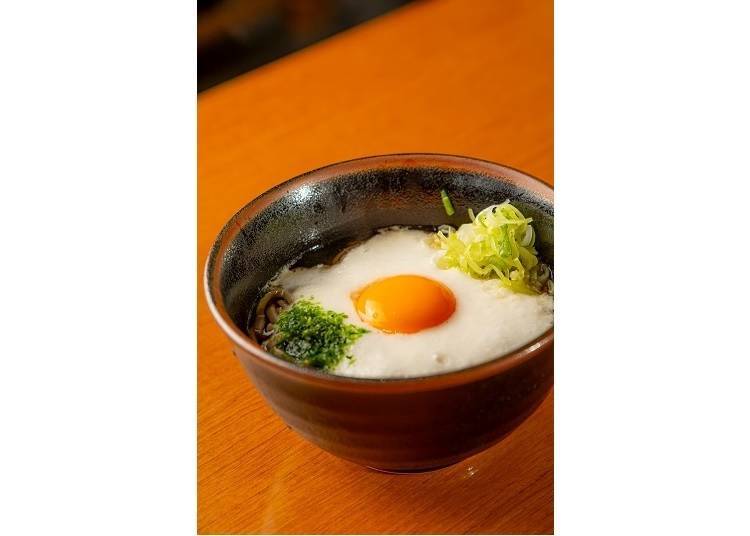 Right at the shop front is a cooking station for "Tengu Dango", one of its specialty food items. The spacious interior of the restaurant is equipped with tatami-style dining areas and tables for catering to throngs of hungry mountain climbers searching for food fuel.

Besides their sumptuous meal offerings, the restaurant is also extremely proud of the wonderful view one can take in at their terrace area. Sadly, the sky was cloudy on the day we visited, so no breathtaking photos could be taken.

The weather here changes often and abruptly, so consider yourself lucky if you're able to spot Yokohama's port or the distant Mount Fuji from here during your visit!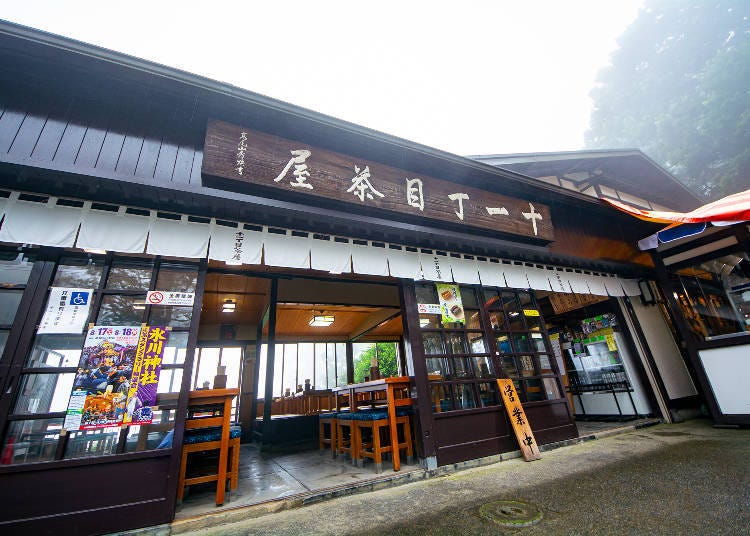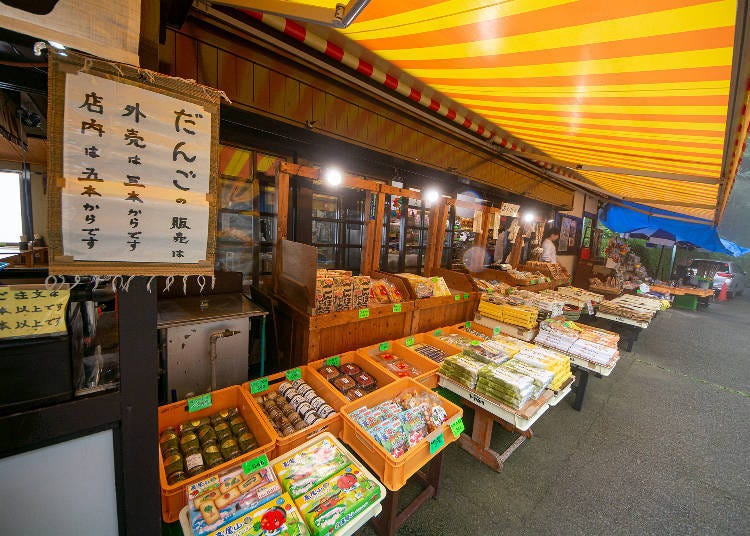 "Tororo Soba (900 yen)" is a popular dish that's also one of the most well-recognized Mount Takao gourmet food. The thick tororo, or grated yam in the dish has been ground in such a way that allows you to taste the best of what Japanese yam has to offer.

When mixed together with the egg yolk topping and rich sauce, the yam's richness becomes even more pronounced. Taken together with soba noodles, this unique combination of soba stock, kaeshi sauce, buckwheat, and tororo will come together in perfect harmony within your mouth to delight your senses.

The owner remarks that teahouses of this region were known to have served nutritious tororo that aids with digestion to pilgrims who had come to visit Takaosan Yakuo-in shrine. Although the restaurant's sauce is a bit on the thicker side, it's still very well-received by hikers who broke a sweat while scaling the mountain with much effort.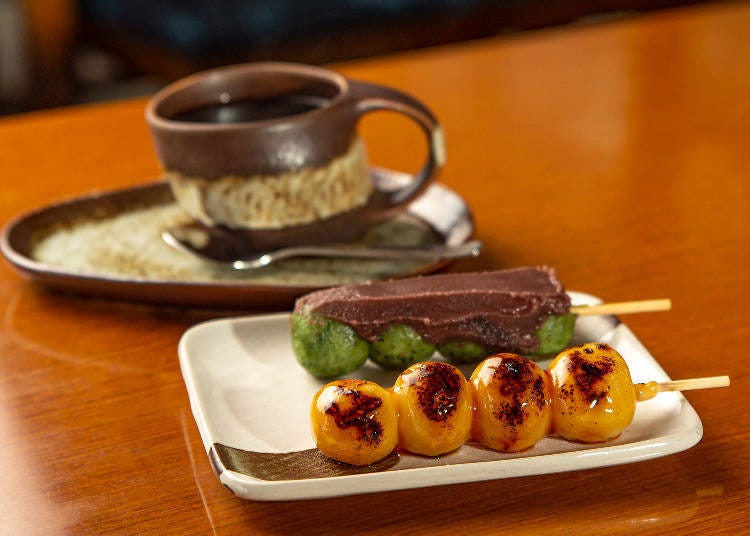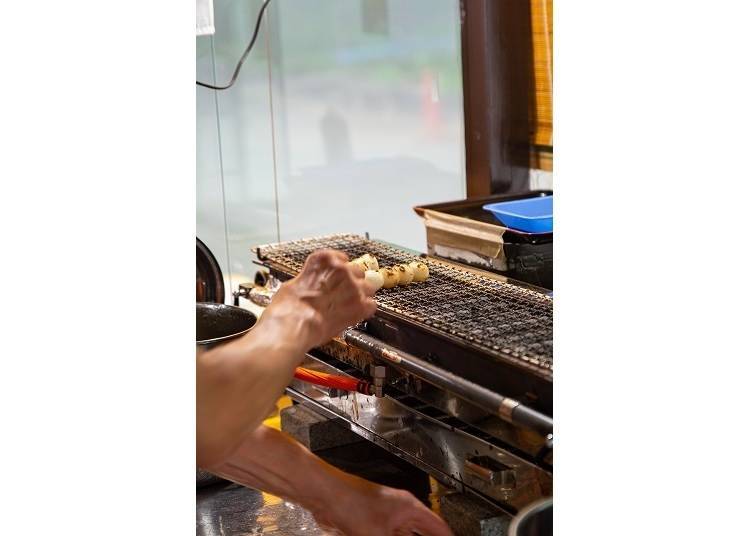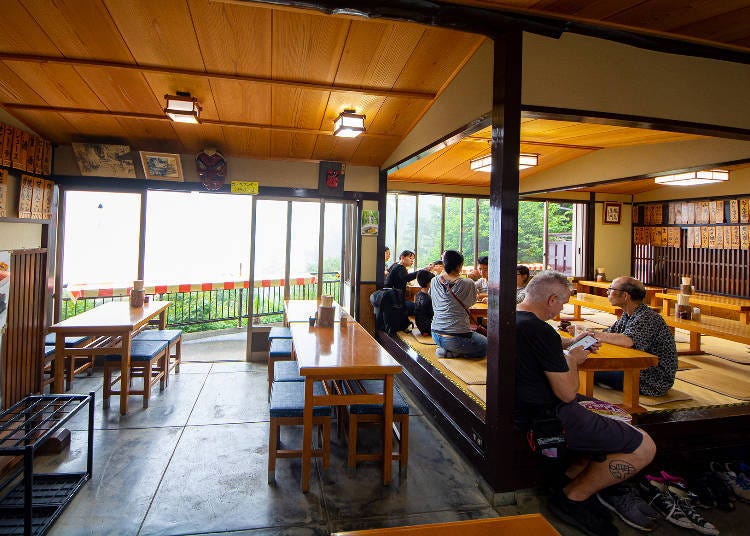 The "Dango Set (700 yen)" consisting of two sticks of "Tengu Dango" mentioned earlier with a cup of hot coffee is another item that many tourists go for. The dango, or sticky rice dumplings are only cooked on the grill when you make your order.

The more visibly grilled it looks, the better the fragrance, and the center is always soft and chewy. All dango are glazed with mitarashi, which is a sauce that tastes like sweet soy.

You can also order mugwort-flavored dango topped with red bean paste for something different. No matter what your choice of dango, the snack will go well with the hot coffee brewed fresh in the shop itself!
十一丁目茶屋

Address

2179 Takaomachi, Hachioji-shi, Tokyo 193-0844

Nearest Station

Access: 2 minutes walk from Takaosan Station via cable car or lift on the Takaotozan Railway


Phone Number

042-661-3025

Hours: 10:30 a.m. - 4:00 p.m.
Closed: Not fixed (if there is a typhoon or bad storm)
*This information is from the time of this article's publication.
*Prices and options mentioned are subject to change.
*Unless stated otherwise, all prices include tax.
Limited time offer: 10% discount coupons available now!