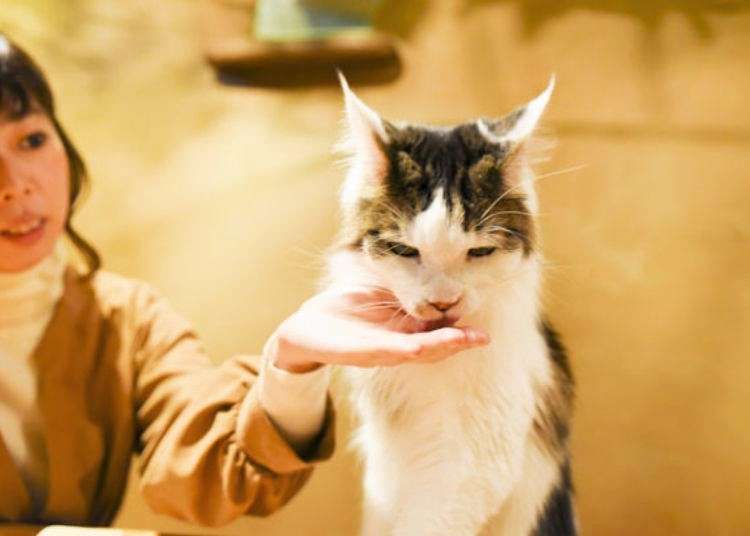 Do you know about the cat cafe in Kichijoji? Just like out of a fairy tale, you can touch and play with them with no time limit. The place is called Temari no Ouchi, and with delicious sweets, can be enjoyed just like a regular cat cafe. On behalf of all cat and cafe lovers, I, writer Ichijiku-Mai, decided to pay a visit!
No Extra Charge! Cat Cafe Temari no Ouchi is Great for Those Who Love Cats!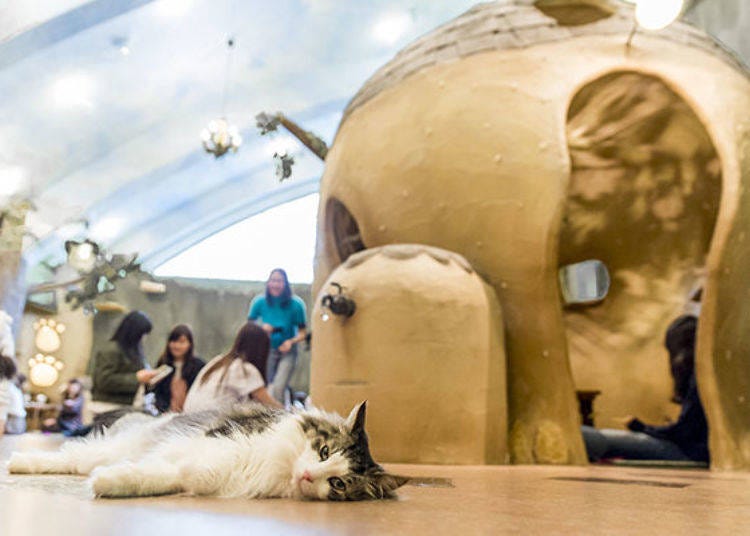 In Kichijoji, a busy town with lots of food and shopping, is a cat cafe called Temari no Ouchi. A shop of rumors amongst cat lovers, it is located on the 3rd floor of a building about 5 min on foot from the north exit of JR Kichijoji Station. What kind of a place is it? Excitedly, I head on over to find out!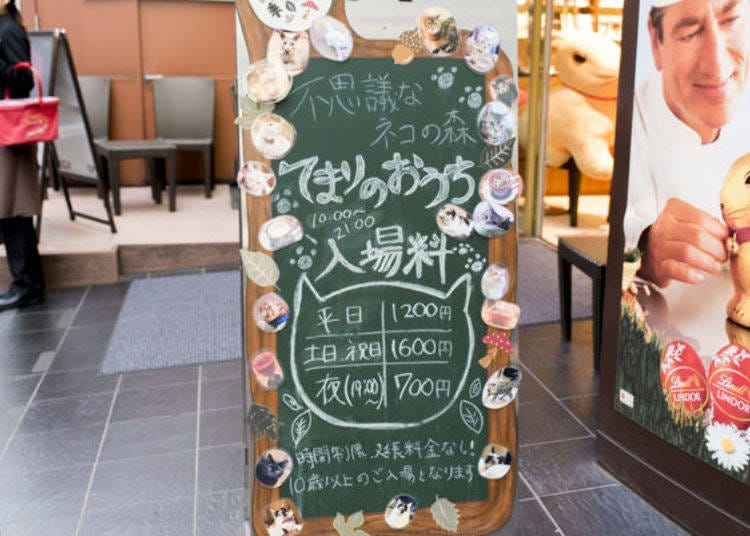 ▲The Temari no Ouchi sign on the first floor of the building and adorable pictures of cute cats.
The admission fee is ¥1200 on weekdays, and ¥1600 of weekends and holidays, and ¥700 after 7:00 p.m. (tax not included). A special characteristic of Temari no Ouchi is that there is no time limit or extension fee. It is highly recommended for those who want to enjoy their time leisurely playing with lots of cats.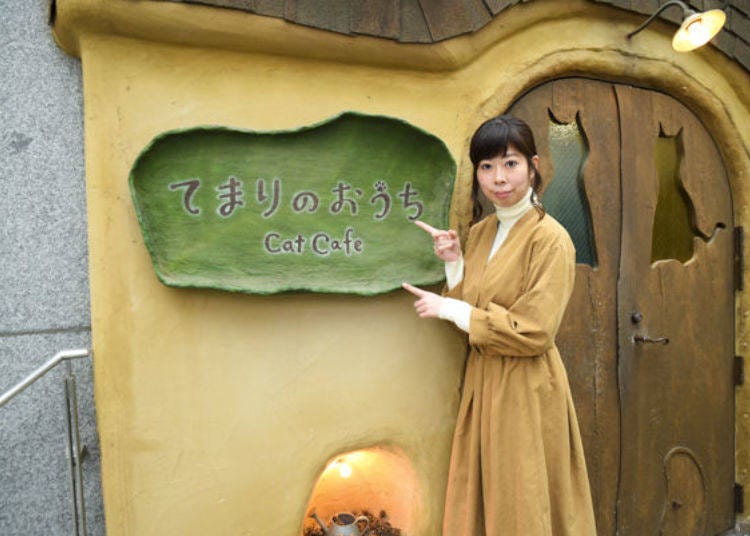 As I climbed the stairs and the entrance came into view, it looked like something right out of a fairy tale. What kind of world exists beyond that door?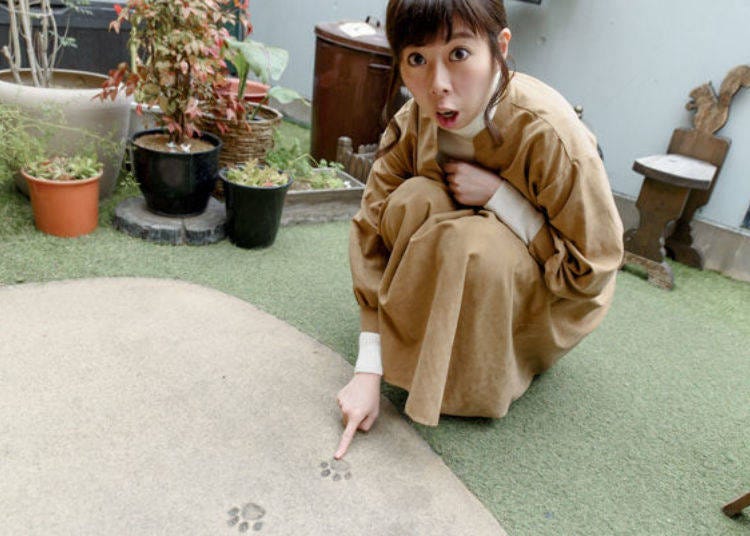 Cat footprints mark the front of the entrance. Let's follow the kitty footprints inside!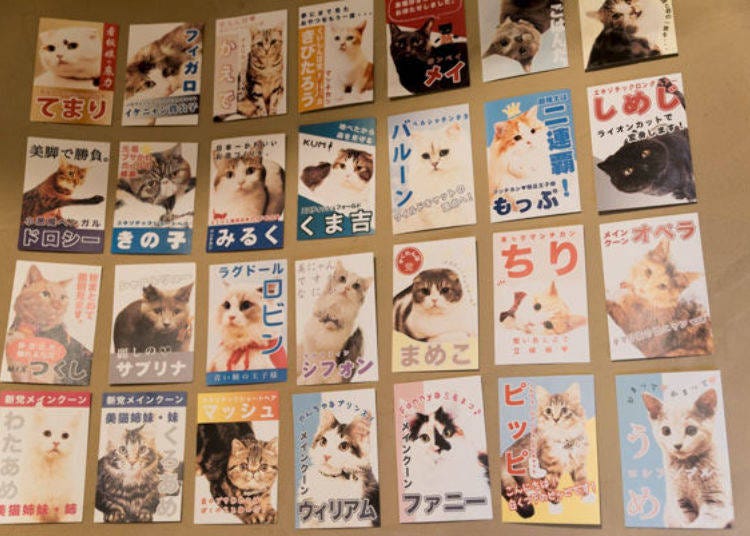 Once inside, there is a poster on the wall showcasing all the cats in the shop. According to the cats' physical condition, the cats available to play with are rotated.

In addition, Temari no Ouchi invited customers to vote on their favorite cats and holds "elections" regularly. You may want to mark with a star which cat you want to play with most.
Warnings and Restrictions when Playing with Cats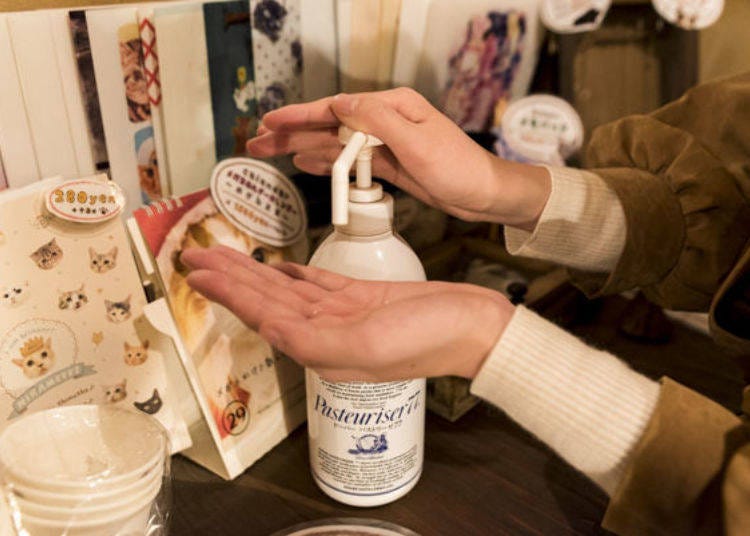 After paying at reception you must clean your hands with disinfecting alcohol and receive an explanatory notice listing four warnings to be aware of when touching the cats.

Prohibited
1. Lifting and holding the cats
2. Flash photography
3. Feeding from customer (people) menu
4. Bringing in used toys

Please note that you can bring in new unused toys but must have them inspected by staff first.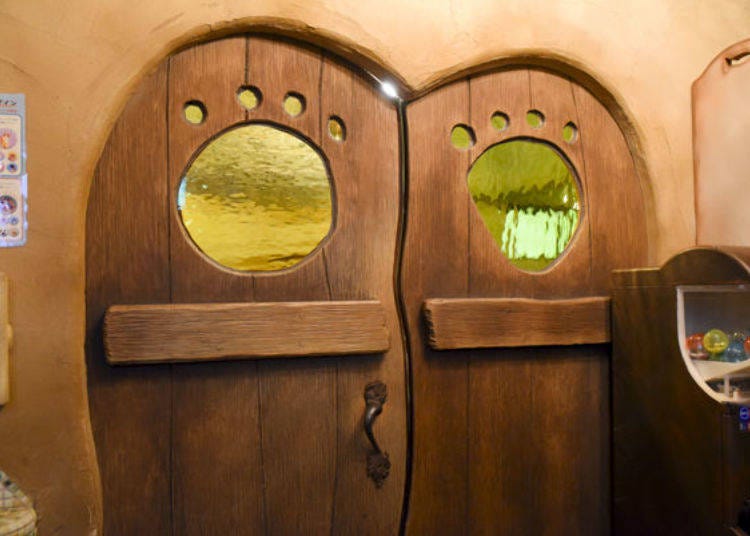 Once you are ready, enter the door with the cute cat footprints on the window, and get ready to play with some cats!
Relaxing with Cats in a Spacious, Enchanted Fairytale World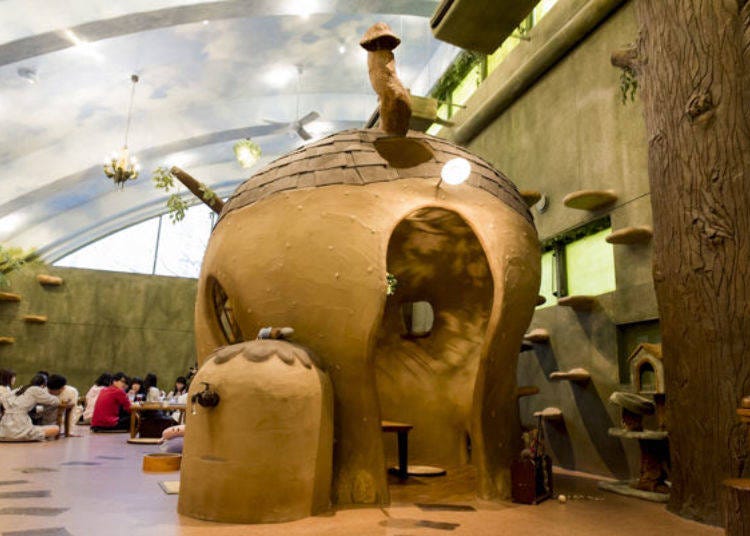 Once you open the door, a fairy tale land spreads out before your very eyes. It is like entering a different world! This spacious area is equipped with 60 seats which you can sit at and enjoy the company of the cats. The ceilings are high and the cats are able to freely explore and live their lives. In the middle of the room is a half-room treehouse.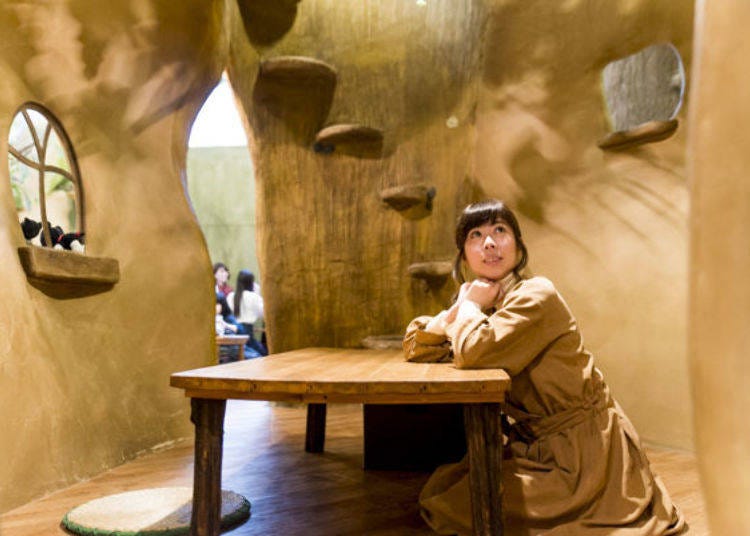 This is the inside of the treehouse. It is a popular space that needs reservations and can be booked out as much as a month ahead. If you would like to spend time with the cats in the treehouse, it is recommended to reserve your spot as early as possible. Now to relax a bit...

Ichijiku: "Aaaaahhh!"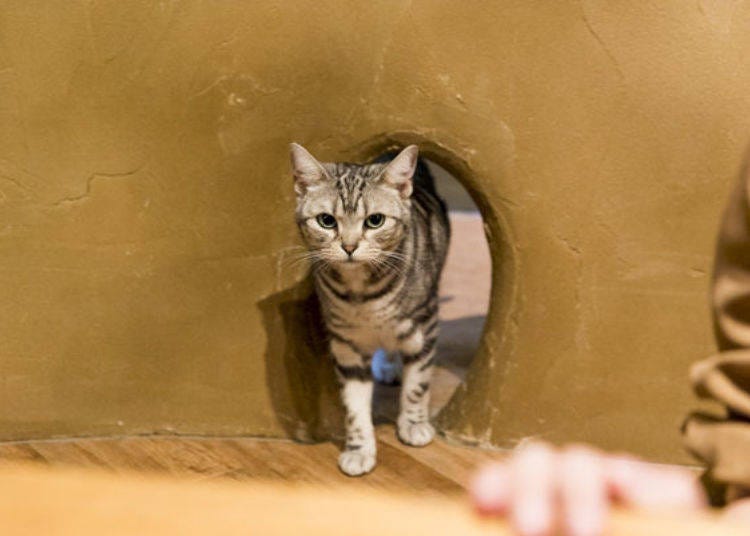 Kaede, the American short hair, came out to play from inside the hole of the treehouse wall! Unfortunately, she got scared by my excitement and ran away.

Ichijiku: "We will meet again soon..."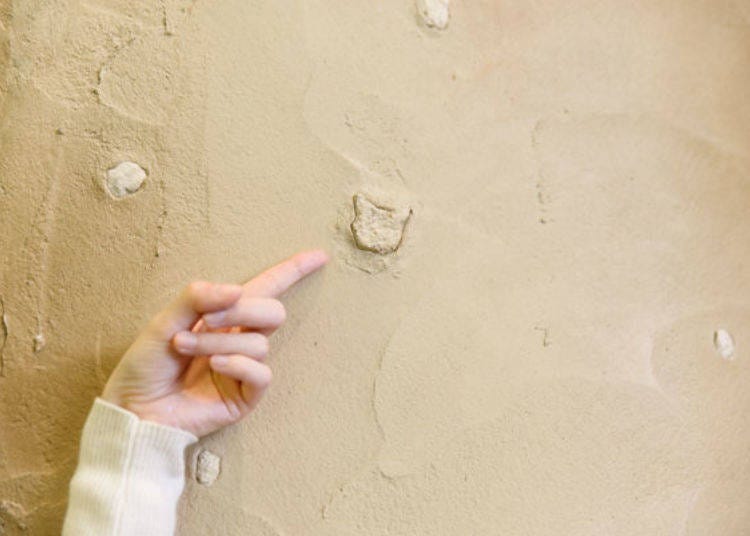 On the walls of the treehouse is a hidden cat-shaped stone. There are five hidden cats in total. I wanted to find all the hidden cats, so I looked around searching for them with my eyes. Surprisingly, it was quite challenging! By all means, give it a shot when you visit, too!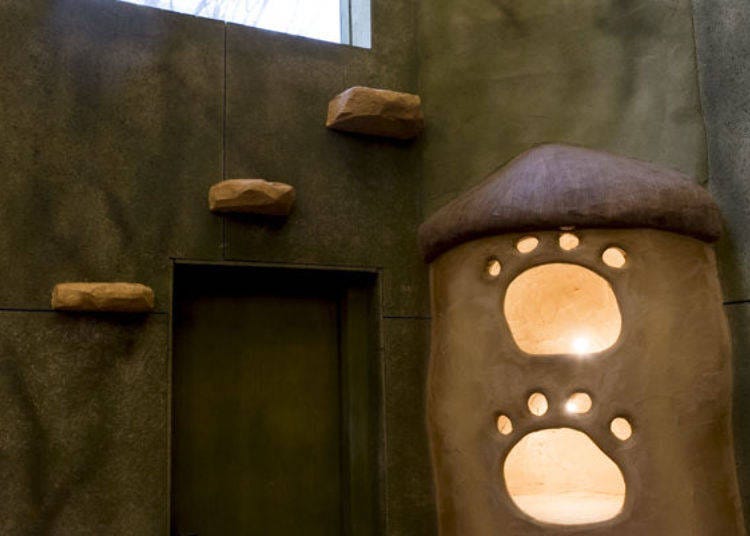 There are many unique cat features to see here, including a small room with paw-shaped windows, and a cat stairway attached to the wall. The entire cafe space seems like one giant cat tower!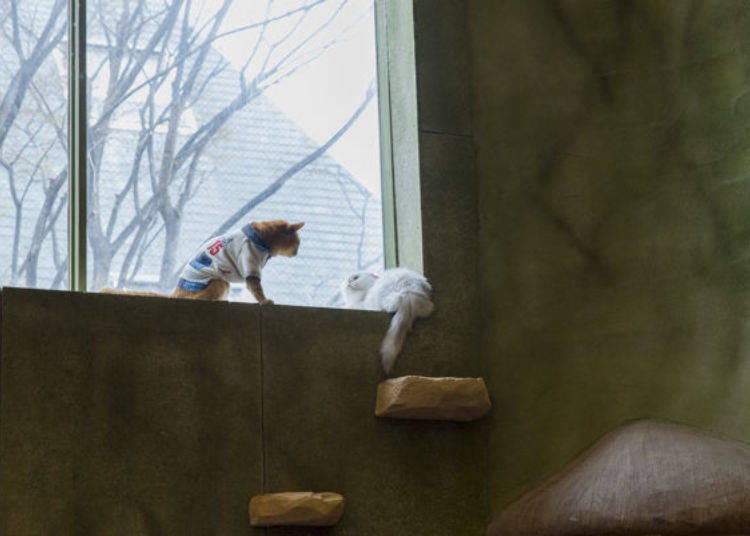 If you are lucky, you can catch a glimpse of the cats playing at the window and running up the stairs. Ah, I wish I could play with them! There are also plenty of photo spots in the store so you can take tons of cute photos with ease.
The Staff Explains How to Play with the Cats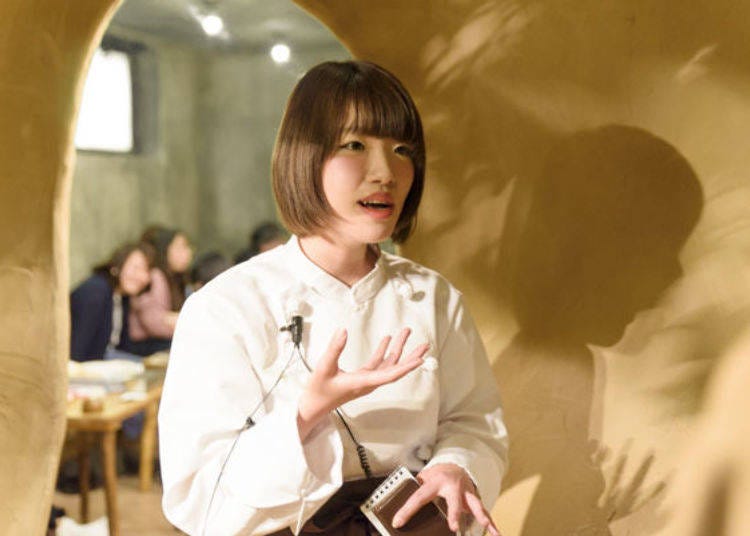 And now, at last, it is time to play with the cats. Is there a secret technique to being able to touch them? I asked a staff member, Ms. Shimura.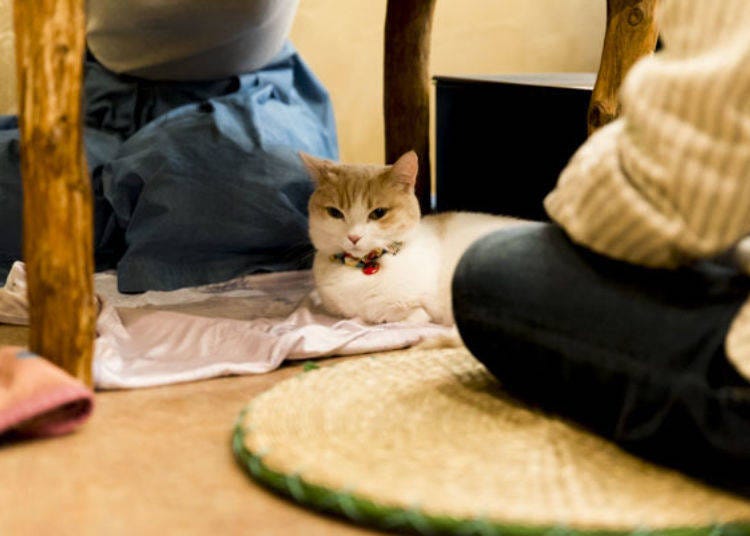 1. Wait for Cats to Come
Ms. Shimura: "Some cats who are accustomed to being around people may go under the table, and climb on top of your knees. Others might sit there and wait for you to approach them."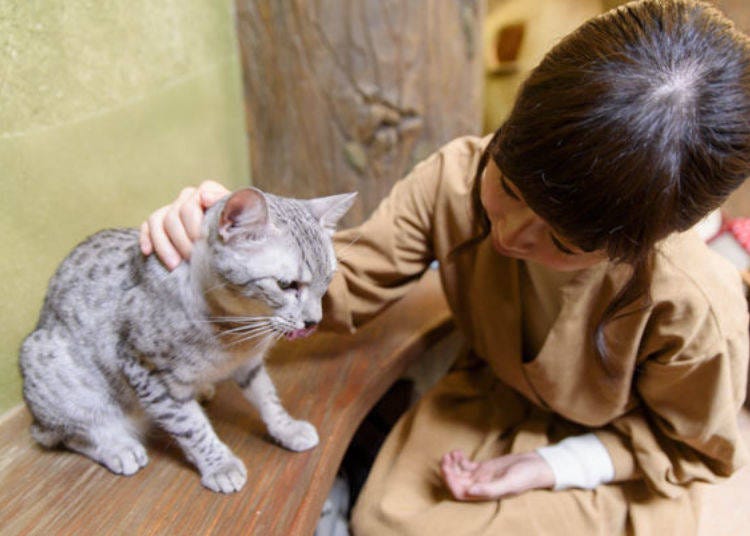 2. Stroke Face and Neck, or the Base of the Tail
Ms. Shimura: "Cats like to be stroked on the face and neck, and the base of the tail. However, some cats do not like to be stroked, so use your best judgement and pay attention to their reaction as you try to touch them."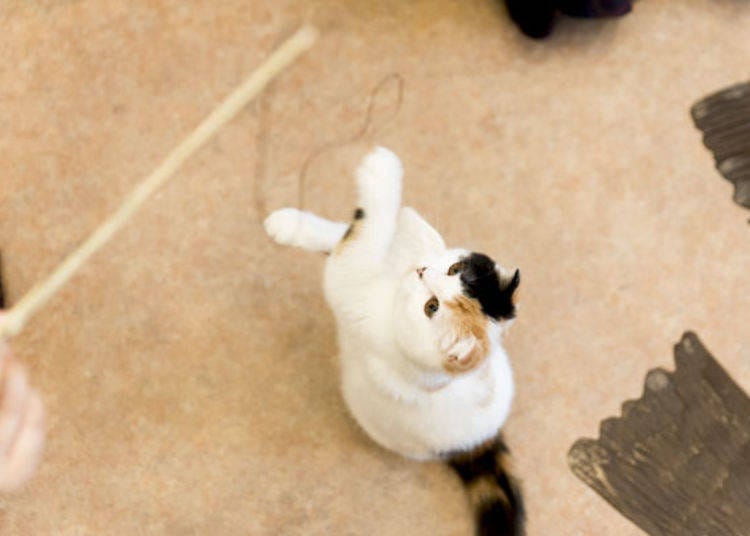 3. Play With Cat Toys
Ms. Shimura: "You might be able to get along well with some of the cats by playing with them with their toys."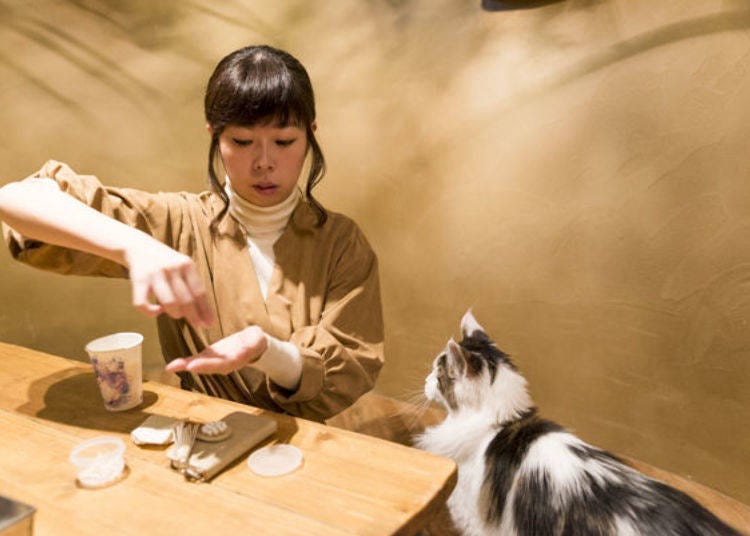 4. Feed Cat Treats
Ms. Shimura: "At the shop, we have chicken snacks that the cats love (¥320+tax). You can feed these chicken snacks to the cats who are not wearing collars. However, the ones with collars may be on a special diet so please refrain from feeding those cats."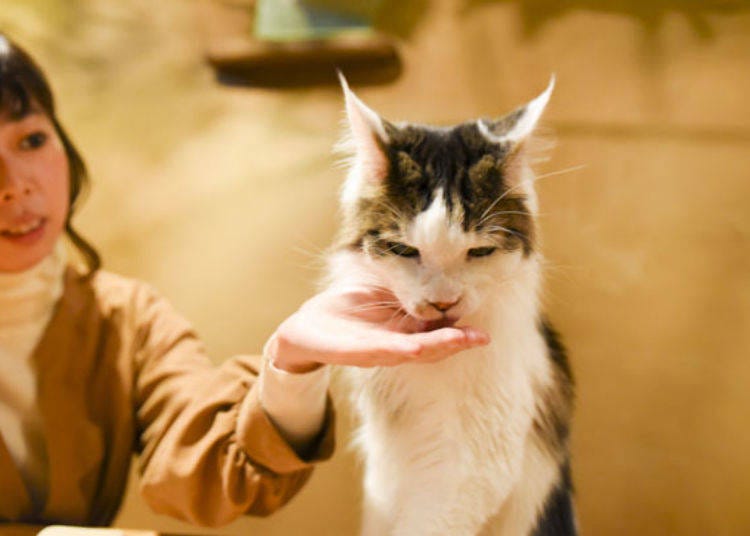 Ms. Shimura: "By the way, when you feed them, make sure to place the chicken piece in the palm of your hand and hold it to their mouth. If you hold it between your fingers, there is a chance they might accidentally bite your fingertips when eating."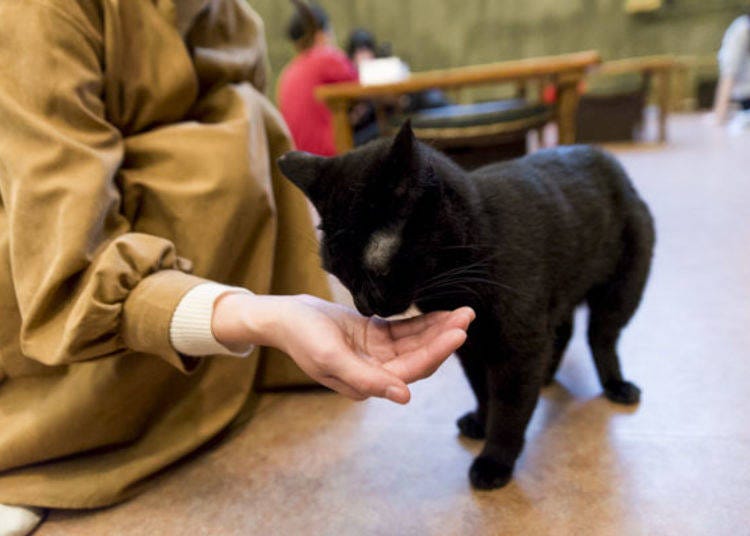 By following the advice of the staff, I was able to more fully enjoy playing with the cats.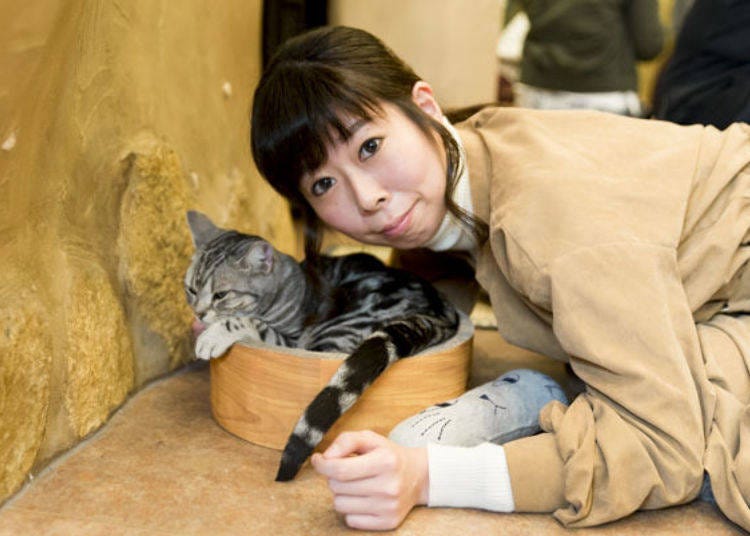 ▲I decided to try to get closer to Kaede, who disappeared as soon as I saw her.
There are cats who like toys, cats who like to be pet, and cats who like to eat treats. It seems to be really important to know a cat's personality before trying to touch them!
Every Day is Exciting with these Playful Cats!
Temari no Ouchi holds various events several times a day at various times. These are a must-see for anyone crazy about cats!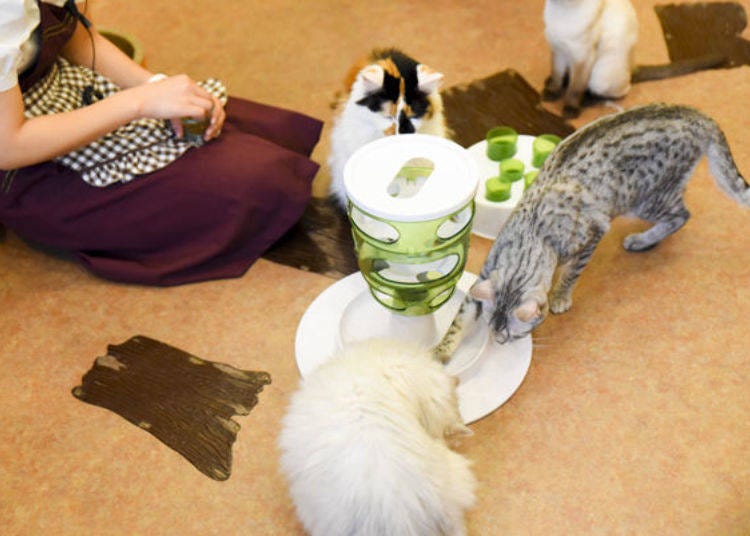 The "Snack Battle" has begun! A food tower is placed on the floor and the cats begin to crowd around. It was fun to watch the cats so intently try to catch the snacks as they rolled down from above!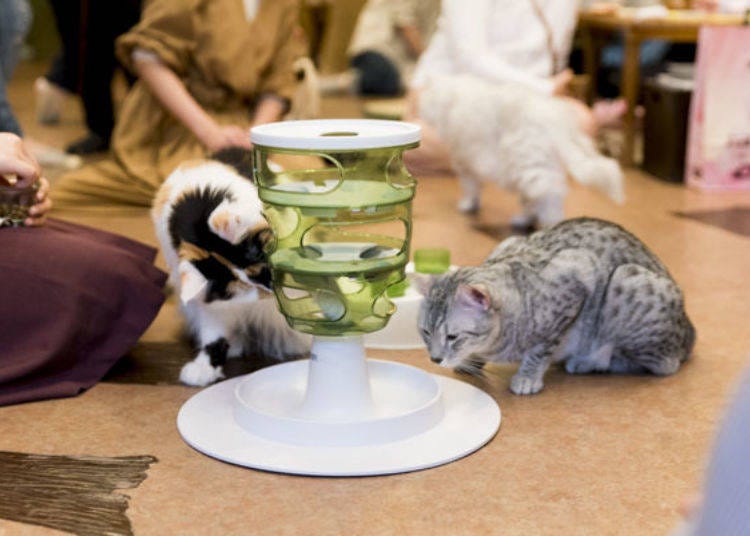 The cats go for the food from the tower by thrusting their paws out from holes in the tower. However there are some cats that eventually lose interest and move on to other things. Such is the carefree nature of a cat.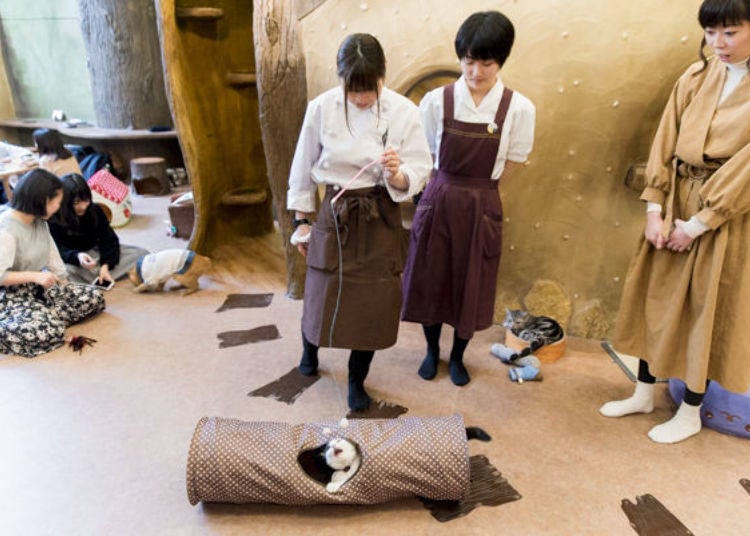 A little while later was the Cat Sports Festival! It was really cute watching the cats so fascinated by the toys the staff would hang over them from above. In the cylindrical cat house is the idol of Temari no Ouchi, Temari, the Scottish Fold.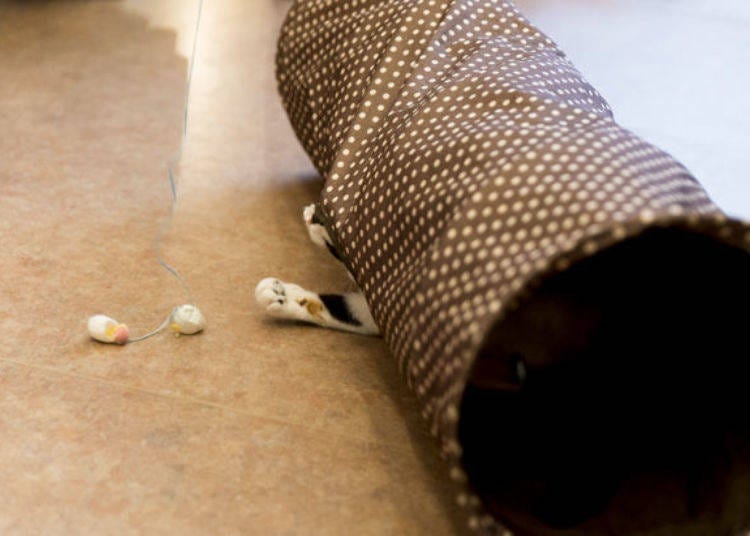 Temari: "Meow!"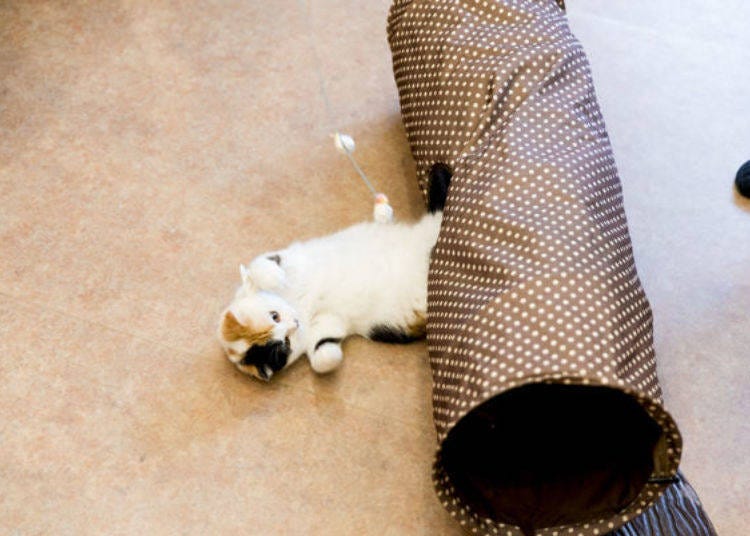 Temari: "Meo-o-w!"

Ichijiku: "Meo-o-o-o-o-owww!!!"

Before I realized, even I was having way too much fun with these cute cats! Just watching them innocently play was like a medicine purifying my heart.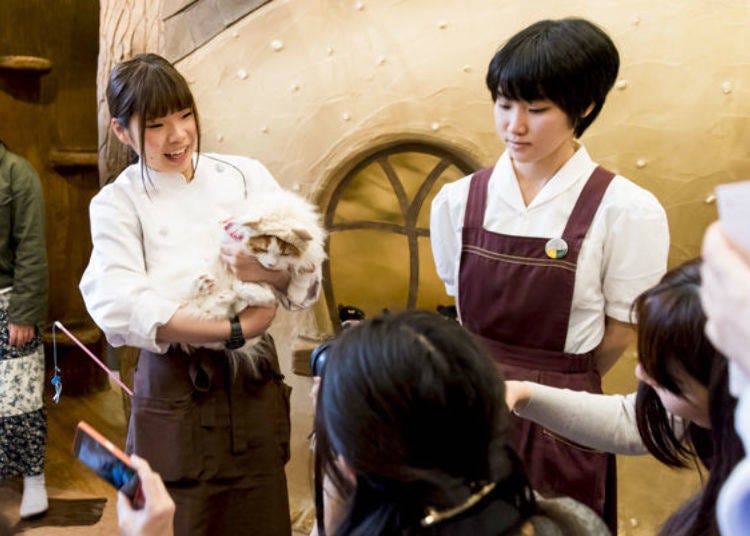 Today was also the birthday of the first place winner of the 2016 top cat elections, Mop, a Munchkin cat, which was celebrated in front of the treehouse. Everyone surrounded Mop, who was adorned in a cute, stylish sheep hat, and applauded him for his birthday. It seems there were even customers who came on this day to celebrate.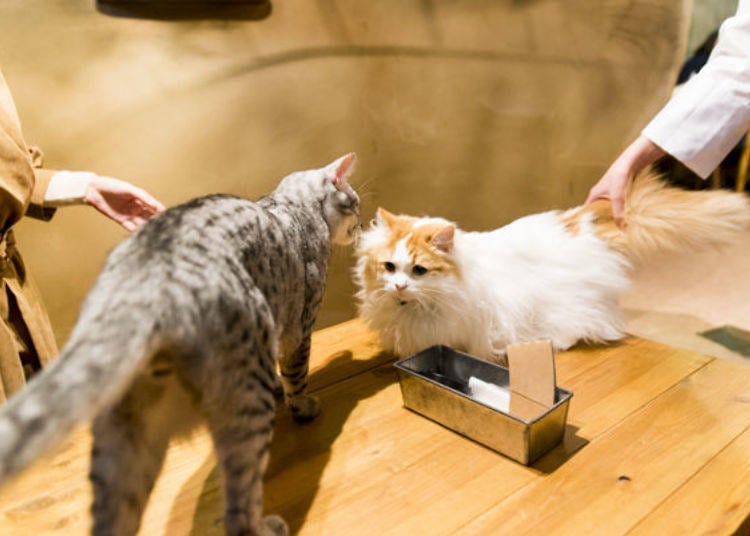 By the way, here is a full picture of Mop (right side). His fur is long like a mop. With short legs, he walks with cute tottering steps. You will definitely want to watch for him if you visit the cafe.
Special Attention Put on Food and Drink Quality
Temari no Ouchi also pays special attention on their cafe menu, from their selection of materials to preparation. You can order from your seating space of the cafe. This time I tried one of the most popular items in the menu!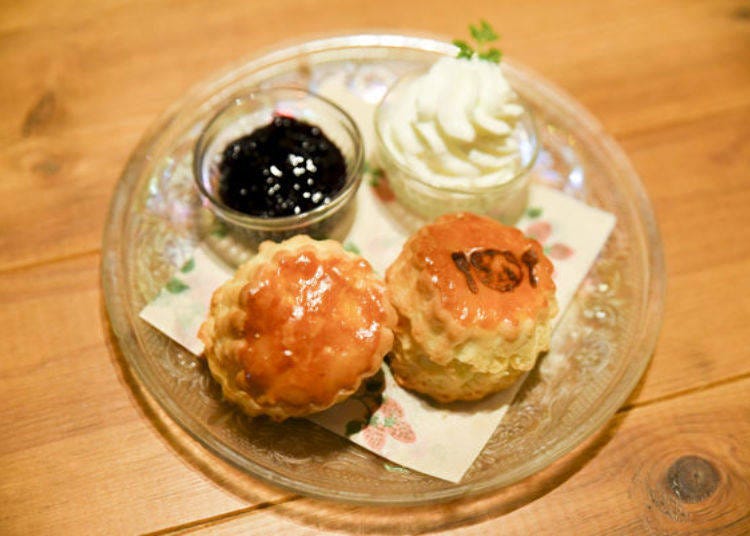 Authentic homemade Scones (2 pc, ¥520+tax) with cat imprints, baked right in their kitchen. The outside is crisp while the inside is soft and moist. I was impressed at the quality, they tasted just like scones ordered from any other cafe.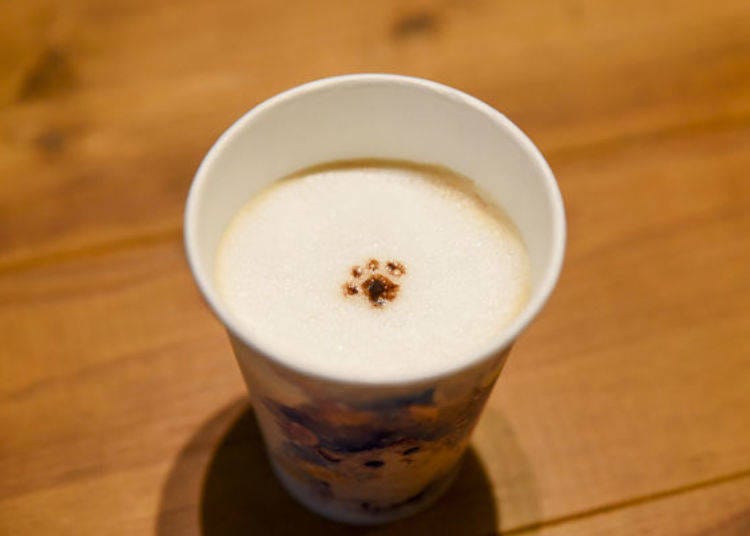 Fluffy Cafe Late (¥480+tax). I ordered with the scones. The latte art shows a cute cat footprint, unique to this cat cafe menu.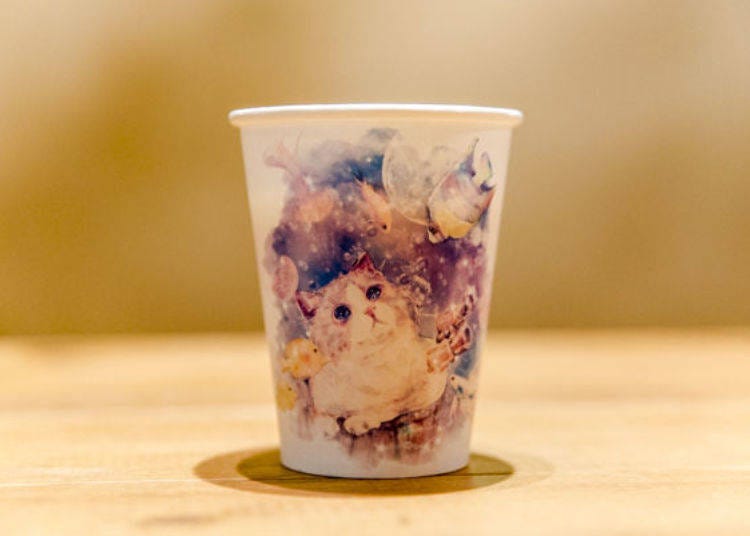 The paper cups are an original brand called Tottoko Circus and feature cute illustrations of cats on them. And there are other new designs of cups being developed as well, so be sure to look for them whenever you come!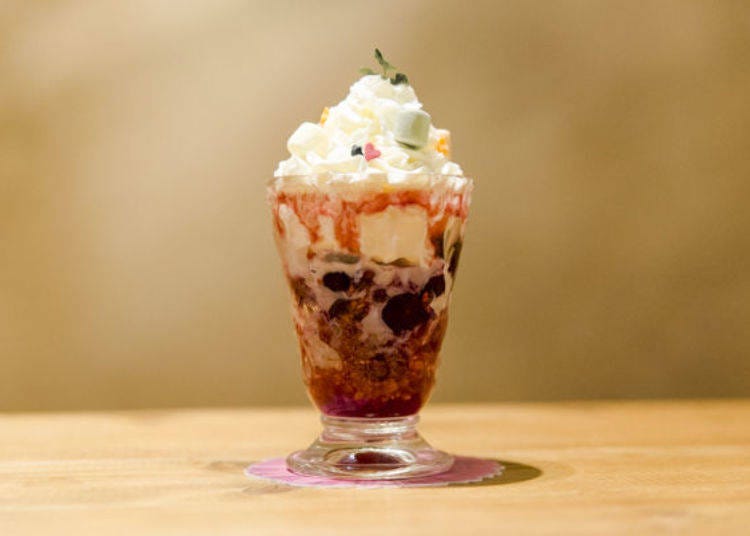 You can enjoy the sweet and sour flavors of berries and marshmallows in the Little Red Fruit Parfait (¥520+tax), another popular menu item. For those who want to enjoy a meal, I recommend the Keema Curry with Sunny Side Eggs (¥750+tax). It is a unique experience to be able to enjoy a meal in the company of cats!
Can't Stop Taking Pictures of Cute Cats!
One of the best pleasures of coming to a cat cafe has to be taking cute photos of them. Prepare for all the photo ops you will have while playing with the cats!
The cat standing still out on the floor was the Chinchilla Persian cat, Balloon. I slid myself next to him to grab a selfie!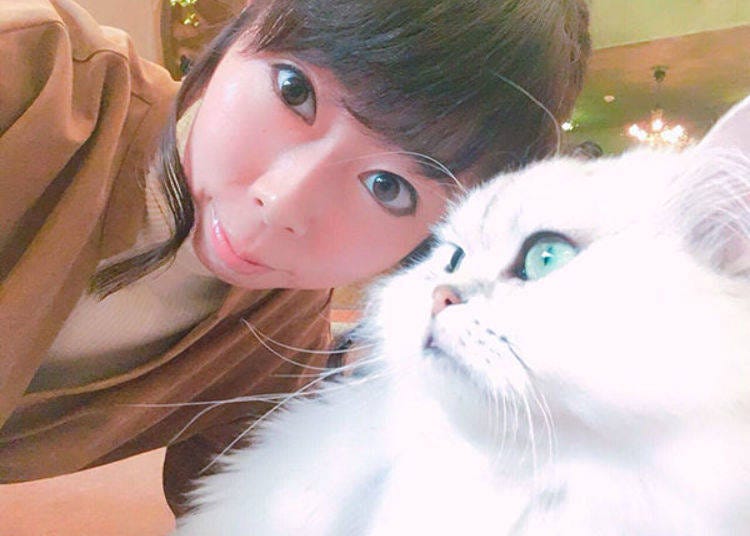 Here are the pictures I took with my phone. Balloon may be looking off into space but I was able to successfully get 2 selfies with him. Balloon's beautiful eyes look just like little marbles!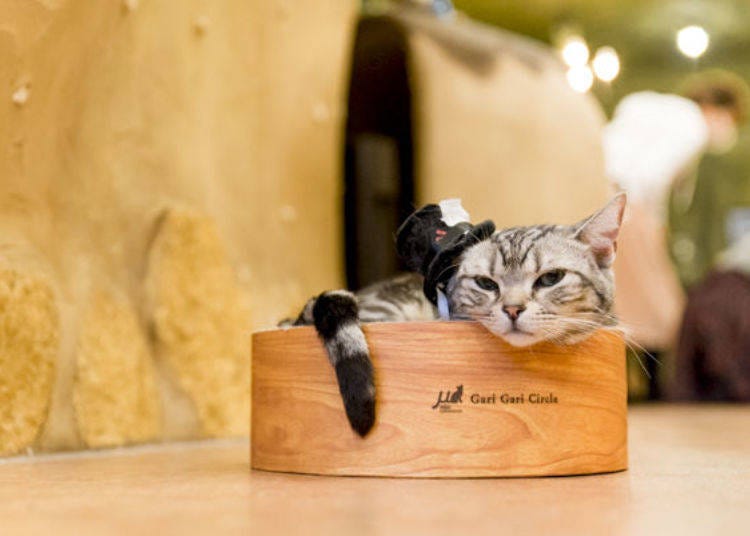 This is the American Shorthair from the treehouse earlier, Kaede. She is dressed up and wearing a hat. Kaede really seems to like this wooden box.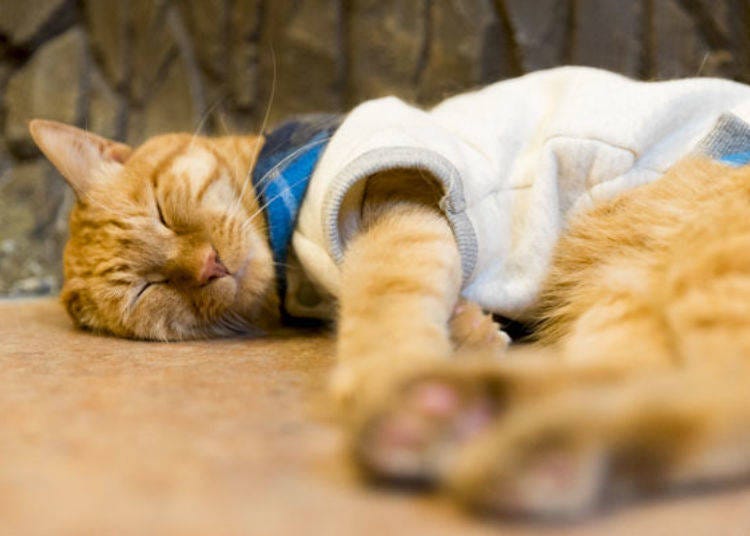 From the gap I can see Tsukushi, a mixed breed. He looks so innocent and cute sleeping there with his paw sticking out! He's so cute, I could just eat him up!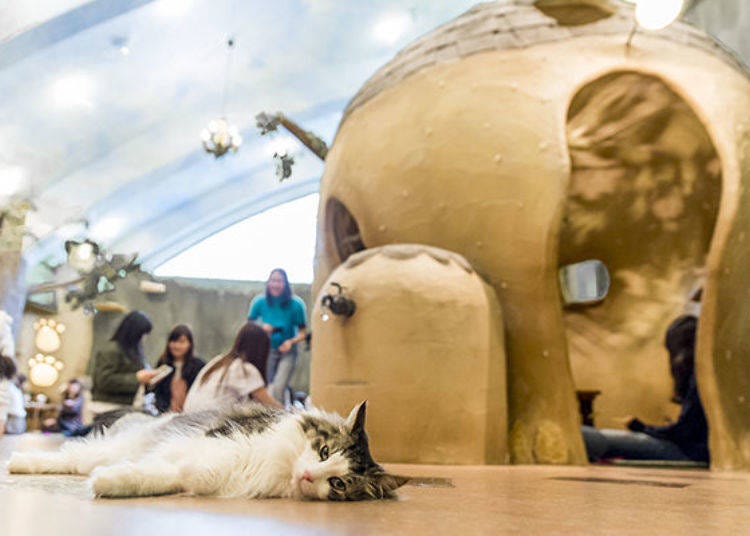 This is Figaro, a Norwegian Jean Forest cat, just relaxing calmly without a trace of wild instinct. What cute, sparkling eyes!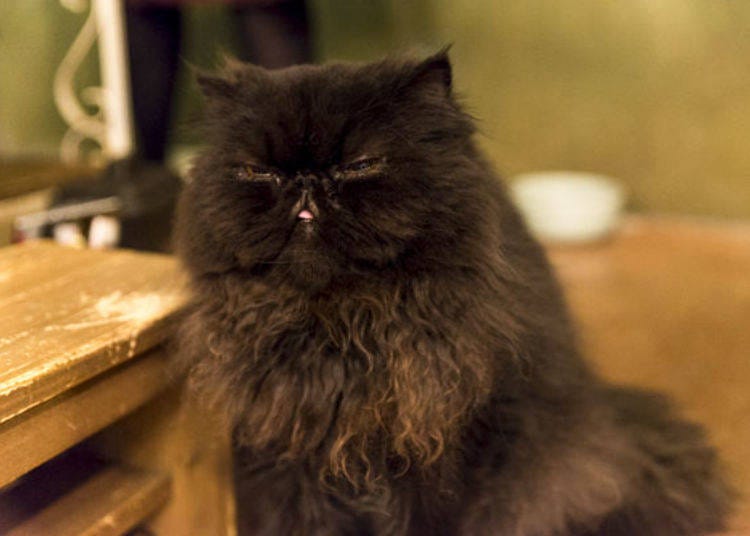 This is Shimeji, an exotic long hair with a soft black coat of fur. Shimeji's little face is so covered with hair his eyes are practically lost in there!

In case you noticed, I always kept my camera right by my side as to not miss a single cute moment with one of the cats. If you were to check my phone, you would surely see nothing but cat photos! I am sure that if I look back on these from a later date, I can relive all the fun and happy memories I made playing with the cats at Temari no Ouchi and be happy again!
Addicted to Cats! I Want to Come Back to Cat Cafe Temari no Ouchi!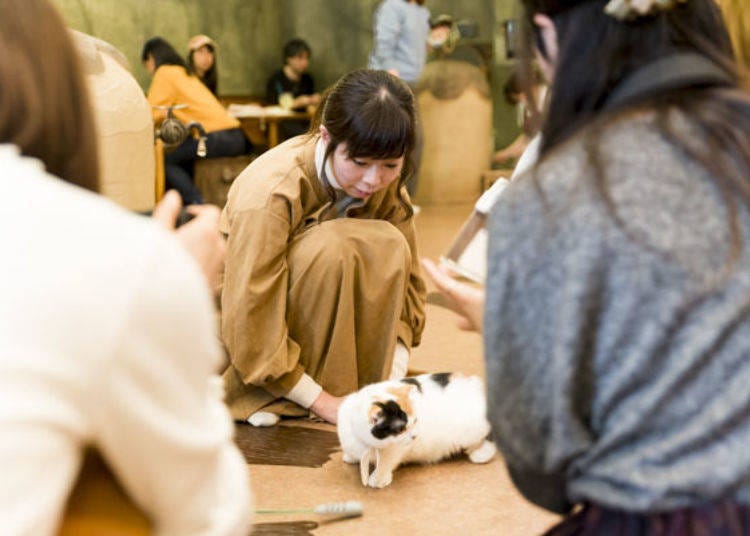 I originally planned to stay at Temari no Ouchi for just about an hour but before I realized it, a full two hours had passed! This was the day I realized I would probably become a frequent visitor to this place. And after seeing all of the amazing cats I introduced here, I am sure I cannot be the only one who would want to come back and play with all of them again.

Incidentally, it seems that the best time to enjoy this place leisurely would be any time other than 1:00 p.m. to 4:00 p.m. However you can expect a crowd during a birthday event. It is best to check the website and plan in advance before your visit.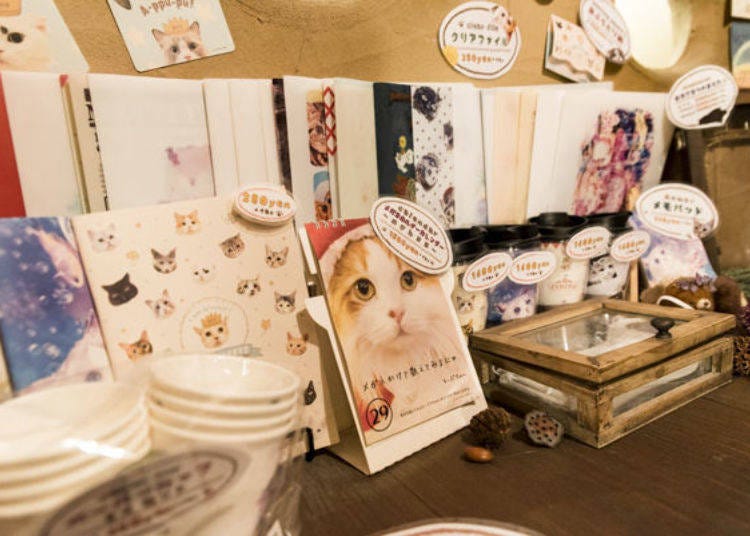 Also, you can purchase original goods from their Tottoko Circus brand at reception, all modeled after the cats of Temari no Ouchi. I wish I could buy them all!

If you would like to enjoy a delicious meal from a real cafe menu while relaxing in the company of adorable cats, then Cat Cafe Temari no Ouchi is the place to go! Please come visit and have fun playing with all the kitties!
Cat Cafe てまりのおうち

Address

Musashino-shi, Kichijōji Honchō, 2 Chome-13-14, Tokyo 180-0004

Phone Number

0422-23-5503

Hours: 10:00 a.m. - 9:00 p.m.
Closed: Open daily
Admission: Weekdays \1200, Weekends & Holidays \1600, After 7:00 p.m. \700
*Tax not included
*The information presented here is at the time the article was written and may not guarantee accuracy at any other time. Please contact directly for the latest updates and information. Unauthorized use and reprinting of all images and text in this article are strictly prohibited.
*This information is from the time of this article's publication.
*Prices and options mentioned are subject to change.
*Unless stated otherwise, all prices include tax.