Tokyo's Ikebukuro area has become very popular among tourists in recent years for budget accommodations near a major transport hub. This has resulted in plenty of shops popping up around its vicinity, from general stores to electronics outlets. And with so many people passing through station gates every day, this popular visitor's destination is naturally well-stocked with all kinds of of eating establishments as well.

We'll be taking a closer look at kushiage (deep-fried meat or vegetables on skewers) in this article - specifically, the kushiage buffet chain by the name of Kushiya Monogatari. Known for giving customers the freedom to arrange a rich variety of ingredients into the kushiage meal of their dreams, the shop holds great appeal for adventurous visitors who are always on the lookout to try something that's completely out of the ordinary.
All-you-can-eat kushiage with all the ingredients you can imagine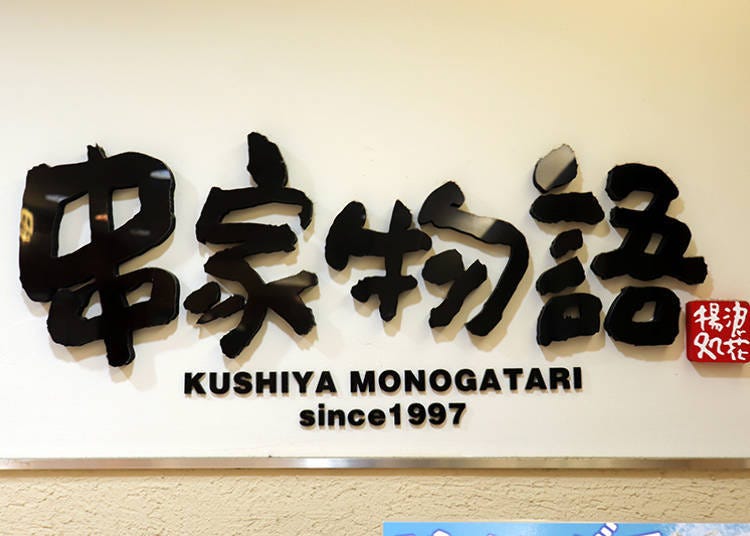 Kushiya Monogatari is, in fact, a kushiage buffet chain store with 12 shops in Tokyo alone and a few other shops in major towns of Japan. Its Ikebukuro store is located on the seventh floor of LABI1 Building, a mere 1-minute walk from Ikebukuro Station.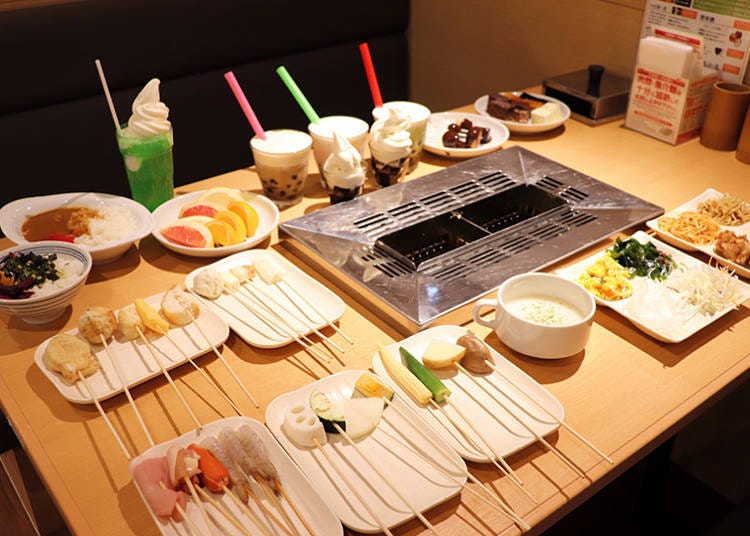 The shop works on a system where customers choose their favorite ingredients from a list and prepare it themselves just the way they like it. From kushiage to salad, side dishes, cakes, fruits, tea rice, and curry, everything on the menu that's part of the all-you-can-eat buffet is yours for the enjoying!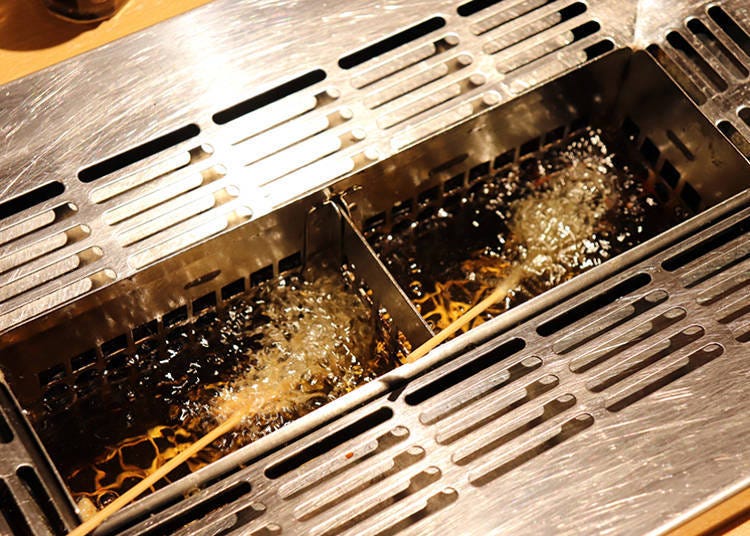 There's a fryer on each table, which you can dip ingredients into for that delicious deep-fry treatment.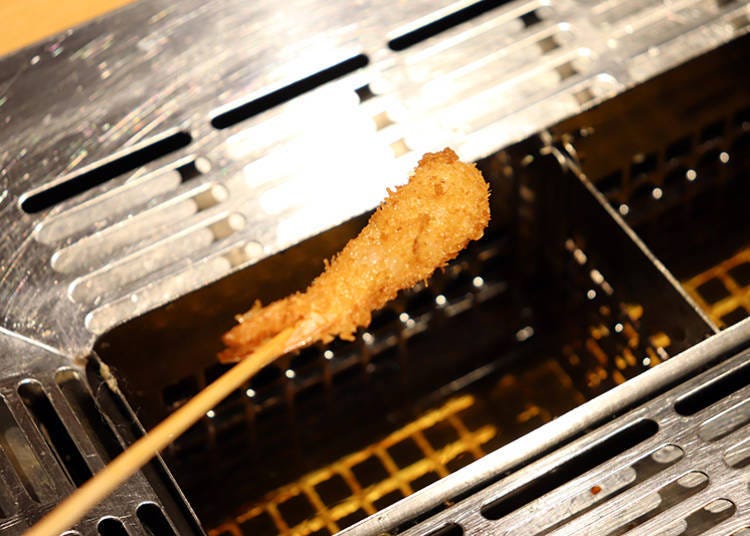 Kushiage is quite simple to make: Slather your chosen ingredients - shrimps, meat products, or even fresh vegetables! - with breading, then deep-fry them in the fryer! The crunchy and juicy shrimps are particularly popular among customers of the store, or so we're told. The shop also offers plenty of other items on their menu besides kushiage. This includes delicious dessert like chocolate fountain and self-service soft serve ice-cream.
When you first get to your seat, you'll be served two bowls of bread crumbs. One is Kushiya Monogatari's original dough blend made from select materials, and the other is a type of breading that doesn't absorb too much oil during the frying process.

Cover your raw ingredients with bread crumbs from one of these bowls before dipping them into the fryer to enjoy your first stick of kushiage quickly and easily. If you're starting to run out of either breading, just head over to the designated spot where pots of both bread crumbs have been placed and replenish them at will!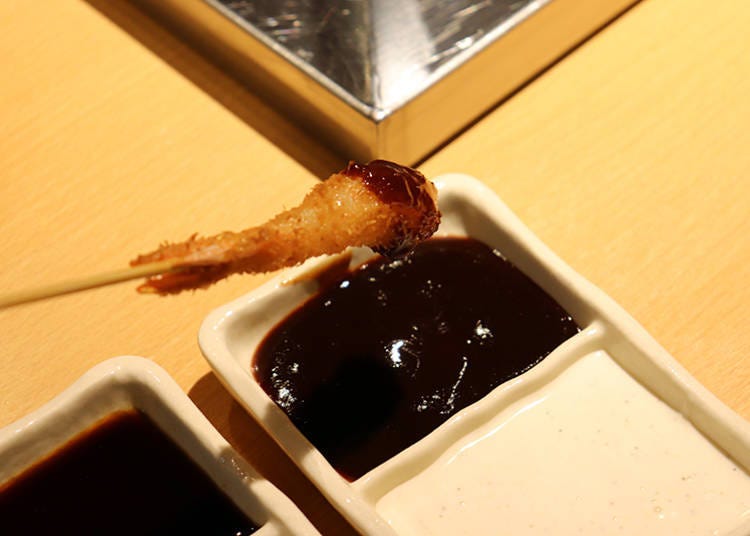 For dipping sauces, you'll be spoilt for choice as well. Choose from sweet sauce, spicy sauce, ponzu (citrus) sauce, plum sauce, grated radish, cheese sauce, seasonal sauce, and awayuki (lightly-colored strawberry) sauce.

Since you're here because you're being adventurous, though, why not try dipping your fried food into tartar sauce or maple syrup as well? Different kinds of salt are also available if that's what you're feeling like on the day of your visit. There's no lack of flavors for you to try here, that's for sure!
From the mainstream to the novel, a mouth-watering lineup of kushiage ingredients awaits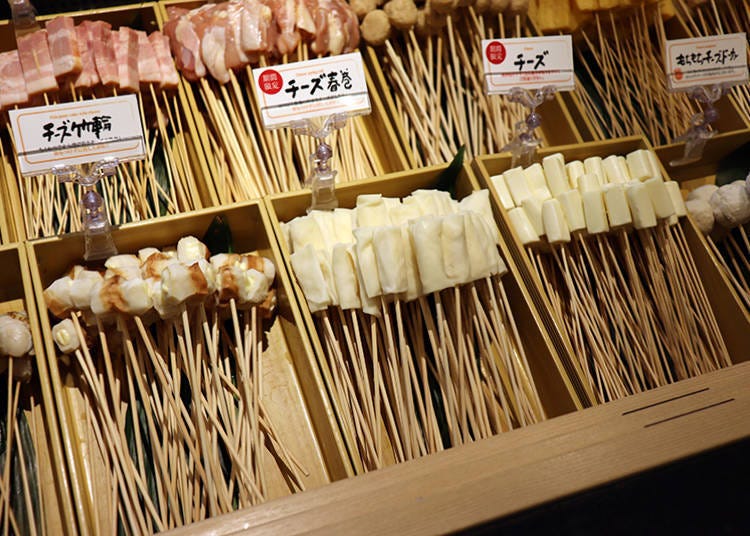 The incredibly generous variety of ingredients provided is one of the main draws of Kushiya Monogatari. You'll always find the food counter stocked with dozens of skewers of fresh meat, fish, vegetables, and unconventional food. If your goal is to try out everything the shop has to offer, then you may have to plan to visit on a very empty stomach!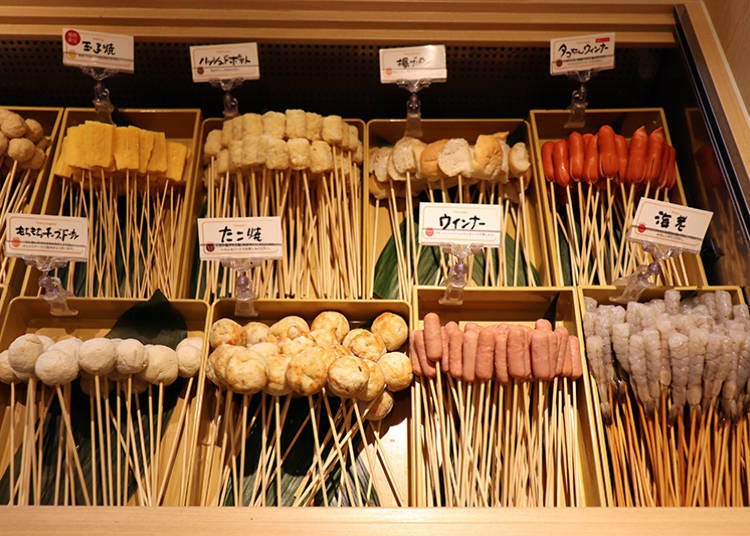 Are you worried about making lackluster food despite the great ingredients because you've never deep-fried your own food before? Fret not! Table tents with helpful information about how to estimate the time to fry your food to perfection can be found on every table, and staff will be on hand to explain tips on how to make the best kushiage as well!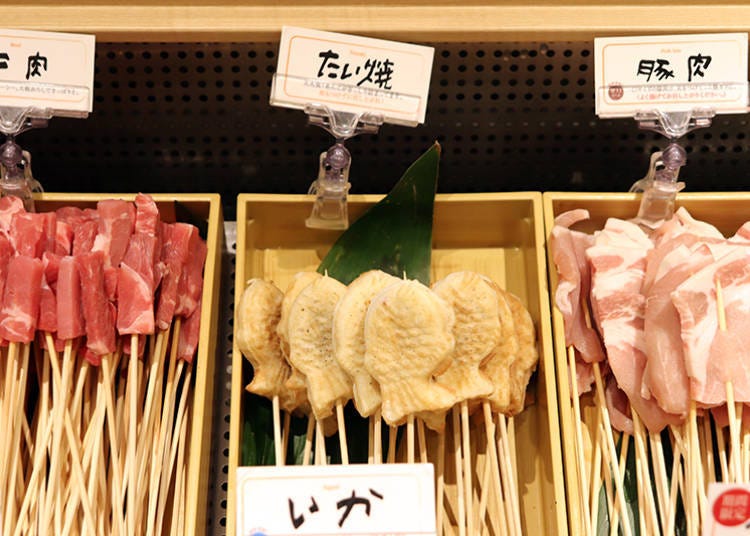 Everyone loves a plump and juicy deep-fried shrimp or meat skewer, but since we're on the subject of being adventurous, we highly recommend you trying out the more unconventional ingredients Kushiya Monogatari has to offer, such as taiyaki (fish-shaped red bean pastry) and takoyaki (octopus ball)! This is another draw of the shop - being able to enjoy deep-frying food that you'll never see in other stores of the same kind!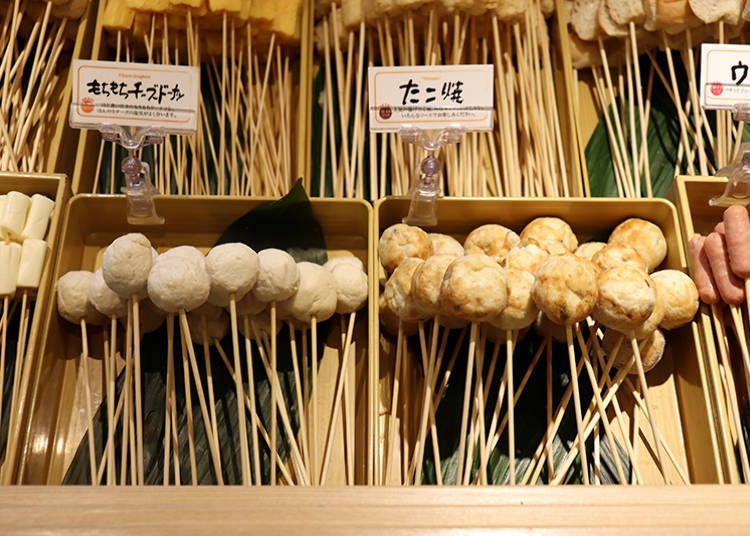 Speaking of unconventional food, give the "Mochi Mochi Donut" skewer a go as well. You don't even have to put any breading on it - just dip it directly into the fryer and wait for the surface to turn light brown. Once the donut seems to be falling off from the stick, it's time to bring it up and enjoy the fruit of your labor.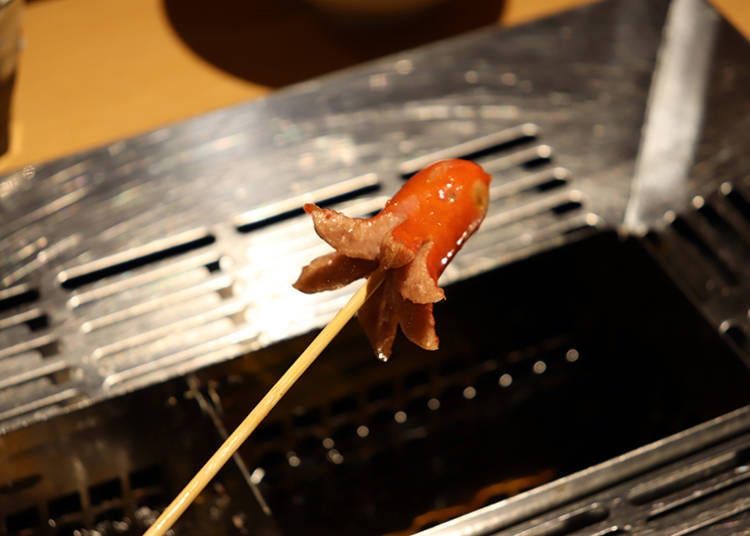 As you explore the ingredients on the counters, there's something else to take note of: Only put ingredients marked for kushiage use into the fryer!

Cakes and such available for use with the chocolate fountain are also displayed buffet-style, but because they've not been prepared for kushiage (and yes, this includes the marshmallows too!), trying to dip them into the fryer will cause the oil to spoil, which will prevent you from enjoying your kushiage to the full.

As long as you practice good kushiage etiquette by using only kushiage ingredients for the fryer, however, you'll be perfectly fine!
Non-kushiage buffet food to make your meal more fulfilling!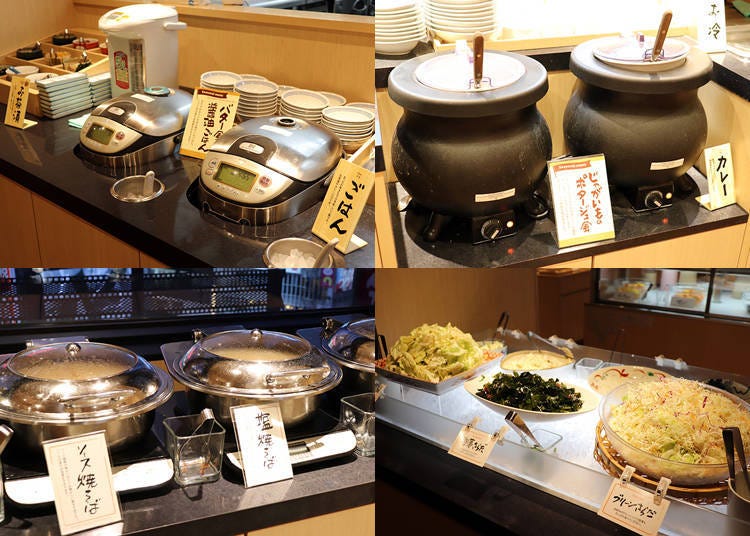 Kushiage isn't the only thing attracting throngs of hungry souls to Kushiya Monogatari. When you step into the shop, you can't help but notice their rice, curries, yakisoba (fried noodles), pasta, salad, and dessert offerings as well.

Everything is displayed buffet-style and included in the all-you-can-eat package, so go ahead and create your own food dream team by mixing and matching your favorite items together!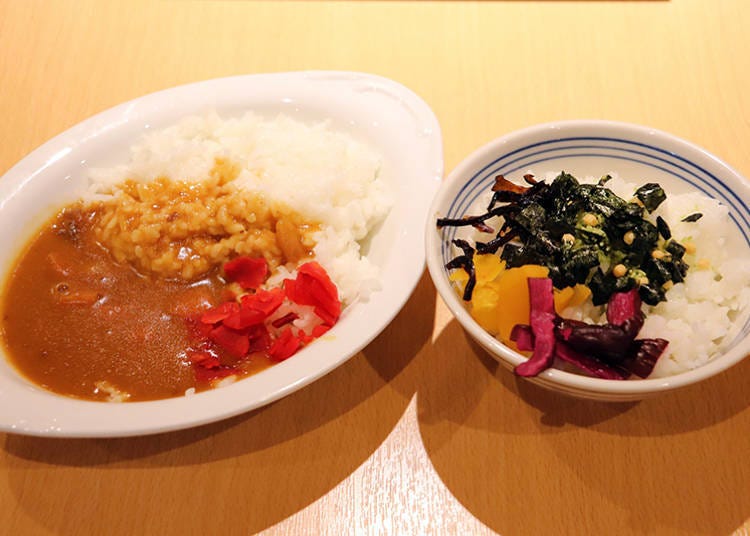 For example, put a scoop of rice and curry together to get the all-time favorite curry rice dish. Now, add some plain kushiage vegetables without any breading, like okra, eggplant, lotus, or anything else as garnishing to complete your own summer vegetables curry rice meal set.

Also, since kushiage is regularly eaten together with ochazuke (tea on rice), the shop also offers ochazuke kits, which we recommend eating as the finishing dish to complete your meal and add an exquisitely exotic flair to it.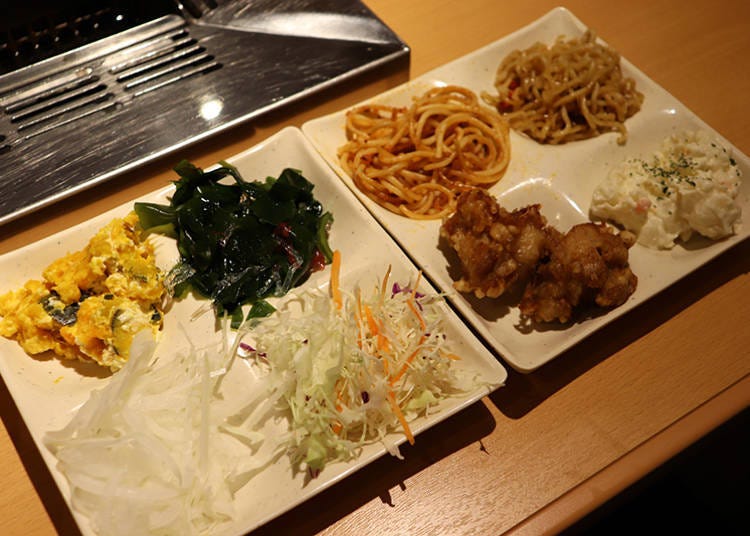 Some of you may be worried that just eating kushiage alone will fill your stomach up quickly. As long as you pace yourself and inject some vegetables, salad, yakisoba, and pasta in between kushiage rounds, you may be surprised to learn just how much your stomach is able to take after all!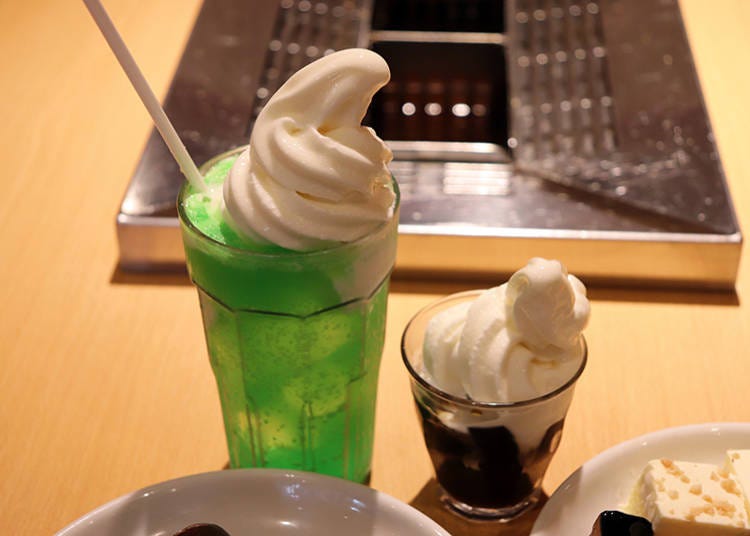 The variety of after-meal dessert options here is amazing as well. Mix up a drink, a light snack, and soft-serve ice-cream to get your own ice-cream soda or coffee jelly parfait.
The latest craze of the year, bubble tea drinks, is also available in the restaurant, and you can choose between milk tea, matcha milk, or strawberry milk flavors. Due to its explosive popularity, the shop has included this on their list of must-try items, and any adventurous food enthusiast would be remiss to ignore this recommendation!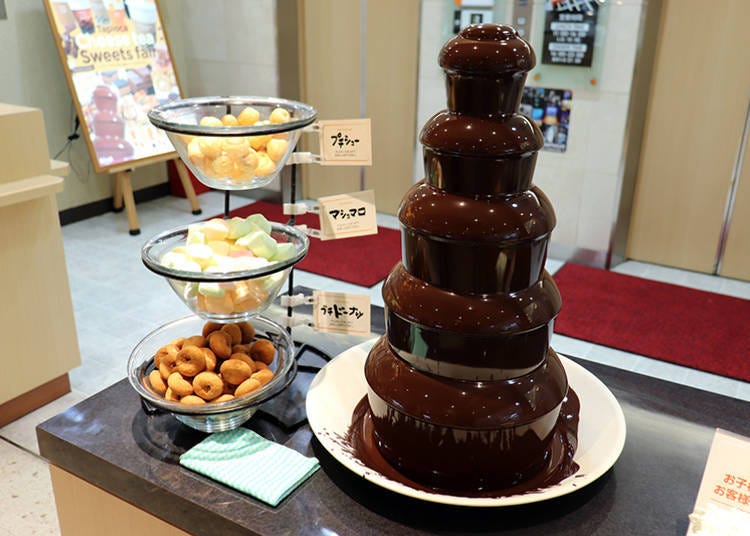 Among women and children, however, the chocolate fountain remains most popular, because scooping up the cascading flow of thick and creamy chocolate syrup using sweet snacks like marshmallows and donuts is not just a recipe for great-tasting food - it's really fun as well!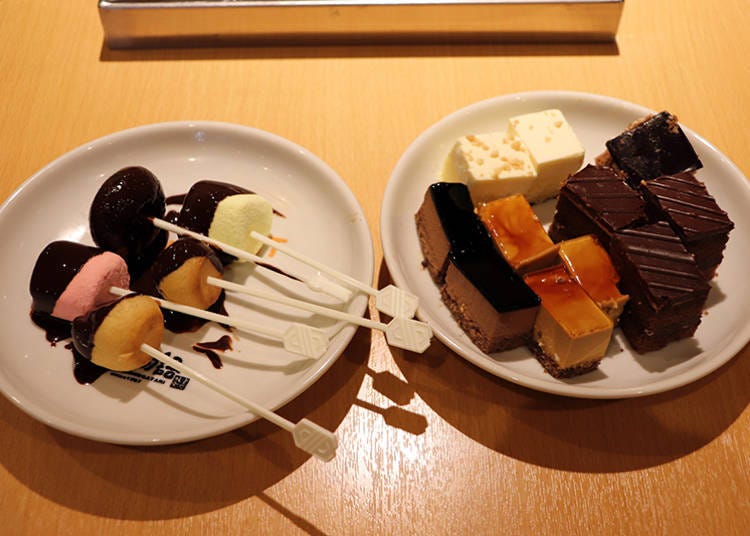 For something more standard, check out their regular cakes and dessert selection, all cut down to convenient bite-sizes. The variety here is nothing to be sniffed at, too.

With such a wide range of kushiage, regular food, and dessert available, your imagination is now the only thing stopping you from creating the best course meal that's personally tailored for your own tastes.

Kushiya Monogatari isn't just here to offer you sustenance - it adds the element of fun into your food with the huge selection of ingredients, and by allowing you to deep-fry your favorites just the way you like them. Where else can you entertain your senses and satisfy your stomach at the same time?

The restaurant charges 1,500 yen (tax excluded) per person for a 90-minute lunch on weekdays, and 1,700 yen (tax excluded) per person for a 70-minute lunch on weekends. This price gets you the all-you-can-eat course where everything except juices and alcohol drinks is available for your choosing.

If you're planning to go outside of lunch time, the price for a 90-minute meal session is 2,500 yen (tax excluded) per person on weekdays and 2,600 (tax excluded) per person on weekends. This price is also for the all-you-can-eat course.

When you drop by Ikebukuro for your next adventure, journey down to Kushiya Monogatari for a good meal of unlimited kushiage and see what sort of exciting food menu you can come up with!

Written by Naho Jishikyu. English translation by: Huimin Pan
KUSHIYA MONOGATARI LABI1 IKEBUKURO

串家物語 LABI1池袋店

Address

LABI1 Ikebukuro Bldg. 7F, 1-5-7 Higashi Ikebukuro, Toshima-ku, Tokyo-to

Nearest Station

1 minute walk from Ikebukuro Station East Exit


Phone Number

03-5953-2460

Hours: 11:00 a.m. – 11:00 p.m.
Closed: Depends on building
*Wifi and foreigners' guide and menu are available
*This information is from the time of this article's publication.
*Prices and options mentioned are subject to change.
*Unless stated otherwise, all prices include tax.