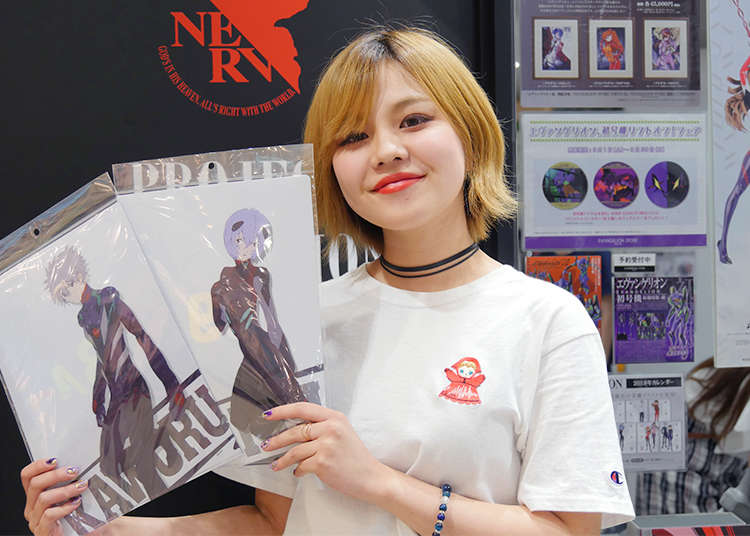 EVANGELION is one of those shows that every anime fan has come in contact with, no matter where you're from. Indeed, the show has been a huge success ever since its first release in 1995, followed by the Rebuild movies of which the final one EVANGELION 3.0+1.0 has just gotten a much-awaited release date of 2020. However, you won't have to wait to get your dose of EVANGELION – come with us to Tokyo's own EVANGELION store for exclusive merchandise of the iconic anime!

The EVANGELION STORE TOKYO-01 in Ikebukuro's P'PARCO department store caters to every kind of fan. Whether you're looking for figurines to decorate your desk, want to show off your love for EVANGELION with a subtle keychain, or want to go full NERV and represent the enigmatic organization wherever you go, you won't leave empty-handed. It's not your average anime shop for sure, and it is easy to get lost in the rich variety of Eva-themed goodies on display. We talked to the staff for their recommendation of 10 particularly awesome items ranging from playful to stylish and from subtle to flashy!
1) EVANGELION T-Shirts: the Classic Choice for Every Fan!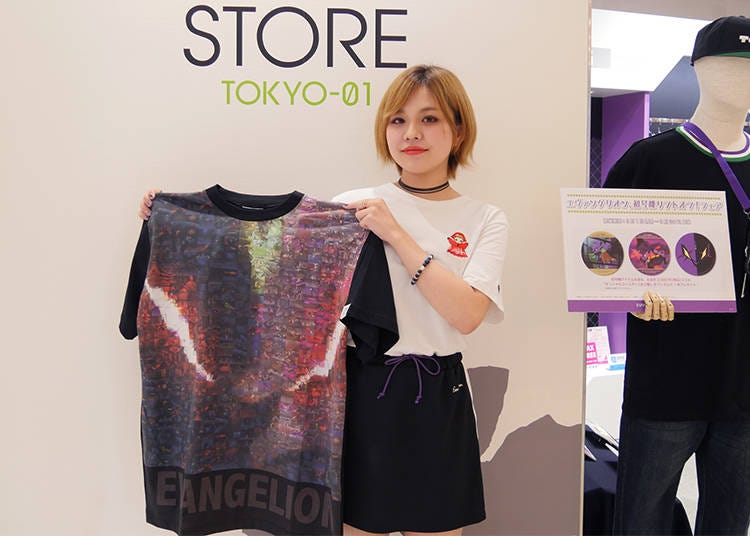 EVA BG-005 T-Shirt (one size), 5,800 yen + tax
A cool t-shirt is the go-to choice for pretty much every fan to show their love for a show or band. While plenty of people will think of classic character illustrations when it comes to anime shirts, the EVANGELION Store takes it to another level with their own original brand called EVA BG. It focuses on the backgrounds of the animation and just like these backgrounds are an integral part of an anime and its story, the EVA BG brand creates many stylish designs that act as "backgrounds" for our own daily lives.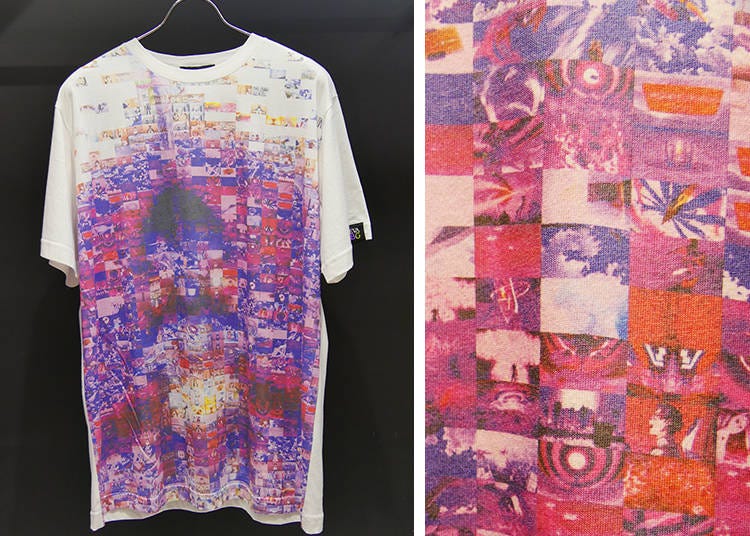 EVA BG-004 T-shirt (one size), 5,800 yen + tax
Colorful and eye-catching, the shirts shown above combine numerous individual shots from the rebuild movies into a close-up of EVA-01 about to berserk (or already in the midst of it, ready to rip that Angel apart). The attention to detail is breathtaking; every single image is iconic and recognizable. From afar, EVA-01 glares menacingly at the onlooker but is actually composed of hundreds of scenes, ranging from quiet, emotional moments to action-packed shots that have you on the edge of your seat. There hardly is a better homage to the fabric of EVANGELION than this.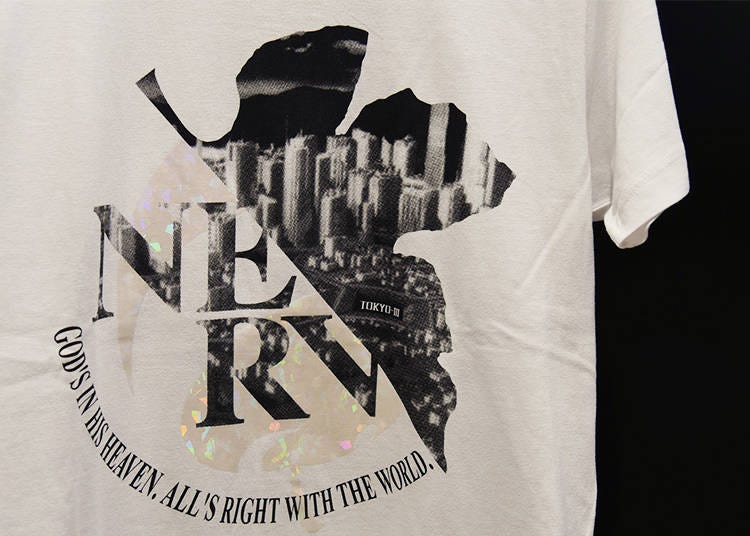 EVA BG-000 "BACKRGOUND" T-shirt (M, L), 4,500 yen + tax
For fans of less colorful designs, we highly recommend the NERV logo shirt that subtly features the cityscape of Tokyo-III. Everything's right with the world indeed.
2) Character Goods: Pick Your Favorite(s) with Clear Folders and Keychains!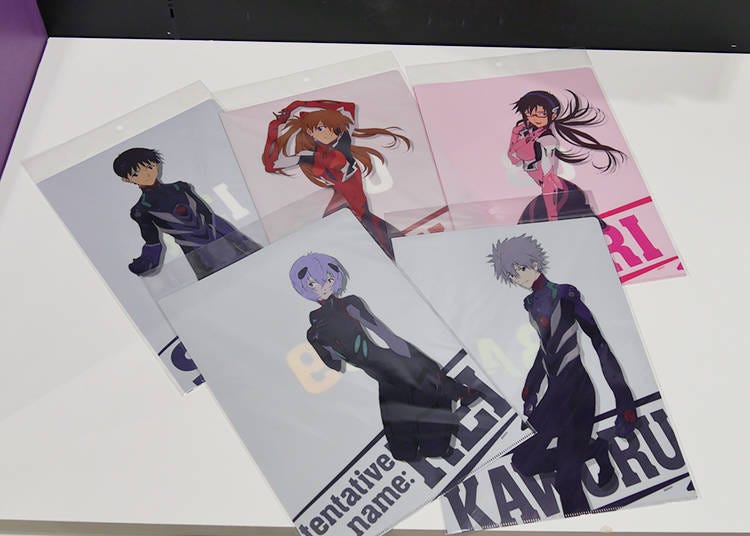 Clear folders (five different versions), 350 yen + tax each
We all have our favorite characters in the show. Of course, the five pilots take the main stage in that regard and the EVANGELION STORE TOKYO-01 is in no short supply of cool goods that will let you show off your personal favorite! Particularly popular are the clear folders, a staple of anime merch. These ones show the pilots in characteristic poses, wearing the Rebuild plugsuits: confident Asuka, playful Mari, shy Rei, mysterious Kaworu, and Shinji just being Shinji. The number of each pilot's Unit is also printed on the back and a nice detail is that Rei's folder indicates "tentative name." Have your favorite pilot protect your precious documents!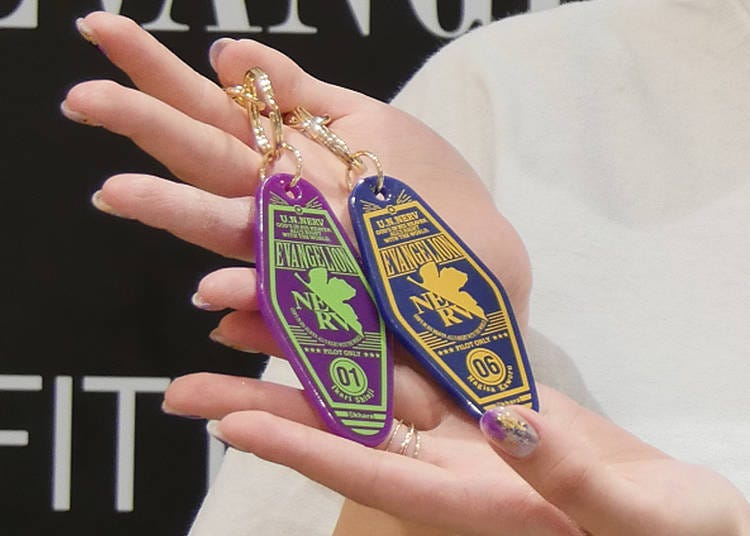 Plate keychains (five different versions), 1,200 yen + tax each
For an even more in-universe character goodie, check out these brand-new keychains. They're tags featuring the pilots' names, EVANGELION numbers and color scheme, and the NERV logo, of course. They're about as large as the size of your palm and wonderfully sturdy, making them perfect to adorn backpacks, wallets, and so on to give your everyday life a subtle yet unmistakable EVANGELION touch.
3) EVANGELION Illustrations 2007 – 2017: The Must-Have, Brand-New Artbook!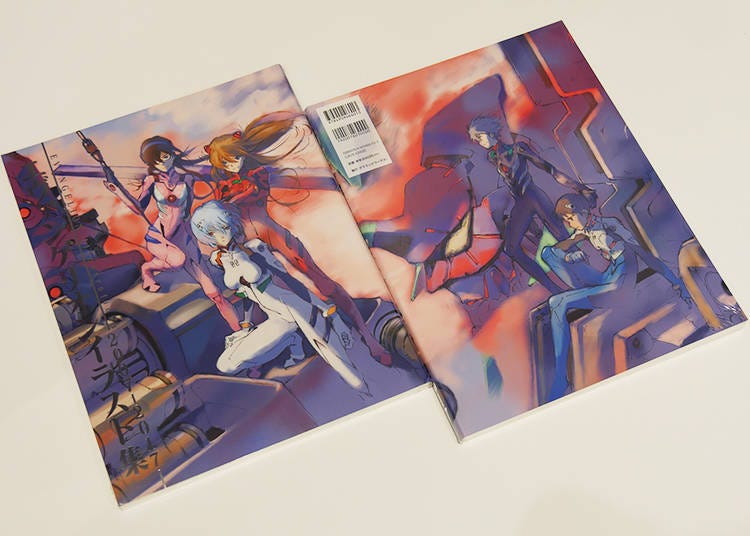 EVANGELION Illustrations 2007 – 2017, 3,000 yen + tax
EVANGELION is known for its art, both breathtaking and iconic. The TV series laid the foundation for a creative universe that is as fascinating as it is enigmatic, and the Rebuild movies took it to yet another level. This brand-new artbook is the latest on the market, focusing on the art, designs, and illustrations of said Rebuild movies. Needless to say, this is an absolute must-have not only for die-hard fans but everyone who keeps being fascinated by the EVANGELION, NERV, and the ANGEL. Turn page by page and get lost in EVANGELION's vast universe all over again.
4) EVANGELION Umbrella: Your Own A.T. Field Against the Rain!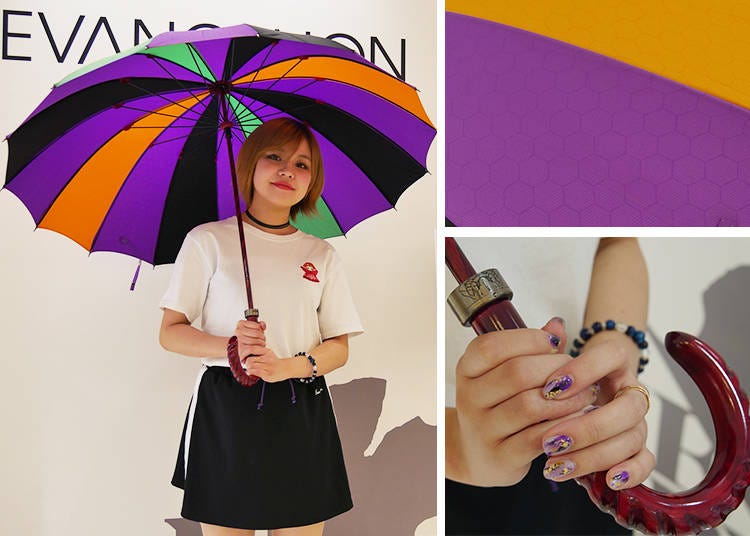 EVANGELION x Maehara Kouei Shouten (six different versions); Third Impact version for 70,000 yen + tax; Unit-00, Unit-01, Unit-02 versions for 40,000 yen + tax ; Ayanami Rei, Shikinami Asuka Langley versions for 35,000 yen + tax
Ever wish you had your own EVANGELION unit? Of course you did. While we cannot provide you with that just yet, this colorful umbrella can at least shield you from the elements! You'll immediately notice that the color scheme is the same as the units', and while we're showing you the Third Impact umbrella, rest assured that every EVANGELION got their own version.
5) NERV Magazine Notebook: EVANGELION Up Your Work & School Life!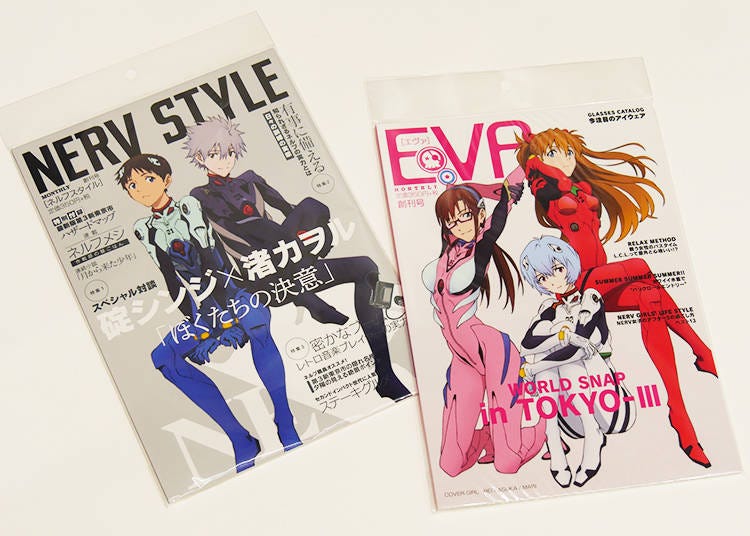 Magazine-style notebooks (B5, two different versions), 350 yen + tax each
While you might shy away from this goodie at first, thinking it is an actual magazine in Japanese, it's actually a fun and quirky notebook! The cover creates the illusion of NERV having started their own fashion magazines for male and female fans, writing about pilot lifestyle and EVANGELION couture. A fun detail: the NERV STYLE version features Shinji's Walkman on the bottom left, next to an article title talking about the awesomeness of retro music players.

Even if you can't read Japanese, these two notebooks are a quirky way to spice up your work and school life with some EVANGELION! Of course, the pages inside are all yours to write on.
6) EVA-01 Backpacks: Take Your Favorite Show Wherever You Go!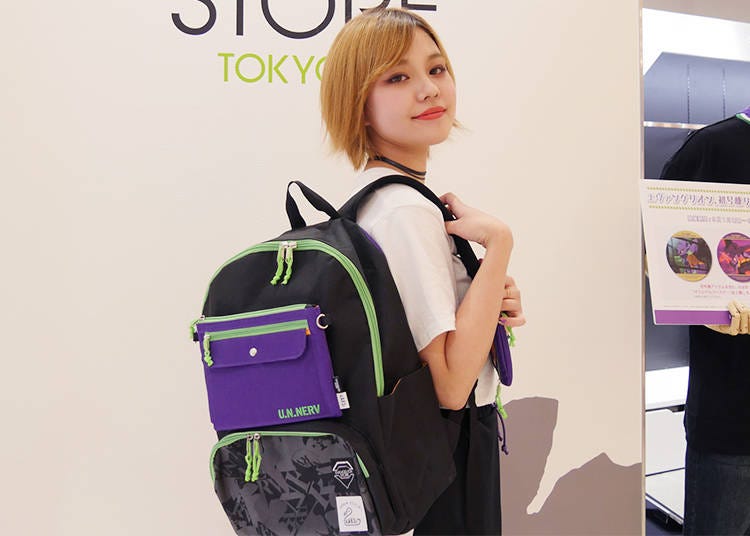 Backpack, 6,400 yen + tax
By now, we already established that the EVANGELION STORE TOKYO-01 does anime merch in an incredibly stylish and tasteful way, and this EVA-01 backpack is yet another proof of that. The color scheme is the biggest nod to the anime, and various little details such as the NERV logo are subtly integrated into the design as well. Several pockets, big and small, make sure that all your belongings can be stored and neatly organized. A little pouch on the shoulder strap even offers room for a Walkman.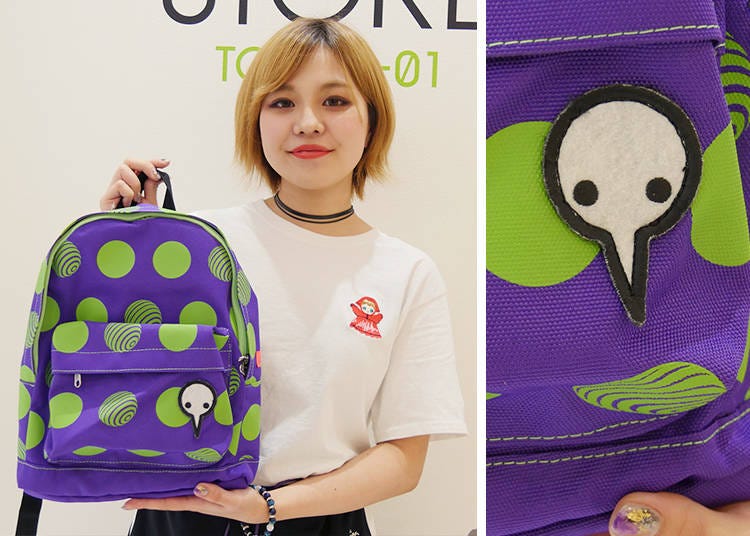 EVANGELION x Geewhiz Angel Polka Dot Backpack; S size for 5,700 yen + tax, M size for 6,300 yen + tax, L size for 6,900 yen + tax
Here's another one, featuring ANGEL! This playful backpack comes in three sizes; the one in the picture is the medium size. The Polka dot design cleverly integrates EVANGELION imagery and the special eyecatcher is, of course, the ANGEL's adorable face looking right at you.
7) Shoulder Pylon Pillow: The Cutest and Most Unique Pillow Ever!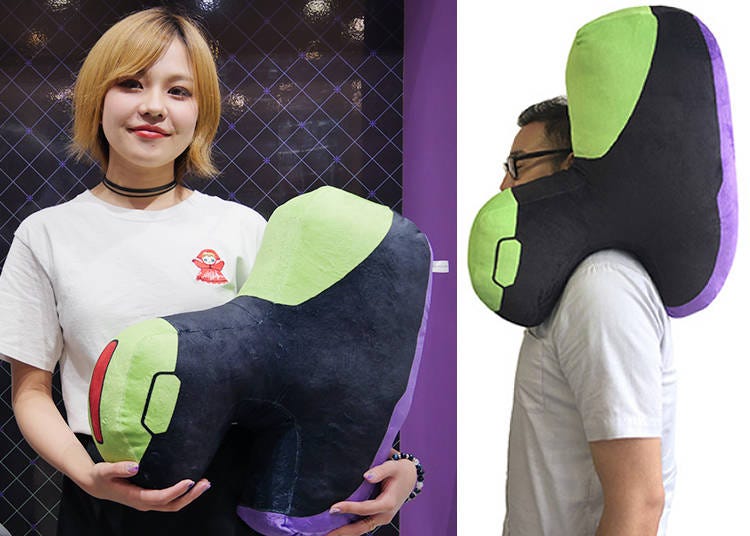 Unit-01 Shoulder Pylon Pillow, 4,800 yen + tax
This is probably the funniest goodie in the entire shop: the EVA-01 Shoulder Pylon pillow! Yes, this iconic piece of EVANGELION equipment has been turned into a comfy, soft cushion. Bonus: you can actually put it on your own shoulder—it's designed to snugly sit right beside your head! The urge to buy two of them and go full-out EVA-01 is hard to withstand...
8) EVANGELION Racing Jacket: Take EVANGELION to the Streets!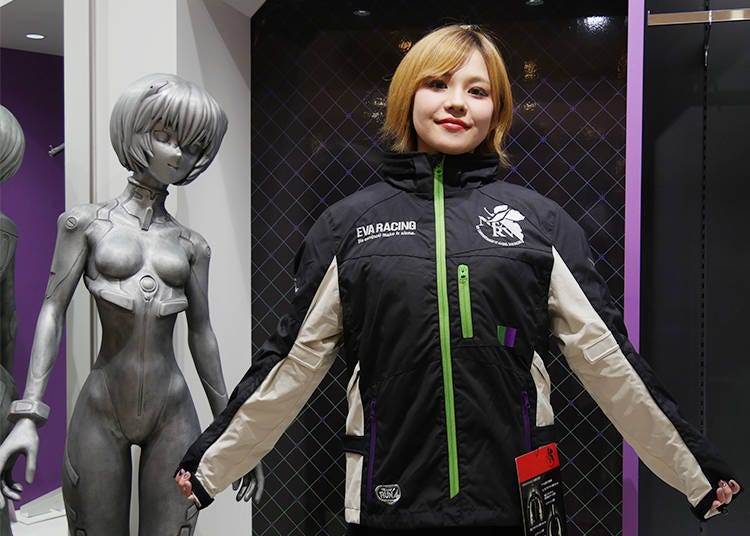 EVANGELION 2018 Racing Rider Jacket, 30,000 yen + tax
A breathtaking highlight of the EVANGELION STORE TOKYO-01 is the EVANGELION Racing Jacket. It is an actual motorcycle jacket that features proper protectors for shoulders, elbows, and your back. They're removable, transforming the jacket into a more casual piece – the chest even has a pocket to keep them safe while not in use. Properly ventilated with mesh material and fasteners, its size can be adjusted to your needs via Velcro on arms, waist, and wrists.
It's not the only sportswear item that the store has, by the way. There's a surprisingly rich lineup of proper apparel and equipment to be found!
9) EVANGELION Figurines and Plamodels: Bring the Struggle to Your Living Room!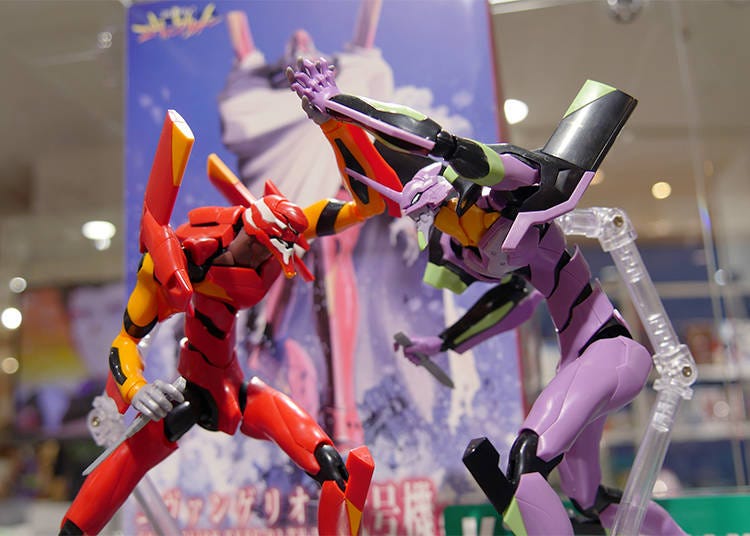 EVA-01 and EVA-02 Plamodel TV Version (Kotobukiya), 5,800 yen + tax
An anime merch list wouldn't be complete without figurines and plamodels ("plastic models," plastic scale model kits). EVANGELION's units are perfect for being turned into miniatures, with their slender stature, iconic color schemes, and various weapons. The EVANGELION STOE TOKYO-01 boasts a large selection of such figurines and plamodels of all sizes and price ranges, with many special editions depicting specific moments from the show and the movies. The majority of figurines can be bent into poses, allowing you to recreate iconic battles in your own living room!
10) Luxury EVANGELION: Jewelry, Phone Cases, and More!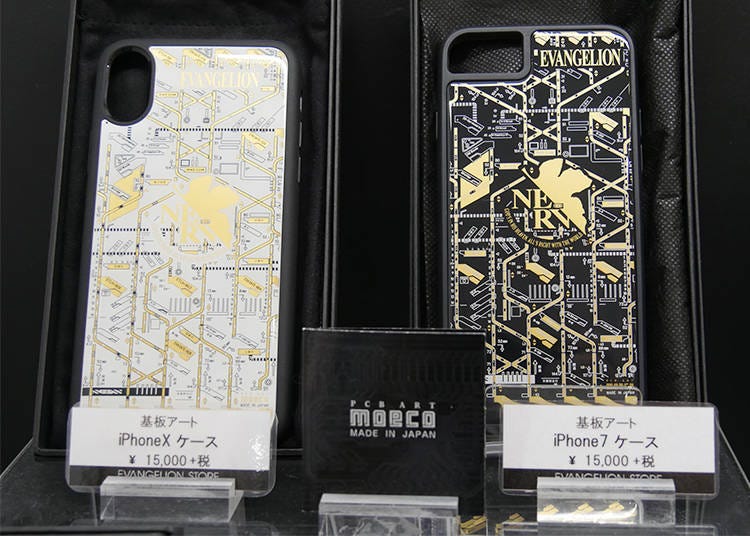 FLASH NERV Circuit Board Art iPhone cases (available in black, white, and green for iPhone 7/8, 7/8 plus, iPhone X), 15,000 yen + tax; iPhone 7plus/8plus for 16,000 yen + tax
Last but not least, the EVANGELION STORE TOKYO-01 also has a corner with exclusive luxury items such as jewelry, Zippos, and phone cases. The FLASH NERV Circuit Board Art iPhone case features LEDs in the center of the NERV logo that up entirely without batteries. The circuit board design of this iPhone case is real, having the LEDs flash via electromagnetic waves. The circuit board is gold-plated. If you're looking something truly special, this is a unique choice that combines design with playfulness.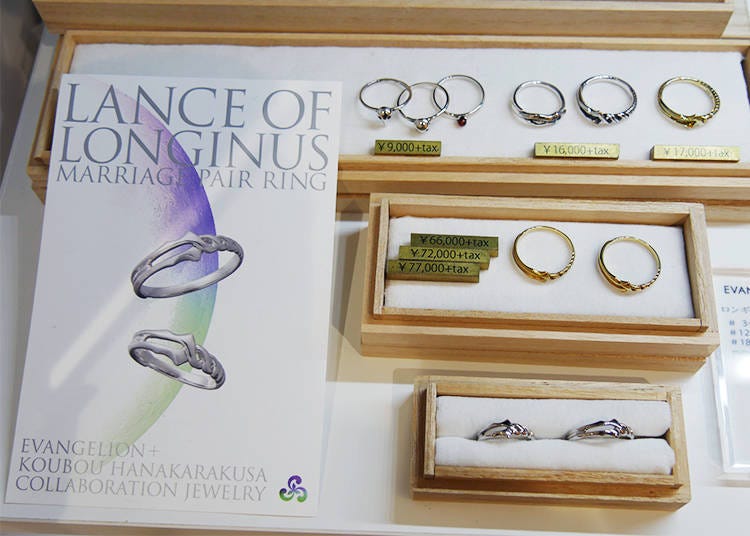 Different rings, including the Lance of Longinus pair rings.
You can even tie the knot in a EVANGELION way with these Spear of Longinus-inspired wedding rings! Probably not the first goodie that comes to mind when thinking anime merch, it shows just how creatively elements from the anime are used to create a broad variety of items! Other than wedding rings, there are all kinds of jewelry available, from character-centered rings and necklaces to pieces referencing ANGEL, EVANGELION, and specific moments from the show.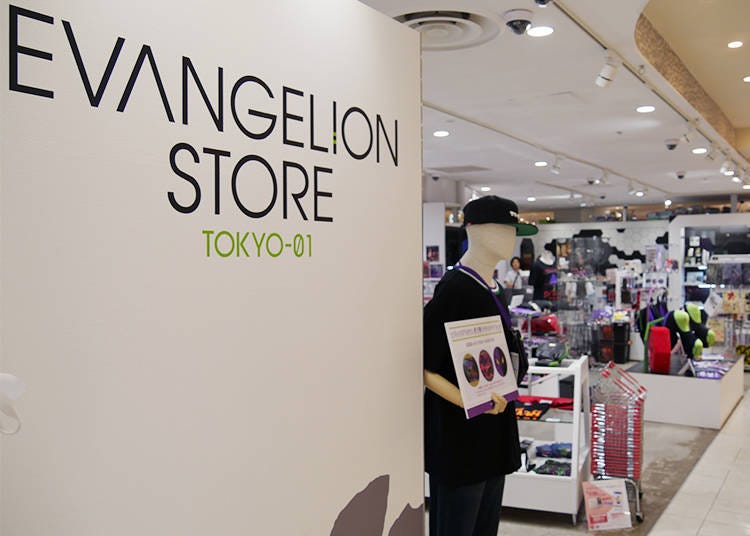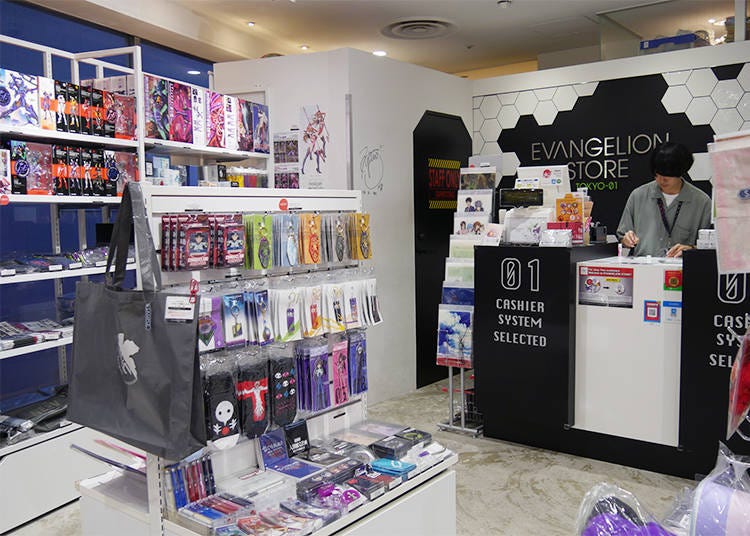 EVANGELION STORE TOKYO-01 is on the second floor of Ikebukuro P'PARCO, right at the escalator.
The shop in Tokyo's Ikebukuro does this much-beloved concept justice by offering a wide variety of goods to express your love for the world-famous anime. Next to the items we showcased today, there's also a giant selection of apparel, stationery, accessories, puzzles, and mugs waiting to be discovered. Put Lilith on your feet or get the authentic Gendo glasses: the possibilities are almost endless, even if you just pop by for a cool sticker that glows in the dark. For larger purchases, make sure to use the tax-free service! In any case, the EVANGELION Store will get you in the mood with its selection, the original soundtrack playing in the background, and the wonderful little references scattered all around the shop. We'll see you at the EVANGELION STORE TOKYO-01!

©khara
EVANGELION STORE TOKYO-01

EVANGELION STORE TOKYO-01

Address

Ikebukuro P'PARCO 2F, 1-50-35 Higashiikebukuro, Toshima-ku, Tokyo, 170-0013


Nearest Station

Ikebukuro Station (JR Shonan Shinjuku Line / JR Yamanote Line / JR Saikyo Line / Tokyo Metro Marunouchi Line / Tokyo Metro Yurakucho Line / Tokyo Metro Fukutoshin Line / Seibu Ikebukuro Line / Tobu Tojo Line)
1 minute on foot


Phone Number

03-5992-3310
Written by: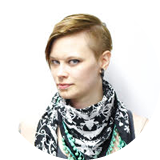 *This information is from the time of this article's publication.
*Prices and options mentioned are subject to change.
*Unless stated otherwise, all prices include tax.