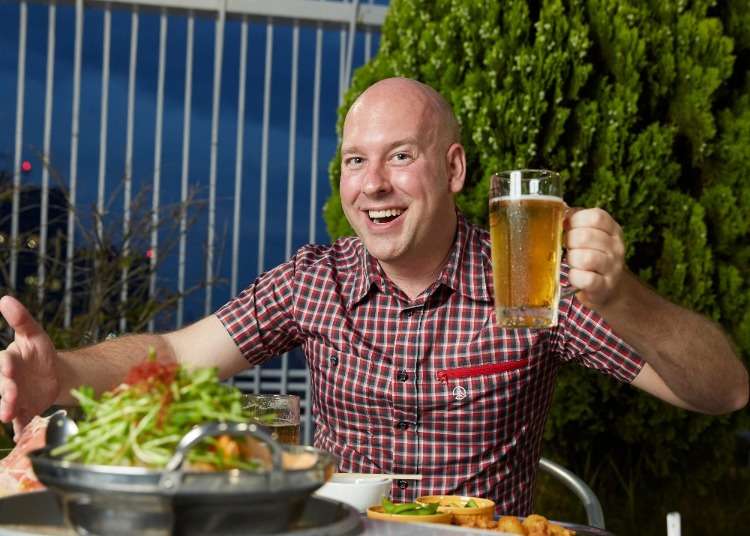 There's pretty much nothing more awesome than a Japanese beer garden during summer for people who enjoy a nice drink. As the temperatures rise, such beer gardens pop up all over Tokyo – a lot of them of rooftops, offering a stunning scenery alongside food and drink.

This time, we sent a beer-loving American to check out what Japanese beer gardens are really all about! Timothy from New York will be your beer garden reporter for the day!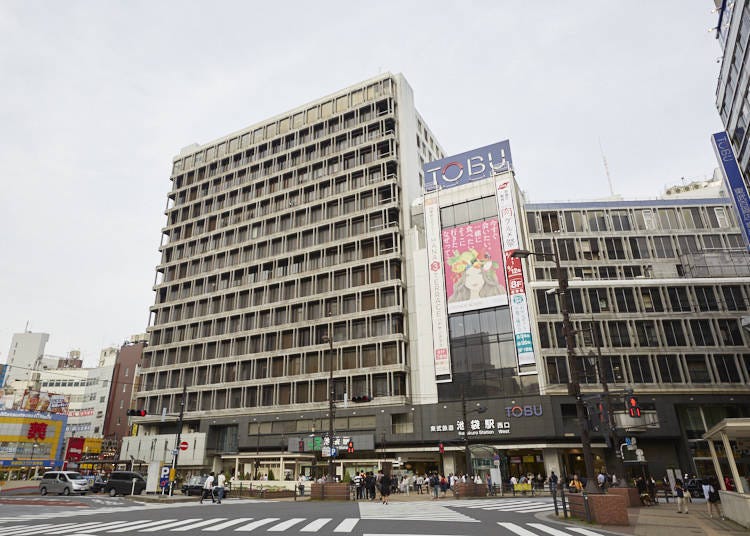 We're taking him to Tobu Department Store's rooftop beer garden in Ikebukuro. Located on the 16th floor, it was visited by about 28,000 people last year and boasts the mysterious concept called "Bulgogi Legend of Fireβ." Bulgogi is a Korean barbecue dish that quite literally translates to "fire meat," so you know Timothy's in for a special treat!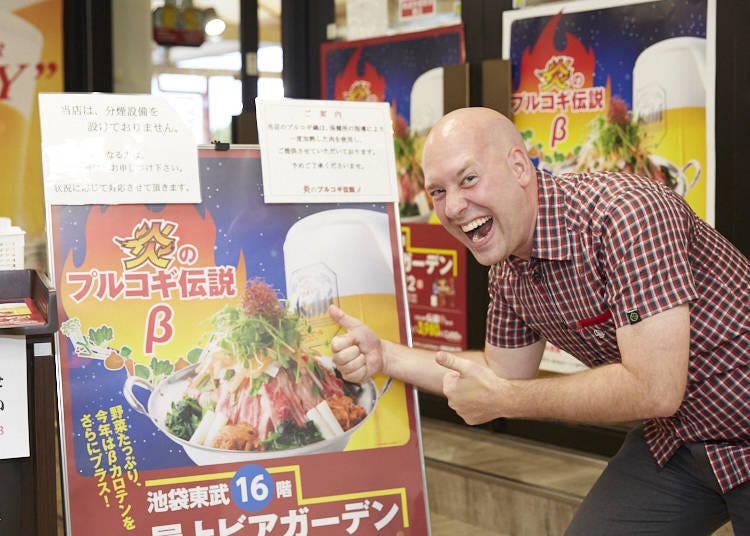 This beer garden is located in the center of Ikebukuro. However, there are not many tall buildings around, so it boasts a great view over the city! It's an especially scenery around 6:00 p.m. when the sky starts to change from dusk to night. With over 500 seats, even larger groups won't have issues to get a reservation.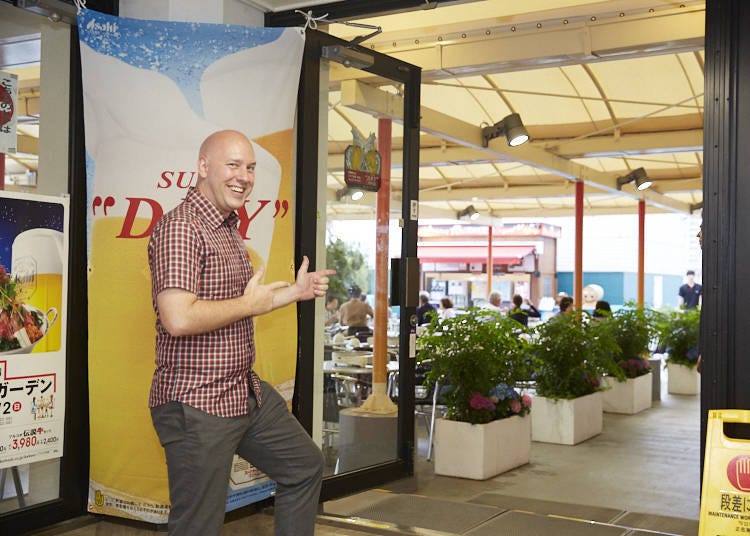 Timothy has been in Japan for 16 years – is it your first time in a Japanese beer garden, Timothy?

"Not at all, actually. I've been to Japanese beer gardens several times. They're peculiar and fun! The US also has beer gardens but usually at places such as next to a brewery and while having a barbecue. In Japan, you get to drink beer on the roof of a building, so there's a sense of openness and the beer keeps flowing! (laughs)"

According to Timothy, beer gardens in the States serve staple dishes such as barbecue, pizza, and fried chicken. Japanese beer gardens tend to have their own concept, so there are a plethora of different styles.
"Well, this is my first beer garden visit this year! What should I eat?"

It's the second year that Tobu Department Store's beer garden serves bulgogi. Additionally, the 2018 theme is "wellness." That means that the bulgogi isn't only piping hot but also healthy, a wonderful meal to accompany beer and other drinks!

The bulgogi features nutritious spinach and bean sprouts alongside other vegetables – 8 different kinds in total. Of course, there's also plenty of meat, harusame (cellophane noodles), kimchi, and tteok-bokki (Korean rice cakes) that make up the savory dish! Although the bulgogi is served mild so that even children can enjoy it safely, you can freely season your bulgogi with tategi, a Korean red pepper condiment. Furthermore, it's up to you whether your bulgogi comes with pork or beef.

Bulgogi Legend Pork Set: 3,580 yen for adults / 2,000 yen for children (tax included)
Bulgogi Legend Beef Set: 3,980 yen for adults / 2,400 yen for children (tax included)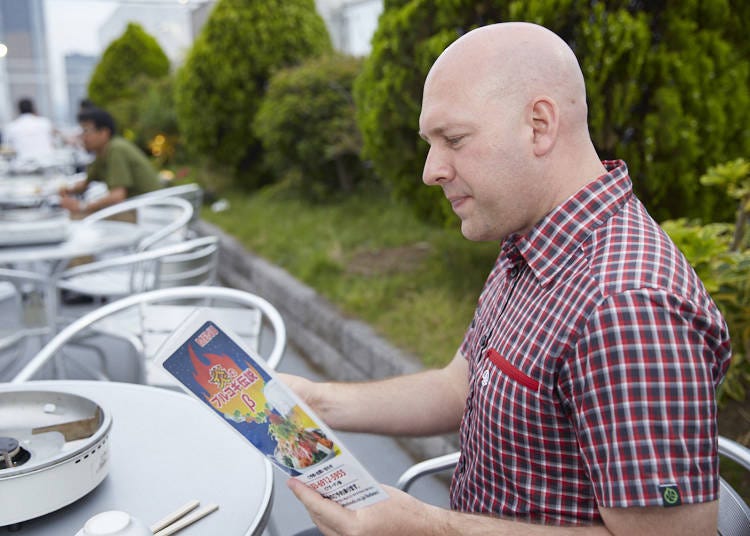 Of course, there's more on the menu than just bulgogi hot pot. "Legendary Salad," chunky cabbage, and chilled tomatoes are examples of the extensive vegetable dish selection, while tonpei yaki (filled omelet), okonomiyaki, and cheese dak-galbi (spicy stir-fried chicken) represent the savory choices. Beer's best friends such as a party set with fried duck and edamame (green soybeans), and fried chicken are also on the menu!
Timothy orders the Bulgogi Legendary Beef Set, the Legendary Salat, okonomiyaki, and the party set.

"If there's a choice between cow and beef, Americans go for beef, obviously. I also love okonomiyaki and fried dishes. And doesn't that Legendary Salad look super delicious with the prosciutto?"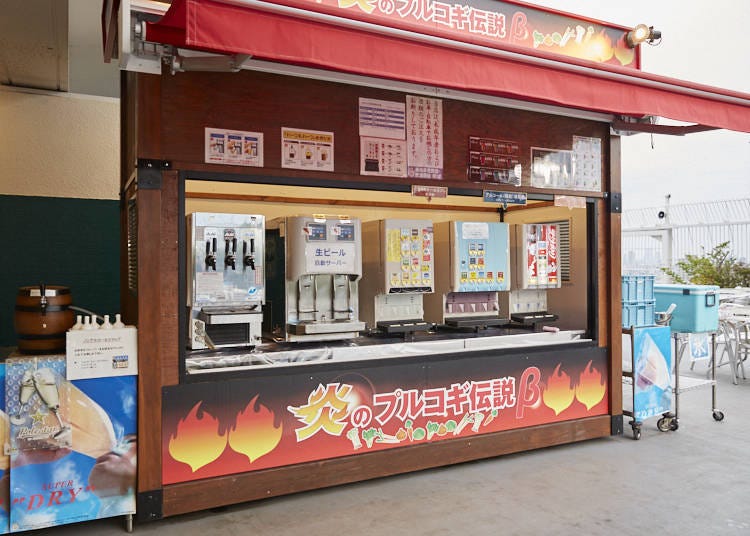 Now, once the food is settled, let's go pour some beer!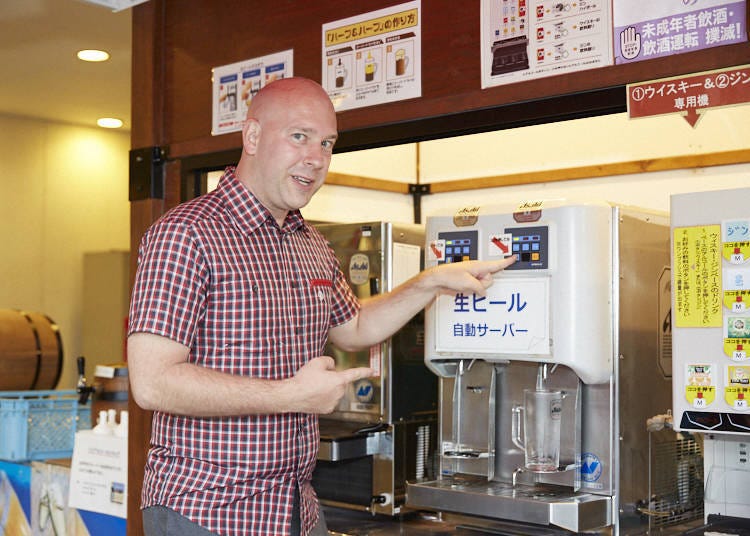 The drink corner at this beer garden features a draft beer server, as well as servers for whiskey and gin. Wine from the barrel and soft drinks are also available.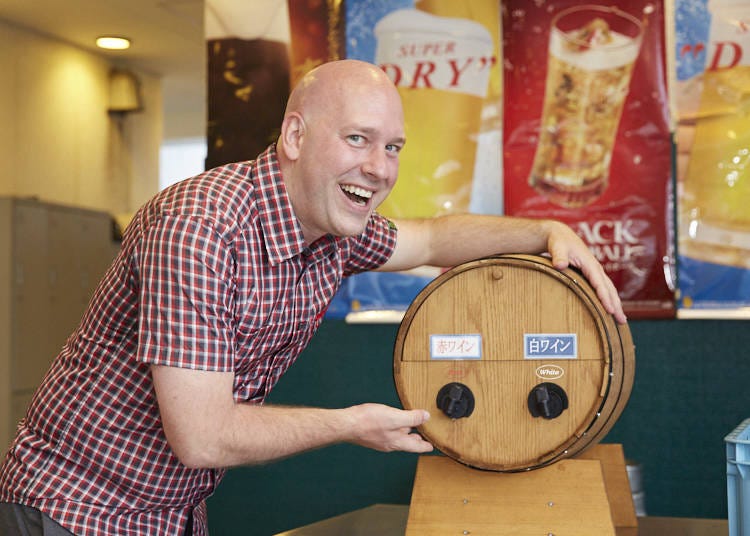 The beer server selection is made up of Asahi Super Dry, Asahi Draft from the barrel, and Asahi Super Dry Black. There's also the option of red or white wine, as well as sparkling wine.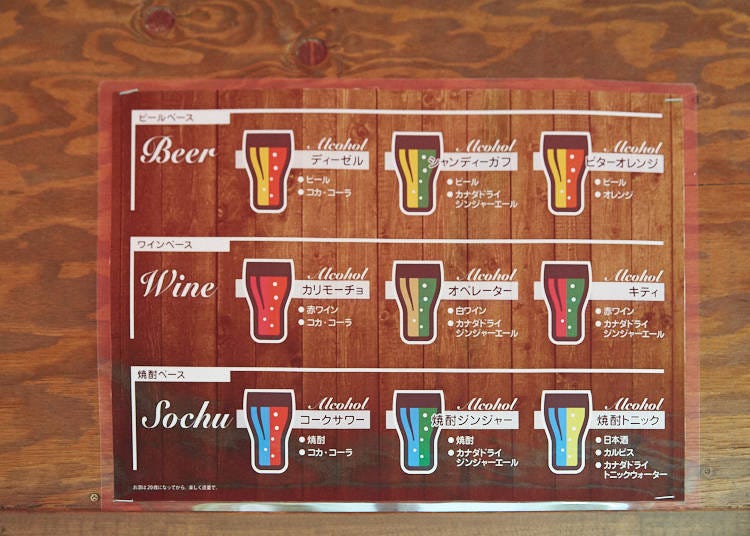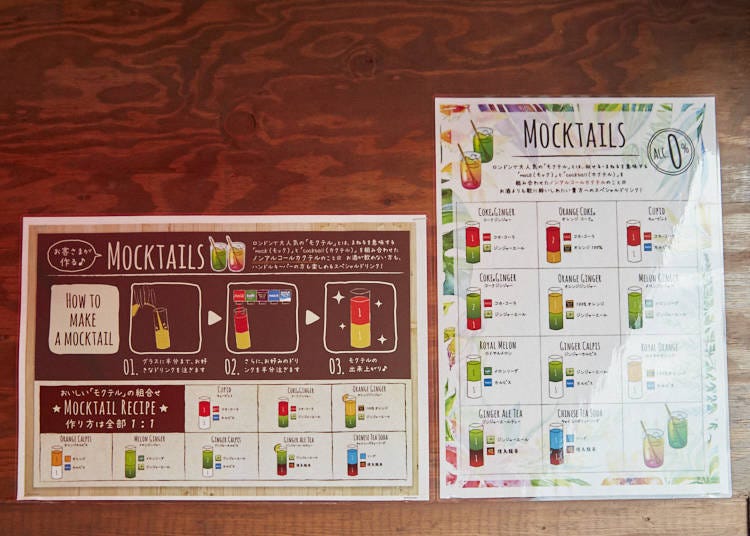 Especially fun is creating a cocktail with the extensive soft drink selection and drinks such as beer, wine, whisky, gin, and so on. Those who prefer not to drink at all, why not go for a delicious Mocktail?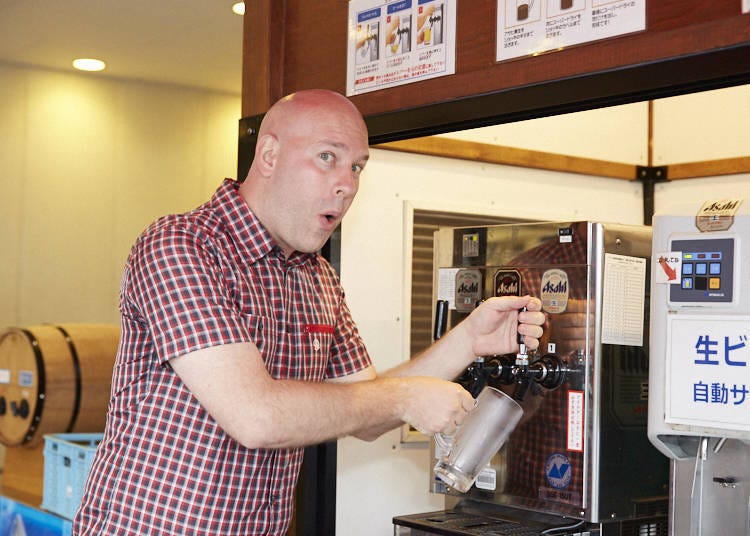 Timothy immediately aims for the beer server to pour himself a cold one!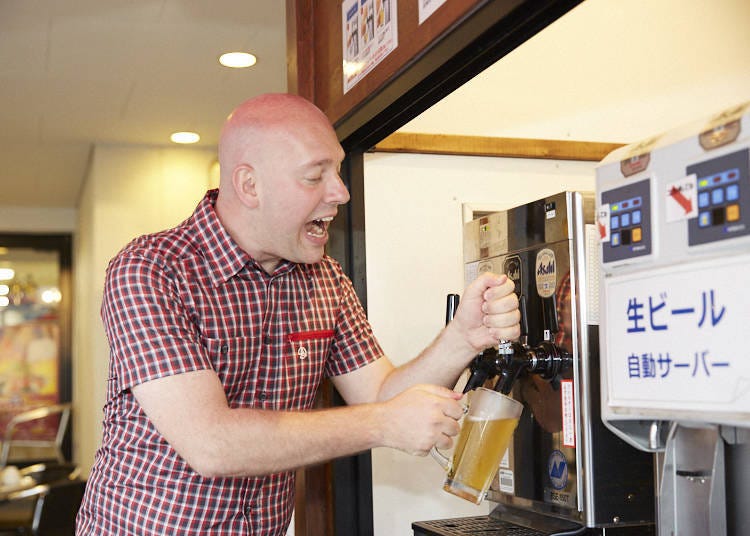 But...where's the head?!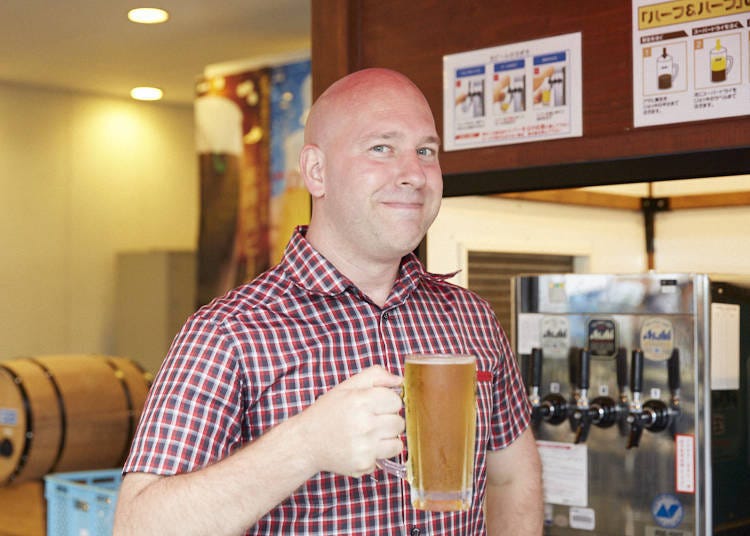 "But the head is not beer! I want to drink beer rather than foam (laughs). Americans don't care much for a head. It's probably different for someone who comes from Belgium or Germany, the home of the beer. But I definitely want more beer than foam."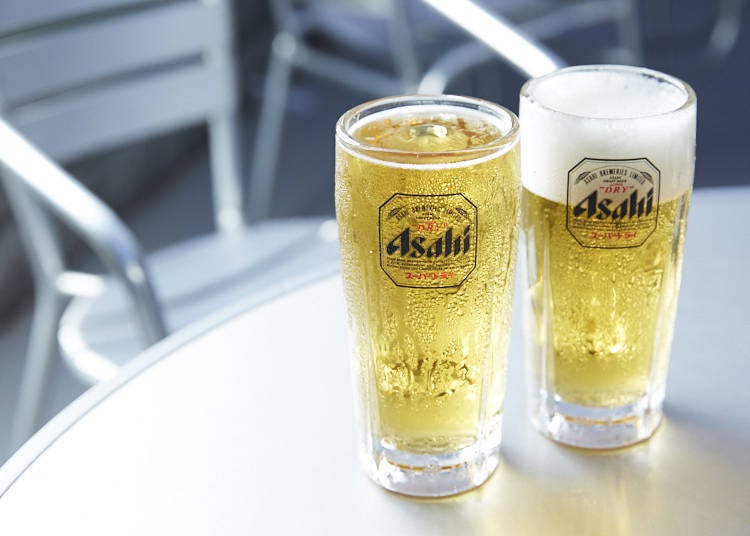 This is the difference between the beer that Timothy poured for himself and the beer from the automatic server.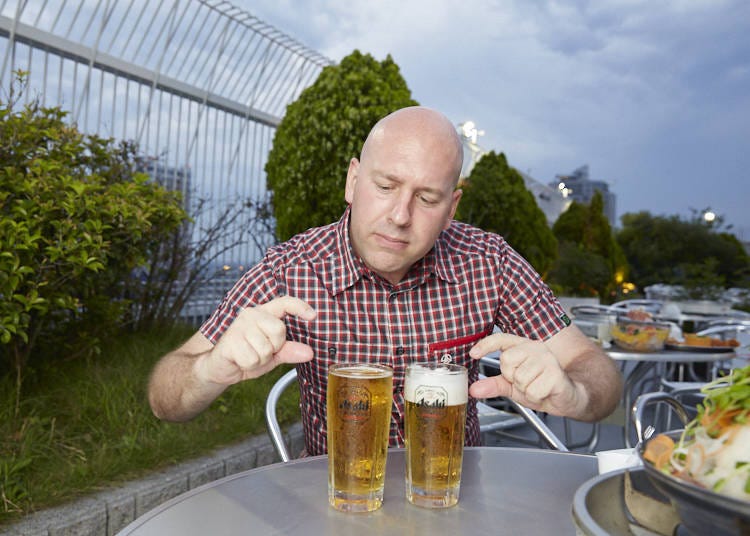 "Let me try if those two beers actually taste different."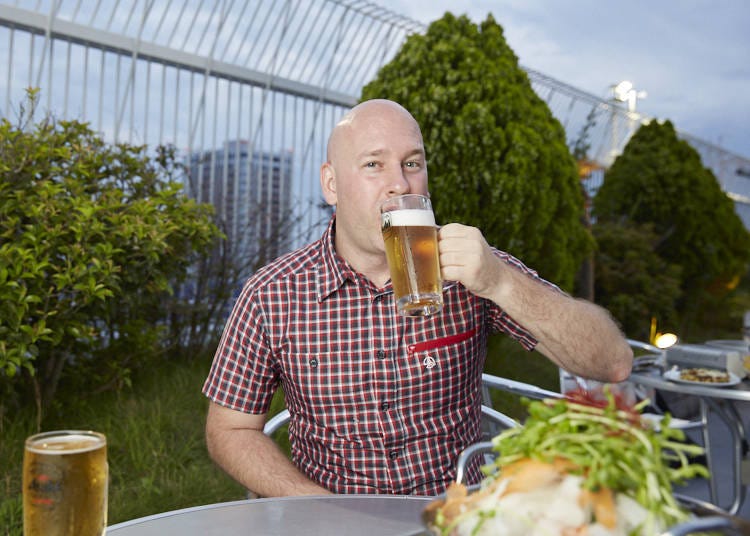 glug glug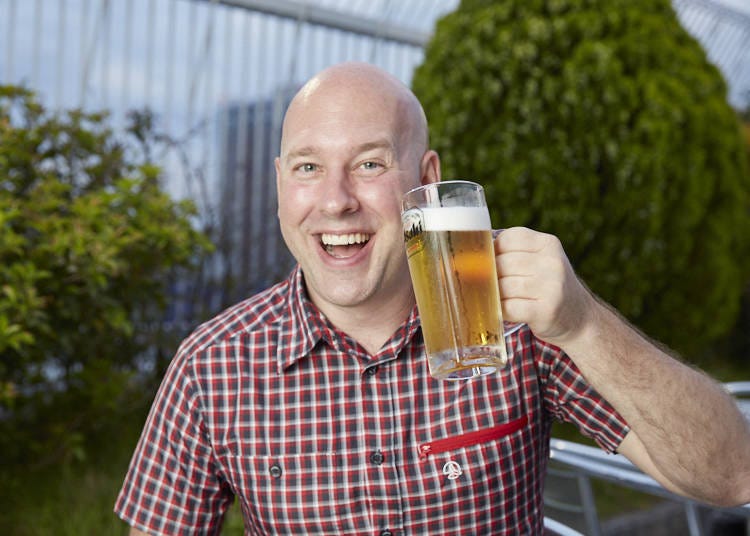 "Ah, tasty! glug glug Mmh, this is good. No matter if there's a head or not, Japanese beers are rich and delicious! (laughs) I like black beer the most, so I'm happy that it's actually on tap here. I'll have to drink some black beer and half 'n' half later."

Just then, Timothy's food order arrives.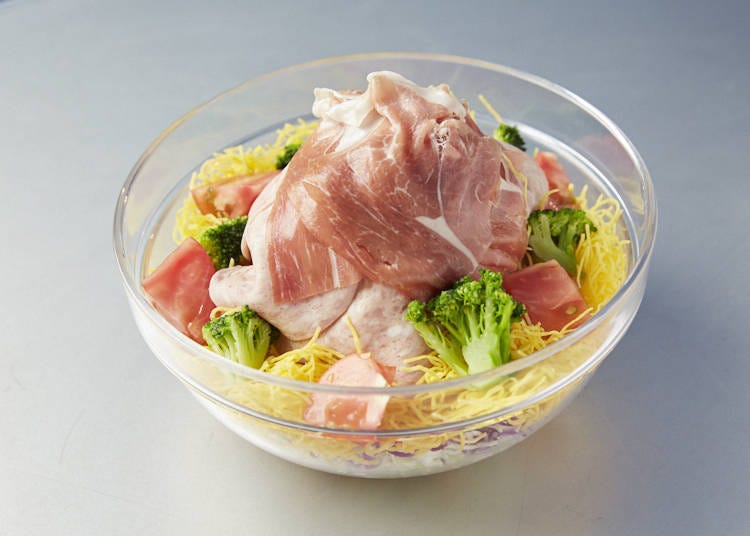 That's the Legendary Salad.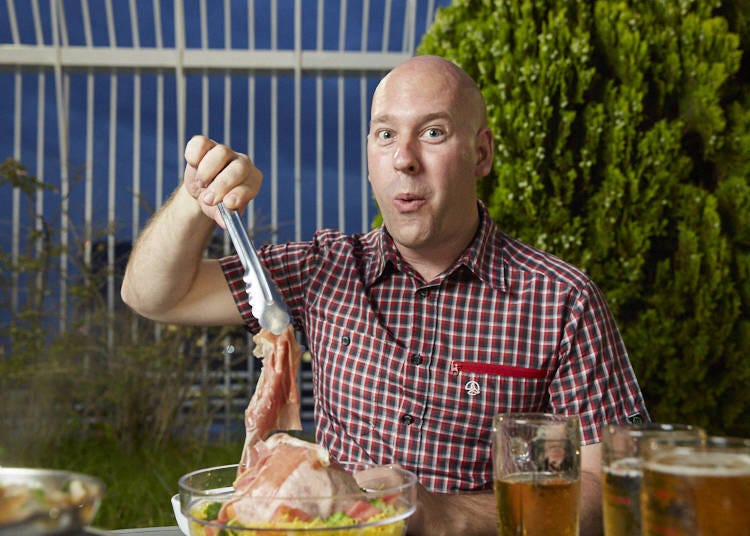 "Wow, that is a large bowl! There's plenty of prosciutto and mortadella, bologna with peppers!"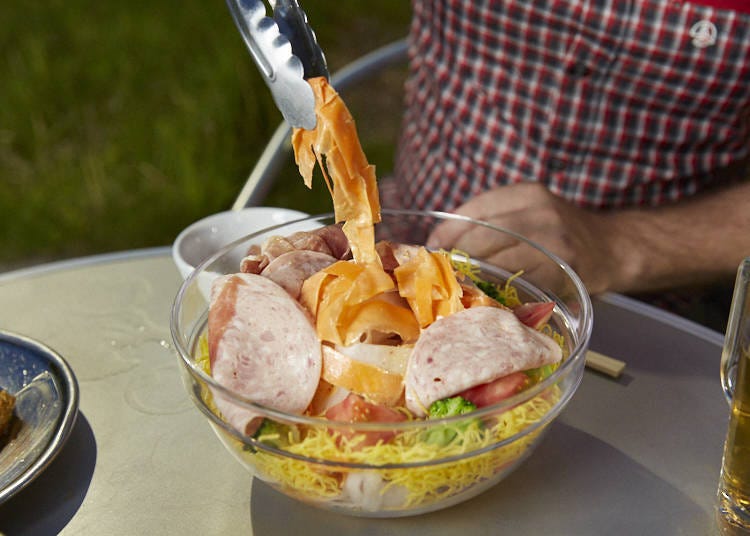 "Below that are carrot and daikon slices, and...fettuccine pasta? And how do you call these thin strips of fried egg, kinshita tamago? It resembles chilled chūka ramen, doesn't it? If that's the case, there'll also be plenty of veggies."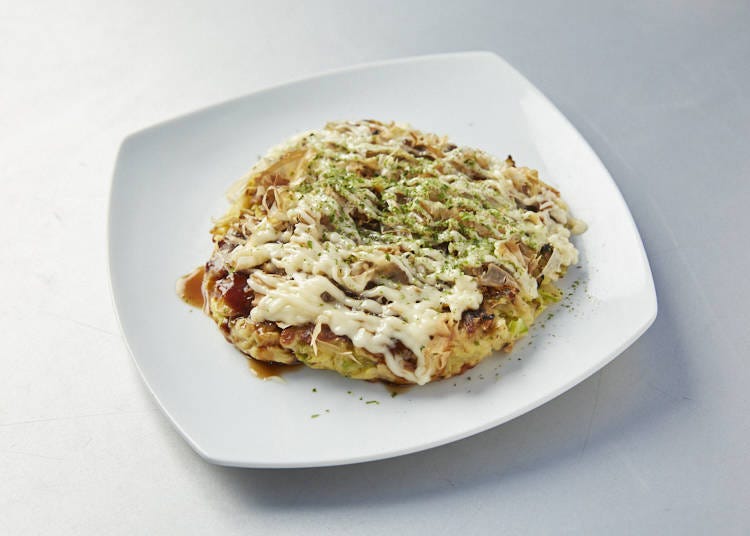 Next up: okonomiyaki.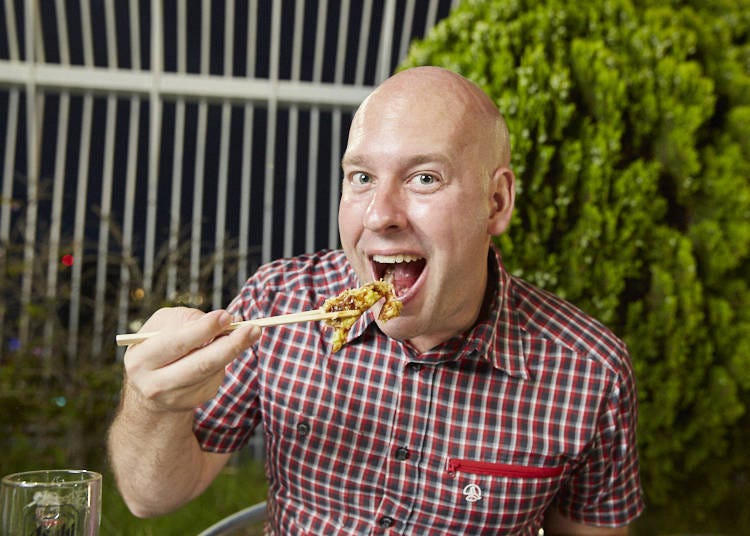 "Ah, okonomiyaki is great. I love the intriguing flavor combination of the bonito flakes and the sauce! The cabbage gives it a hint of sweetness. If you go to an okonomiyaki restaurant, there's nothing but okonomiyaki on the menu, but at a beer garden, you can easily combine it with other dishes. For tourists, the menu at okonomiyaki restaurants can be hard to understand, so coming to a place like this might be a nice alternative."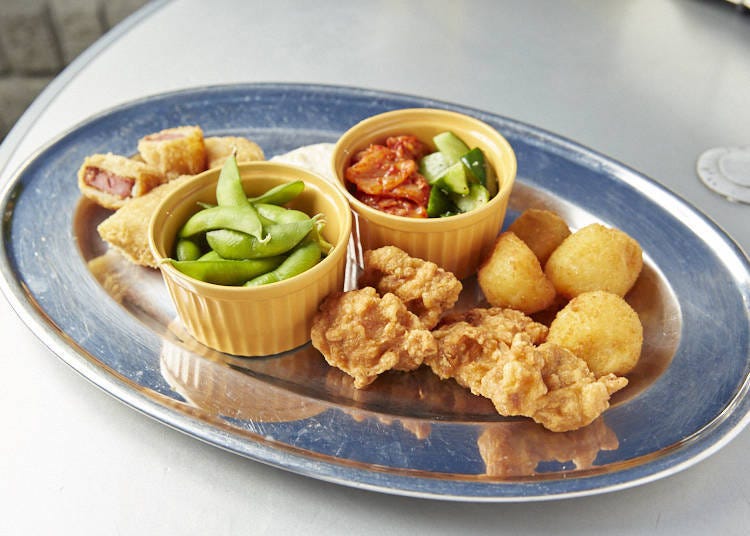 And here's the party set.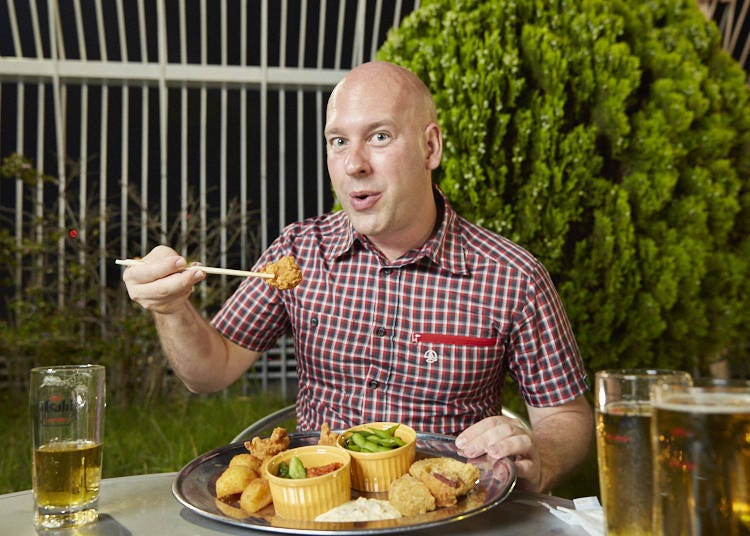 "This is the fried and breaded duck, and these are edamame – I love those. There's a lot of everything! Fried potatoes are a staple dish, but it's rather unusual to see them fried in batter, isn't it? It's also the first time that I eat breaded duck! The smoky aroma is tasty."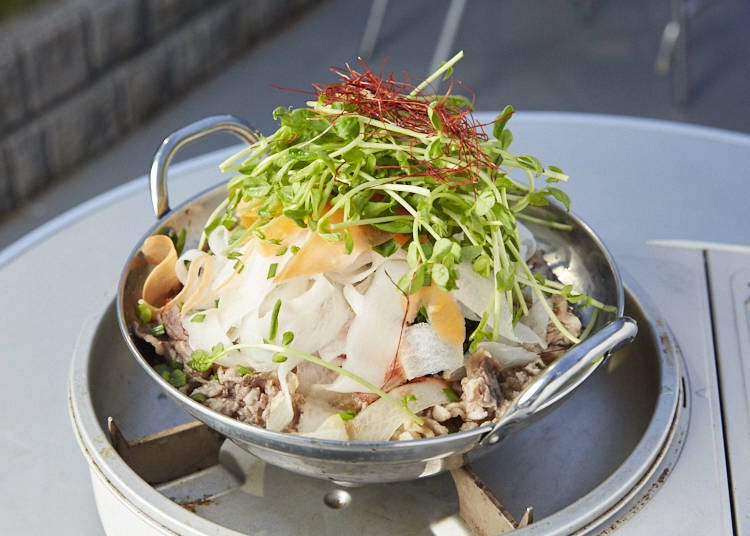 As Timothy is eating his way through the various appetizers while enjoying cold beer, he gets more and more curious about the bulgogi hot pot.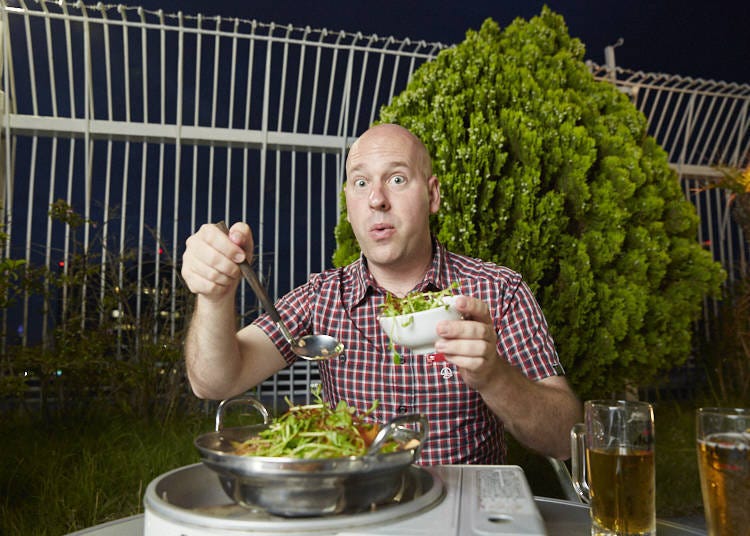 "Wow, that is a lot of food! Oh yum, these bean sprouts are crunchy! And the meat is wonderfully tender!"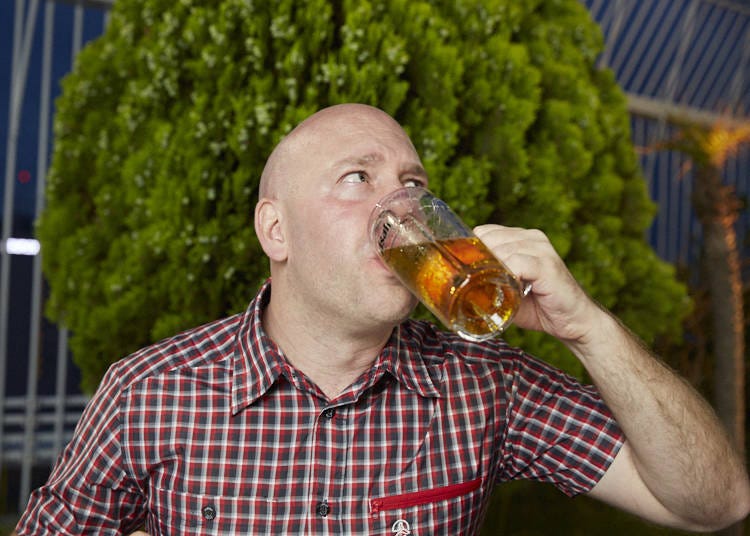 "The base sauce is sweeter than I thought. There's kimchi in it and it boasts a complex flavor that fits beer really nicely. glug glug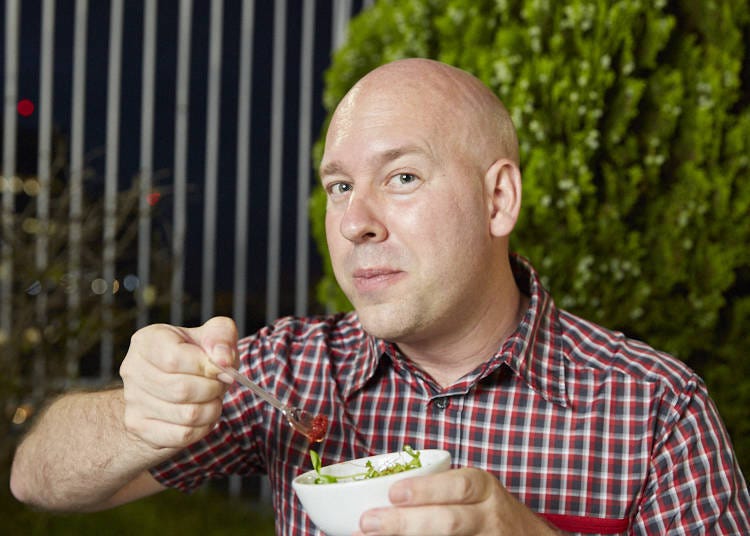 "Right, I'm supposed to use this tategi spice to make the pot spicier. Maybe it goes even better with beer then! People who like their food hot should probably pout a decent amount in their bulgogi. But it'll turn bright red if you put in too much. (laughs)"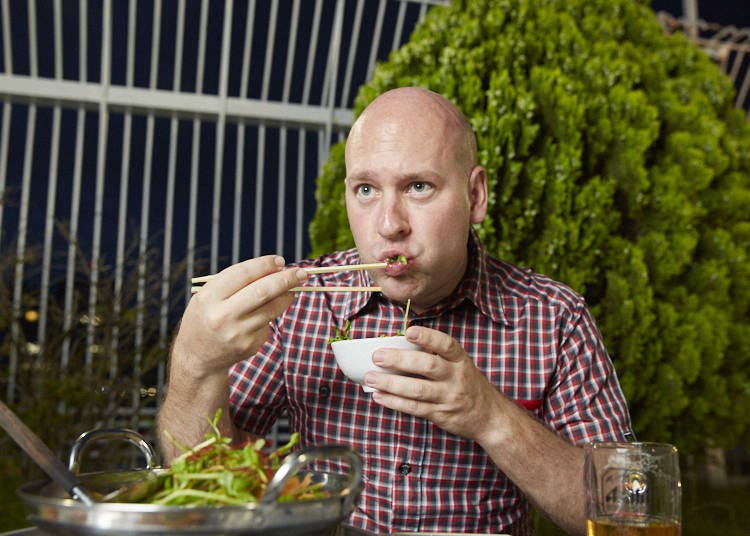 Timothy is really enjoying that bulgogi hot pot. That makes our stomachs rumble as well...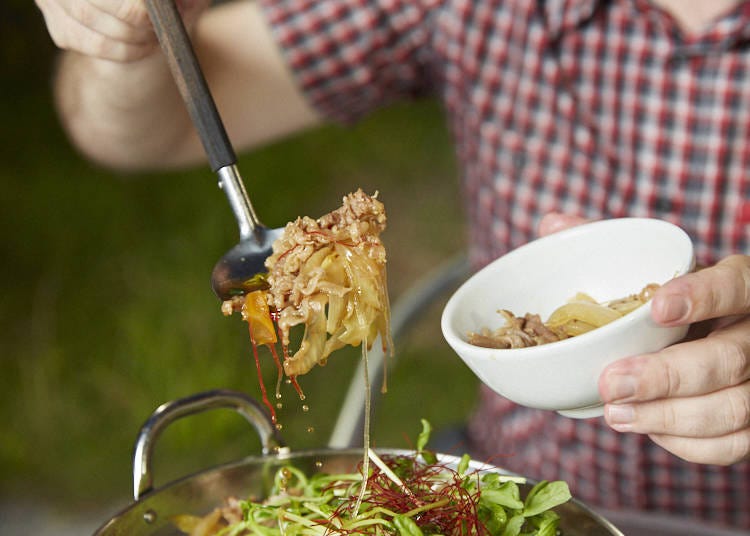 We asked the staff about the bulgogi as well. They recommended to start with the pork one and after you've enjoyed that, order some extra beef. It seems that dipping the beef in the pork-flavored soup is particularly yummy.

So, what does Timothy say about his first Japanese beer garden experience for this year?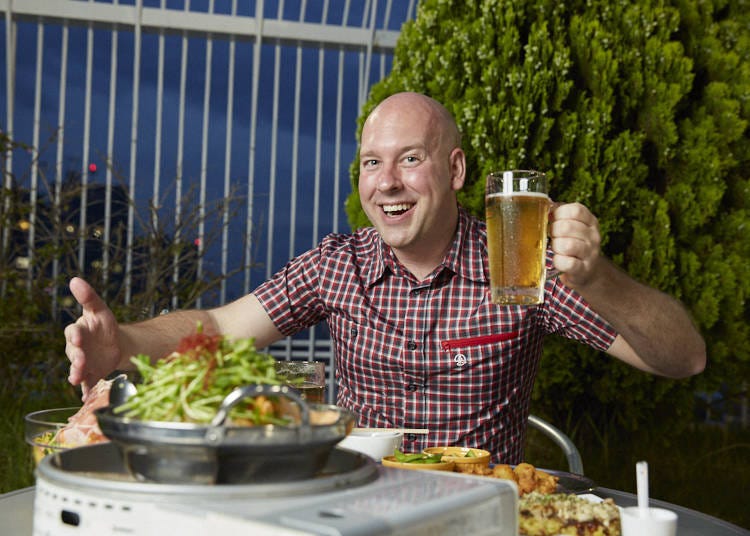 "It's getting darker and there's a gentle night breeze, that's really nice. I really love the openness of a Japanese rooftop beer garden. There's hardly anything better than relaxing at such a beer garden on a hot summer day, you absolutely have to try it for yourself!"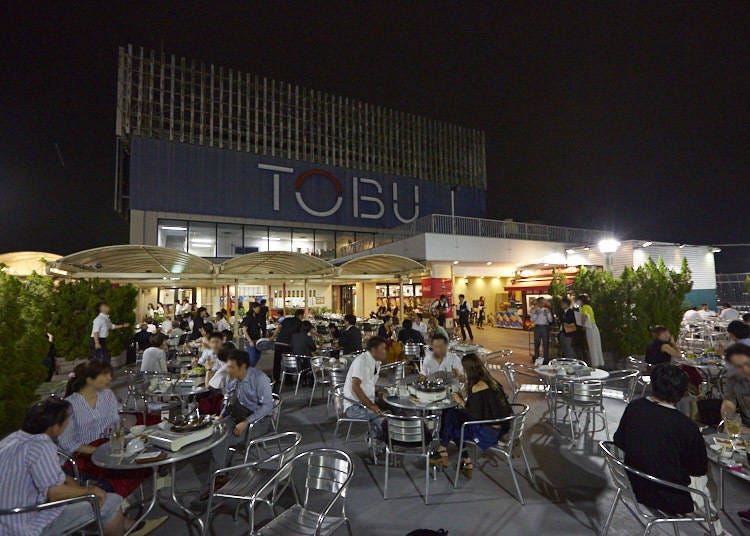 Timothy seems to really enjoy the Japanese beer garden. No matter whether you're American or Japanese, the taste of a cold beer under the summer night sky surely is amazing!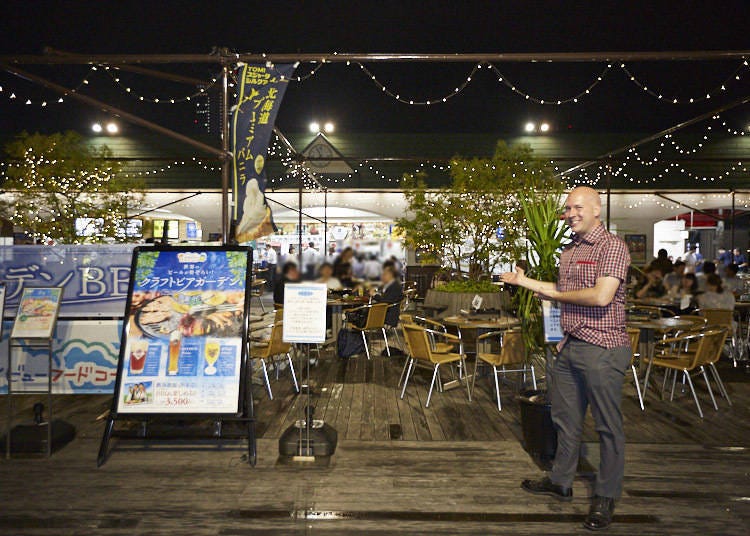 The Tobu Department Store in Ikebukuro holds its "Aozora Craft Beer Garden BBQ" not only on the 16th floor but also on the rooftop of the 8th floor, called Sky View Food Court.
There, you get to enjoy draft Czech Ježek beer (a pils from the barrel) and a BBQ course that is even larger than last year's for 3,500 yen (tax included).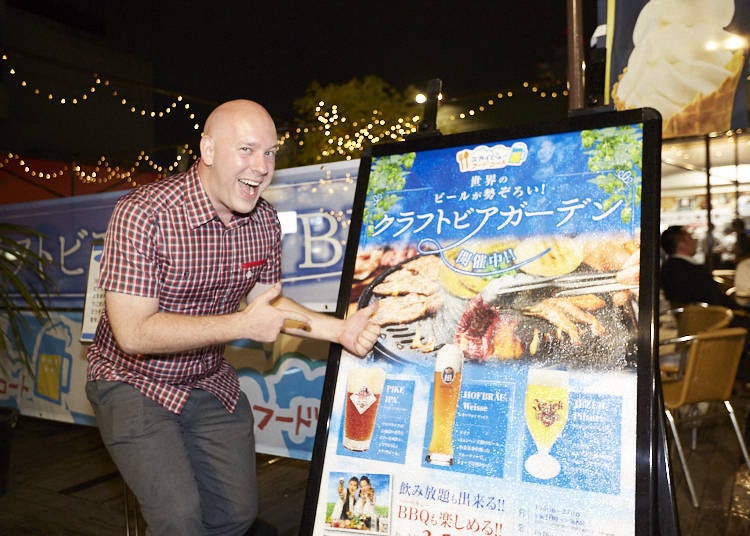 If you add another 500 yen, you can up your beer selection to three kinds of craft beers from the barrel, such as the German Hofbräu Weissbier, Seattle IPA, or Czech black beer! Let's go to that beer garden next time, Timothy!

"Bulgogi Legend of Fireβ" Rooftop Beer Garden (16F)

Opening period: April 25 to September 2, 2018 (closed during stormy weather)
Hours: Mondays to Thursdays: 5:00 p.m. – 11:00 p.m.
Fridays, weekend & national holidays: 4:00 p.m. – 11:00 p.m. (last order at 10:00 p.m.)
Seats: 125 tables, 500 seats
Reservation & Inquiries: 03-6912-5955

"Aozora Craft Beer Garden BBQ" Rooftop Beer Garden (8F)
Opening period: April 5 to October 19, 2018
Hours:
Until September 30: 4:00 p.m. – 11:00 p.m. (last admission at 9:00 p.m.)
October 1 to 19: 4:00 p.m. – 8:00 p.m. (last admission at 6:00 p.m.)
Inquiries: 03-5957-7158
Tobu Department Store Ikebukuro

東武百貨店 池袋店

Address

1-1-25, Nishiikebukuro, Toshima-ku, Tokyo, 171-8512


Nearest Station

Ikebukuro Station (JR Shonan Shinjuku Line / JR Yamanote Line / JR Saikyo Line / Tokyo Metro Marunouchi Line / Tokyo Metro Yurakucho Line / Tokyo Metro Fukutoshin Line / Seibu Ikebukuro Line / Tobu Tojo Line)


Phone Number

03-3981-2211

*This information is from the time of this article's publication.
*Prices and options mentioned are subject to change.
*Unless stated otherwise, all prices include tax.