Tokyu Hands is the place to go for made in Japan products that add just the right touch to your home and everyday lifestyle. Tokyu Hands is a DIY home improvement retailer located near hub train stations like Shibuya and Shinjuku in Tokyo. There are even a few overseas locations as well.

Each floor is chartered by genre and as you explore you can't help but get excited as your eyes dart from item to item.

Tokyu Hands' motto is "hints for everyday living," and the items found at the store add a bit a joy to your daily routine while being practical and functional. Let's take a look at 10 items found at Tokyo Hands that are sure to find their way into your suitcase as souvenirs.

In this article:
・Omamori Lip Balm
・Silhouette Soy Sauce Bowl
・Cat Massager
・Tea Pen
・Rice Topping Pen
・Penguin Soy Sauce Dispenser
・Cat Arm Back Scratcher
・Cat Tea
・Banana Holder
・Ninja Tea Cup
Ms. Kana Nakano, who works on the 3rd floor of the Ikebukuro Tokyu Hands will be our guide on this tour.
1. Bring good luck your way with "Fuku Fuku Lip" lip balms packaged like Japanese lucky charms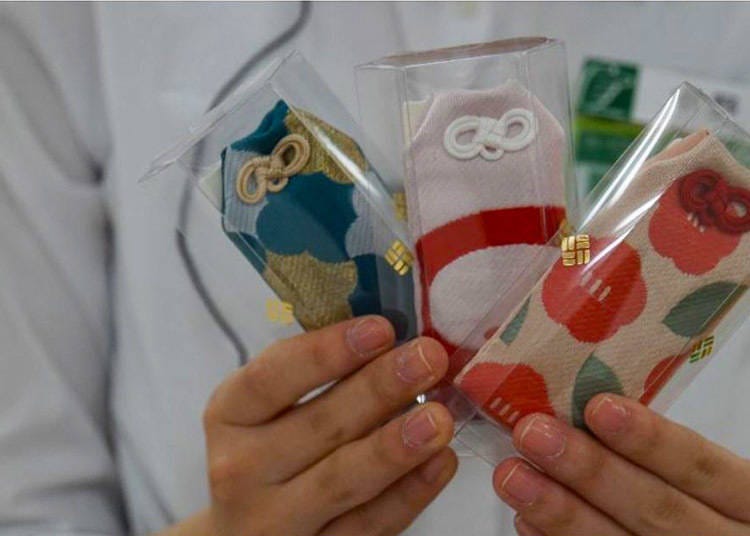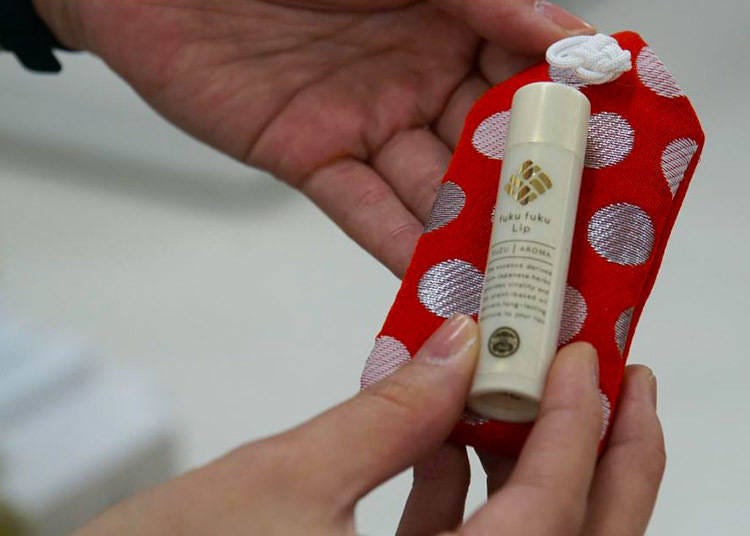 Isshindo Honten/ Fuku Fuku Lip ("Lucky Lucky Lip") in Strawberry Red 1,080 yen (tax included)
Commonly found in Shinto shrines and Buddhist temples across Japan is the omamori, an amulet or lucky charm that protects the bearer from ailment or misfortune; it can also bring various forms of luck.

At Tokyu Hands, we stumbled upon this lip balm that comes encased in an amulet pouch. There are 12 scents and flavors in all, made from natural ingredients that will protect your lips -- and bring you good fortune.

The textiles of the pouches are handcrafted by artisans in Fujiyoshida, Yamanashi Prefecture (near the base of Mount Fuji) using a centuries-old weaving technique called Fujiyama ori. With 24 different pouches available, you'll definitely have a hard time choosing one!
2. Just add soy sauce and the silhouette of an animal will appear in these wonderfully cute saucers!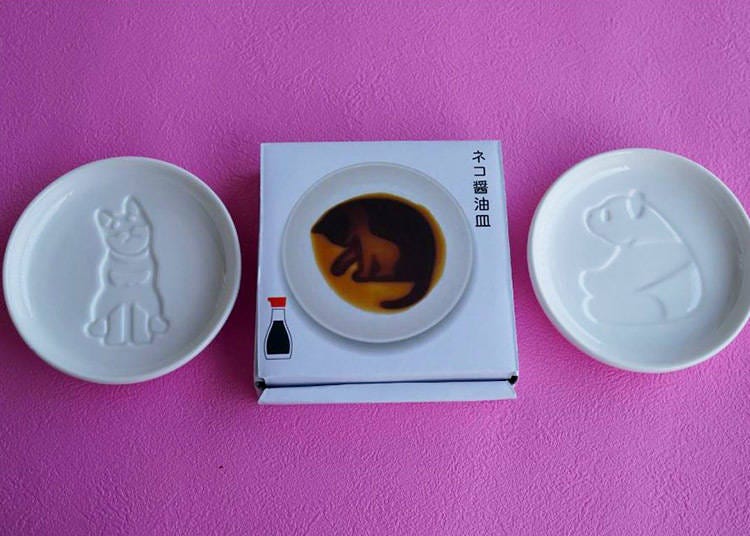 By Alta/From left to right: Dog saucer (Suwaru/"Sit"); cat saucer (Korogasu/"roll a ball"); Panda saucer (Miageru/"look up")/ Dimensions: 10x10x2.5 cm / 410 yen (tax included)
Soy sauce, the condiment frequently used in Japanese cuisine and to flavor sashimi and sushi, is often served in a small saucer, but you've never seen saucers like these before.

Add soy sauce and watch the adorable silhouette of an animal appear before your eyes. There are three animals in this series -- dog, cat, and panda -- each with a signature pose. They are certainly a cute addition to your dinner table with these saucers.
3. Let Korimomunyan loosen up your stiff neck, shoulders, shoulder blades and lower back with feline acupressure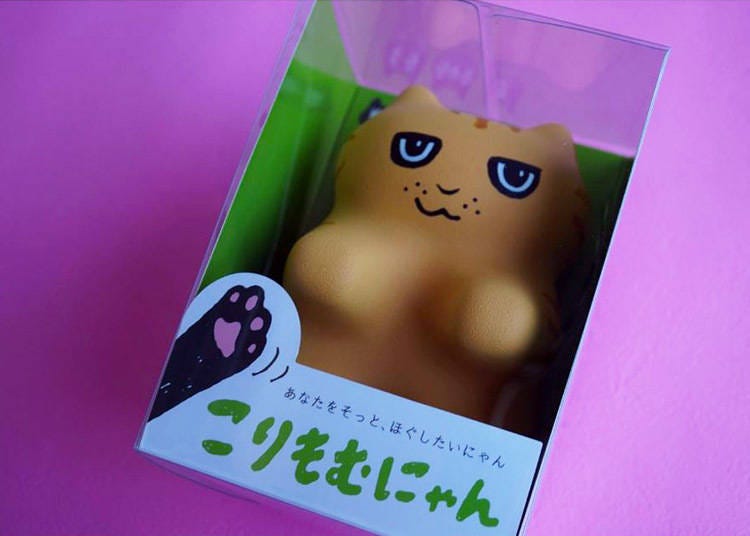 By Proidea/ Korimomuyan; Cha 2,484 yen (tax included)
"Neko no te mo karitai" is a Japanese proverb that roughly means, "I could use a cat's helping hand," and it is the inspiration for Korimomuyan, a cat-shaped acupressure device.

Whether you're sore from housework or the 9 to 5 grind, just press your body against Korimomuyan and its expert paws will relieve pressure in all the right places. Choose between Hachi, a black and white cat, a Russian blue named Grey, or an orange tabby named Cha.
4. Always have a cuppa on the go with these permanent marker shaped tea containers
By Asahara Kougyou/Chackee Kyokuuma; Green (Shizuoka green tea); blue (barley tea), black (oolong tea)/ 648 yen (tax included)
A great deal of thought and humor when into the creation of these tea containers that look just like Mackee, a widely known brand of permanent markers made in Japan. Instantly brew a cup of tea wherever you are. Each Chackee contains enough powder for 20 cups of delicious tea which dissolves instantly in hot or cold water, just right when you're on the go. Imagine the look on everyone's face when you pull out a permanent marker -- only for tea to come out of it!
To use: remove cap and inner plug; shake once to release powdered tea into a mug then add hot or cold water for a delicious cup of tea.
5. Jazz up a bowl of plain white rice with regional toppings that come in a permanent marker container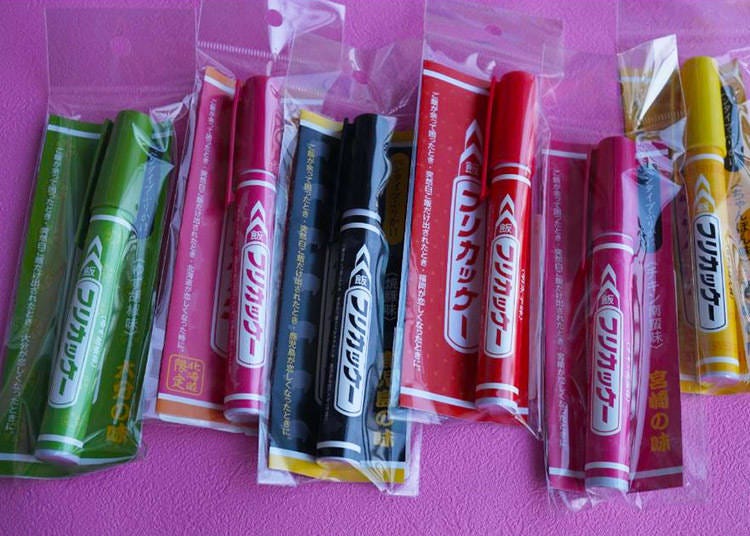 By Folcart. Furikackee 6g (From left to right: Mentaiko (seasoned cod roe), champon (Nagasaki noodles), yuzu goma (yuzu citrus fruit with sesame seeds), ika kombu (squid with kelp), chicken namba (fried chicken with tartar sauce), yakibuta (grilled pork), shake (salmon)/ 756 yen (tax included)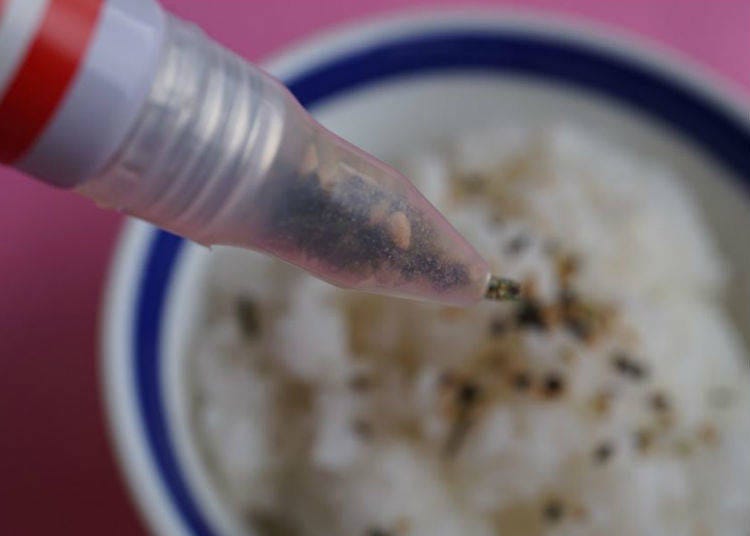 To enhance the flavor of freshly steamed white rice, furikake, or dry seasonings, are commonly added. With a Furikackee pen, you can sample the regional delights of Japan, from salmon caught north in Hokkaido to Fukuoka's specialty of mentaiko.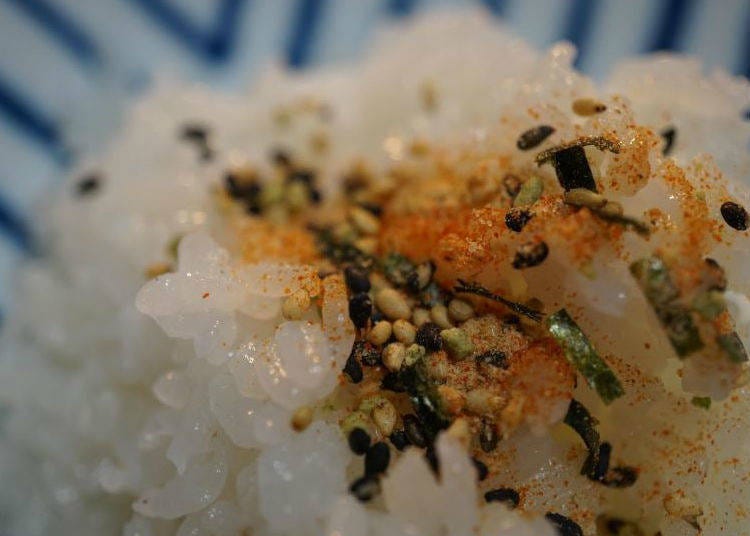 Furikackee is also very popular with Japanese tourists who flock to airports and gift shops in search of these collectible pen-like containers.
6. The cutest soy sauce dispenser you'll ever see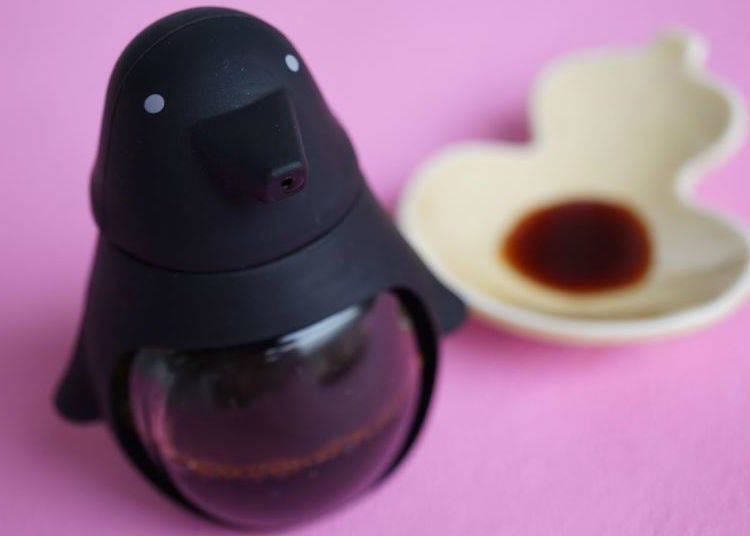 By Hashy. Penguin soy sauce dispenser (black)/ Height 89mm, holds up to 90 ml of soy sauce/ 842 yen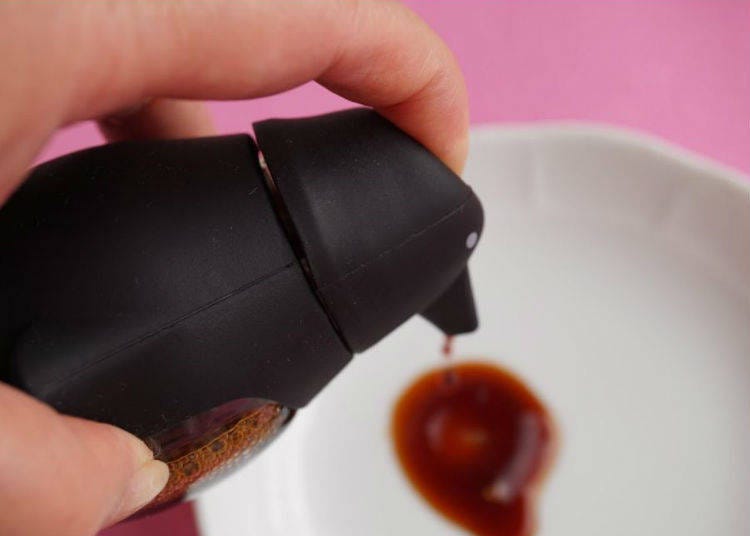 Press its head and soy sauce comes out of its beak
A soy sauce dispenser is a staple at any Japanese kitchen table. There're countless designs out there on the market, but we've never seen anything as unique and cute as this penguin-shaped soy sauce dispenser. Slowly press the penguin's head, and he'll give you just the right amount of soy sauce for whatever you're eating. A winning combination of adorable and practical, the tummy of the penguin is clear so you'll always know when it's time to fill him up.
7. Use this back scratcher shaped like a cat's paw for all those hard to reach itchy spots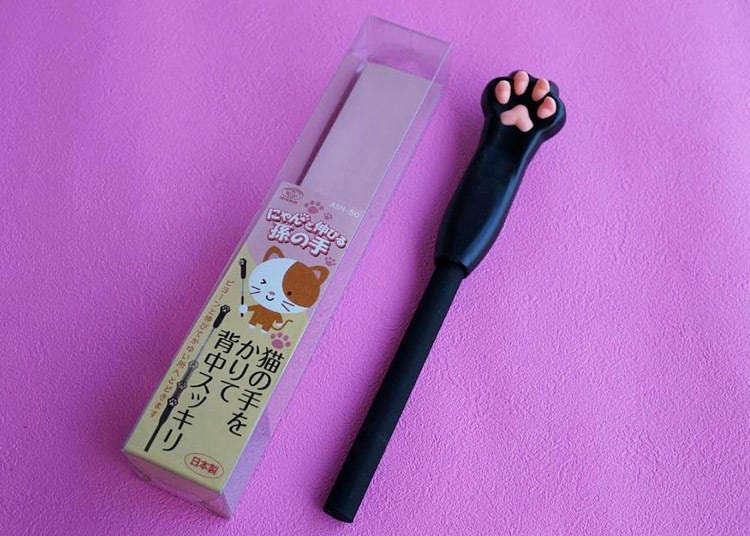 By Asahi Electrochemical Co.,/ Nyanto Nobiru Mago no Te / 1,080 yen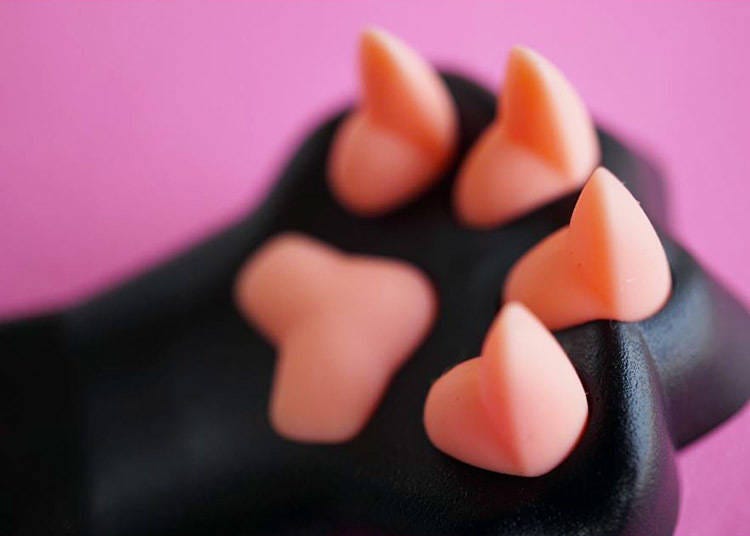 Its claws are made from silicone rubber for a pleasant sensation that scratches just right
What we call a back scratcher in English is curiously called a "mago no te" or literally, a "grandchild's hand" in Japanese. However this backscratcher is not in the shape of a child's hands but rather in the cute shape of a cat's paw. Nyanto Nobiru Mago no Te (which in itself translates to something along the lines of "I can't believe how far this backscratcher reaches") has silicone rubber claws that feel oh so good against your skin. With a maximum reach of 62cm, you can adjust the length as you wish.
8. These hyper realistic paper-cut cats are actually teabags!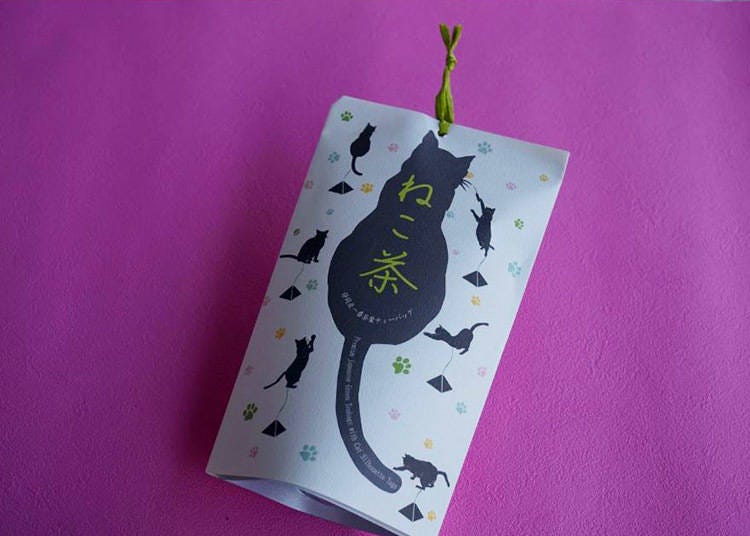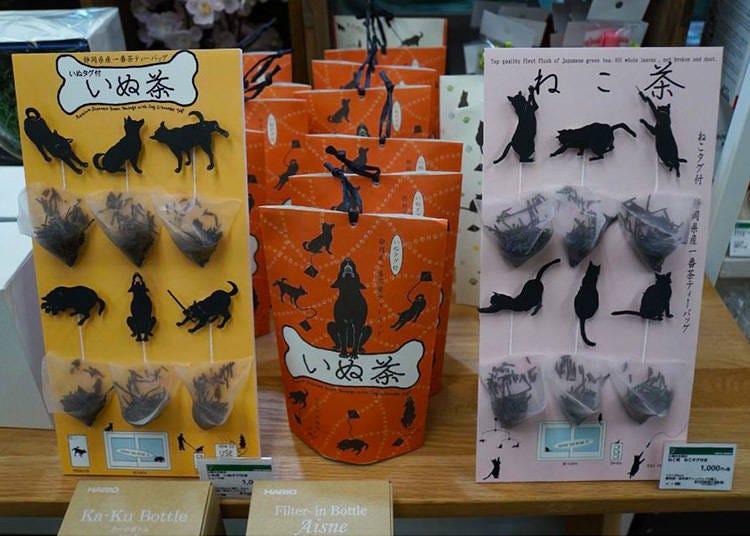 By Yamasu Honshoten/Nekocha ("Cat Tea;" 6 tea bags, 3g each; comes with cat tag)/1,080 yen (tax included)
These highly popular tea bags have a cat tag and are made with the finest tea from Shizuoka. Six of the world's most beloved species of cats are realistically depicted in various poses. Once you're all done with your cuppa, you can use the cat tags as an ornament or even as a bookmark. Because these tea bags are made from the finest tea for Shizuoka, this is an excellent choice for a gift. Treat yourself to a happy tea time surrounded the aroma of green tea and the playful silhouette of a cat shaped tea tag. Nekocha is also available in a large size as well.
9. A banana guard that will protect your bananas from bruises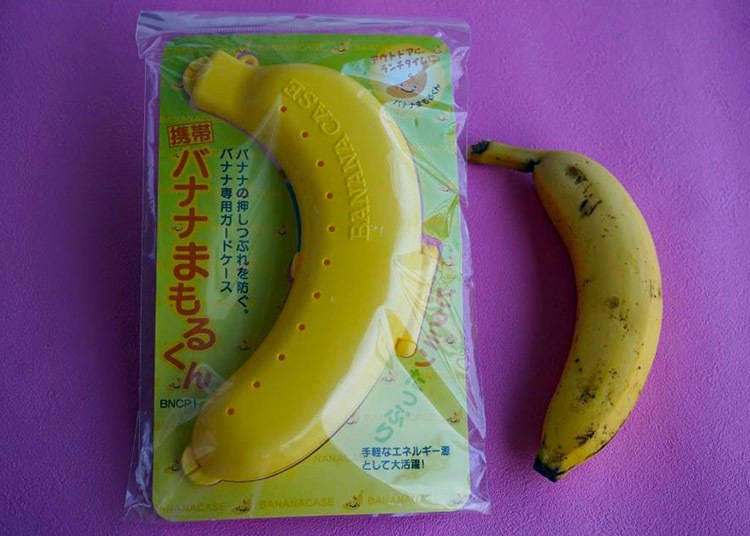 By Skater/ Portable Banana Protector Banana Mamorukun ("Mr. I'll Protect Your Banana!") Dimensions: 13x4.4x19.5 cm/ 540 yen (tax included)
Easy to carry and chock full of vitamins and minerals, bananas are a favorite choice for a snack and for athletes. For those of you who want to bring you banana to work or school, we recommend this special case which will allow you to put your banana in backpack or purse without getting bruised or squashed. It's also great for kids' lunchboxes, too.
10. A sushi restaurant style tea cup fit for the home. What better than a souvenir that just screams "JAPAN"?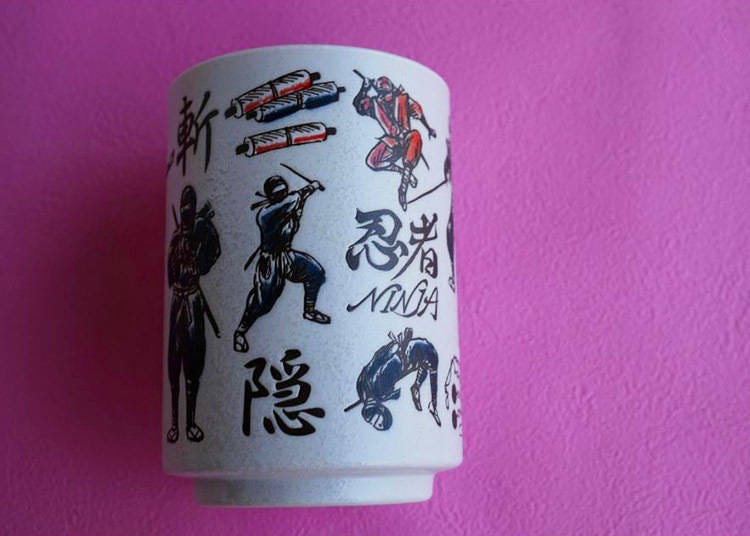 By Yamano. Sushi restaurant style teacup - ninja. Diameter 72mm, height 102 mm/ 864 yen (tax included) 73
Go to a sushi restaurant in Japan and you'll come across these teacups with a distinctly Japanese flair. Chose a cup decked out in ninjas, tuna fish or anything that catches your eye. Made of a durable porcelain, these are sure to last for a long time. If you're looking for a way to commemorate your Japan trip, why not choose something that will let you relive your memories over and over again?

(The above items were on sale at the original time of publishing - stock may vary)
Address

1-28-10, Higashiikebukuro, Toshima-ku, Tokyo, 170-0013
View Map

Nearest Station

Ikebukuro Station (JR Shonan Shinjuku Line / JR Yamanote Line / JR Saikyo Line / Tokyo Metro Marunouchi Line / Tokyo Metro Yurakucho Line / Tokyo Metro Fukutoshin Line / Seibu Ikebukuro Line / Tobu Tojo Line)

*This information is from the time of this article's publication.
*Prices and options mentioned are subject to change.
*Unless stated otherwise, all prices include tax.