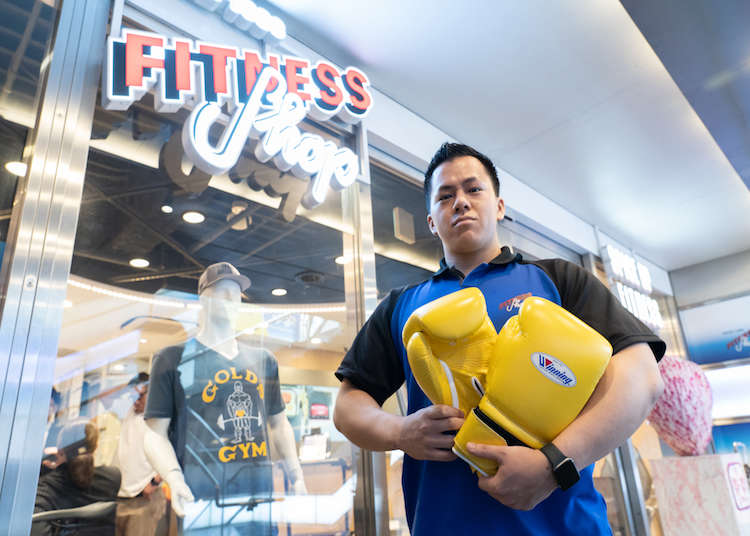 Japan's fitness culture is known for its strong history of martial arts and boxing. Now, with Western trends such as weight training, CrossFit, and bodybuilding on the rise, it's easier than ever to find training products that suit a wide variety of fitness goals.

Fitness enthusiasts and professional athletes looking to find equipment for a home workout—or gear to enhance their performance at the gym—can source the training and fitness products they need at FITNESS SHOP.
FITNESS SHOP: Japan's Fitness Pioneer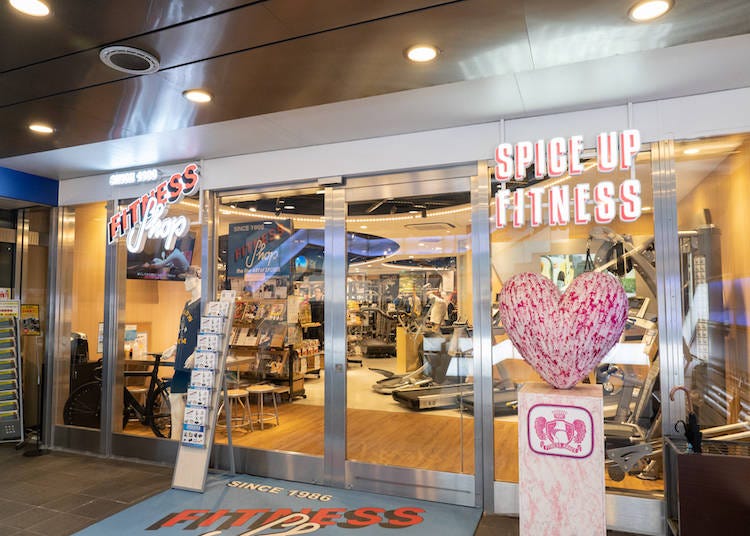 FITNESS SHOP
FITNESS SHOP is a globally-minded brand that retails a large assortment of products, such as gym equipment, sports gear, supplements, fitness wear, and training shoes. The brand has been serving a wide variety of customers since 1988, including short-term visitors looking to pick up gear for martial arts training, residents aiming to build a home gym, companies and embassies looking to create onsite fitness studios, and professional athletes.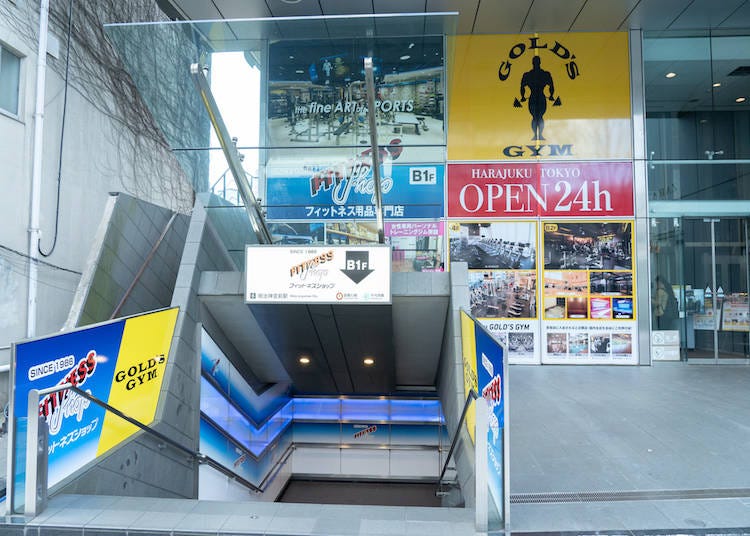 FITNESS SHOP HARAJUKU
Located in the same building as the famous Gold's Gym, FITNESS SHOP HARAJUKU carries everything from training machines to boxing gloves to supplements. Customers are welcome to try out the selection of fitness machines, try on fitness wear and training gear, and consult with English-speaking staff who are happy to explain and recommend products. The instant you walk in, you can't help but feel motivated and excited to work out!

The Harajuku branch is easy to access. Simply head to Exit 6 of Meiji-Jingumae (Harajuku) Station on the Chiyoda and Fukutoshin Lines and you'll find it located directly on the B1 floor.
From Made-in-Japan Boxing Gloves to Recovery-Boosting Sportswear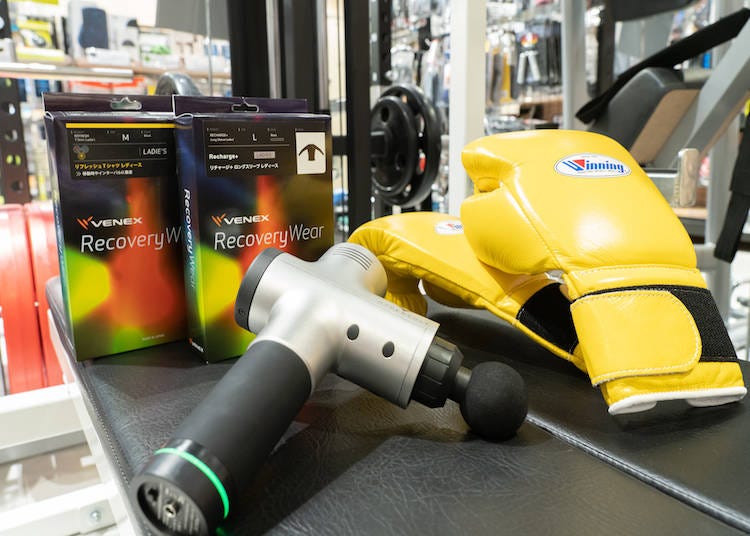 3 Popular Fitness Products: VENEX Recovery Wear, HyperVolt, and Winning Gloves
FITNESS SHOP HARAJUKU carries world-renowned brands that are favored on the fitness scene, such as boxing gloves, massage devices, and recovery wear. Here are a few of their most popular products.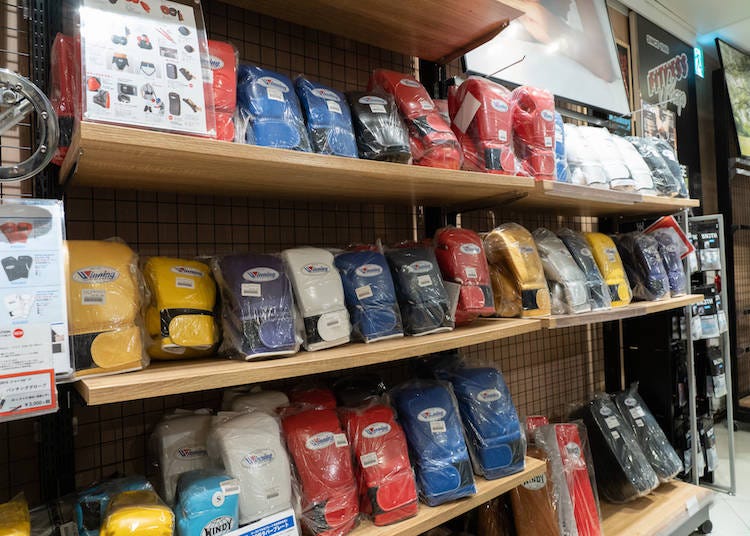 Display of Winning Boxing Gloves at FITNESS SHOP HARAJUKU
Winning is a famous Japanese brand of boxing gloves adored by professional boxers and amateurs worldwide. The gloves are made with layered padding which provides flexibility, protection, and comfort, and they can be used straight out of the packaging without having to be broken in. Plus, the gloves feature a straight thumb, which helps boxers maintain their form with an ideal fist. The leather material is renowned for its high quality with lasting durability.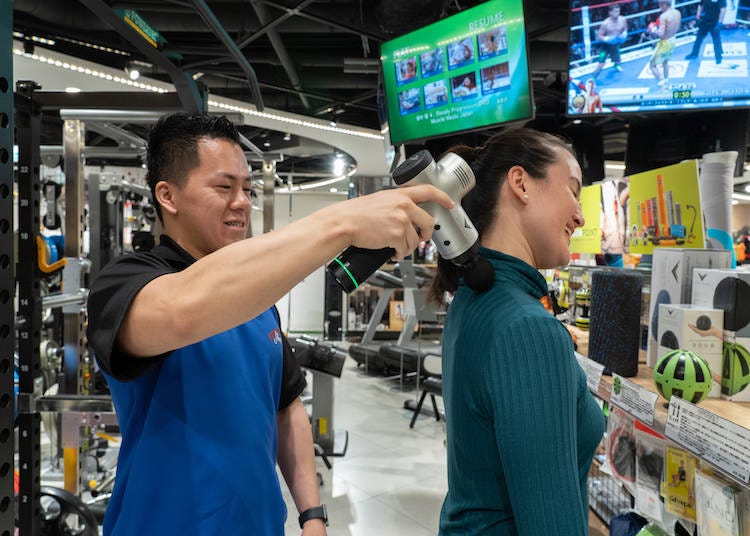 FITNESS SHOP staff shows customer how to use the HyperVolt.
The HyperVolt, created by American brand Hyperice, is a handheld, percussion massage therapy device revered by top athletes such as Japanese tennis star Naomi Osaka. Percussive therapy is said to help the body with muscle recovery, lactic acid build-up, and muscle pain reduction by encouraging blood flow. It can be used both before and after a workout to support performance and repair, and the vibrations feel relaxing. The HyperVolt comes with attachments to help reach knots wherever they are on the body, and different settings to provide levels of stimulation.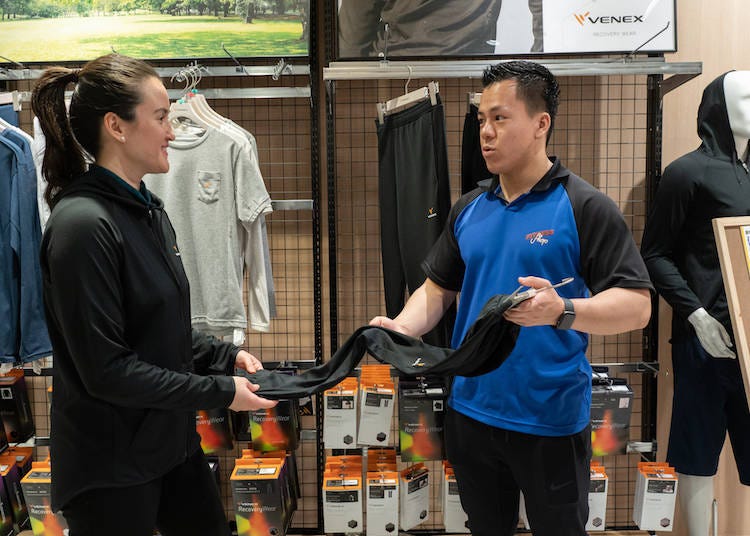 Staff explains the benefits of VENEX Recovery Wear.
Another world-renowned Japanese brand is VENEX Recovery Wear—comfortable clothing made with a special material to help with muscle recovery and promote deep relaxation. The material contains a mix of minerals and platinum, which is said to stimulate the parasympathetic nervous system to promote a feeling of calmness in the body. One of the key benefits of this clothing is that it fits loosely and is comfortable to wear, unlike recovery products that promote compression. Athletes even enjoy wearing these while relaxing at home and will enjoy a deeper, restorative sleep.
Experience Wellness at FITNESS SHOP HARAJUKU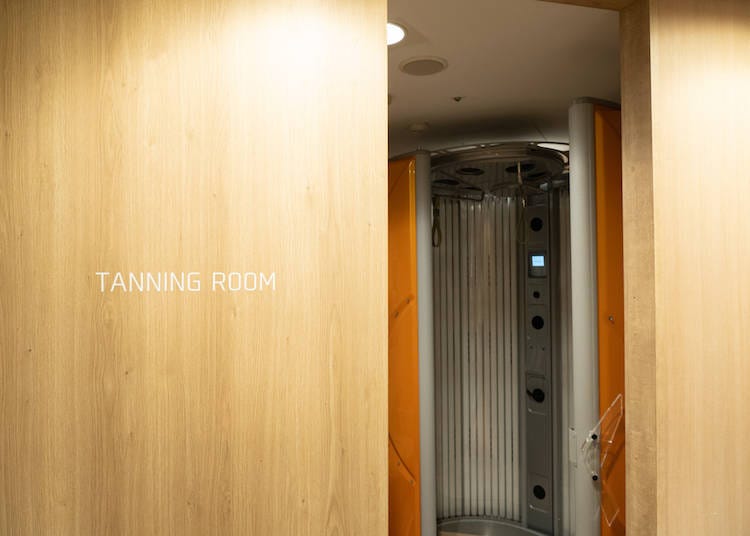 Tanning machine at FITNESS SHOP HARAJUKU
Customers enjoy visiting the Harajuku branch for the perks it offers in addition to sports gear. Here, you can have an English-speaking staff show you how to use the training machines, grab a protein drink at the Protein Stand, experience the tanning machines, stock up on supplements, and leaf through the latest fitness magazines.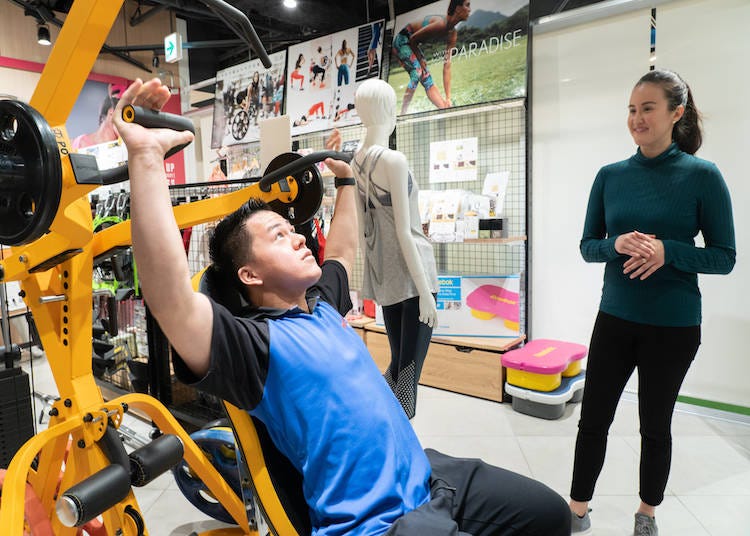 A FITNESS SHOP HARAJUKU staff shows a customer how to use a workout machine.
The shop has weight and training machines on display, and English-speaking staff are happy to help show customers learn how to safely and properly adjust and use the machines. They can also give advice on which machines are the best fit for individual needs.
Where to Find Vitamins and Supplements in Japan: Fitness Shop!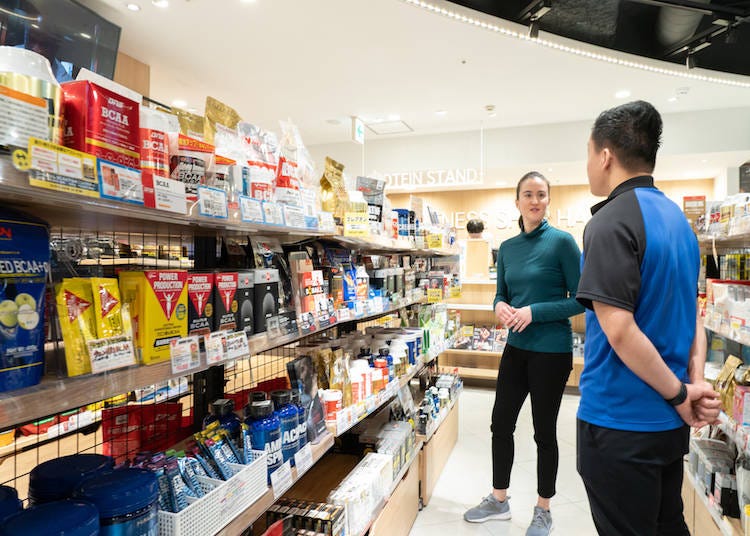 A customer consults with English-speaking staff about supplements in Japan.
The vitamins and supplements section at FITNESS SHOP offers a wide assortment of items, including BCAA, creatine, whey protein, multi-vitamins, grass-fed products, gluten-free products, vegan supplements, and more. One of their most popular brands is Gold's Gym which offers a line of protein powders, multivitamins, amino supplements, and more.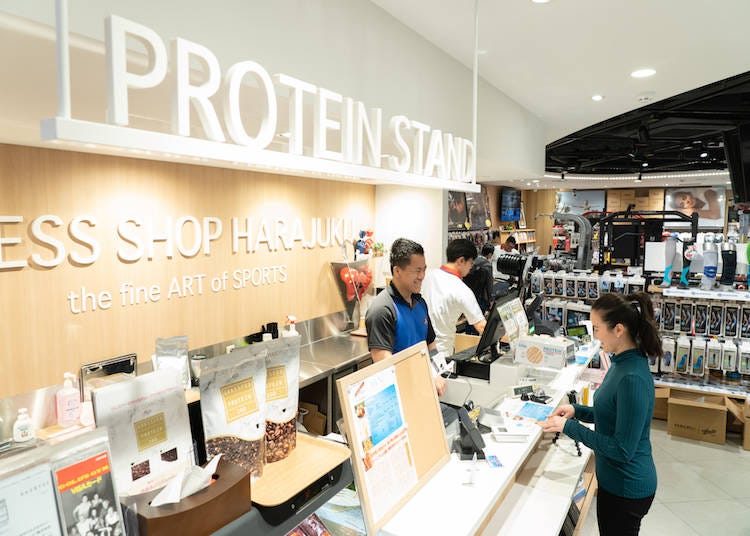 Protein Stand with protein drinks, bars, and snacks
The Protein Stand has a selection of protein bars and snacks. They also have a menu with protein shakes in a wide variety of flavors, drinks with superfoods, and coffee.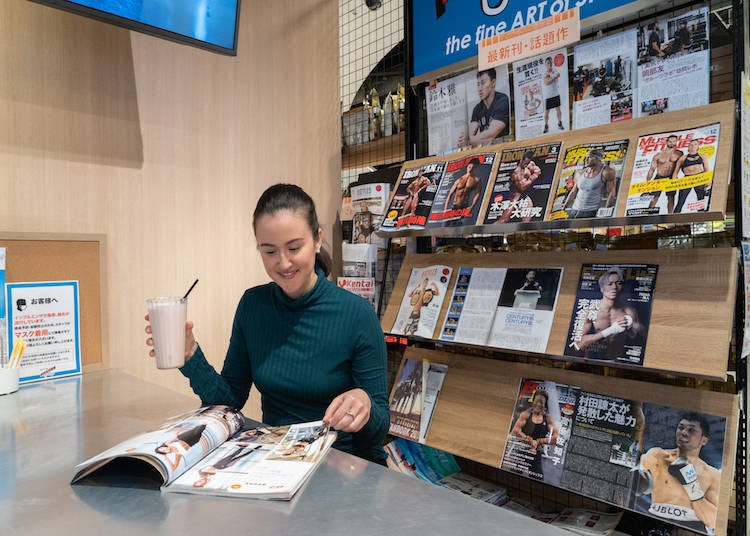 Customer enjoying a mixed-berry protein drink while flipping through some of the fitness magazines.
The shop also has a seating area where visitors can flip through the latest trends in training, sports, and bodybuilding from their selection of fitness magazines.
Each Fitness Shop Branch Specializes in an Assortment of Athletic Products
Depending on the branch, you are bound to find more varieties of training gear according to that shop's athletic offerings. Here's an overview of three locations with distinct characteristics.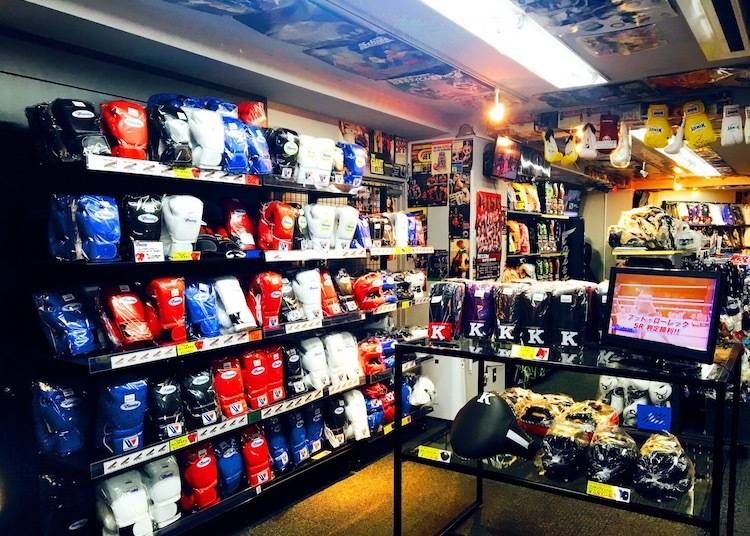 Boxing gear display at FITNESS SHOP SUIDOBASHI
The Suidobashi flagship store is located in a prime position close to the mecca of competitive martial arts, Korakuen Hall, and just 30 seconds' walk from Suidobashi Station. From boxing gear to a wide range of equipment for various martial arts, this shop has it all. It is even the go-to place for many major fighters active on the scene thanks to their excellent range.

Many of the staff have competitive fighting experience, or are currently competing at a professional level, and can pass on their advice and understand customer concerns as only a fellow fighter can.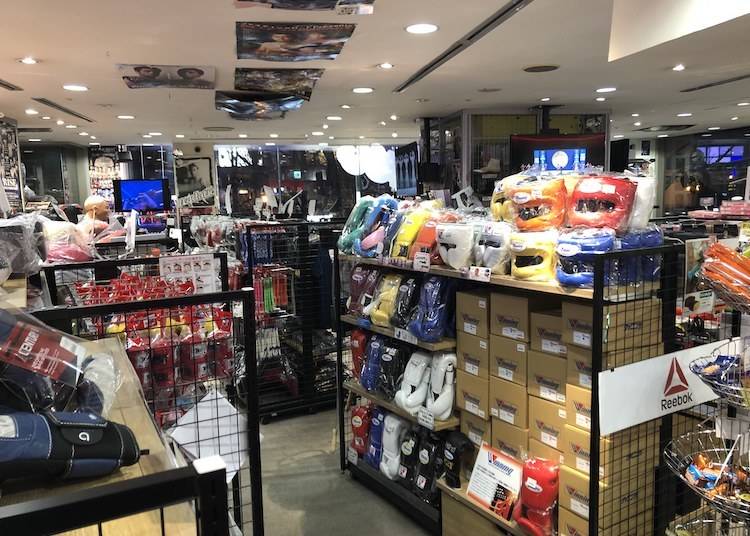 FITNESS SHOP NAMBA
Fans of martial arts are in for a treat when they visit the Namba store. This branch carries the largest assortment of martial arts training products in the Kansai region, along with supplements geared towards improving muscle strength, speed, and diet.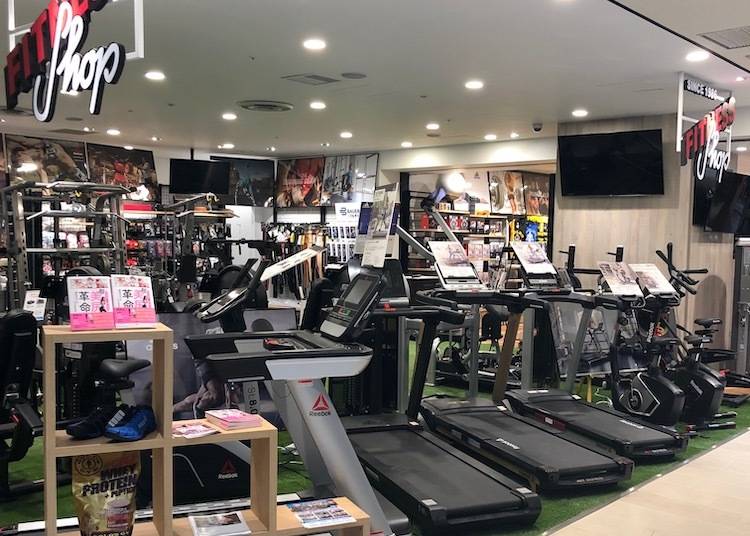 LINKS UMEDA
The FITNESS SHOP LINKS UMEDA branch is the newest location that recently opened in November 2019 and offers the largest selection of fitness machines in West Japan. They also carry a substantial amount of fitness products, including supplements, training wear, shoes, and conditioning supplies.
14 Locations Nationwide with English Assistance!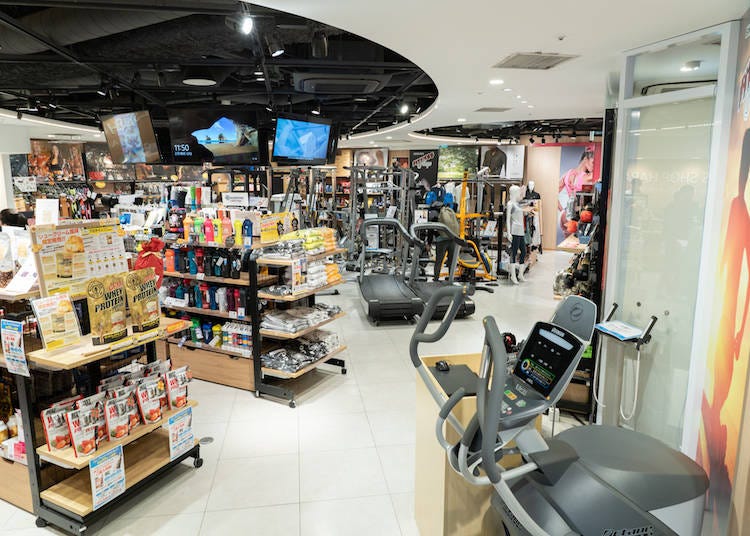 When it comes to sourcing fitness products in Japan, FITNESS SHOP can't be beat. They have 14 locations across Japan, English-speaking staff who are passionate about fitness, a huge assortment of international products for amateurs and professionals, and opportunities to experience machines and wellness. Find your local shop and make 2020 your year to get fit!
Address

Cross hotel Osaka 2F, 2-5-15, Shinsaibashisuji, Chuo-ku, Osaka-shi, Osaka, 542-0085
View Map

Nearest Station

Osakanamba Station (Kintetsu Namba Line / Hanshin-namba Line)
3 minutes on foot


Phone Number

06-6214-7951
Address

Yodobashi Umeda tower 6F, 1-1, Ofukacho, Kita-ku, Osaka-shi, Osaka, 530-0011
View Map

Nearest Station

Umeda Station (Midosuji Line)
1 minute on foot


Phone Number

06-6147-6232
*This information is from the time of this article's publication.
*Prices and options mentioned are subject to change.
*Unless stated otherwise, all prices include tax.