Tokyo's Harajuku is known worldwide as the birthplace of "kawaii" culture. There are fashion stores, cafes, trinket shops and more. With the number of foreign visitors to Harajuku really on the jump, as this is a must-see area for when you are visiting Tokyo.

What do you know about food in Harajuku? Here are 5 carefully selected sweets and dishes that are very popular in Harajuku.
1. Santa Monica Crepes: Fashionable, Instagrammable crepes on Harajuku's Takeshita Street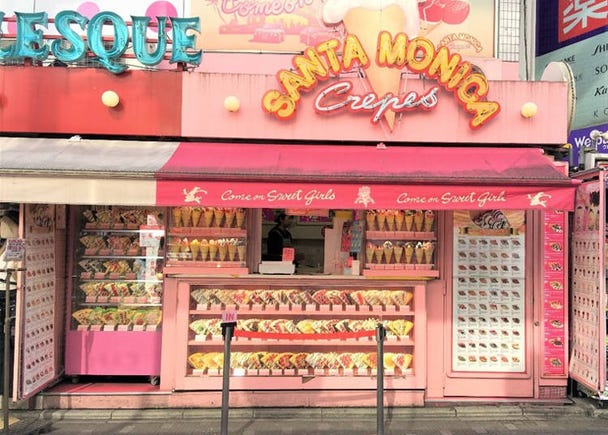 There are many shops responsible for the "Harajuku Crepe" phenomenon. Crepes are something that many people enjoy while sightseeing in the area. The first store I want to introduce is "Santa Monica Crepes."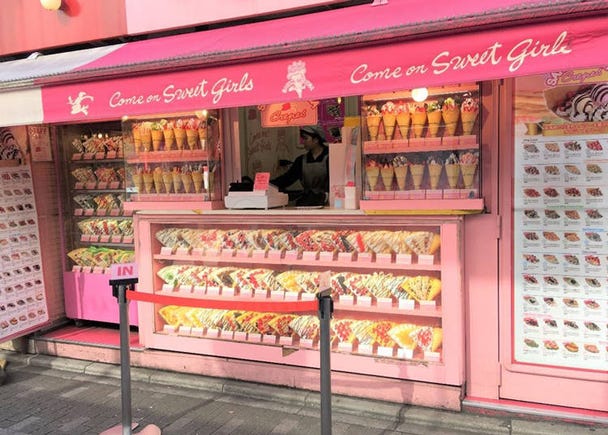 Santa Monica Crepes, where you can enjoy also tapioca drinks, is a 3-minute walk from Harajuku Station, Takeshita exit.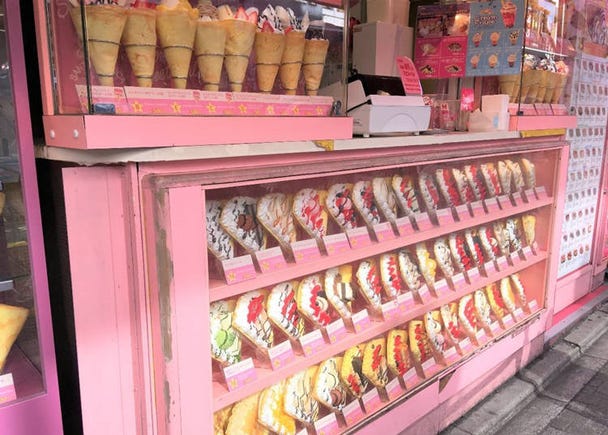 You can choose from a wide variety of options, ranging from sweet whipped cream and fruits, to ham and lettuce for a whopping 120 seasonal items.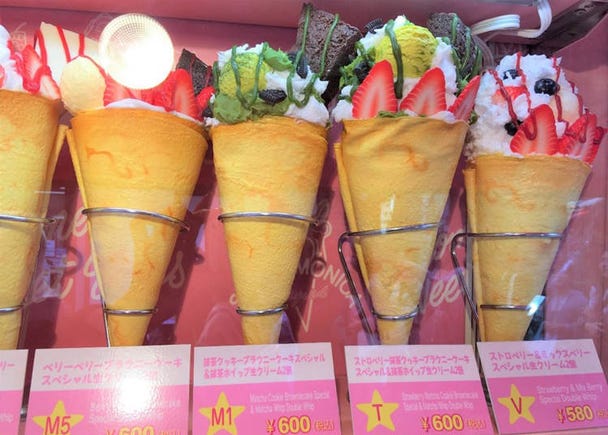 All menus are written in Japanese and English. Once you choose your crepe, tell the staff the item code (like M5), and they will make you a fresh crepe on the spot.

Santa Monica Crepe is characterized by its soft and light texture crepe dough, made with high-quality flour and butter. They also double down on whipped cream.
A bunch of whipped cream…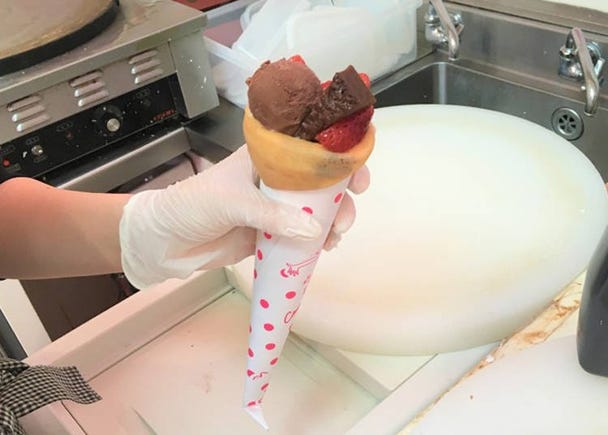 たっぷりトッピングを乗せて…
Topped with a lot of goodness…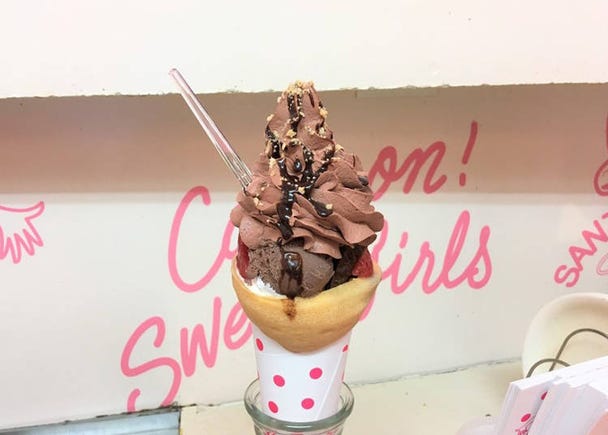 And more cream for even more volume!

Particularly popular items are "P: strawberry chocolate brownie cake special & double fresh chocolate whipped cream (photo)," and "X: custard cream, strawberry, chocolate brownie cake and double fresh chocolate whipped cream," and "matcha cookie brownie cake with double fresh matcha whipped cream" (600 yen/ea, tax included).
サンタモニカクレープ

Address

Je m'appelle Harajuku, 1-16-8, Jingumae, Shibuya Ku, Tokyo To, 150-0001, Japan

Nearest Station

Access: 3-minute walk from JR Harajuku Station, Takeshita exit.


Phone Number

03-6804-5139

Hours: Monday to Friday 10:00-21:30
Closed: Open daily
2. Roll Ice Cream Factory: First of its kind in Japan!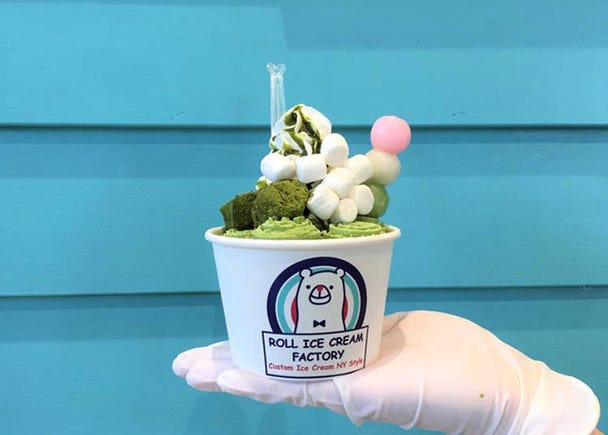 The roll ice cream specialty store "Roll Ice Cream Factory," is a popular shop where you will likely find a line of people waiting for their turn.

Roll ice cream is a kind of ice cream that is hardened on a cold plate and it's rolled with a spatula. This dessert is originally from Thailand, being a popular street food, but it has also become a fancier snack which gained popularity also in NY.
The cream and other ingredients like cookies and cornflakes, are mixed on the cold plate.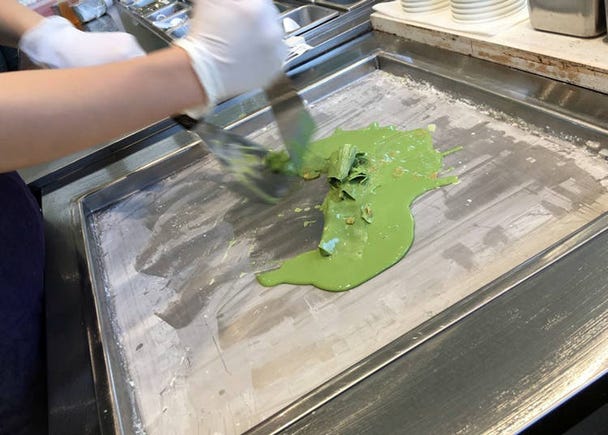 As it gets mixed it solidifies.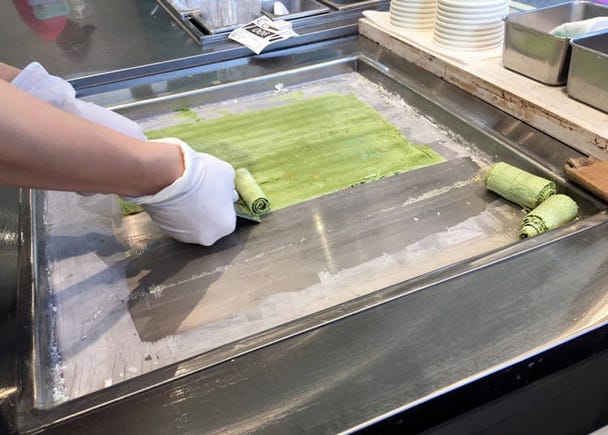 It's fun to see the ice cream being rolled neatly.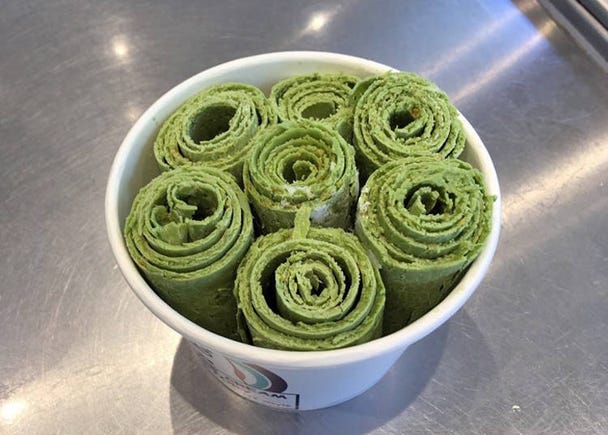 The ice cream is then neatly put in a cup.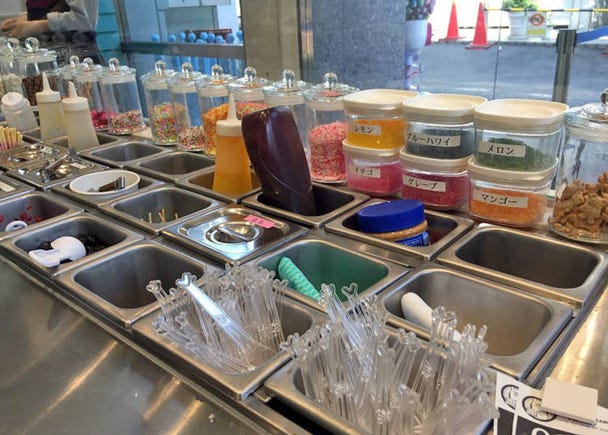 And topped to completion.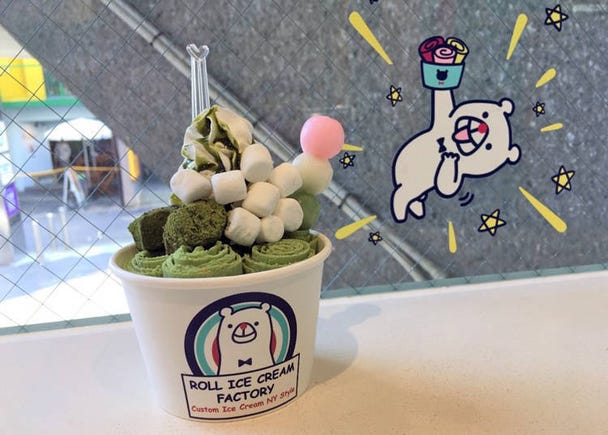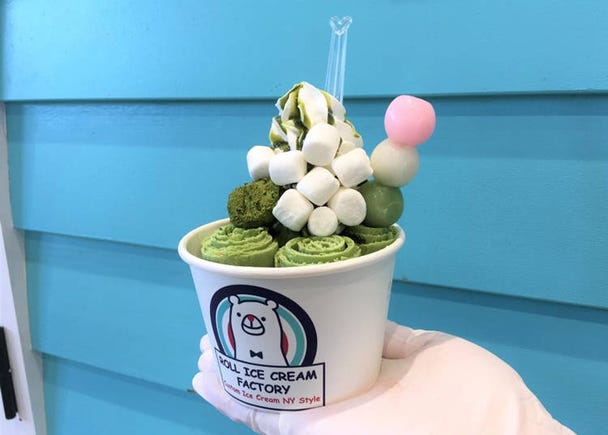 It may seem like it can be made so pretty only by the capable Japanese hand, but the staff in the New York and other shops are super gorgeous too. The ice cream also tastes amazing.

When ordering, you can choose from the recommended menu, or you can make up your own combination of flavors and toppings. In addition to "Matcha Kiss," which you can see in the photo, other popular items are "Cookie Monster" and "Strawberry Stardust" (787 yen/ea + 10% eat-in tax or 8% take-out tax).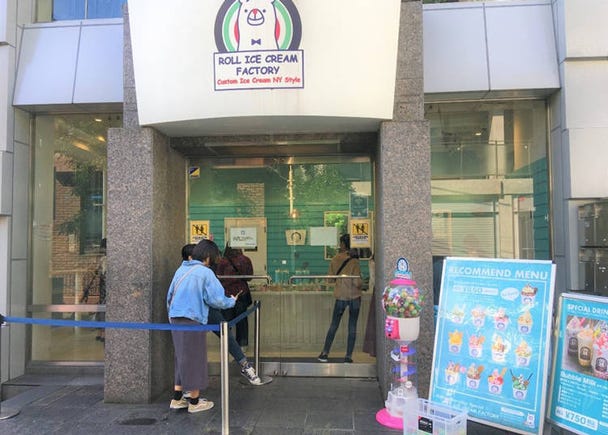 Rolled ice cream still isn't very popular in Japan, therefore there are few restaurants that serve it. This store has seen lines up to 7 hours long. On some days, some toppings may run out, so if you want to make sure you can get your favorite choice, visit in the morning.
ロールアイスクリームファクトリー

Address

4-28-12, Jingumae, Shibuya Ku, Tokyo To, 150-0001, Japan

Nearest Station

Access: 1 minute walking from Tokyo Metro Chiyoda Line/Fukutoshin Line "Meiji Jingumae – Harajuku" station. 5 minutes on foot from JR Harajuku Station Omotesando Exit.


Phone Number

03-6812-9805

Hours: 10:00~21:00
Closed: Open daily
3. Kawaii Monster Café Harajuku: The entire shop is a made for pictures!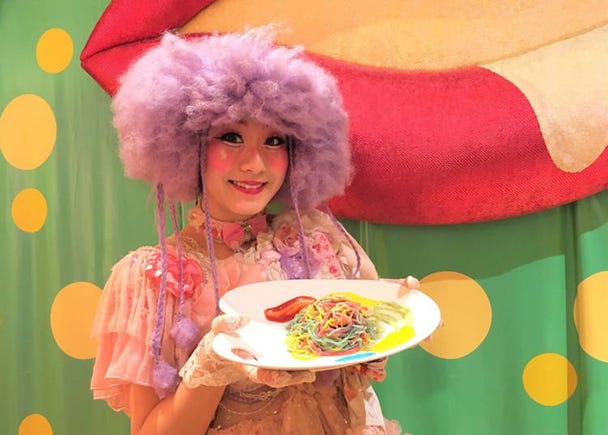 Kawaii Monster Café Harajuku was opened by Sebastian Masuda, the art director who introduced the "Harajuku Kawaii" culture to the world, is a place where you can eat colorful food in an original and unique environment.

Sebastian Masuda is famous for being in charge of the music videos of the Japanese pop singer Kyary Pamyu Pamyu. The café represents Harajuku as a colorful, crazy, monster-city inspired by "Mr. Choppy/Tenthousand chopsticks." The cafe requires a 500 yen (tax not included) entry fee.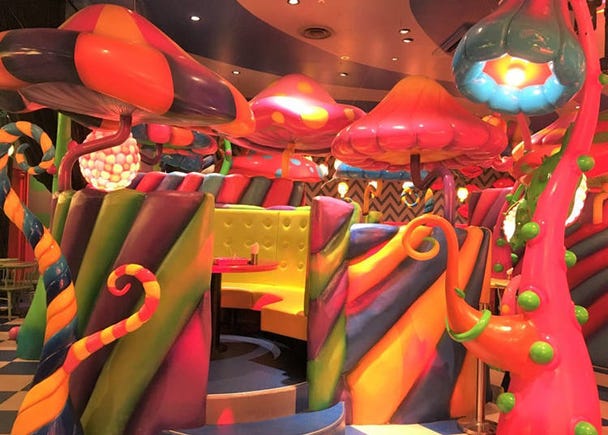 Distinctive flashy colors.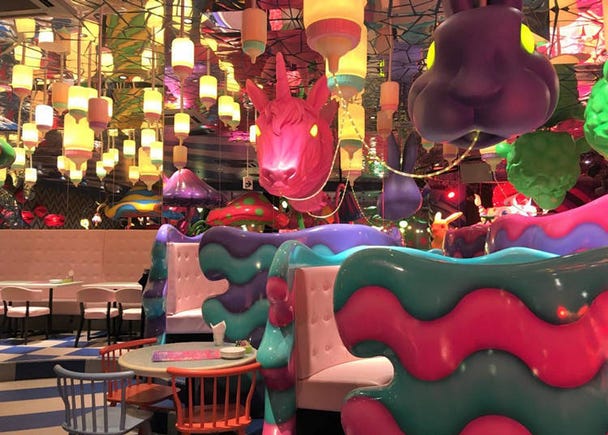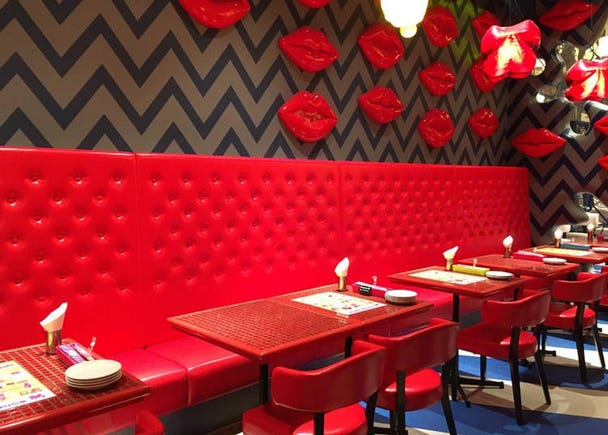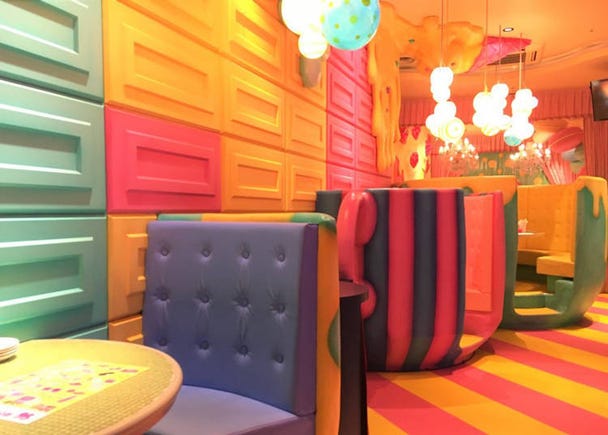 Spots for pictures are everywhere in the store. There are people who visit just to explore the store and take pictures.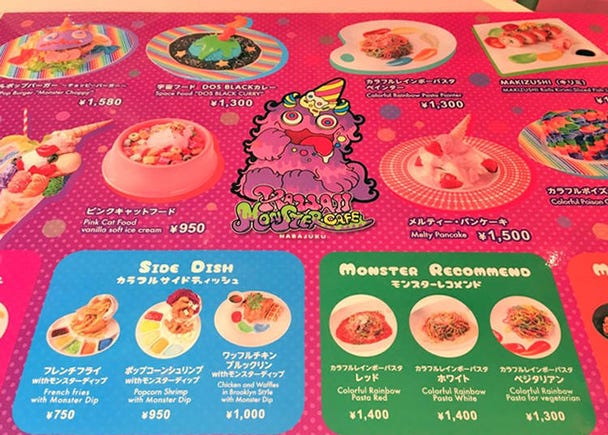 The food menu is also colorful! There are rainbow-colored sweets and other food, as well as alcohol and soft drinks."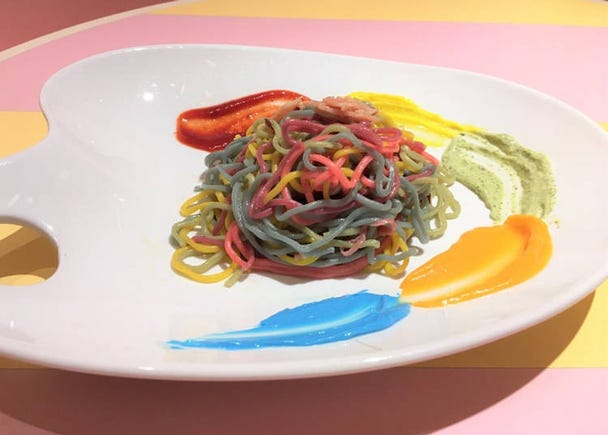 The popular "Colorful Rainbow Pasta Painter" (1,430 yen including tax) is presented with colorful pasta and sauces, making the dish look like a palette.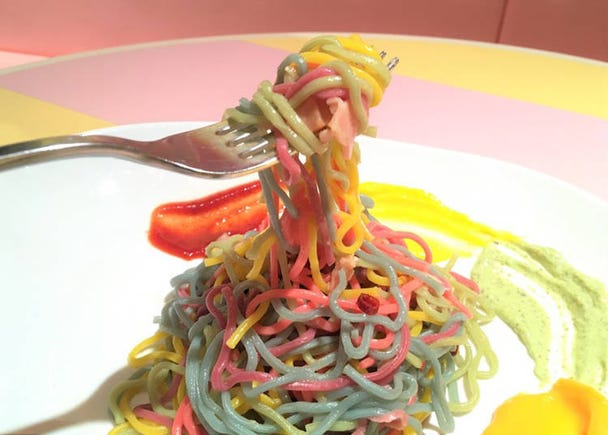 The appearance might hide its true taste! It was delicious pepperoncini, served with chili, tomato, garlic mayo, Genovese, cheddar cheese, and blue butter sauces.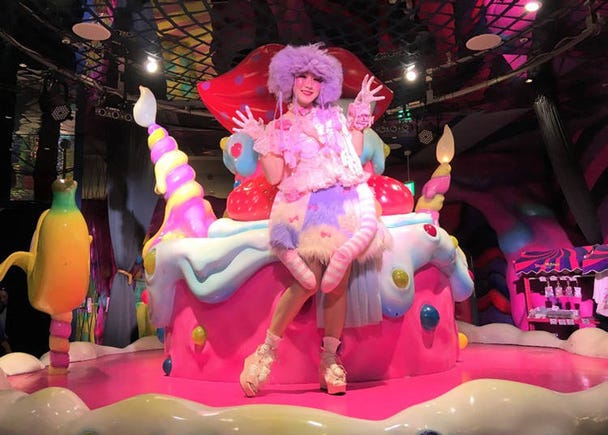 One of the cute monster girls, BABY Manafui.
At lunch time, you can also watch performances of the Monster Girls, the iconic mascots of the café. They will also take you to your seats and take pictures with you.

Many guests are from overseas and there is free Wi-Fi, as well as English menus. There is also staff that can speak English, so feel free to ask them any questions.
Address

YM square building 4F,4-31-10, Jinguumae, Shibuya-ku, Tokyo, 150-0001
View Map

Nearest Station

Meiji-Jingumae (Harajuku) Station (Tokyo Metro Chiyoda Line / Tokyo Metro Fukutoshin Line)


Phone Number

03-6854-8729
4. Le Shiner: Original rainbow food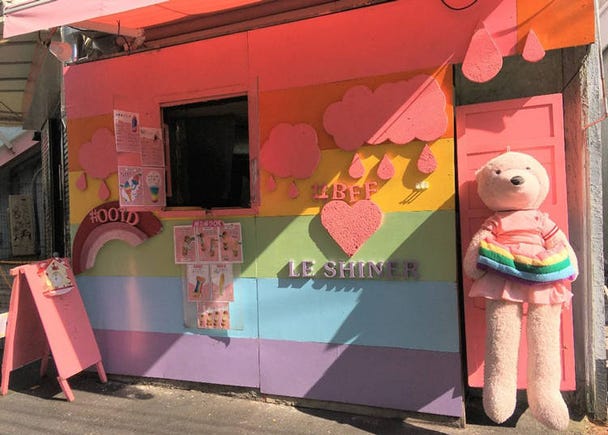 "Rainbow Food" is a big hit in Harajuku. An area of Harajuku is named "Rainbow" and this is where "Le Shiner" is located. This is a cute-looking shop located in a small back street by Takeshita Street. This is the first shop in Japan that exported rainbow food from Harajuku to Korea.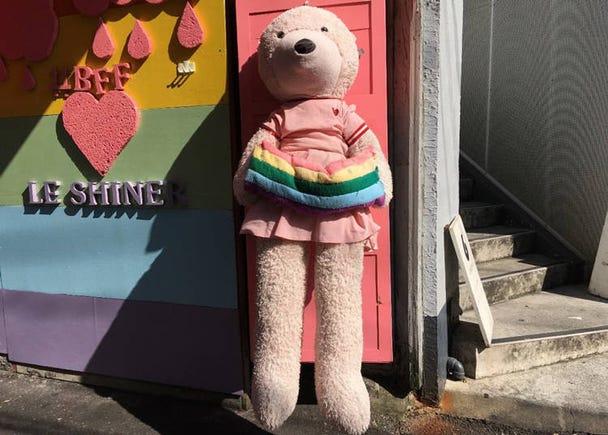 The pink bear in front of the store is a landmark
The shop's flagship dish is the "Rainbow Cheese Sandwich" (1080 yen including tax). Since it's prepared upon ordering, get a number and wait for about 10 minutes for it to be ready.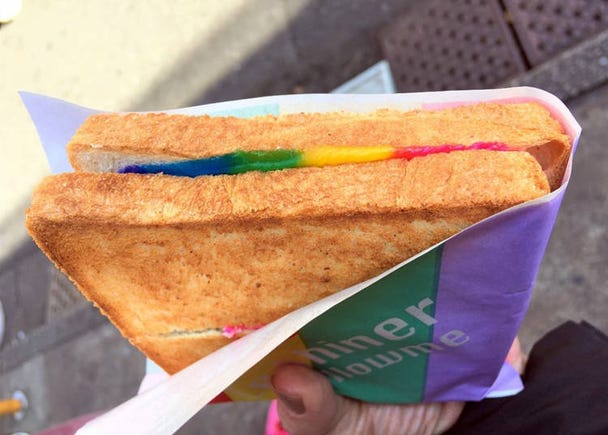 A toast that has been baked with blue, purple, green, and yellow-colored cheeses.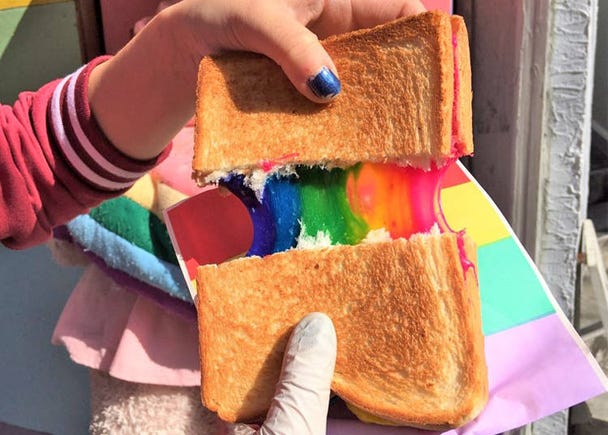 If you open the hot sandwich from both ends, the rainbow cheese will stretch. Take a picture! In order to extend it for a long time, the trick is to do it while it's still fresh out of the oven. Please be careful not to burn yourself.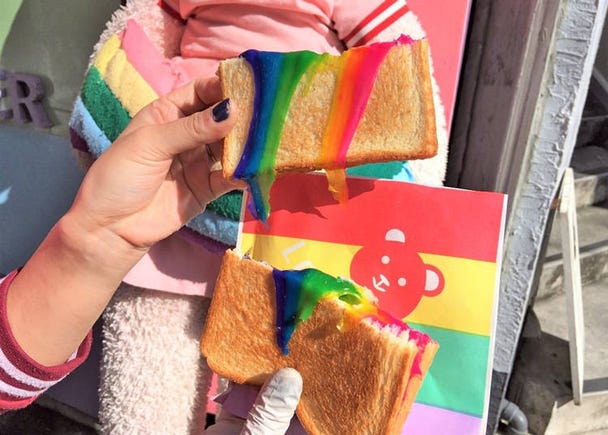 To make it easier to eat, you can wrap the cheese around the bread by twisting your hands around.

It may be difficult to imagine how it tastes just from the appearance, but it's a simple mozzarella cheese sandwich. The looks may be deceiving but when you're hungry, enjoy the perfect match of the flavor of the cheese and of the bread.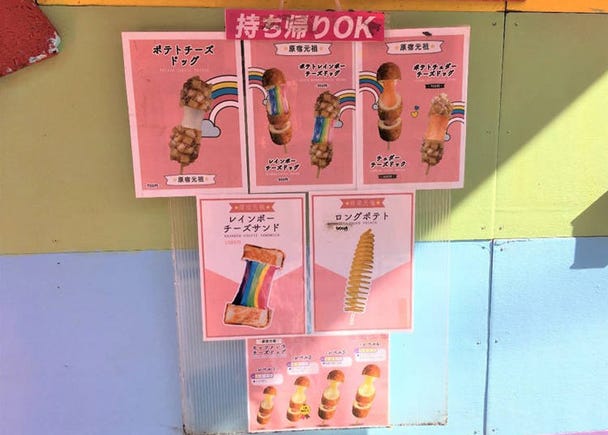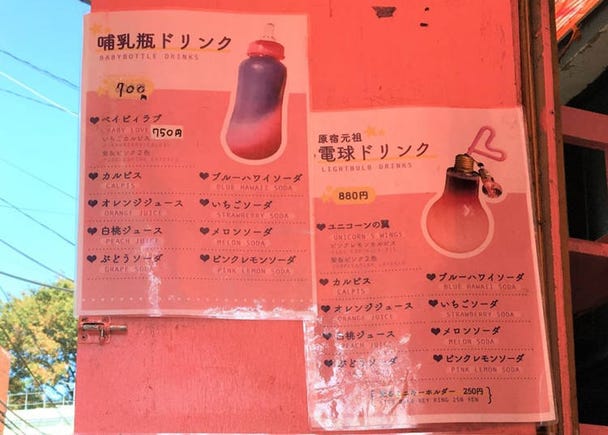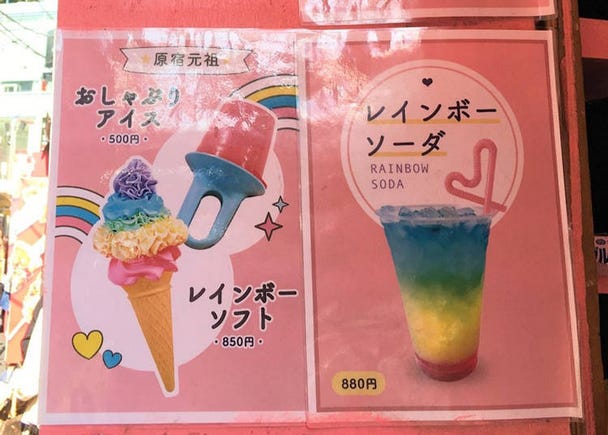 In addition, all the items on the menu are perfect for Instagram pictures! Some recommendations are "Rainbow Cheese Dock" (850 yen including tax), "Lightbulb Drink" (880 yen including tax), and "Rainbow Soft Cream" (850 yen including tax). Try different items and share with you friends.
レ・シャイナー

Address

COXY176 Bld. 1F, 1-7-10, Jingumae, Shibuya Ku, Tokyo To, 150-0001, Japan

Nearest Station

Access: 3 minutes walking from JR Harajuku Station Takeshita exit.


Phone Number

070-1361-8686

Opening hours:weekdays 11:00~18:00 / Saturday, Sunday and holidays 10:30~19:00
Closed: irregular *basically opened all year round
5. Sweet Box 2: Where you can eat delicious freshly baked crepes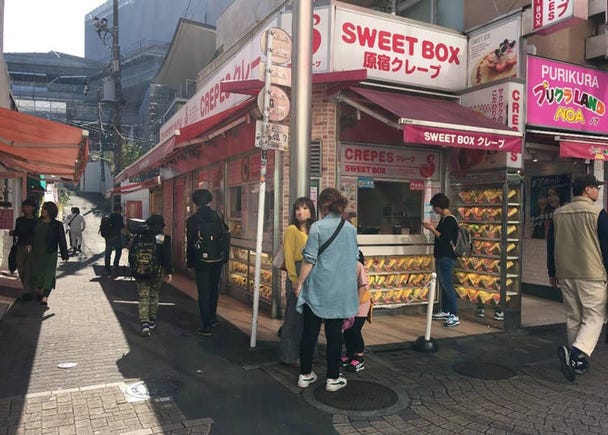 Harajuku is a crepe battlefield! Here is another recommended store for crepes. "Sweet Box" has two stores in Harajuku station, right into Takeshita Street. This time, we visited the second store.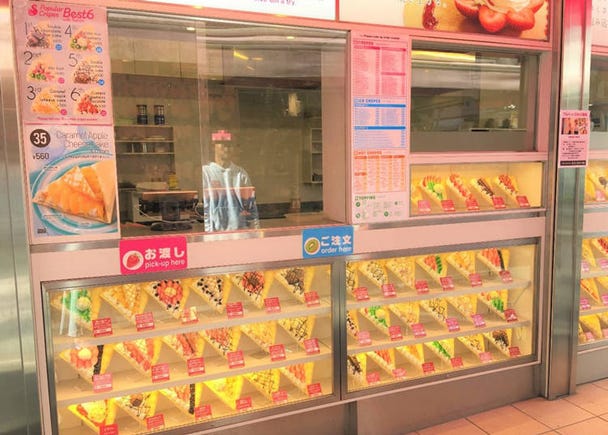 All items are displayed in Japanese and English. Once you have decided just give tell the stuff your number of choice.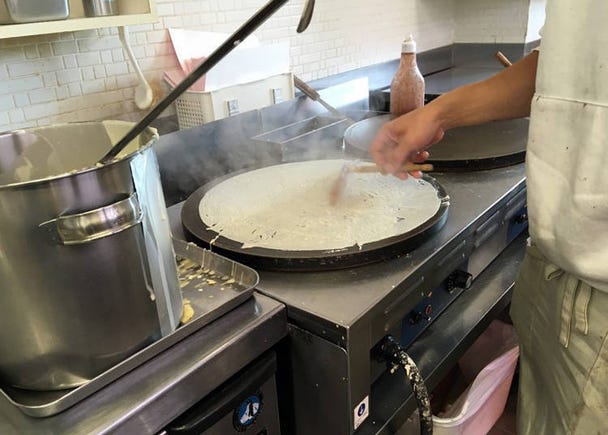 In general, there are many crepe shops that make crepe dough, but Sweet Box is particular about baking it for each order.
It has a nice scent of freshly prepared dough and plenty of fruit on top…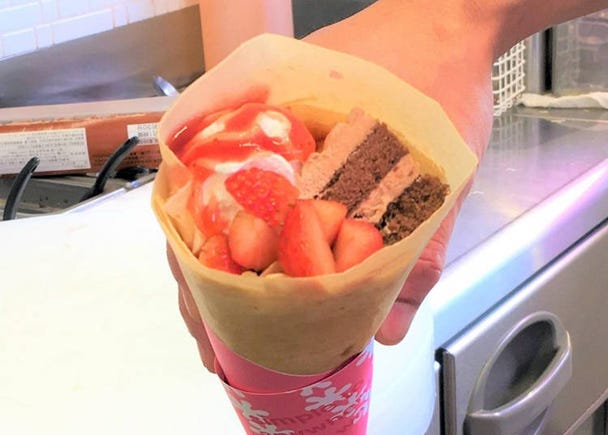 Once the cream is on top, add the fruit to complete it!

The most popular item is "Strawberry Chocolate Cake Cream" (560 yen including tax). After all who doesn't like the combination of whipped cream and strawberries.

The distinctive feature of this crepe is that the dough has a firm taste of wheat! Also, since the crepe is made with freshly baked dough for each order, the crepe is crispy, accentuating the flavor of the dough.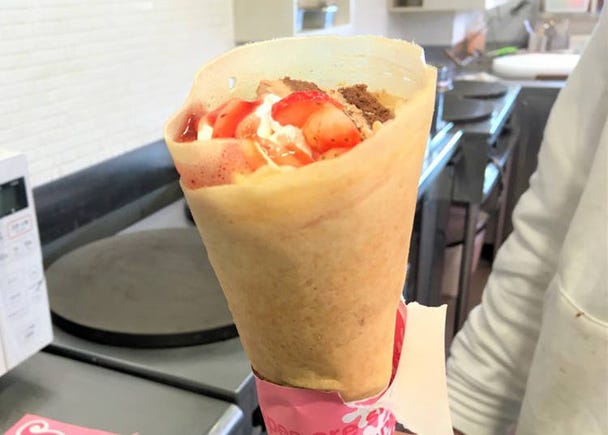 The crepe can be eaten with a spoon but it's just as easy to work on it as you peel the paper wrap.
For those who don't favor sweet foods, the hot "ham potato salad" crepe (520 yen including tax), is also recommended.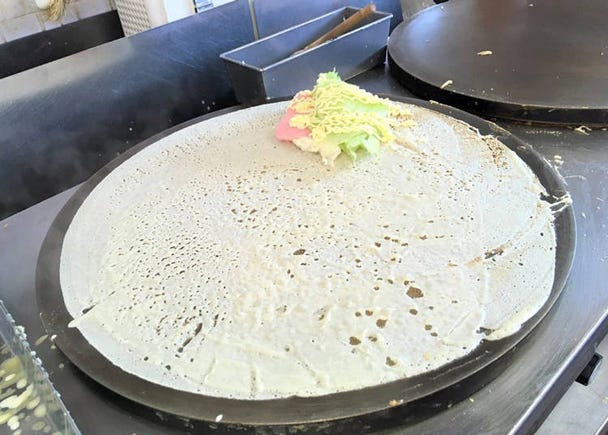 Unlike sweet crepes, this one is prepared by placing the ingredients on the crepe while baking it on a hot plate.

Even people who usually don't enjoy crepes, now can. Some customers buy both sweet and non-sweet crepes both and alternate between them!

The Noa Café on the same street is an affiliated store. For this reason, you can bring your crepes purchased from the Sweet box to the café for tea! By the way, Noa Café is the first coffee shop in Harajuku, and it's been around for 50 years.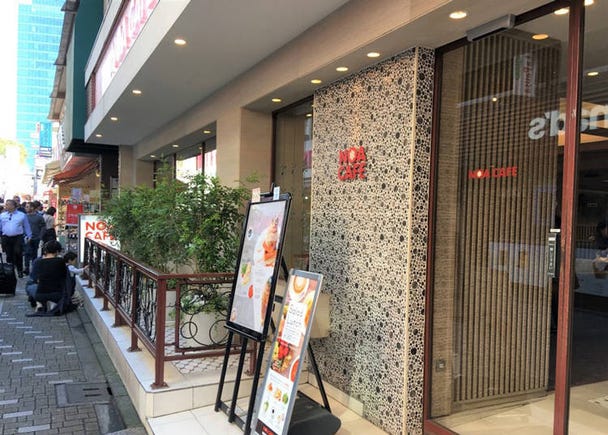 As soon as you enter Takeshita Street from Harajuku Station, you will find Noa Café on your right-hand side. If you get tired of shopping and sightseeing in Harajuku, you can buy a crepe at the Sweet Box and take a break at the café.
スウィートボックス2号店

Address

1-17-5, Jingumae, Shibuya Ku, Tokyo To, 150-0001, Japan

Nearest Station

Access: 2 minutes walking from the Takeshita exit of JR Harajuku Station


Phone Number

03-3478-1435

Hours:10:00~22:30
Open all year round
Harajuku is full of colorful and cute food representative of the "rainbow food." All of these dishes are perfect for pictures and look great on social media, so make sure to take photos before you eat the delicious food.

Written by: Kurabayashi Jiei, Dali Corp.
*This information is from the time of this article's publication.
*Prices and options mentioned are subject to change.
*Unless stated otherwise, all prices include tax.