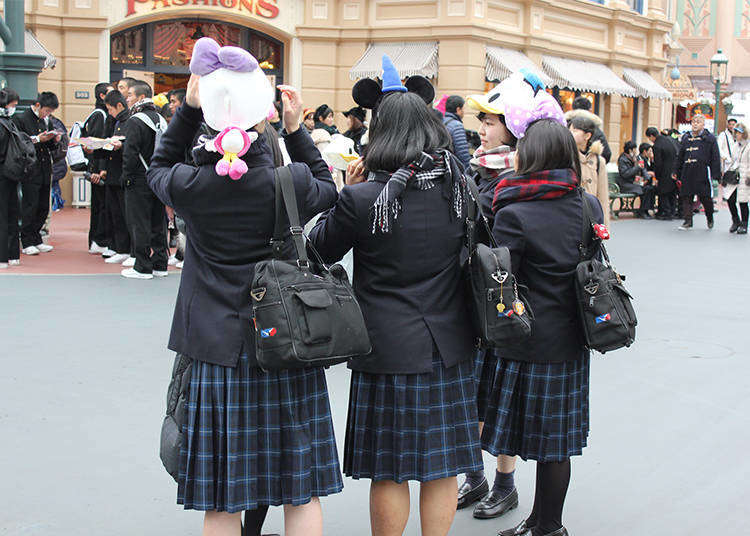 Visiting Harajuku and its Takeshita Street surely is on your must-do list for your trip to Tokyo. It's home to one of Tokyo's most famous Japanese school uniform shops: CONOMi.

It's a female school uniform specialty store that doesn't sell uniforms of specific schools but so-called "free uniforms." They're for high school students who want to wear a uniform even outside of school, in a more casual way – because of that, CONOMi's creations are just a notch cuter, cooler, and fancier than the regular versions.
Inside CONOMi: One of Tokyo's Top Japanese School Uniform Shops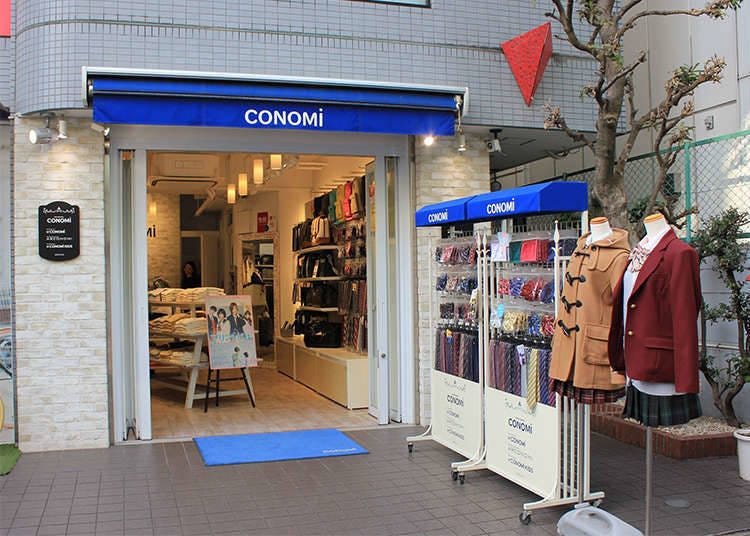 However, these free uniforms have all the right attributes of the original: they're sturdy while comfortable, while somehow always looking neat and clean. Now, since these uniforms aren't tied to any school, anyone can buy them – yes, anyone, no matter how old you are or where you're from!

CONOMi comes up as the first result on search engines when looking for "free uniforms" in Japanese, and its clothes are regularly featured in fashion magazines. Jackets, cardigans, skirts, or entire outfits – the choice is yours.

We talked to Toyoko Yokoyama, CONOMi's vice president, about the shop's roots and how it manages to get so much love from Japanese high schoolers from all over Japan!
It All Started With a Fashion Magazine...
A fashion display at CONOMi
Ms. Yokoyama is originally from Niigata. After coming to Tokyo, she worked for manufacturers and trading companies for ten years. After that, she ended up supporting a small clothing store in her hometown, managed by her mother, together with her older brother. However, she does not have good memories of her own school uniform.

"It wasn't cute at all, in fact pretty ugly. I tried adapting it to the style of my era, but that made it worse (laughs). I thought that schools should abandon uniforms and switch to regular clothing instead."

This was until a high school student, and her mother visited Ms. Yokoyama's shop.

"This girl, she showed the magazine 'Seventeen' and said: 'I want cute clothes like this.' It was a school uniform. Why would you want to wear a school uniform if you could wear regular fashion, is what I wondered. But I looked at the magazine and yeah, it was cute!
Seventeen is a magazine that has always made a point about wearing school uniforms in a cute way. And I thought: If there are uniforms like that, I'll be able to get my hands on one."

However, the shop of her mother sold underwear and clothes for older women. It didn't have any deal with a uniform maker, so the uniform had to be custom-made. That was back in 2003.

"Back then, the majority of local schools only had the default uniforms. Because of that, rather than making a profit, I acted out of the enthusiasm to answer the desire of that one high school student to wear a cute uniform. That she'd be so happy with the uniforms, we eventually made, even wear it as regular fashion, that was an eye-opener for us as well."

Friends of the girl who was wearing this "uniform" quickly approached the store with requests of their own. Then, rumors spread to neighboring schools and all around the prefecture, and girls from far away came to Ms. Yokoyama's store. Custom-made uniforms took too long to make to meet all requests – and that was the beginning of CONOMi.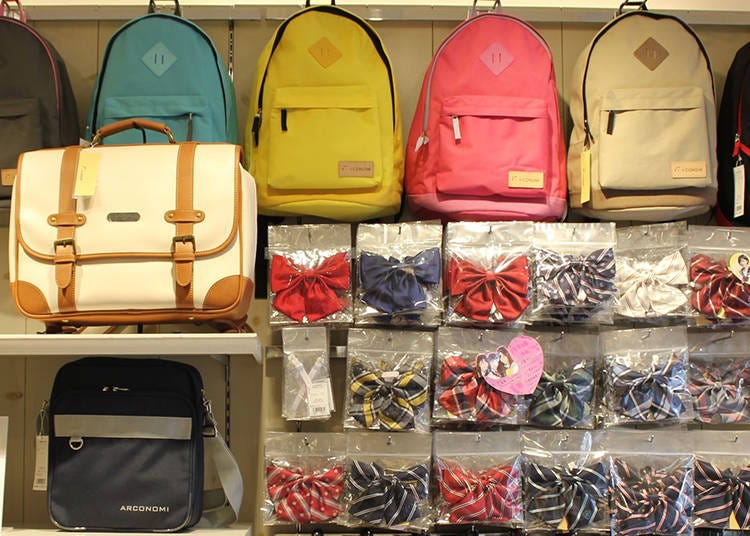 The Japanese school uniform shop also offers bags, ribbons, and all sorts of other accessories. The most popular item right now is the white bag on the left (Lycee Sac, 14,000 yen, tax excluded). "In the smartphone era, backpacks that keep both hands free have been popular for several years now."
Moving to Tokyo: a Japanese School Uniform Brand is Born
However, because Ms. Yokoyama's store was in a relatively small town in Niigata, there wasn't much room to expand. Mind you, this was back in 2005, so even though the number of requests for cute uniforms has increased, people were still wary about online shopping.

A lot of people wanted to go to the store and look at the clothes themselves. Because of that, early CONOMi held a 2-day sale in Tokyo, and after that proved to be a massive success, the first Japanese school uniform shop opened in Japan's capital.

Selling adorable school uniforms won't properly work unless you're fully committed. "We were ready to go all in. Either Harajuku or not at all."

That lead to CONOMi being opened just a 3-minute walk away from Harajuku Station, right at the entrance of Takeshita Street. In the beginning, the shop offered various things from makers of "free uniforms" that seemed likely to be popular with the customers.

"We knew what kind of things sold well, so we purchased our ware for a lot of customers. And just before the time of entrance ceremonies, almost everything was sold out.
A regular uniform maker will just end their sale once they're out of stock, but we had a shop to maintain, so we were in trouble. Furthermore, I felt that there was a gap between what we were offering and what the students wanted.
It's not like they wanted something completely different, but that with pleats, a different length, a bit of a different silhouette – details, really. But we couldn't help our customers because we didn't make the clothes ourselves.
In our second year, we launched our own brand, making what everyone wanted to wear."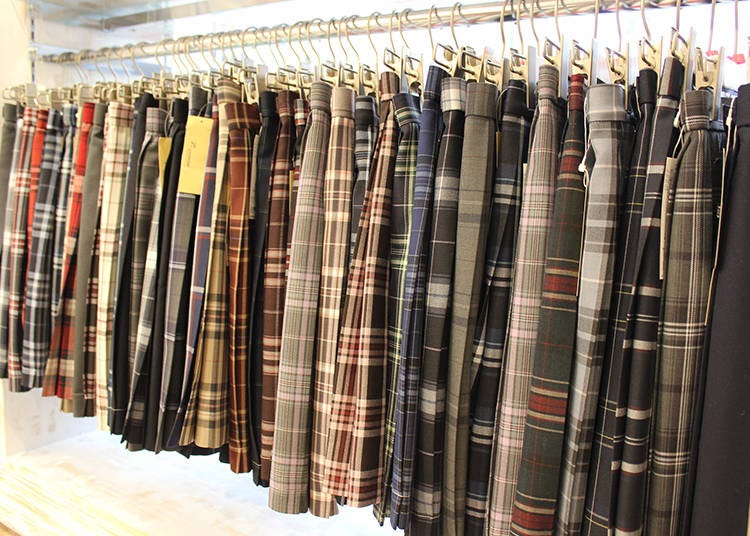 The current lineup of the brand. The skirts come in all sorts of patterns and differ by a lot of subtle details.
One of the most important things regarding the design is that it matches the taste of the students.

"I talked with my customers, and I noticed that I had the perspective of an adult. I realized that we directly had to adopt the perspective of the students."

Experience told Ms. Yokoyama that simply creating one piece wasn't enough. It doesn't have a point unless it looks cute in a whole outfit made of a top, skirt, shirt, and necktie. In 2009, the company's brand made its first full set.

"I knew what the students wanted, so I wasn't worried or afraid at all. And it sold!"
Creating Fashion for Female High School Students
Since that time, the concept of CONOMi's own design hasn't changed.

"Uniforms are made under the influence of a lot of people's opinions, such as teachers, students, parents, and so on. The design focuses on being comfortable to wear and move in for a lot of people.
We are committed to fashion, but while our uniforms are for students, they also feature girliness and offer the ability to be worn in a cute, fashionable way.
They're not too extravagant or flashy but make people want to wear them because no one else has something like it.
On top of that, if there's a girl who thinks 'that is so nice, but I wish it were a centimeter shorter or longer,' we'll adjust the size for her.

While the number of buttons on a jacket change by the trend, CONOMi chooses only to have two buttons to emphasize the necktie and ribbon as cute highlights.

These uniforms follow entirely different trends than those of general fashion – and those trends differ by grade. They're no determined by individual influencers but are born rather spontaneously, manifesting themselves in the smallest, subtlest details.

"We get our hints from the girls who come to our store on a daily base or from those walking around town. When I recommend a way of wearing something, I always hope for an honest voice that says, 'It's better that way,' 'No, no way,' or 'Not that color." Of course, I'm disappointed at first, but it's also helpful advice for me."

The most popular uniform right now that was born from these trends is this style: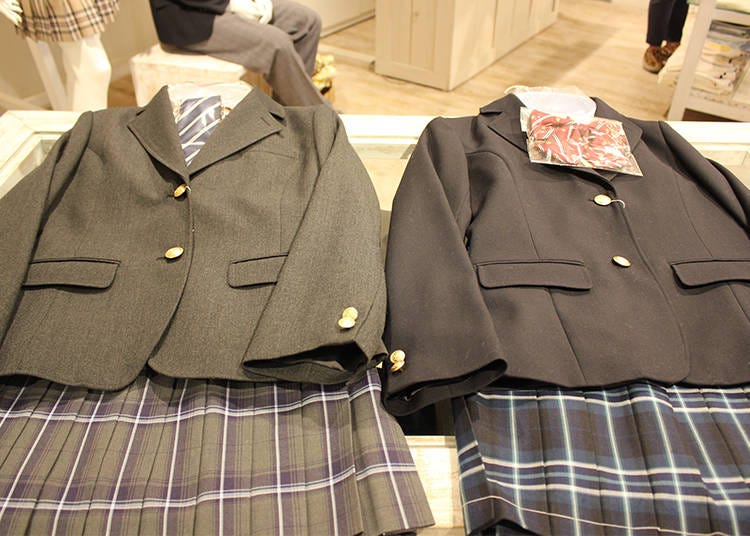 The entire outfit with shirt, ribbon, jacket, and skirt is available from around 37.400 yen (tax excluded).
"There was a time when pink and camel was extremely trendy, but now navy and gray are popular as base colors. When you wear this, it's extra trendy right now to leave the first button of the shirt open and loosen the necktie a bit. The skirts got a little longer (3cm) since last year, and the socks got shorter. The current trend is really neat and clean."

In 2017, CONOMi also opened a store in Osaka. That became possible because the trends are roughly the same, which hasn't always been the case.

"Osaka's most popular style generally is 'American casual.' [It's a simple, casual style based on the image that Japanese people have of American Ivy League students.] Completely different from Tokyo.
I feel like Osakan students generally wear a larger size, and the skirts fell down to their calves. Instead of leather shoes, they wore sneakers a lot, in the past.
The mini skirt was seen as almost vulgar at first (laughs). Now, our best-selling skirts are still a tad longer than Tokyo's, but the trends have grown closer to each other."
"Now's the Only Time for High School Uniforms"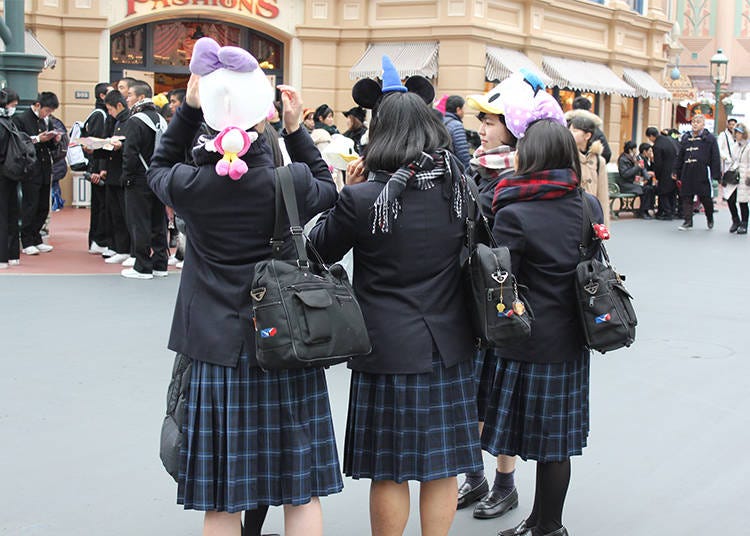 High school students enjoying Tokyo Disneyland in their uniforms
High school girls who wear school uniforms even on the weekend do stand out.

"Be it school uniform or free uniform, a lot of people seem to feel the need to wear a uniform while shopping on the weekend as well. Even though they have a regular uniform, they wear their free one on weekends. We also have customers who buy a set to wear it at a festival of another school."

The reason for this seems to be that high school girls say that "now is the only time I can wear this." Because of that, no one would wear these uniforms beyond that point. "No matter how pretty you are, you can't wear a high school uniform after graduation, right?" is apparently a common saying.

"There are trends on Instagram such as 'uniform Disney' or 'uniform Universal' [Universal Studios]. I think it is that as well."

The fact that these kinds of clothes can only be worn "now" is an important factor. Although the uniform is worn every day, it's basically a limited-time prime outfit, one's best clothes, so to say. And it's something that represents who you are. That fits what Ms. Yokoyama said about the uniforms. But what about the high school boys?

"We can do a lot with the female uniform, but not so much with the boys'. We thought 'Can't we make this a tad cooler?' and created this uniform style. Fashion-forward boys or those with fashion-forward moms think 'Having a uniform would be nice,' and they're gradually increasing!"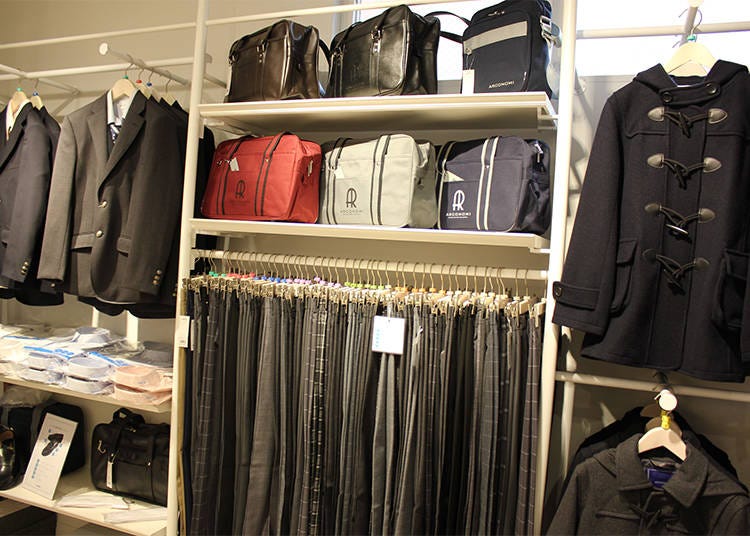 There's a rich lineup of bags and coats for boys.
As we talked to Ms. Yokoyama about that very topic, an elementary school boy in 6th grade and his mom entered the Japanese school uniform shop.

Because the uniform regulations of his middle school are lenient, they have come to find a pair of pants for both the elementary school graduation ceremony and daily life at middle school.

"Fashionable uniforms" is a trend that spreads further and further, and CONOMi also sponsored the "Uniform Award" in which students from all around Japan award the school that has the best uniforms. In 2017, it was held for the 5th time and saw entries from more than 3,000 boys and girls from all over the country.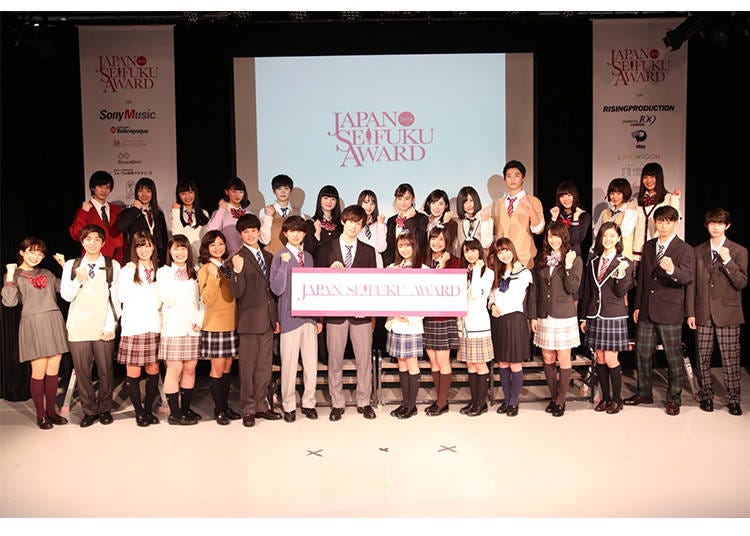 The award winners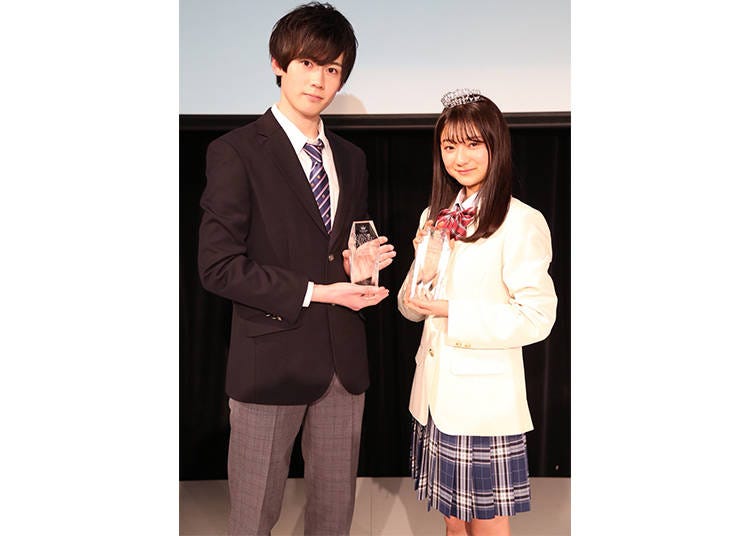 This year's Grand Prix
Those who shine in the Grand Prix become models for CONOMi's catalog and website – even people who now work successfully in the entertainment world are among past winners. The contest draws many eyes and talent scouts from major entertainment and record companies are always on the lookout for future stars.
"Japanese School Uniforms are a Symbol of Freedom"
When we visited CONOMi, there was also a Chinese mother and her daughter browsing the selection. They bought a shirt, a skirt, and leather shoes.

"In China, girls in their late teens and mid-twenties mainly wear casual, over-the-counter clothes. You'll see a lot of people wearing regular fashion, among them is one person in a uniform. Japanese people don't seem to wear them after graduation, but in China, people seem to pay no mind to that."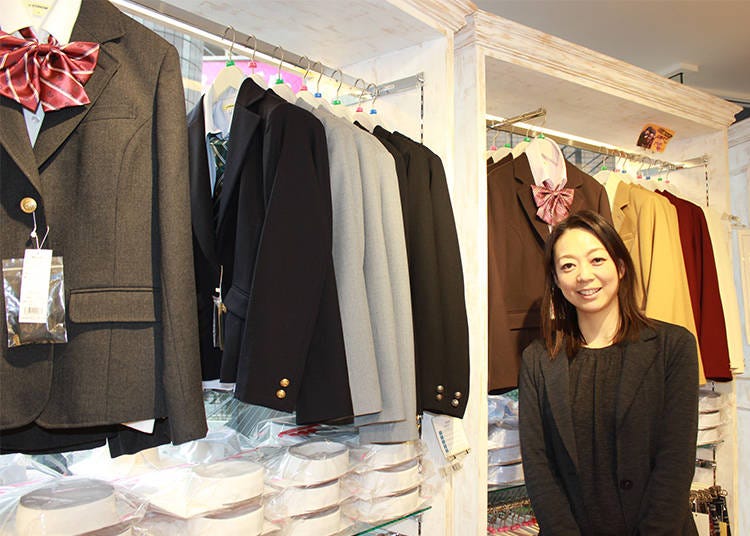 Ms. Yokoyama in her Japanese school uniform shop
CONOMi opened its first overseas location in Hong Kong in 2017, with great success. The brand also sells its uniforms in Shanghai at two select shops, and it seems so popular, another uniform award could easily be hosted there as well. In Asia, high school uniforms are seen as fashion, and people buy them because of that. European people, on the other hand, seem to think about cosplay first.

"We have customers from the West who buy a single item if it reminds them of manga or anime. Male customers often buy a gakuran jacket [a jacket with a stand-up collar] and souvenirs for their girlfriends. Sailor-style uniforms are popular among our female customers from the West. Some people buy a couple of outfits. We have sizes from SS to 5L, that's 60cm ~ 85cm in the waist, but people tend to choose whatever silhouette they like best. Pink is also a popular color."

To spread the unique cuteness of school uniforms, Ms. Yokoyama also expanded overseas. Takamasa Sakurai, who was a prominent researcher of Japanese pop culture, has understood that Japanese school uniforms are famous internationally, to a point where he participated in events overseas. It is one of Takamasa Sakurai's comments that stands out:

"Japanese school uniforms are a symbol of freedom."

At that time, CONOMi was acting as a Kawaii Ambassador of the Japanese Ministry of Foreign Affairs and represented school uniform culture alongside styles such as Lolita and Fairy.

"When it comes to uniforms, we always think of the image of being bound, tied to something. However, it also somehow carries the nuance of being free."

That is because the Japanese school uniform is closely connected to youth, a brief yet carefree time. Doing one's best to look fabulous, following one's own style, and the desire to establish school uniforms as legit fashion – that's the spirit that CONOMi represents: "High school girls' 'now.'" No matter if you're looking for a full outfit, a cute piece to call your own, a souvenir, or simply for a whiff of the freedom of youth, why not stop by CONOMi yourself?
*This information is from the time of this article's publication.
*Prices and options mentioned are subject to change.
*Unless stated otherwise, all prices include tax.