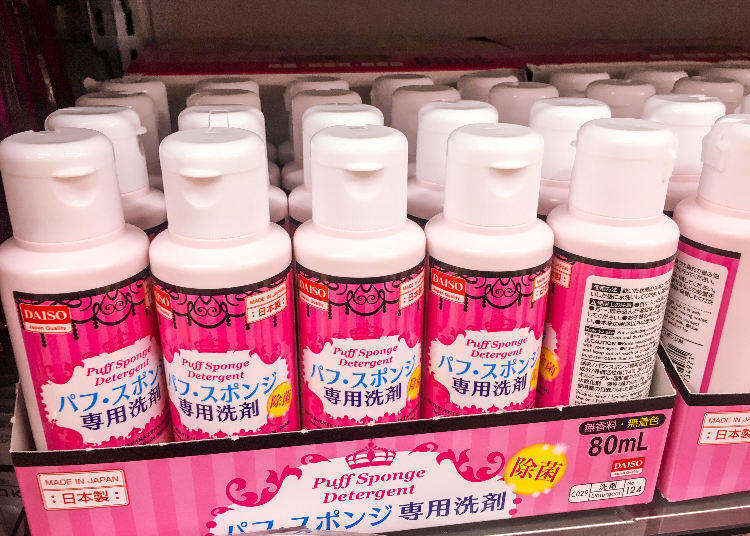 Daiso, Japan's largest chain of 100 yen shops, boasts more than 3,150 locations throughout the country. And Daiso Harajuku is one of its popular shops!

Part of its allure lies in the fun you have choosing what to buy, and the excitement at seeing something sold at an unbeatable price. You'll find a wide range of unique items at Daiso, and they're all only 100 yen! "Affordable, useful, fun"—that's what shopping at Daiso is all about.

There's plenty of "Japanesque" trinkets and multi-purpose items that make ideal souvenirs. It's no wonder that Daiso is the to-go place for travelers. No matter how full your Japan itinerary may be, there's always time for Daiso!

Let's take a look at the top 10 best-selling items at Daiso Harajuku that you should pick up before you leave Japan.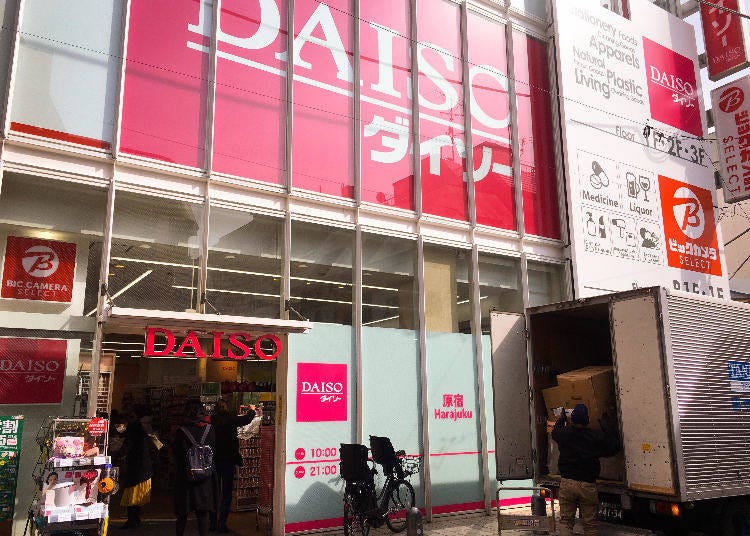 1. Whitening Essence 30ml -- It really works and moisturizes your skin, too!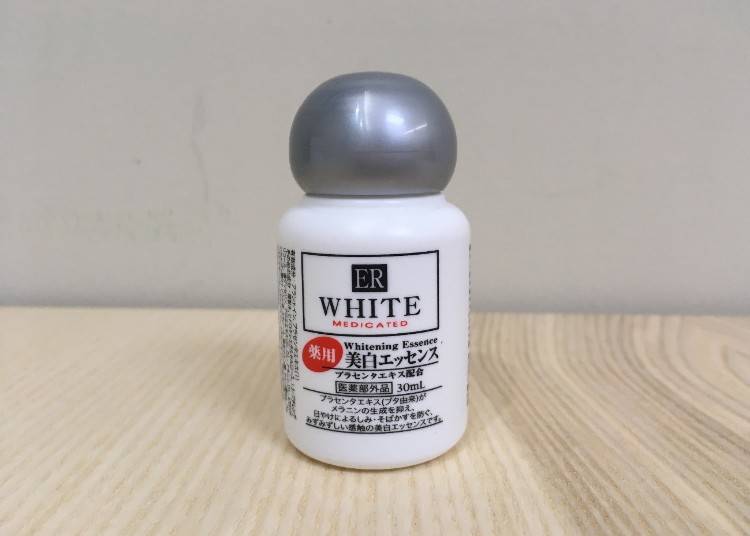 Daiso's White Medicated Essence contains placenta extract. Use it to slow the production of melanin and to prevent wrinkles and spots brought on by sun exposure. The clear watery essence applies evenly onto your skin, leaving it moist and hydrated. Press your palms against your cheek and enjoy the soft and springing texture of your skin.

This clear essence is odorless and suitable for everyone. At 30ml, this bottle is perfectly travel-sized. White Medicated Essence is so popular that it sells out as soon as it hits the shelves, forcing Daiso Harajuku to stock it only during certain hours of the day. If you're lucky enough to see it on the shelves, don't hesitate to buy it!
2. Vacuum Seal Storage Bag (Large 60x50 cm size) -- Make Extra Space In Your Suitcase And Store Bulky Winter Clothes!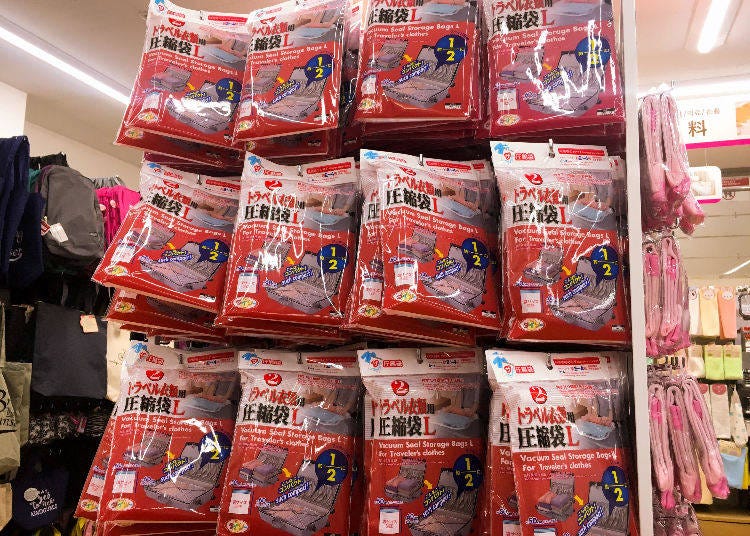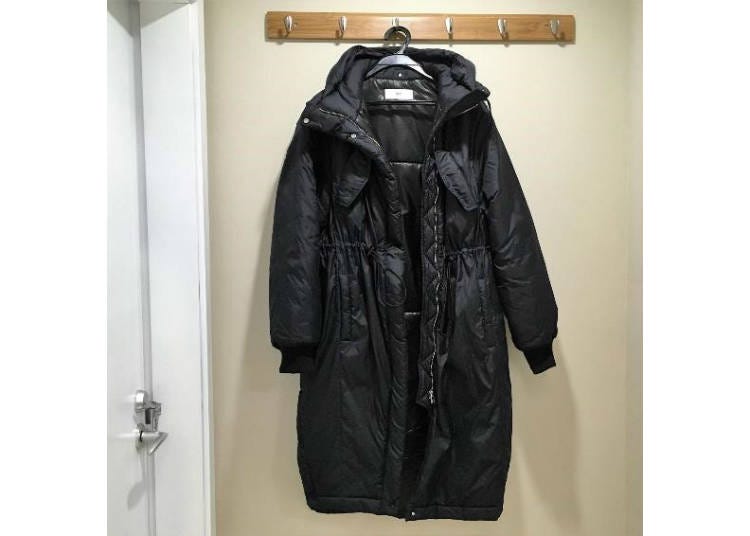 Before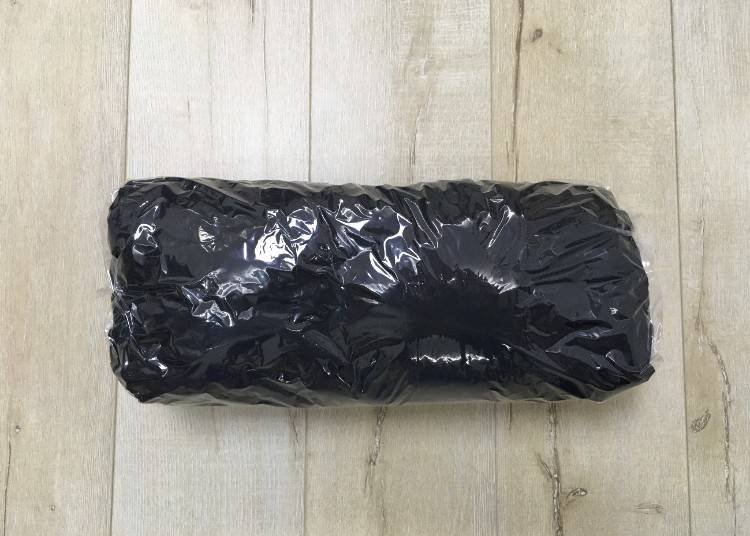 After
Bought so much stuff in Japan that there's no more room in your suitcase? You needn't worry if you've got this large-sized vacuum seal bag which you can find at Daiso Harajuku.

Simply fold your clothes, place them in the bag, and close. Grab the corners and roll to release the air inside. Once you're done, you're left with a neat package roughly half the size of what you started with. This long down coat is 10 centimeters thick, but look how small it became. You can also use this to store bulky seasonal items in your closet and save space.
3. Puff Sponge Detergent 80ml -- Get Rid Of Dirt And Grime!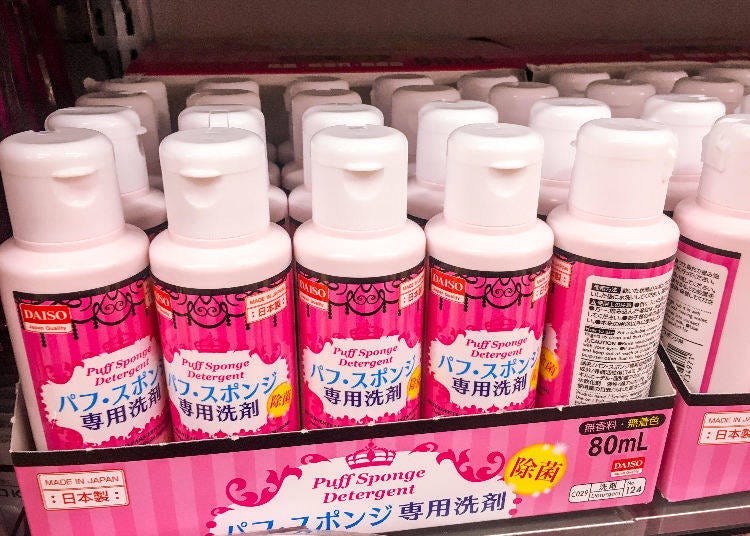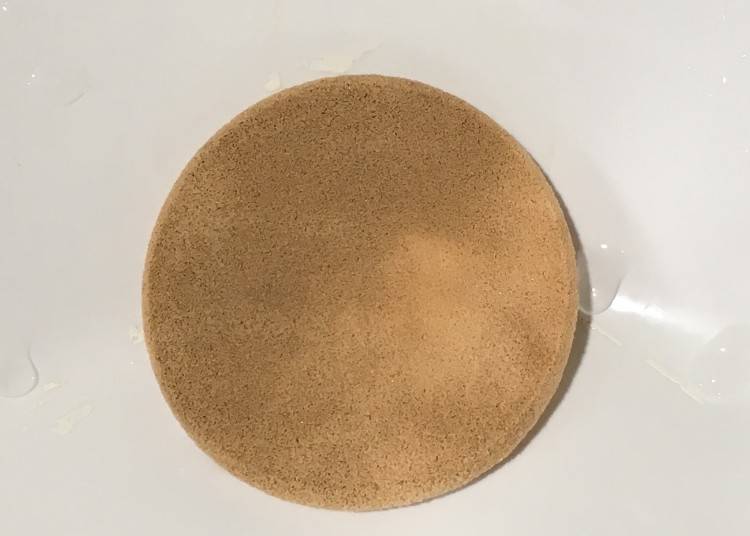 Before cleaning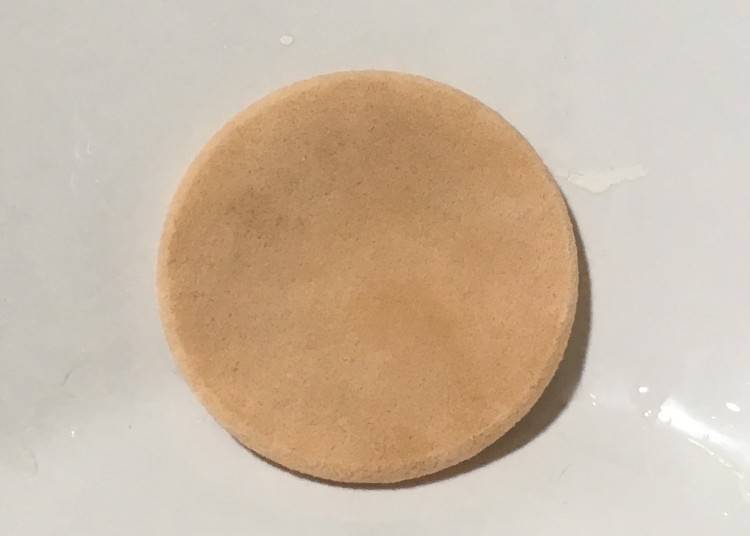 After cleaning (front)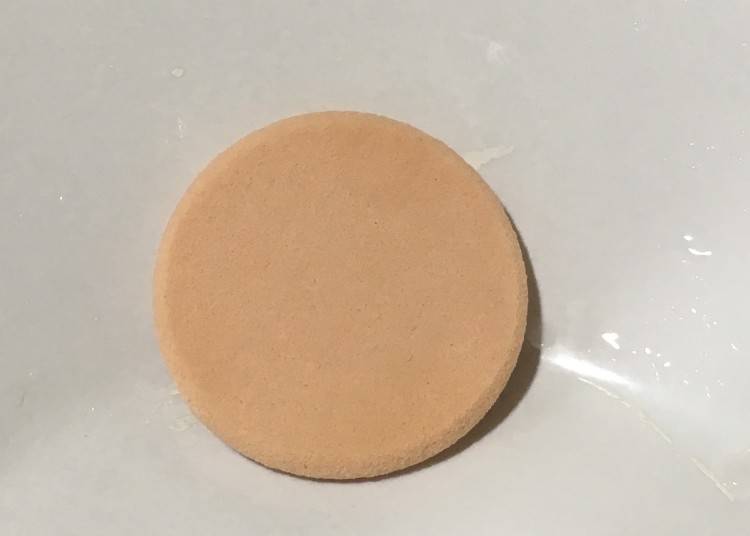 After cleaning (back)
This detergent is formulated especially for makeup puffs and sponges. Odorless and colorless, it's made with ingredients gentle enough for your skin and sponges. Simply let your sponges soak in detergent for 30 seconds and see how the foundation floats to the top. You can barely see a difference in the unused side of the sponge and the used side of the sponge after cleaning.
4. Sushi Erasers -- So Cute And Realistic, You'll Want To Eat Them!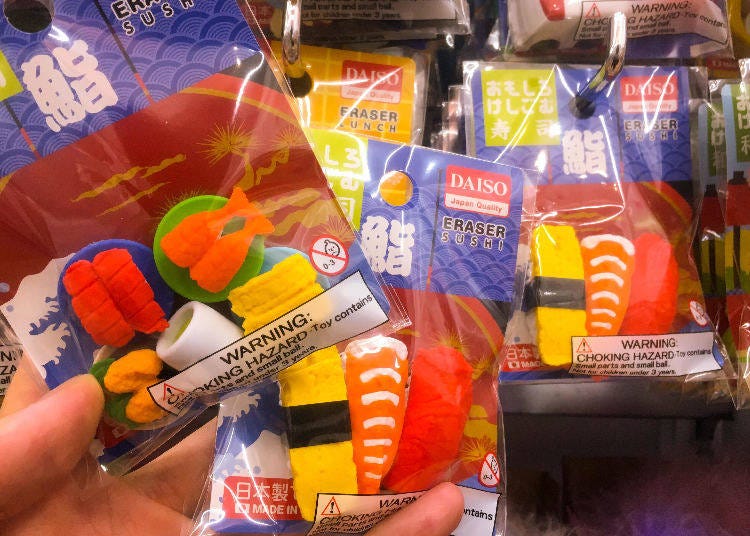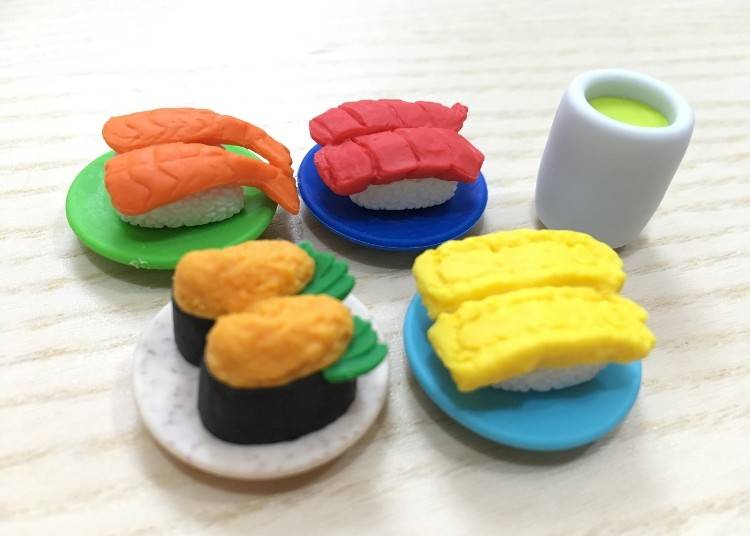 How cute are these miniature sushi erasers? Gotta love Daiso Harajuku! Resting on a plate about 2.5 centimeters in diameter, you'll be amazed at the level of detail put into these realistic sushi erasers. Each dish looks like it came off the conveyor belt at a sushi restaurant. You might not want to use these erasers, but they actually are as functional as they are cute. Lighten up the mood at school or work with these playful sushi erasers.
5. Seaweed And Wasabi -- A Match Made In Heaven! Crunchy Seaweed Wasabi Soy Sauce Chips, 35g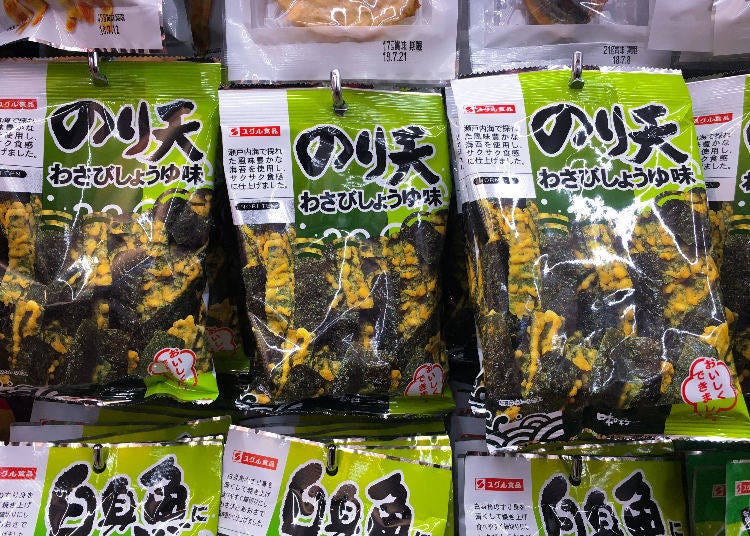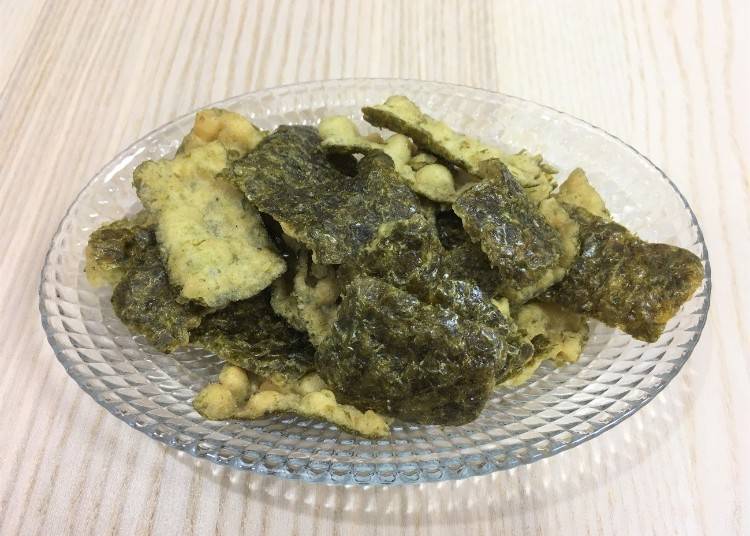 Perfect as a standalone snack or pair with a cold one, these Seaweed Wasabi Soy Sauce Chips envelop you with the aroma of seaweed as soon as you open the bag. Try one, and the signature kick of wasabi hits you right in the nose after the scent of seaweed. Enjoy two of Japan's unique flavors with this addictive, bite-sized, crunchy chips. Rounding out this snack is the taste of soy sauce that fuels your hunger -- once you start, you can't stop.
6. The Solar-Powered White Lucky Cat -- Be Soothed By Its Charming Gesture!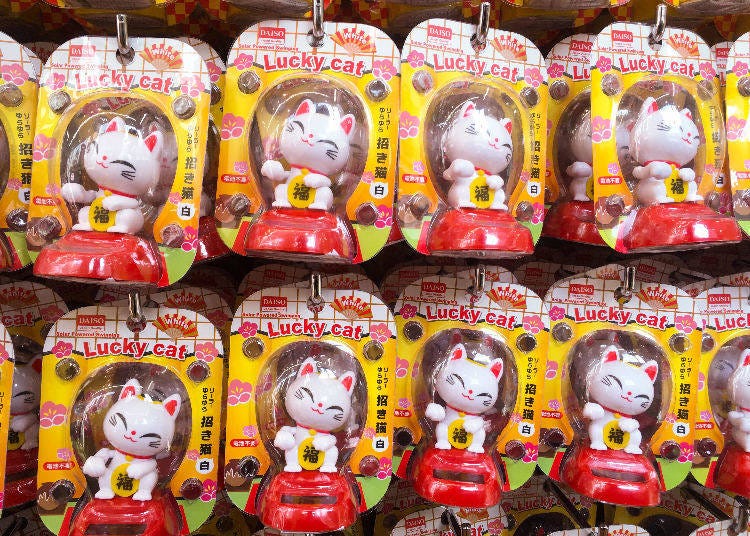 This "Lucky Cat" is a palm-sized version of Japan's Maneki-Neko, an auspicious cat that brings good fortune with every sweep of its paws. Whether you're at work, out for a drive, relaxing in your living room, or on a bathroom break, this lucky feline is sure to charm you with its serene facial expression and hypnotic movement. Attach the cat to virtually any surface using the strip of adhesive attached to its base. The product also uses solar panels as an energy source, so you don't have to worry about batteries. Be sure to place your lucky cat in a well-lit area. Artificial light also charges the cat, but depending on the type of bulb and distance between the cat and light source, it may not charge efficiently.
7. For Eyebrows That Are On Fleek 24/7 Eyebrow Coat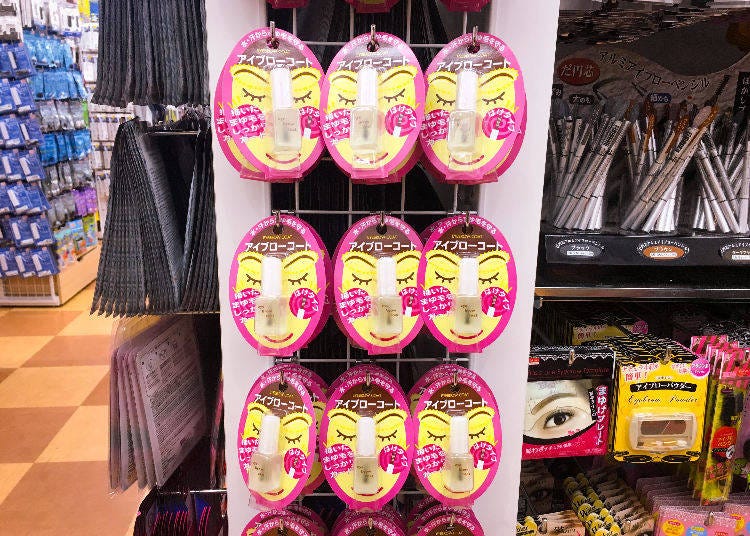 Waterproof your eyebrows instantly with this eyebrow coat. You could easily mistake this product for nail polish top coat. Simply apply a thin layer of this specially formulated eyebrow coat after you've finished your eyebrows. Wait for about 30-60 seconds, and the coat will dry, making your eyebrows smudge-proof and keeping hairs in place. This eyebrow coat is a must-buy for anyone who wants gorgeous, long-lasting eyebrows!
8. Large Japanesque Goldfish-Shaped Pouch -- For A Gift That Just Screams "Japan"!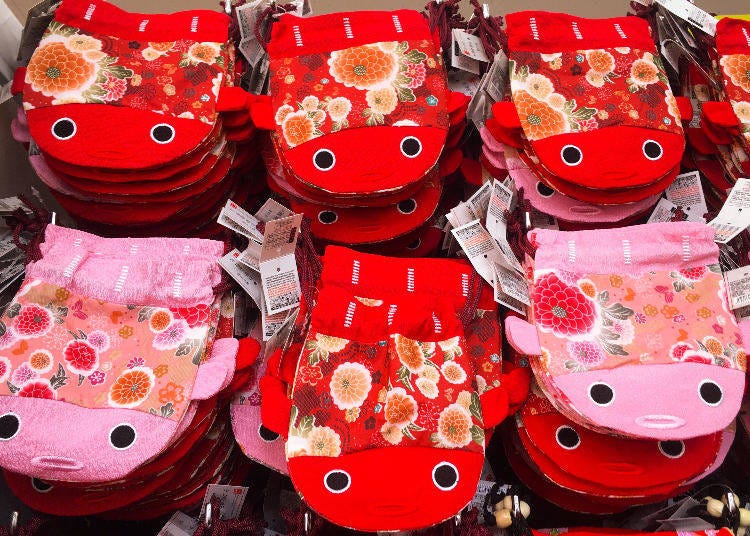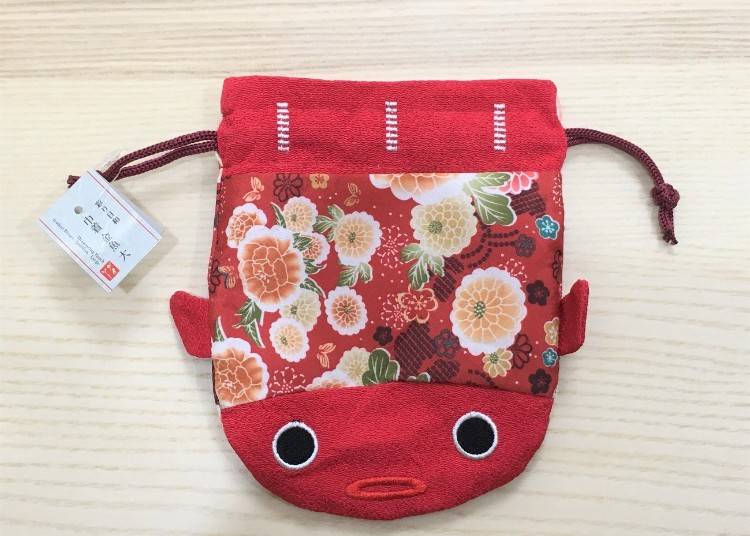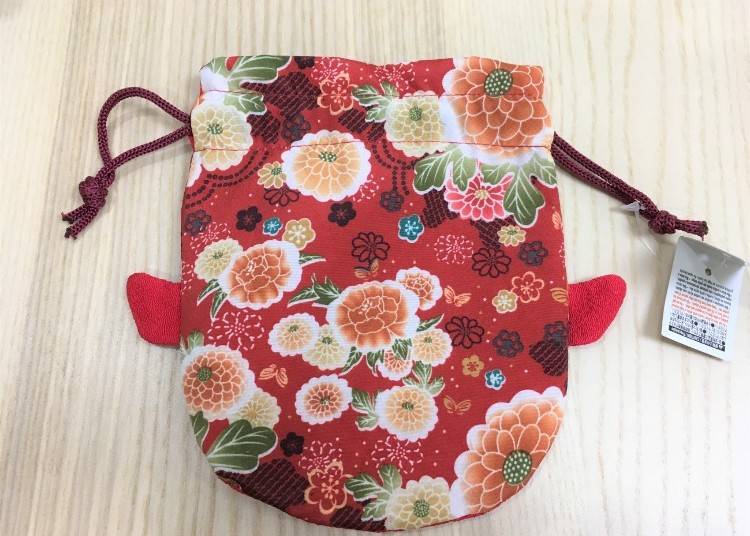 Fall in love with this adorable goldfish-shaped kinchaku, a traditional Japanese drawstring pouch. It measures 4.5×14.5 cm when laid flat. One side features the goldfish's body, while the other is a Japanese flower pattern. The head and tail of the goldfish are made out of a crepe-like fabric known as chirimen. The pouch itself is made of a polyester/rayon blend that makes opening and closing the pouch a breeze. You'll never know when it will come in handy, so store it in your purse or backpack.
9. Rich Sheet Mask (Cherry Blossom) -- More Essence Than You Could Possibly Ever Need!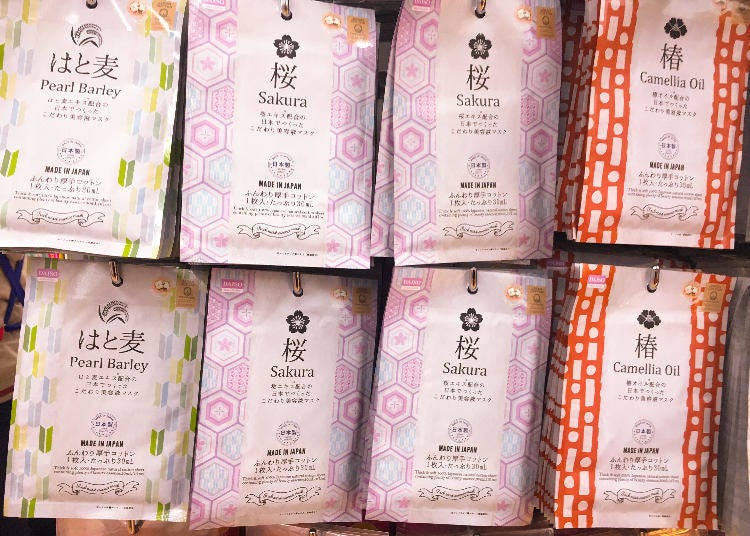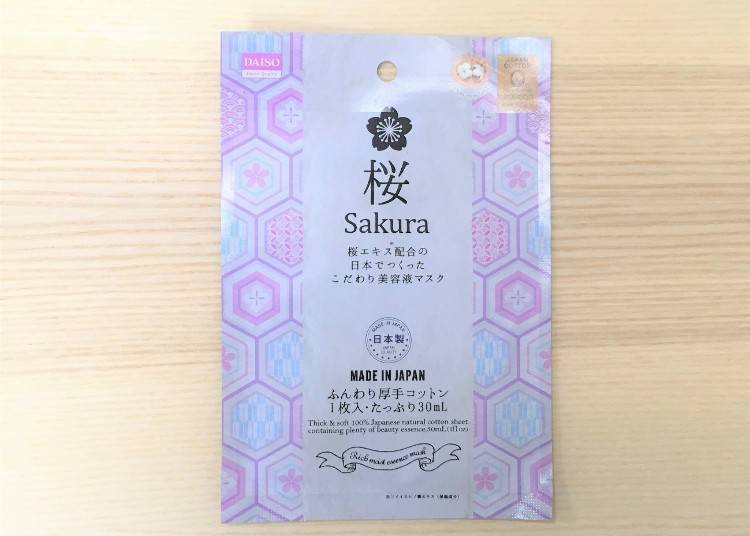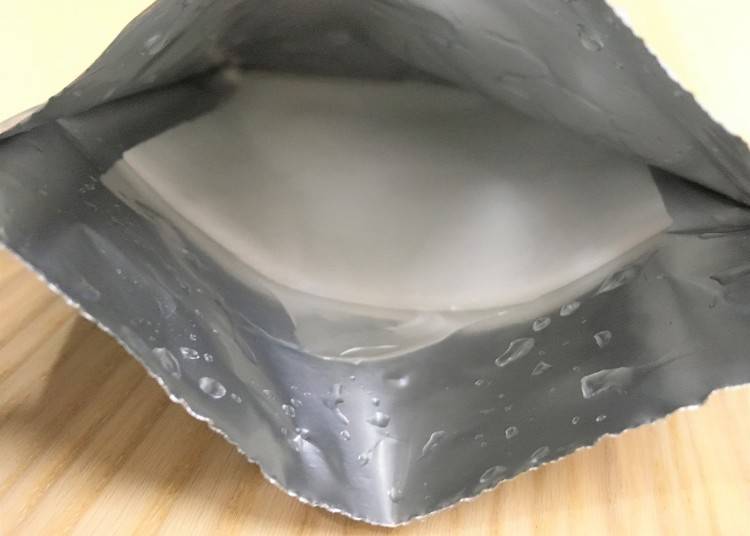 Made in Japan, this sheet mask is made from sturdy cotton and packs a whopping 30 mL of essence with cherry blossom extract. Be careful when you open the package! The scent of the essence is not overpowering and leaves your skin feeling smooth.
10. Large Size Decorative Fan, Approx. 29×41㎝ -- Customize It To Your Heart's Content!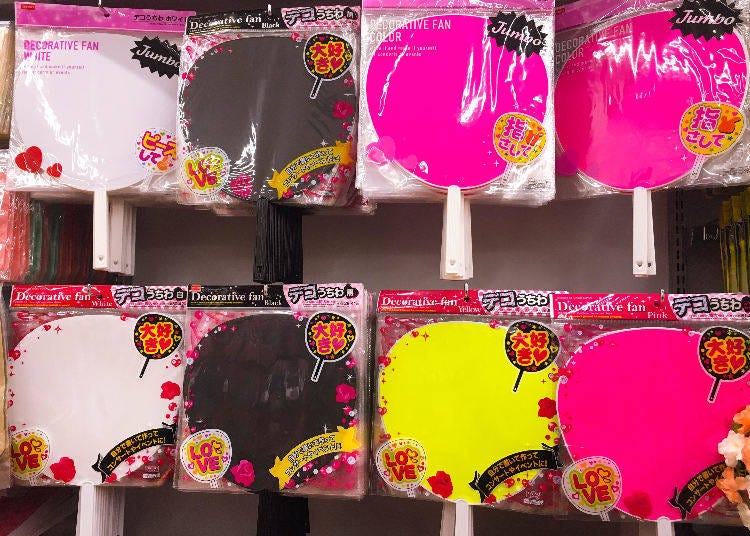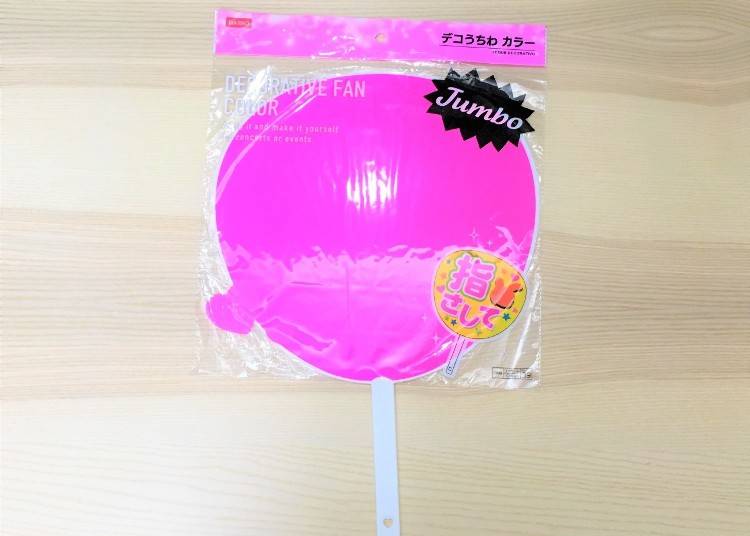 You've probably seen these fans in clips of concerts and festivals in Japan. Customize it to your heart's content to show that you are the number one stan. You can also use the fan to cool down when things heat up at the venue. This jumbo-sized fan also doubles as a makeshift seat cover.

Even if concerts aren't your things, this fan is a lifesaver in the summer, thanks to the huge gusts of wind it creates. I personally use mine to cool down rice before making sushi.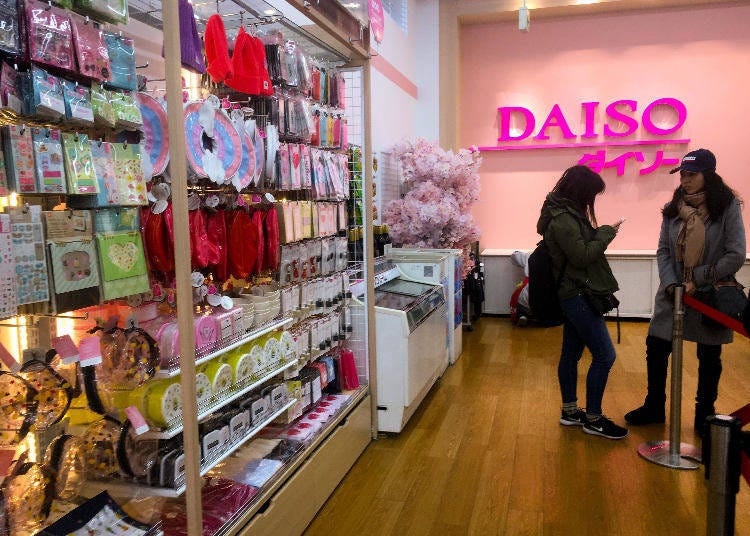 Ready to head to Daiso Harajuku? By now, you've seen that Daiso isn't just about cheap things; they sell quality products that are popular for a good reason. You'll be drawn to plenty of items that somehow all end up in your shopping basket, so choose wisely!

Whether your Daiso haul will end up in your suitcase or carry-on is entirely up to you, but in case you run out of space, don't forget to pick up that vacuum seal bag!
ザ・ダイソー 原宿店

Address

1-19-24 Jingumae, Shibuya-ku, Tokyo 150-0001, Japan

Nearest Station

Harajuku Station / Meiji Jingumae Station


Phone Number

03-5775-9641

Hours: 10:00-21:00
*This information is from the time of this article's publication.
*Prices and options mentioned are subject to change.
*Unless stated otherwise, all prices include tax.
Limited time offer: 10% discount coupons available now!