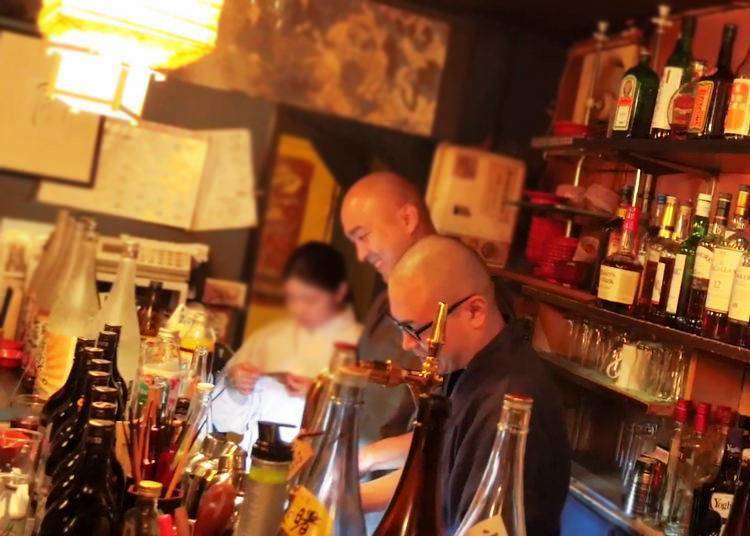 Shinjuku is known as one of Tokyo's major business hubs, its busy bustling atmosphere and towering skyscrapers – it seems unlikely that amidst this dense urban jungle lies a tiny oasis of spiritual respite. Nestled away in the cozy back alleys of Yotsuya, one of Shinjuku's scenic neighborhoods, lies Vowz Bar, a bar as famous as it seems out of place at the first glance. It is run entirely by Buddhist monks and while some of you might think "Eh, yet another theme bar in Tokyo", Vowz Bar is anything but that.

This, my friends, is the real deal. This is real monks chanting real sutras and giving real spiritual advice, just like one would find at a temple – just that it's not a temple, Vowz Bar is an amazingly cozy place, offering space to just a dozen people, serving both alcoholic and non-alcoholic drinks and home-cooked snacks to go along with them. It's not a theme. It's real Japanese Buddhism.
Meeting Fujioka-san, Buddhist Monk and Skilled Barkeeper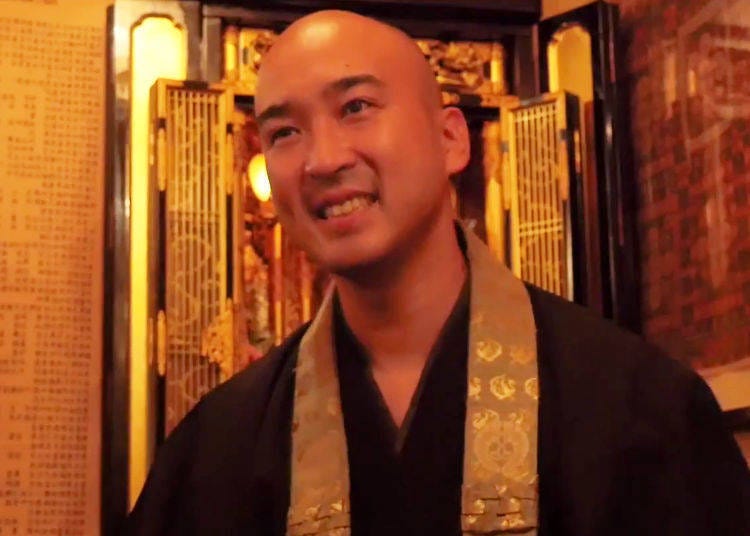 As I climbed up the narrow steps to the second floor of the tiny Japanese building that Vowz Bar is situated in, I immediately noticed the incredible pleasant aroma engulfing me as I peered through the door. Instead of stinging cigarette smoke and strong alcohol, the air was cool and smelled of incense, blended with the mouthwatering aroma of homemade food. This alone made me feel welcome and at ease, being a bit tense about the entire endeavor. I was about to enter a religious place, after all.

And yet, I was immediately greeted by a bald, robed man with a welcoming smile who was none other than Yoshinobu Fujioka, the owner of Vowz Bar who has been running the little place for over sixteen years now. He guided me to my seat, a pleasant tatami bench with seating pillows right next to the butsudan, the Buddhist shrine that takes up an entire corner of the bar. Fujioka-san disappeared for a moment, providing me with iced tea and a snack before rejoining me. I had a lot of questions to ask, after all!
Of the Creation of a "Tiny Meeting Place"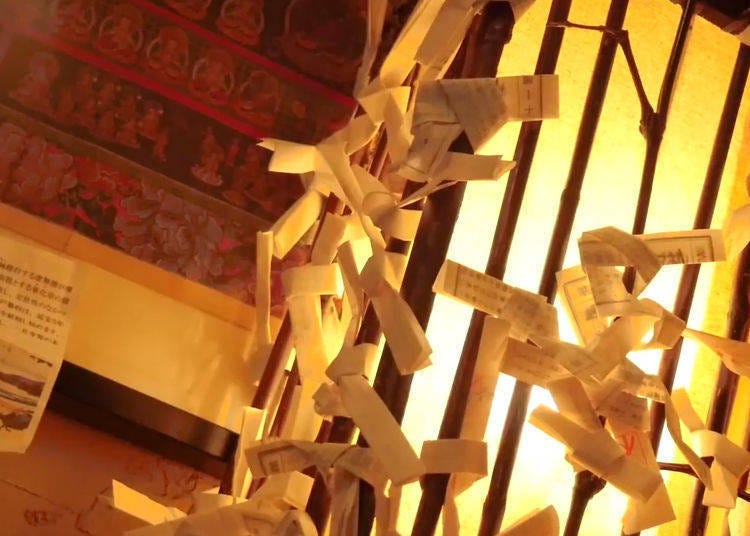 First things first – what exactly inspired Fujioka-san, a Buddhist monk, to suddenly open a bar?
"When it comes to Japanese Buddhism, it's always about heightening one's awareness, as well as ceremonies like funerals, and it seems like there's nothing else to it. In reality, it's also about one's own place of comfort, so I thought: I need to create a meeting place for everyone. A tiny meeting place", Fujioka-san explains. When I said that the place is indeed rather small but the atmosphere amazingly cozy and welcoming, he beamed at me very happily. "It's easy to come in, in contrast to a temple, isn't it." He agreed with me when I said that a temple always has somewhat of a stern and solemn atmosphere, stressing that it's not really possible to actually talk to the monks at a temple. "This is why I wanted to create this place."
Tasting Both Sweet, Sweet Nirvana and Dangerously Delicious Hell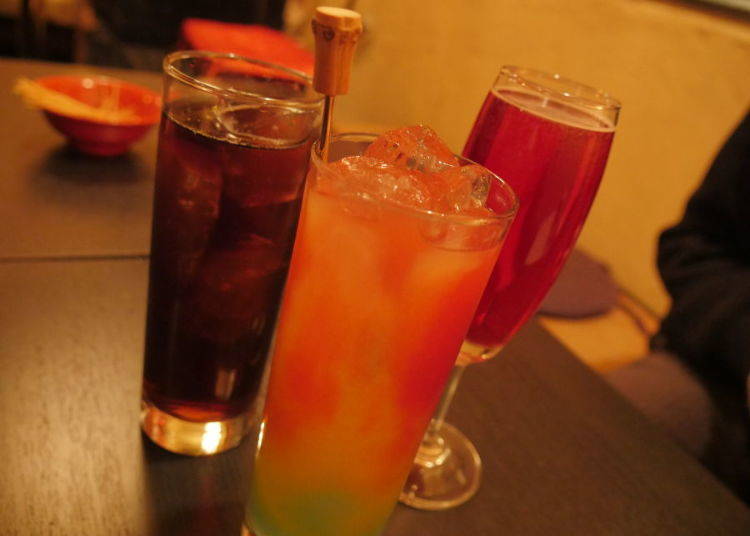 And indeed, as I looked around, I saw the monk behind the bar engaged in a conversation with the people sitting at the counter, a cocktail shaker in his hands. By the way: all the drinks served at Vowz Bar are mixed by the monks themselves, every single one an original creation of Fujioka-san, and cost 800 yen. Naturally, they also have Buddhism-related names, such as the "Nirvana in the Pure Land" or the more sinister but incredibly delicious one, made with cranberries and black vodka: "Never-Ending Suffering in Hell." He learned the art of cocktail making by himself, having jobbed in a bar during his student years. A monk of all trades!
Religion over Drinks, but Bar over Temple!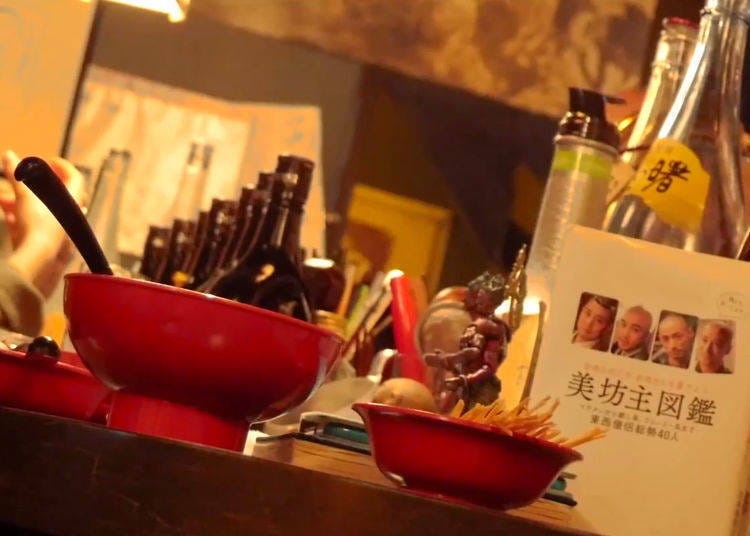 This made me wonder about yet another thing – what is Vowz Bar actually about? The delicious cocktails or the religion? Fujioka-san didn't hesitate for a moment before answering.
"The Buddhism, of course. We talk and teach about Buddhism over drinks. They are our little helpers in making Buddhism easier to grasp and easier to talk about", he says and laughs warmly. Speaking of – in the Buddhist sect that Fujioka-san and his fellow bar-monks are following, the consumption of alcohol is not prohibited nor seem as a problem. This kind of surprised me because oftentimes, Buddhism has an image of being a rather strict religion with a lot of rules to follow. But Fujioka-san's Vowz Bar seemed anything but – it is a warm and welcoming place with a lot of laughter.
Free Advice from Buddhist Barkeepers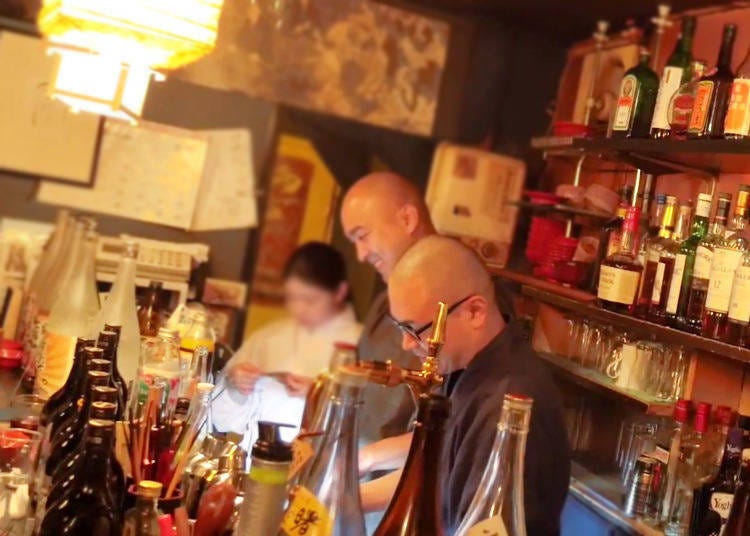 Because of this, Vowz Bar is particularly known as a place to get genuine spiritual help and guidance, provided by the monks themselves. Of course I was curious about what kind of topics people usually talk about while enjoying one of the amazing cocktails.
"Besides the regular banter, people do ask for guidance. Typical topics are work, love, and relationships, of course."
Inquiring further about the bar's guests, I found out that the majority of customers are women. "Men tend to be shy and they need a certain amount of time until they open up", Fujioka-san explains with a smile. "Pride, you know. Women ask a lot of questions."
"In a temple", he explained further. "People hardly speak their mind freely. In a bar, it's an entirely different matter and people tend to be very honest."

Speaking of: Fujioka-san welcomes a lot of international guests as well, and apart from trying his best to improve his English, he often reads Buddhist prayers together with people from all over the world. So if you want to get a first-hand experience of genuine Japanese Buddhism, a visit to Fujioka-san and his Vowz Bar is a must!
The Most Relaxed Sermon in the Entirety of Tokyo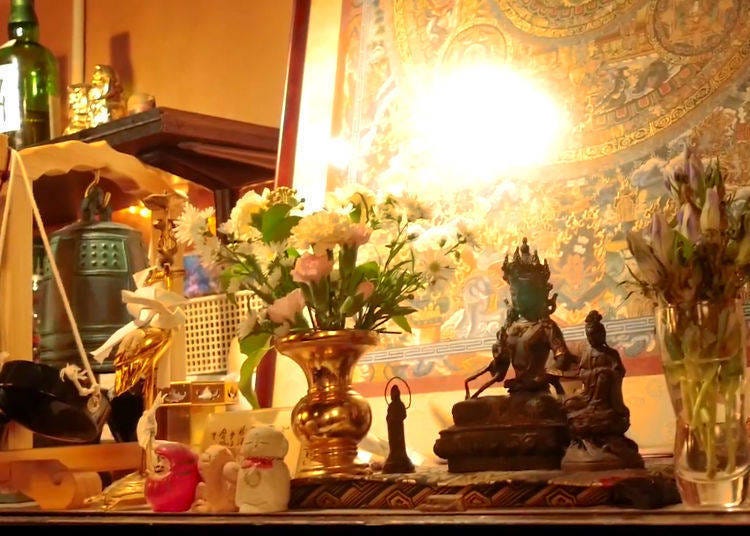 As I previously mentioned, it's not a theme that can be experienced here but first-hand Japanese Buddhism. This became particularly obvious when the sermon started. Yes, just like there are actual monks giving spiritual advice and guidance, there are Buddhist sermons taking place. Every guest is equipped with a sheet of multiple sutras, the Buddhist form of prayer. And while I am rather fluent in Japanese, I'd have found it almost impossible to read the many characters of these prayers, so I was thankful for my transcribed version of the sutra. The barkeeper monk who had been taking care of the drinks during my interview with Fujioka-san got up and sounded the small gong in front of the butsudan, and suddenly it got quiet.
Meditating over Sutras, Vowz Bar Style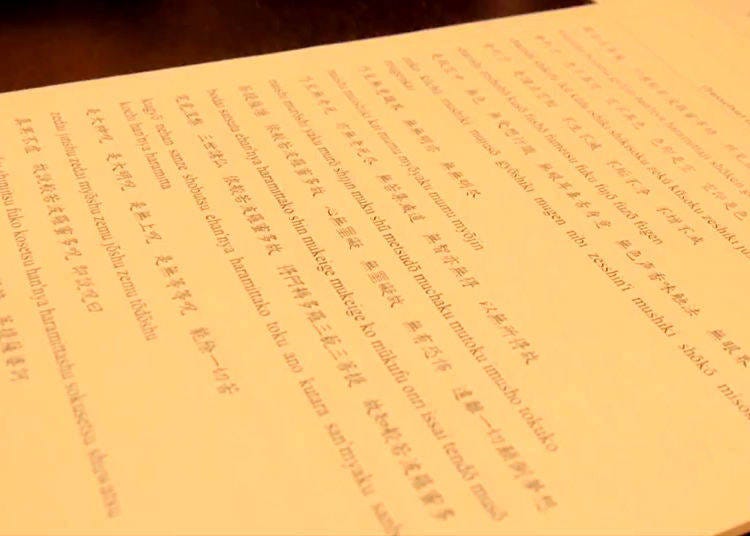 He introduced the begin of the sermon in a very comedic, relaxed way, making remarks about one or the other guest who has had their fair share of cocktails already before asking everyone to read the prayer with him.
What happened next is what immediately made Vowz Bar one of my favorite places in the entirety of Tokyo – every single guest, no matter what age, gender, or nationality, began chanting along, in a pleasant spiritual unison that lacked any kind of forced or stern atmosphere one might find in a church or temple. Reading the sutra, despite not really understanding its deep, complicated meaning, had something incredibly freeing and relaxing – granted, the black vodka might have played a tiny role in that feeling as well.
Enjoy Fujioka-san's Sermon - or Yet Another Drink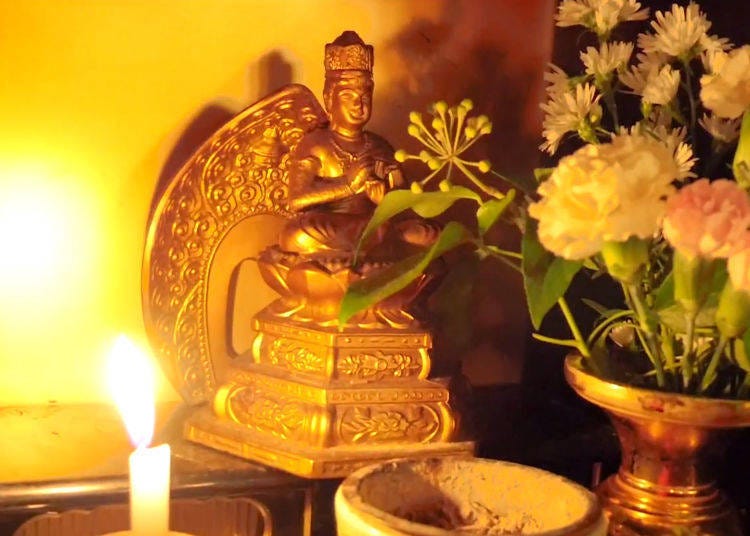 After the prayer, Fujioka-san stood in the middle of the bar and held a short sermon, explaining certain details about the sutra's meaning and making a connection to day to day life. He himself had quite the story to tell, having encountered a burglar in his house just the night before – and befitting the much quoted relaxed atmosphere of the bar, quests were absolutely free to listen in or just go about their own banter. It was clear as day why Vowz Bar is such a massive success. Is there any better way than making religion and spirituality more human and approachable than getting together in a lively, cozy atmosphere, over a well-made cocktail and delicious snacks?
At Your Own Pace: Discovering Japanese Buddhism at Vowz Bar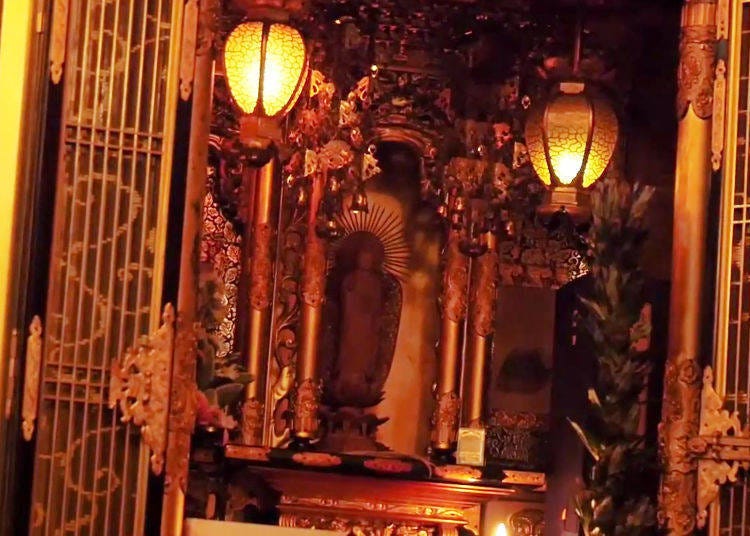 One major term that came into my mind as I listened to Fujioka-san's sermon and thought about the things he told me during the interview was "at one's own pace." No one forces you to pray, no one forces you to talk or follow certain behavioral and ritualistic guidelines. Talk, if you want to, pray, if you want to, listen to the sermon, if you want to – there is no pressure whatsoever at Vowz Bar, just do whatever feels the most comfortable to you. And in case you're one of the shyer people? Just sit at the counter and order a drink – Fujioka-san will take care of the rest. It's only fitting that the final words are his: "Japanese Buddhism might be different from what you think. I'd be happy to welcome you at Vowz Bar to discover it, step by step, for yourself!"
Address

AG building 2F, 6-42, Arakicho, Shinjuku-ku, Tokyo, 160-0007
View Map

Nearest Station

Yotsuya-Sanchome Station (Tokyo Metro Marunouchi Line)


*This information is from the time of this article's publication.
*Prices and options mentioned are subject to change.
*Unless stated otherwise, all prices include tax.
Limited time offer: 10% discount coupons available now!