Yakiniku is one of Japan's most popular dishes, and A5-ranked Japanese Black wagyu has become renowned all across the world!

At YAKINIKU A FIVE TOKU in Ginza, Tokyo, we treated ourselves to an all-you-can-eat A5 wagyu fiesta to learn more about this Japanese delicacy and the wealth of cuts available.

With loads of positive comments online, we thought we'd better check it out for ourselves! Let's take a look!
All-You-Can-Eat A5 Wagyu! YAKINIKU A FIVE TOKU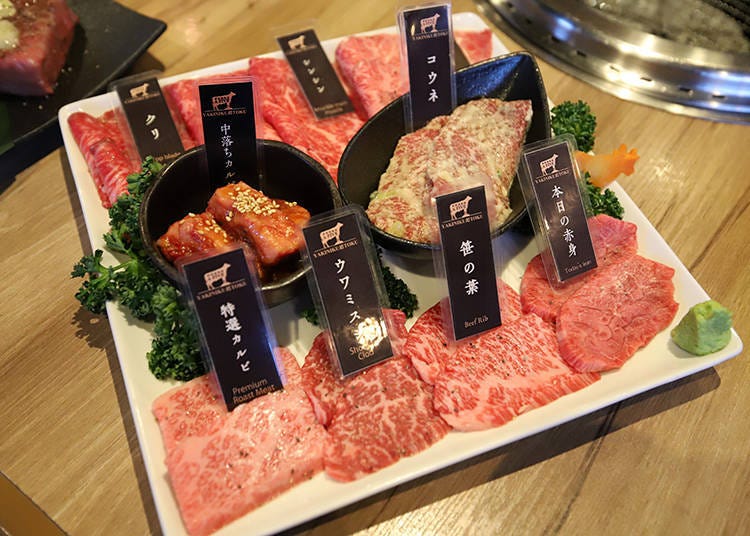 YAKINIKU A FIVE TOKU Ginza Hachi-Chome-Ten is a 4-minute walk from Shimbashi Station on the JR lines and subway and 6 minutes from Ginza Station on the Tokyo Metro.

There are four types of all-you-can-eat courses: 90-minutes or 120-minutes + with/without all-you-can-drink. Each course boasts A5-ranked Japanese Black wagyu along with salad, rice, sides, soup, noodles, and desserts, all of which are all-you-can-eat!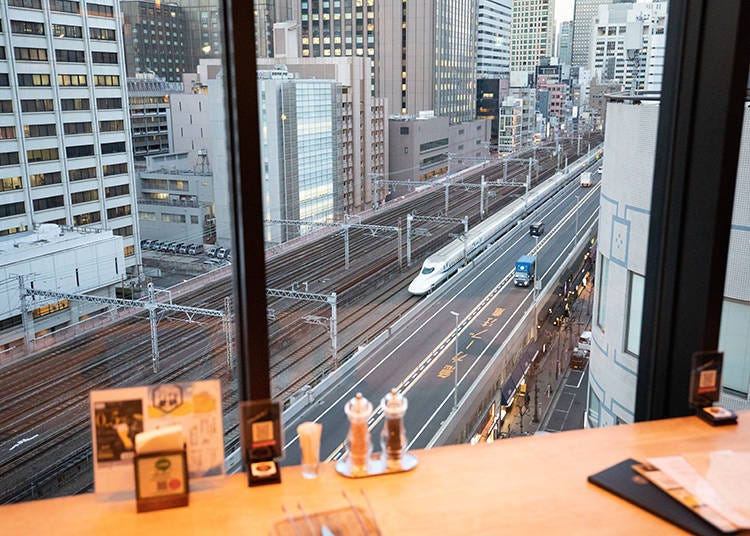 Upon entering the restaurant, the first thing we noticed was the enormous window. Being on the 9th floor, customers can eat alongside fantastic views of the Tokyo urban sprawl below.

Many of the comments on Tripadvisor picked up on this, saying, "it was fun to watch the trains while eating," and "fans of Japanese trains should definitely visit!"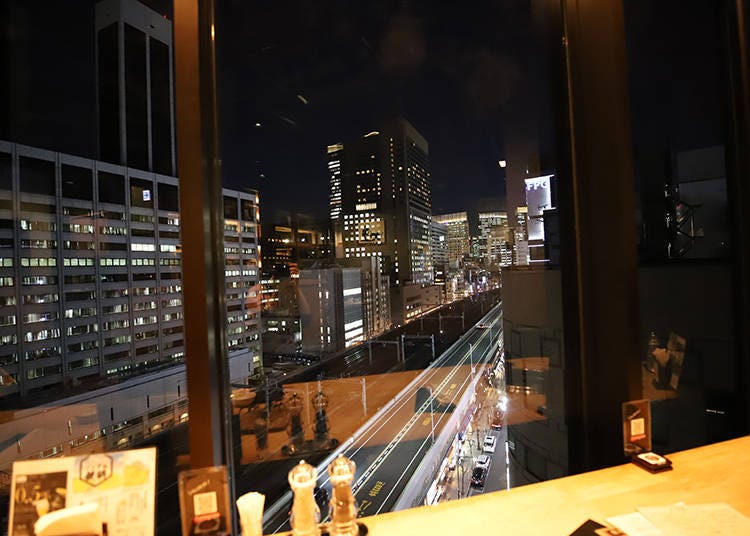 As the rows of buildings illuminate the streetscape, the view grows even prettier after dark. As this comment states, "the enchanting, romantic night views are ideal for a date with your partner during the trip." We had no idea the views were going to be this good!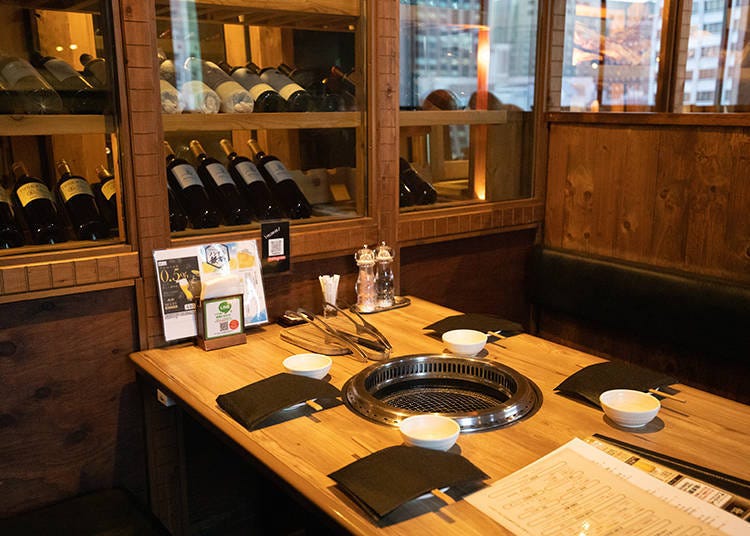 In addition to window, seats are semi-private table seats, allowing guests to book a table for their group to eat and make merry.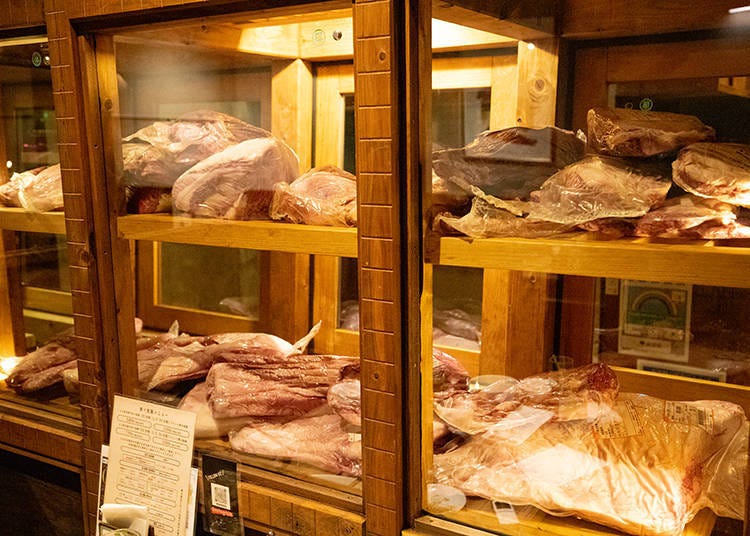 The restaurant's interior is adorned by wine and meat displays, inviting one's appetite for the main courses soon to come!
We visited with an American living in Tokyo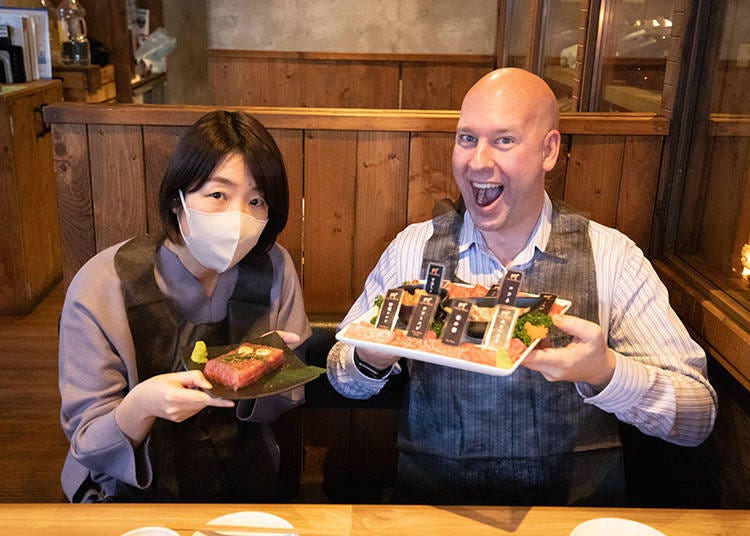 To see if YAKINIKU A FIVE TOKU really lives up to its reputation, we visited with Timothy, an American on the LIVE JAPAN editorial team, along with another one of our editors. Smiles abound as the meat is quickly brought to the table.

After deciding the course, we were first served with the meat platter and steak. You'll only be allowed to order additional meat once both are eaten. Along with beef, you'll be able to enjoy other meats or choose from the side or desserts menu.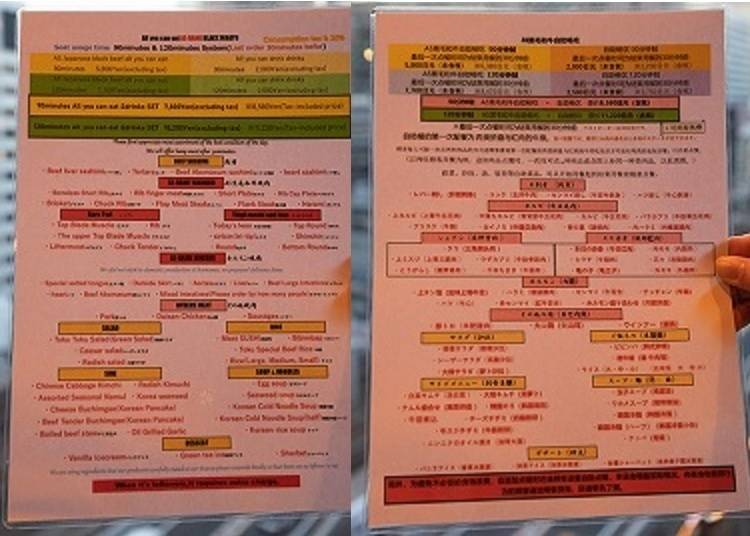 Thankfully, the menu is presented in English and Chinese, making ordering a breeze.

Beef options include the categories of sashimi, kalbi (Korean-style marinated beef), shakushi (front leg), momo akami (hind leg), and offal.

Additional meats are fatty pork, Daisendori chicken, and sausage, complemented by an array of salads, rice, and desserts. All of this combines to form a whopping 63-item menu!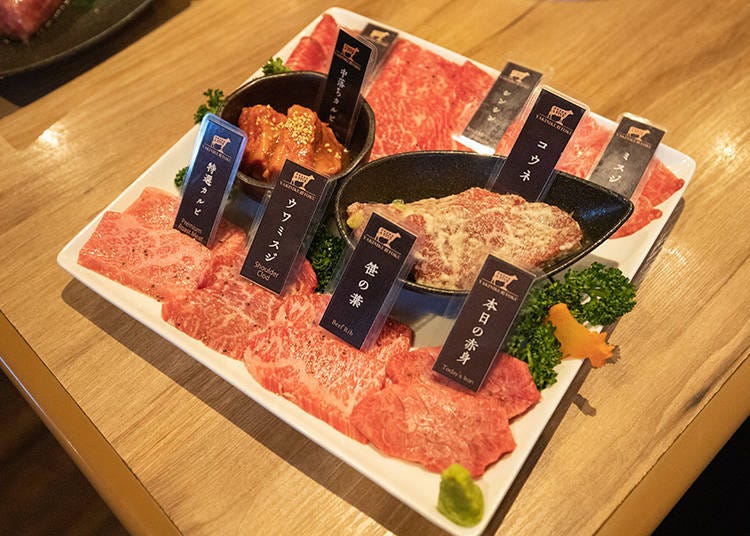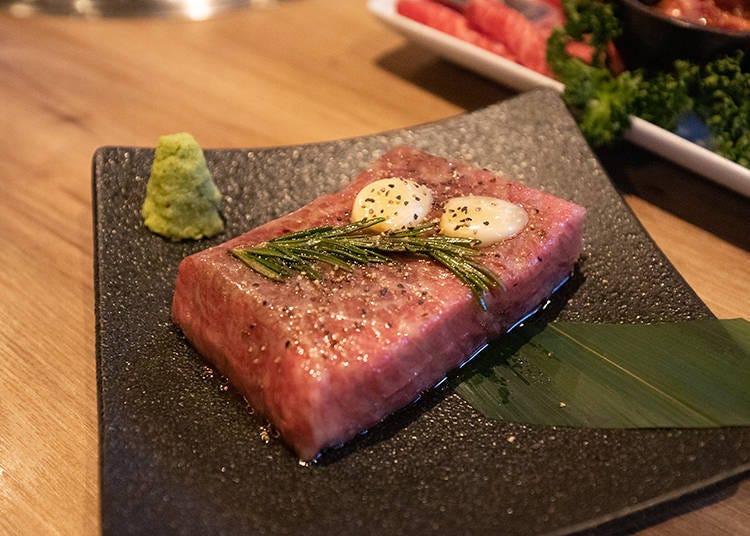 This is the starter meat platter and steak. While many of us quickly regret going to an all-you-can-eat restaurant after our stomachs are packed and we can barely move, the rich fattiness of A5 wagyu ensures you'll be thoroughly satisfied without stuffing your mouth.

In fact, we pretty much guarantee you'll get full faster than you think, so it's best to carefully select what cuts you want to eat before diving in. To prevent food wastage, YAKINIKU A FIVE TOKU charges a separate tax on leftovers or those who remain after their time is up.

The meat platter features around eight different cuts. During our visit, we received the specially-selected kalbi, uwa misuji (upper chuck), sasanoha (flank steak), red meat of the day, rib finger kalbi, koune (cow's shoulder), kuri (triceps brachii caput), and shinshin (inward thigh). As you can see, it was a feast right from the get-go!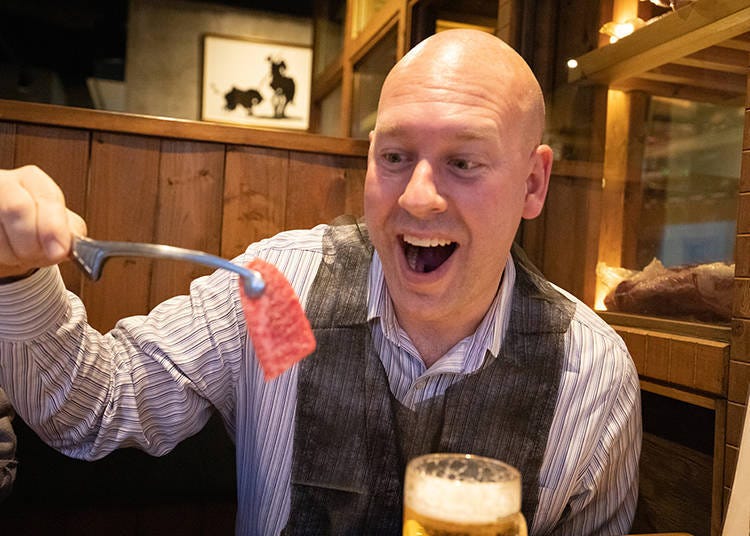 Despite being keen to pair the meats with wine, Timothy opted for a beer and began grilling.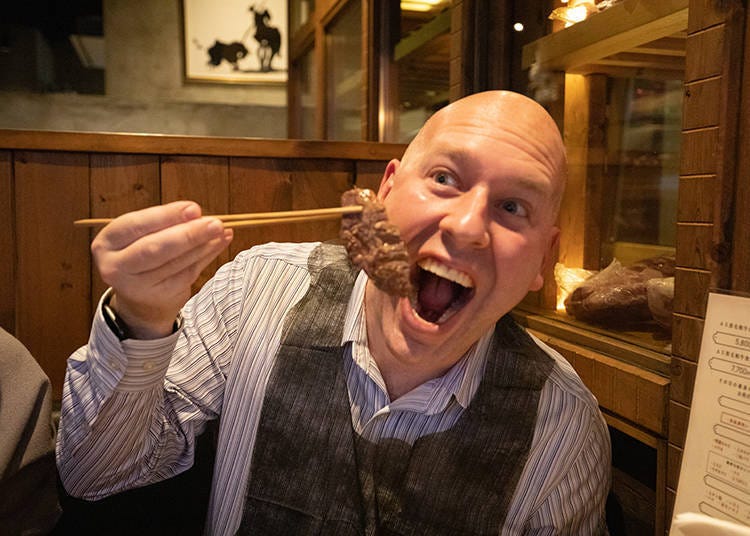 "Alright, first, let's just try it with salt and pepper so we can appreciate the flavors of the meat itself," said Timothy as he began chowing down.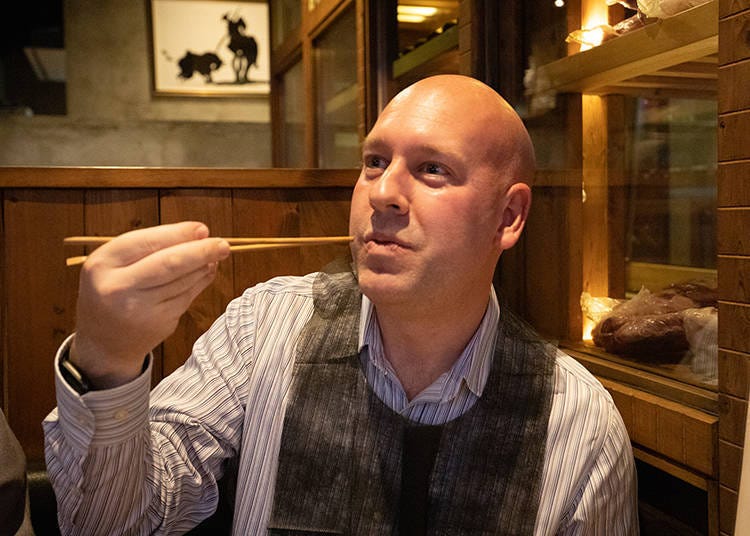 "Wow - the meat is super soft and juicy. Could be among the best I've had in a while!" announced Tim. "It feels fresh and natural, without that frozen feeling."

Continuing on, Tim began dipping the meat in the specially-prepared yakiniku "tare" sauce. "The tare sauce really goes well with the wagyu. It has a clear, neat flavor that's not too sweet - and doesn't overwhelm the essence of the meat."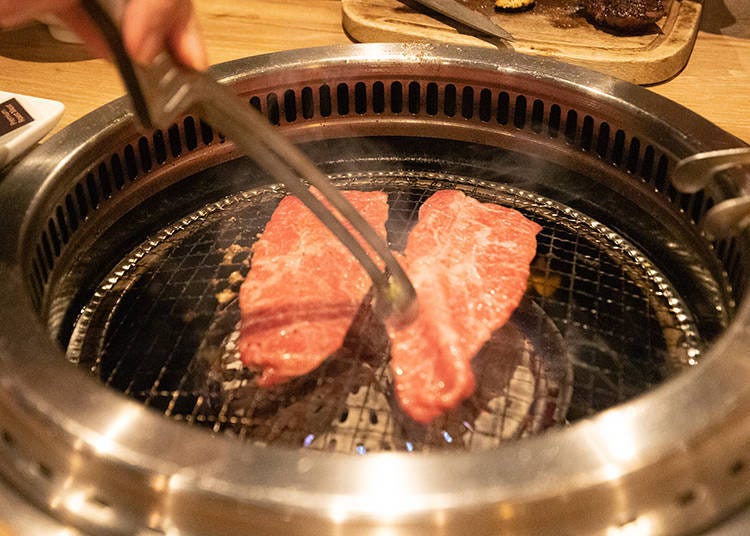 Next, Timothy challenged himself to rare cuts like sasanoha (flank steak) and kuri (triceps brachii caput). Each had a completely different texture and taste, allowing the fun of finding one you like to order for the following round.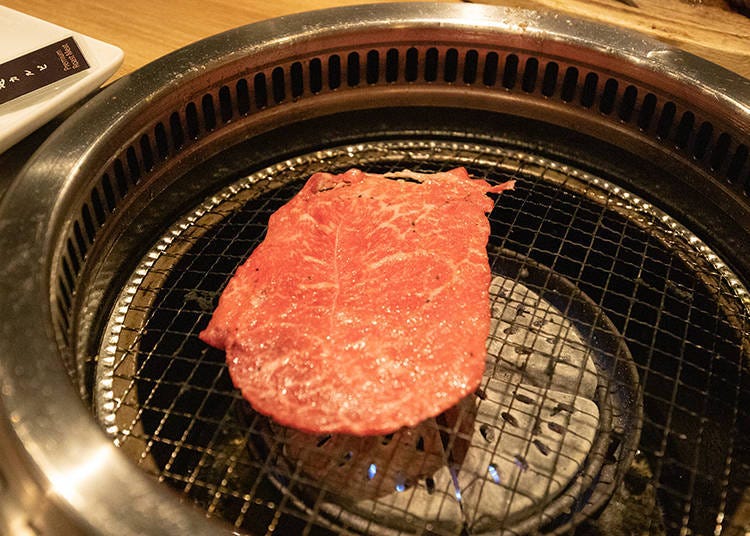 Next, Timothy moved on to the hefty slice of shinshin (inward thigh), which virtually took up the entire grill! "Despite the exquisite marbling, it didn't really drip oil as some wagyu can be prone to. Very tasty."

YAKINIKU A FIVE TOKU sources all its main cuts from top-quality A5-ranked meat. To experience the purest form of this delicacy, we particularly recommend the menu's "shakushi" cuts, which come from the front leg portion, and the "akami" red meat cuts from the hind legs. Other cuts like tongue, skirt steak, and offal are not ranked, so they are prepared and served separately.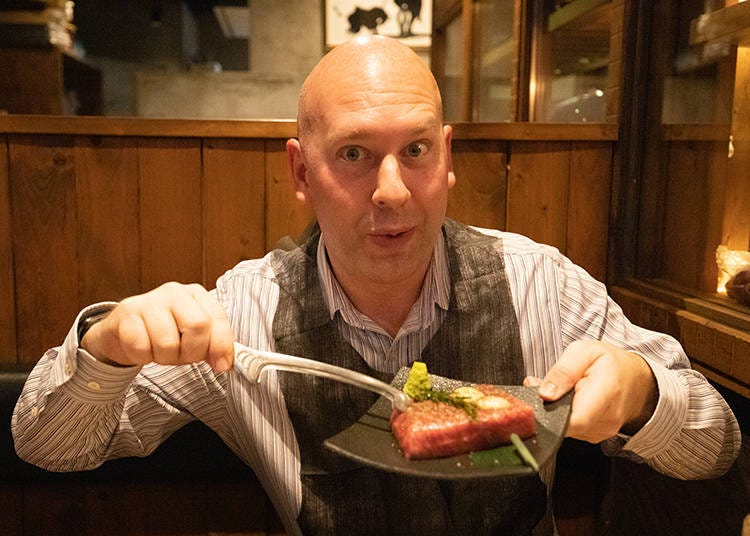 After finishing the meat platter, Timothy set his eyes upon the steak. Served lightly cooked, it will need to be re-grilled and cut up on the chopping board to eat.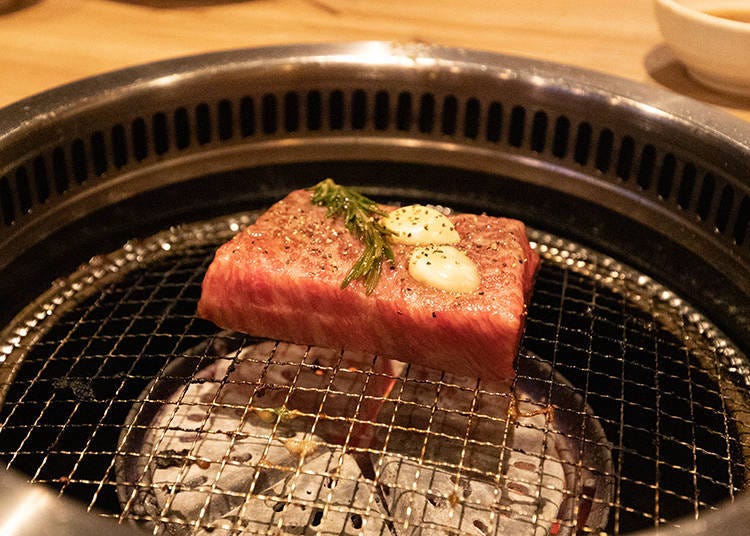 According to the restaurant manager, this steak is a "round steak" from the rear leg, so care needs to be taken to grill without overcooking to prevent it from becoming hard. Keeping it rare ensures that the intrinsic flavors remain intact.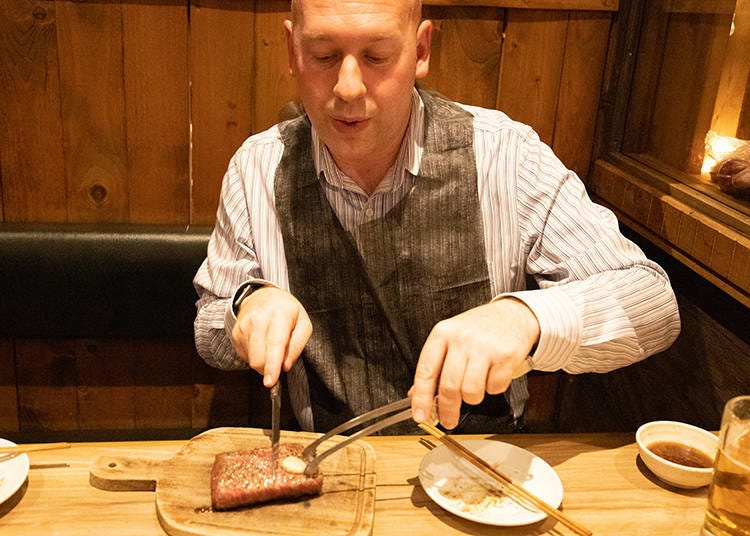 Cutting before grilling is a little difficult, so cook both sides first.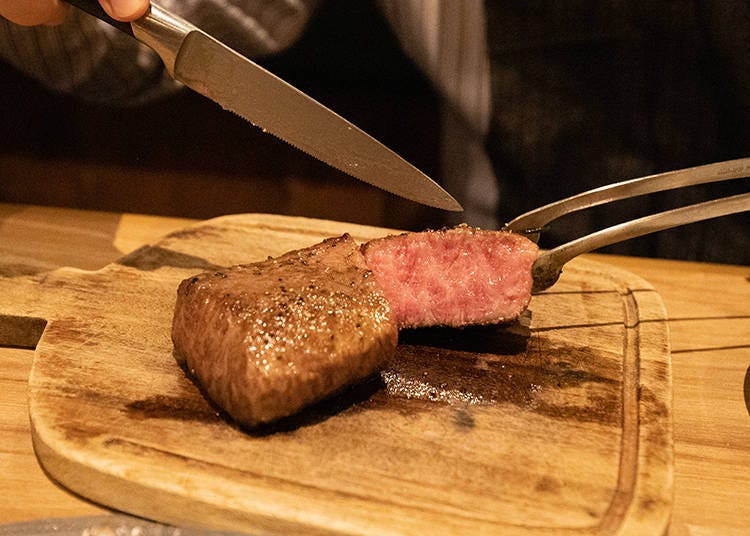 Perhaps a little too rare?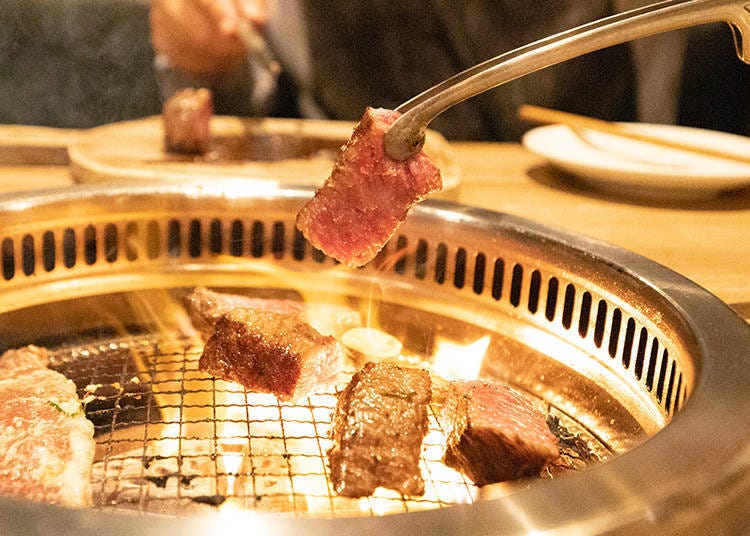 If you're not a fan of rare meat, feel free to regrill the raw ends to your satisfaction. No matter how you cook it, each piece will fill your mouth with luscious, fatty sweetness and a bouncy, deeply satisfying bite.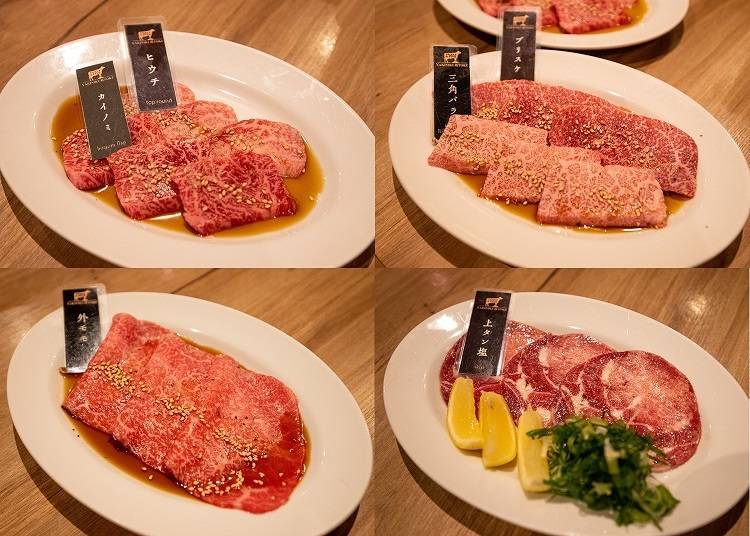 After conquering the steak and meat platter, we were free to start ordering extra servings. Many international customers particularly enjoy the misuji (chuck), chuck rib, tri-tip, and brisket. The red meat-loving restaurant manager also recommends uwa misuji (upper chuck), shinshin (inward thigh), sasanoha (flank steak), and kainomi (flap meat).

Plus, when trying yakiniku in Japan, you can't miss out on salted upper tongue, along with Timothy's favorite, outer thigh. "I wonder how much we've eaten already?" wondered Timothy aloud. It didn't seem like he planned on stopping anytime soon.
More than just Yakiniku! Checking out the other menu items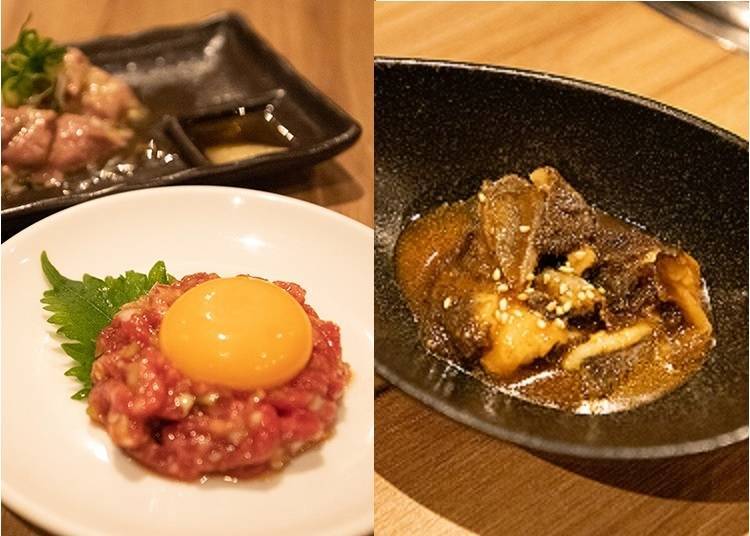 When researching on Tripadvisor, we came across numerous comments praising the array of salads, side dishes, and desserts. With such variety, YAKINIKU A FIVE TOKU aims to ensure customers can enjoy eating new foods right until the very end.

Dishes like lightly-cooked Korean yukhoe, liver, and omasum are particularly popular. While we opted for the cooked omasum, you can also enjoy it raw for the freshest experience.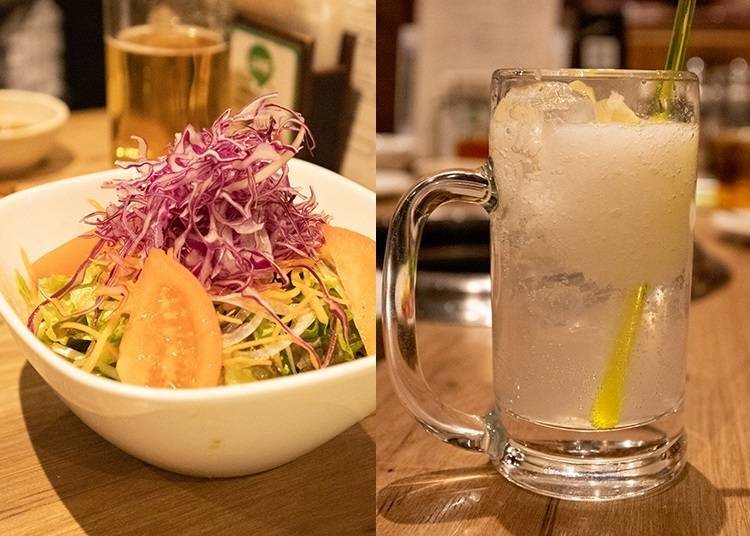 For something simple to pair with yakiniku, we recommend the daikon (radish) salad and the grated-daikon chuhai cocktail made with shochu.

While many associate yakiniku with leafy green vegetables, the daikon salad is refreshing and easy on the stomach, providing a welcome interlude between the rich, fatty meats. It's even recommended by the restaurant manager himself!

We'd never encountered a grated-daikon chuhai cocktail before! However, it went surprisingly well with the meat and washed away the lingering fat from our palates, making it a good choice for well-marbled A5 wagyu. Indeed, choosing a suitable drink during all-you-can-eat is just as important as the food itself.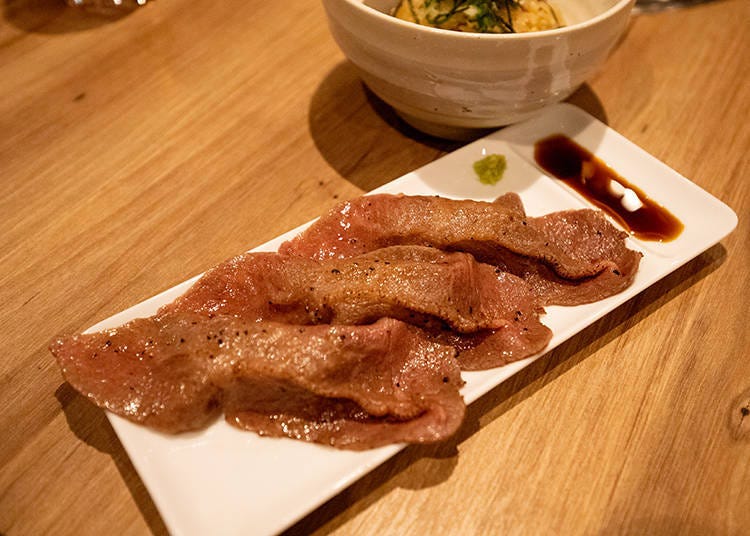 Rice dishes include bibimbap, roasted meat sushi, beef bowls, and plain white rice. Many Japanese people like to finish off their meals with rice, so for this, we opted for the roasted meat sushi.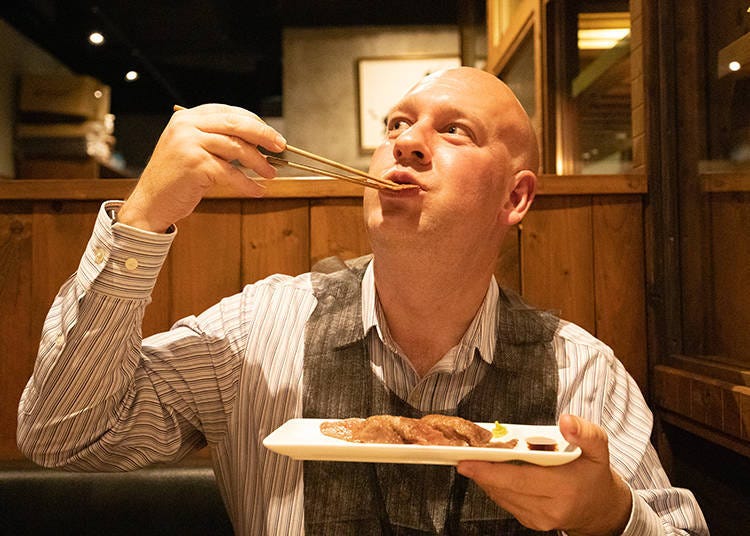 Timothy really appreciated the bulky slices!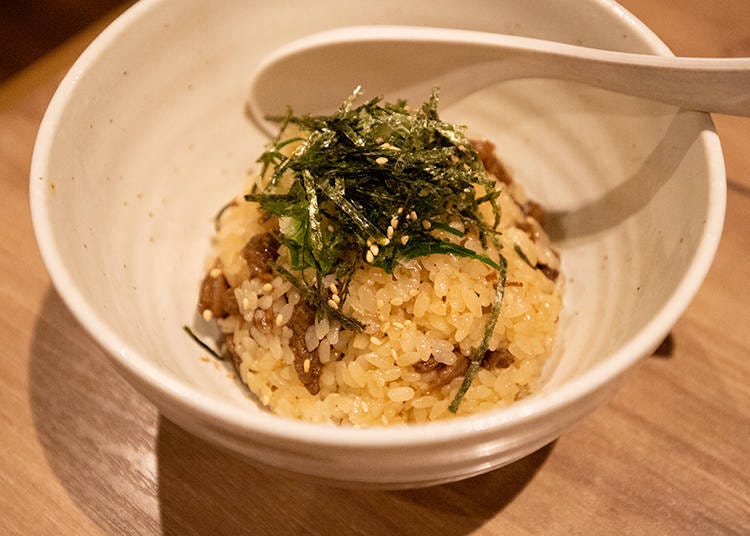 We finished up with YAKINIKU A FIVE TOKU's original beef bowl, "Toku Gyumeshi," which consists of salty-sweet beef sat atop rice fragrant with Japanese-style "dashi" topped by nori, green spring onion, and sesame seeds. Being a dish you'll be unable to find anywhere else, we absolutely recommend saving room at the end!

All in all, our two LIVE JAPAN editors started off with the meat platter (8 kinds of meat) and steak before continuing onto orders of tri-tip, kainomi (flap meat), brisket, chuck rib, outer thigh, salted upper tongue, omasum, yukhoe, liver, daikon salad, roasted meat sushi, and the Toku Gyumeshi.

According to the manager, patrons to YAKINIKU A FIVE TOKU are largely split between those relishing a little of everything and those who order massive helpings of their favorite cuts. As A5 wagyu is fatty and complex, it's better to savor it while considering your next order depending on how you feel.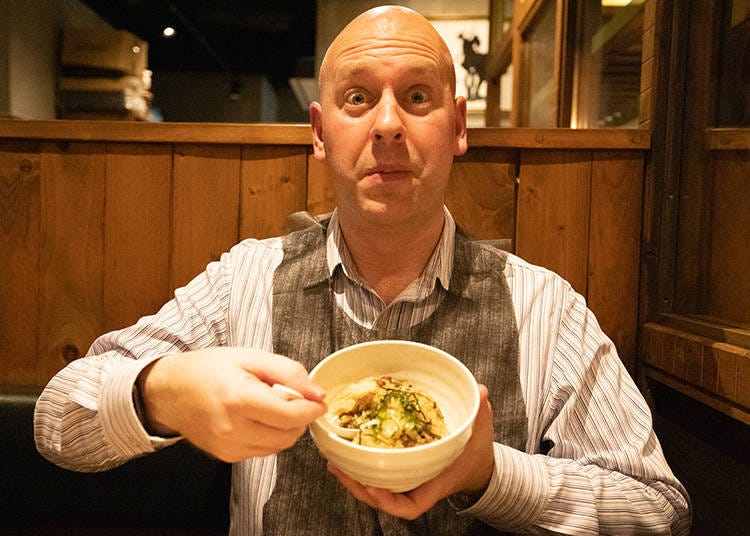 Kicking off with classic cuts before delving into the side menu, Timothy was beyond satisfied.

"Many of the cuts were very specific, so I wasn't exactly sure exactly what I was ordering. That sometimes happens when dining at specialty shops in Japan, and I enjoy the chance to step out of my comfort zone and discover some new tastes.

"Overall, the taste of the dishes, the atmosphere of the restaurant, and the stunning scenery all culminated in a one-of-a-kind gastronomic extravaganza. While this time I opted to sample some of the intriguing drinks, next time I'll definitely give the nice wine selection a go!" explained Timothy as he patted his belly and looked back on the experience.

Blending a casual, cheerful atmosphere with a hint of upscale classiness, diners at YAKINIKU A FIVE TOKU can enjoy top-notch hospitality while making their way through a plethora of tantalizing top-tier meat cuts and dishes. Whether you wish to gorge yourself or take your time, you'll surely be satisfied with the quality at YAKINIKU A FIVE TOKU!

For those that want a well-priced deal to get stuck into, opt for the 90-minutes. If you prefer to slowly relish and pair each serving with wine, you can't go wrong with the "All-You-Can-Eat and All-You-Can-Drink (120 mins)" course.
4 Courses:
・A5 Japanese Black Wagyu 63-Piece All-You-Can-Eat (90 mins):

6,380 yen
・A5 Japanese Black Wagyu 63-Piece All-You-Can-Eat (120 mins):

8,470 yen
・A5 Japanese Black Wagyu 63-Piece All-You-Can-Eat and All-You-Can-Drink (90 mins):

8,580 yen
・A5 Japanese Black Wagyu 63-Piece All-You-Can-Eat and All-You-Can-Drink (120 mins):

11,220 yen (*All including tax)
Health & Safety Measures

Indoor disinfection measures taken - Sanitizer installed - Ventilation measures in place - Staff wear masks, disinfect, gargle, wash hands regularly, and monitor body temperature - Customers feeling unwell are prohibited from entering - Customers are required to wear masks
*The information presented in this article is accurate as of February 2022. Details are subject to change.
*Opening hours may change due to the impact of COVID-19.
YAKINIKU A FIVE TOKU Ginza Hachi-Chome-Ten

YAKINIKU A FIVE 徳 銀座八丁目店

Address

9F TOKIDEN, 8−3−1, Ginza, Chuo City, Tokyo, 104-0061

Phone Number

03-6228-5929

・Opening Hours:
- Lunch 11:30am - 2:30pm (last order 2:00pm)
- Dinner: 5:00pm - 12:00am (last order 11:30pm)
・Closed: Irregular
Written by: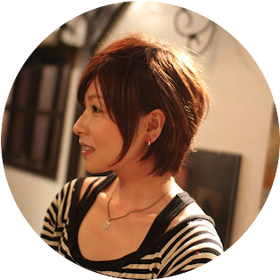 *This information is from the time of this article's publication.
*Prices and options mentioned are subject to change.
*Unless stated otherwise, all prices include tax.