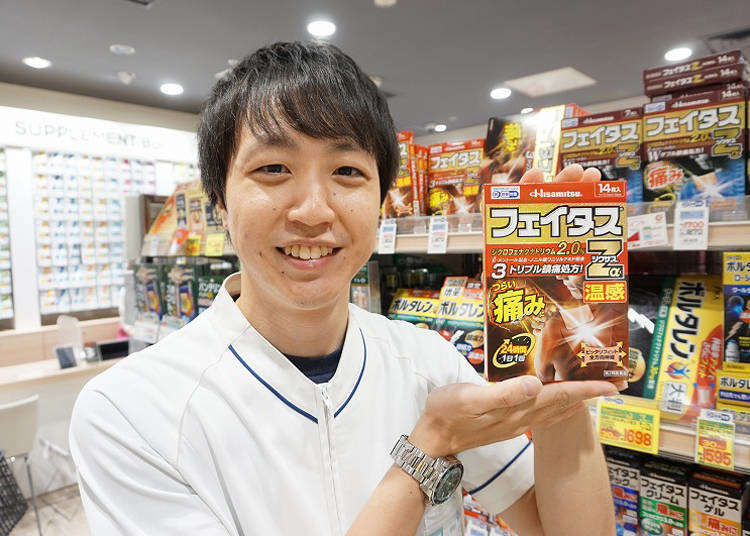 Matsumoto Kiyoshi is a drugstore famous around Japan, not only for their pharmaceuticals and health foods, but also for their wide variety of other items such as cosmetics, sweets and daily necessities. The popularity is in no small part due to their surprisingly low prices, combined with their amazing quality!

We went to Ginza's Matsumoto Kiyoshi, and the sales clerks there explained which items were popular and most recommended for foreign tourists. Based on this the foreign editorial staff of Live Japan, fans of Matsumoto Kiyoshi, we compiled a list from their recommendations for the perfect souvenir shopping spree in Tokyo!
One of Their Most Popular Stores is in Ginza!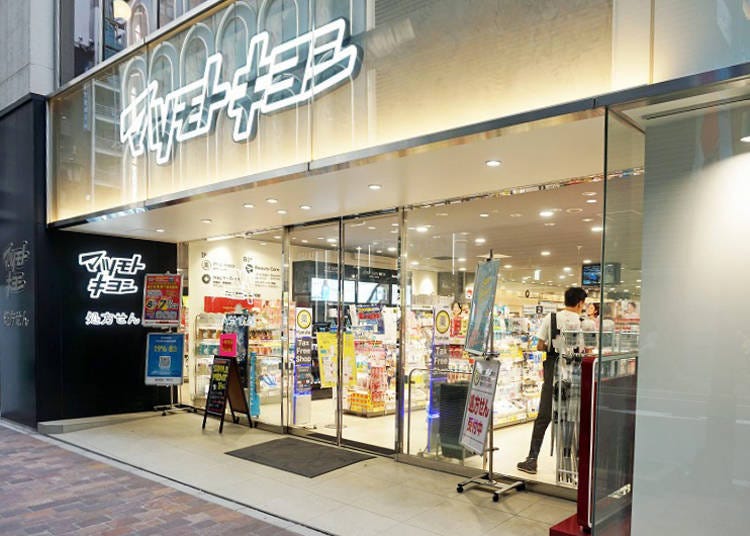 For this article we visited the Ginza area of Tokyo. The Ginza is especially a popular area visited by foreign tourists and here there are 7 Matsumoto Kiyoshi shops. The most popular of these is the Matsumoto Kiyoshi Ginza Miyuki Ave. shop.
The Shop Staff Make Their Recommendations!
We asked the sales clerks of the Matsumoto Kiyoshi Ginza Miyuki Ave. shop to tell us which items were most often asked for by foreign tourists.
Next generation super compress Fay TASS Zα jikusasu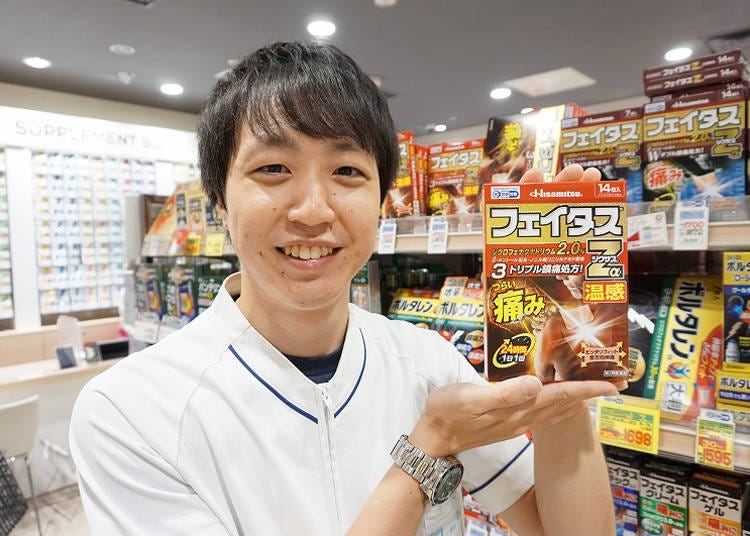 Caption: Hisamitsu Pharmaceutical Fay TASS jikusasu 14 sheets 1,700 yen (excluding tax) * Pharmaceutical classification: Type 2 OTC drug
Fay TASS Zα jikusasu, a poultice, has a reputation for being effective in treating pain in the shoulders, neck, waist, joints, and muscles! Containing a large amount of the anti-inflammatory analgesic Diclofenac Sodium, it is effective in easing pain. Its popularity stems from its ability to cover a large skin surface due to the elasticity of the material used in it. It has a faint menthol odor so there is no need to worry about it being noticeable at bedtime or when around others.
Rohto Lycee Rich Premium: Popular with Women!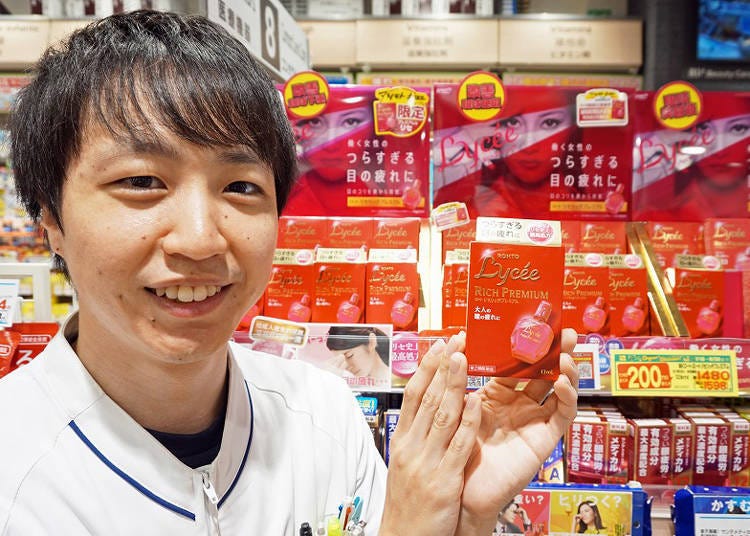 Caption: Rohto Lycee Rich Premium 13 ml 1,480 yen (excluding tax) * Pharmaceutical classification: Type 2 OTC drug
Rohto Lycee Rich Premium is perfect for soothing the eyes of people these days from long hours looking at PCs and smartphones. It contains ingredients that are effective in relieving eye strain and fatigue. This product that comes in a cute pink package is especially popular with women. Contains sodium chondroitin sulfate that protects and treats the cornea and relieves fatigue.
Nattokinase PREMIUM: Made From Famous Japanese Health Food, Natto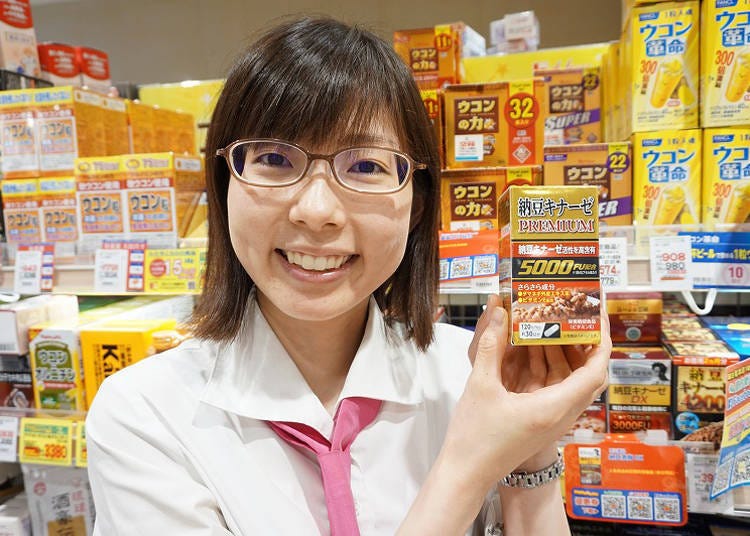 Caption: MK Miyama Kampo Nattokinase Premium 120 capsules 4,426 yen (excluding tax)
The nutritional elements of natto, the fermented health food that is also well-known overseas, in capsule form. 4 capsules of this product contain 5,000 FU of nattokinase which is the equivalent of 2.5 servings of natto. In addition, it contains vitamin E, a nutrient functional food, brewer's yeast, and onion hull extract. This product is popular with overseas visitors who want the health benefits of natto but who have trouble with its smell.
Forget About Your Makeup! KOSÉ Make Keep Mist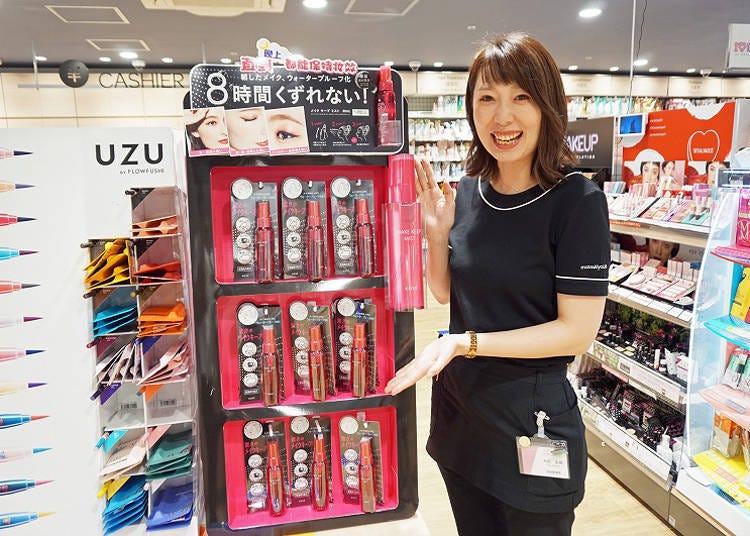 Use this spray after you have applied your makeup to keep it looking fresh and beautiful for hours. It is unique in that it has a waterproofing effect that protects your makeup from sweat. In addition to reducing the need for touching up your makeup, it is formulated with a moisturizer to hydrate the skin and protect it from dryness, keeping it fresh and moisture-rich.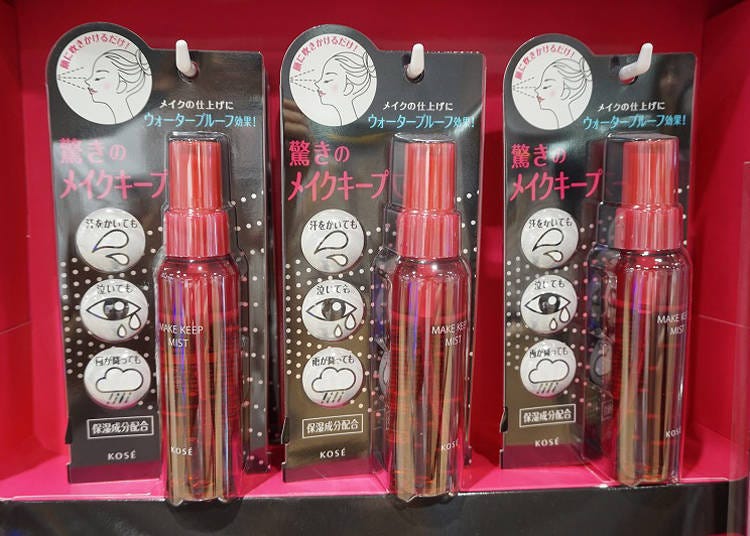 KOSÉ Make Keep Mist 80 ml 1,200 yen (excluding tax)
ARGELAN lip color made from 100% natural ingredients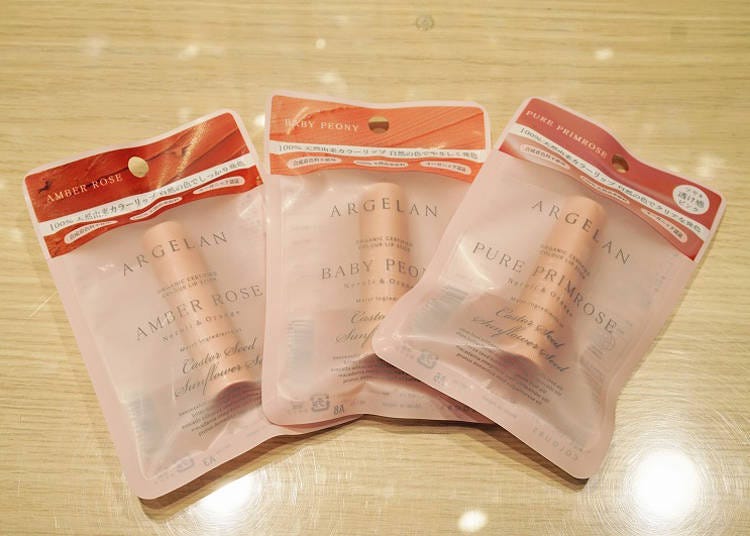 ARGELAN 648 yen (excluding tax)
Although it is a new product that has only recently been released, this color lipstick has become immensely popular. It has cleared the strict examination of Ecosert, an international organic certification organization, and comes in vivid colors that moisturize your lips. It contains plant beauty oils such as organic castor oil.
Only at Matsumoto Kiyoshi...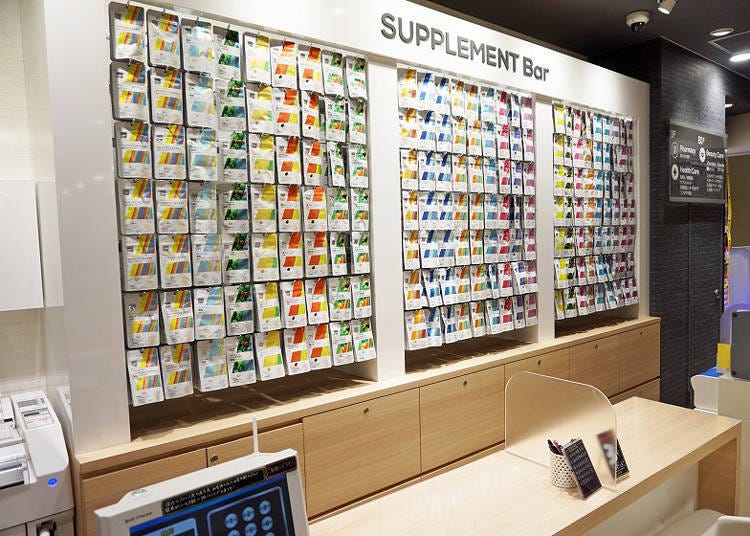 There is always a full-time registered dietitian at the Supplement Bar in the store to provide personalized advice about supplements. Counseling on eating habits and lifestyle is also provided and supplements wrapped and delivered based on data. Self-selection is a groundbreaking new service, in which professionals choose basic supplements, used by many overseas customers.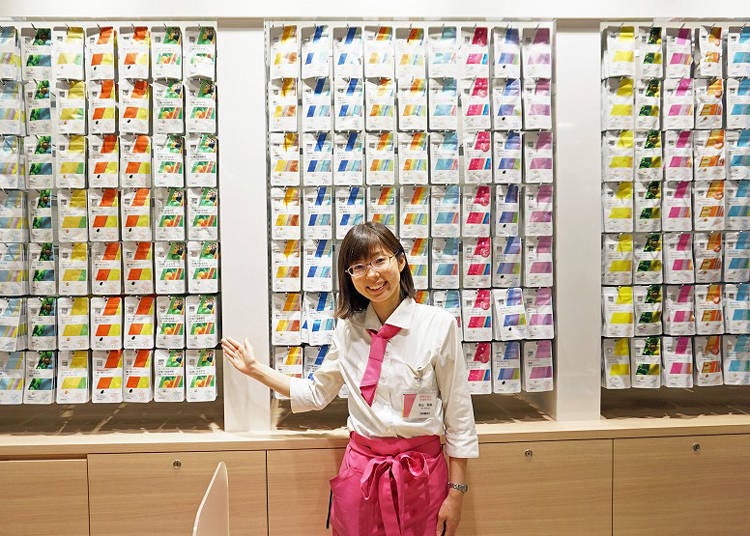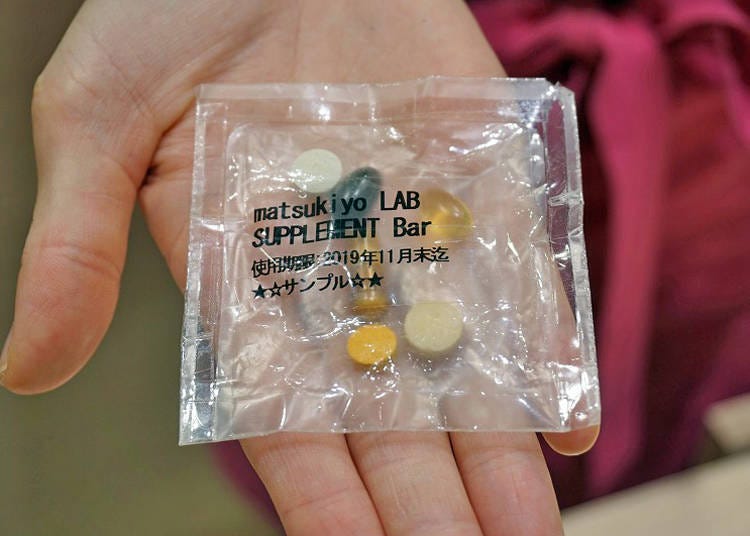 Staff specialists will make customized supplement packages
Here, we will introduce goods recommended by our team of foreign editors for LIVE JAPAN, who regularly visit Matsumoto Kiyoshi!
Bake, the Increasingly Popular Chocolate in Taiwan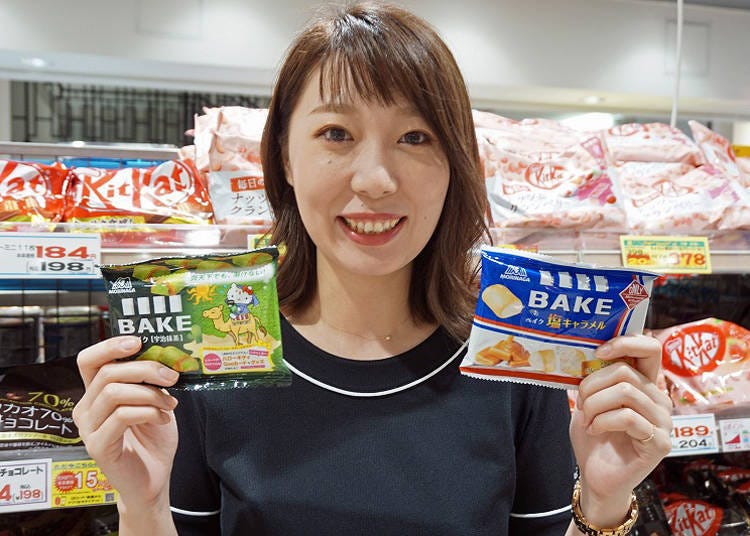 Chang (from Taiwan): "Bake is a pastry that is crunchy on the outside and soft on the inside and is also popular in Taiwan. Just about everyone will buy it at least once. It comes in many different flavors, but when you come to Japan I recommend the matcha flavor! It is light, reasonably priced, and not only good for your own personal use, but also makes a great gift for friends and colleagues."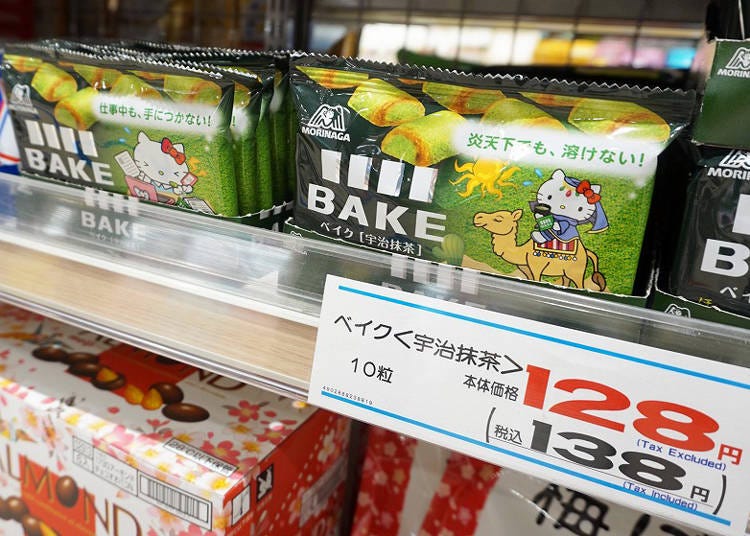 Morinaga Confectionery Bake Uji Matcha Flavor 128 yen (excluding tax)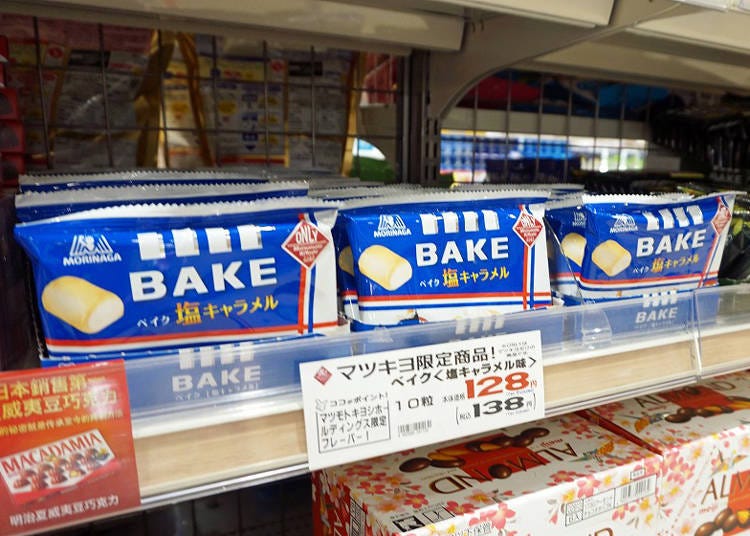 Morinaga Confectionery Bake Salted Caramel Flavor 128 yen (excluding tax)
This chocolate product is made in a uniquely original way that bakes its surface so that it does not smudge your hand when you hold it. This tart is unique in that it has a crisp outer surface and a creamy, smooth chocolate center. The Uji matcha flavor is slightly bitter and popular for being "not too sweet"! The Salted Caramel is a product sold only at Matsumoto Kiyoshi stores.
Perfect for Travel! Kinkan for Insect Bites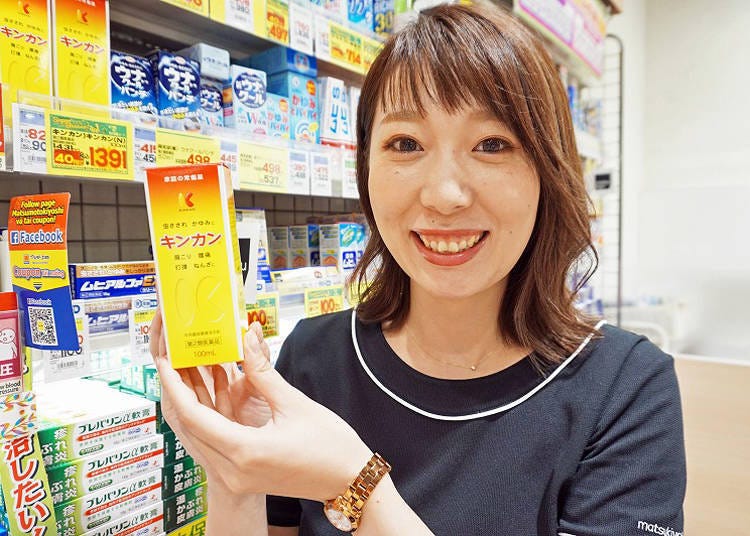 Cassie (British): "Japanese summers are hot and humid and there are loads of bugs! Whenever I go to the park I get bitten at least once, but if I'm particularly unlucky I might get bitten 15 times! Kinkan is perfect for those kind of trips. The itching stops as soon as you apply it. Plus, one bottle lasts for ages, so it's worth the money!"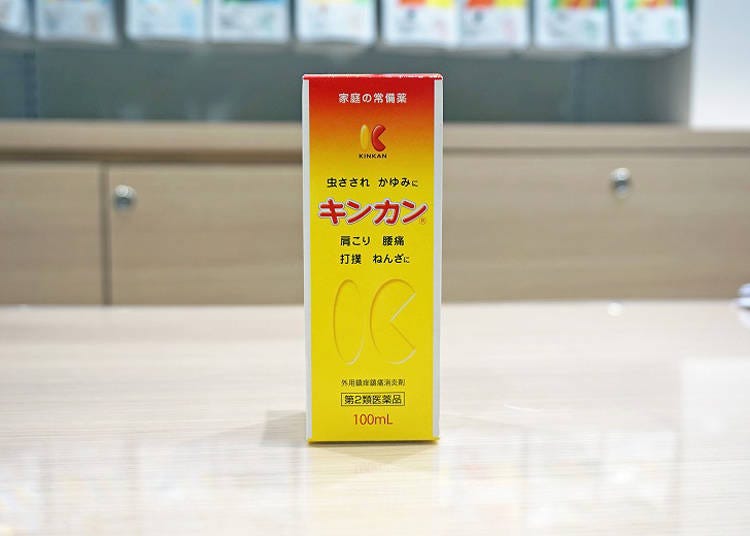 Caption: Kinkando Kinkan 100 ml 968 yen (excluding tax) * Pharmaceutical classification: Type 2 OTC drug
Kinkando Kinkan is a best-selling product that has been sold in Japan for over 90 years as a salve for insect bites and itching. You can kill two birds with one stone with Kinkan because in addition to insect bites, it is also effective for stiff shoulders, back pain, bruises, and sprains! It's small, compact size makes it great for taking it with you anywhere.
Bioré Skin Care Facial Cleanser: Popular in Korea
Park (from Korea): "The Bioré facial cleanser is a high-performance product despite its low price, so it is a hot topic among Korean beauty bloggers. It has good foaming qualities and your skin feels moisturized after using it. It comes in different types so getting several makes for good gifts and souvenirs."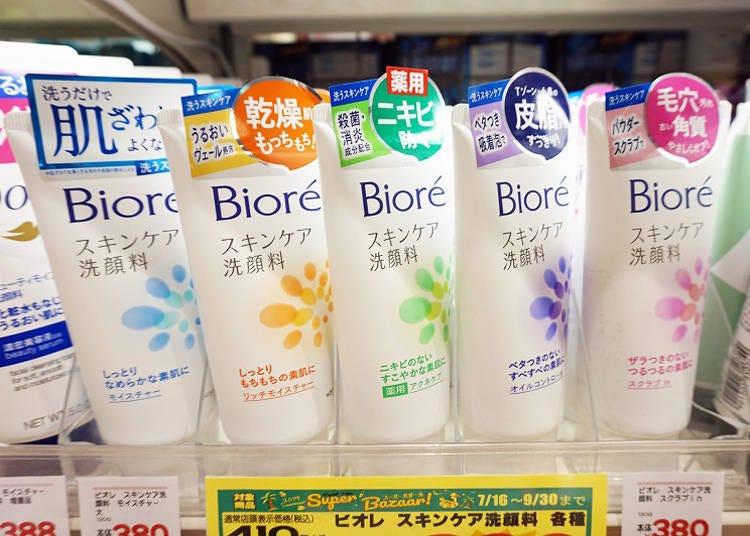 Caption: Kao Bioré Skin Care Facial Cleanser Moisture 130 g (Large) 396 yen (excluding tax)
Bioré is a popular skin care brand in Japan. Biore Skin Care Facial Cleanser is popular because it leaves the skin feeling moisturized and smooth after use. Another special feature is that there are five types to choose from according to skin conditions, such as for acne, oily skin, and dirt in pores.
So Water Resistant! Heroine Makeup Eyeliner Super Keep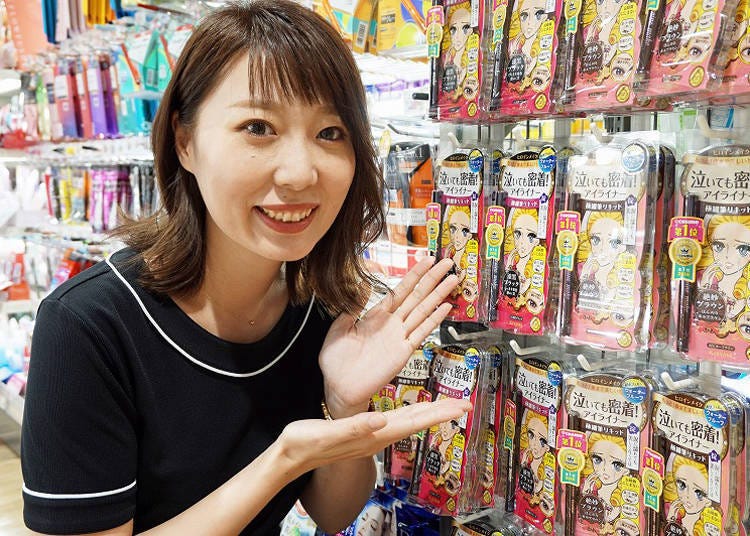 Cassie (British): "As I said before, Japanese summers are crazy hot and so humid! So other eyeliners don't tend to last the whole day and end up getting smudged. But Herione Makeup Liquid Eyeliner is my favorite, because you can wear it during the day and it'll still be there in the evening! It's so easy to use and so much cheaper than my fancy one that barely lasted an hour in the humidity. I highly recommend it!"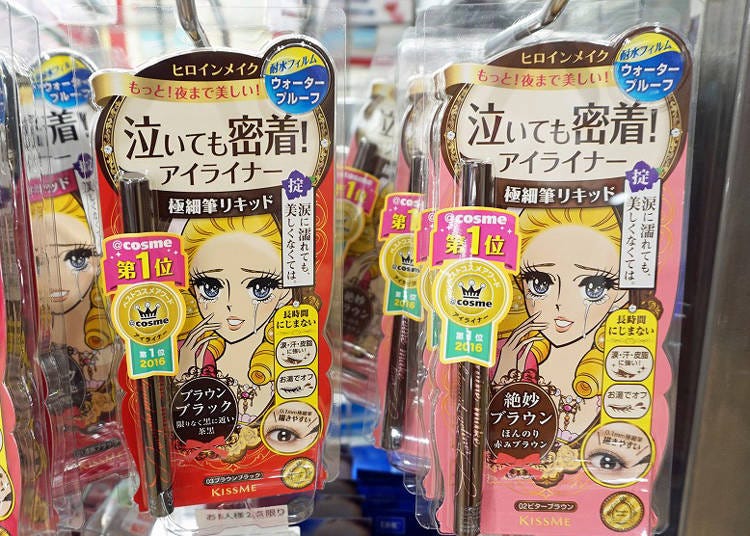 Isehan Heroine Makeup Smooth Liquid Eyeliner Super Keep 1,000 yen (excluding tax)
This is an eyeliner that holds up well in Japan where the humidity is high. Since it is a liquid type with an extra fine brush of 0.1mm, it is easy to apply and holds up well against tears. One thing that makes it so popular is that in spite of being long-lasting, it washes off easily with hot water. The package with Japanese girl's cartoon-style illustrations is eye-catching and easy to find on the sales floor.
The above are products recommended by the Matsumoto Kiyoshi sales clerks and LIVE JAPAN editorial department.

The Matsumoto Kiyoshi Ginza Miyuki Ave. Store that cooperated with us this time has Free Wi-Fi installed in the store (except for some areas) and makes shopping easy for overseas tourists because they can use the Ginren card and Alipay. Another good point is that there is less waiting time for tax exemption purchases because there is a dedicated machine that can process tax exemption at each cash register by reading passports. When you visit Japan, be sure to enjoy shopping at Matsumoto Kiyoshi, where you can easily find products popular with overseas tourists.

Written by MEDIUM Co.,Inc.
Matsumotokiyoshi Ginza Miyuki Ave

マツモトキヨシ 銀座みゆきAve.店

Address

5-chōme-8 Ginza, Chuo City, Tōkyō-to 104-0061

Nearest Station

5-minute walk from Ginza Station


Phone Number

03-3575-5026

Opening hours:10:00〜22:00
Holidays: None
*This information is from the time of this article's publication.
*Prices and options mentioned are subject to change.
*Unless stated otherwise, all prices include tax.