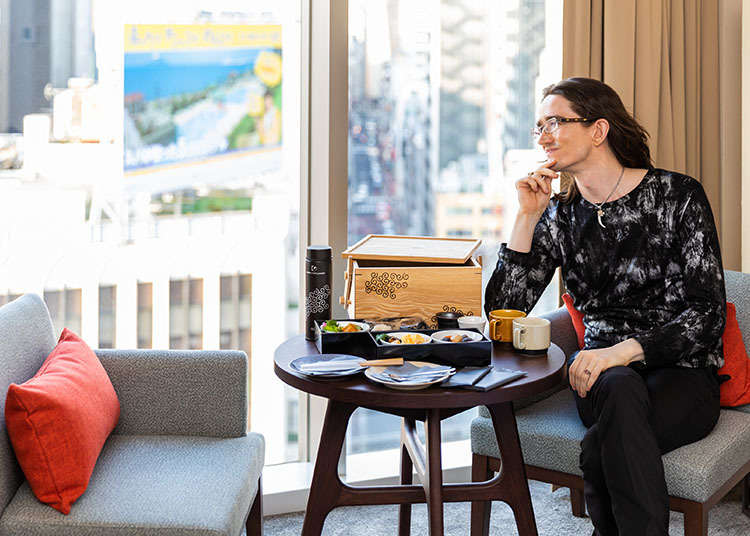 Choosing a hotel from the numerous options in Tokyo is no easy task. The older establishments seem geared to a different generation of traveler, and some of the newer budget options that have popped up in recent years can be a little lacking or far from the hustle of the city proper.

Built from the ground up with the modern traveler in mind, karaksa hotel premier Tokyo Ginza is a new entry in the karaksa hotel group line-up that now spans the length and breadth of Japan. Offering a "Premier" premium experience close to the popular Ginza area at an accessible price point, the hotel is an experience in and of itself.

The hotel opened on May 1, 2019 to usher in Japan's new imperial era, Reiwa, so join us as we check in and explore the signature karaksa hotel premier experience for ourselves.
Make Ginza Your Hub to Explore Tokyo in Style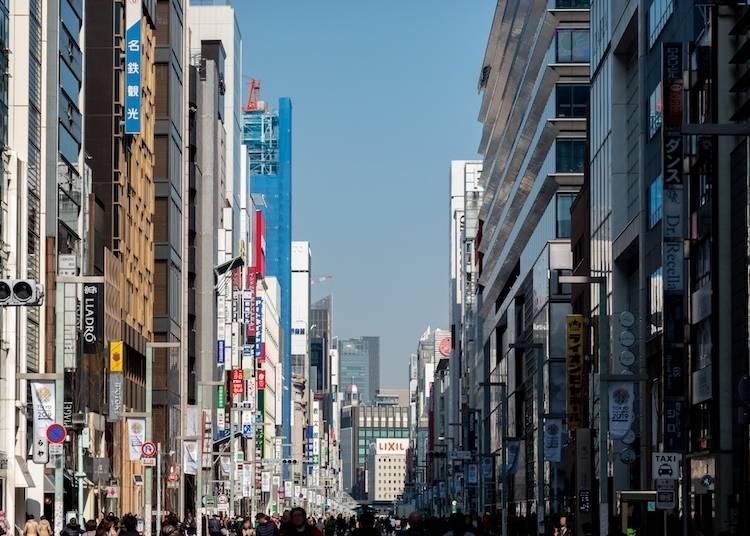 karaksa hotel premier Tokyo Ginza is located near stylish Ginza, known for its storied department stores, luxurious boutiques, and vibrant yet refined nightlife. With all this at your disposal, there is no better place to stay while you indulge in the chic side of the metropolis.

Known as a shopping paradise, at weekends and on public holidays the main Ginza roads are frequently closed to cars so you can shop without traffic, or even sit down for a drink in cafes and bars set up on the street. If you find yourself laden with bags, then karaksa hotel premier Tokyo Ginza is always close by if you need to drop off your shopping!
For culture the historic Kabuki-za Theater is home to the traditional Japanese performing art of kabuki. You can even drop in and see part of a performance if you just want a taste of the atmosphere!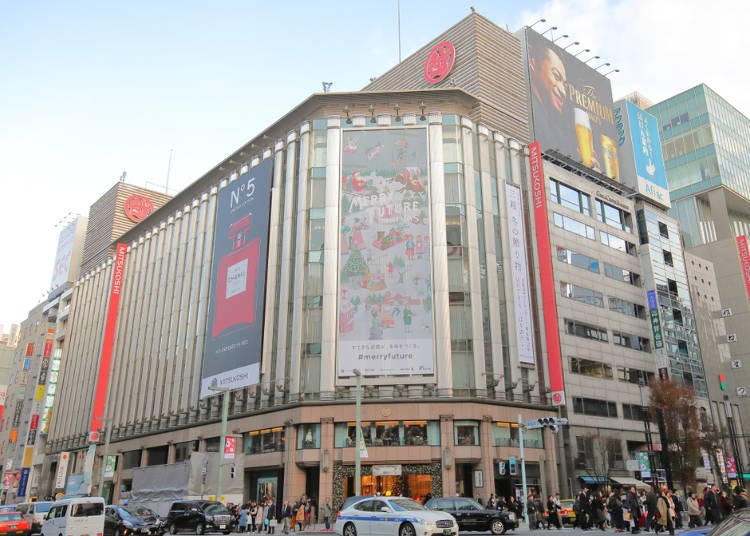 As a historic hub of iki, Japanese chic, Ginza has seen countless fashion trends come and go, making the area the enduring heart of Tokyo style. For timeless style the storied Ginza Mitsukoshi department store is worth a visit, or the more contemporary Ginza SIX whose modern art style interior is a must-see in its own right. TK Kurikawa / Shutterstock.com
Straight from the Airport to the Check-in Lounge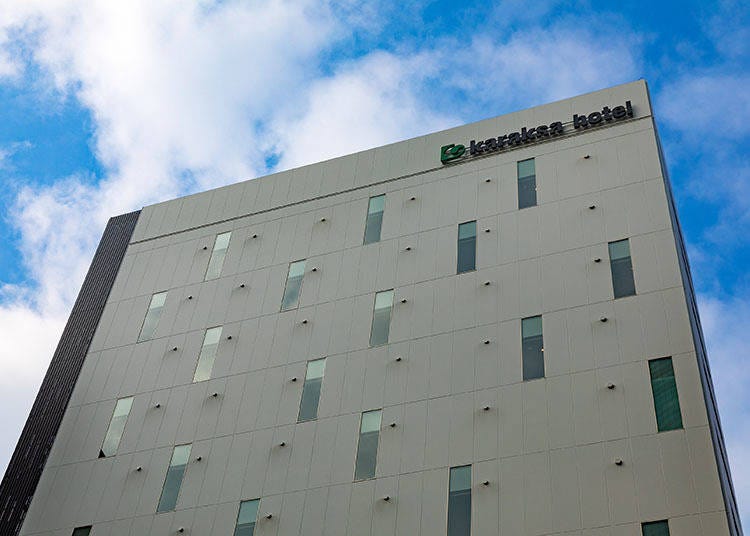 When it comes to staying in Tokyo, nothing is more important than location. You don't want to feel that you must travel to get into the city. That's never an issue at karaksa Ginza thanks to a location that puts you right in the heart of the action. Not only will you be on the edge of the fashionable Ginza area, but also only a short walk from JR Shimbashi Station on the Yamanote Line. With this convenient station at your disposal, you can loop through all of Tokyo's iconic districts and everywhere else on your itinerary.

Shimbashi Station is also within reach of both Narita and Haneda International Airports, with trains running regularly to deliver you directly to karaksa hotel premier Tokyo Ginza. No need to waste any of your precious time in the city waiting on transportation.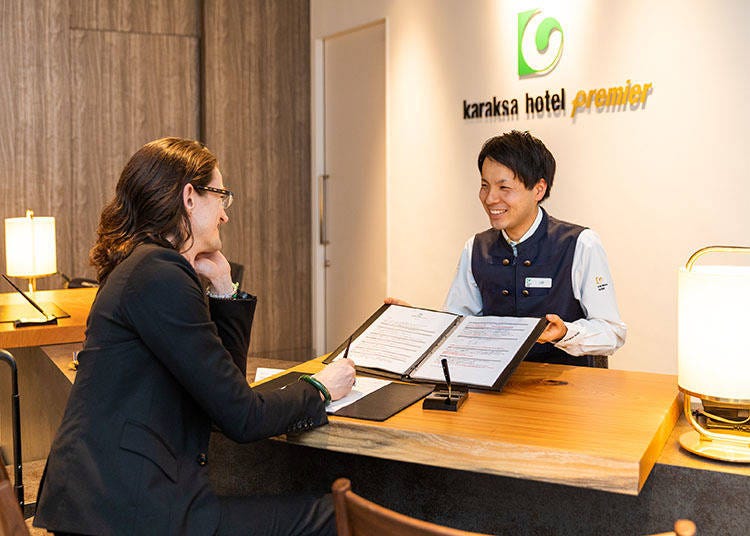 karaksa hotel premier Tokyo Ginza's minimalist exterior is echoed in the elegant lobby, which is a chic mix of Japanese and Western styles. With international visitors in mind, the diverse staff support a number of languages, and English is widely spoken for added peace of mind.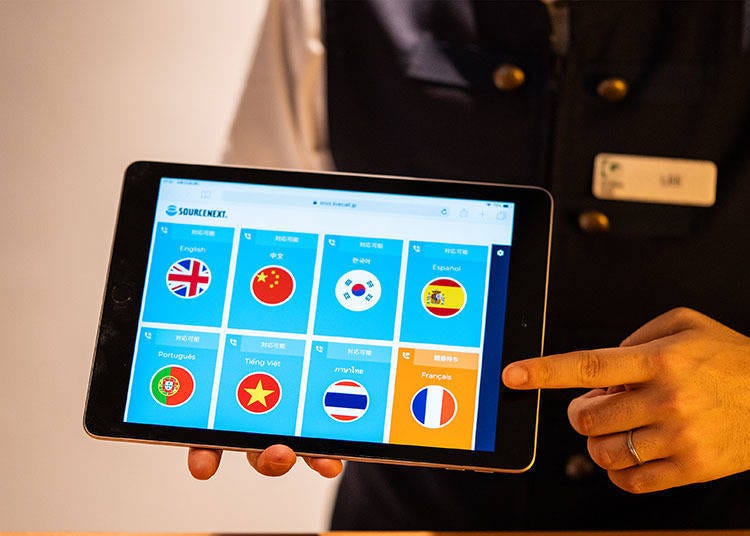 If you need help in a language which no staff member speaks, translation support is always available via karaksa hotel premier Tokyo Ginza's network.
Fully Equipped Facilities Built Around You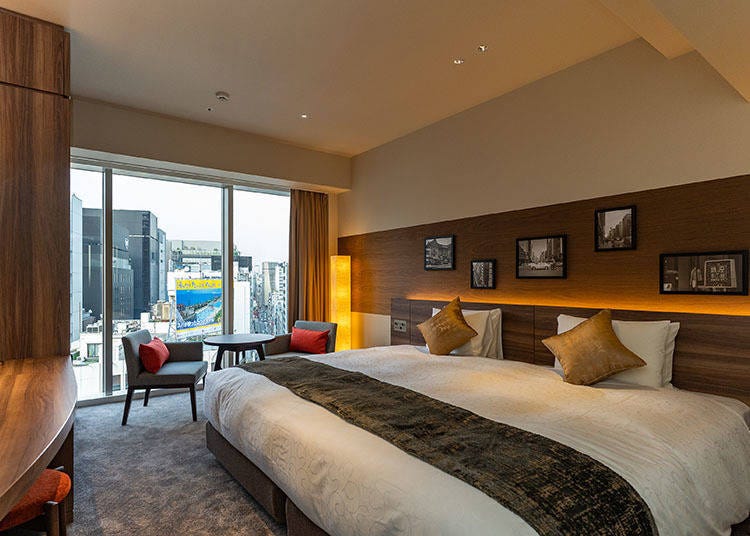 Up in the rooms, there are a range of twin- and double-bed options, as well as expansive rooms. We opted for the Superior Double, which, like all rooms, offers an exceptionally large space for central Ginza. Expansive windows ensure that you don't miss any of the cityscape that could only be Tokyo come night.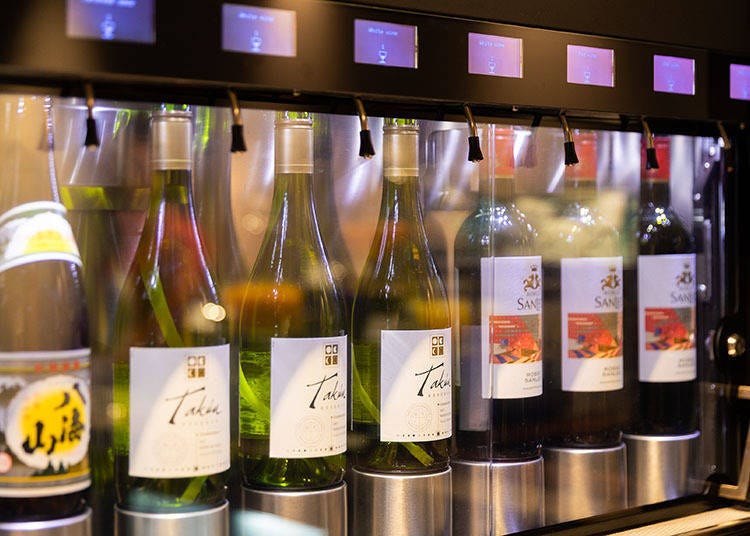 If you are in the mood for a drink to toast your arrival, the second-floor lounge's evening self-service bar is the place to enjoy free snacks and drinks—including red, white wine, and Japanese sake—all served from the automated bar!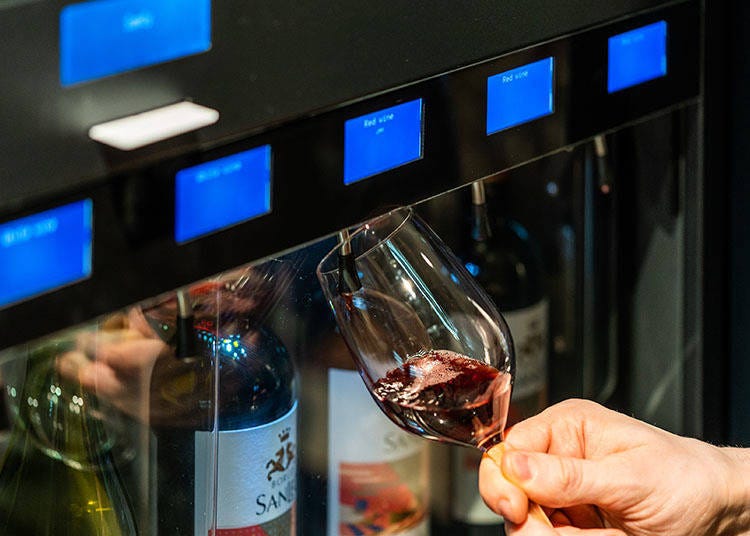 The alcoholic drinks are dispensed using special keycard, and there is a daily allowance of free drinks. For those staying on the 10th to 12th floors, there are also mini-lounges for extra convenience and privacy.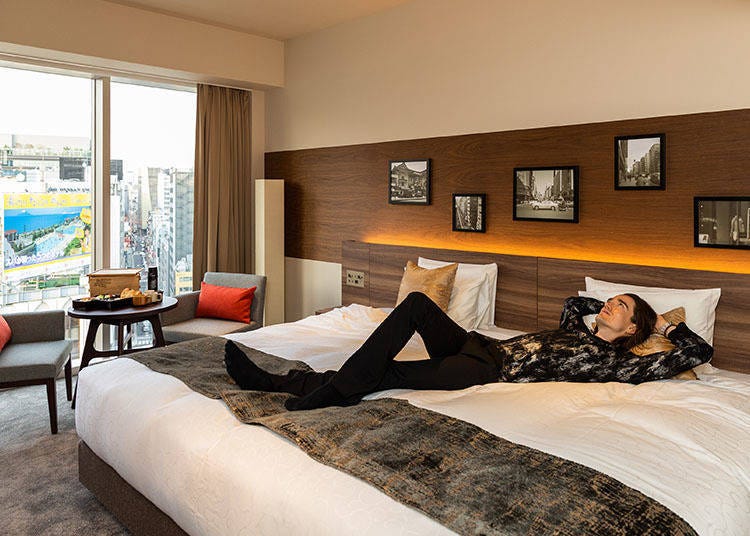 All that is left to do now is to relax in your room, kitted out with all the amenities you might expect. These include humidifiers and a range of international plugs to make sure you have everything you need. The exceptional extends to the vast king-sized bed, upon which you will find specially ordered plush down duvets made with heat-retaining Kodenshi® fabric that delivers a luxurious night's sleep that is a world apart from the image of a basic futon.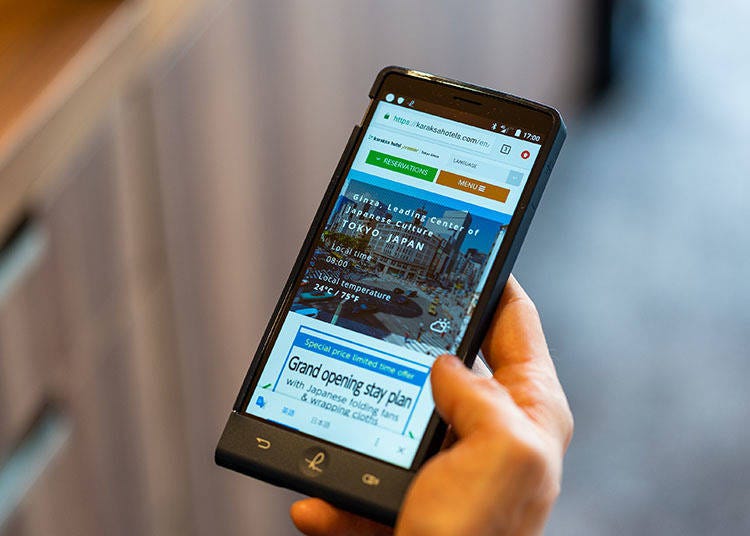 Needless to say, Wi-Fi internet access is completely free, and a "handy" smartphone for your use is provided in every room.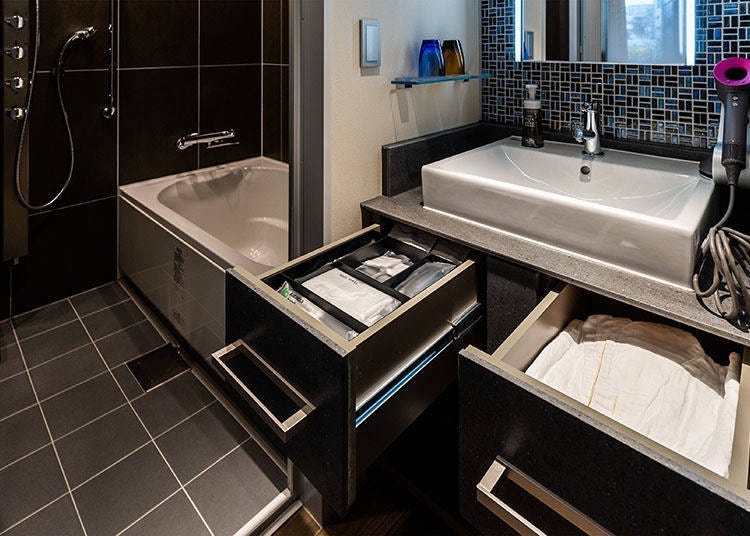 The expansive and fully equipped bathroom and dressing area
Well rested, your first destination of the day is most likely the stylish rain forest shower provided in each room, followed by the dressing area that boasts a soft-lit mirror, a range of amenities, and a top-of-the-line Dyson Supersonic Hair Dryer to ensure you look your best.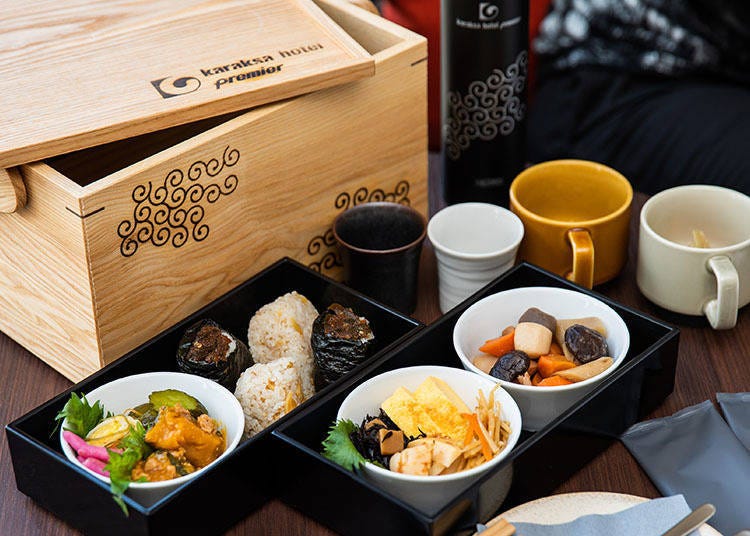 In a break from the norm, breakfast is actually served in the comfort of your room and delivered straight to your door at the time window of your choice. The delicious and photogenic breakfast service comes in a traditional Japanese wooden box with a generous selection of foods to see you through a day of sightseeing. Breakfast is served in Japanese and Western styles on alternating days, with accompanying soup a great chance to experience the dashi broth that accentuates the distinctive Japanese taste known as umami.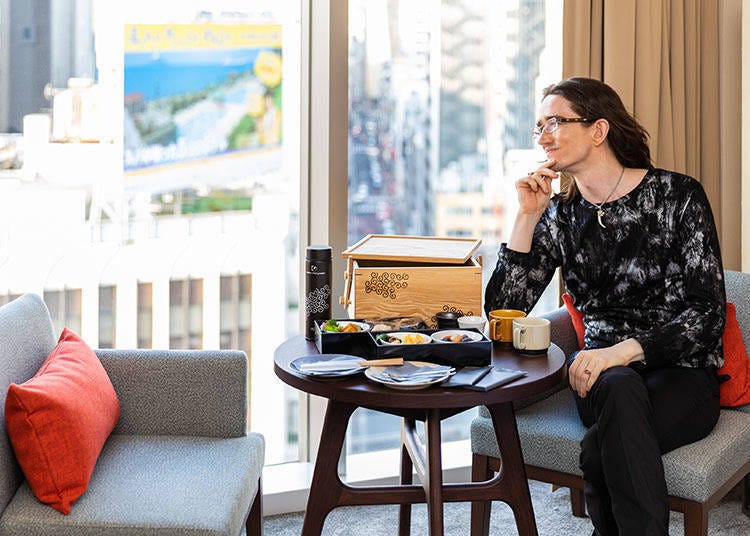 Looking out over Ginza while enjoying such a breakfast is a real luxury. And with the room decorated with retro photos showing the Ginza of old, you are bound to be in the mood to go out and see it for yourself.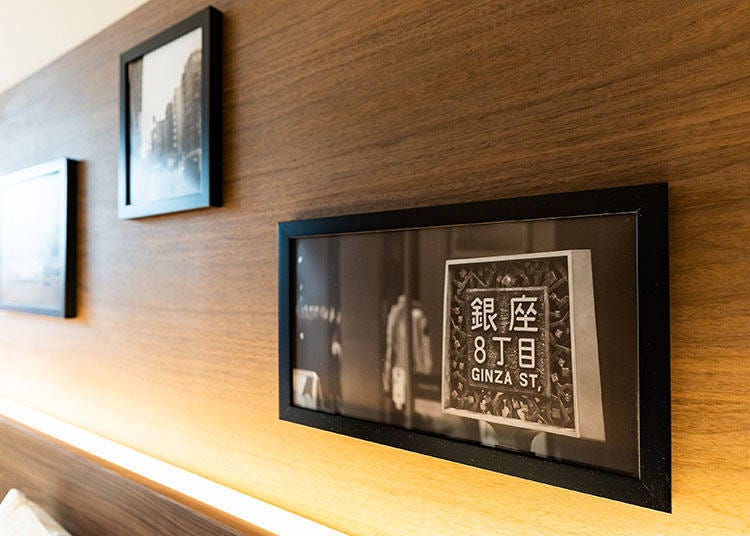 Ginza through the ages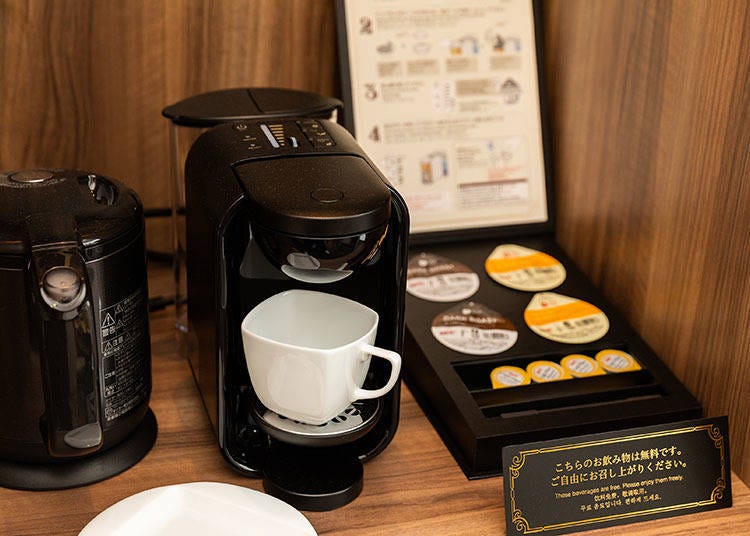 In-room coffee and tea making facilities are on hand for your convenience.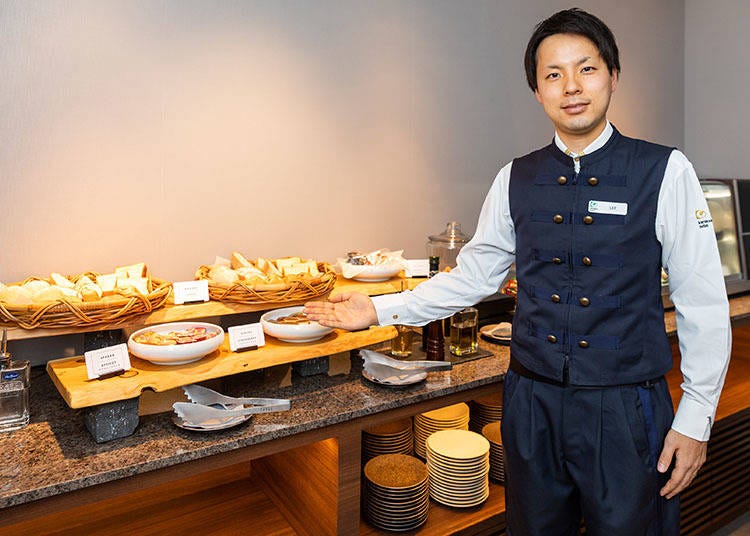 If you are still a bit peckish, drop by the lounge for a breakfast buffet you can enjoy all morning at your leisure. Sip coffee and a selection of fruit juices as well while you mull over the day's sightseeing. If you need local recommendations, just ask the staff. They are always happy to help.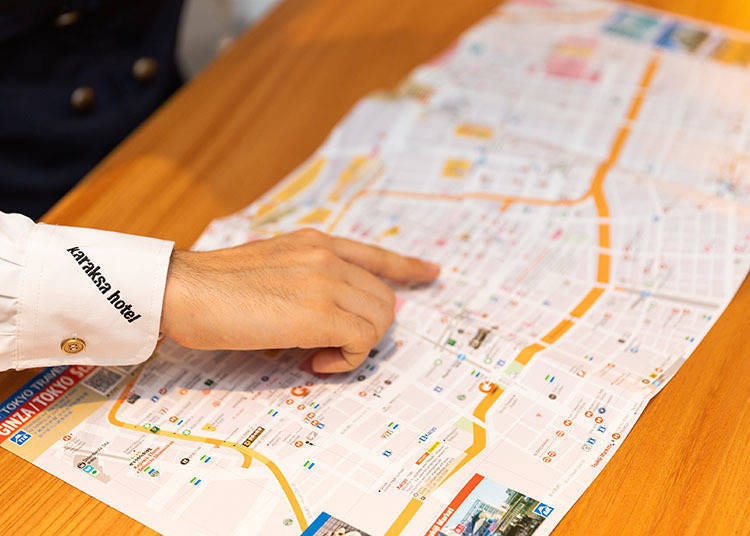 Day or night, Ginza is buzzing with activity. A collage of feudal Edo-Period buildings, including the iconic Kabuki-za theater, turn of the century Meiji Western-style architecture, as well as some of Japan's most luxurious department stores, are all must-sees.

The area is also associated with the birth of contemporary Japanese urban chic style and is surrounded by modern fashion boutiques as well as older establishments honed by centuries of tradition. In these places, you are sure to get a sense for that Ginza style that has called to people over the generations.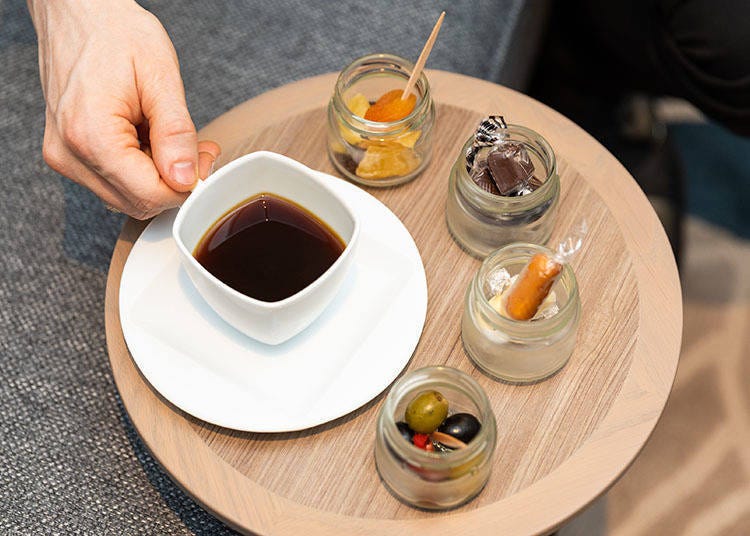 Your hotel is never far away, so if you need to pop back in for anything—or want to enjoy an afternoon snack in the lounge—that is always an option.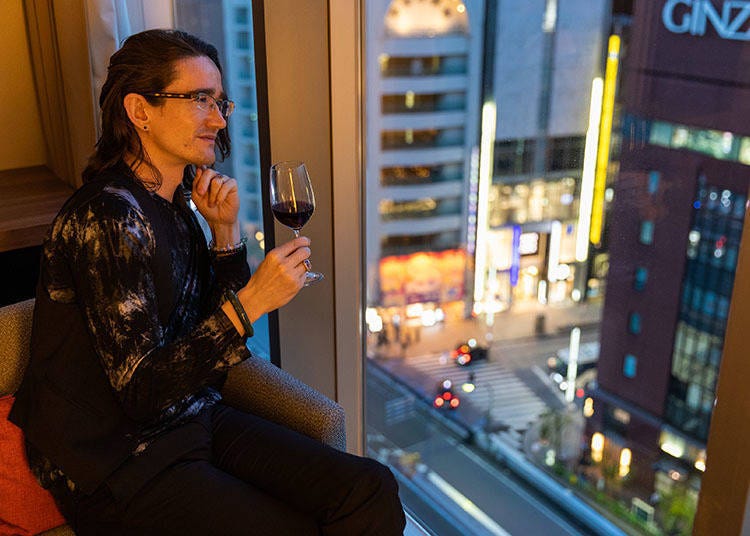 Pre-dinner drinks before you hit the Shimbashi area also come highly recommended. It's the perfect start to what is sure to be a night to remember.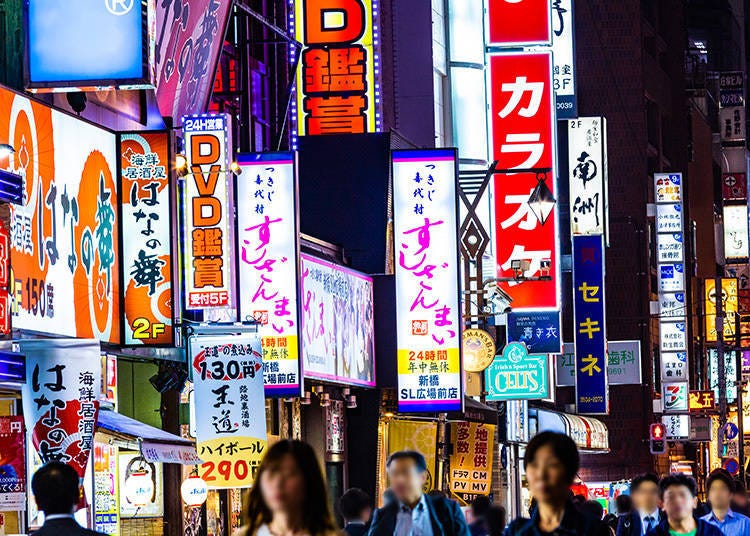 Shimbashi offers a taste of authentic Tokyo nightlife
Start Your karaksa Experience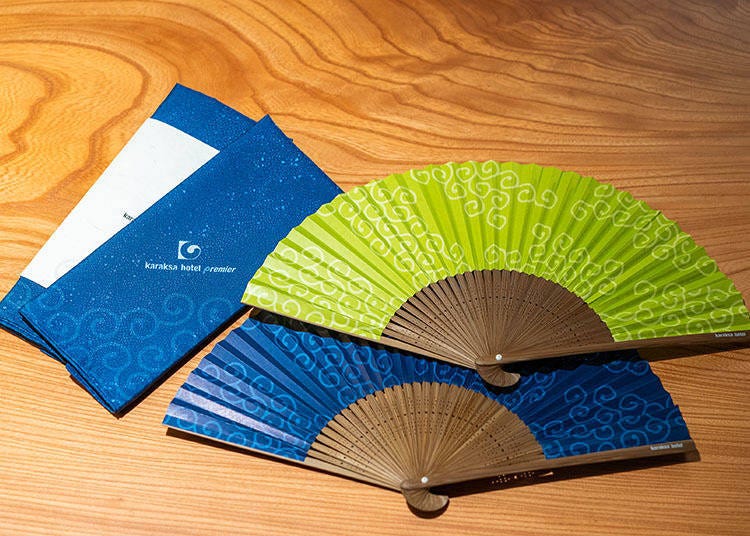 Until October, to celebrate the opening of the first karaksa premier hotel, everyone who reserves the "Grand Opening Stay Plan" through the official home page will receive a commemorative Japanese fan and furoshiki cloth. Both should come in useful in your travels—especially the fan in the heat of the summer! There are also discounts for consecutive-night stays, making this a great hub for the duration of your Tokyo visit.

And that's not all. Watch for another karaksa hotel opening close to Tokyo Station this July. But for the full premier experience now, make your first choice Ginza.
*This information is from the time of this article's publication.
*Prices and options mentioned are subject to change.
*Unless stated otherwise, all prices include tax.
Limited time offer: 10% discount coupons available now!