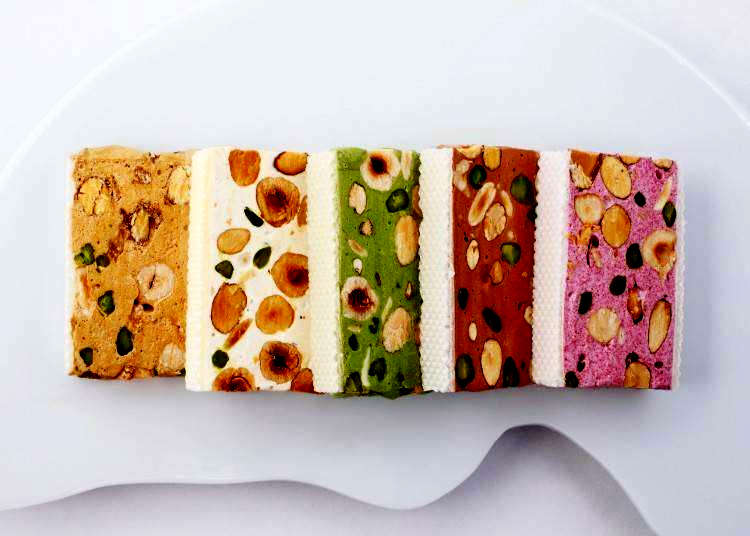 Ginza is known far and wide as the Champs-Élysées of Tokyo, impressing tourists from all over the world with elegance, glitz, and style! The area is dotted with brand shops and department stores both modern and traditional, and one of the newest, most interesting landmarks is Tokyu Plaza Ginza.

The sleek black building is a real eyecatcher, but it does not only dazzle from the outside. Under the concept of "Creative Japan – this is where it gets interesting," the commercial facility promises an exciting journey into the world of local Japanese arts and crafts, united under the fanciness that Ginza is so famous for! Today, we're going to hunt for especially delicious souvenirs – get ready for an amazing assortment of sweets, snacks, and more!
ESqUISSE CINq: Nougat by a Restaurant with Two Michelin Stars!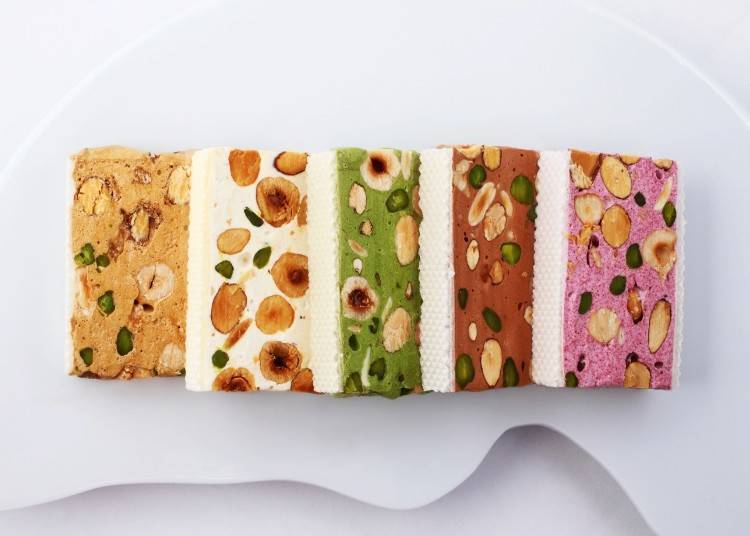 5 types of nougat
Esquisse is a French restaurant in Ginza that was awarded two Michelin stars just six months after opening! The restaurant also boasts its own sweets salon called ESqUISSE CINq, serving assiette de desserts (little desserts assorted on small plates) in an open, beautiful space. The sweet creations are all originals of Esquisse, so you know you're in for a real treat!

Besides that, mouthwatering fresh sweets and pastries sit in showcases and are just waiting to be savored. Those original creations can be enjoyed as take-out delights!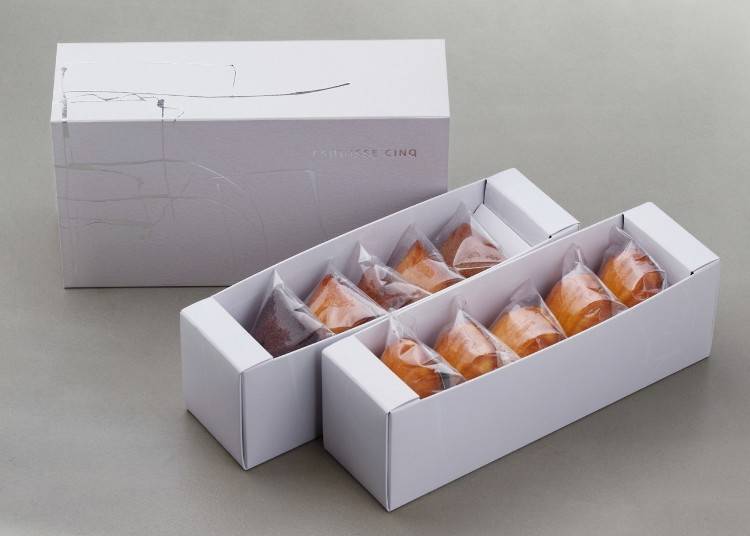 Assortment of 5 pastries for 1,852 yen, 10 for 2,778 yen, 15 for 4,167 yen (tax excluded)
ESqUISSE CINq is a popular spot for delectable souvenirs among both Tokyoites and tourists, both domestic and international. Especially recommended is the restaurant's assortment of five different nougat creations, luxuriously enhanced with crunchy nuts. The flavors range from chocolate to matcha, providing a unique sensation for your taste buds through and through. The beautiful packaging makes them a wonderful choice for a modern souvenir from Japan.

Other assortments are plentifully available as well, including pastries such as various cakes and madeleines, combining various flavors into one beautiful box. Feel free to take your time choosing!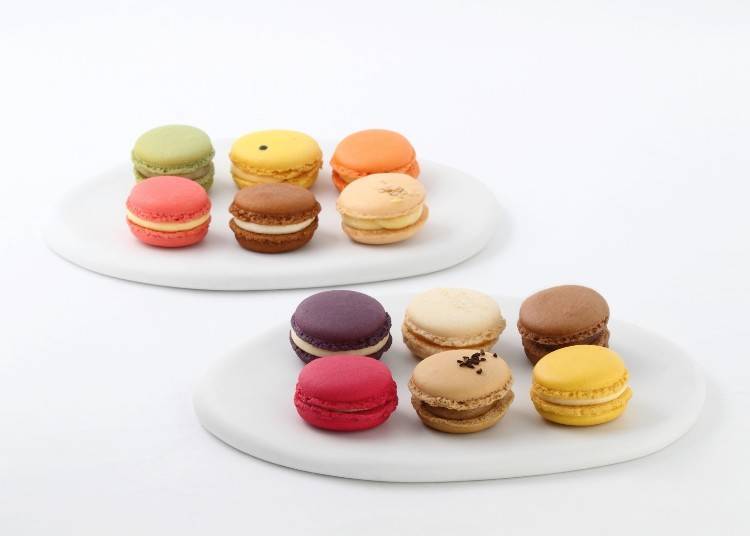 Assortment of macarons: 3 for 1,250 yen, 6 for 2,100 yen (tax excluded)
Another warm souvenir recommendation is the macaron assortment. ESqUISSE CINq's macarons are famous for their wonderful fragrance that spreads throughout your entire mouth, as well as their moist mouthfeel. Flavors such as violet and rose make the dessert delight a particularly interesting gourmet adventure. Of course, more classic choices are plentifully available as well, including lemon, passion fruit, caramel, pistachio, rhubarb coconut, and so on.
SALON Adam et Ropé: The Fanciest Rice You've Ever Had!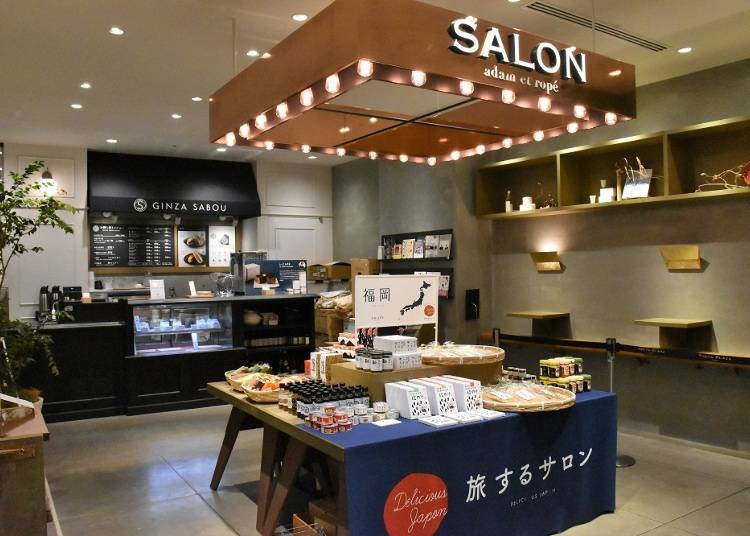 "For people who like eating as much as fashion" is the concept of SALON Adam et Ropé, a shop that operates under the keyword of "delicious fashion" and unites lifestyle with gourmet delights.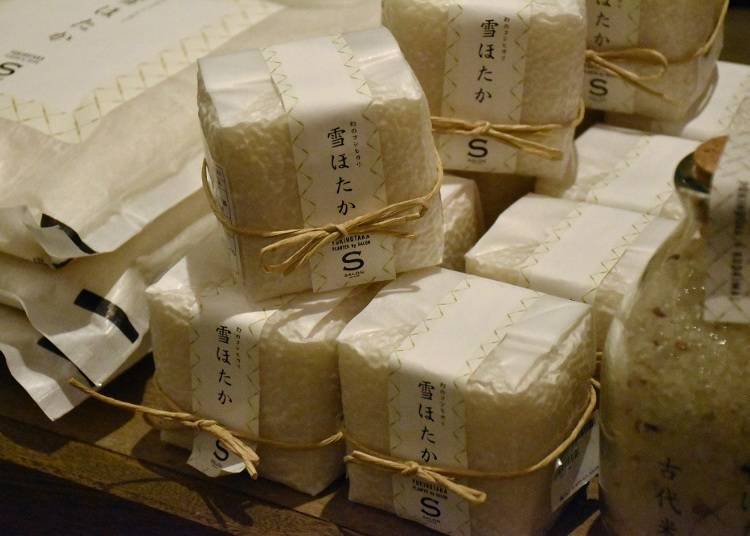 "Yukihotaka" rice planted by SALON, "Maboroshi no Koshihikari" for 648 yen (tax included)
One of the most popular items of SALON Adam et Ropé in Ginza is a special brand of rice called "Maboroshi no Koshihikari – Yukihotaka." This rice is born from a collaboration with the village of Kawaba in Gunma Prefecture that is famous for its Yukihotaka rice, rumored to be the most delicious rice in all of Japan. The rice sold at the store is diligently cared for by the shop's staff, from planting to harvesting. It's an excellent gift that represents local, hand-grown produce while also making for an astoundingly delicious dish. The little rice bags feed two people, so it is a popular gift among both Japanese and international visitors.

If you're not the cooking kind of person, opt for the "Yukihotaka x Taimeshi" set, allowing you to easily prepare the classic Japanese meal of rice with minced sea bream. It's a piece of Japanese gourmet tradition on your own plate!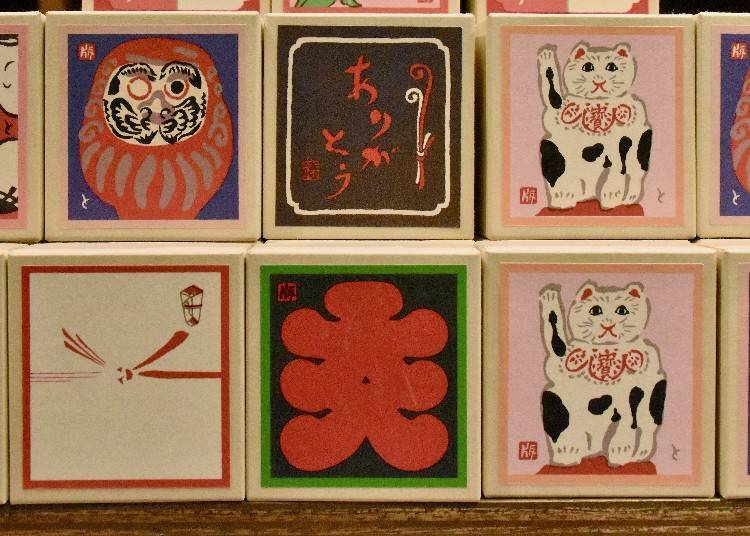 "Ohako" boxes with sweets, 648 yen each (tax included)
If you seek to satisfy your sweet tooth, the "Ohako" is a great choice for you. It's a beautiful box adorned with traditional motifs, filled with small sugar candy called konpeito, black soybean chocolate, and other delicious things. The design boasts a great "Japan" feeling with lucky cats, Daruma, and other imagery, while the inside offers a sweet taste of more modern traditions. Seasonally limited designs are also available, so keep your eyes open!

SALON Adam et Ropé also offers a variety of "Made in Japan" kitchen goods and miscellaneous goods to fancy up your daily life, alongside snacks and all kinds of foodstuff. No matter what you pick, every single item exudes this wonderful harmony of modern and traditional Japan!
Kuze Fuku & Co: Try "Namazake," the New Japanese Sake Trend!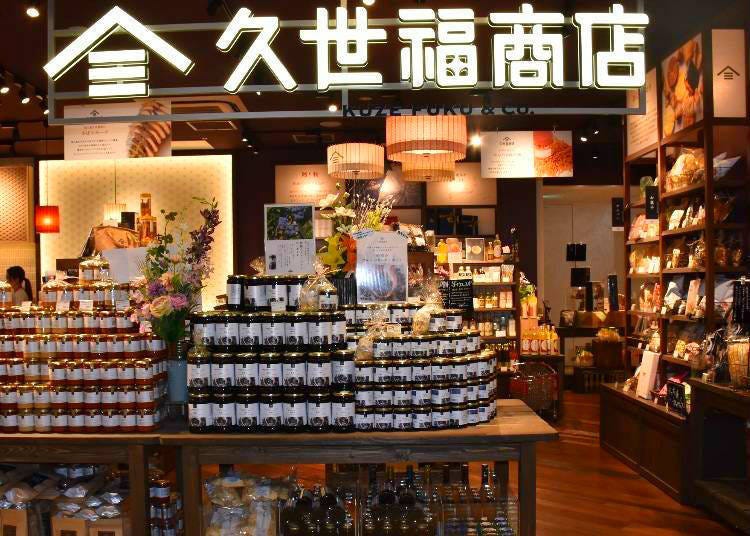 Kuze Fuku & Co. is a famous grocery shop that is known for its selection of produce and products from all over Japan, carefully selected and of the highest quality. It's a favorite place among Tokyo's gourmets who regularly stop by to browse the extensive selection, hand-picking their next flavor adventure. A lot of the goods on the shelves are born from direct collaborations with producers throughout Japan.

The shop inside Tokyu Plaza Ginza particularly focuses on foodstuff without preservatives or additives, offering the unique taste of Japan's flavorful ingredients in the most authentic way.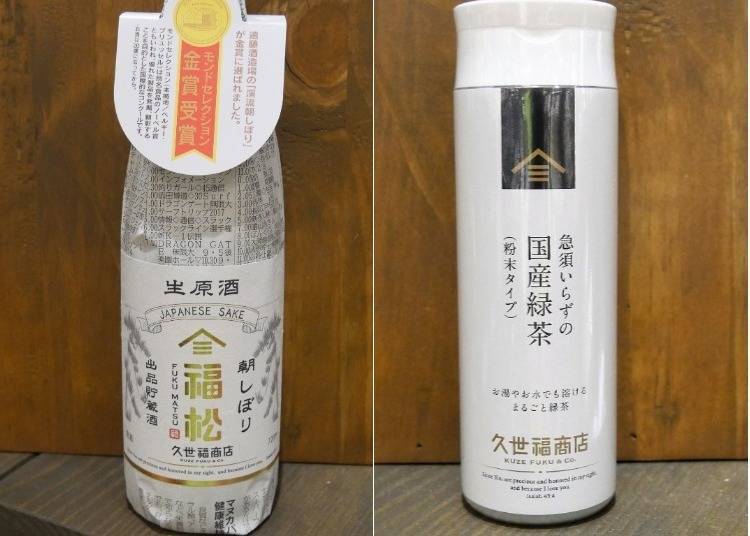 Namazake "Fukumatsu" for 1,620 yen; "pot-less" domestic green tea for 1,026 yen (tax included)
Among Kuze Fuku & Co.'s selection are a few particularly popular items that make wonderful souvenirs.
One of them is Namazake "Fukumatsu," winner of a gold medal of the Monde Selection. Namazake means "raw sake" and basically refers to a non-filtered raw unprocessed sake. The freshly brewed drink is stored under ice-cold conditions to retain the flavor and goes wonderfully well with a large choice of meals.

Our second recommendation is the "pot-less" domestic green tea from Shizuoka. Since it comes in a powdered form, you simply need to add hot water to enjoy a flavorful cup of authentic Japanese green tea. If you dare, it can even be used for cooking!
Flavorful all-purpose dashi soup stock, 648 yen
Speaking of cooking, here is another recommendation for all hobby chefs: the "flavorful all-purpose dashi soup stock" unites ingredients such as dried bonito, dried and smoked mackerel, dried sardines, Hidaka kelp, and so on into a flavorful soup stop free of additives and preservatives. This package full of rich taste can't just be used as the base for a soup dish but also makes for a wonderful seasoning for fried rice dishes and more. This is an excellent choice if you enjoy cooking an excellent meal or know someone who does.
TWG Tea: Ultimate Cold Refreshments with the Iced Teabag Collection!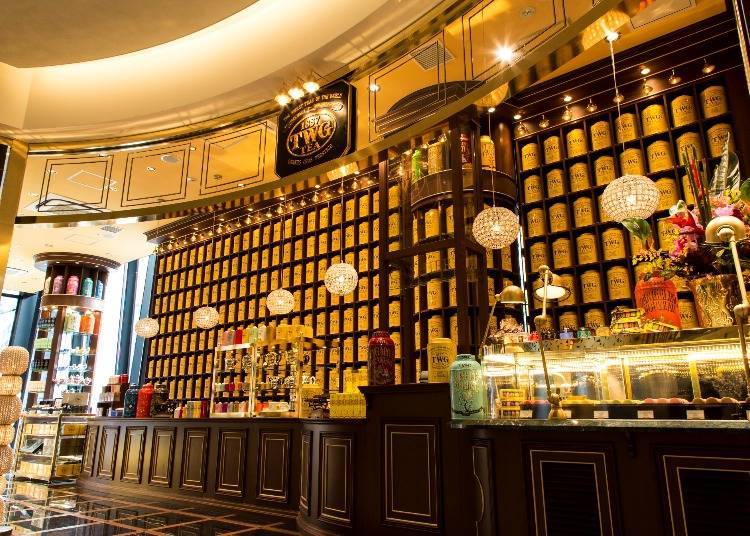 TWG Tea is a luxury tea brand from Singapore. It is committed to ordering the finest leaves of various producing countries and blends them manually into real tea specialties. The TWG Tea store at Tokyu Plaza Ginza offers 418 unique kinds of tea leaves and is the largest of its kind in all of Japan. No matter what tea product you're looking for, you'll find it here. If you enjoy a flavorful cup, you might want to stop y and get your hand on tea creations that are otherwise pretty much impossible to come by!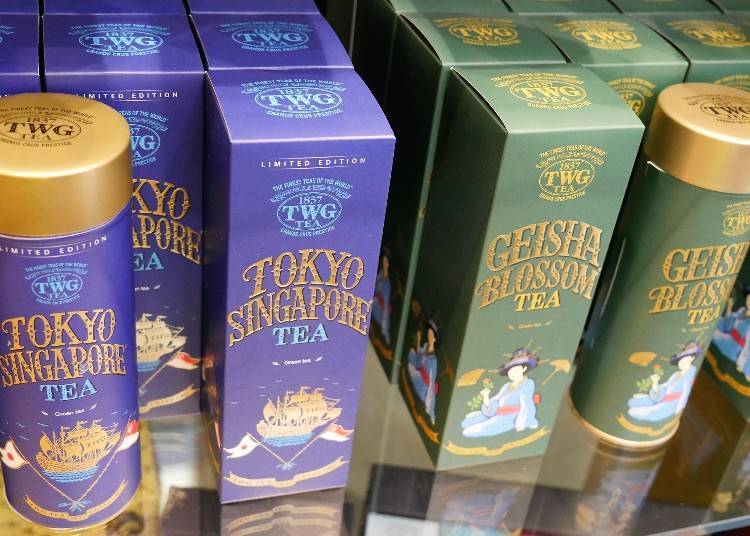 Tokyo-Singapore Tea for 3,996 yen; Geisha Blossom Tea for 3,996 yen (tax included)
We particularly recommend the Tokyo-Singapore tea, a blend based on green tea that unites several citrus fruits. Another highlight is the Geisha Blossom Tea, offering the rich flavor of tropical fruits. From your first sip, you'll be greeted by the wonderful aroma of passion fruit spreading throughout your mouth. Of course, the packaging is also a looker and thus a great souvenir choice.
Iced Teabag, all sorts for 3,456 yen (tax included)
The Iced Teabag Collection is particularly great if you're looking to fight the summer heat. This collection was created to make the ultimate iced tea and 11 different varieties are available for a limited time from May onward.

The tea bag itself boasts a large round shape designed to easily spread out the tea leaves within, making for an incredibly rich flavor that is best enjoyed icy cold! Kick back on a particularly hot day and treat yourself to a cool tea delight!

Another little highlight are the macaroons, sold at only three out of five locations of TWG Tea in Japan!
Hands Expo: Dive Into Japanese Cuisine with the Curry Kit!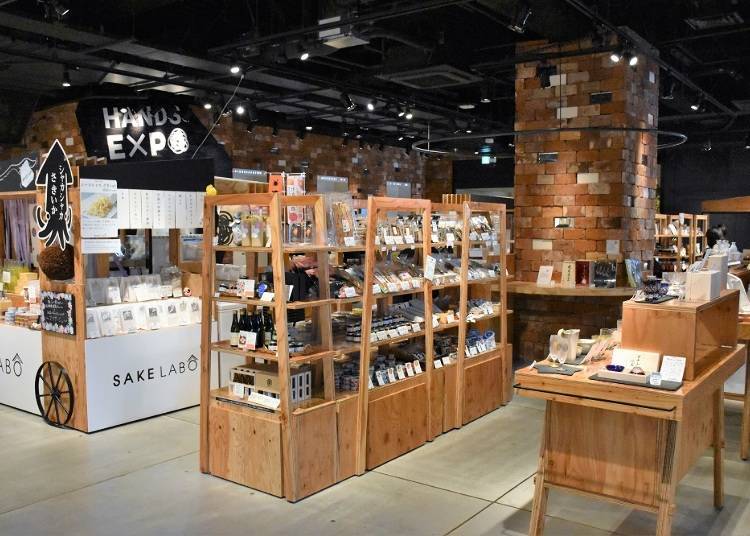 Our next stop is Hands Expo, a special part of Tokyu Plaza that fully operates under straightforward concepts such as Wa (Japan), Beauty, and Food!

Today, we set our eyes on the food zone to show you some stunning goods, including local sake, traditional pottery, yummy appetizers, and all sorts of delectable things from all over Japan!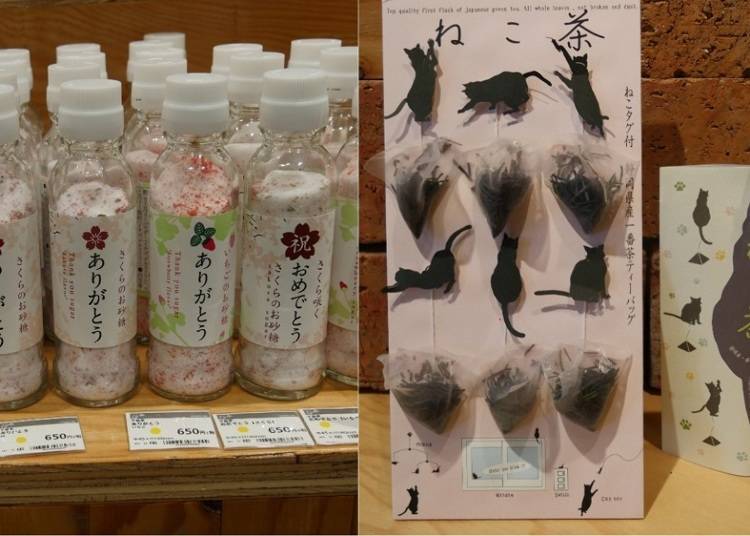 Sakura sugar for 702 yen, Cat Tea for 1,080 yen (tax included)
Cherry blossoms, called sakura in Japanese, are one of the most iconic representatives of Japan. This is precisely why this "sakura sugar" makes such a wonderful gift for friends, family, or simply yourself. The sugar is infused with actual cherry blossom leaves, adding a subtle, elegant flavor to the general sweetness and we highly recommend putting a bit on a simple toast with butter – you'll fall in love, we guarantee it! The Japanese text on the outside is little congratulatory messages such as "Thank you" or "Congratulations."

Another highlight is the Cat Tea made of the first crop of tea leaves harvested in the year, directly from Shizuoka Prefecture. Next to the rich flavor, this tea entices with its ridiculously adorable tags in the form of frolicking cats. There are six furry friends in total toying with your teabag, sure to bring a smile to your face. Besides cats, there are also other designs such as ninja, samurai, and animals including dolphins and penguins.
Tomato-vegetable curry and brown rice puffs for 702 yen, soybean curry pilaf for 734 yen, burdock and mushrooms curry noodles for 594 yen (tax included)
Surprisingly enough, curry is a major part of Japanese cuisine. The country has its very own version of the spicy delight that tastes entirely different from what you might know as "curry," but it is incredibly delicious and should be tried by everyone who loves food! These curry kits allow you to make such a Japanese curry at home, easily, conveniently, and with all sorts of domestic dried ingredients. The curry roux comes from Tottori Prefecture and unites all flavors into one delicious dish! There are six such curry kits in total, all ready to be cooked in a single pot – it's the perfect gift for hobby chefs with a small kitchen!

Not many people first think about food when it comes to souvenirs, and yet there is hardly any aspect of Japan that is as vast and fascinating! Tokyu Plaza in Ginza offers all sorts of creative choices for a gourmet-focused souvenir, satisfying both sweet teeth and hobby chefs of all levels! From a select bottle of raw sake to an easily-prepared curry kit, dive into the world of Japanese food with friends, family, and loved ones!
*This information is from the time of this article's publication.
*Prices and options mentioned are subject to change.
*Unless stated otherwise, all prices include tax.