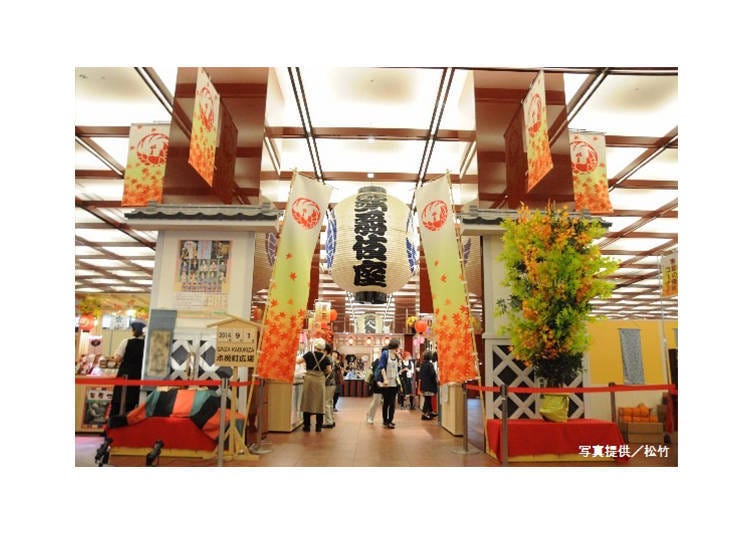 Kabuki is one of the most famous forms of Japanese theater, known for colorful costumes and expressive makeup in white, black, and red. It's a fantastic, traditional spectacle! Everyone coming to Japan should experience Kabuki in Tokyo at least once.

But where to start? Is it expensive? Will I understand it?

As fascinating as kabuki is, it often seems hard to get in. However, kabuki has always been known as a performance art for everyone! That's why we will give you a thorough introduction to kabuki itself, the kabuki theater, and how to enjoy a performance, alongside spots that are perfect for your very first kabuki experience! Let's dive right in.
Brief History of Kabuki and the Enigmatic Kabuki-za Theater of the Meiji Period
The art of kabuki was first performed at the beginning of the Edo period (1603) and developed throughout the era. Dating back 400 years, kabuki's founder is actually said to be a woman called Izumo no Okuni, thought to have been a shrine maiden at the Grand Shrine of Izumo.

She performed a new type of dancing, mixed with singing and acting, in the dry riverbeds of Kyoto, which was the foundation for the art of kabuki.

This theatrical revolution brought fourth kabuki theaters all over the country in the following centuries. One of the most popular – and most spectacular – is Kabuki-za Theater in Tokyo's Ginza.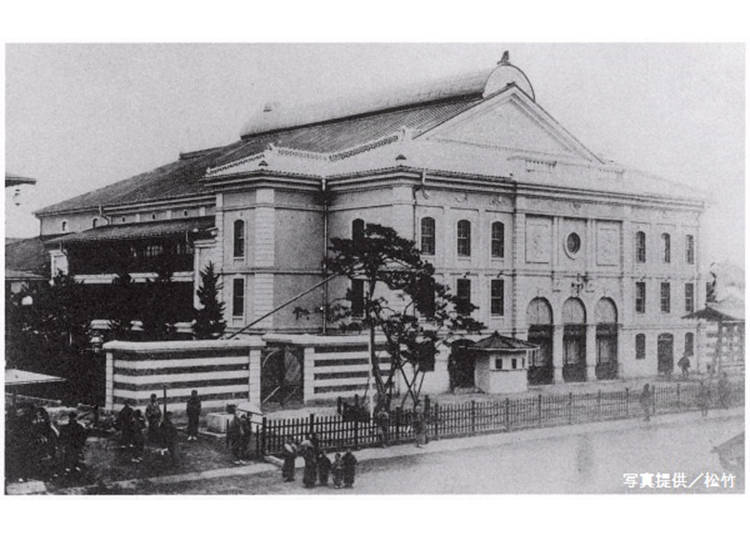 The original Kabuki-za during the Meiji period
Kabuki-za opened its doors for the very first time in 1889, fascinating audiences back then just as much as it fascinates people today. It had to be rebuilt several times due to fire, World War II, and to make it more resistant to earthquakes and to improve accessibility.

In April 2013, the fifth version of the traditional theater opened, reconstructed in the style of the fourth one. Today, it stands right among Ginza's proud skyscrapers, illustrating Japan's harmony of modern and traditional aesthetics in a majestic, almost enigmatic way.

But Kabuki-za isn't only home to performances, it also boasts a variety of shops and delicious dishes. It's an all-around experience of traditional Japan, hospitality, and the magical world of theater.
Kabuki in Tokyo: Choosing a Performance Fit for First-Timers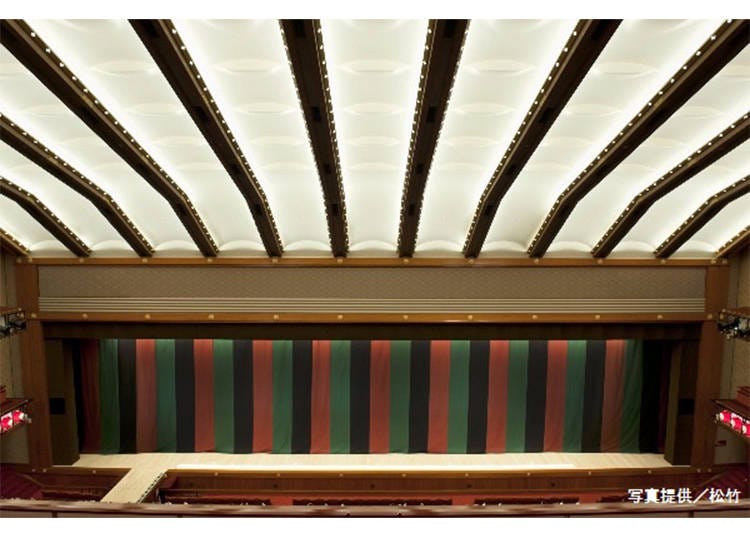 Kabuki-za's performances change on a monthly basis. Next to traditional pieces, modern movies and dramas are an inherent part of the performance lineup as well, providing a diverse mix of entertainment.

Generally speaking, these performances are divided into "Kabuki plays" and "Kabuki dances;" the latter including genres such as gidayū (reciting), tokiwazu (theatrical music), kiyomoto (sung recitation part of puppet play), nagauta (long epic song), and so on.

Kabuki plays, on the other hand, refer to both jidaimono, plays from before the Edo period, as well as sewamono, plays from the Edo period that mostly are about ordinary people. Among them is the kabuki jūhachiban (Eighteen Great Plays), a specialty of a series of kabuki actors going by the name of Ichikawa Danjūrō.

Here are some beginner-friendly plays, sorted by category:
・Jidaimono: Kanadehon Chūshingura (The Treasury of Loyal Retainers), Yoshitsune Senbon Zakura (Yoshitsune and the Thousand Cherry Trees)
・Sewamono: Sannin Kichisa Kuruwa no Hatsugai (Three Kichisaburōs Go Shopping at the New Year in the Pleasure Quarters), Yotsuya Kaidan (The Story of Oiwa and Tamiya Iemon)
・Kabuki Jūhachiban: Kanjinchō (The Subscription List), Sukeroku (The Flower of Edo), Shibaraku (Wait a Minute!)
・Buyō (Dance): Kyōganoko Musume Dōjōji (The Maiden at Dojo Temple), Shungyō Kagamijishi (The Kagami Lion Dance)

Plays written by contemporary writers and directors are also a big recommendation for kabuki first-timers. Recently, kabuki stages have seen original manga stories or poetry from India; non-traditional works that have conquered the heart of the audience by storm.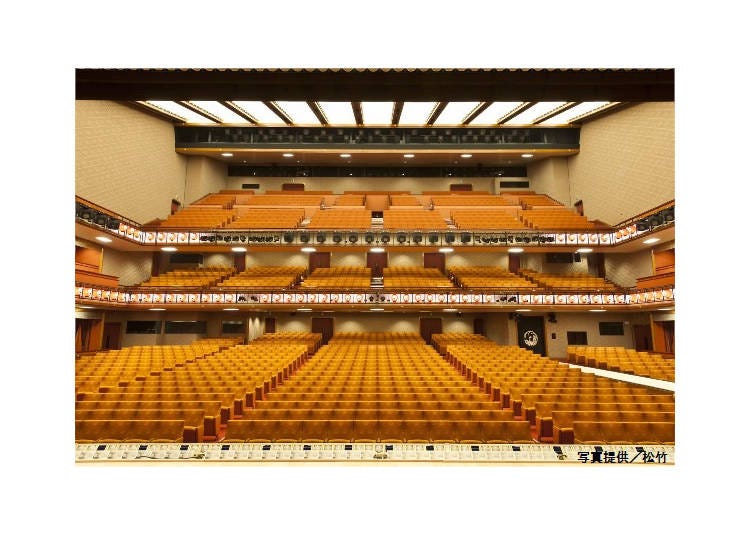 An old art such as kabuki is multilayered. The beautifully designed stage sees the four seasons unfold, ancient customs and traditions, love and hate, changing and stubborn people, good and evil, business drama, and so on.

All of that is accentuated with dashing costumes, expressive makeup, and beautiful stage decoration. Of course, kabuki comes with its very own vocabulary that isn't only helpful to know when buying tickets but will also enhance your theater experience.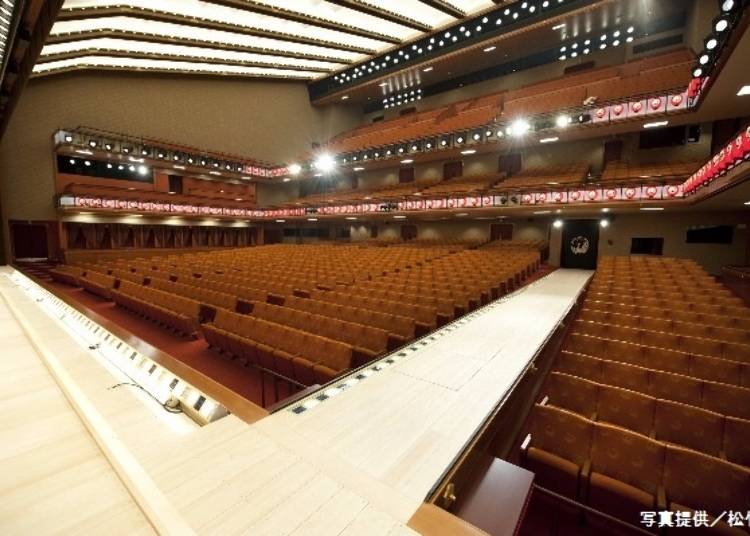 ・Hanamichi: a raised platform from the back of the theater to the stage, right through the audience.
・Seri and suppon: the seri is the stage lift. The large one is used for equipment, the smaller for actors. Suppon means "softshell turtle" and refers to the trapdoor and lift on the hanamichi.
・Tachiyaku: the role of a young adult male, portraying a "good" character.
・Katakiyaku: the role of the villain.
・Iroaku: womanizer on the outside, villain on the inside. Can also simply be a handsome villain.
・Onnagata: a male actor playing a female role.
・Mie: a pose or posture. Actors may suddenly stand still like in a stop-motion piece, scowling at the audience like a portrait.
・Danmari: pantomime, actors moving or fighting silently in the dark.
・Tachimawari (tate): a stylized fight scene carried out with swords or other small props.
・Keren: a generic term for stage tricks such as hayagawari (fast costume change), toitagaeshi (revolving panel with life-sized dolls), or honmizu (water effects).
・Kumadori: special kabuki makeup, especially of the aragoto (bombastic, exaggerated) style. The color indicates the role, such as red for fierce or valiant, blue for ghosts or magical creatures, and so on.
Booking Kabuki Tickets in Advance and Single Act Tickets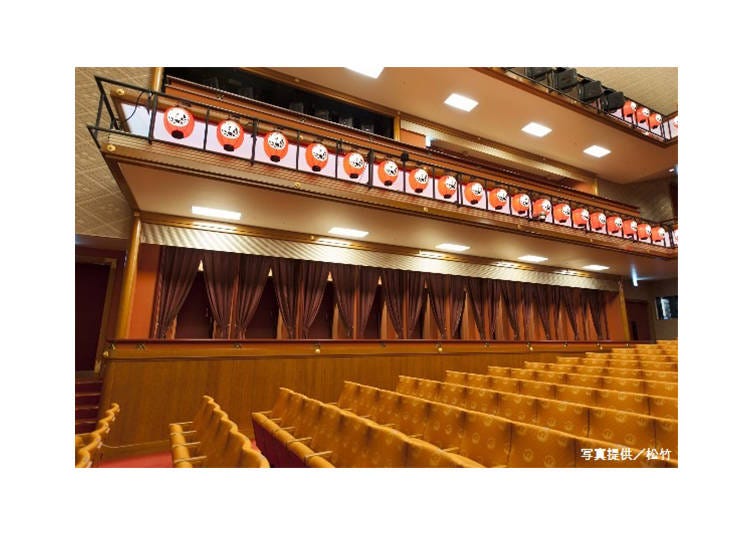 Kabuki-za offers a wide variety of different seats, from low-price to once-in-a-lifetime luxury. There are five categories in total:
(The prices are for the seat type per person for regular performances and include tax.)

・First Class Box Seats for 20,000 yen: two people fit the sunken seats that offer an exquisite kabuki experience. Tea and hand towels are prepared; prior reservations come with a bentō (boxed lunch) for an extra fee.
・First Class Seats for 18,000 yen: at the front of both first and second floor. The center rows 7 to 9 on the first floor are said to be the best seats in the theater.
・Second Class Seats for 14,000 yen: seats on the second floor. They overlook the entire stage.
・Upper Tier A & B for 4,000 ~ 6,000 yen: here sit the ōmukō, audience members that shout out actors' guilds or other phrases.
・Hitomakumi Single Act Tickets from 1,000 yen: very reasonably priced tickets that let you enjoy a single kabuki act from free seats on the fourth floor. It's a great way to dip your toes into the world of kabuki without fully committing to an expensive ticket or full performance.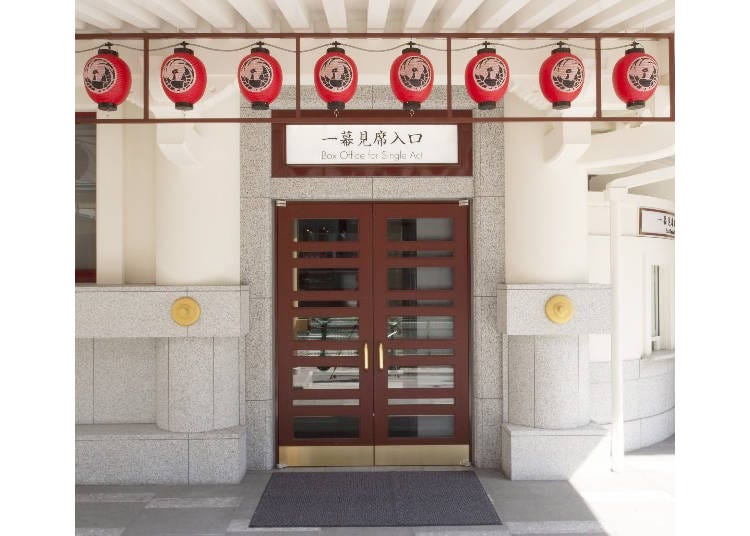 The special Single Act Ticket box office next to the main entrance of Kabuki-za allows everyone who is curious about kabuki to spontaneously come by and enjoy a bite-sized performance.
Performance tickets can be bought online on a website called Ticket Web Shochiku, via phone (ask for an English-speaking operator), or directly at the theater's ticket window.

If there are free seats for performances on the same day, tickets are sold directly at the ticket office on the theater's first floor.
Kabuki Dress Code and Etiquette
Kabuki-za does have a rather high-class feel to it and a lot of people believe that there's a strict dress code and set of rules, etiquette, and so on. This, however, is not the case, as kabuki has its roots in being entertainment for the common masses. Whether you enjoy the performance wearing T-shirt and jeans or in suit or kimono is entirely up to you. For a thoroughly authentic experience, renting a kimono in the nearby area is sure to make your Kabuki-za visit entirely unforgettable!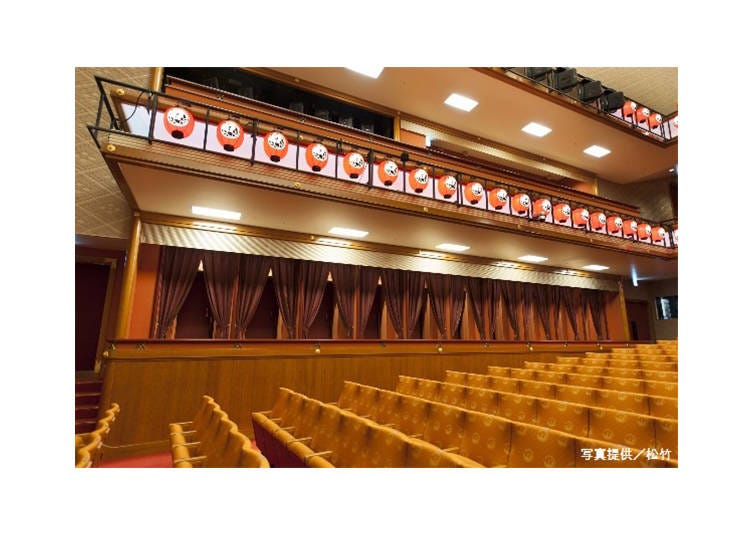 Just like with operas or musicals, bringing a pair of binoculars is never a bad idea. Kabuki, in particular, relies a lot on facial expressions, gestures, poses, intricate makeup and costumes, so binoculars will certainly help to savor every little, beautiful detail.

Here's another surprisingly lax rule: drinking and eating at your seat is perfectly fine. However, you should naturally be mindful of the noise you make, as being loud is, of course, seen as rude. Climbing on the stage during the performance is a no-go as well. The main thing to keep in mind is to be considerate towards both audience and actors and behave accordingly.
Arrive Early at Kabuki-za to Savor the Theater Itself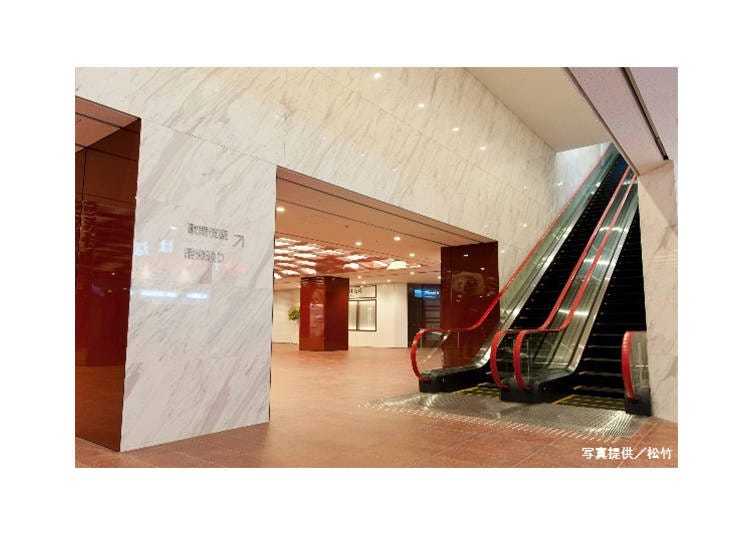 Having learned about both tickets and etiquette, it is time to shift our attention to Kabuki-za itself.

Access to the theater is wonderfully convenient, as its basement is directly connected to Higashi-Ginza Station served by the Tokyo Metro Hibiya Line and Tōei Asakusa Line. Take either escalator or elevator from Kobikichō Square (the area with various shops and restaurants) and you'll find yourself right in front of the main entrance of Kabuki-za.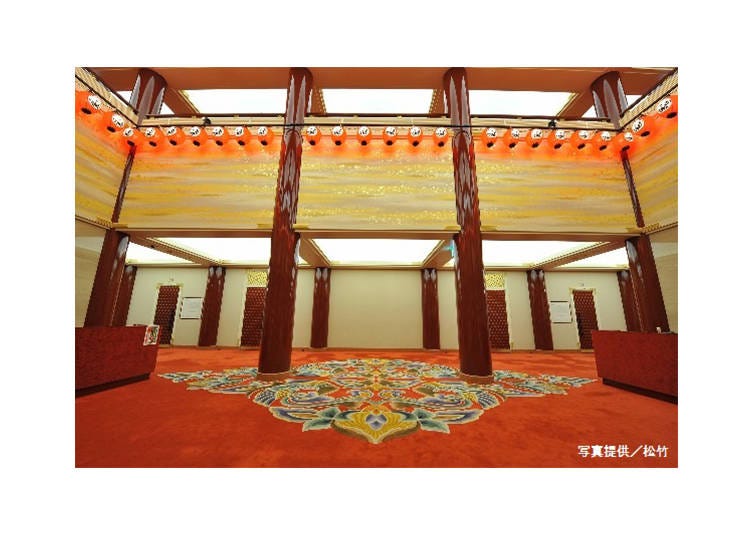 Stepping through this entrance feels like stepping into a different world. The main lobby greets you with a scarlet-red carpet from which a majestic phoenix seems to rise, spreading its wings as if to take flight. The second floor and upward charm with dazzling paintings on the walls, all drawn by famous masters of their craft.

We highly recommend arriving half an hour before the start of the kabuki performance. That leaves you plenty of time to take in the unique, majestic atmosphere of Kabuki-za and its numerous details. Sophisticated souvenir shops offer elegant mementos and it's a great time to choose a snack or boxed lunch to enjoy during the show. While there's an intermission during the play called makuai, the theater is crowded with people and time will seem much too short.
Subtitle Your Kabuki Experience
Kabuki-za offers an indispensable gadget called the G-Mark Guide. It's a device that adds subtitles to the performance, allowing you to follow the dialogue closely and authentically.

Language is a big concern for many people when it comes to experiencing a live kabuki performance. Of course, the plays are in Japanese and can sometimes even be hard to understand for native speakers. Kabuki-za offers a rental subtitle guide called G-Mark Guide that is available for a rental fee of 1,000 yen in addition to a 1,000-yen deposit that will be refunded upon return. For a single act, the rental fee drops to 500 yen.

These subtitles do not only feature authentically translated dialogue but also plenty of commentary and extra information in regard to the plot, the roles, the actors, and so on.

Another way to enhance your kabuki experience with extra information Is a paper guide called sujigaki. It offers various in-depth details about the cast, often featuring interviews, the story of the play, noteworthy details, and so on. These guides are available for 1,300 yen and feature English.
Kabuki-za Theater: The Kabuki Stage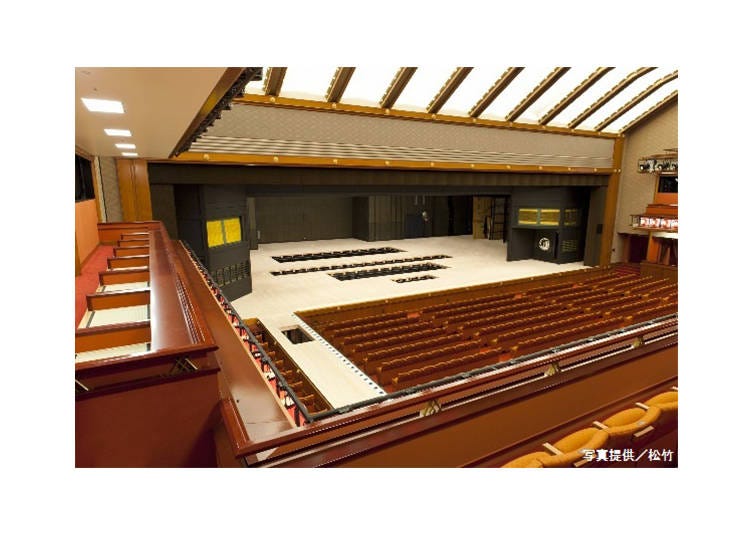 To the stage at last!
Let's look at Kabuki-za in numbers. The theater offers a total of 1,808 seats from the first to the fourth floor, excluding the 96 single-act seats. The stage is 27.6 meters wide and 6.4 meters high, and the hanamichi (the path leading through the audience) spans 18.2 meters. Kabuki-za is spacious.

As the curtain rises, a beautiful seasonal scenery appears, such as spring's cherry blossoms or autumn's colorful foliage. Wooden clappers called ki mark the start of the performance, followed by talking, shouts, the tunes of a shamisen, and so on. Everything merges into a fully rounded atmosphere that'll immediately take you to the world of the play.

Don't think too much about your surroundings – allow yourself to sink back into the seat and fully commit to the performance unfolding in front of you. Watch the expressions, both the subtle and the bold movements, pay attention to every sound and tune...this is the unique magic of kabuki.
Kabuki-za Theater Meals During the Interlude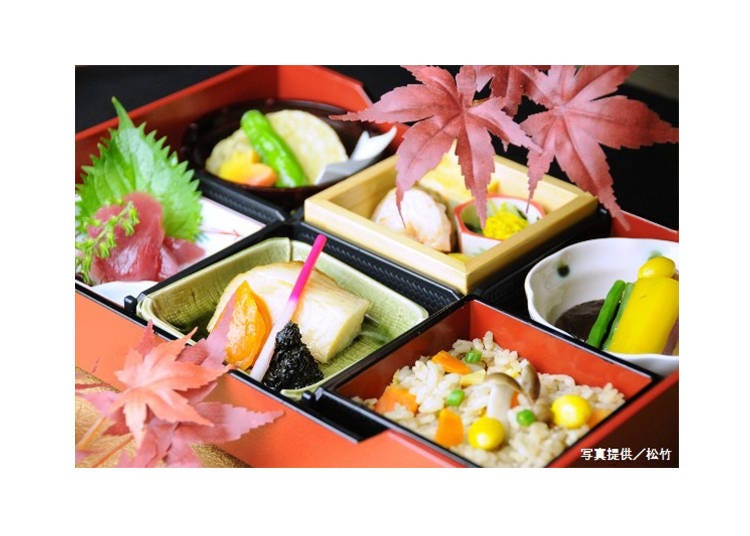 The Kabuki-za generally offers performances two times a day; matinée from 11:00 a.m. and evening from 4:30 p.m. One entire performance tends to consist of three acts and thus is surprisingly long, sometimes up to four hours and more! That may seem intimidating, but there are intermissions called makuai during the performance, usually between 15 and 30 minutes long. They allow you to stretch your legs, go to the restroom, and savor tea and snacks.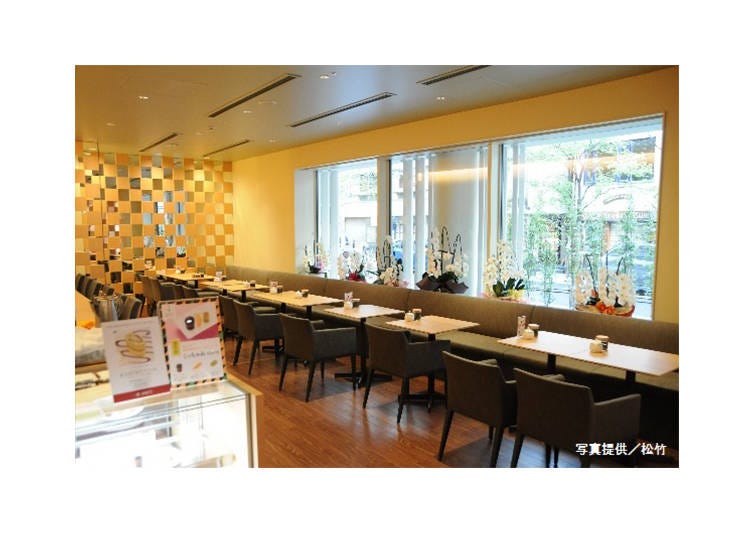 Kabuki-za is home to three restaurants and tea parlors. Tokyo Kitcho on the third floor offers luxurious Japanese bentō, while Hanakago also on the third floor offers a more casual but just as authentic option. If you simply want to savor aromatic green tea, coffee, and a dessert, head to Hinoki on the second floor. If you plan on sitting down for a meal or snack during the intermission, we highly recommend making a reservation beforehand.

Additionally, it is perfectly fine to bring your own snacks, as eating at your seat is explicitly allowed. Once you have a ticket voucher, you can freely leave and enter the theater as you please, so a lot of people buy snacks and boxed meals at stores in the neighborhood.
Kabuki-za Theater Sweets and Souvenirs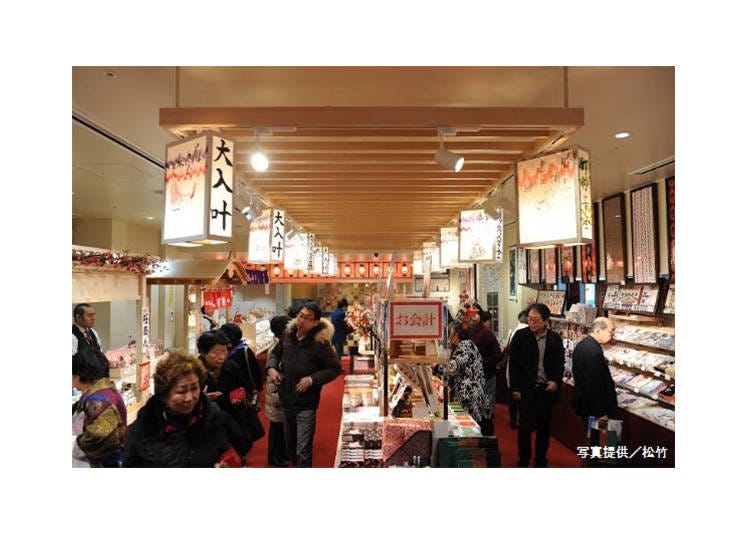 If you're not particularly hungry, a nice way to spend the intermission is to hunt for unique sweets and souvenirs within the theater! Omiyagedokoro Bikichō is a shopping area on the first floor of Kabuki-za, while Za Norengai is a similar area on the third floor. Both offer a variety of traditional Japanese sweets and snacks, including daifuku, ningyō-yaki, and taiyaki, but also classics of Western dessert cuisine such as ice cream, pudding, or macarons.

The souvenir selection is also a pleasure to browse. The majority of items on sale are Kabuki-za-only goods that authentically evoke the spirit of Old Edo. Remember your kabuki experience with an elegant folding fan or hand towel. Of course, special merchandise of famous kabuki actors is plentifully available as well, so don't hesitate to get a little memento or two.
Address

4-12-15, Ginza, Chuo-ku, Tokyo, 104-0061
View Map

Nearest Station

Higashi-Ginza Station (Tokyo Metro Hibiya Line / Toei Asakusa Line)


Phone Number

03-3545-6800
There's Always a Festival at Kobikichō Plaza!
To a full kabuki experience at Kabuki-za belongs exploring the many sights in and around the theater. It'd be an absolute shame to just hop in and out for the performance alone; there's so much to discover!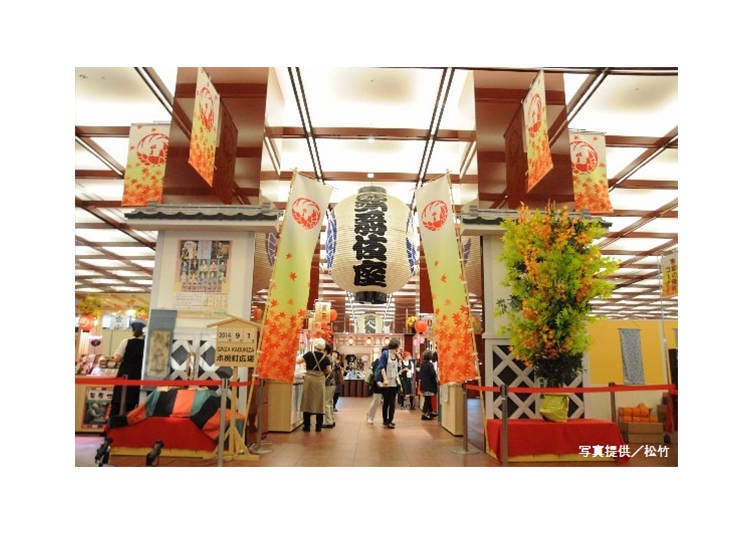 The theater's second basement floor is directly connected to Higashi-Ginza Station, boasting an open space called Kobikichō Plaza. Various stores crowd the area, decorated to exude the lively, fun atmosphere of a Japanese summer festival. Souvenirs, boxed lunches, cafes, and convenience stores offer everything you need, from unique mementos to snacks and proper dishes.

Even if you don't have tickets for a kabuki performance, Kobikichō Plaza is well worth a visit if you're in the area. Just walking along the beautifully decorated shops takes you to a different world, inviting you to escape Tokyo's hustle and bustle for a while.
Kabuki-za's Stunning Japanese Garden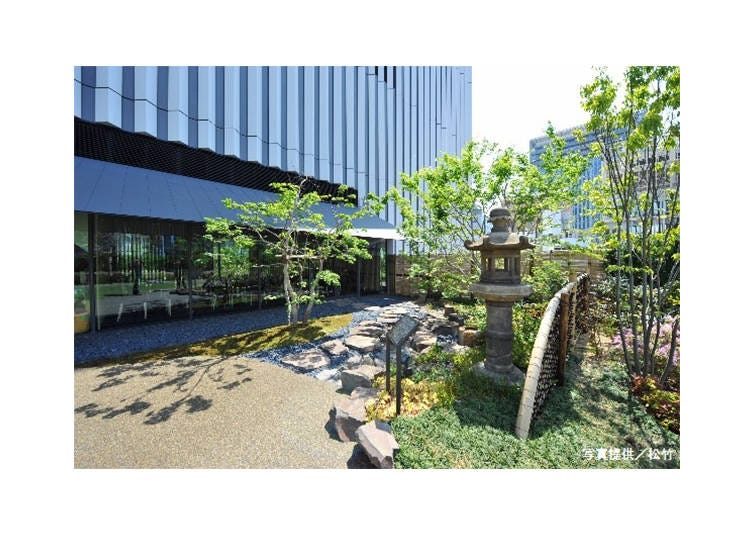 You might have noticed the large building towering behind Kabuki-za Theater – that is Kabukiza Tower. On its fifth floor, you'll find a beautiful Japanese rooftop garden that offers quiet minutes of respite and relaxation. There are cherry trees and kabuki-related memorials, providing the perfect scenery for a little walk.

After you've thoroughly explored the garden, follow the vermilion-red handrail to the "Goemon Stairs." They lead you to a corridor on Kabuki-za's fourth floor. Note the roof tiles that you'll encounter on the way; they're engraved with Kabuki-za's iconic phoenix called hōō no maru. Among them is one bird that looks in a different direction, known as "inverted phoenix." Can you spot it?
Get to Know the Actors at Kabuki-za Gallery
The Kabuki-za Gallery is on the same floor as the Japanese rooftop garden. Especially interesting for kabuki first-timers, it offers a practical glimpse into the world of Japanese theater.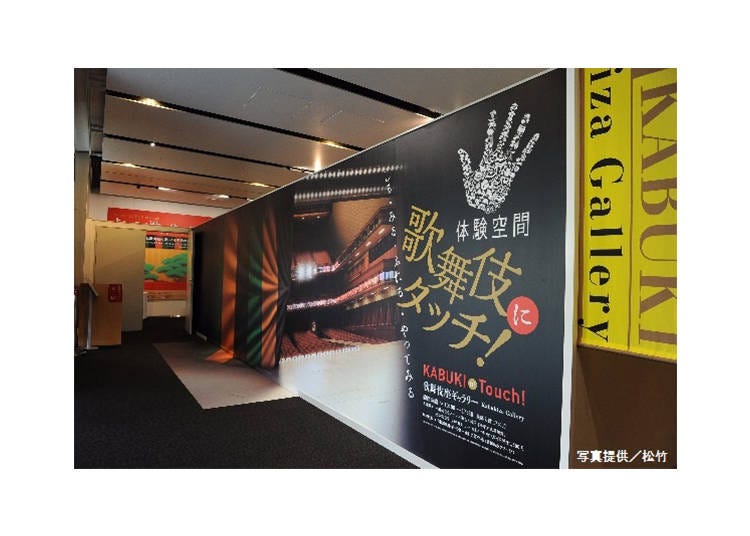 Climb the mock stage decorated after the temple school in the play Sugawara Denju Tenarai Kagami (Sugawara and the Secrets of Calligraphy), or take a commemorative picture with the characters from Shiranami Gonin Otoko (Five Men of the White Waves) and Fuji Musume (The Wisteria Maiden). Experiencing an authentic kabuki stage from up close puts you in the perspective of an actor – some of them even hold talks from time to time at the gallery.
Savor Kabuki-za, Savor Kabuki!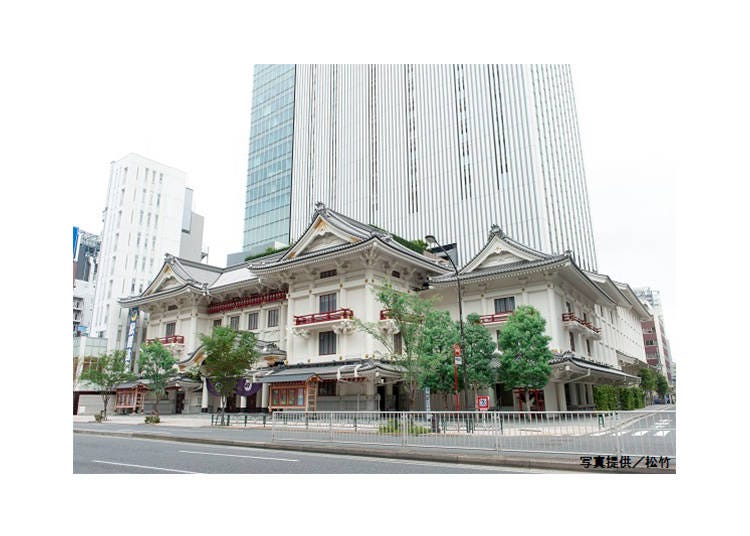 Standing in front of the majestic Kabuki-za Theater can be intimidating – kabuki is complicated, hard to understand, and maybe not an appropriate tourist activity...

But these thoughts couldn't be further from the truth. Born as entertainment for Edo's common folk, kabuki is a lively art to be enjoyed by everyone, and so is Kabuki-za. It's up to you whether you make your kabuki experience a luxurious one, with kimono and box seats, or casually drop by for a single act to get a quick glimpse at the traditional theater. Only one thing is sure: if you miss out on this, there's a certain side of Japan that you'll never get to know.

Kabuki-za is open and performing almost all year round and even if you just happen upon it by accident, do stop by for a snack or souvenir. And who knows, maybe its unique, charming atmosphere will guide your steps straight to the ticket office! Let yourself be whisked away to the mysterious, magical world of kabuki!
*This information is from the time of this article's publication.
*Prices and options mentioned are subject to change.
*Unless stated otherwise, all prices include tax.