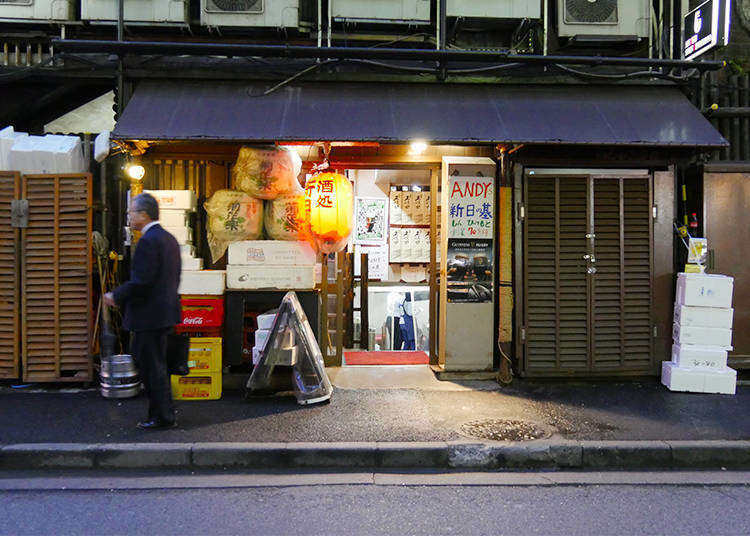 When talking about Japanese culture, we think of a lot of things: samurai, geisha, tea, sushi... but no one ever seems to mention izakaya, traditional Japanese pubs. They boast a unique and fun atmosphere, are wonderfully casual, and tickle your taste buds with all sorts of delicacies. Lately, they've become a must-see recommendation in guidebooks and travel blogs. There are various types of izakaya all around Japan and today, we want to introduce one unique kind of Japanese pub to you: the one under the train tracks.
For that, we visited Yūrakuchō Gādo-Shita, which can be translated to "Yūrakuchō under the train tracks. Quite literally, the space under the train tracks of the area is occupied by numerous izakaya and we made our way to one of them. Andy's Shin Hinomoto is a Japanese pub run by a UK expat called, well, Andy. It's a cozy, casual, and very tasty place frequented by locals and tourists alike – it's a welcoming pub for each and every one. We joined the Shin Hinomoto crowd for an evening.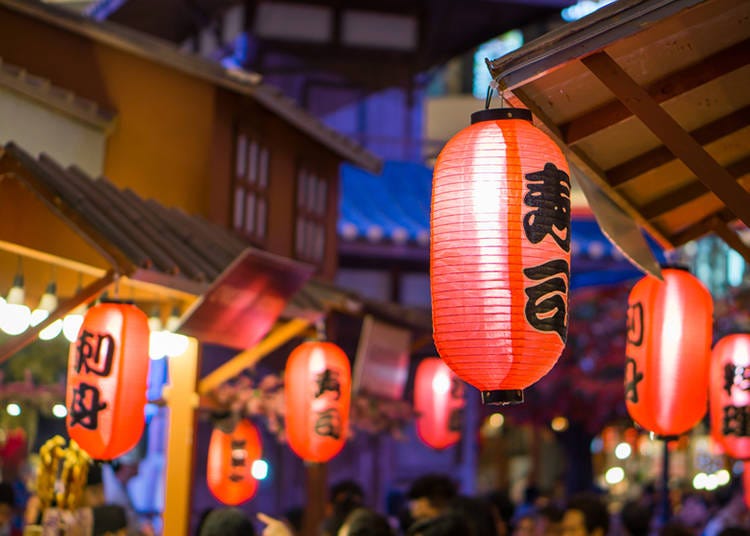 While "pub" is an easy translation of the Japanese word izakaya, it's not quite accurate. An izakaya is neither a bar nor a pub but its own genre, serving everything between light snacks and proper meals to various kinds of alcohol, including Japanese sake, shōchū, fruit liquors, wine, beer, and so on.

Izakaya are also known to be wonderfully cheap, with a mug of beer usually costing between 180 yen and 500 yen. Just as diverse as an izakaya's menu are its guests, spanning from young people in their 20s to seniors of all genders. One major characteristic of the izakaya is that it's a place for everyone – people who drink alone, small groups of friends, large parties, anything you can imagine. And everyone loves the fun atmosphere and low prices!
What's a Gādo-Shita Izakaya?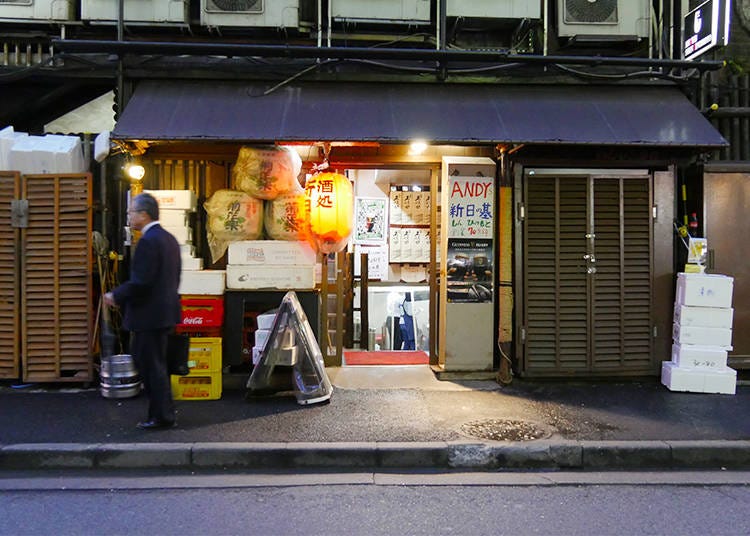 As already mentioned, gādo-shita means "under the train tracks" and the izakaya nestled in these cozy spaces have their very own genre. The general image of such a pub is a small space with red lanterns at its front, the general customer being an office worker dropping in after hours. Recently, however, these gādo-shita izakaya have undergone a bit of a revolution, with more and more fashionable spots popping up all around the train tracks.

Among them are the train tracks between JR Yūrakuchō Station and Shinbashi Station – they're some of the oldest elevated train tracks in Japan, boasting a history of more than 100 years. As you can imagine, it rumbles, shakes, and thunders every time a train passes over, so if you're looking for a quiet spot, you've definitely come to the wrong place.

This doesn't put a damper on the atmosphere, however. If anything, people just have fun louder! There's not much space, so you're huddling in elbow to elbow with the other guests, but this literal closeness also helps to engage with the people around you. You'll have made a dozen new friends before you know! This casual, friendly atmosphere is what the pubs under the train tracks are especially known and loved for. Ueno to Akihabara, Kanda, Nakameguro, and Shimokitazawa are also famous examples of this izakaya phenomenon.
Drinking at Andy's Shin Hinomoto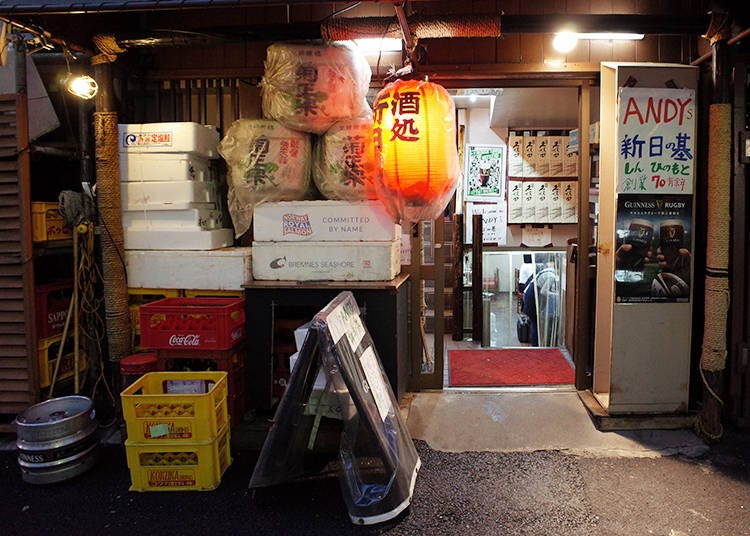 As you walk along the train tracks at Yūrakuchō Station, you won't only notice it's wonderfully nostalgic atmosphere, but also a bright red lantern in front of one of the small izakaya. That's Andy's Shin Hinomoto. This pub was founded more than 70 years ago, a legacy that can be felt vividly in the welcoming atmosphere. After the war, the spot was used as a dormitory for veterans returning from Manchuria. It is said that the grandfather of the current owner rented the place and turned it into an izakaya.

Today, his granddaughter, Mrs. Nishizawa, and her husband Andy run Shin Hinomoto in the third generation. The reputation of the cozy little place has spread to all corners of the planet, causing it to appear as a local recommendation in all kinds of guidebooks and blogs. Because of that, the number of tourists and expats coming to Andy's keeps increasing over the past few decades.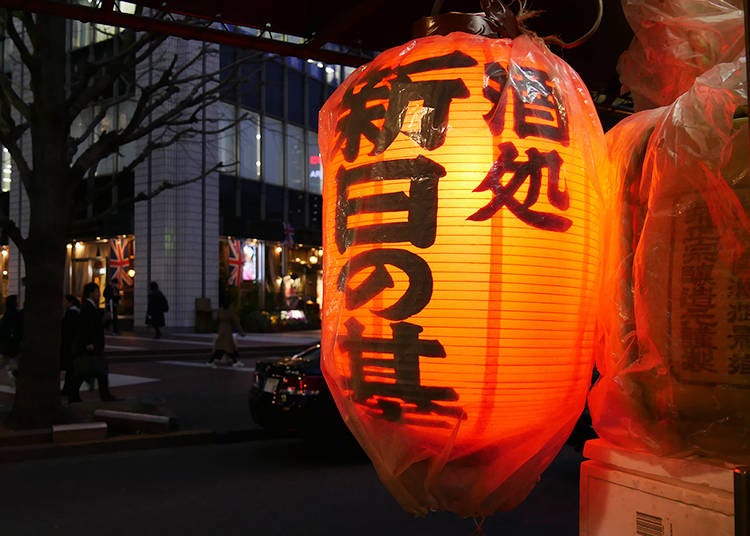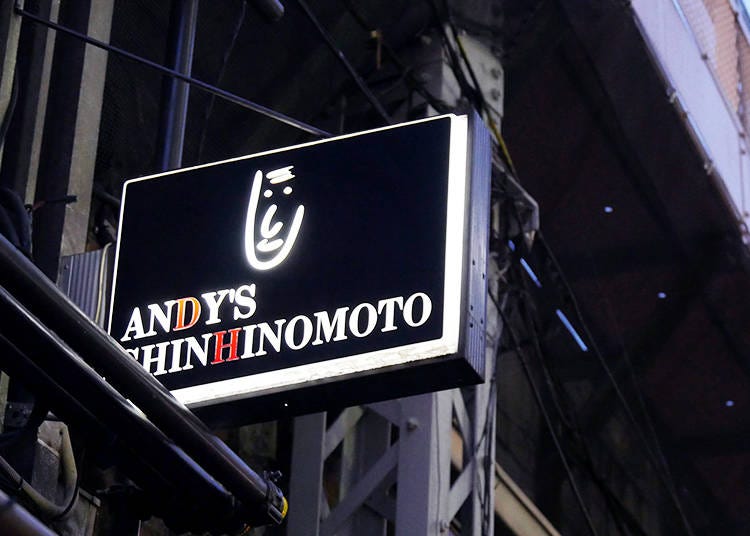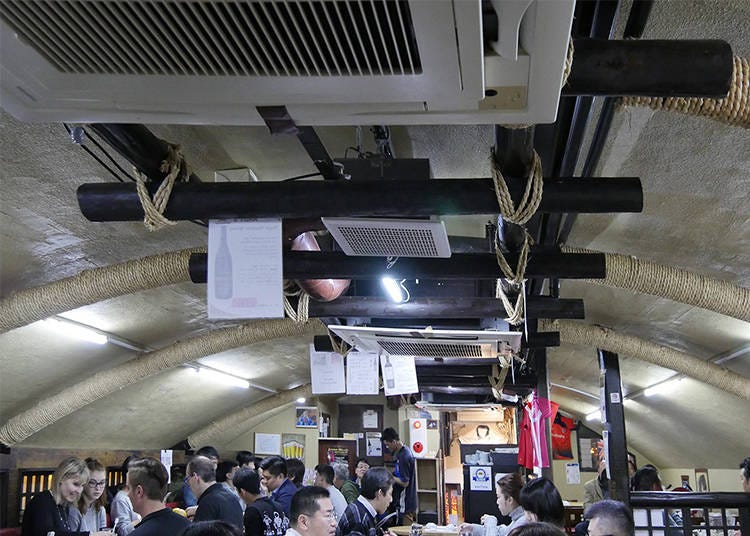 The izakaya under the train tracks spans over two floors, with 50 seats on the first and 100 seats on the second floor. The tables seem to go on forever! Especially the second floor is intriguing, as the ceiling features large arches that support the ceiling above. It's certainly not like any other pub!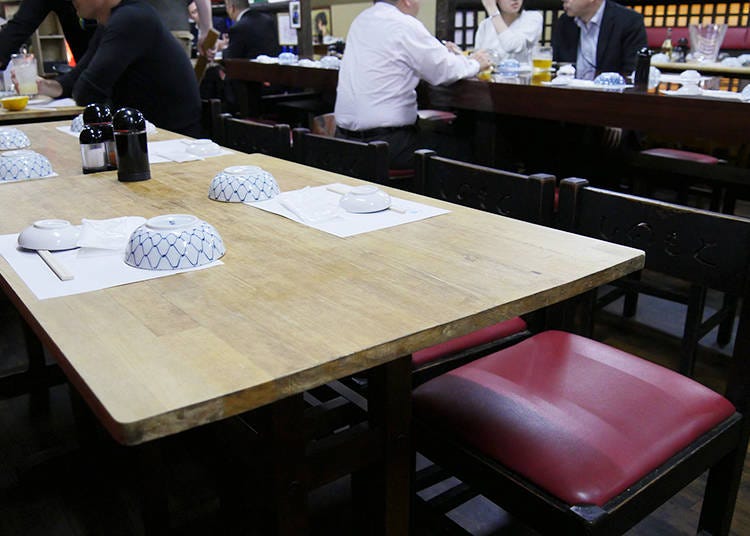 The retro atmosphere isn't just created by the decoration, but also by the comfy red chairs.
Enjoying Izakaya #1 – Making New Friends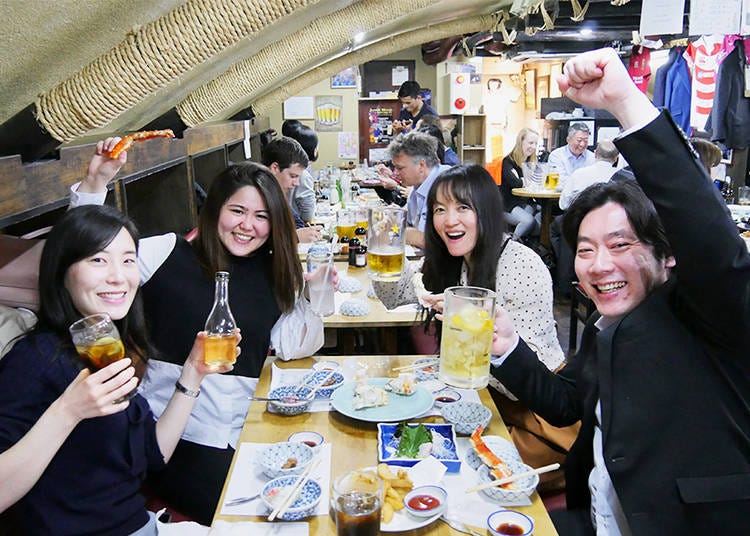 The best thing about gādo-shita izakaya is the fun, casual, and lively atmosphere. It's always crowded and vibrant, there are smiles, laughter, and open conversations everywhere you look. "We work for an international company and stopped by today on the way home from work," explains a Japanese guest who came with an entire group of coworkers.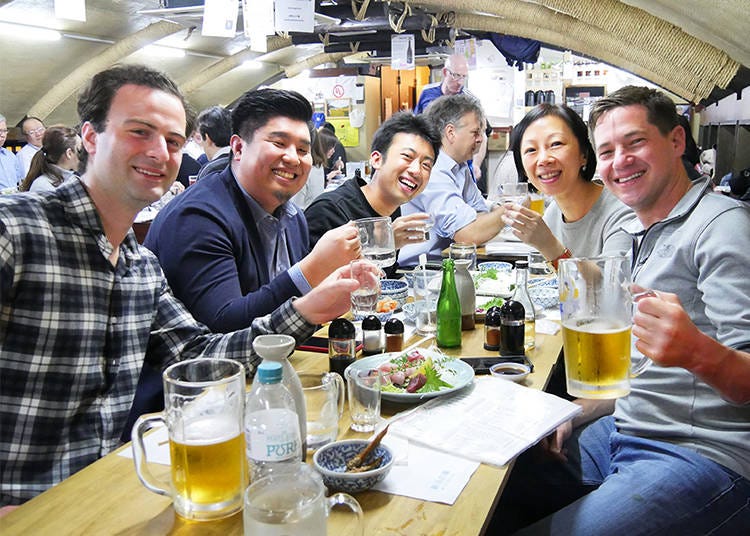 Then there's a group of friends, Japanese and non-Japanese, who drink together merrily. However... "We actually just met for the first time earlier, completely by chance," explains one of them, laughing. Such sudden encounters that lead to wonderful conversations and new friendships are the heart of every izakaya experience.
Enjoying Izakaya #2 – Savoring Local Delicacies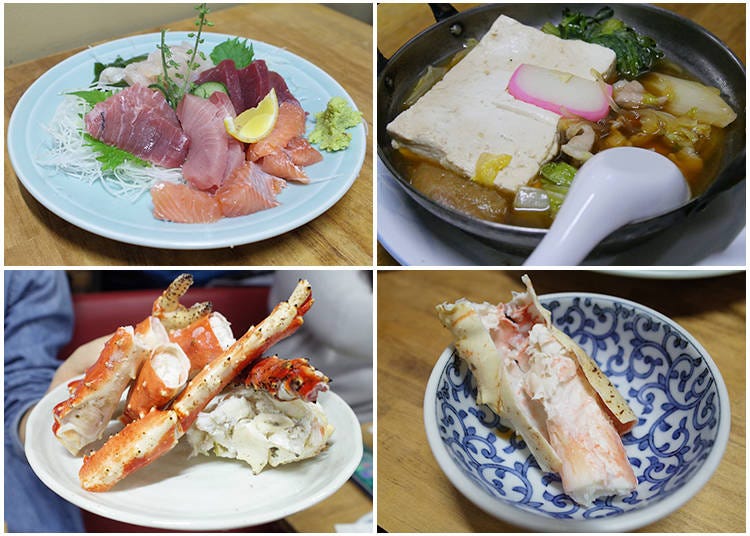 Andy's Shin Hinomoto serves fresh seafood delicacies purchased daily at the famous Tsukiji Market – the catch of the day right on your plate, so to say! Everything's arranged in the most delicious way. Here are some examples:

1) Mixed Sashimi (2,500 yen, tax excluded): when we visited, the mixed sashimi included fresh flounder from Aomori, yellowtail, and two kinds of tuna. The slices are generous and one such plate easily feeds one hungry guest or two people who want to share.

2) Pork Sukiyaki (750 yen, tax excluded): a savory stew with pork, tofu, and plenty of fresh vegetables. Apparently, the recipe for this is unchanged since the izakaya's founding over 70 years ago.

3) King Crab (S-size for 3,800 yen, tax excluded): this menu is particularly popular among tourists and expats. Even the small size features seven to eight pieces, so this dish boasts volume! The thick crab legs are filled with flavorful meat with an aroma that spread throughout your entire mouth from the first bite.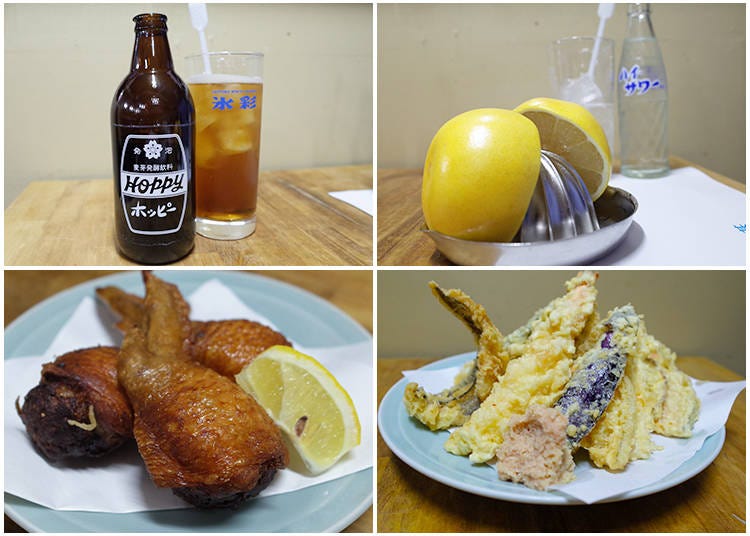 1) Hoppy (280 yen for the shōchū, 250 yen for the Hoppy, 530 yen for the set; tax excluded): this iconic drink was created as a beer substitute in post-war Japan and boasts a similarly low alcohol content. The legend goes that Shin Hinomoto's business was founded on serving Hoppy. "My mum said that our shop is the origin of Hoppy (laughs). I'm sure Hoppy appeared at other izakaya as well, but this pub popularized it in the local area," explains the shopkeeper.

2) Grapefruit Sour (280 yen for the shōchū, 250 yen for the soda, 250 yen for the grapefruit, 780 yen for the set; tax excluded): cocktails called "Sour" are extremely popular in Japan and this one comes with a whole grapefruit and an entire bottle of soda. It's enough for two glasses, with the only drink you have to reorder being shōchū.

3) Chicken Wing Gyoza (one for 230 yen, tax excluded): this is the master's recommendation. The soft chicken wings are filled with plenty of dumpling filling and make for a savory, juicy snack that you won't be able to get enough of!

4) Mixed Tempura (1,800 yen, tax excluded): this platter will tickle your taste buds with seven to eight different tempura delicacies, committed to a traditional recipe.

Other than that, Japanese guests love shirasu tempura (whitebait, 650 yen, tax excluded) that can be hard to come by. Other impactful recommendations include young tuna kabuto-ni, meaning "simmered head" (900 yen, tax excluded), as well as fried tuna tail (850 yen, tax excluded). We highly encourage you to try various kinds of dishes, especially those that you usually wouldn't think of ordering!
Come to Andy's Shin Hinomoto
Of course, beyond the fantastic food there's a reason why we went to Andy's Shin Hinomoto – it's a great place for your first izakaya experience, with an English menu available, English-speaking staff, and an open, welcoming atmosphere. Even izakaya veterans who've never been here are sure to have a blast! Another reason why Andy's Shin Hinomoto is so great that it doesn't have a cover charge, unlike many other izakaya in the area and beyond. The izakaya's guests are also wonderfully diverse, making sure that you won't feel out of place. It's crowded and lively both during the week and on weekends, but don't worry, someone will scoot over for you! If you want to feel and taste Tokyo's casual culture, this really is an experience that you mustn't miss!
新日の基

Address

2-4-4 Yurakucho, Chiyoda-ku, Tokyo, 100-0006, Japan

Hours: 5:00 p.m. – midnight
Closed: Mondays, New Year's
*This information is from the time of this article's publication.
*Prices and options mentioned are subject to change.
*Unless stated otherwise, all prices include tax.