The Ginza area has long been a strong draw for the adult-crowd. There are main avenues and backstreets, each with its own atmosphere that changes from day to night, featuring a captivating mixture of established traditional businesses and the latest new boutiques and industries. This rich diversity is what defines Ginza. The name which means "seat of silver", comes from the Edo era when the area was home to a foundry that minted coins. After the foundry moved and the age turned to Meiji—the era of modernization—many Western-style brick buildings were constructed, and it became home to the latest fashion and foods from overseas. During the Taisho era, Ginza was a spot for youth to gather, and the phrase ginbura, or "strolling through Ginza," was coined. During World War II, the entire neighborhood was destroyed by air strikes, but both private and public sectors were instrumental in getting it back on its feet. In 1970, Ginza Chuo-dori became the original "pedestrian heaven," with vehicles banned from the road on Sunday afternoons. Pedestrians today still own the avenue on Saturdays, Sundays, and holidays (noon to 6:00 p.m. during the summer, and noon to 5:00 p.m. in the winter). There are three subway stations in Ginza (Ginza, Ginza-itchome, and Higashi-ginza) and one JR train station, Yurakucho. This means it is easily accessible from other parts of Tokyo. It is interesting to note that, while always bustling, the actual population is small at 3500. This is because the Chuo Bunkyo-ku Kyobashi area, of which Ginza is a part, is inhabited mainly by companies, stores and restaurants, and has few residential buildings.
Sukiyabashi Crossing area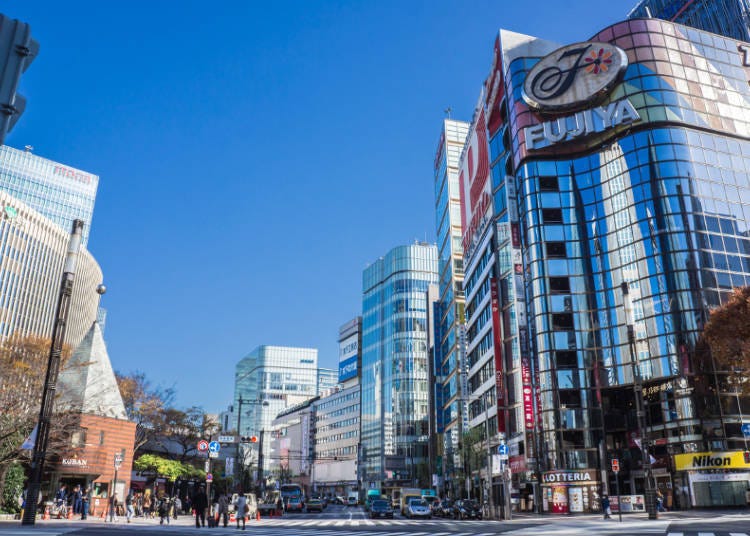 Sukiyabashi Crossing, bordered by Yurakucho Mullion and Tokyu Plaza Ginza, has a distinctive air about it. Nearby is Sukiyabashi Jiro, one of the country's best sushi shops, famous for its three Michelin stars and as the location of one of the evening meals of US President Obama. Prices are high, but reservations are always full. To find out what the fuss is about, you'll need to make a telephone reservation a month ahead of time. The Sukiyabashi area is home to hundreds of bars and other drinking establishments. Under the Yurakucho elevated train tracks, choose from a number of businesses that will take you back to the mid-twentieth century. Another good place to check out bars is Ginza Korido Street. For an excellent view of Ginza, including the Sukiyabashi Crossing, visit the Kiriko Lounge on the sixth floor of Tokyu Plaza Ginza.
Address

2-5-1, Yuurakucho, Chiyoda-ku, Tokyo, 100-0006
View Map

Nearest Station

Hibiya Station (Tokyo Metro Hibiya Line / Tokyo Metro Chiyoda Line / Toei Mita Line)
1 minute on foot

Ginza 4-chome Crossing area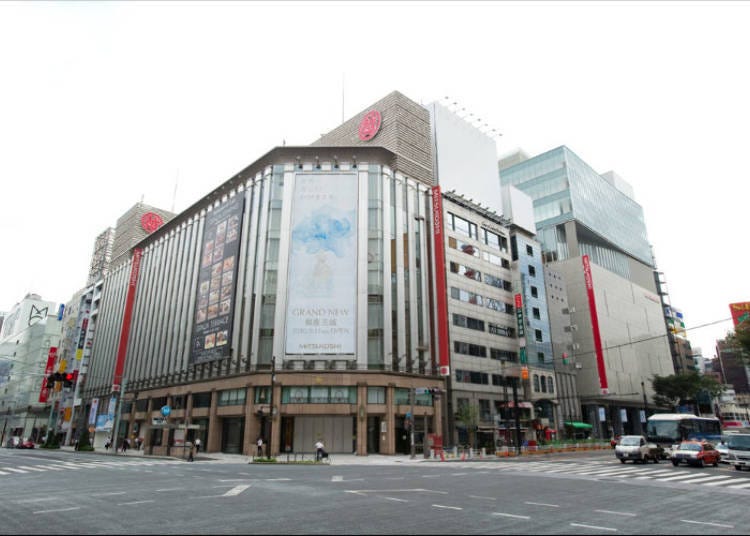 This is the heart of Ginza, and an intersection used by many Tokyoites and visitors each day. The clock tower of the Wako jewelry shop on the corner is often used in photographs representing the area. This current clock is actually the second; the original was renewed in 1932, In a Neo-Renaissance style. People who frequent the area know that Westminster chimes announce each hour, beginning 45 seconds ahead of time. Across the street is another Ginza symbol, Ginza Mitsukoshi department store (established in 1930). At Ginza Place, discover a restaurant that serves Kobe beef grilled right at your table, along with Ginza Lion, a famous beer hall, and both Nissan and Sony showrooms. In the market for Japanese paper craft, incense, stationery or other Japanese-style gift items? Don't miss Kyukodo, established in 1663. Next to Wako is Ginza Kimuraya, known and loved for its sweet bean-paste-filled buns; called "anpan".
Address

4-6-16, Ginza, Chuo-ku, Tokyo, 104-8212
View Map

Nearest Station

Ginza Station (Tokyo Metro Ginza Line / Tokyo Metro Marunouchi Line / Tokyo Metro Hibiya Line)
1 minute on foot


Phone Number

03-3562-1111
Address

5-7-4, Ginza, Chuo-ku, Tokyo, 104-0061
View Map

Nearest Station

Ginza Station (Tokyo Metro Ginza Line / Tokyo Metro Marunouchi Line / Tokyo Metro Hibiya Line)


Phone Number

03-3571-4429
Ginza 3-chome Crossing area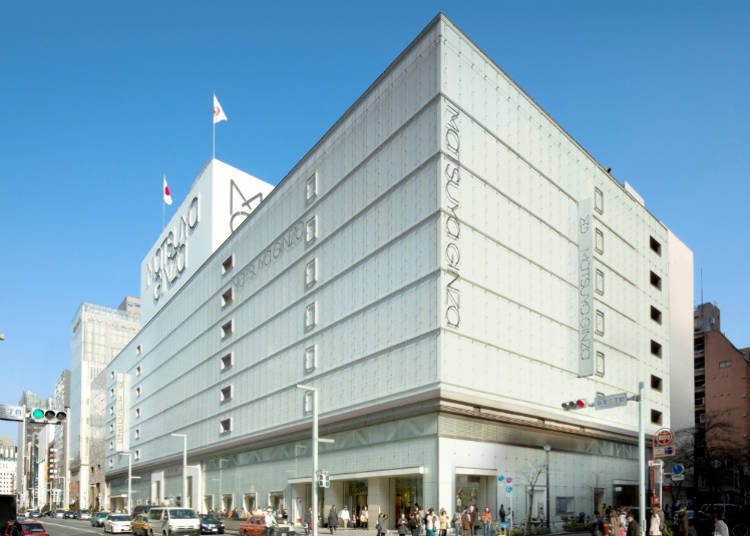 Explore the narrow streets behind department store Matsuya Ginza to discover tiny, but well-known establishments. For example, Rengatei, established in 1895, is known for being one of the first Western-style restaurants in Japan. Even today, you'll find "pork cutlets" on the menu. Another popular dish was first prepared to feed the staff, and then put on the menu by popular demand: "The original ancestor of omuraisu: a soft-cooked rice-filled omelet (Not the same as the ketchup-flavored rice wrapped in cooked egg served at many other restaurants). This is the place to come to enjoy the best in Japanese-style "Western food." Another famous spot is Grill Swiss (Ginza Swiss), the restaurant that first served the Japanese favorite, katsu curry, breaded deep-fried cutlet on rice covered in curry sauce.
Address

3-6-1, Ginza, Chuo-ku, Tokyo, 104-8130
View Map

Nearest Station

Ginza Station (Tokyo Metro Ginza Line / Tokyo Metro Marunouchi Line / Tokyo Metro Hibiya Line)
1 minute on foot


Phone Number

03-3567-1211
Ginza 1-chome Crossing area
Daiwa Roynet Ginza Hotel is right outside Exit 10 of the Ginza-itchome subway station. Opened in 2015, the hotel has a beautiful art deco design and a fabulous location in the midst of Ginza and close to a number of different stations. First thing in the morning, have a relaxing breakfast at the Salvatore Cuomo Italian restaurant, where you can choose from among Japanese and Western-style dishes at the buffet. The hotel is surrounded by name-brand boutiques and traditional Ginza spots, including the Ginza Itoya stationery shop and Qu'il Fait Bon Grand Maison Ginza, known for its elegantly delicious fruit tarts.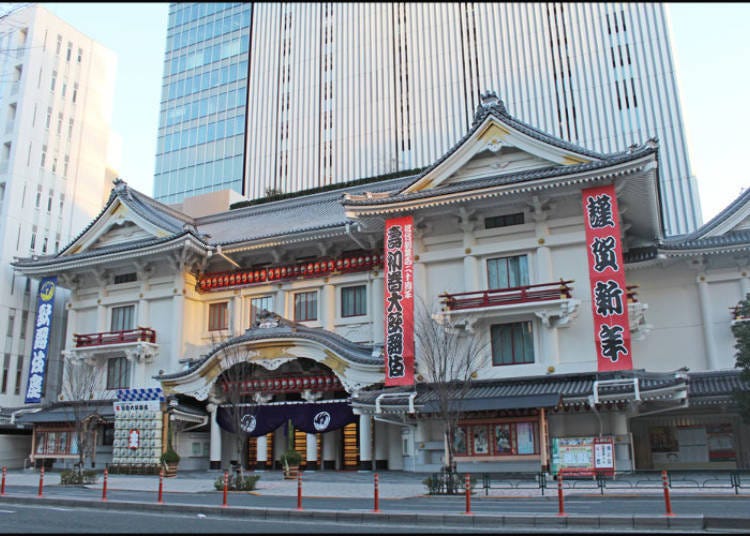 Kabuki is perhaps the most famous traditional Japanese performing art. The original Kabukiza theater was built in 1889, and consequently replaced a number of times due to fires, and so on. The current theater—the fifth Kabukiza—was completed in 2013. The completely Japanese-style architecture is a draw for tourists from all over the world. The building is divided into two parts, the inside "jonai" for kabuki audiences, and outside "jogai" where everyone is welcome. The outside area is recommended for tourists, and there is plenty to see and do. Kobikicho Plaza, the best place to find unique kabuki souvenirs, is in the second floor basement of the theater, and directly accessible from Exit 3 of Higashi-ginza Station on the Hibiya subway line. On the fifth floor is Studio Alice, where visitors can be photographed wearing authentic kabuki costumes and posed among theater props. On the same floor, get a taste of kabuki and other Japanese culture at the Kabukiza Gallery. If you want to take a photo of the front of the theater, get the best angle from Exit 4 (street level) of Higashi-ginza Station.
Address

4-12-15, Ginza, Chuo-ku, Tokyo, 104-0061
View Map

Nearest Station

Higashi-Ginza Station (Tokyo Metro Hibiya Line / Toei Asakusa Line)


Phone Number

03-3545-6800
Click Below to search for more Spots in Ginza by Category!
*This information is from the time of this article's publication.
*Prices and options mentioned are subject to change.
*Unless stated otherwise, all prices include tax.