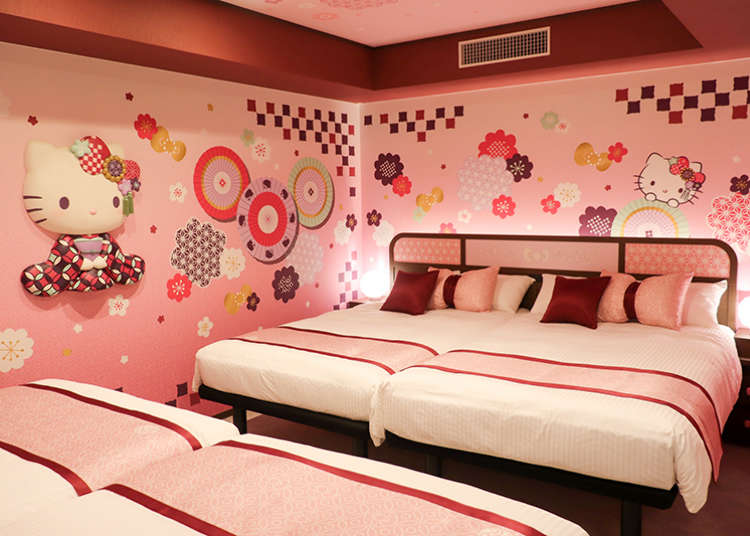 The spanking new Asakusa Tobu Hotel opened on October 8, 2020, in Asakusa, where popular tourist attractions such as Kaminarimon, Senso-ji Temple, and the olden Tokyo charm can be found.

This hotel has been catching people's attention from all over the world because there are some interesting Hello Kitty-themed rooms among the 253 rooms available for booking inside!

Opening for business amid a pandemic is undoubtedly a bold move as well. Still, Asakusa Tobu Hotel has put in place stringent measures to prevent the spread of Covid-19 so that all can enjoy their stay with peace of mind.

Let's take a look at some of the advantages Asakusa Tobu Hotel offers above others of its kind and see if it can't take your next Asakusa trip to the next level!
More About Asakusa Tobu Hotel, Located Near Asakusa Station Itself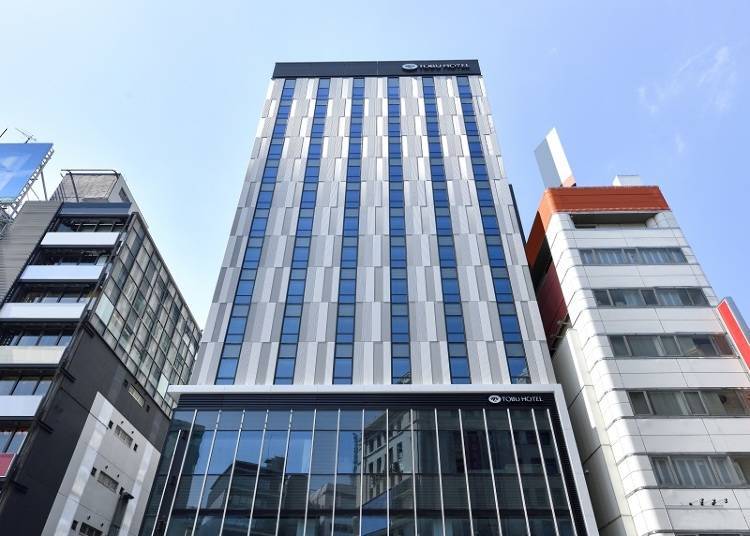 Towering high above Asakusa's streets, this hotel is a mere 30-second walk from Asakusa Station on Tobu Railway's Tokyo Skytree Line, a short 1-minute walk from Asakusa Station on the Tokyo Metro Ginza Line, and a quick 3-minute walk from Asakusa Station on the Toei Asakusa Line.

This makes the hotel an ideal place to use as a base camp not just for your Asakusa exploration, but going to farther places like Nikko or Kinugawa as well.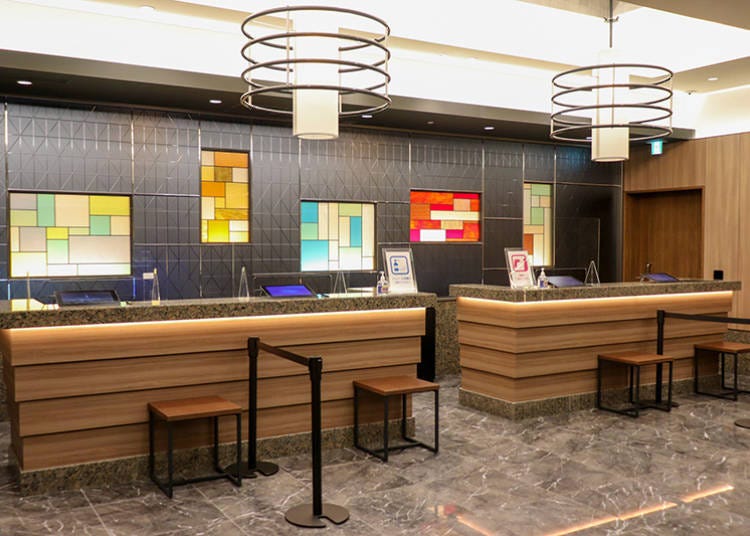 Since the hotel is run by Tobu Hotel Management, which is part of the Tobu Railway group, the hotel plans its decor around charming seasonal sights that can be seen from the windows of trains running along the Tobu Railway routes.

The reception area's main lights are ring-shaped in honor of train wheels, and the flooring of the lobby from the entrance to the reception counter is designed after railroad crossties. All of these come together to make visitors feel like they're about to embark on an epic journey from the moment they walk through the hotel doors!
Besides the warm and stylish interior design, the hotel has also put in much effort into making every inch of the environment comfortable for all. To that end, an automatic ventilation system kicks in twice every hour to keep the air fresh.

Ozonizers have also been deployed in kitchens and nebulizers on ceilings. Ozone breaks up germs and odors, which helps to clean up the air; in research, low concentrations of ozone have been found to neutralize coronavirus particles. Furthermore, there are foam-type disinfectants installed at the entrances of the hotel and restaurant.

All guest rooms are equipped with air purifiers - all part of the hotel's multifaceted strategy against the spread of Covid-19 and to ensure the safety of all guests.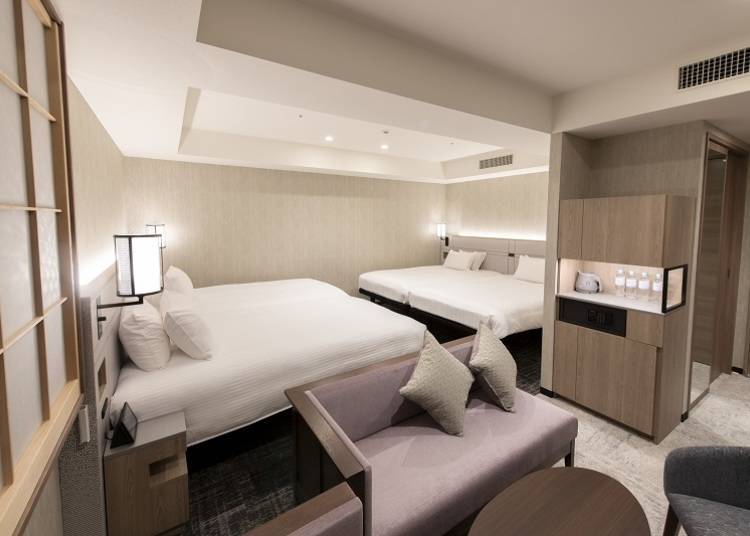 Deluxe Quad Room
The 253 guestrooms here have been designed for maximum comfort, including 39 double rooms, 3 universal double rooms, 142 twin rooms, 47 triple rooms, and 22 quad rooms. Most rooms come with an attached bathroom with a separate area for a toilet and sink. No more getting stuck outside the bathroom because someone's taking a little bit too long for their shower!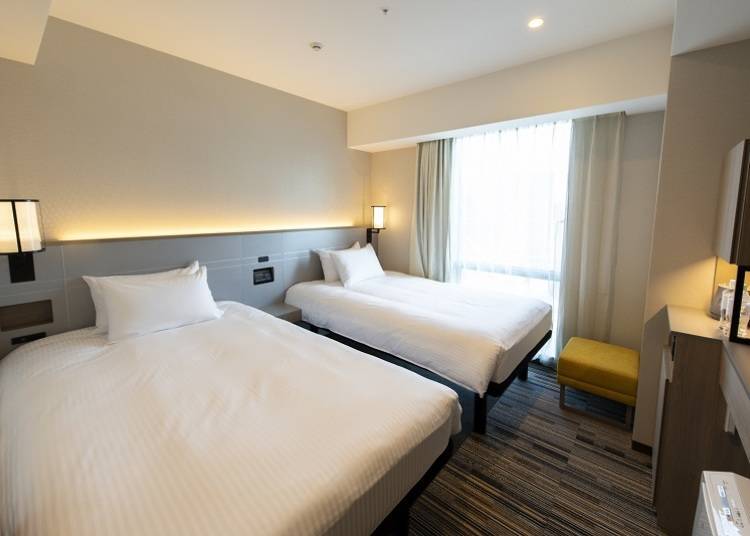 Twin B Room
The hotel's mattresses are supplied by Slumberland, a brand that's well-known for being purveyors of the British royal family, and the space underneath the bed frames can be used to store baggage. There are also USB charging points and a tablet device installed next to the beds that control room functions such as lighting and air-conditioning.

Needless to say, wi-fi is available for use. If you ever need to refresh your clothes for the next leg of your journey, simply head over to any of the coin laundromats that can be found from the 7th to 11th floors.
Japanese-Modern Hello Kitty Room: As Ritzy As Asakusa Itself!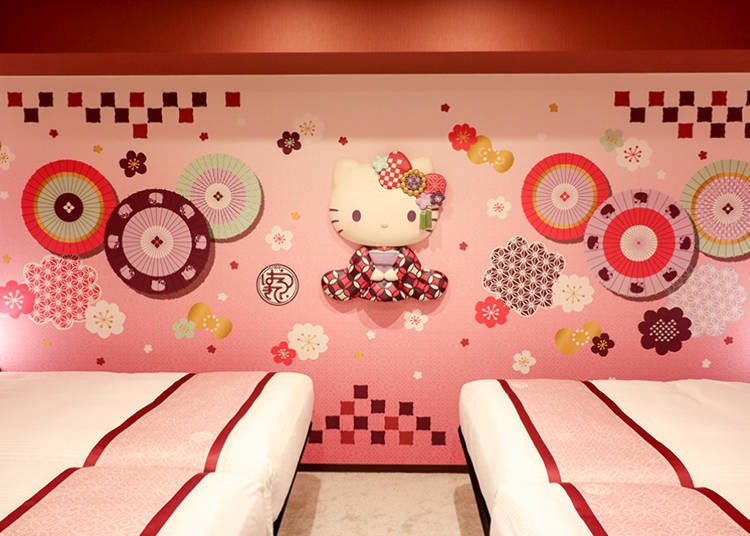 Are you a fan of the well-known Hello Kitty mascot character? Then don't miss out on the hotel's Hello Kitty rooms - the only spaces in all of Tokyo's special wards where you can enjoy a truly genuine Hello Kitty hotel experience. Choose between two types of well-thought-out designs: Japanese-Modern or Sakura Tennyo. Each design has three rooms dedicated to it.

Japanese-Modern deserves a special mention for incorporating facets of Asakusa's elegant modern world view and traditional Japanese charm into its overall theme!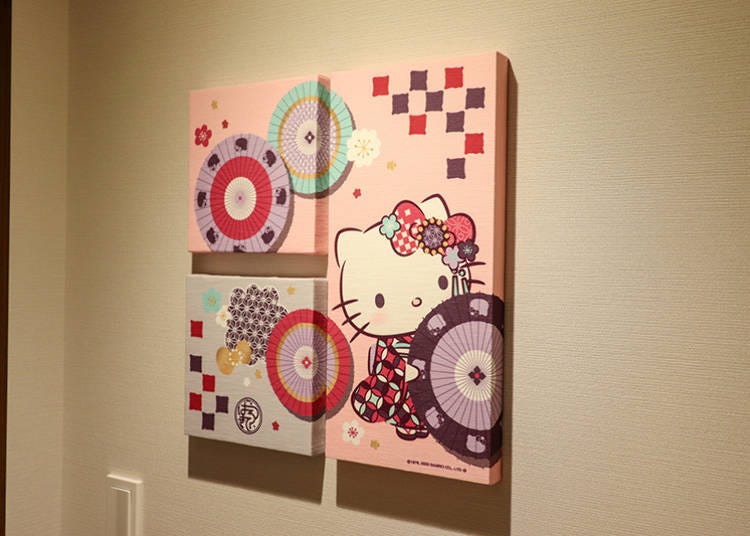 Allow us to take you on a mini-tour of these special rooms. Upon entering a Japanese-Modern room, you'll find an original illustration of your beloved character adorning the wall next to the door. It's Hello Kitty in a beautiful kimono, holding an olden Japanese umbrella with a colorful checkered design as she beckons you into the unique world within.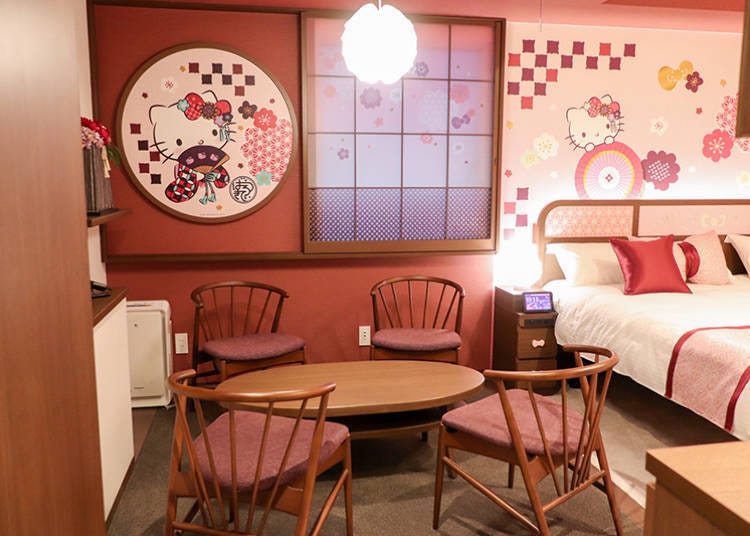 Furniture like tables and chairs in the room are mostly wooden and great attention to detail has been paid to the lighting as well, to create a stylishly modern mood while keeping a traditional charm. Guests are welcomed into the room by a Japanese-modern Hello Kitty plush toy seated on a chair.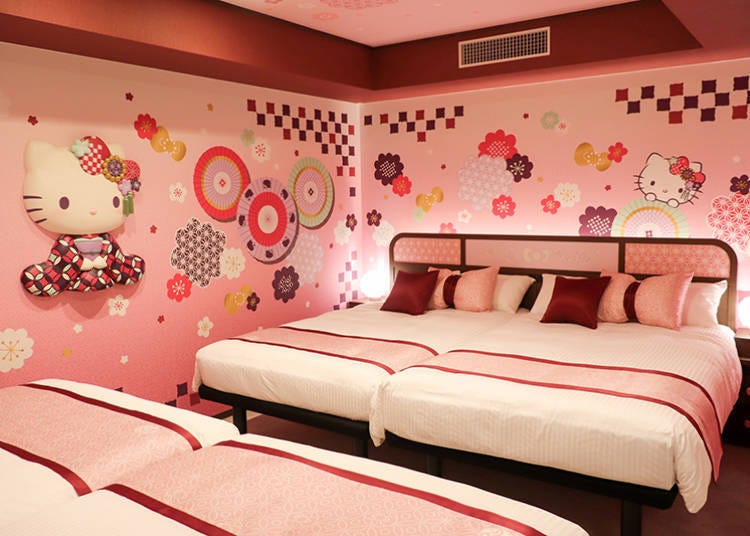 Even the special beds the hotel is especially proud of have been customized with a Japanese-modern Hello Kitty feel, not to mention the adorable designs and illustrations that can be found on all sides of the walls! The entire room is an ideal place for great photos with Hello Kitty, no matter where you be standing or sitting!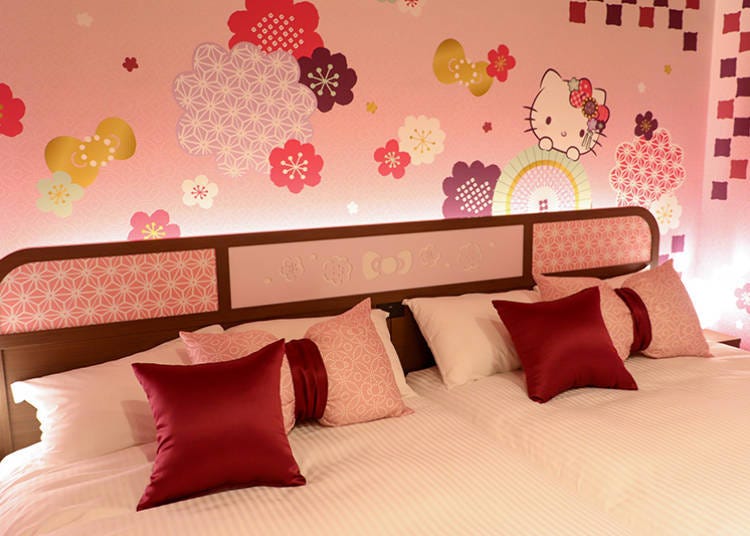 The pillows have undergone the Hello Kitty treatment as well, having been shaped to look like the character's iconic hair ribbon. The colors and fabric of the pillows have all been chosen to provide soothing relief and appeal to refined tastes.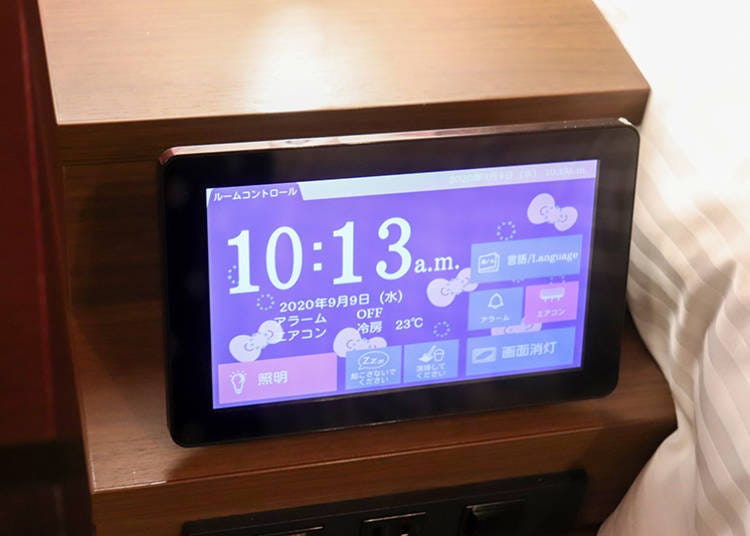 The bedside tablet comes with useful functions that allows you to control the rooms' lighting and air-conditioning or set up alarms. For a more immersive experience in the room's world view, the app is also designed after Hello Kitty's hair ribbon and screen text can be toggled between Japanese, English, Simplified Chinese, and Korean.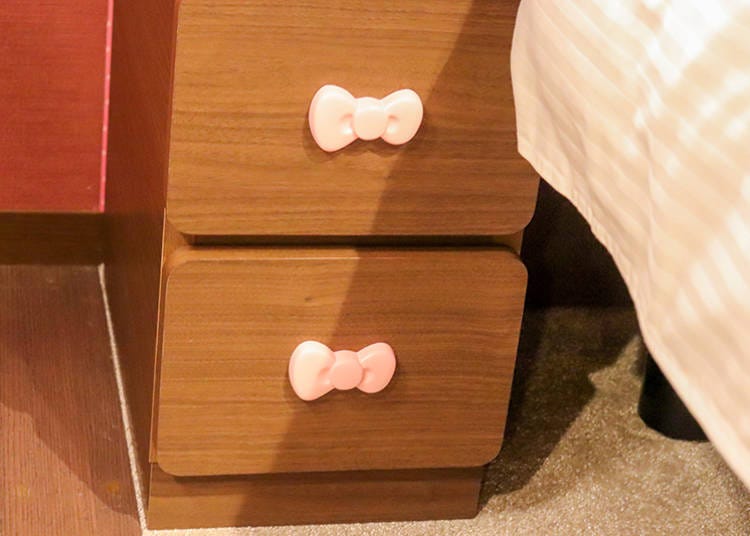 Speaking of ribbons, the drawer handles of the bed stands are ribbon-shaped as well!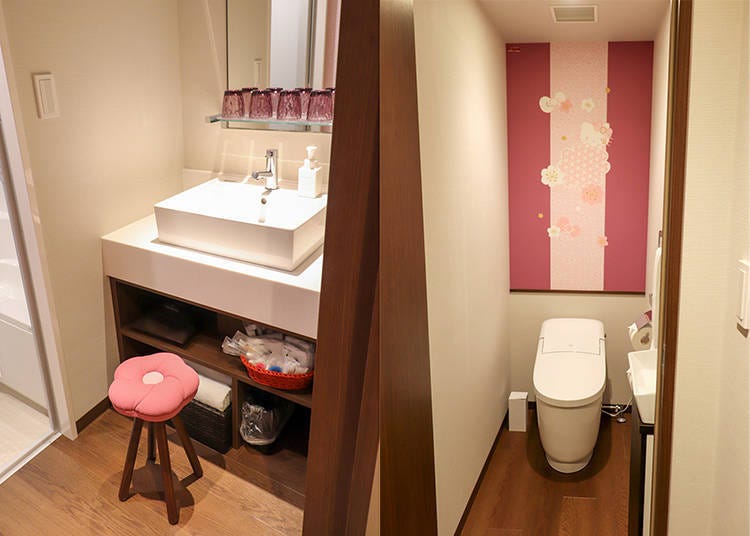 This Japanese-modern design style touches even the attached bathroom, which comes with a separate area that contains a toilet and sink for convenience.

More Hello Kitty goods are being planned for inclusion into the rooms even as you read! No proper Hello Kitty enthusiast could say no to a room like this for sure!
Sakura Tennyo Hello Kitty Room: Pink, Girly, and Very, Very Cute!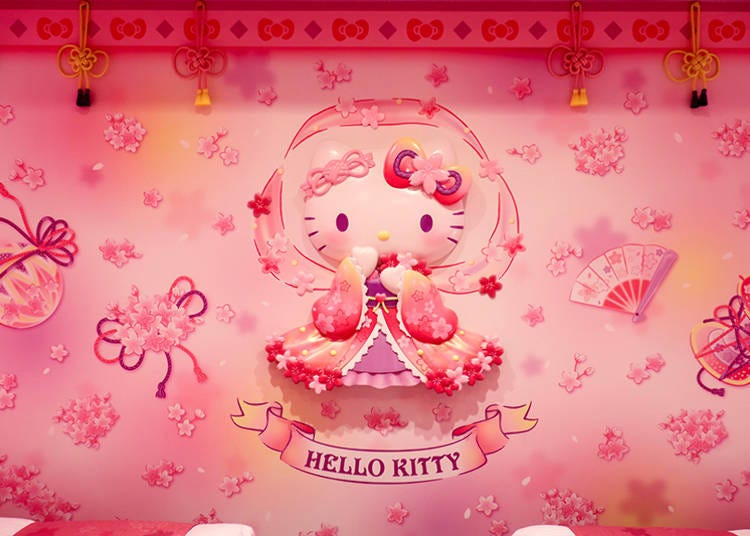 Let's move on to the other Hello Kitty room in the hotel, Sakura Tennyo (Celestial). The basic tone here is pastel pink, and a sweet, girly cuteness just oozes out of every inch of this room!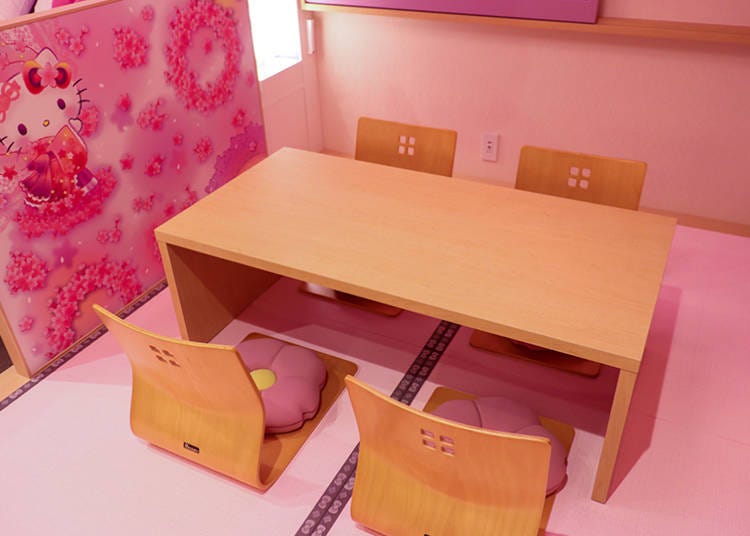 While the Japanese-Modern Hello Kitty Room has regular tables and chairs, Sakura Tennyo features a parlor space with Japanese-style low tables and chairs, one of the room's main appeals! Even the tatami mats have been colored an adorable pink. Likewise, you'll be welcomed into the room by a Hello Kitty plush toy on one of the seats.
Surrender yourself to the room's pastel pink tones and sweet atmosphere!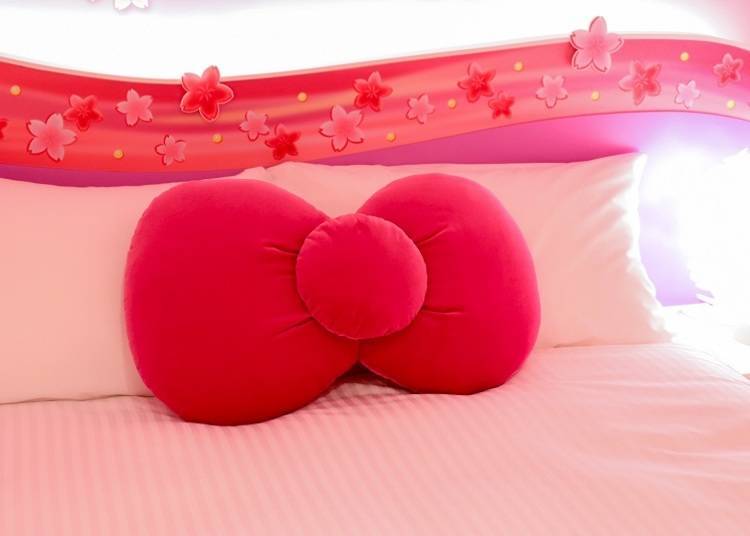 Check out the perfectly Hello Kitty hair ribbon-shaped pillows too.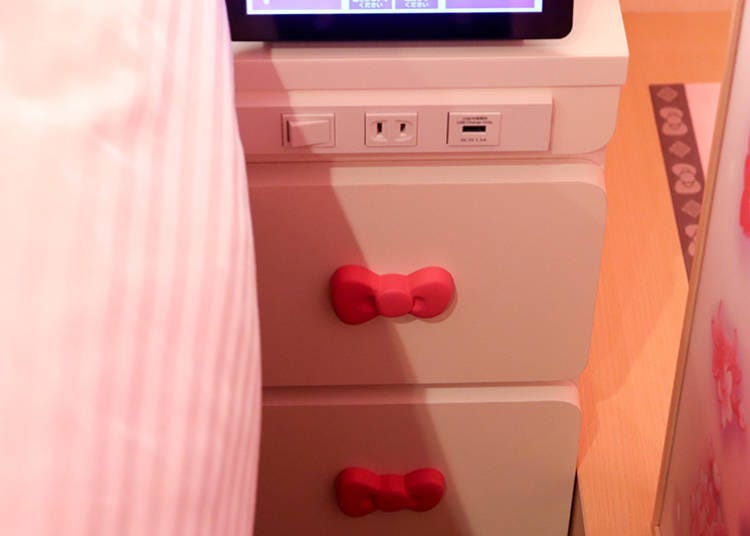 Like the Japanese-Modern room, drawer handles on the bed stand are ribbon-shaped as well. Simply gazing at these pink ribbons that are affixed on white cabinets - a color scheme that Hello Kitty fans should be very familiar with - can be very relaxing too!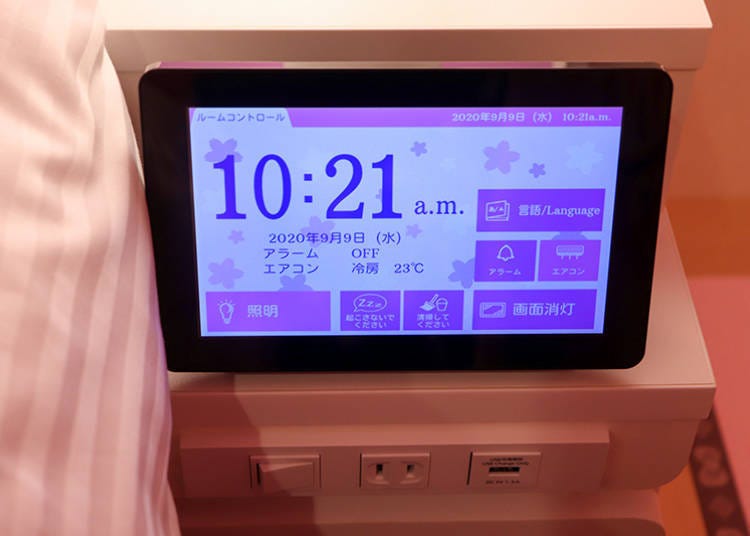 The bedside tablet's background has been designed after the Sakura Tennyo theme as well, with gorgeous sakura petals dotting the screen.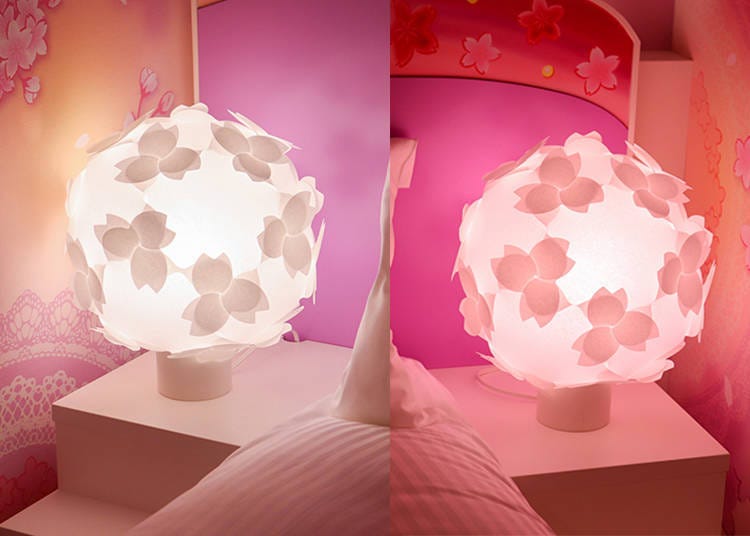 The color and intensity of the bedside lamps can be adjusted with the tablet. Try both bright white or pastel pink and see what sort of effect they have on the general vibe of the room!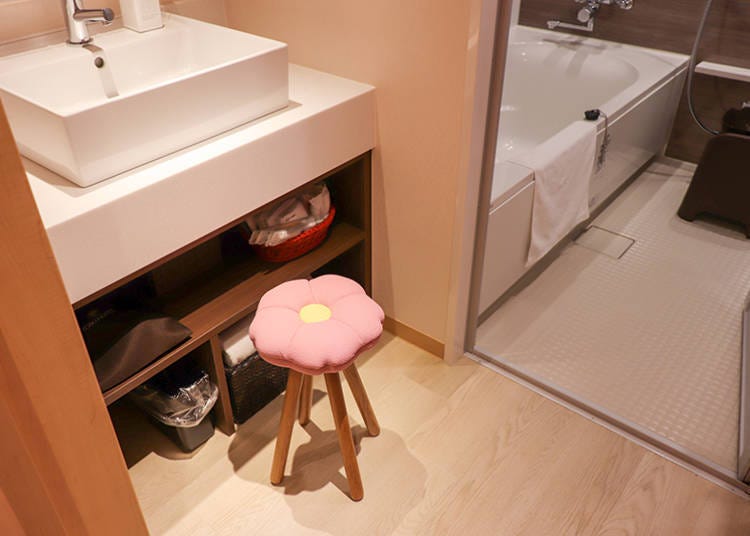 This room also has an attached bathroom with a separate area containing a toilet and sink.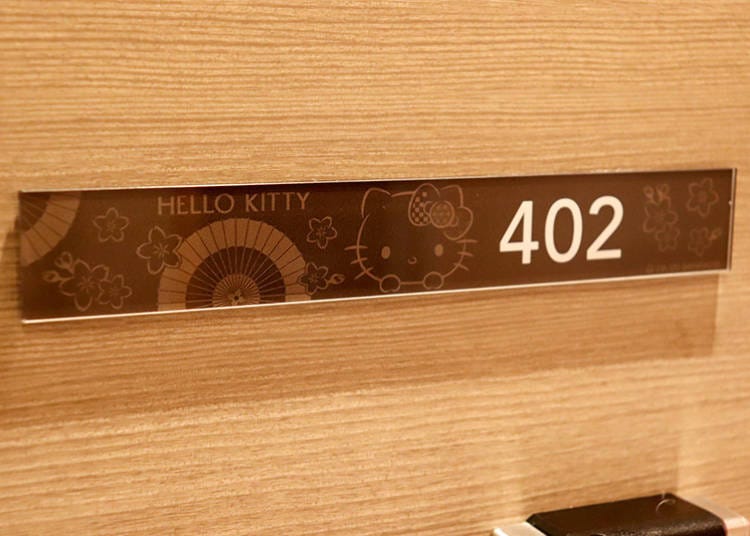 What makes the Hello Kitty rooms truly special is the attention to detail that went into little things like notebooks, accessories, and even the room's number plate! They feature subtle or obvious motifs based on Hello Kitty. Trying to find them all can be a pretty fun activity!

All six Hello Kitty rooms can house up to four guests and are available for booking from around 40,000 yen per night per room, with breakfast included. However, do note that the price will fluctuate depending on the travel season.

To commemorate your stay at any of these unique rooms, hop over to the reception and take a look at the Japanese-Modern and Sakura Tennyo merchandise on sale there, such as eco-friendly bags, mini-towels, and keychains - all perfectly suited to bring home as souvenirs or gifts!
Breakfast and Lunch In Seasonal Comfort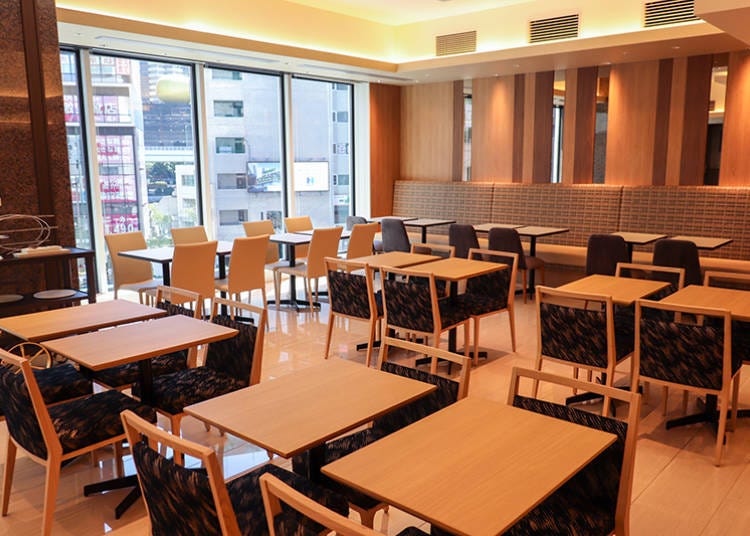 Season's Restaurant Ichi no Ichi can be found on the third floor of the hotel. As its name suggests, this is an eatery for enjoying deliciously prepared seasonal food. Breakfast hours are from 6:30 a.m. to 10:00 a.m., whereas lunch is served between 11:30 a.m. to 2:00 p.m.

You can even check how congested the restaurant is beforehand via the VOD service in your guestroom's TV to avoid crowds. The same VOD service also shows you if there are coin laundromats available, saving you the trouble of going down to check personally.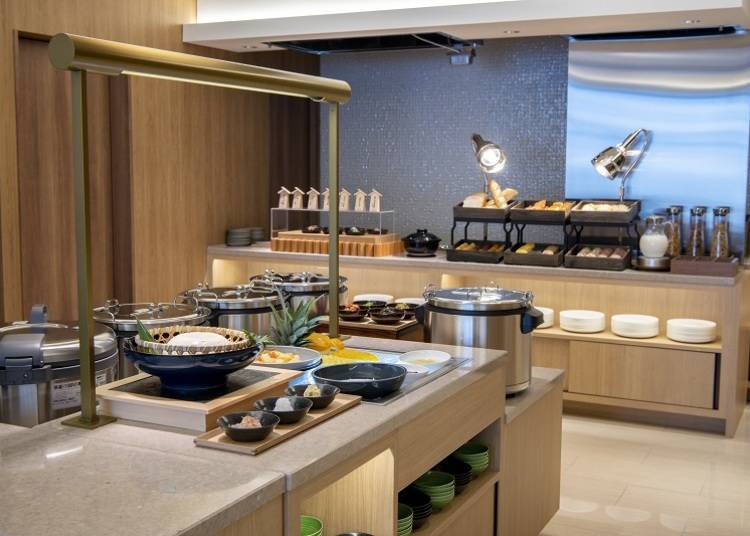 Breakfast is served in the form of a tasty and healthy buffet that makes full use of seasonal ingredients, from hotel-made Japanese obanzai (traditional Japanese cuisine where at least half the ingredients are locally sourced) to fragrantly baked Danish breads.

The colorful dishes are presented attractively on countertops for guests to pick and choose at their own convenience.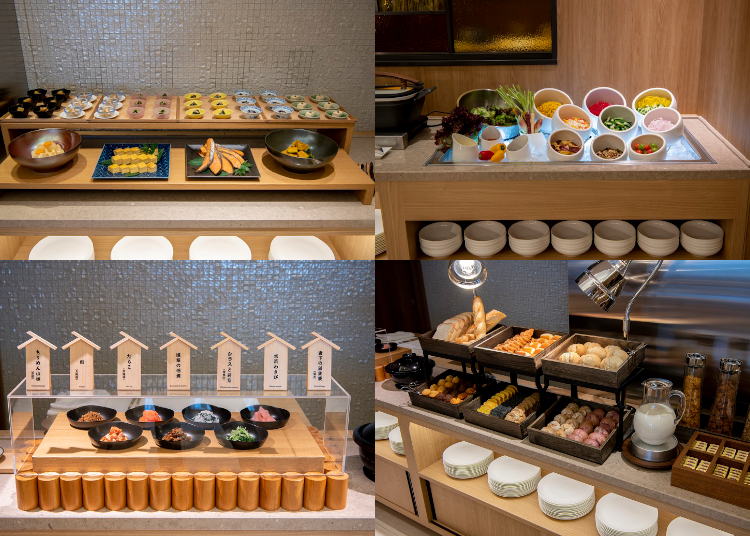 Since healthy food is the main theme of the hotel's morning spread, having breakfast here guarantees a strong and comfortable start to your day. The sushi menu comes highly recommended, as portions are prepared on-the-spot by professional chefs for maximum freshness. Definitely don't miss out on this restaurant during your visit or stay here!

Lunch is a fixed meal course complete with appetizer, soup, main dish, and dessert, and you may choose from seven different types of Western or Japanese food for your main dish. Available desserts are displayed on a pushcart and each customer is allowed to pick up to three items for their meal.

The breakfast buffet costs 2,500 yen per adult or 1,300 yen per minor (all tax excluded), whereas the lunch course is 2,500 yen per person (tax and an additional 10% service fee excluded). Both guests of the hotel and non-hotel visitors are welcome!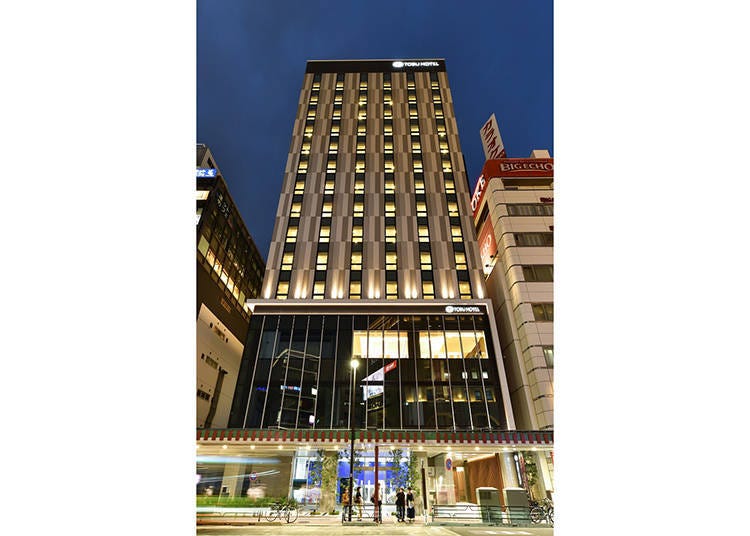 Asakusa Tobu Hotel is a great companion to travelers wanting to tour the Asakusa and Tokyo Skytree area while also having easy access to farther sightseeing spots in places like Nikko and Kinugawa.

Depending on where your room is facing, you could even enjoy the Sumida River Fireworks Festival in comfort if you're visiting at the right time!

Let's not forget the specially designed Hello Kitty rooms with original illustrations and carefully crafted room themes that you won't be finding anywhere else in the special wards of Tokyo. Don't just enjoy your Tokyo trip - enhance it with a stay in Asakusa Tobu Hotel today!
Measures in place against the spread of Covid-19
- Interior of hotel and facilities are regularly disinfected, sterilized, and washed
- Antiseptic solutions have been installed for guest use
- Rooms are disinfected between guests
- Regular ventilation
- Coin trays are used for collecting cash
- Staff are required to put on masks, regularly wash and disinfect their hands, rinse their mouths, and check their temperatures
- Number of people allowed to enter facilities are limited and reservation is required
- Guests who are ill will not be allowed into the hotel
- Guests are to put on masks and have their temperatures checked
- Room service requiring entry into the room are restricted
- Auto check-in available so as to avoid face-to-face contact

©1976, 2020 SANRIO CO., LTD.Ⓗ
浅草東武ホテル

Address

1-chōme-1-15 Asakusa, Taito City, Tōkyō-to 111-0032

Phone Number

03-3843-0111

Room reservation: 03-5809-7320
Inquiries: Weekdays 10:00 a.m. – 6:00 p.m.
Checkin: 2:00 p.m.
Checkout: 11:00 a.m.
Room rate: Starts from 9,640 yen (tax excluded)
Website: https://www.tobuhotel.co.jp/asakusa/
Written by: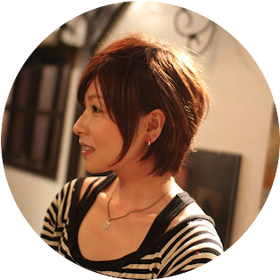 English translation by: Huimin Pan
*This information is from the time of this article's publication.
*Prices and options mentioned are subject to change.
*Unless stated otherwise, all prices include tax.