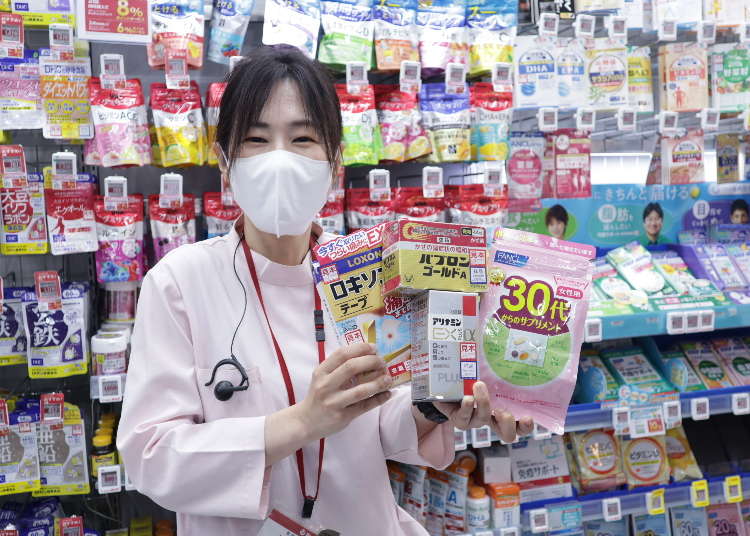 Japanese medicines are top souvenirs, known for their quality and variety. Often sold out due to social media buzz, they're available not just in pharmacies but also in electronics and discount stores. BicCamera AKIBA in Akihabara is a go-to spot for tourists seeking a wide selection.

Here, we highlight staff-recommended medicines and supplements, perfect for personal use or gifts. Don't miss our special discount coupon at the end!
BicCamera AKIBA: An Extensive Selection that International Visitors Love!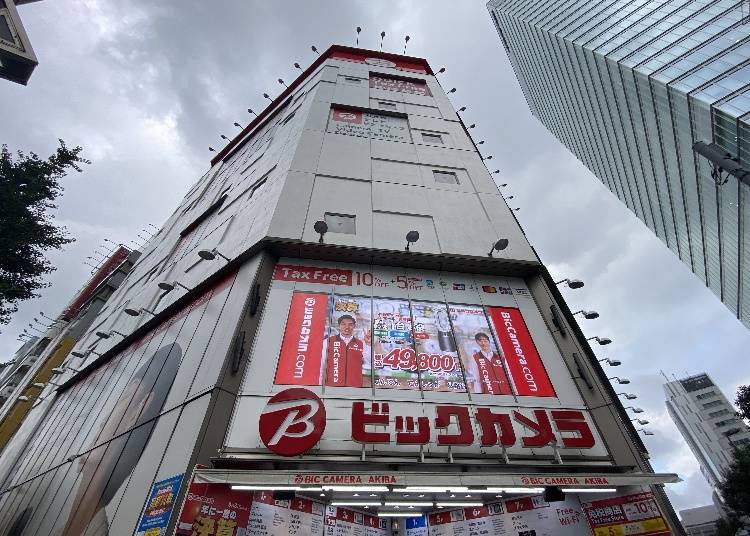 The store we feature is BicCamera AKIBA in Akihabara, a mid-sized branch that offers an impressive variety comparable to larger stores. It's particularly popular among foreign tourists for its recommended products. The store carries a wide range of items, from electronics and anime merch to daily essentials, food, and medicines, making it a one-stop shop for souvenirs.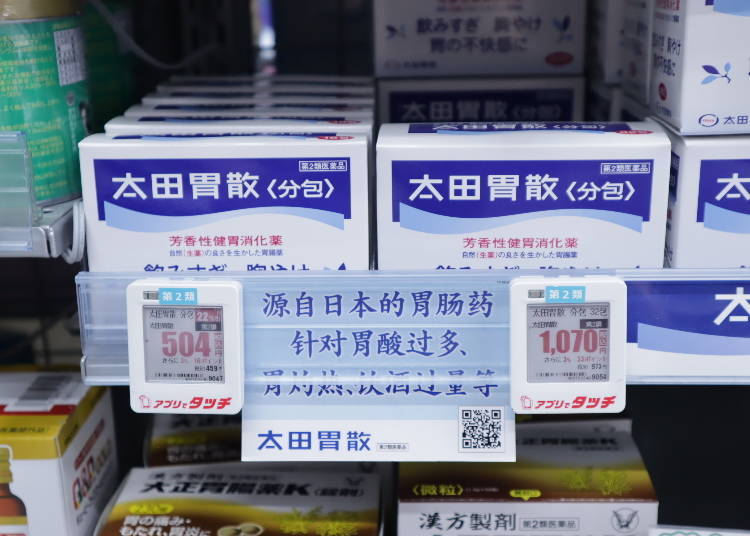 The store features multilingual Point of Purchase (POP) signs and product descriptions, making shopping easy for international visitors. Manufacturer-created videos for overseas customers further simplify product selection, and the multilingual staff are readily available to answer any questions.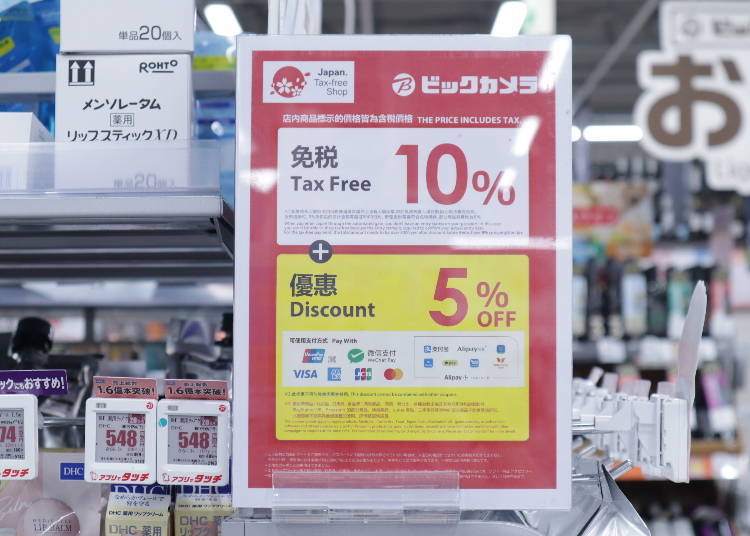 They also offer tax-free shopping, with an extra 5% discount available to those using eligible payment methods.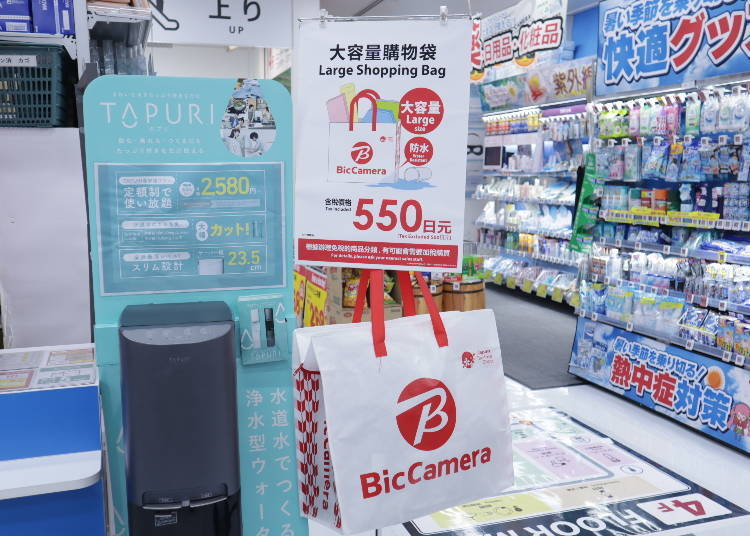 If you plan to buy a lot, BicCamera has you covered! Large shopping bags (550 yen/bag) are also available, so you can easily carry your haul.
Recommended Medicines & Supplements to Buy in Japan!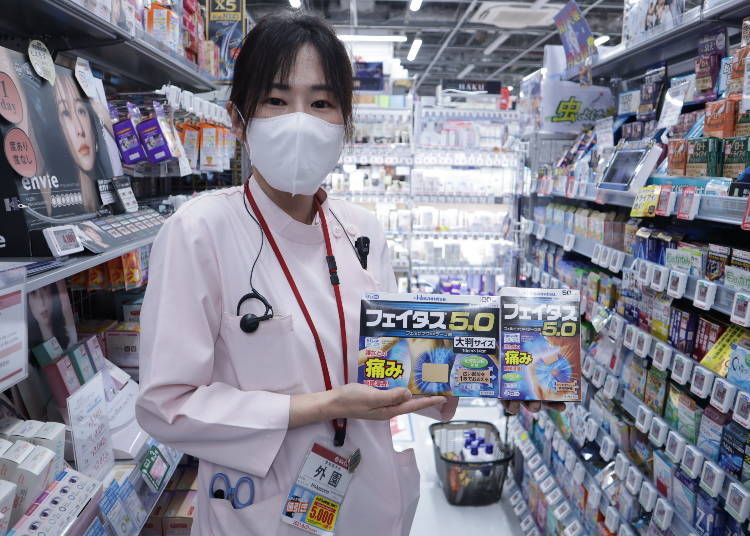 Today, we spoke with Ms. Hokazono, the drugstore manager of BicCamera AKIBA, to discover the top-selling products she recommends for overseas tourists. Here, we present a carefully curated list of 10 items.
1) PABRON Gold A <GRANULES>: Great Value in Bulk! (44 packets/Cold Medicine)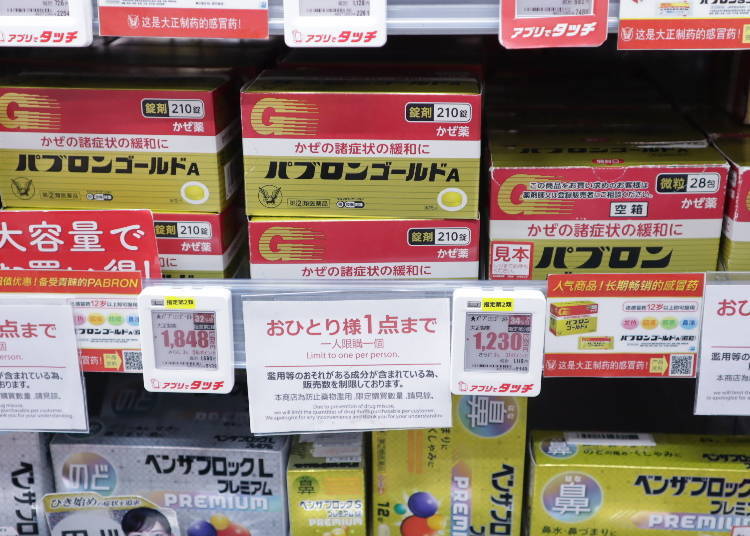 Taisho Pharmaceutical's PABRON Gold A <GRANULES> (44 packets) is a comprehensive cold medicine that helps alleviate various cold symptoms. Guaifenesin in PABRON Gold A helps clear throat irritants and alleviate cold symptoms. Although Japan offers various cold medicines, this product is top-rated among foreign tourists for its quality. It comes in tablet form, but the recommended version is the easy-to-dissolve granules, individually packaged for convenience. The larger 44-pack size offers better value.

However, note that some countries have import restrictions on ingredients found in Japanese cold medicines like PABRON. Also, BicCamera AKIBA limits purchases to one item per person due to its popularity.
2) The Classic Ohta's Isan <Sachet>: For Overeating and Upset Stomach! (48 packets/Stomach Medicine)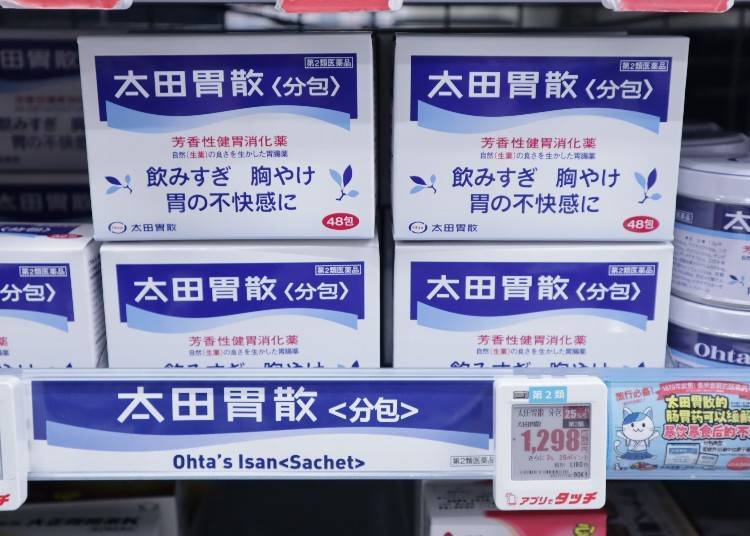 Ohta's Isan remains immensely popular amongst international tourists. It's no exaggeration to say that even in Japan, this is a staple stomach medicine found in just about every household! This gastrointestinal medicine combines herbal ingredients (natural remedies), antacids, and digestive enzymes to alleviate discomfort from overdrinking, overeating, and indigestion.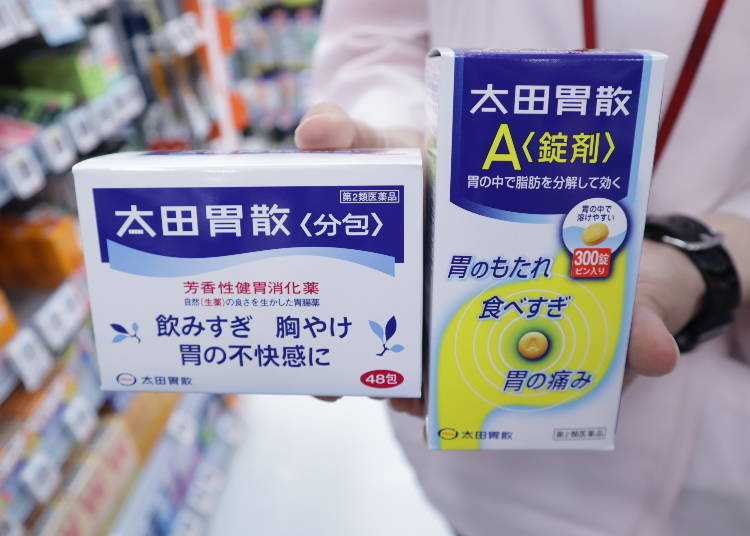 It is available in powder form as well as in tablet form, labeled "Ohta's Isan A (太田胃散A)." This medicine effectively breaks down stomach fat with fat-digesting enzymes Lipase AP6 and Ursodeoxycholic Acid, providing relief from conditions like upset stomach and overeating.

The individually packaged powder type is by far the most popular for its easy portability. If you plan on indulging in Japan's many delicious food experiences, keeping some Ohta's Isan handy is a wise choice!
3) Strong Wakamoto 1000 Tablets: A Highly In-Demand Gastrointestinal Medicine (GI Drugs & Intestinal Remedies / Quasi-drug)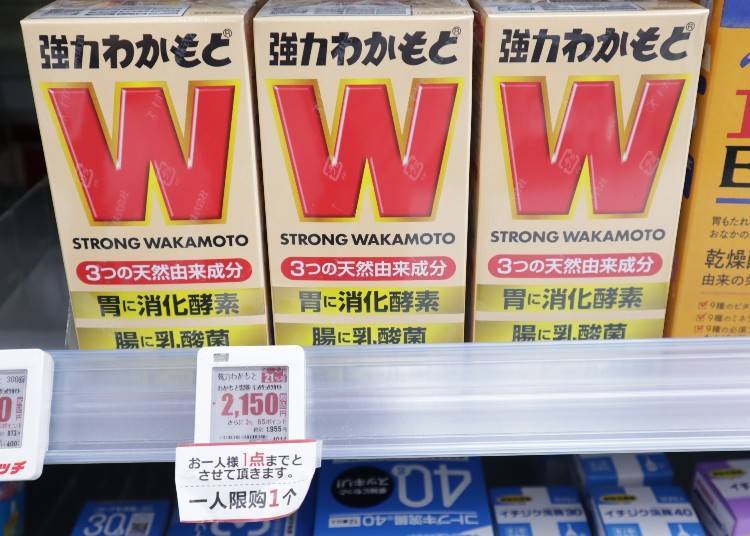 One particularly favorite product overseas, especially in Taiwan, is Strong Wakamoto by Wakamoto Pharmaceutical. This gastrointestinal drug serves three functions: aiding digestion, intestinal regulation, and nutritional supplementation. It's also effective in treating upset stomach, appetite loss, and indigestion, as well as regulating bowel movements.

Incidentally, it's also worth noting that this product is classified as a quasi-drug, not a pharmaceutical product, as defined by Japan's Pharmaceutical and Medical Device Act. While not intended for the treatment of specific medical conditions, it contains effective ingredients approved by Japan's Ministry of Health, Labour and Welfare at specified concentrations.

Whether you're a lover of food concerned about gastrointestinal care, or if you tend to overeat while traveling, this is an essential item you should always have on hand. However, be aware that its popularity has led to manufacturer shortages, so if you come across it while shopping, grab one immediately. Also, note that this product is also limited to one per person.
3) Feitas 5.0: Easy-to-Apply Pain Relief for Shoulder and Back Aches (50 sheets / Topical Anti-Inflammatory Agent)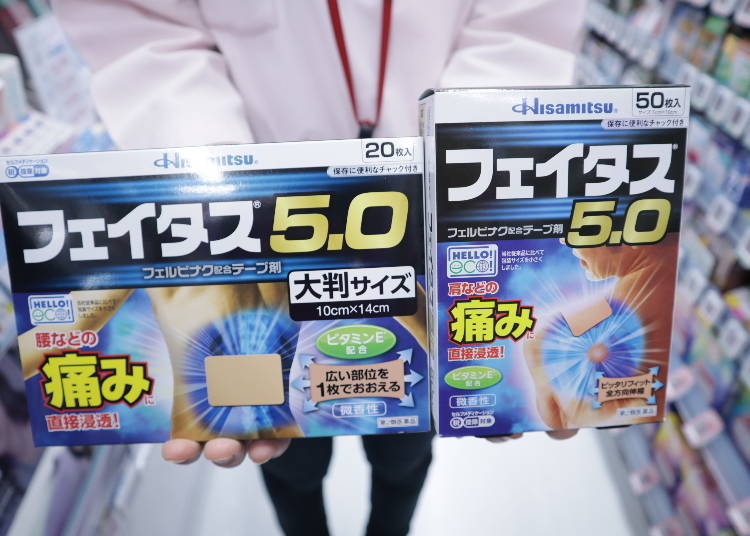 Another item on the top of the list of items to buy in Japan are compresses. Among the various options, Hisamitsu Pharmaceutical's Feitas 5.0 is a fan favorite. This transdermal analgesic, anti-inflammatory patch contains 5.0% ferbinac, an effective ingredient for relieving pain in the shoulder and back areas.

The 50-pack sheets are smaller than those in the 20-pack, making them easy to apply just about anywhere. Another notable feature of this product is that it has won Japan's Good Design Award for its easy film removal, ease of application, and resistance to peeling. The fact that it has virtually no odor is another appealing aspect.
4) Loxonin EX Tape: Recommended for Intense Pain! (21 Sheets / Topical Anti-Inflammatory Agent)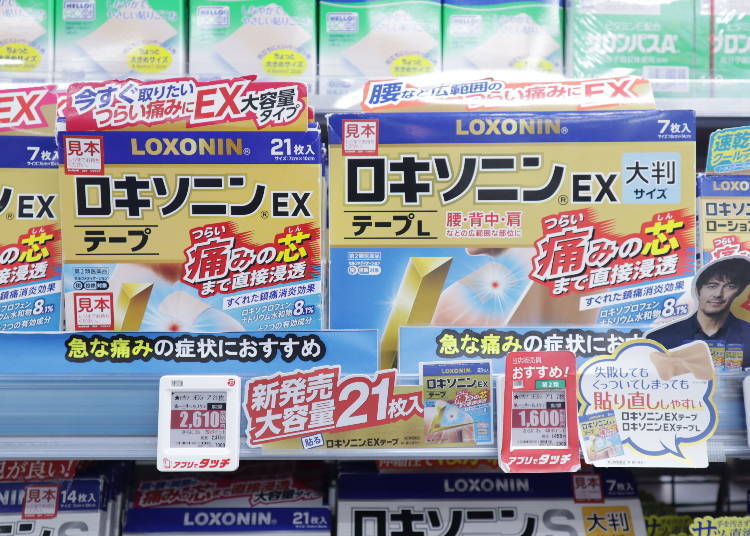 For adhesive pain relief, consider Daiichi Sankyo Healthcare's Loxonin EX Tape (21 sheets). It contains 8.1% loxoprofen sodium hydrate, known for its excellent analgesic and anti-inflammatory effects, along with supplementary ingredients for pain relief and support, and improved blood circulation. This tape is effective against intense pain in areas like the shoulders, back, joints, and muscles. And thanks to its high elasticity, it's easy to apply, and its slim profile ensures it stays securely in place.

While there are various types of topical analgesics, such as tapes, compresses, gels, and lotions, Ms. Hokazono recommends using different types depending on the purpose, scenario, and area of pain. She suggests, "Gels and lotions are great for their immediate effect and deep penetration, while tapes and compresses work well for sustained relief, especially in areas that require more movement." That said, feel free to use the advice you find here as a reference when shopping!
5) V Rohto Premium: Addictively Refreshing Eye Drops (15mL)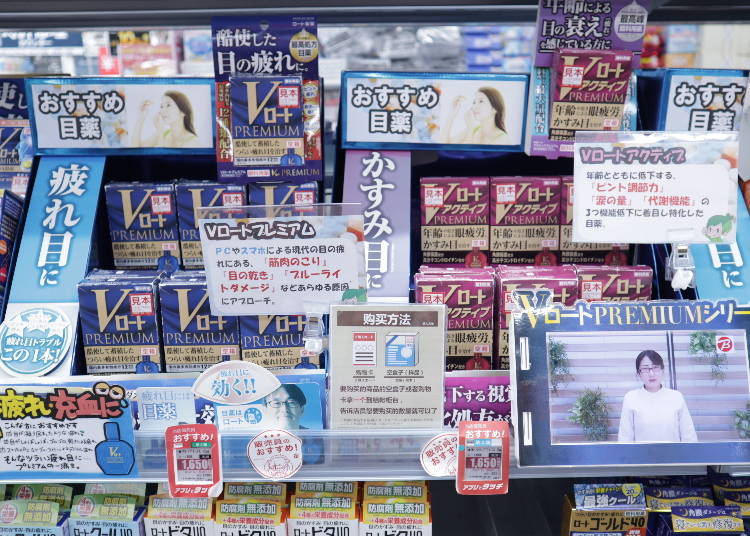 While Rohto's V Rohto Premium falls into the higher price range for eye drops, its comfort can't be overlooked! Once you try it, you won't want to use any other kind! The V Rohto Premium series is categorized by color: blue (for tired eyes), orange (for contact lens fatigue), purple (for age-related blurriness and strain), and green (for dry eyes). In these days, where our eyes are strained more than ever by the excessive use of PCs and smartphones, eye care is essential, making the blue version (for tired eyes) highly recommended.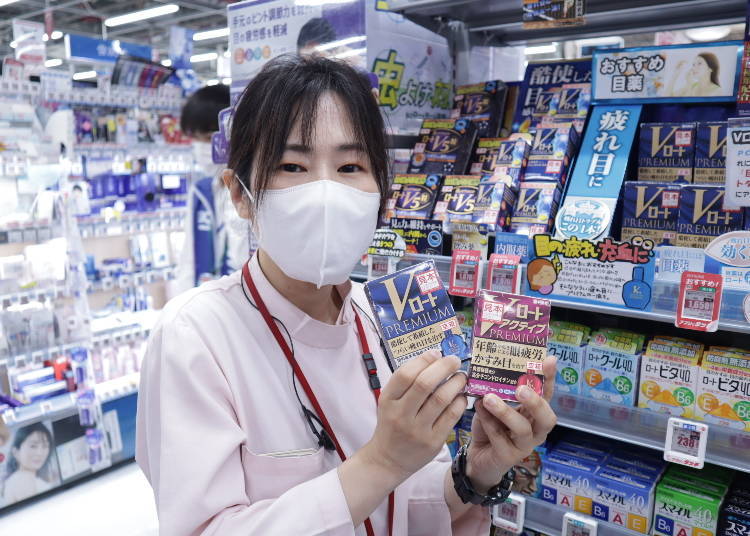 In fact, Ms. Hokazono herself is a fan of the product! She mentions, "I use it myself, and compared to other brands, it's less irritating with a gentle, soothing sensation that spreads over your entire eye. It's very comfortable to use." The fact that the blue version (tired eyes) is also suitable for contact lenses only adds to its appeal!
6) Prevaline α Cream: A Must-Have for Skin Troubles like Eczema and Itching (Dermatological Ointment)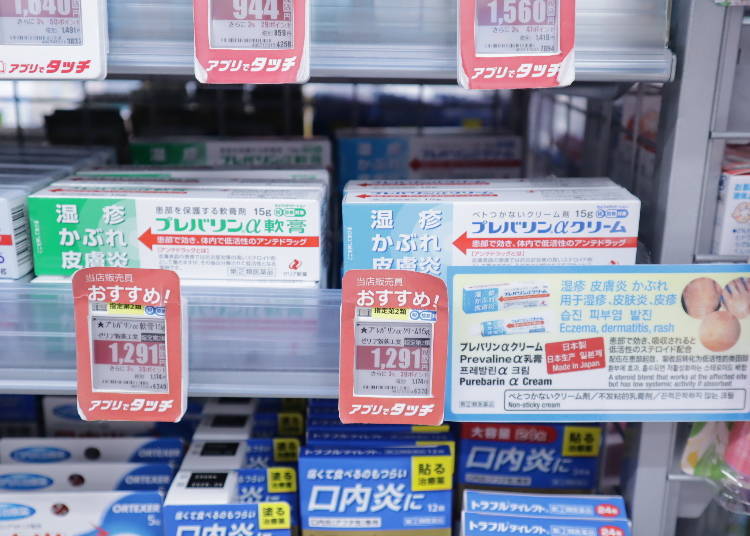 Prevaline Alpha Cream by Zeria Pharmaceutical Industries is a top choice for skin conditions such as itching, eczema, and rashes. It contains antidrug steroid ingredients that act on the application site, becoming less active when absorbed into the body. Along with its effectiveness, it has a non-oily texture, which adds to its appeal. The green version is an ointment type, while the light blue one is a cream.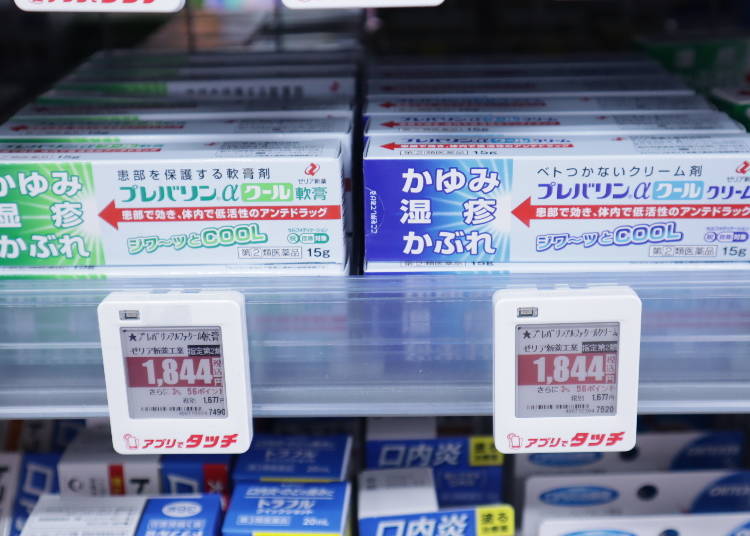 There's also the refreshing cool type, which contains menthol for added comfort. With its effectiveness against various skin problems, it's a great item to always have on hand!
7) Liquid Muhi S (50m): A Cooling Relief for Itching (Insect Bites, Anti-itch)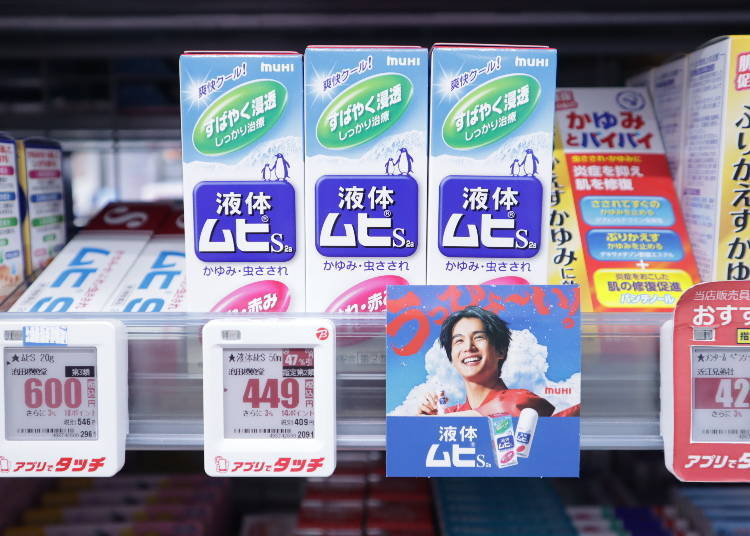 Ikeda Mohando's Liquid Muhi S is a must-have for relief from itching, especially from insect bites. It features two active ingredients—one that suppresses itching and another that reduces inflammation, which is the cause of swelling and redness. This unique liquid formulation provides a refreshing sensation that wastes no time in alleviating the itch. Its convenient sponge-head container that allows for mess-free application makes it a versatile and easy-to-use product that no home should be without!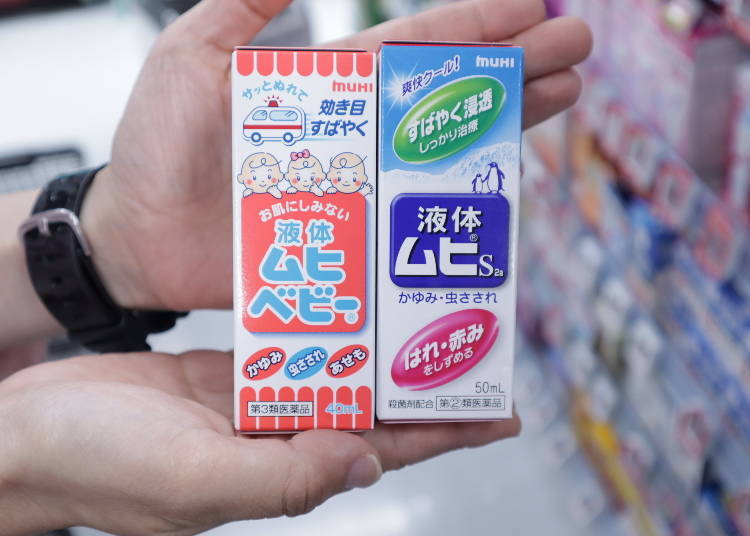 There's also Muhi Baby (pictured left), formulated for infants. It's less irritating and gentler on the skin, as it lacks stinging sensation-causing ingredients.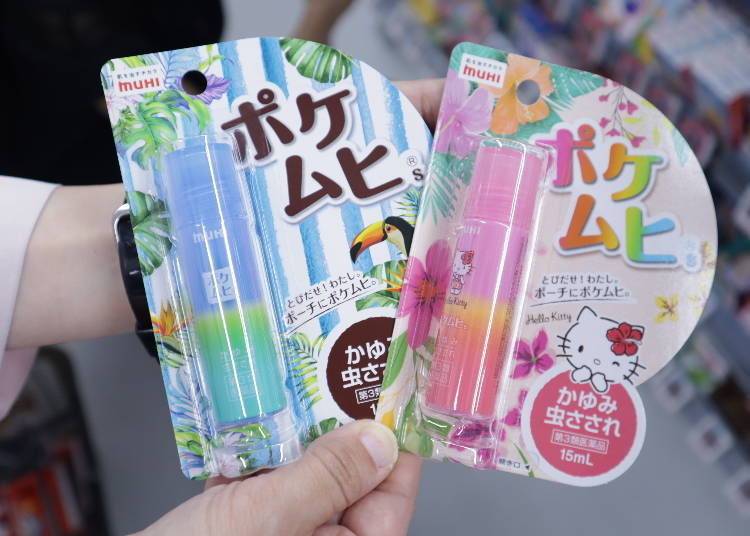 The mini Pocket Muhi is portable and easy to carry, making it an essential travel item. The packaging is also cute, making it a great addition to any cosmetic pouch!
8) Alinamin EX Plus: A Must-Buy Classic Japanese Product for Fatigue (Vitamins & Nutritional Supplements)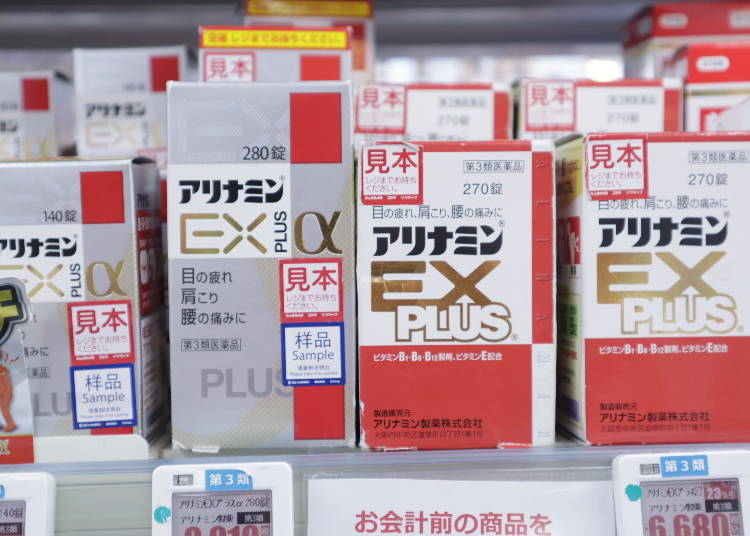 Alinamin Pharmaceuticals' Alinamin EX Plus is all you need when you're feeling fatigued. It contains anti-fatigue ingredient fursultiamine and vitamins B6, B12, and B2, it offers relief from eye fatigue, shoulder stiffness, and lower back pain. This item is popular in Japan and well-known amongst travelers, many of whom place it on their list of must-buy items. The bulk pack of 270 is particularly in-demand and often in short supply, so if you come across it during your travels, don't hesitate to pick one up!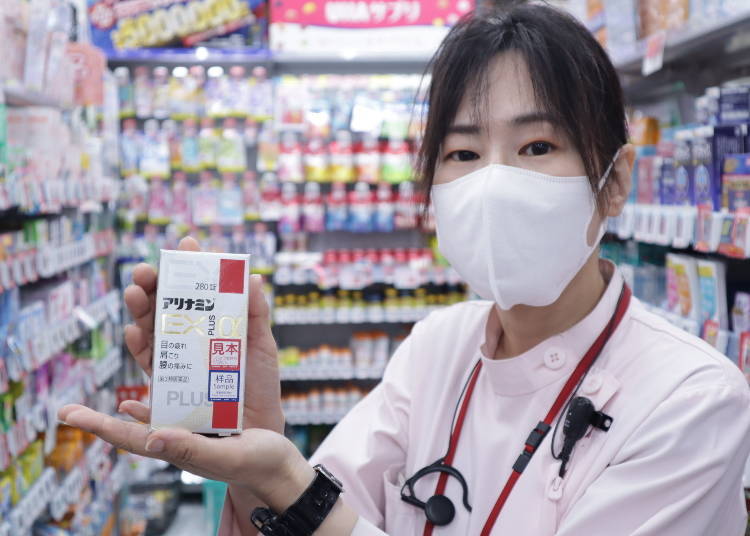 There's also Alinamin EX Plus α (in the silver package), an upgraded version of the original, featuring new anti-fatigue ingredients and vitamins. If you need an energy boost or struggle with persistent fatigue, consider trying this one, too!
9) Chocola BB Plus: A Recommended Series with Beauty Ingredients for Rough Skin and Fatigue (Vitamins & Nutritional Supplements)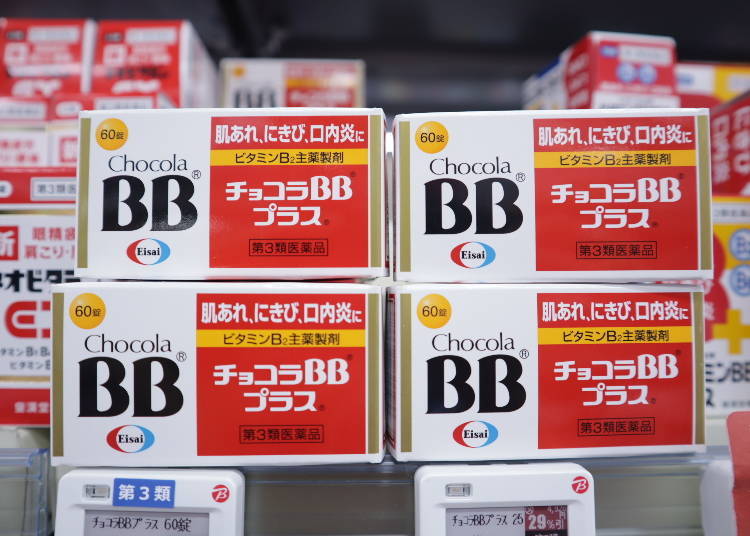 If you're concerned about rough skin, fatigue, or mouth ulcers, look for Chocola BB Plus by Eisai. It contains B-complex vitamins (B2, B6, and B1), which are known to be effective for both skincare and fatigue. And you only need to take two tablets per day! Those are just some reasons this brand is such a long-time favorite in Japan.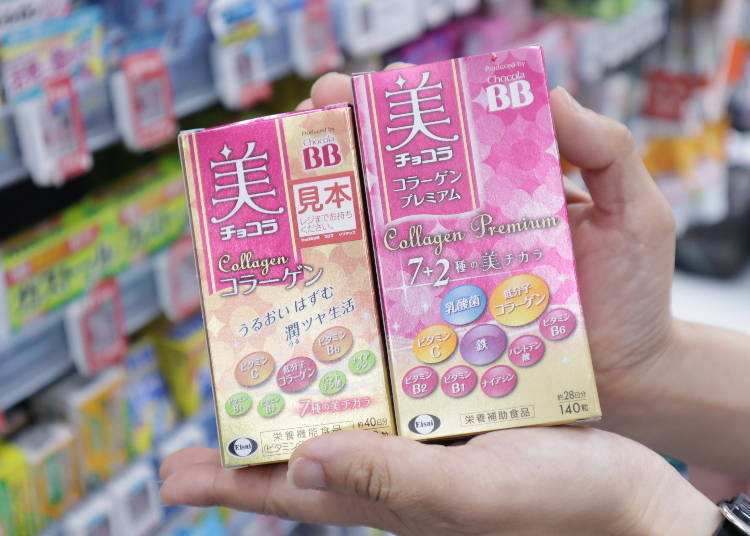 Within the Chocola BB series is Beauty Chocolate Collagen, another top pick for beauty-conscious individuals. It contains not only vitamins and minerals, but beauty ingredients like collagen and vitamin C. Bi Chocola Collagen Premium (pictured right) contains higher amounts of collagen and vitamin C than the standard, and also includes probiotics. According to Ms. Hokazono, "Beauty-related products, along with cosmetics, are especially popular with customers from overseas."
10) Supplements for Women in their 40s: Convenient Single-Pack Supplements (Women's Supplements / 30 packets)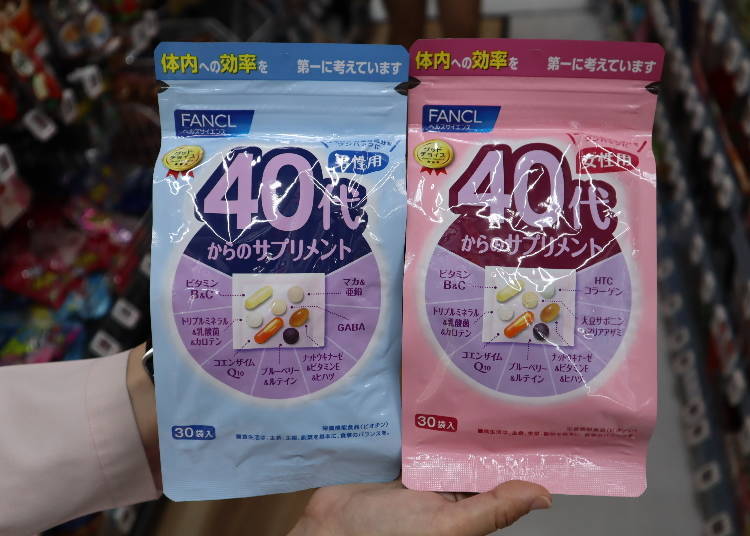 FANCL, renowned for their additive-free cosmetics and health products, also offers a line of supplements tailored to different age groups and genders, all conveniently enclosed in a single packet. The Supplements for Women in Their 40s is especially popular, since this is when many individuals tend to grow even more concerned about changes in their physical well-being.
These supplements combine essential nutrients such as vitamins, minerals, coenzymes, collagen, and soy isoflavones in a single packet. What's great about it is that you don't need to pop supplements from a bunch of bottles or jars, or divide them out yourself into smaller portions to carry along with you when you travel, making it a breeze to stay on top of your supplement regimen, even when you're on the go!
There are ten different selections available for men and women, spanning five generations: 20s, 30s, 40s, 50s, and 60s. Each age group's pack includes the appropriate supplements for that particular stage of life, ensuring you always get the right nutrients you need at any age.
Points to Consider when Buying Japanese Medicines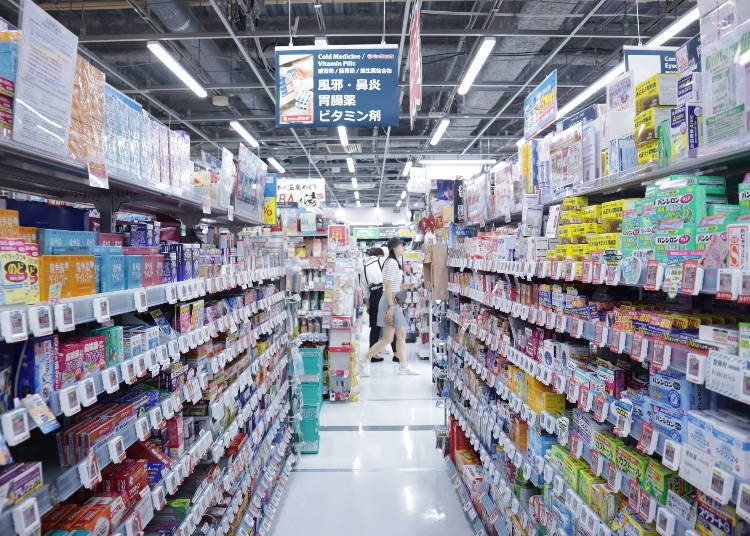 Japan has strict regulations governing the distribution of uncertified drugs, and only those with guaranteed safety profiles are available for purchase. Due to this, along with a favorable sales and storage environment, you can bet that what you find will be safe and of good quality. This is why they are such popular souvenir choices with visitors from overseas!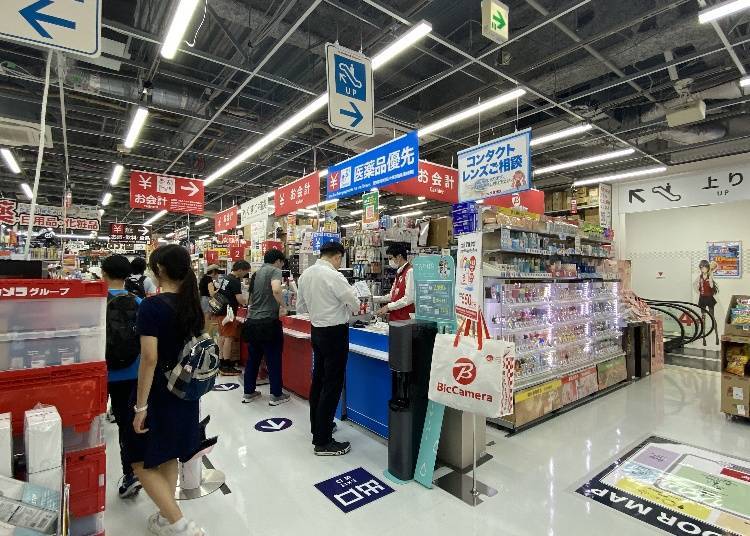 However, do keep the following in mind if you plan to purchase medicine while in Japan:
・The number of medicines must be within the allowable range for entry into your country.
・Medicines must not contain ingredients restricted or prohibited for importation or fall within the scope of limitations in your home country.
・Products must be for personal use, not commercial purposes.
・Ensure that all purchases come from a store (pharmacy, electronics retailer, etc.) that operates based on strict sales rules you can trust.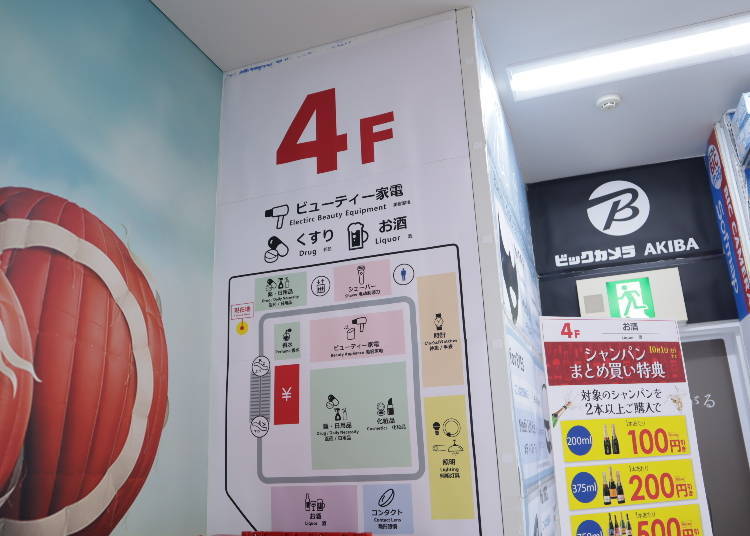 You'll find BicCamera AKIBA's pharmaceuticals on the 4th floor. "Lots of customers come recently and show us photos on social media or from web articles," says Ms. Sotozono.

Having actual photos does indeed make it easier to get assistance. If you'd like advice on a suitable medicine for your symptoms, don't hesitate to ask one of the pharmacists or shop staff! BicCamera AKIBA employs multilingual staff, so you can get translation assistance if needed.
LIVE JAPAN Recommends! Discount Coupons at BicCamera
LIVE JAPAN is currently offering discount coupons for use at BicCamera. In addition to the 10% tax exemption, buyers can enjoy an extra 5% off on medicinal goods (some exclusions may apply). Simply present the image below at checkout!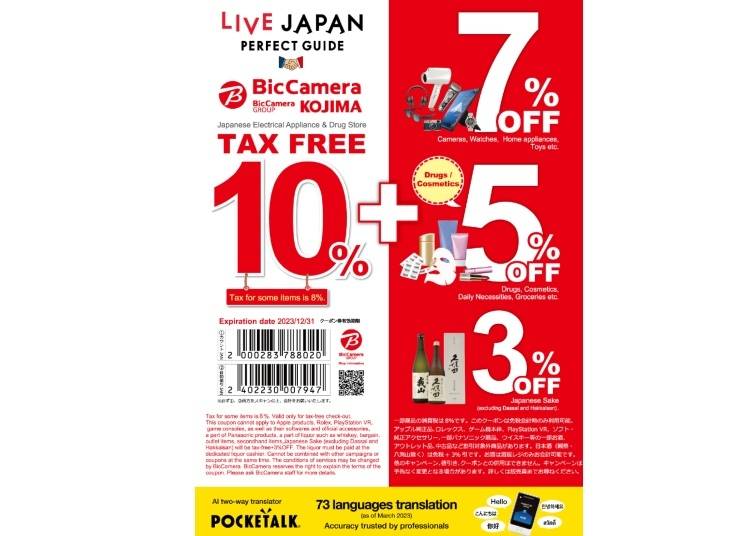 When it comes to medicines and supplements, it's easy to feel overwhelmed by the options, get confused by the differences, or have trouble figuring out what's best for you in your situation, especially when it comes to products with Japanese-only labels. In such cases, BicCamera AKIBA is the place to go!

Many of the products contain multilingual descriptions. And multilingual staff accustomed to dealing with tourists from all over the world are present, too, making it easier to shop with peace of mind, no matter where you're from! On top of that, their selection of hot products is amongst the best in Tokyo, so be sure to refer to this article, and take a trip to BicCamera AKIBA for all your medicinal needs during your trip!
*Information in article as of August 16, 2023. Product availability, prices and packaging may vary.

English translation by: Krys Suzuki
Written by: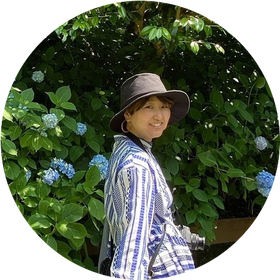 *This information is from the time of this article's publication.
*Prices and options mentioned are subject to change.
*Unless stated otherwise, all prices include tax.
Limited time offer: 10% discount coupons available now!