Even though you might ordinarily mind what you eat while traveling, pretty much everything looks delicious when you are in the holiday mood and you might find yourself with a tipsy tummy! But if you haven't packed antacids or other medicines, you have to rely on local ones. So how to choose the Japanese stomach medicine?

Fortunately, Japan has a variety of quality brands from which to choose in just such a moment. If you have ever shopped for indigestion or stomach medicine in Japan, you will have heard the name Ohta's Isan. Come to think of it, you might be hard pushed to find a Japanese person who doesn't know the name! Even abroad it has become one of the best-known names in Japanese medicine.

Ohta's Isan has been one of the most-loved names in Japanese medicine throughout the company's 140+ year history. Why does it endure? Join us as we explore the reasons for its success and take an in-depth look at the Ohta's Isan lineup.
Behind The Bestselling Ohta's Isan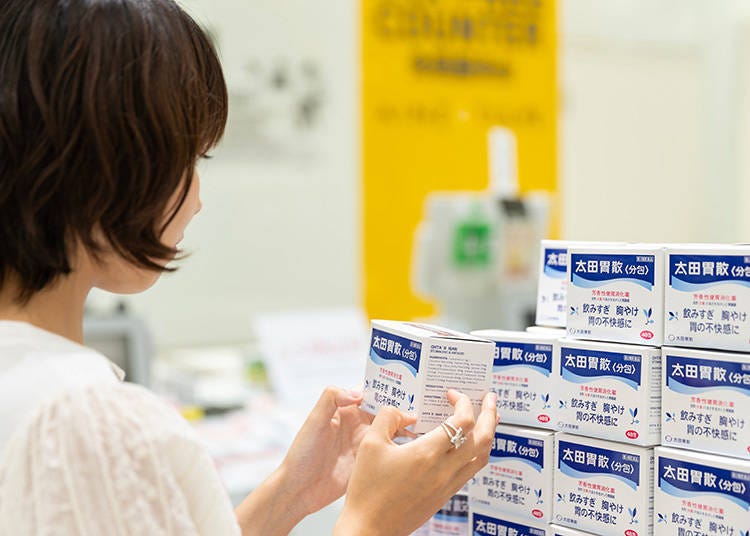 For many Japanese families, Ohta's Isan is a medicine that is always kept in the home. That said, it has also become part of first-aid kits in many homes in other countries, such as Taiwan. Ohta's Isan can be easily stored in a pouch, making it convenient to carry around. So, if someone gets an upset stomach—whether in everyday life, on holiday, or on a business trip—relief if just moments away.

When first coming to Japan, many people overeat, being tempted by Japanese washoku cuisine. If you overindulge and end up with indigestion, that is the time for Ohta's Isan. It's a great alternative to antacid in Japan.

Even though Ohta's Isan is available in countries like Taiwan, many Taiwanese people still choose to buy it in Japan. Of course, the medicine is exactly the same, but there are products in the lineup that you can only find in Japan. There are bulk buying options as well.

But what makes Ohta's Isan so special? It is actually a compound of Western medicine and natural herbal medicine used in Japan since antiquity, making it the best of both worlds.

For nearly a century and a half, the manufacturer has monitored changes to people's diets and carefully adjusted the composition of Ohta's Isan to match. This has enabled it to match the lifestyles of different eras and settle stomachs effectively for generations. As a result, it has remained a consistent bestseller.
Explore the Whole Ohta's Isan Family!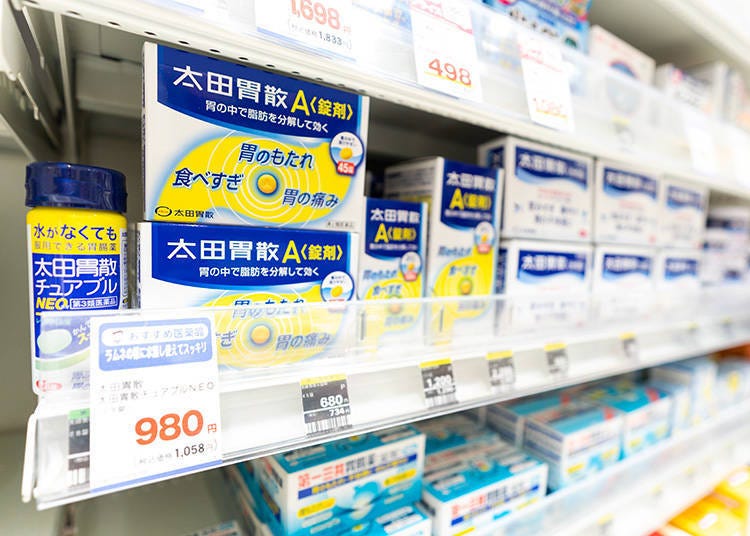 If you go to a dedicated Ohta's Isan counter at a Japanese pharmacy, you might be surprised by the variety.

Over the years, Ohta's Isan has become a series of products and, while they all carry the Ohta's Isan name, their respective compositions are different. There are varieties to treat various symptoms and to match peoples' preferences. At most pharmacies, the core lineup is:
- Ohta's Isan
- Ohta's Isan (Sachets)
- Ohta's Isan A (Tablets)
- Ohta's Kampo Gastrointestinal Medicine II
- Ohta's Isan (Medicinal Drink)
- Ohta's Isan Chewable NEO
- Ohta's Isan Intestinal Medicine

In addition, there is Ohta's Isan Intestinal Medicine de Rumoa available in pill form.

The most common among these products is Ohta's Isan packaged in a tin. Using the provided spoon, you scoop the powder, mix it with warm or cool water, and drink. For those 15 years or older, the dose is a single spoonful. Half a spoonful works for those aged 8–14. (You can take it up to three times a day after or between meals.)

This writer keeps Ohta's Isan (Sachets) on hand at home at all times because they are conveniently portable. If you start to feel unwell, you can take it right away.

A single dose for those 15 years or older is a single sachet, so you can easily keep track of how much to take. As above, you can take it up to three times a day after or between meals.
Top Three Ohta's Isan Ranking and Their Effects!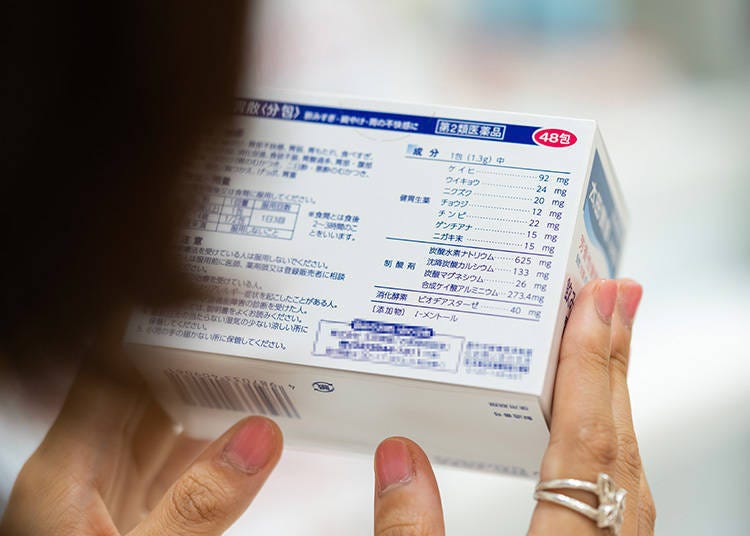 You hear the phrase "herbal medicine" a lot, but it isn't always clear to exactly what it refers. Herbal medicine can include plant extracts (e.g., cassia and carrots), ingredients derived from animals (e.g., oysters and deer horn), fungal products (e.g., poria mushrooms), as well as mineral-related ingredients (e.g., gypsum).

Ohta's Isan includes the following in its herbal Japanese stomach medicine to make sure you have a happy tummy: cinnamon bark, fennel, nutmeg, cloves, citrus unshiu (tangerine) peel, gentian, and powdered picrasma wood.

Reading that list, you are probably thinking that would all taste rather bitter. Don't worry! There is no need for concern! The taste of Ohta's Isan is pleasantly aromatic and feels refreshing as you drink it.

In addition to the aforementioned can and sachets, let's look at three more members of the Ohta's Isan family that are particularly popular.
Overeat? Try Ohta's Isan A (Tablets) (Available in packages of 45, 120, and 300)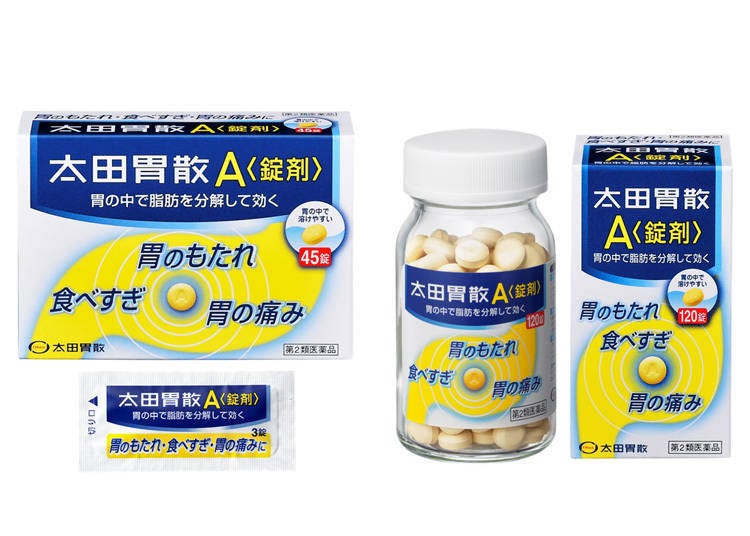 Tackle Overeating, Heavy and Fatty Food!

Compared with the regular Ohta's Isan, Ohta's Isan A (Tablets) includes four additional ingredients that help ease the digestion of fat, protein, and carbohydrates. If you are feeling bloated after overeating, or have stomach pains or heartburn, you can rely on this medicine to alleviate those symptoms and settle your stomach. It's a fantastic antacid in Japan.

Most commonly purchased is a box of 45 tablets, and convenient packs with a single dose (three tablets) is also available. Bottles of 120 and 300 tablets are perfect for families or those who are often out socializing after work.

(Recommended dosage is 1 tablet once for children aged 5-7; 2 for those aged 8-14; and 3 tablets for people aged 15 years and older. Tablets can be taken up to 3 times a day after or between meals (including before bed), but can be taken before meals if you have a poor appetite.)
Stressed? Upset stomach? Try Ohta's Kampo Gastrointestinal Medicine II (Available in 14, 34, 54, and 108 sachets)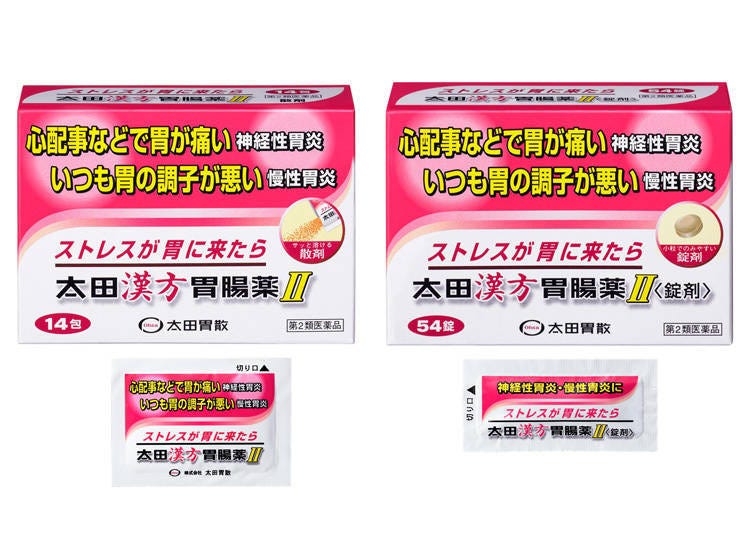 Suffering with Worries, Anxiety, or Stress?

An upset stomach isn't necessarily caused by overeating. These symptoms can also be brought on by stress. In such cases, Ohta's Kampo Gastrointestinal Medicine II is recommended. Stress brought about by the increasingly hectic pace of modern life can cause an imbalance in the autonomic nervous system, leaving you with an upset stomach.

Ohta's Kampo Gastrointestinal Medicine II reinforces the autonomic nervous system and helps alleviate problems such as heartburn and stomach pains, lack of appetite, and tight chest brought on by stress.

This Japanese stomach medicine is available as both pills and powder. The effects are the same, so choose the one that is easiest for you to take!

(Dosage: 2/3 of a pouch per dose for those aged 7-14; 1 pouch for people aged 15 and up between meals (including before bed). Can be taken up to 3 times per day on an empty stomach.)
Ohta's Isan Intestinal Medicine (Available in 160 and 370 tablets)
Correct a Nervous Stomach and Beat Constipation and Diarrhea

Ohta's Isan may be renowned for their Japanese stomach medicine, but they also have a range to target intestinal symptoms.

Ohta's Isan Intestinal Medicine includes two herbal remedies (Japanese mallotus and Thunberg's geranium) to boost digestive health and correct irregular intestinal activity along with three friendly bacteria (two types of lactic acid bacterium and clostridium butyricum) that promote intestinal health and restore digestive balance.

This is recommended for people seeking relief from constipation and diarrhea, as well as stomach pains related to food that disagrees with you.

The small tablets come in a glass bottle, which is good to keep in the home or the office. (Dosage: 1 tablet per dose for those aged 5-7; 2 tablets for people aged 8-14; 3 tablets for people aged 15 and up. Can be taken up to 3 times per day after meals.)
Where Can You Buy Ohta's Isan?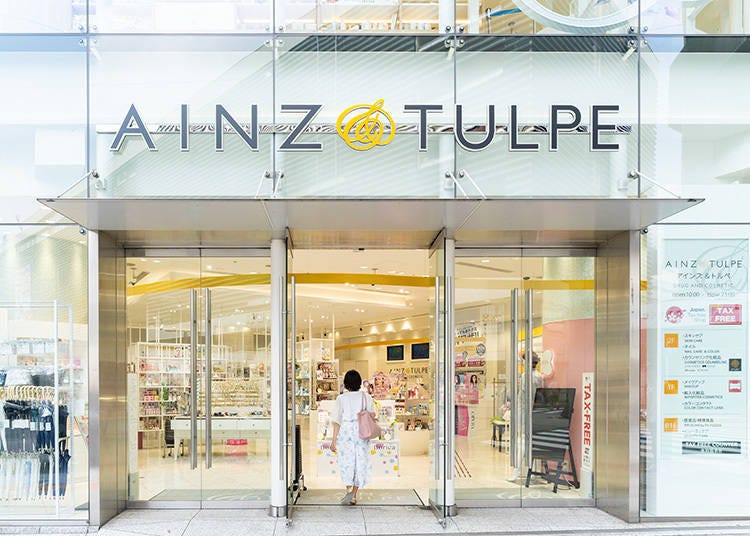 AINZ & TULPE Shinjuku East Exit Store

アインズ&トルペ 新宿東口店

Address

東京都新宿区新宿3丁目36-10 ミラザ新宿ビルB1F~2F/Mirraza Shinjuku Building B1F–2F Shinjuku 3-36-10, Shinjuku-ku, Tokyo

Nearest Station

1 minute walk from JR Shinjuku Station (Central East Exit)
3 minutes walk from Shinjuku-sanchome Station (Exit A5)
5 minutes walk from Shinjuku-nishiguchi Station (Exit D1)


Phone Number

03-5925-8566

Hours: 10:00AM-11:00PM
Regular holidays: None
Duty-free services: Available
Credit cards accepted: Credit Cards, Union Pay, nanaco, others
Now you know about three of Ohta's Isan most popular products, but there is a whole lot more to see in the lineup.

If you want to purchase or discover more, head to a pharmacy. The AINZ & TULPE store in Shinjuku is a popular destination for visitors to Japan and stocks a large range of Ohta's Isan products. It is also worth noting that, currently, you can only buy Ohta's Kampo Gastrointestinal Medicine II and Ohta's Isan Intestinal Medicine in Japan, so don't miss out.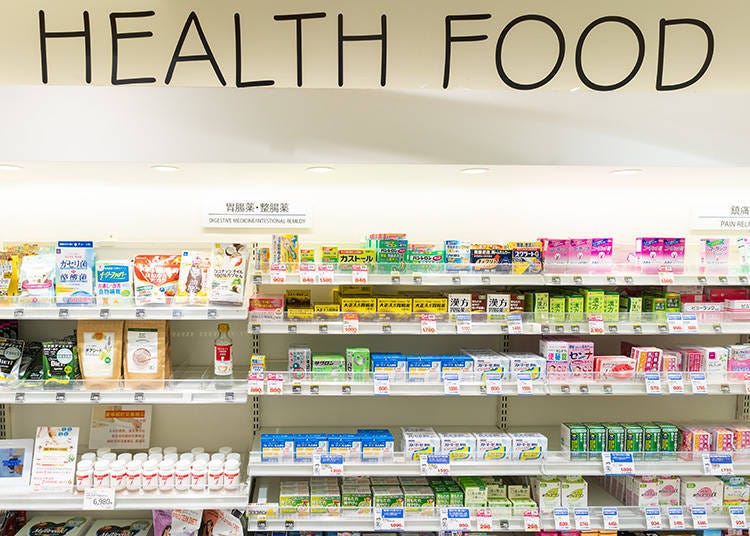 Inside the store, just follow the signs for Digestive Medicine and Intestinal Medicine. You are sure to spot the Ohta's Isan range with ease. Needless to say, many pharmacies offer tax-free shopping, so don't forget to complete the necessary procedure when you check out!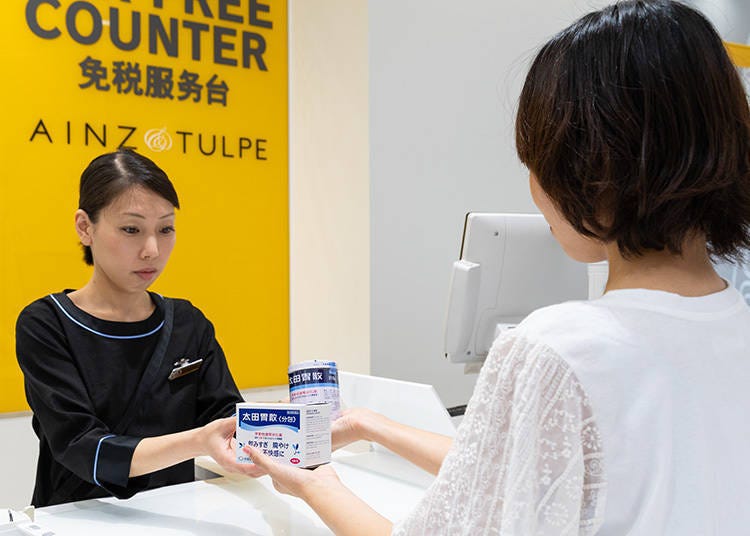 *This information is from the time of this article's publication.
*Prices and options mentioned are subject to change.
*Unless stated otherwise, all prices include tax.