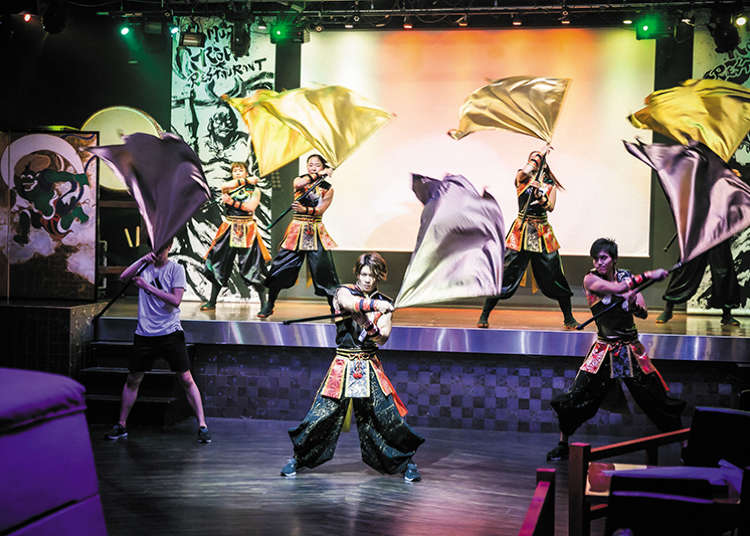 Samurai Rock Restaurant seems to fit in perfectly in Akihabara, a town synonymous with otaku culture and the latest tech gadgets. It was opened to welcome many foreign tourists expected for the Olympics in 2020. Samurai Rock Restaurant offers a fun show that's great for visitors to Akihabara at night and enjoyable for everyone, regardless of nationality. Let's dive in.
About Samurai Rock Restaurant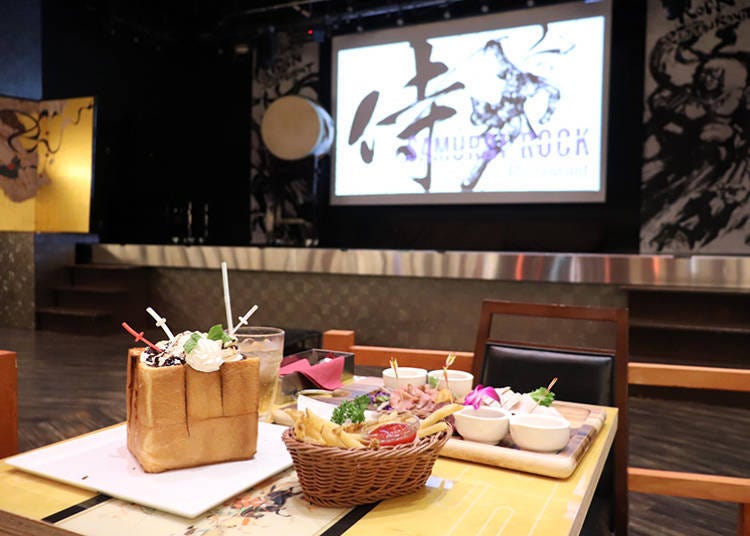 The Samurai Rock Restaurant is a diner where you can enjoy Japanese entertainment and performances by leading Japanese athletes while enjoying food and drinks.

The biggest attraction is the non-verbal show themed around kanji and produced by Naoki Iketani, who participated in the popular TV program "Kinniku Banzuke."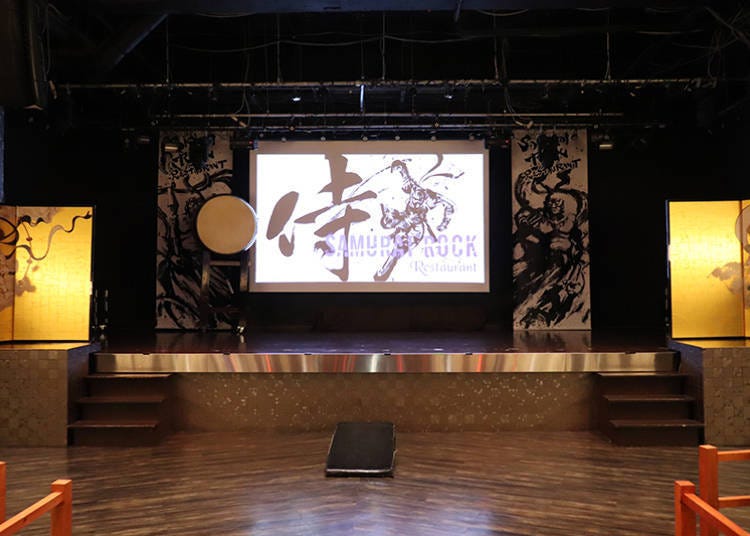 Samurai Rock Restaurant is located 5 minutes walking from the Electric Town Exit of JR Akihabara Station. You will find it on the 7th floor of the Pasela Resort Akiba Multi-entertainment building. The store is spacious, with a high ceiling, and the tables face the stage alongside a flower path.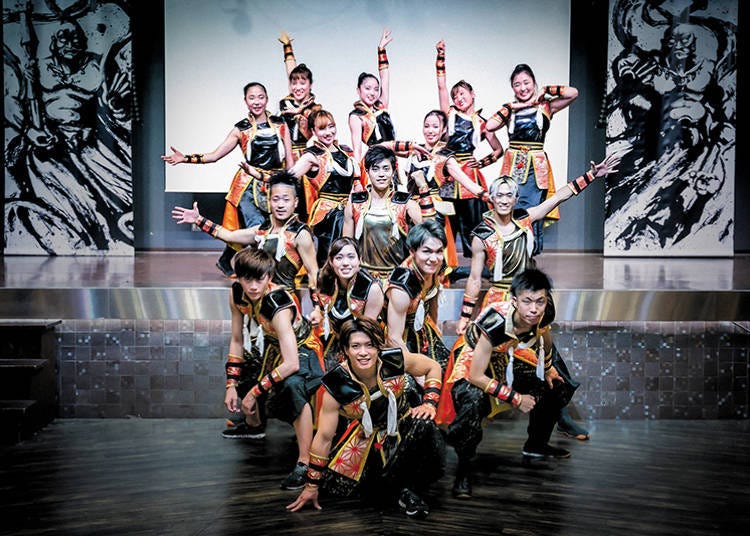 The performers are members of the Samurai Rock Orchestra, led by Naoki Iketani. These shows also serve to open up a second career for athletes who are active in international competitions, like gymnasts, baton twirlers, yo-yo virtuosos, and Double Dutch practitioners.
Powerful! Samurai Rock Restaurant offers a lively acrobatic show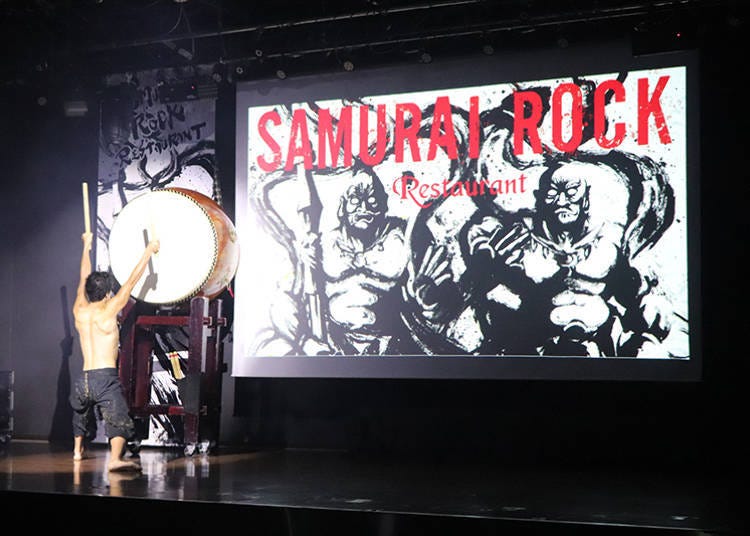 The Japanese-style show themed around kanji allows you to immerse yourself in the spirit of Japan through performances and images projected on a massive monitor on the stage. Japanese drums accompany the acting, permeating the venue.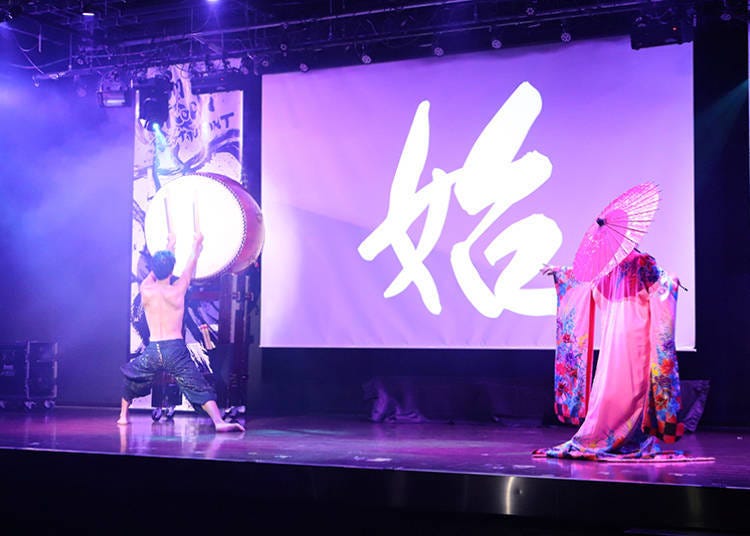 The performance focuses on a specific kanji at the time. The meaning of each kanji is also displayed in English, making it easier to follow the performance.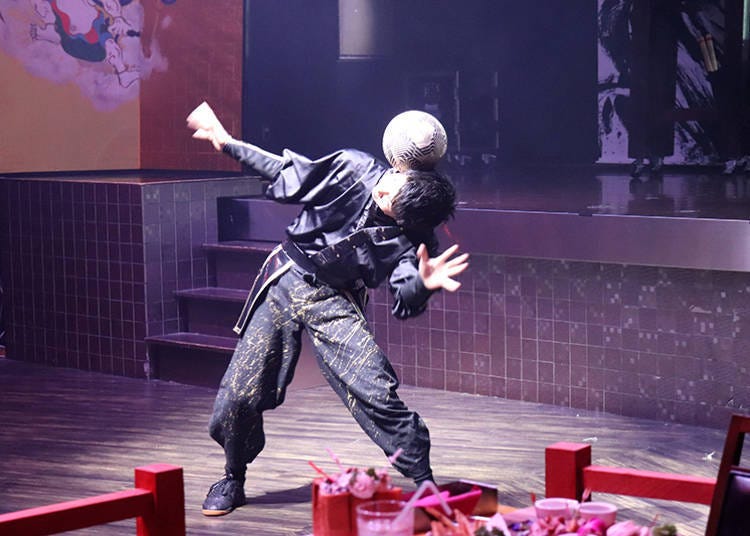 Outside of the stage, plenty of other performances occur to the side, such as the freestyle football juggler. The arrangements guide you through an unforgettable experience all the way to the end.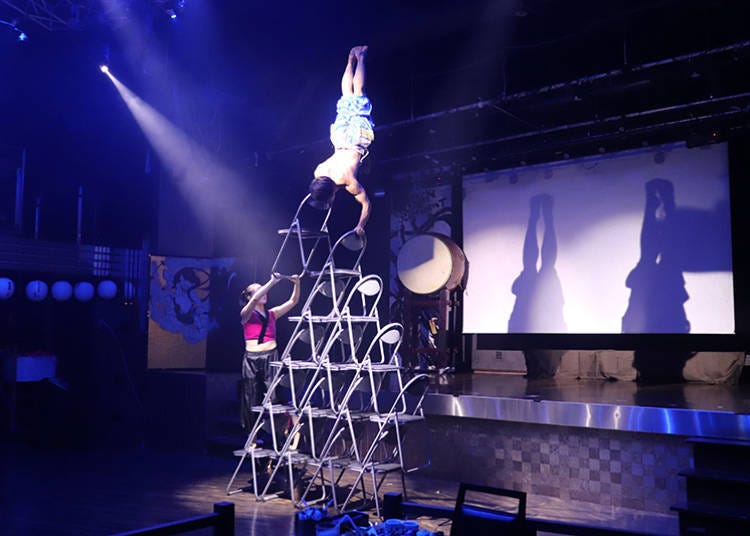 It's ok to take pictures of all the performances. A great photo opportunity is one given by the powerful performance of athletes balancing themselves on piles of chairs, in a heart-pounding, gravity-defying festival of strength and grace.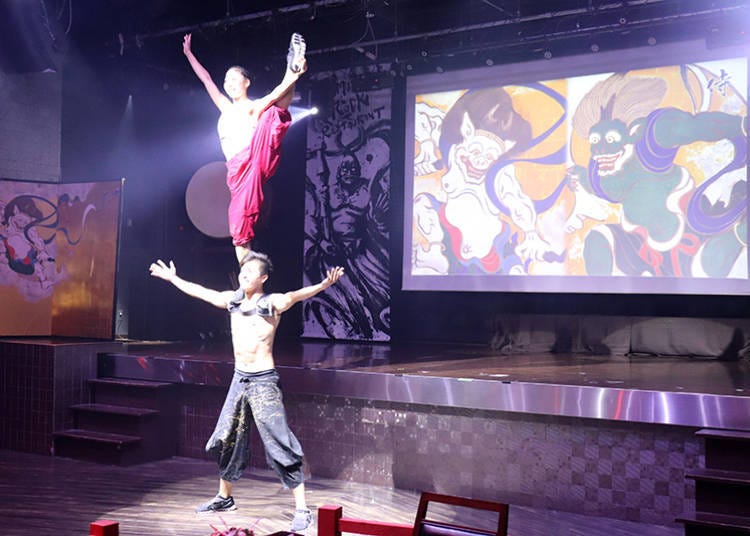 In the balancing performance "Gumi," two men and two women perform exciting headstands and balancing on people. The performance is underlined by the Fujin Raijin illustrations on the monitor in the background.

Also, there are more than 10 other types of performances, like "Sou," the performance of the yo-yo world champion, and "Rope," a Double Dutch show or three men and women and their fantastic jumps using two ropes. The show may change depending on the artists available, but it will always be an unforgettable experience that will make you want to go again and again.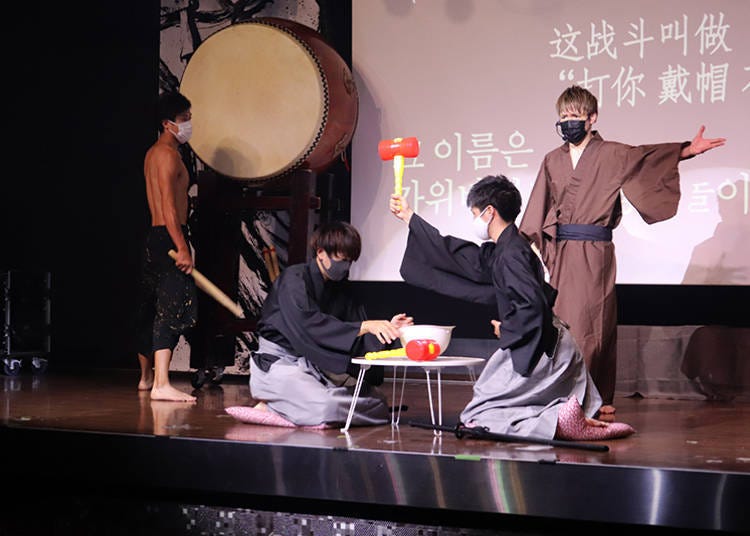 Furthermore, one of the show's highlights is the program "Guests," which involves audience members. Three samurai representatives and three patrons will play the traditional Japanese game "Hataite kabutte janken pon." The game rules are displayed on the monitor in English, Chinese, and Korean, and anyone can participate by raising their hand.

If the patrons win, they will receive an original placemat as a gift. Make sure to wear a mask and faceguard for the face-to-face competition. Measures to avoid the spreading of Covid-19 are in place.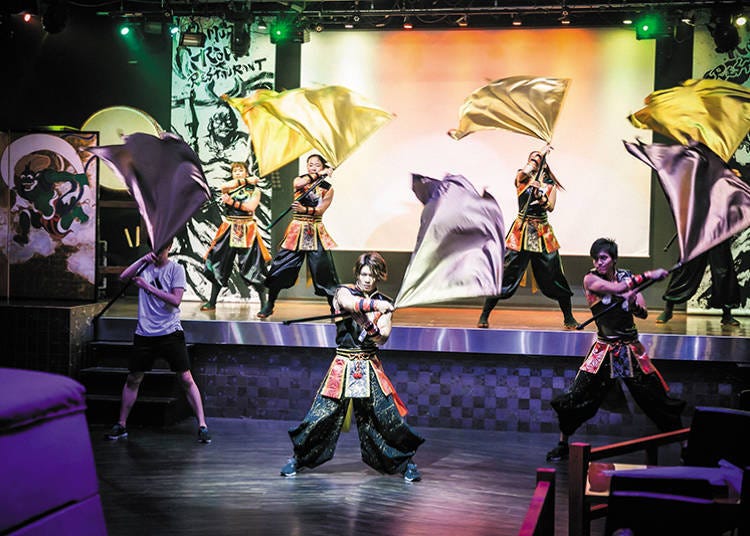 In the final performance on the show, "End," all the athletes, performers and artists will join in a beautiful festival of dances and flags.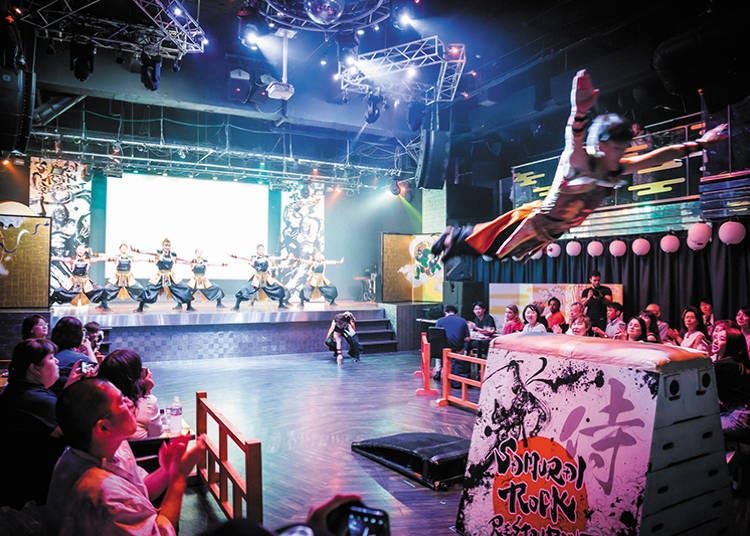 The performance of acrobatic vaults on a large stage prepared on the flower path is a masterpiece! The finale's apex is a ritual called "sanbonjime," a unique Japanese way of clapping. Artists in the costume of a ninja, a samurai, and an oiran appear and guide you to the end of a 50-minute performance that will surely feel much shorter, in all its charm.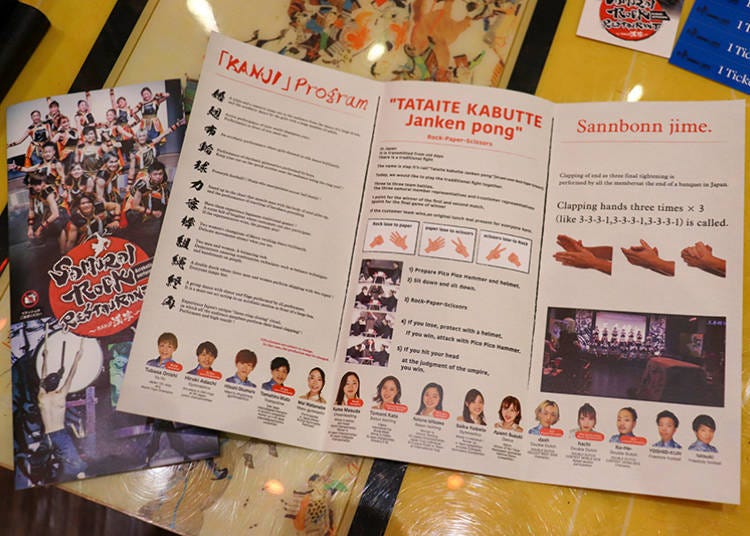 The leaflet distributed in the store (also available in English) describes the program and each performance, as well as the rules to participate into the games, the details of "sanbonjime" (for the audience to join in), the profile of the Samurai artists, and more. Reading it before the show will help you better understand what you are about to witness and it will allow you to enjoy it even more!
Enjoy plenty of food and drinks with a ticket system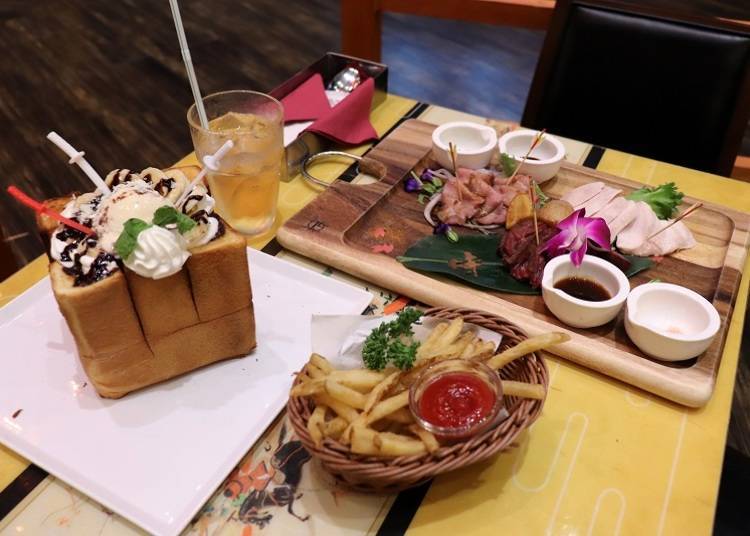 Samurai Rock Restaurant, is a show restaurant, so food and drinks are also beautiful to look at, as well as delicious. There is a wide range of snacks, like pizza, curry, roast beef, dango dumplings, and more.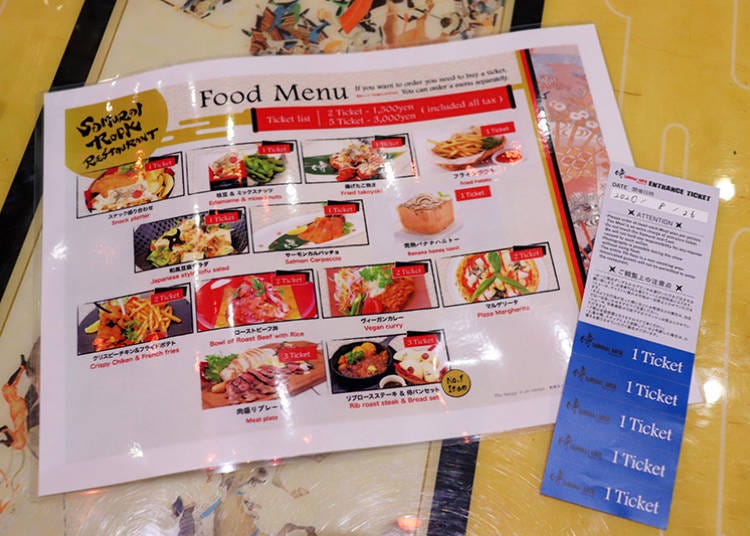 You can order food and drinks with tickets. The price for 2 tickets is 1,500 yen and 5 tickets for 3,000 yen (tax included). The number of tickets required changes depending on the menu. Food is 1-3 tickets, while almost all non-alcoholic and alcoholic drinks go for 1 ticket.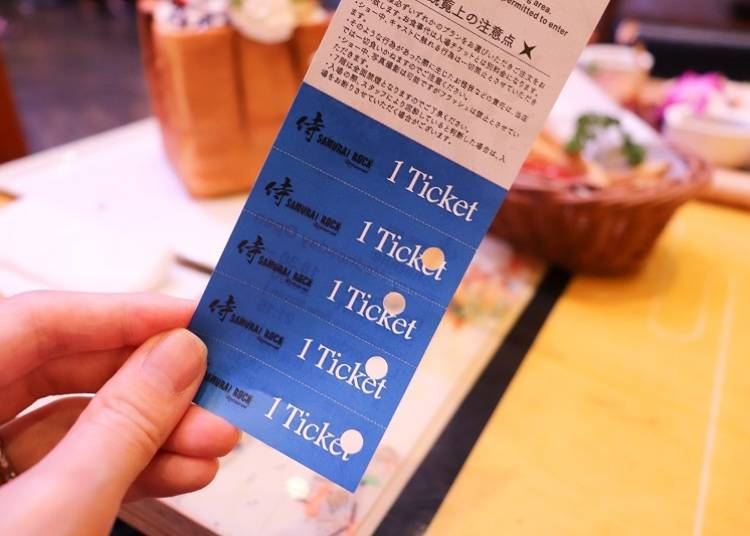 When you receive your order, your ticket will be punched.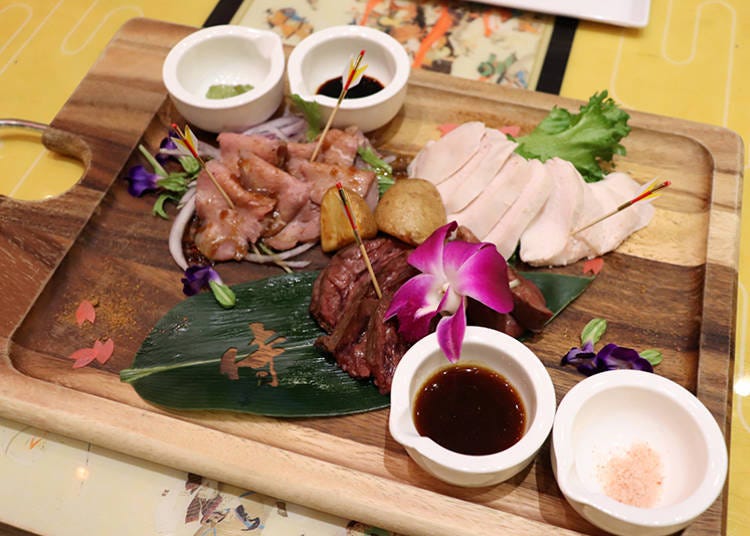 The recommended and most popular menu item is the "build-up plate." This is a dish of meats and veggies accompanied by 4 different sauces. Perfect to accompany alcohol or just simply as a good meal! With the word "samurai" engraved on the leaves, this is a dish that really feels Japanese.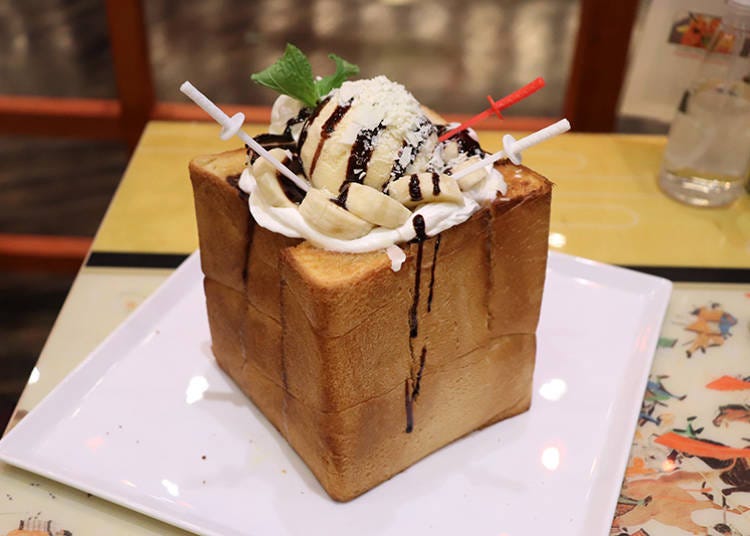 We also recommend the "Banana honey toast," a loaf of bread toasted and soaked in honey, and topped with vanilla ice cream, bananas, whipped cream, and chocolate sauce. It's perfect for Instagram with its little sword-shaped toothpicks.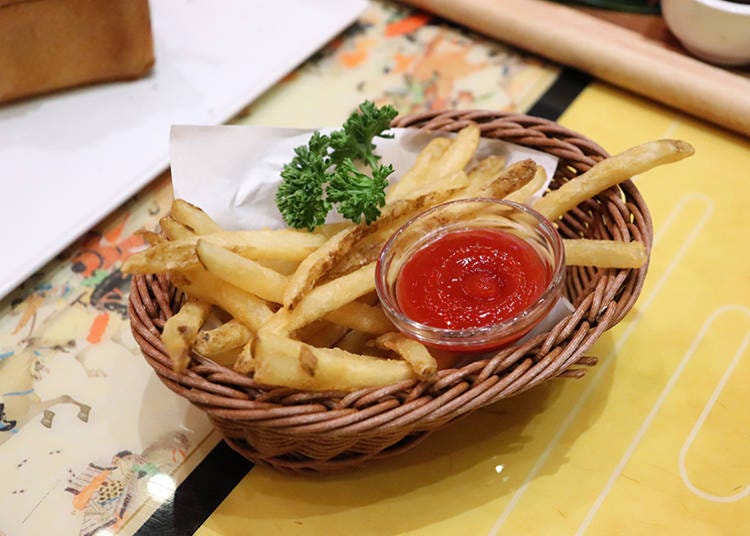 French fries are perfect as a snack to enjoy during a show you won't be able to take your eyes off of.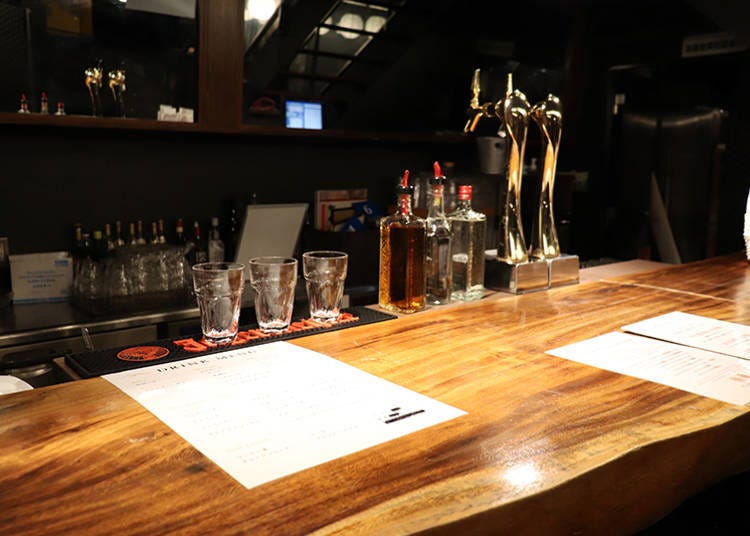 You can order your drinks at the counter. There are plenty of cocktails that make you feel the Japanese atmosphere unique to the restaurant, like "Samurai Rock," made with Japanese sake, lime, and soda; or the soft drink "Sakura Amazake," made with cherry syrup and amazake.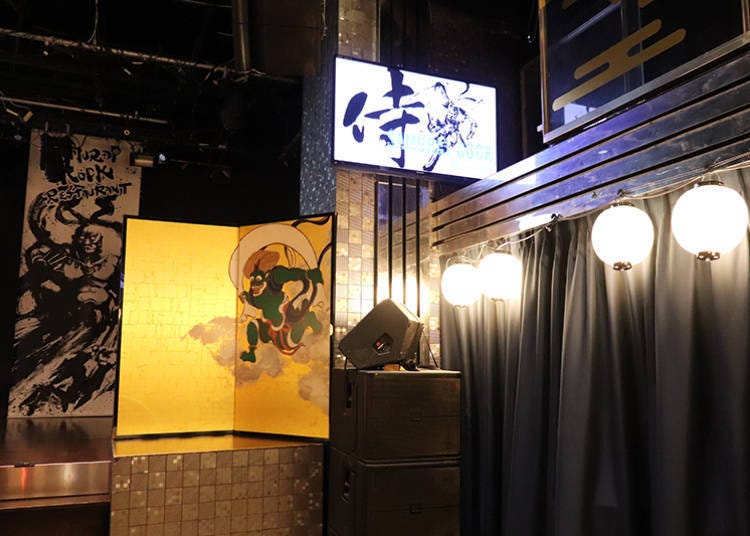 Currently, the Samurai Rock Restaurant operates on a reduced schedule as a preventive measure against Covid-19. The show is held every Wednesday. There are two types of tickets: 6,500 yen (tax included) with 2 drink/food tickets; 8,000 yen (tax included) with 5 drink/food tickets.

Temperature checks will be conducted at the entrance and you can disinfect your hands as you enter. Also, disinfectant solutions are installed at each table. Furthermore, social distance is ensured by limiting the number of patrons and distancing the seating areas. Staff wear masks and they take every measure to ensure you can safely enjoy this show by Japanese athletes.
Measures against novel coronavirus
Disinfection; sterilization; thorough cleaning of store and equipment; installation of sterilizing gels and disinfectant solutions; thorough disinfection of every seating area after each customer; in-store ventilation; staff wearing masks, disinfecting and washing hands, gargling, temperature check; limited number of patrons and seat spacing; denied entry of customers in poor physical condition; request to wear masks to customers; temperature checks
サムライ・ロック・レストラン

Address

1-1-10 Sotokanda Chiyoda-ku, Tokyo Akihabara Multi-entertainment 7F Palms

Phone Number

0120-198-759

Hours:
OPEN 18:30
SHOW START 20:00
SHOW FINISH 21:00
CLOSE 22:00
Closed: Saturday, Sunday, weekdays other than Wednesday
Currently operating at a limited schedule for coronavirus prevention measures.
Check the official website, http://www.samurai-rock-restaurant.com/, for updated information.
Written by: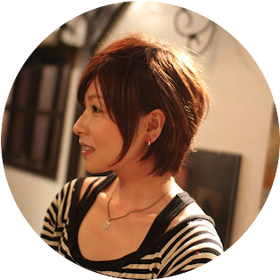 *This information is from the time of this article's publication.
*Prices and options mentioned are subject to change.
*Unless stated otherwise, all prices include tax.