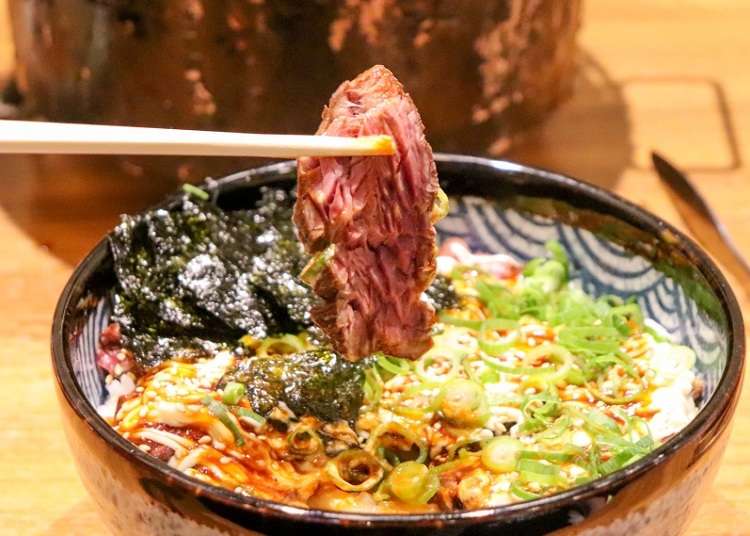 While Akihabara might be associated more with electronics and anime, it's quickly grown as a popular dining area, with many unexpectedly famous shops tucked into its side streets. Mister Yakiniku, which we will be introducing in this article, is one of them.

Having been interviewed for television programs before, Mister Yakiniku is a famous yakiniku shop in Akihabara. Of course, ample measures to prevent the spread of Covid-19 are in place!

Besides dinner time, what other recommended dishes are there for lunch and takeout for you to enjoy at this popular shop? Let's take a look at the charming shop Mister Yakiniku, where you'll find yourself smiling at the wonderful taste of the food on your first bite!
Mister Yakiniku, a shop where you can enjoy delicious yakiniku in Akihabara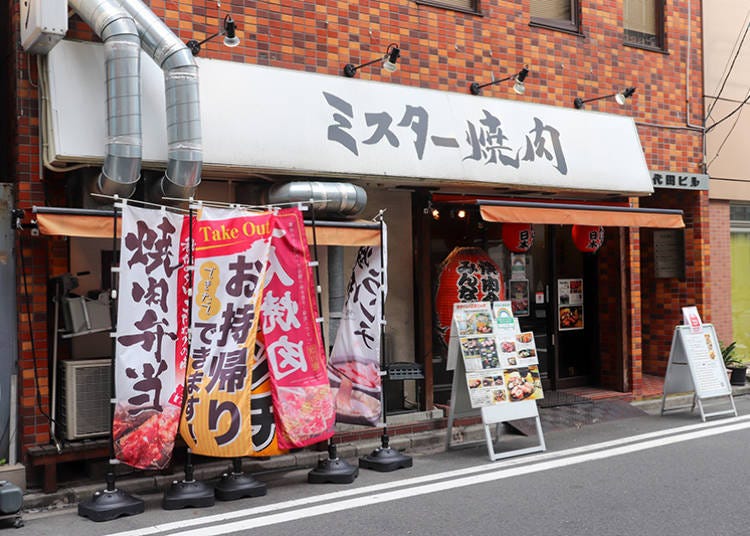 The nearest station to Mister Yakiniku is Suehirocho station, on the Tokyo Metro Ginza Line. The shop is located about a minute away by foot from exit 2 of the station. It is also a six-minute walk from JR Akihabara Station, and a five-minute walk from Okachimachi Station, and is in a location with excellent access from various train stations.

With ambitions of becoming number one in the world of yakiniku, Mister Yakiniku set up shop hoping to become synonymous with yakiniku, and as one of the "three stars" of the yakiniku world ("three stars" can also be pronounced as "mitsusta" in Japanese). The shop's name came about from all these thoughts.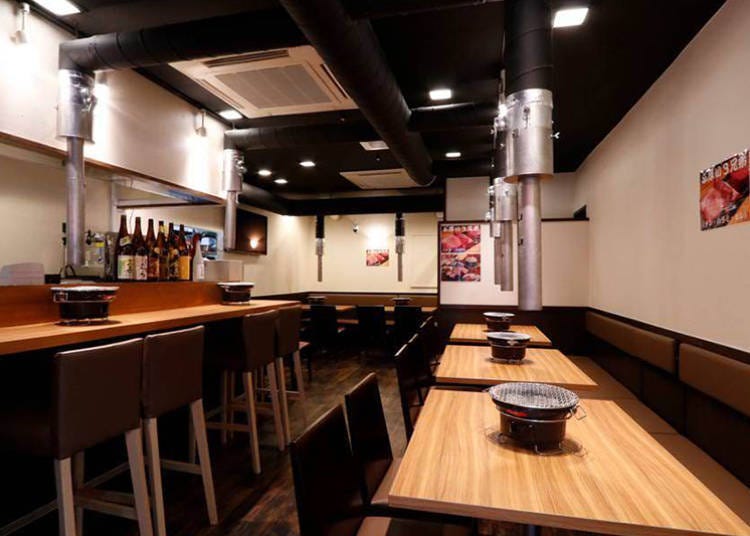 The shop's interior is spacious and bright, allowing you to comfortably pass your time enjoyably. With the motto of "Bringing smiles to everyone through eating yakiniku," Mister Yakiniku is a shop that pursues both delicious taste and smiles. The staff, in their orange and black t-shirts, welcome you with energetic smiles.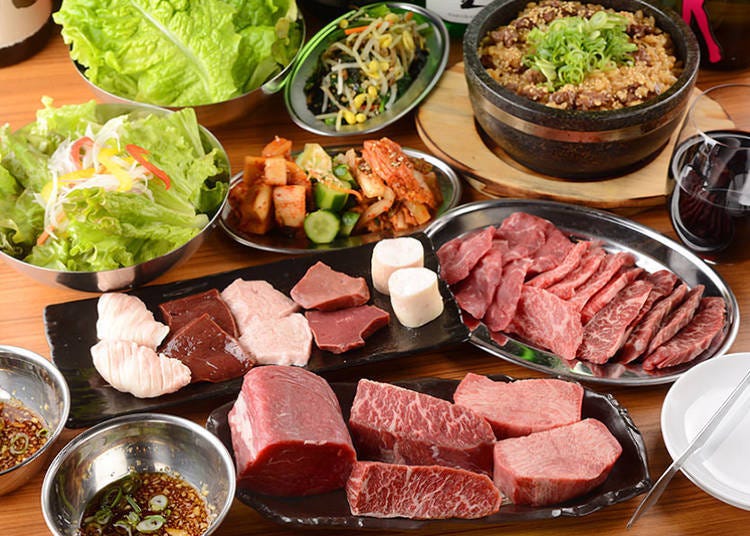 The shop owner is very strict on quality, picking only the freshest beef parts. The high-quality meat, from red meat and muscle to fresh offal, is roasted on a "shichirin," a type of small charcoal barbecue that passed down from ancient times.

Besides this, the shop's signature "Bu-atsui tan," or thick beef tongue, is grilled and cut right before your eyes by the shop staff. While satisfying yourself with delicious beef, you can have a fun time with everyone, for an enjoyable way to pass the time.

There's more than just meat on the menu, with dishes such as "Ishiyaki Maze-Bibimbap," or hot stone bowl mixed bibimbap, at 1,280 yen, and "Meibutsu Nikumeshi," a set of signature beef dishes, at 980 yen (both without tax), among an abundant lineup of rice, noodles, kimchi, and namul, among other side dishes.

On top of that, the shop has its own impressive alcohol selection, with Japanese alcohol chosen by sommeliers and glasses of wine for you to enjoy.
A lunch with generous servings and value for money - even shown on TV!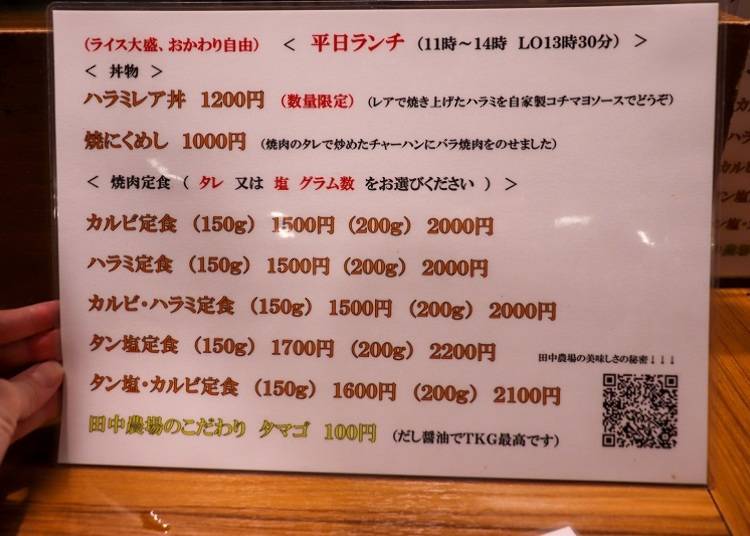 At Mister Yakiniku, fresh meat is served at reasonable prices. Though the usual preparation method involves treatment with salt to quickly remove any odors, the meat here is so fresh that such treatment is not necessary. For lunch, such fresh and high-quality meat is readily available on the menu for you to enjoy!

There are two rice bowls available for weekday lunches, including the "Harami-rare Don," available in limited quantities at 1,200 yen, and the "Yakiniku Meshi," at 1,000 yen. Besides this, there are yakiniku set meals available, including the "Calbi Teishoku," the "Harami Teishoku," the "Calbi Harami Teishoku," the "Tan-shio Teishoku," and the "Tan-shio Calbi Teishoku," each available at 1,500 yen for 150 grams and 2,000 yen for 200 grams (all including tax).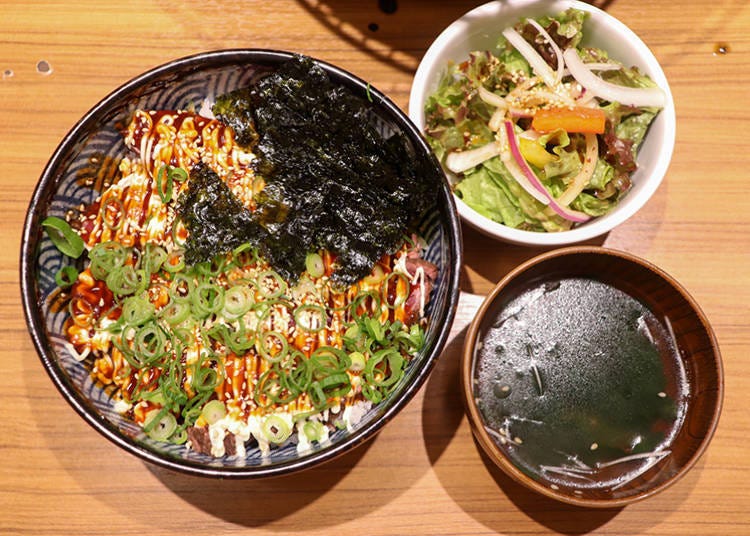 The number one recommendation is the "Harami-rare Don." It was introduced on the popular Japanese television program, "Ariyoshi-kun no Shōjiki Sanpo," and is a signature dish that has gained critical acclaim shortly after the show's airing.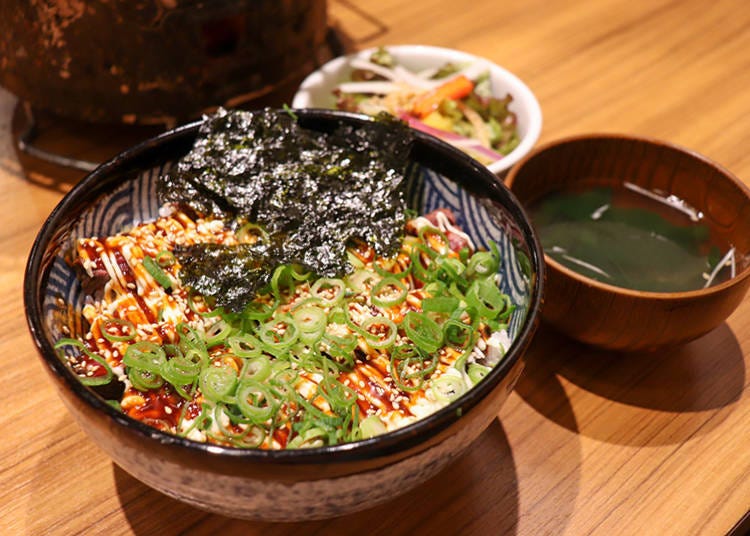 The piping hot rice is topped with barbecued harami, which is a cut of steak, along with leek and seaweed laver, and served with seaweed and a refreshing salad as a set.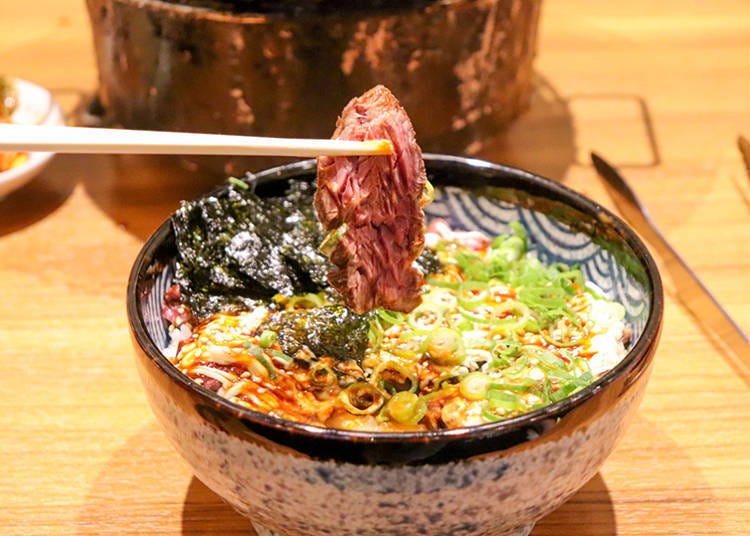 The rare steak is so fresh, there is no gamey smell at all! As you bite into it, the taste of the meat spreads throughout your palate. It is an excellent dish that is soft and tender yet chewy.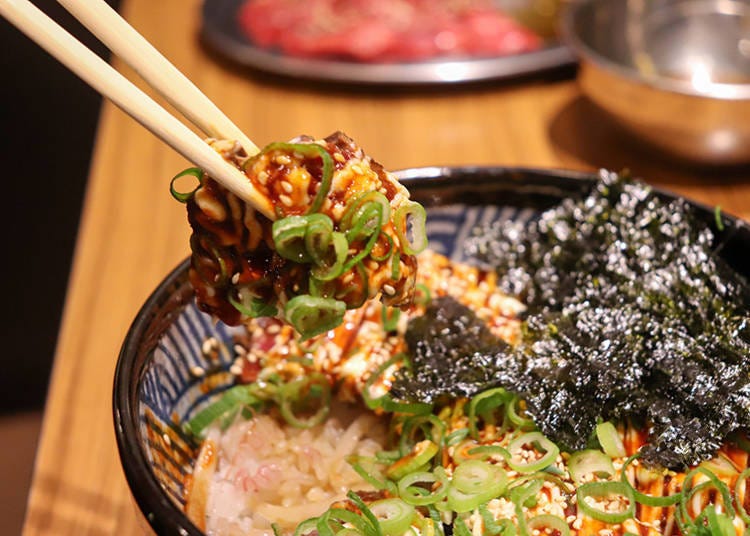 Specially made gochujang sauce and mayonnaise sauce are drizzled over the dish, and have a rich taste. The two sauces make an unbeatable combination with the meat and rice!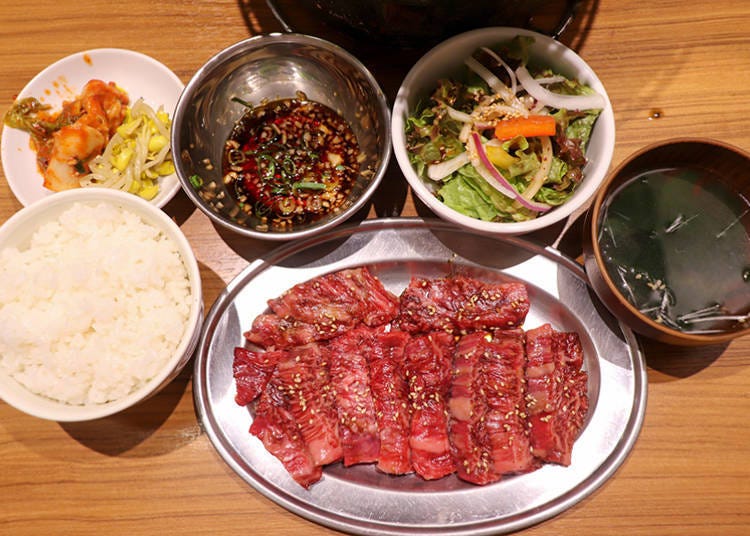 The set menu where you can grill your own meat over a shichirin grill is another recommendation. Pictured here is the "Calbi Teishoku (150g)." The calbi, or short rib, is cut into thick pieces and served as a set with rice, dipping sauce, salad, and seaweed soup. Kimchi and bean sprout namul come free with it too.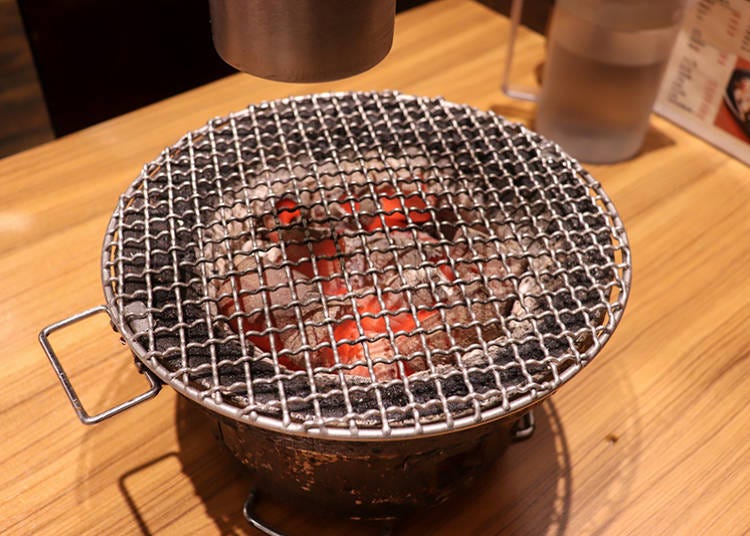 The shichirin grill is set on the table.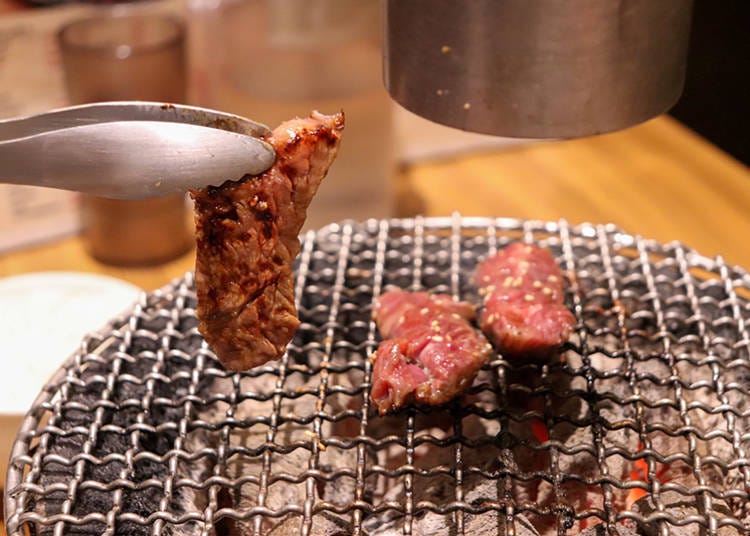 Grill as much meat as you'd like at your own timing, and it's a pleasure to eat the piping hot meat fresh off the grill. The meat grilled over the charcoal fire tastes different with every bite, with varying amounts of umami each time, and it's not just your imagination!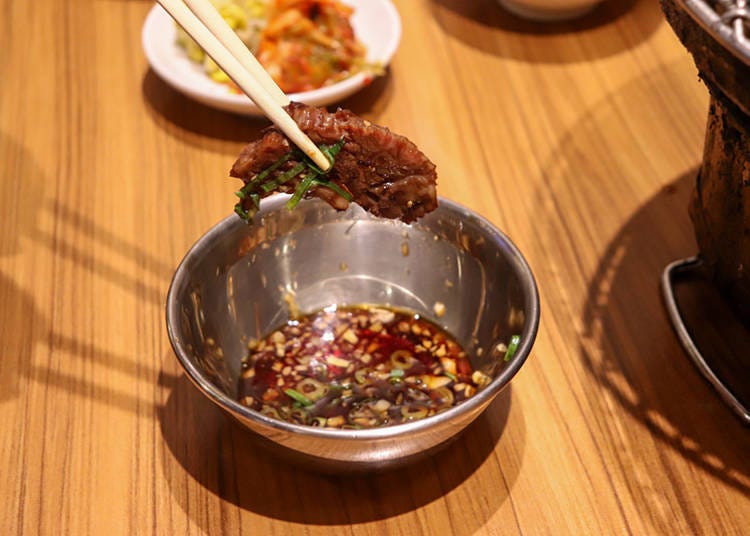 The dipping sauce uses a refreshing soy sauce as its base. With the taste and texture of leek and sesame, it improves your appetite. By the way, at Mister Yakiniku, the dipping sauces used for the meats can't be bought outside but are an original recipe created at the shop.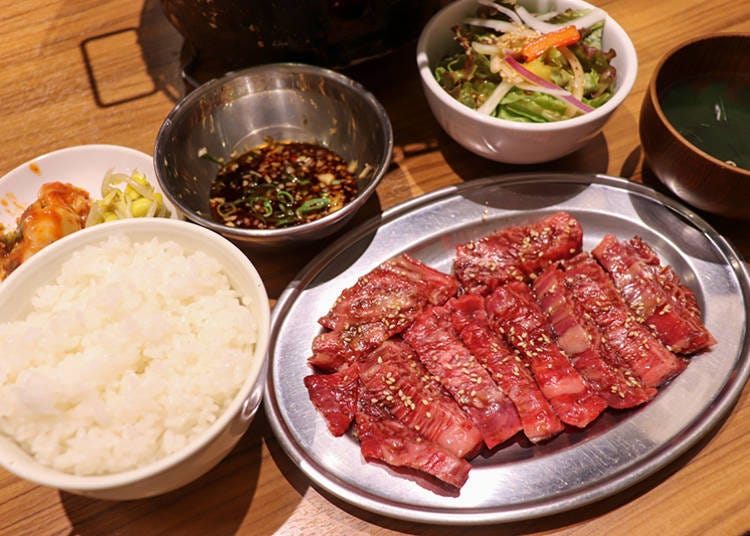 The volume of meat is so large, you won't believe it's only 150 grams?! As each slice of meat is thick and satisfying, you may find yourself feeling satiated soon. The excellent taste of the beef is a testament to just how obviously fresh and high-quality it is, and it goes without saying that you'll find yourself smiling with each bite before you know it.
Enjoy delicious grilled meat with the takeout menu!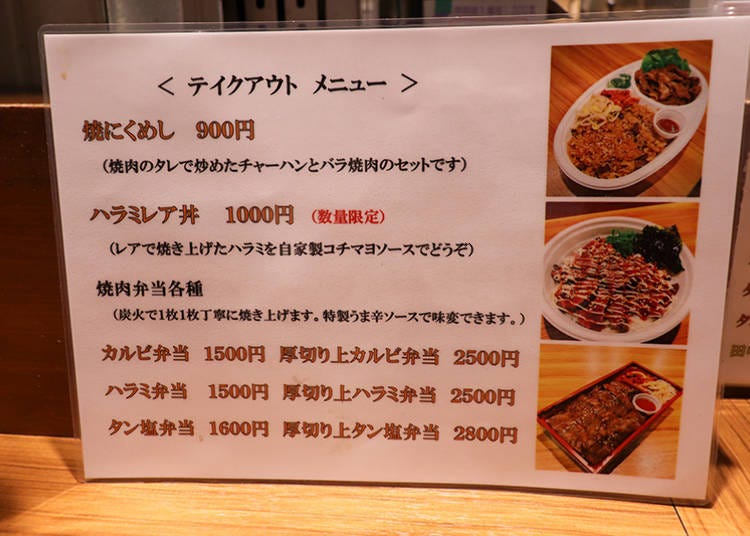 The "Harami-rare Don," available in limited quantities at 1,000 yen, and the "Calbi Bento" at 1,500 yen, among other dishes, are lunch menu items that are available for you to enjoy as takeout too. The "Yakiniku Meshi," a set of fried rice made using the shop's special dipping sauce served with roast meat at 900 yen (all with tax), is another popular dish.

Besides this, if you happen to be at the shop after 5:00 p.m. for dinner, and it's your first visit with no idea about what to order, it's recommended to pick a course.

You can choose the "Mister Nyūmon Course" at 3,500 yen, which includes two types of meat marinated in salt or tare sauce, and five types of offal, or the popular "Bu-atsui Sankyōdai Nyūmon Course" at 4,500 yen (both without tax), which includes thickly sliced tongue, short rib, and fillet, along with seven types of offal, you can be sure of your satisfaction regardless of what you choose. Foreign language menus are available in English only.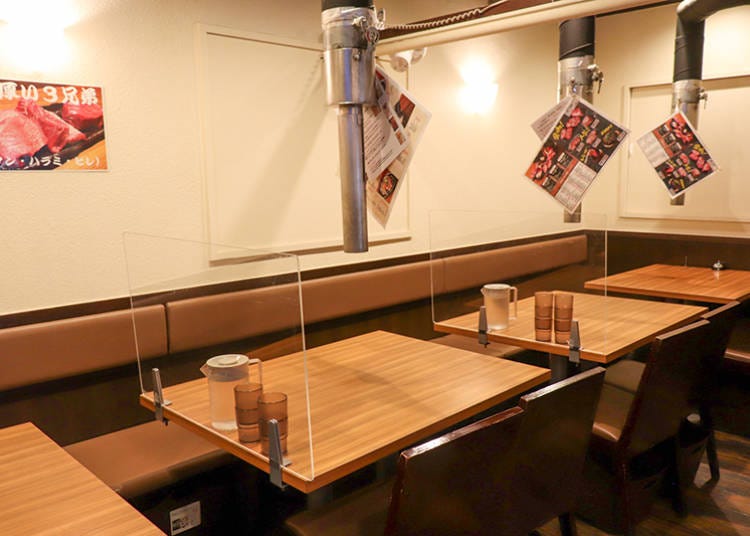 To prevent the spread of Covid-19, disinfectant is available at the shop entrance, and plastic separators are used between tables.

Be it lunch or dinner, or even takeout, you can always enjoy fresh and high-quality yakiniku at Akihabara's Mister Yakiniku. Do come and visit!
Measures in place against Covid-19:
- Disinfection of shop interior and facilities
- Disinfectant available for use
- Disinfection between customer rotations
- Regular ventilation
- Use of coin trays
- Staff required to use masks, wash hands, disinfect, gargle, and have their temperatures taken
- Customers feeling unwell requested not to enter the shop
- Customers requested to use masks within the shop
Address

5-2-13, Sotokanda, Chiyoda-ku, Tokyo, 101-0021
View Map

Nearest Station

Suehirocho Station (Tokyo Metro Ginza Line)


Phone Number

03-5846-2929
Written by: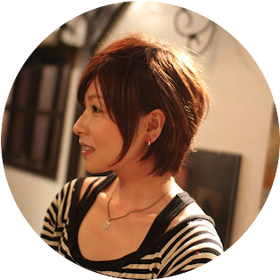 *This information is from the time of this article's publication.
*Prices and options mentioned are subject to change.
*Unless stated otherwise, all prices include tax.