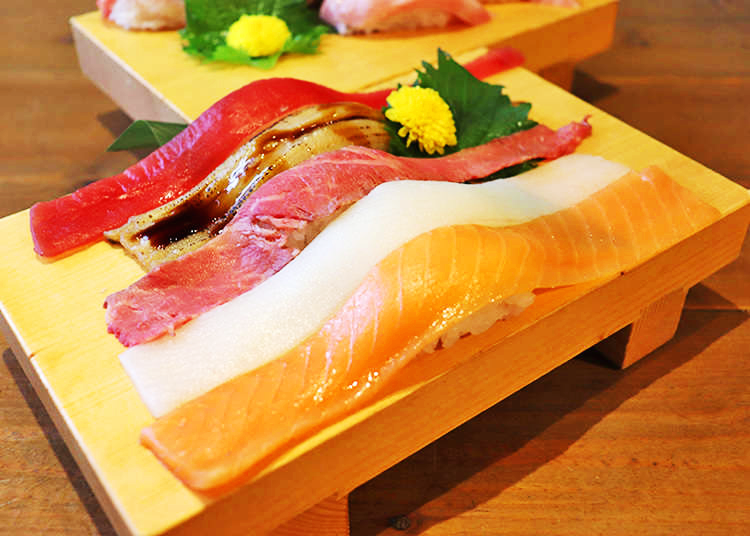 In Akihabara sushi has become a popular meal for tourists, so much so that an increasing number of shops are also offering all-you-can-eat menus.

One of these is the Sushi Sakaba Fujiyama, an Akihabara sushi shop that has been receiving lots of attention lately. Photos on SNS of its huge 20-cm long toppings served in its all-you-can-eat menu have made it very popular. The shop has two types of all-you-can-eat plans which we will tell you about in this article.
Sushi Sakaba Fujiyama Akihabara: Popular for its very large portions of all-you-can-eat sushi!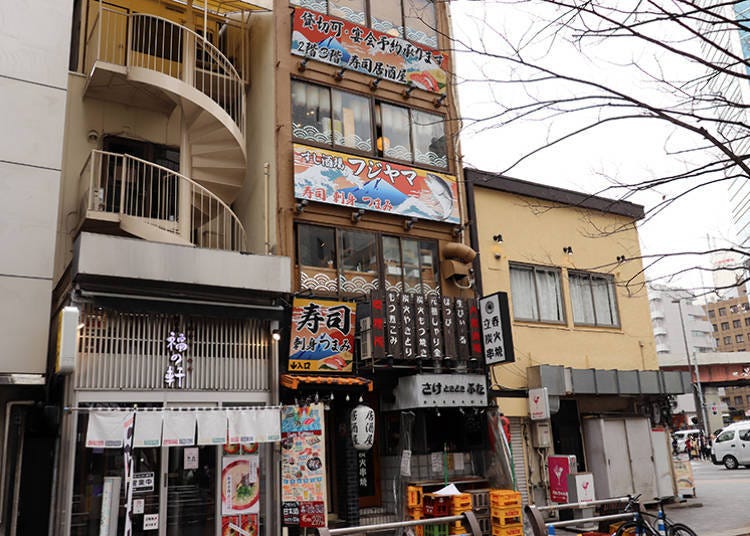 The Akihabara main shop of Sushi Sakaba Fujiyama is only a 1-minute walk from the Showa-dori Exit of JR Akihabara Station. It is located on the second through fourth floors of the tall, slender building in front of Akihabara Park.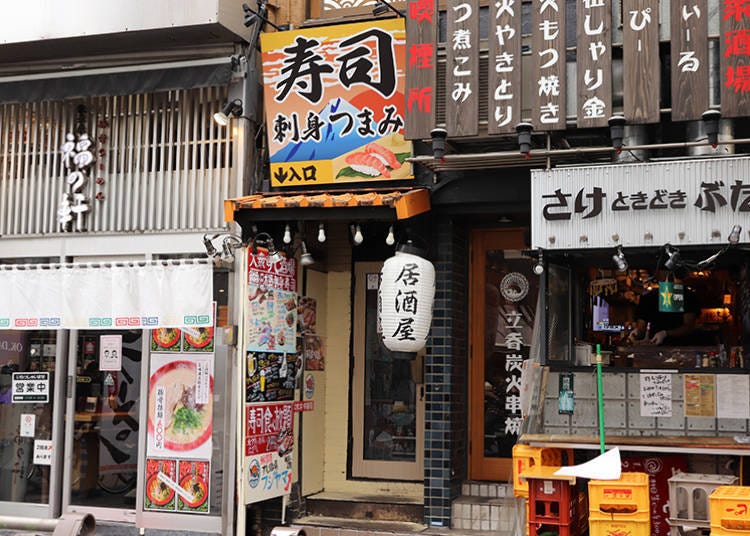 You can recognize the shop by the Japanese characters for sushi boldly displayed above the door.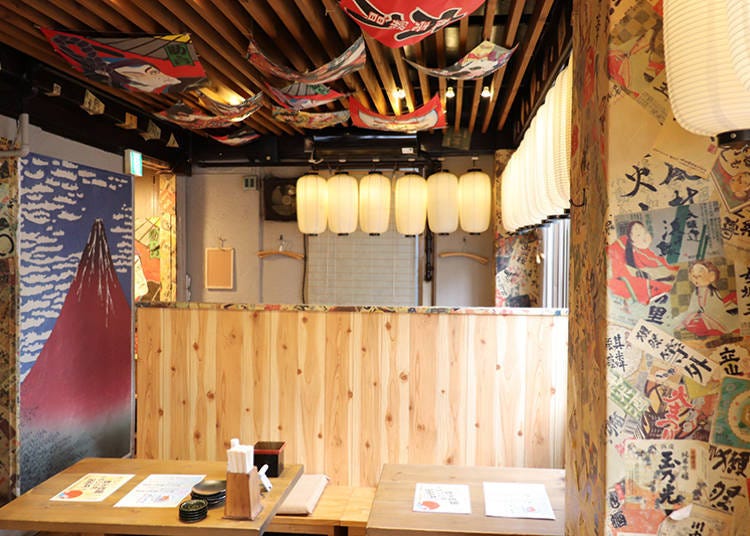 Going up the stairs you are greeted by a bright interior decorated with colorful lanterns, a painting of Mt. Fuji on the wall, kites, and other traditional forms of decoration. There is table seating as well as tatami-mat seating which is generally used for events like end-of-year parties and other gatherings.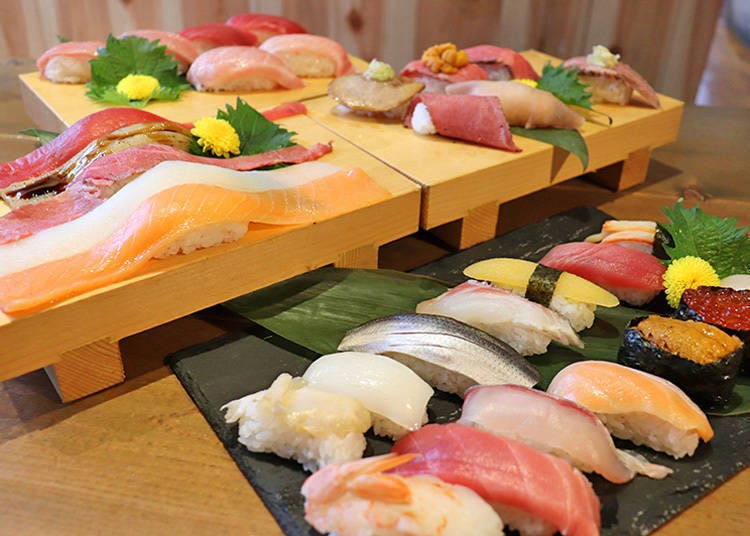 This is a tavern the primarily serves sushi as well as other types of dishes, too. They offer a menu comprised of fresh seafood obtained each day from the Toyosu Market throughout the entire year. The main attention getter on the menu is the wide variety of sushi offered having really large neta [toppings] in its all-you-can-eat menu. The shop is always lively and also highly popular with women.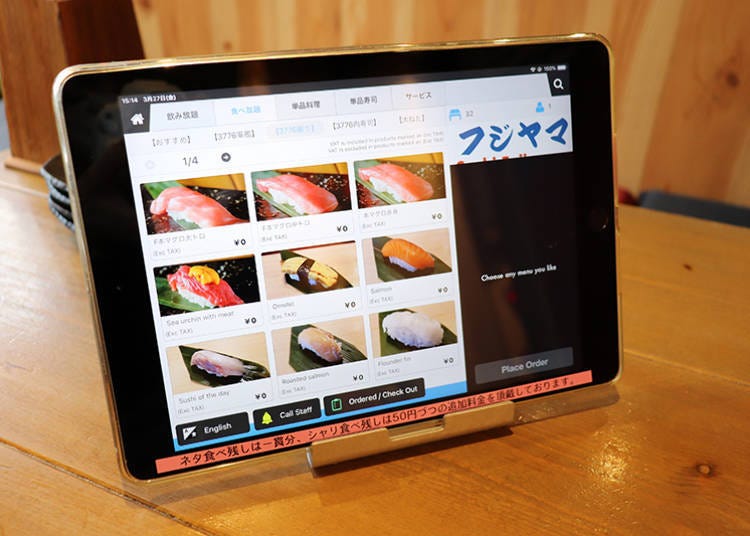 Orders are placed using tablets. The menu offers different courses and in addition to Japanese it also is in English. It's possible to order up to 10 servings of sushi at one time. Each type of sushi order consists of two kan [servings] so you can order up to five different types at a time.
The Fujiyama Plan - An all-you-can-eat course listing 50 types of sushi!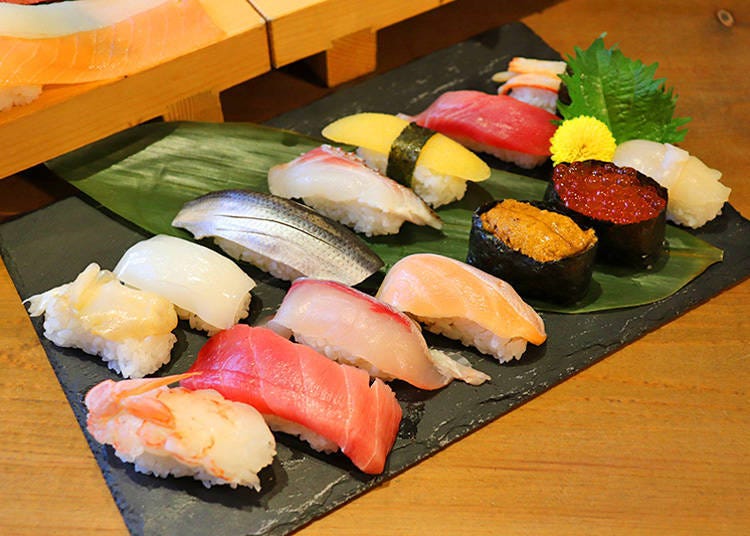 The first of the two all-you-can-eat plans is the Fujiyama Plan - 50 types of all-you-can-eat sushi that costs 2,999 yen (excluding tax). There are 50 kinds of all-you-can-eat standard toppings, such as tuna and salmon, as well as standard popular high-priced toppings, such as medium-fatty tuna, sea urchin, and salmon roe.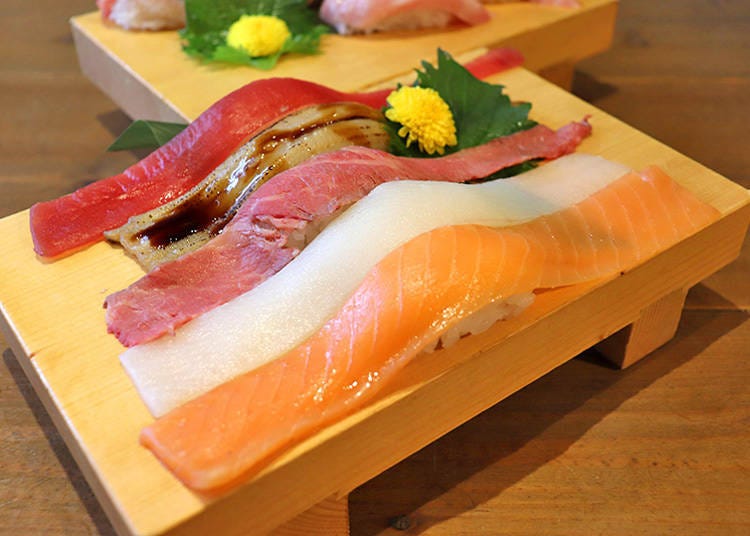 The main attraction of this plan is the extra-large neta [topping] on the sushi. The neta extends more than 20 cm and completely hides the shari [vinegared rice] beneath it. It makes quite an impact when it is served. This extra-large neta is used for lean tuna, conger eel, meat sushi, white-meat fish, and salmon. The type of white-meat fish used depends on the type the shop was able to obtain that day, so it will vary accordingly.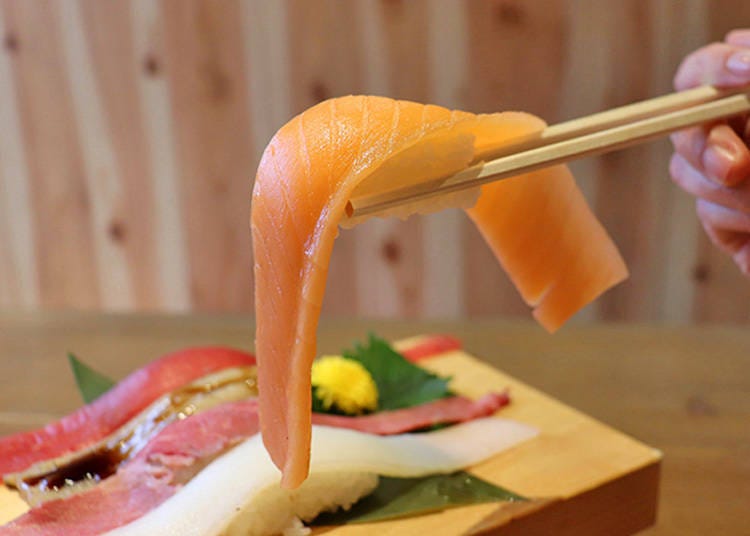 These Akihabara sushi pieces are so large that lifting them with your chopsticks presents a challenge. They are not only photogenic but very delicious, too, being of the best quality. It is easy to see why they have become such a hot topic on SNS. You really can get your money's worth at this shop that offers 50 types of sushi including those with extra-large neta and other expensive types!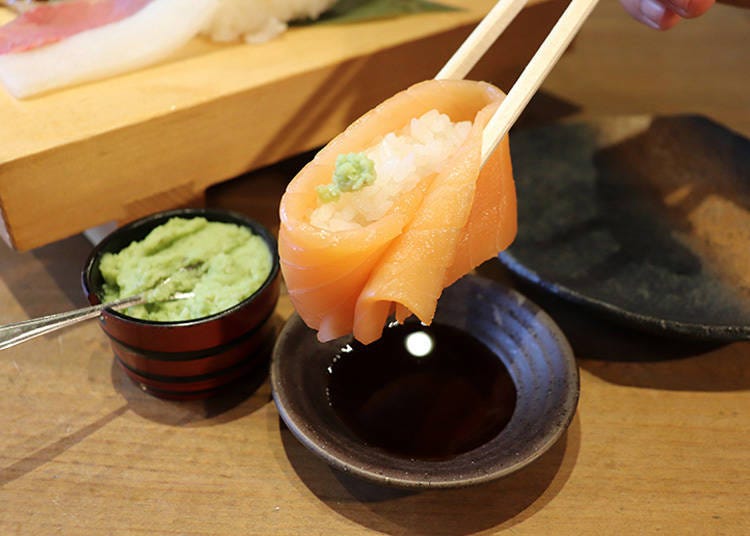 The best way to eat sushi with extra-large neta is to wrap the neta around the shari. All the sushi served in this shop is made without wasabi, [Japanese horseradish] but it is served along with the sushi so you can add it if you prefer.
Meat sushi, bluefin tuna! Indulge with the Fujiyama Ultimate Plan with 60 types of all-you-can-eat sushi!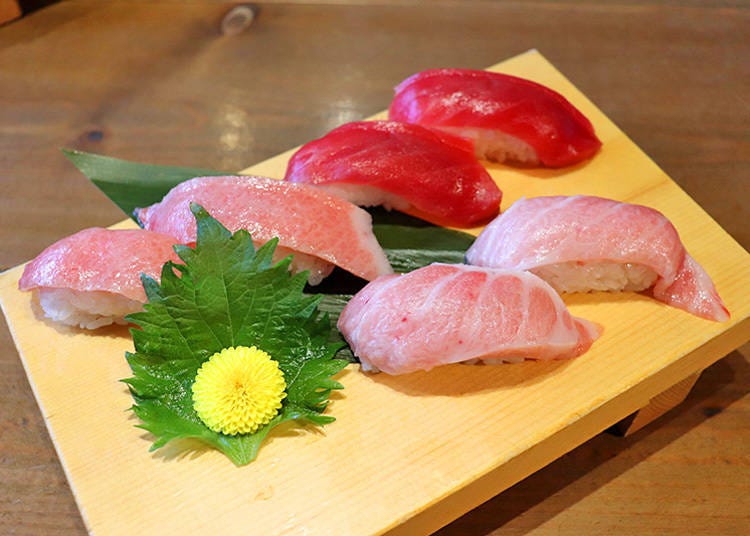 The second of the two all-you-can-eat plans is the Fujiyama Goku Plan - 60 types of all-you-can-eat sushi that costs 3,776 yen (excluding tax). This plan offers a richer selection of higher-grade sushi than the 2,999 yen (excluding tax) all-you-can-eat 50 types of sushi plan. In addition to the types of sushi served in the Fujiyama Plan, this plan also includes meat sushi, and Pacific bluefin tuna.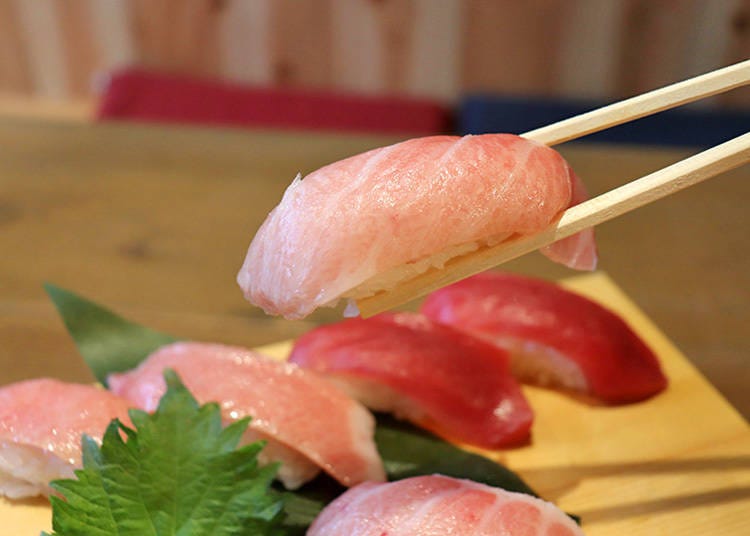 The cut of Pacific bluefin tuna used is the otoro [fatty tuna] that is so flavorful that it almost melts in your mouth. This more expensive neta is like royalty in the family of sushi, and at this shop you can eat all that you like!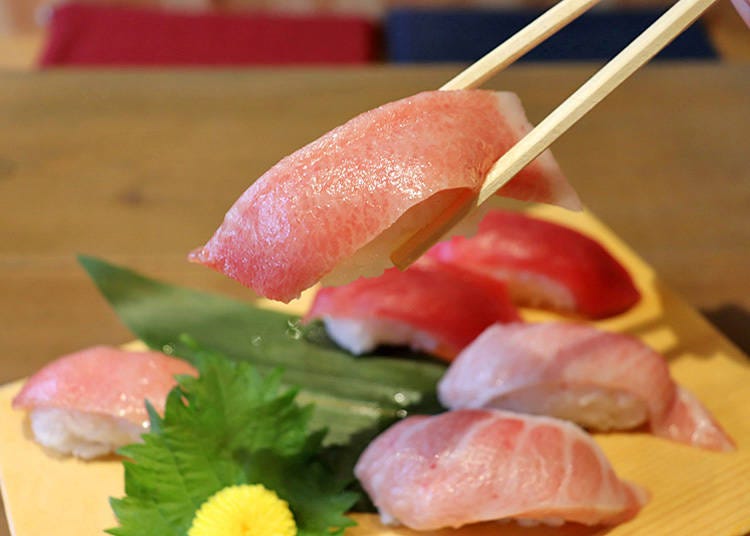 The chutoro [medium-fatty tuna] cut of the Pacific bluefin tuna is also richly flavorful and is a perfect match with the shari. The best part of all-you-can-eat menus is that you can eat your fill of all those types of sushi that you like without having to worry about your budget.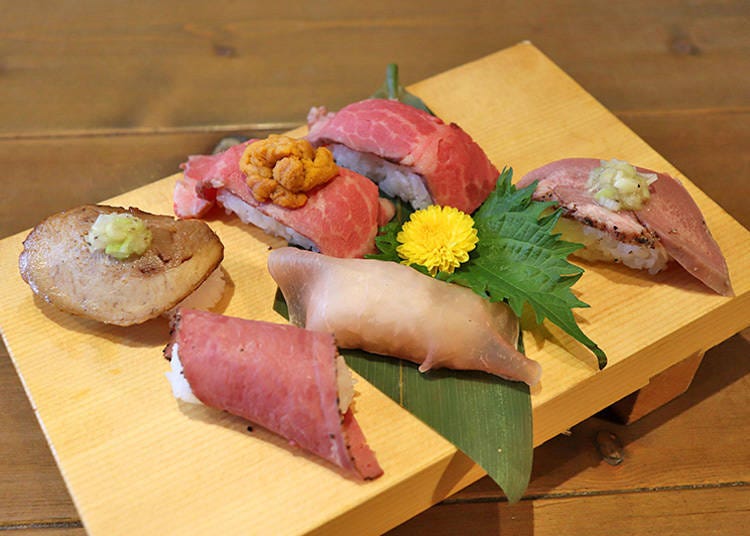 Another great attraction of the Fujiyama Goku Plan is that you can enjoy "uniku sushi", a fusion of sea urchin and meat sushi, as well as other types of meat sushi, such as zabuton [chuck]. Every day thought goes into the type of meat sushi to be served, so each time you visit you may be able to try something new and different.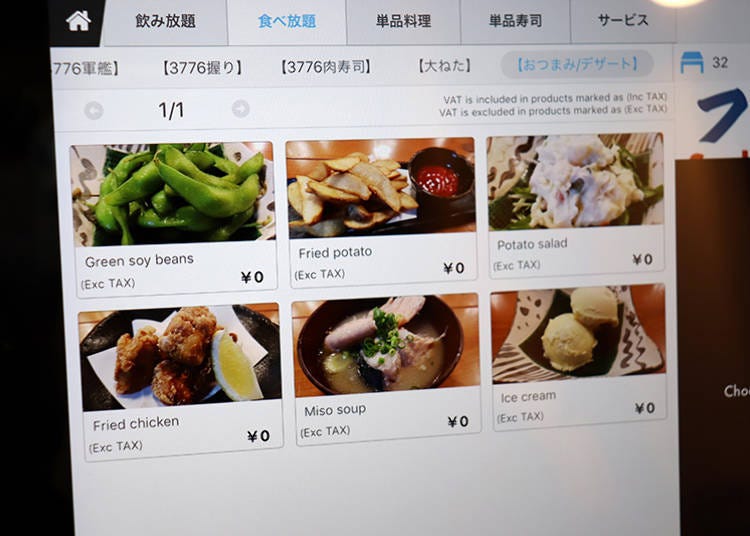 Both plans include all-you-can-eat snacks, such as green soybeans, french fries, fried chicken and miso soup, designed to keep you satisfied right up to the very end. For an extra 999 yen (excluding tax) you can also get free-flowing drinks to go with it. There are also other types of individual sushi and dishes not included in the all-you-can-eat plans that are available at an extra charge.

Sushi Sakaba Fujiyama Akihabara Honten is a place where you can enjoy a wide selection of all-you-can-eat high-quality sushi that is impressive not only in appearance but also in flavor. A second shop, Sushi Sakaba Fujiyama Akihabara Showa-dori, is also scheduled to open at a location about a 2-minute walk from the shop.

Enjoy a unique Akihabara sushi experience at Sushi Sakaba Fujiyama guaranteed to leave you satisfied and contented.
Sushi Sakaba Fujiyama Akihabara main shop

すし酒場 フジヤマ 秋葉原本店

Address

1-20 Kanda Sakumacho, Chiyoda-ku, Tokyo

Nearest Station

1-minute walk from the JR Akihabara Station


Phone Number

03-4446-9886

Hours of operation: 4:00 p.m. ~ 11:00 p.m.
Closed: unscheduled
Written by Naho Jishikyu
*This information is from the time of this article's publication.
*Prices and options mentioned are subject to change.
*Unless stated otherwise, all prices include tax.