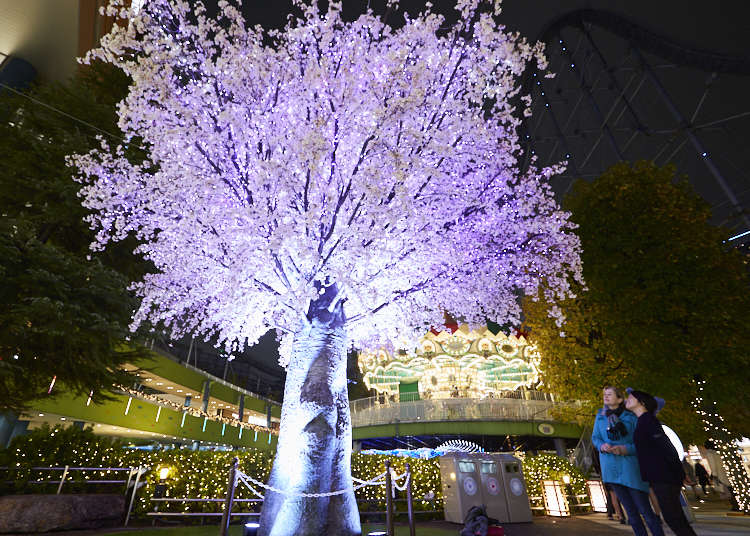 Tokyo Dome City Illuminations Light Up the Night with the Spirit of Japan
Winter in Tokyo might be chilly, but with dry weather and relatively little rain, it's also a great time to get outside and enjoy some seasonal fun! Tokyo Dome City is one of the city's most popular amusement spots and every year it turns into a winter wonderland full of magical illuminations.
For winter 2019, this season's theme is all about 'wa', the spirit and culture of Japan. Featuring a total of around 1,000,000 lights, some of the country's most famous and beautiful symbols are lighting up the night and delighting visitors of all ages this winter. Plus, entrance to Tokyo Dome City is completely free of charge!
Everyone's Invited to the Array of Attractions and Restaurants!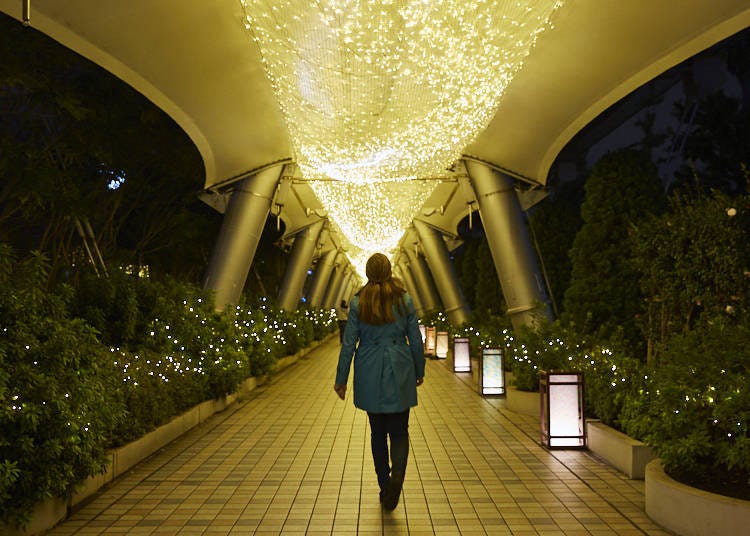 There is plenty more on offer at Tokyo Dome City, too. From attractions for thrill seekers to rides to enchant the youngest members of the family, there is something for everyone, along with a wide range of restaurants and eateries to suit all tastes. Located in the heart of the city center, it's quick and easy to get here from your hotel or other locations in downtown Tokyo.
Come to Tokyo Dome City for a few hours or spend the whole day. You can buy a one-day pass, or individual attraction tickets—it's entirely up to you.

Read on for more details about how to feel the spirit of 'wa' with the winter illuminations, plus our tips for making the most of your visit.
Save with Special Discount Coupons!
Top 5 Must-See Illuminations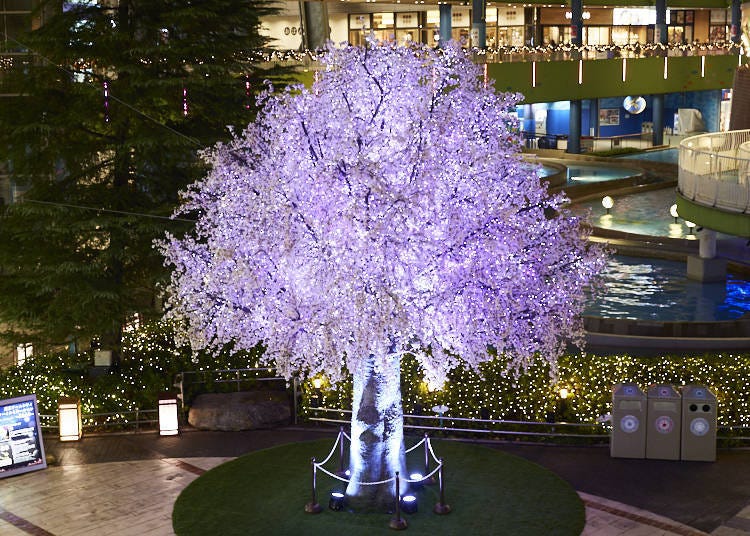 1. SAKURA (Cherry Blossoms, LaQua Area)
View a stunning 6.5-meter-tall tree representing Japan's most famous flowers—sakura, or cherry blossoms—while listening to the delicate strains of traditional Japanese music. When you see the beautifully-crafted, realistic blossoms, the tree almost seems to be growing right there in the middle of the park. You can experience the beauty of the Japanese symbol of spring even in the midst of winter!
2. YAGURA (Tower, Attractions Area)
Japanese festivals are known for their kinetic energy! The brilliant YAGURA illumination represents a typical festival tower, offering you a taste of the action and accompanied by lively festival music.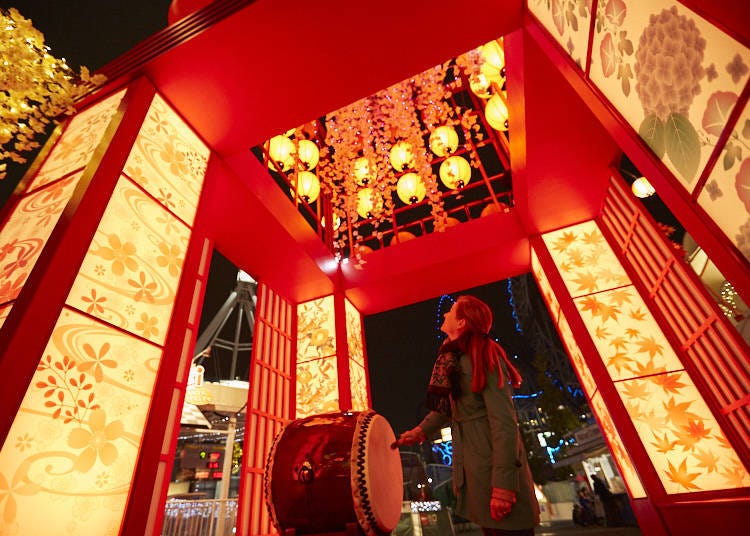 For a great photo opportunity, put yourself in the picture inside the tower and try beating the festival drum inside. The lights and music will change in time to your beat. You'll feel like you've stepped straight into the middle of a lively and exciting Japanese festival!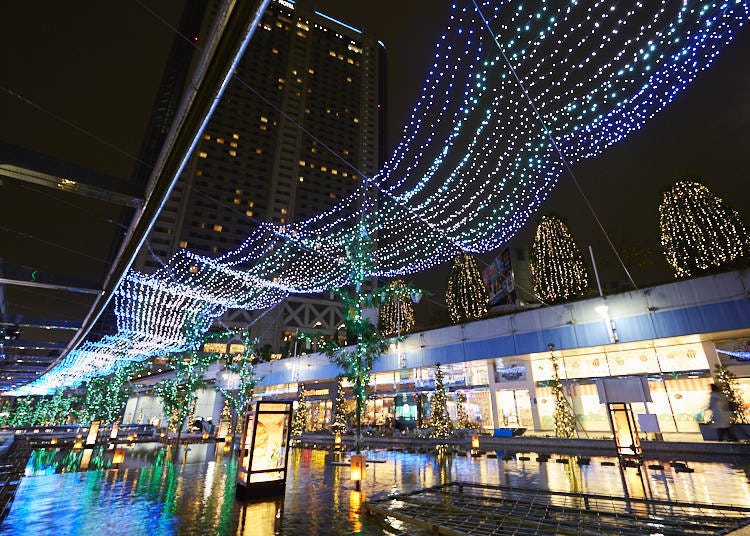 3. TANABATA (Star Festival, 1st floor of Crystal Avenue)
The Tanabata festival celebrates the annual meeting of star-crossed lovers Vega and Altair in the night sky. Inspired by the romantic legend, a 100-meter long galaxy of lanterns represents stars shining in the Milky Way. This is the perfect illumination to enjoy while strolling hand-in-hand with someone special.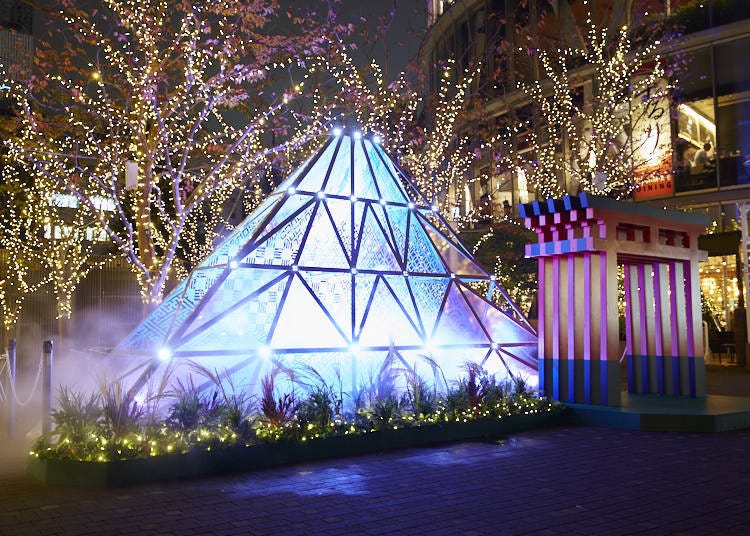 4. Mt. FUJI (Meets Port Area)
One of Japan's most famous sights is right here at Tokyo Dome City! Just as views of the real Mt. Fuji change with the seasons, this illumination features a variety of different colors and moods. A bright red Shinto torii gate is next door, providing a great photo opportunity. Show your friends and family back home how you visited Mt. Fuji--without even leaving Tokyo!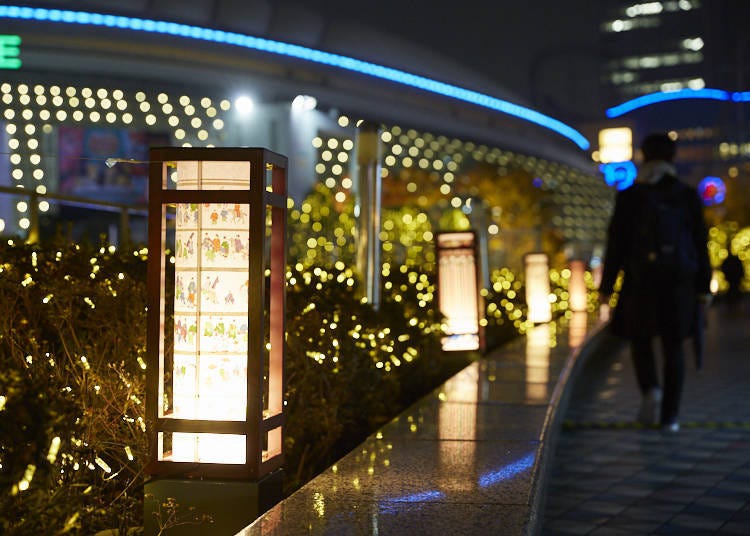 5. ANDON (Lamps, 2nd floor of Crystal Avenue)
Inspired by the beautiful colors and designs of traditional Japanese paper, this 120-meter-long illumination is made up of exquisite lanterns glowing with a gentle light. Each lantern reveals an intricate Japanese scene when viewed up close. The dreamlike-quality of this illumination is sure to refresh both your spirit
and your mind.
Get a Birds-Eye View from the Sky Flower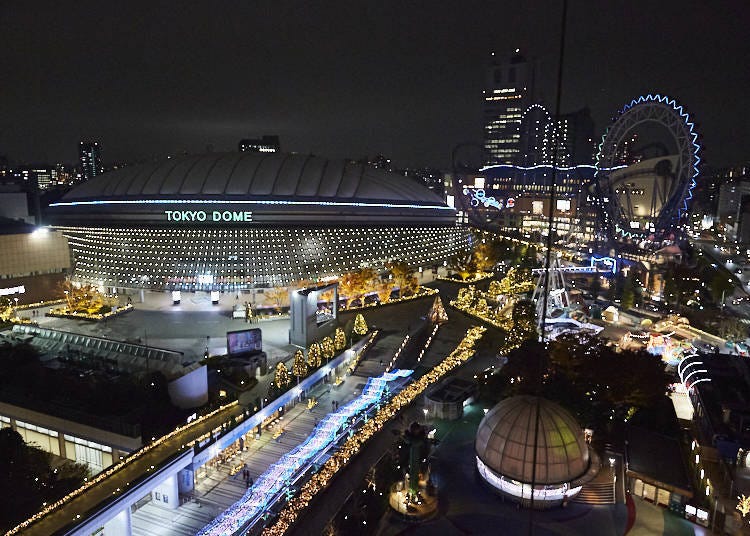 Experience the magic of the illuminations from an entirely different angle by taking a trip up in the Sky Flower! If you think the illuminations are spectacular at ground level, wait until you see them from high in the air. You'll also enjoy an amazing view of the surrounding city, spread out like a glittering fairyland below. Don't miss this magical journey up into the night sky!
If the beauty of the illuminations makes your heart sing, then the Big O is just the thing—the world's first Ferris wheel with karaoke! Take a seat in one of the eight special karaoke gondolas, choose a song from the multi-language list and sing your heart out as you take a leisurely trip up and over Tokyo Dome City.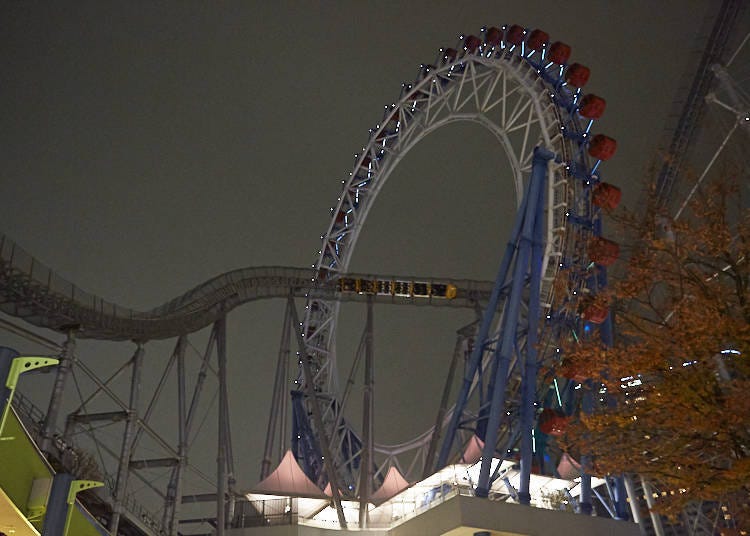 If you're seeking further thrills, head straight to the Thunder Dolphin roller coaster. Twisting and turning through buildings and even through the center of the Big O Ferris wheel at up to 130 km per hour, Thunder Dolphin is unlike any urban roller coaster you've ever seen before!
For thrills of a gentler kind, check out the beautiful Water Symphony, where fountains of colored lights dance in harmony to specially selected tunes.
Don't Miss the Special Seasonal Menu!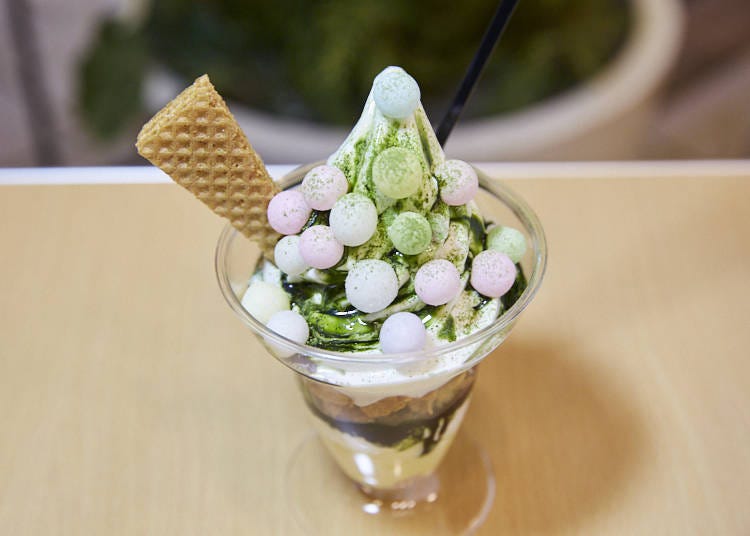 There is no shortage of dining choices at Tokyo Dome City, and this winter you can try sweets and cocktails from the special 'Illumination Collaboration" selection at several restaurants around the park. We'll introduce just a couple of them here:

Who said it's too cold for ice cream? Known for their delicious desserts, MOTHER FARM CAFE AND SOFT CREAM is offering the "Japanese parfait ~ NAGOMI" for everyone with a sweet tooth. Inspired by the illuminations, this photogenic creation is the perfect blend of soft ice cream, macha syrup and toppings.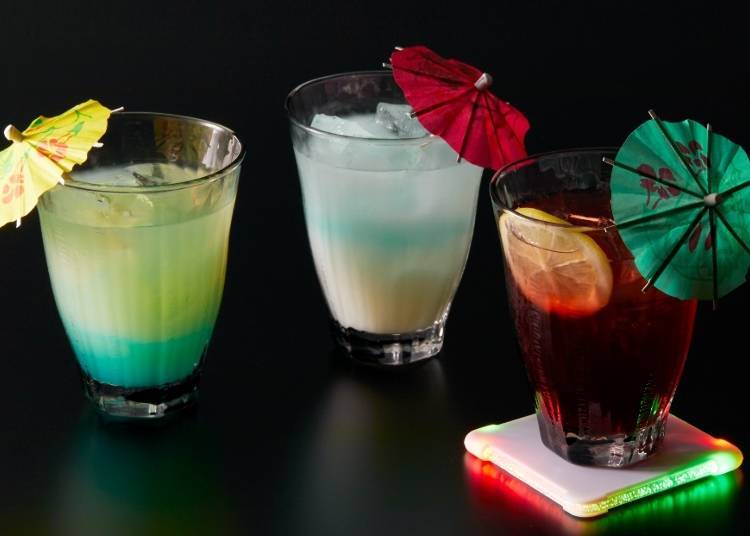 For something to warm you up on the coldest of nights, Shunpu Banri, the Japanese-style restaurant inside the Tokyo Dome Hotel, is featuring three colorful cocktails to light up your night—FUYUZAKURA, FUYUFUJI and Betelgeuse. Cheers!

You can see the Tokyo Dome City winter illuminations daily from 5 pm to midnight until February 26, 2020. For more information visit the link below:
東京ドームシティ

Address

1-3-61 Koraku, Bunkyo-ku, Tokyo 112-8575

Nearest Station

1 minute walk from Suidobashi Station (JR Chuo and Sobu Lines/Subway Mita Line), 7-minute walk from Korakuen Station (Subway Marunouchi Line/Namboku Line), 9-minute walk from Kasuga Station (Subway Oedo Line)

*This information is from the time of this article's publication.
*Prices and options mentioned are subject to change.
*Unless stated otherwise, all prices include tax.