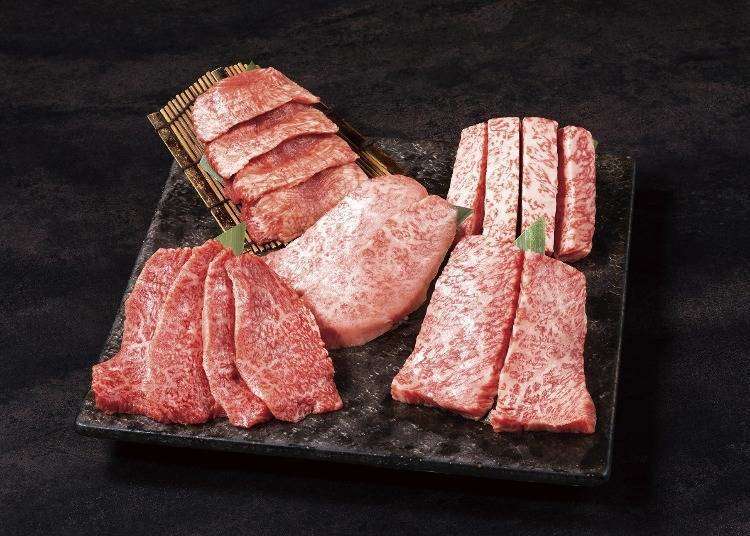 Perhaps you know Akihabara as more of an Electric Town with a healthy dose of subcultural interests like anime (Japanese animation) and cosplay (costumed play-acting).

Did you know that this tourist magnet also has plenty to offer in terms of delicious food? Maybe that's why many of our international friends visiting for the first time don't know where to go for their meals!

We've compiled a list of five fantastic food eateries in Akihabara with a range of prices for those of you having the same conundrum. From reasonably priced seafood rice bowls to the highest grade A5 Wagyu beef, we hope these recommendations will encourage you to try out the large variety of foods available to you in Akihabara.
1. Wakasaya: Fresh seafood rice bowls at just 500 yen or less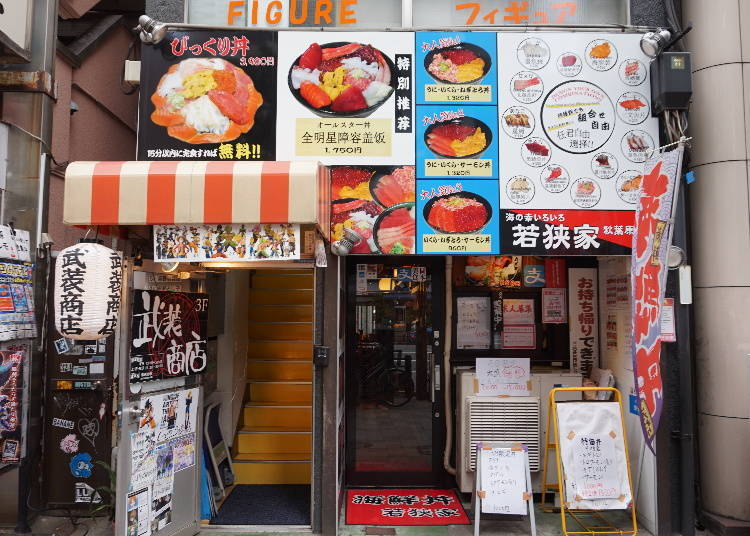 With just 500 yen (tax included), you can get a tasty seafood rice bowl at Wakasaya that contains fresh tuna, salmon, amaebi sweet shrimps, and more!

Besides their 500 yen value meals, there are also other offerings such as the "All Stars Rice Bowl" that's extravagantly topped with 12 types of seafood as well as the restaurant's most popular "Urchin, Roe, and Minced Tuna Rice Bowl" item. The reasonable prices here allow you to order your favorite foods and eat to your heart's content!

*English menu available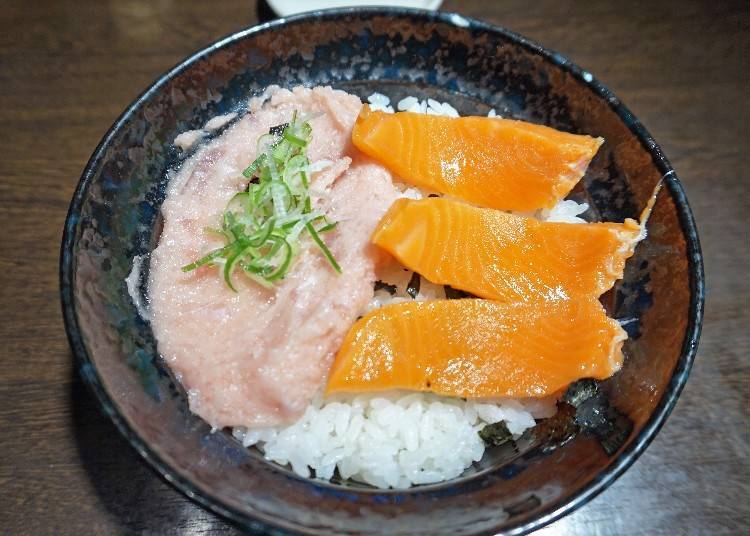 "Minced Tuna and Salmon Rice Bowl" 500 yen (tax included)
Lunch hour is especially busy for this popular restaurant, so be sure to plan some leeway into your time if you're heading down for a visit. As the shop faces Akihabara's main street, it is easy to locate for tourists and this convenience adds to its appeal.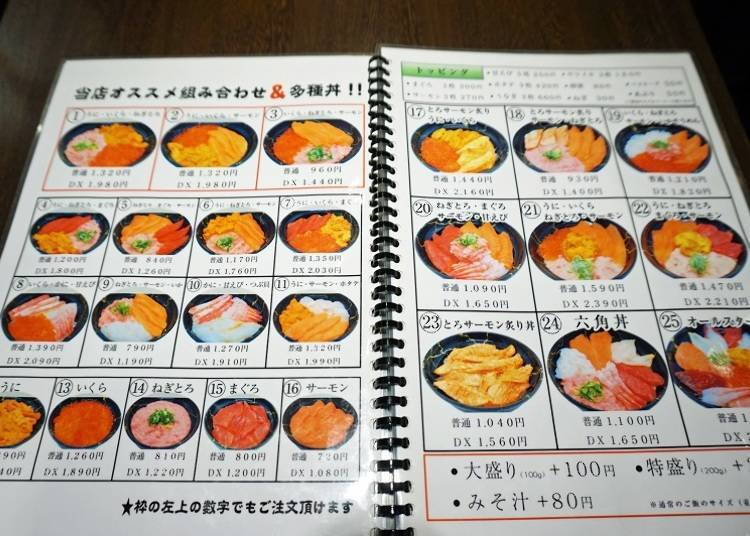 A dazzling amount of optional drinks and menu items to add on to your main meal.
若狭家 秋葉原店

Address

3-chome-15-7 Sotokanda, Chiyoda City, Tokyo-to 101-0021

Nearest Station

7 minutes walk from Electric Town Exit of Akihabara Station on JR Lines


Phone Number

03-5207-8322

Hours: Weekdays 11:30 a.m. – 10:00 p.m., weekends 10:00 a.m. to 10:00 p.m.
2. Canned Oden: A must-try Akihabara specialty food also under 500 yen!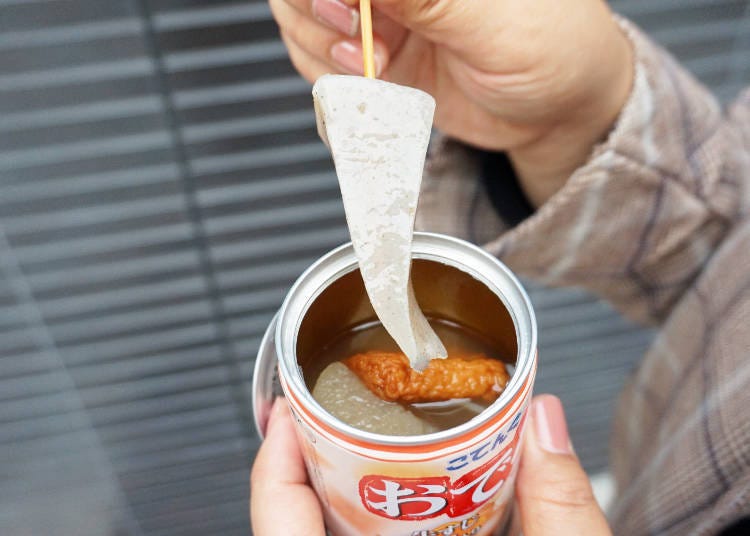 Oden is a traditional Japanese stew, and in Akihabara, it comes in canned form too! Beloved as an Akihabara specialty food since times of yore, nowadays you can easily buy one from a vending machine with its contents still warm, making it very suitable for eating as you walk.

Although the oden is in a can, its taste is nevertheless authentic. The beef tendons, radish, eggs, and other ingredients found inside have been stewed in soup stock for a long time, until the delicious soup has penetrated every part of them. If you're not familiar with canned food, you may find them surprisingly hot, so eat with caution so that you don't get accidentally burned!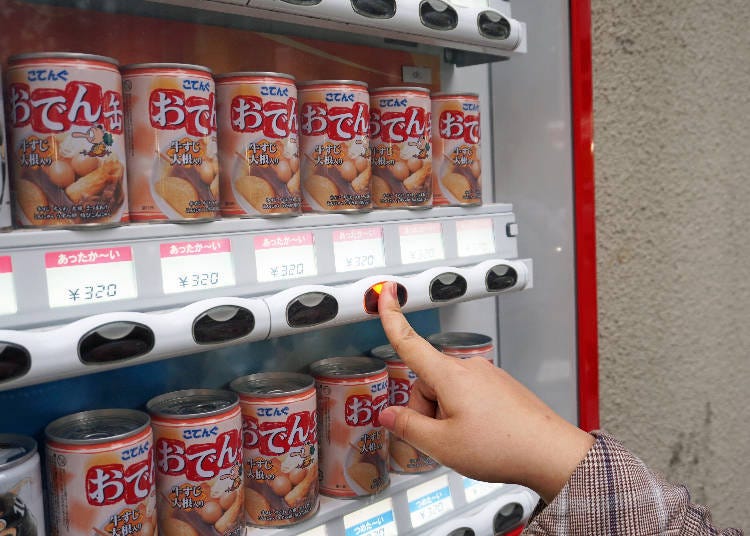 They can be easily bought from vending machines
This one was bought from a vending machine outside Kirakira Asobox Akihabara Crane Shop , a crane game specialty store. The vending machine is basically available 24 hours a day.

Depending on the season, some limited edition collaboration cans may be put up for sale as well, so if you're in Akihabara, do drop by to see what you can find!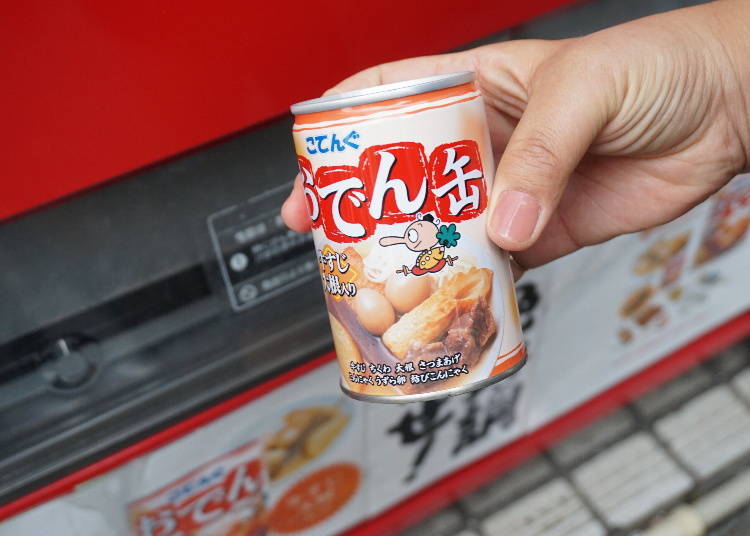 Just 320 yen per can. Makes a great souvenir too!
Canned Oden Vending Machine

おでん缶 自動販売機

Address

101-0021 Tokyo-to, Chiyoda City, Sotokanda, 3-chome−12−15
3. Curry Citizen Alba: Thick and tasty curry for about 1,000 yen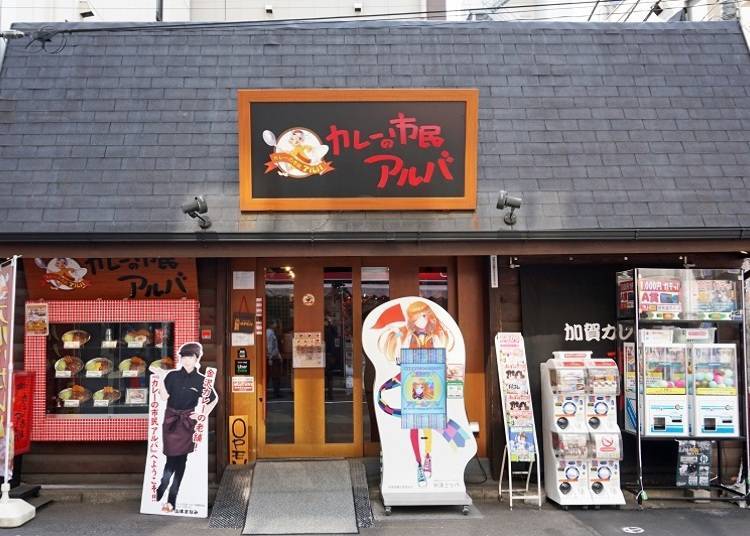 Hailing from Ishikawa Prefecture in Japan's Hokuriku region, Curry Citizen Alba is known for their "Kaga Curry", made from thick and pulpy curry powder.

In the curry, you'll find a generous amount of onions, vegetables, and beef that have been boiled for over six hours into a fragrant curry sauce with deep flavors.

The full-bodied sauce is light on salt and mild on the taste buds despite its richness. The shop often partners with anime or video games for limited time collaboration dishes, so you never know what pleasant surprise you just might find here!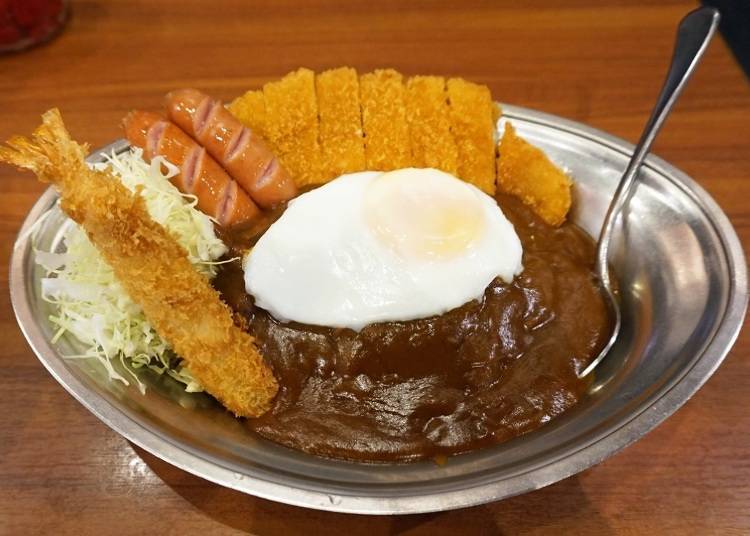 Homerun Curry, 1,000 yen (tax included)
Our top recommendation is the "Homerun Curry" that is topped with tasty pork cutlets, deep-fried shrimps, sausages, and a sunny-side up egg.

The 350 grams (about 12 ounces) of rice is perfectly satisfying for most adults. This is a dish your stomach will thank you for when it's running on empty!

"Homerun Curry" is also known to be a favorite meal of Hideki Matsui, former major league baseball player for the New York Yankees, amongst other celebrities.
カレーの市民 アルバ 秋葉原店

Address

3-chome-2-9 Sotokanda, Chiyoda City, Tokyo-to 101-0021

Nearest Station

6 minutes walk from Electric Town Exit of Akihabara Station on the JR Lines


Phone Number

03-3254-5686

Hours: 11:00 a.m. – 9:00 p.m.
Closed: Open daily
4. (Permanently Closed) Izakaya Uoyaicchou: Fresh seafood for about 3,000 yen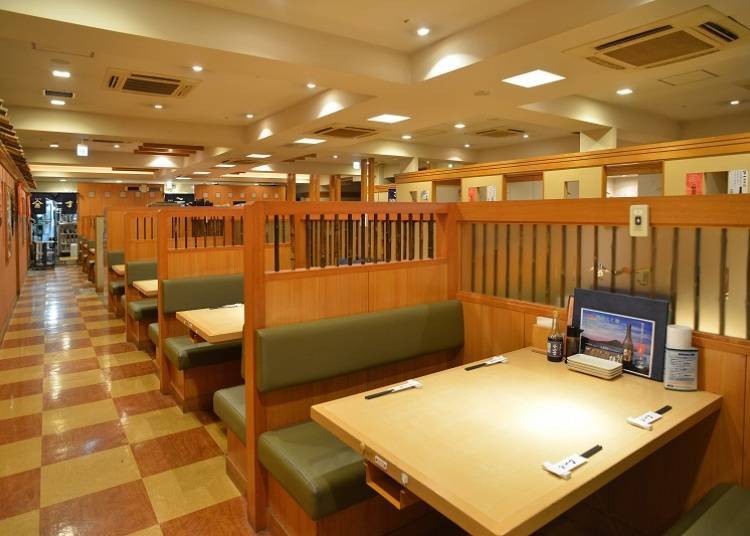 *Izakaya Uoyaicchou is now closed. This information is based on our visit in May 2019.

If seafood is your kind of thing, we recommend checking out Izakaya Uoyaicchou, a restaurant that imports fresh fish and seasonal ingredients from mainly Hokkaido, although they do also buy from other parts of the country.

Their wide variety of available dishes is a delight to peruse, and the shop itself has interesting seats, like a horigotatsu (low table with recessed floor and heating), banquet halls that can take up to 40 guests, and many others, allowing them to cater to different guest arrangements.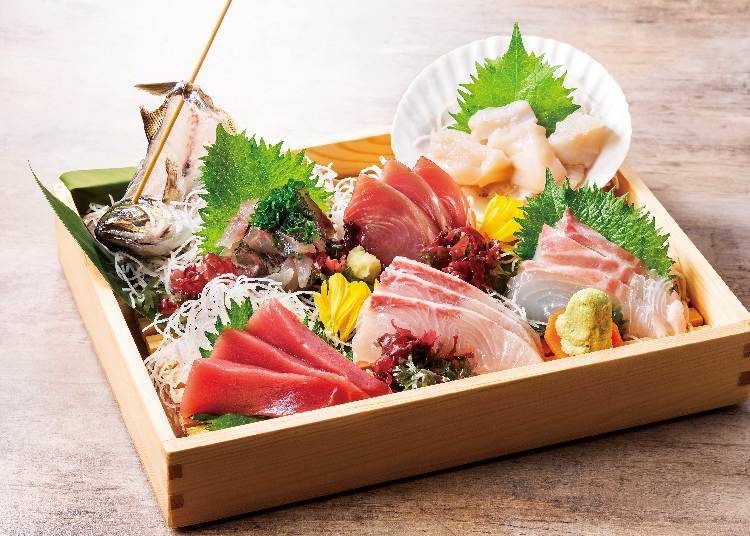 "Icchou Proudly Presents Tuna Box Selection" contains fresh seafood from direct sources at a reasonable price of 1,999 yen (tax excluded)
The restaurant also offers plain old sushi made from the freshest ingredients for an amazing price of 99 yen (tax excluded) each. If that doesn't appeal to you, how about seafood soup curry, grilled mutton, zangi (Hokkaido-style fried chicken), or any of the other items on the large menu?

There's also an all-you-can-drink option for those who enjoy sipping alcohol along with their seafood. Its relatively short distance from the Electric Town Exit of Akihabara Station on the JR Lines - just three minutes on foot! - and the fact that it offers a lunch menu are just a couple of reasons behind its popularity.

<*The content of the article is as of the time of coverage. Items and prices may vary.|fs=s@>
(Permanently Closed) Izakaya Uoyaicchou

居酒屋 鮨や一丁秋葉原店

Address

3-chome−15−1 Akiba Place 3F, Sotokanda, Chiyoda City, Tokyo-to 101-0021

Nearest Station

3 minutes walk from Akihabara Station on the JR Lines, 5 minutes walk from Akihabara Station on the Tokyo Metro Hibiya Line


Phone Number

050-5269-7380

Hours: Weekday lunch 11:30 to 14:00, dinner 16:00 to 23:00, Sat, Sun, Holiday Dinner 12:00 to 23:00
5. Gyu no Tatsujin: Taste authentic A5 Wagyu for about 5,000 yen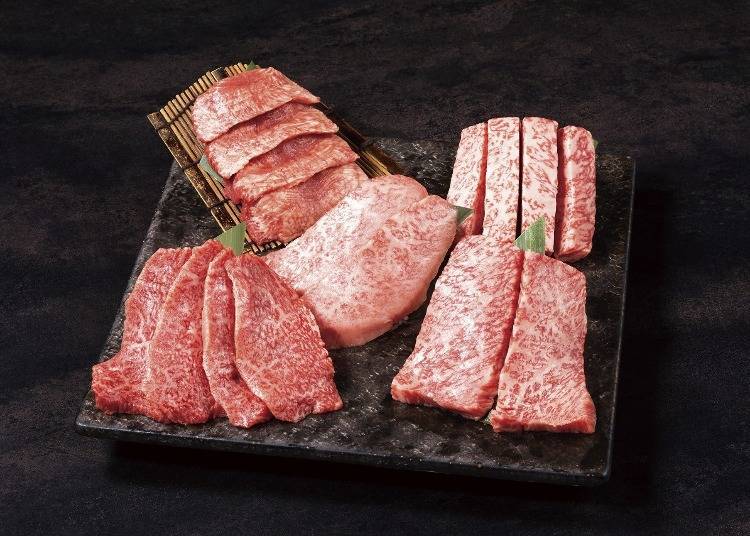 The highest grade of beef on the market is given the rank of A5, and this grill restaurant mainly uses this grade of beef for its dishes.

One of the highlights of the shop is a course that offers rarely seen parts of carefully selected Japanese Black beef produced in the Kagoshima Prefecture. Enjoy your meat as-is, dip them into delectable sauces, or sprinkle Himalayan shaved rock salt on them to enhance the flavor. Whatever your choice of seasoning, dining here will be an unforgettably tasty experience!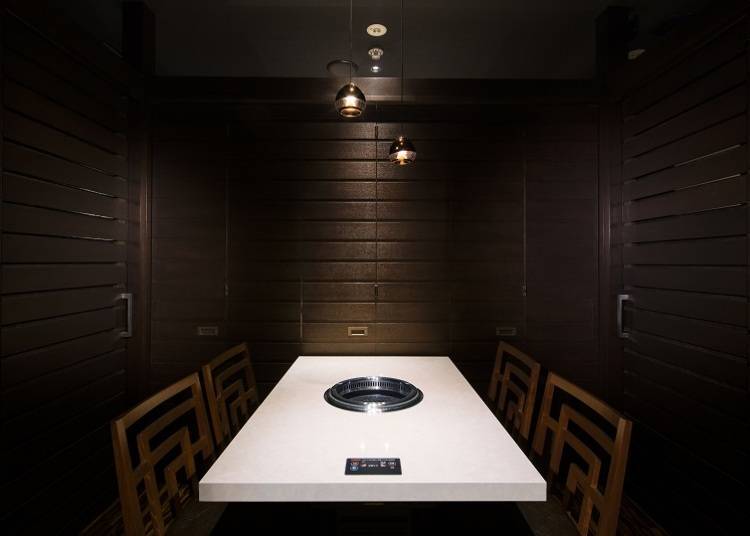 All tables in the shop are in individual rooms for a relaxed and private environment for guests to enjoy their high-grade meat at leisure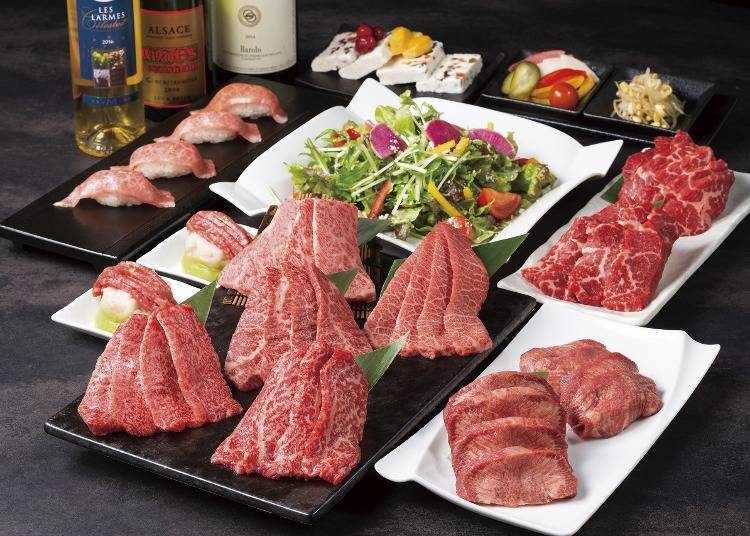 Relish luxurious and rare A5 Wagyu beef parts with the "Takumi Course (9 Items)" for 8,000 yen (tax included)
The most popular course here, which we also recommend, is the "Takumi Course (9 Items)" that contains a good balance of beef parts, including A5 Wagyu offal, delicate and flavorful meat sushi, seafood yukhoe (raw meat), and other items that make full use of rare parts you won't usually get to eat elsewhere. This is one of the best places to go in Akihabara for a premium grilled meat experience!
牛の達人 秋葉原店

Address

4-chome-4-3 Sotokanda, Chiyoda City, Tokyo-to 101-0021

Nearest Station

3 minutes walk from Electric Town Exit of Akihabara Station on the JR Lines, 3 minutes walk from A3 Exit of Akihabara Station on Tsukuba Express, 1 minute from Exit 1 of Suehirocho Station on the Tokyo Metro Ginza Line


Hours: Lunch 11:00 a.m. – 3:00 p.m. (last order 2:30 p.m.); Dinner Mon to Sat 5:00 p.m. – 11:30 p.m. (last order 11:00 p.m.); Dinner Sun/Holidays 5:00 p.m. – 11:00 p.m. (last order 10:30 p.m.)
Being a popular tourist hotspot means Akihabara is naturally home to plenty of good restaurants that are constantly improving themselves to vie for customer attention. Besides the five we've mentioned in this article, we're confident you can find find your absolute favorite out of the plenty of other distinctive eateries available here too. So why wait? Get out there and explore the area now!

Written by Medium KK. English translation by Huimin Pan.
*This information is from the time of this article's publication.
*Prices and options mentioned are subject to change.
*Unless stated otherwise, all prices include tax.