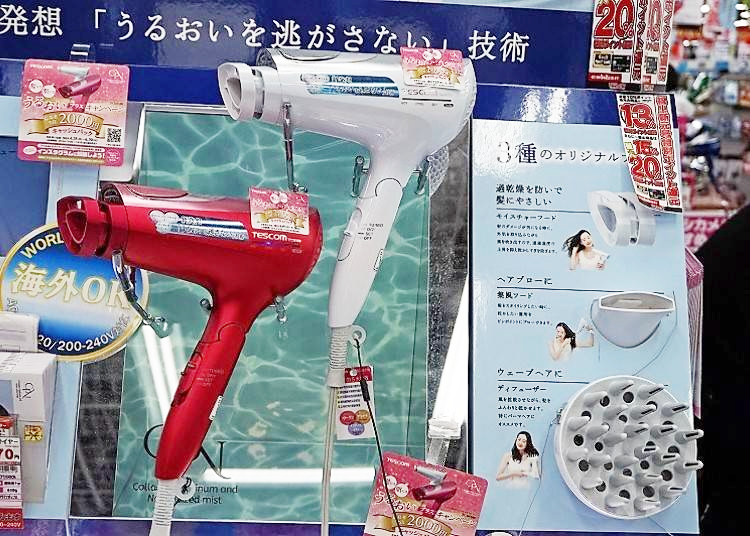 Akihabara is known throughout the world for being a place to get anime and games, but originally this part of town was the place to go for electronics. There are still several large home appliance shops located here. So this is the perfect place to buy consumer electronics.

"Among them, the super-large-scale electronics retailer 'Yodobashi Akiba', with its 24,000 square meters of floor space, has probably the widest and best selection of items from which to choose. The store also scores high points for having clerks who can speak foreign languages and who are familiar with other countries' cultures," said Tetsuhito Fujiyama, a consumer electronics buff who often appears on TV and in the media.

So, what sort of consumer electronics does he recommend?
Consumer electronics buff Mr. Fujiyama explains points to keep in mind when purchasing electrical appliances in Japan
Mr. Fujiyama is a hard-core Akiba and consumer electronics buff who has been going to Akihabara since childhood.

Currently he is working as a technical writer who tries out various consumer products, compares them, and enumerates, with graphs, their qualities, thus earning himself the sobriquets Kaden Ojisan [Consumer Electronics Uncle] and Karada Atari Kaden Raitaa [Writer Who Throws Himself into Consumer Electronics].

In his work he has many opportunities to come into contact with people from abroad and says, "There are certain things you need to be careful of when buying consumer electronics in Japan."

"The first thing you need to be careful about when you buy Japanese home appliances is voltage. The voltage in Japan is 100V. The voltage overseas varies from 110 to 240V, which is different from Japan, so in order to use a product limited for use in Japan abroad, a transformer is needed to convert the voltage. In addition, the shape of the plug also varies depending on the country, so a conversion plug may be needed. If possible, I recommend that you purchase a product for overseas use that you can take home and use immediately," Mr. Fujiyama explained.

So, let's take a closer look at some of the recommended consumer electronics foreigners can safely buy!
Buying Japanese Rice Cookers: 3 recommended models!
One of the home appliances Mr. Fujiyama recommends is an upscale rice cooker. Rice cookers are also sold overseas, but if you want to cook delicious rice in a cooker having high functionality, you should definitely purchase a rice cooker made in Japan during your visit to Japan, as they are arguably the best in the world.
"There are basically two types: microcomputer types and IH (induction heating) types, the difference being their heating method. Microcomputer types are attractive from the standpoint of cost. But if you are more concerned with flavor than cost, then I would definitely recommend the IH type. Those that allow you to adjust the texture of the rice when cooking it are very easy to use.

"Incidentally, if you are cooking rice for 3 to 4 people select the '5-go Taki' [makes 5 cups]. Furthermore, if you want to cook enough rice for several adults, you should choose the '1-sho Taki' [1 sho = 4.3 kg]," Mr. Fujiyama advised.

The following rice cookers can be purchased at the Yodobashi Camera Akihabara Store that support the points raised by Mr. Fujiyama. All are overseas specification models, and the button displays and instruction manuals are in English and Chinese. The SE type power plug is mainly used in China and Europe. (Type A plugs are used mainly in Japan, the US and in Canada.)
(1) Zojirushi Mahobin High Heat Globular Pot Pressure IH Rice Cooker (NP-BQH10)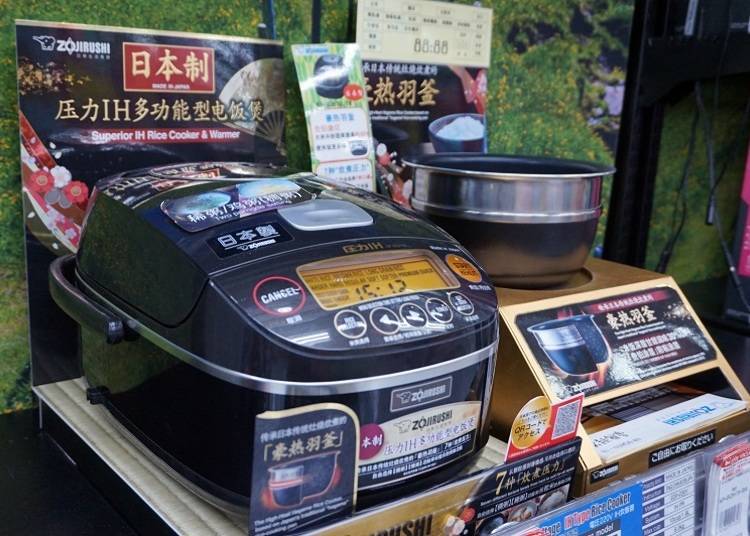 ▲ NP-BQH10 128,000 yen (excluding tax)
The Zojirushi Mahobin High Heat Globular Pot Pressure IH Rice Cooker (NP-BQH10) can be used overseas. The corresponding voltage is 220-230V.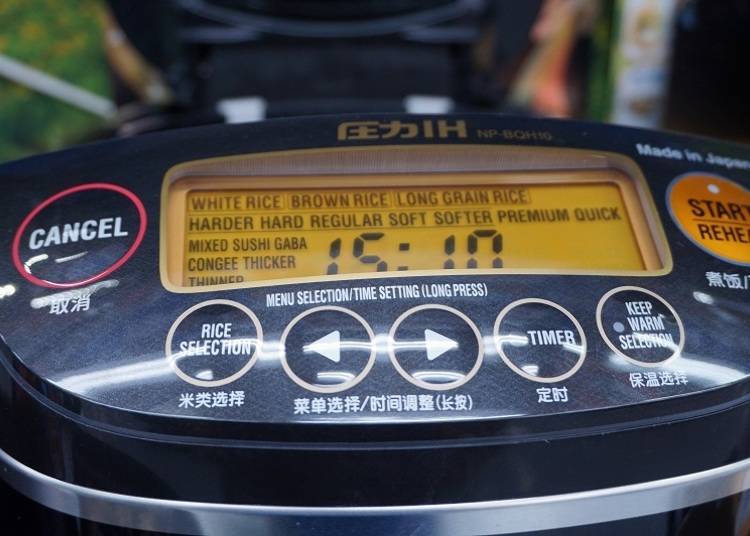 This product allows you to cook the rice to five different textures: firm, slightly firm, normal, slightly sticky, and sticky. In addition, it can be used to cook long-grain rice, chóu zhōu [thick porridge], and xī zhōu [thin porridge]. The latter are two types of Chinese congee.

The inner pot is shaped like a traditional Japanese pot for cooking rice called hagama, which is said to cook rice more deliciously.

(2) Tiger Donabe [earthenware pot] IH Rice Cooker (JPX-W10W)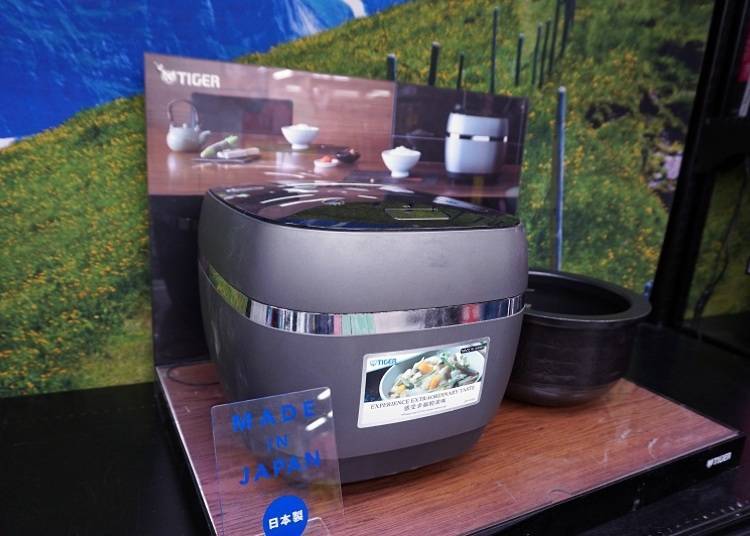 ▲JPX-W10W 199,797 yen (excluding tax)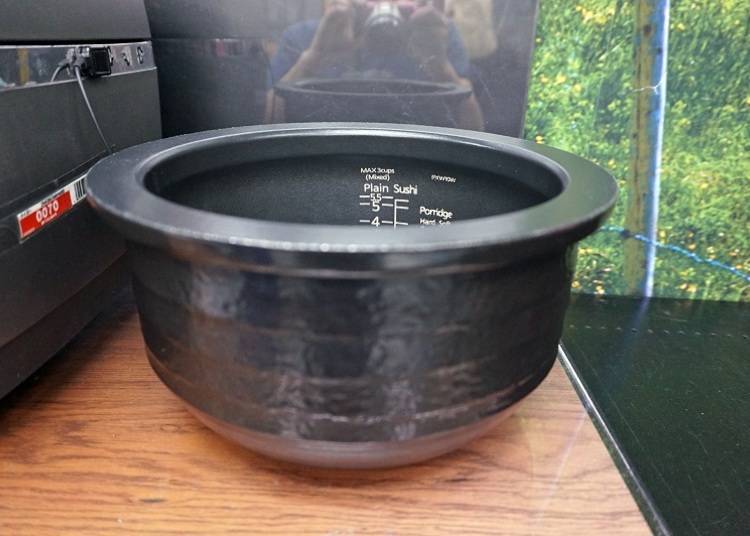 The second one we will introduce is the JPX-W10W by Tiger Thermos. An earthenware pot is used in this rice cooker which uses an infrared effect that purportedly gives the cooked rice a delicious sweetness. This model is especially popular with visitors from China. The corresponding voltage is 220V.

(3) Tiger IH Rice Cooker with Cooking Plate (JKT-W10W)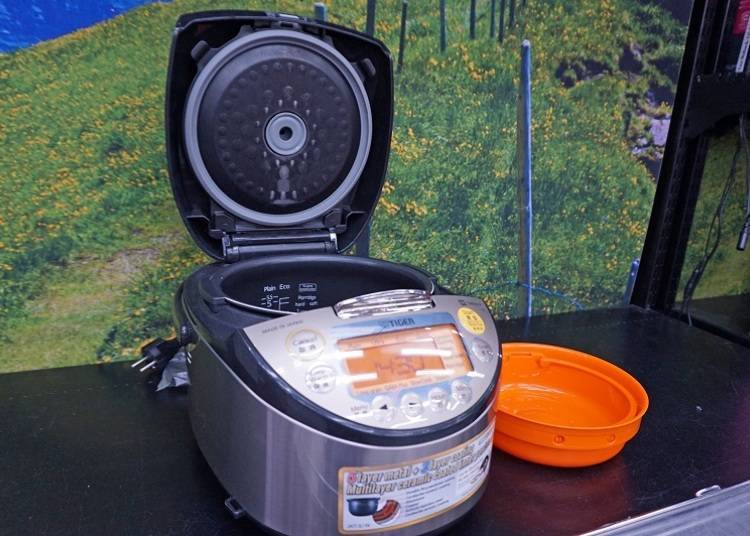 ▲JPX-W10W 59,797 yen (excluding tax)
The JKT-W10W is also by Tiger Thermos. This model allows you to use the cooking plate (the orange plate on the right in the photo) to cook steamed dishes at the same time as you cook rice. This rice cooker is primarily popular with Asian people, and the corresponding voltage is 220V.
Japanese DSLR Cameras: 2 single-lens digital cameras recommended by region
One consumer electronics item for which Japan is world famous is cameras. Canon, Nikon, and Sony are well known as digital camera standard brands even overseas.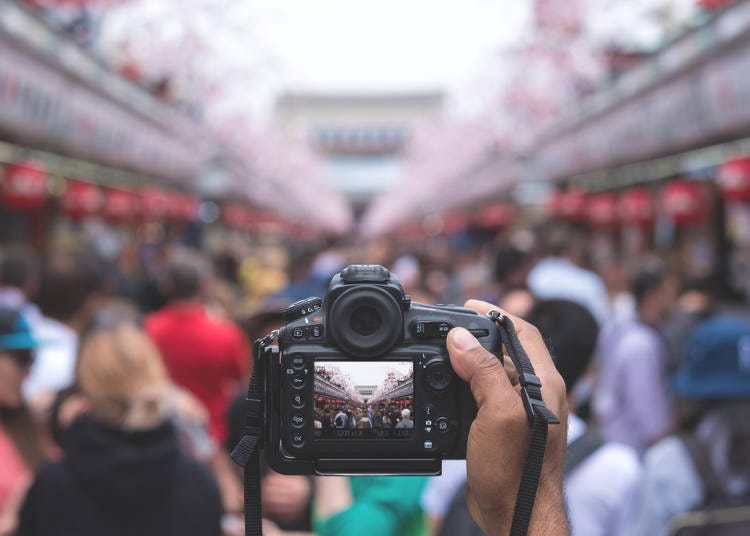 "I think that the Chinese tend to prefer more orthodox cameras, even if they are large and expensive. For that reason I recommend a full-size digital single-lens camera. It is good to buy a 28~300mm telephoto zoom lens together with it so that you can shoot a wide variety of things.

"On the other hand, people from the U.S., Europe and Oceania more often use compact cameras because they are easy to use, and they seem to be attracted to the smaller and slimmer products Japan is good at making. So for these folks I would recommend a mirrorless single-lens, which is smaller and lighter than a single-lens reflex camera," Mr. Fujiyama said.

(1) Canon EOS 5D MARK IV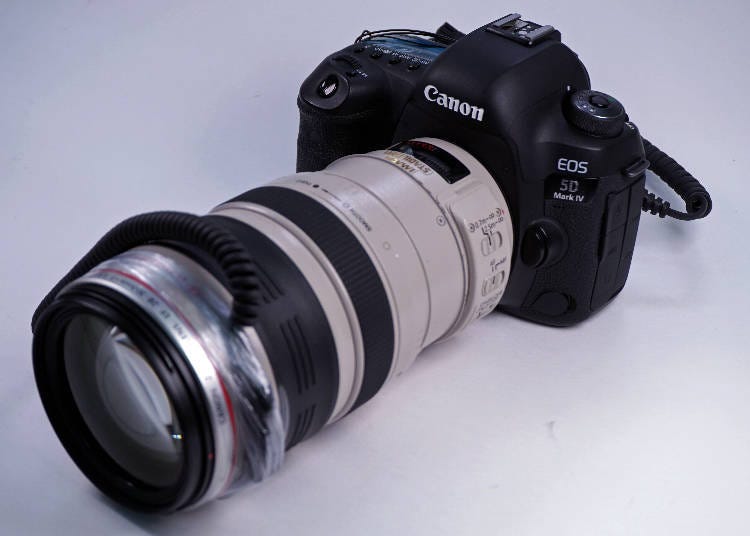 ▲ EOS 5D MARK IV Body alone ¥ 350,850; high magnification zoom lens (Canon EF28-300 / 3.5-5.6L IS) ¥293,080 (tax included in both prices)
Based on Mr. Fujiyama's recommendation points, I would like to introduce to Chinese tourists Canon's high-end model EOS 5D MARK IV digital single-lens camera. This is perfect for intermediate and skilled photographers who want to shoot any subject matter.

For the lens I recommend the white colored metal (white lens) EF 28-300 mm F 3.5-5.6 L IS that is symbolic of Canon's high performance lenses. It is a high-power zoom lens that can handle most objects with one lens from wide-angle to telephoto shots.

However, the instruction manual and the screen display for this product are only in Japanese.

(2) Sony α7 III (overseas specification)
The mirrorless single lens I recommend to people from the West and Oceania is the Sony α7III.

Even though it is compact and light, this mirrorless single lens boasts the same high performance as a single-lens reflex. There are various modes, such as full auto, program AE, aperture priority, and shutter priority, and you can shoot without time lag after releasing the shutter.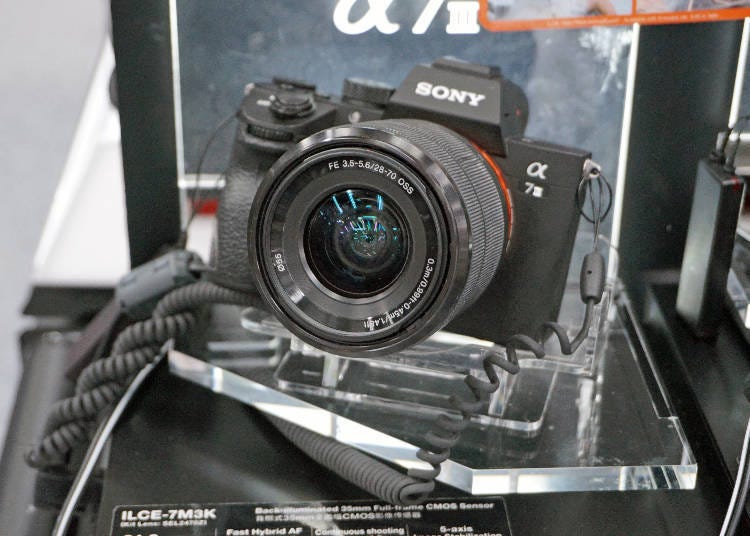 ▲ α7 III lens kit 260,380 yen (excluding tax)
Sony was a late-arrival camera manufacturer, but it has led the way in the sale of full-size mirrorless single lens cameras. The α7III is the most popular of the Sony mirrorless single-lens cameras. It is the fastest, able to shoot 10 frames per second, and supports 4K video shooting.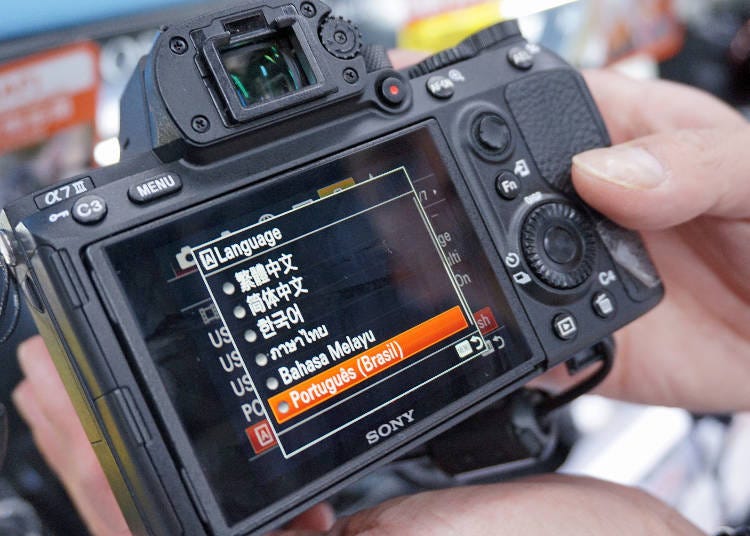 In the overseas specification models, the operation menu supports various languages such as English, Chinese, Korean, German, French, Portuguese, and Russian. The warranty is good in 52 countries and regions, so you need not worry about after service if you should encounter a problem after you return home.

"The chargers for the camera can be used anywhere in the world because they are designed to support 100 ~ 240V regardless of the manufacturer, so no transformers are necessary. By the way, when buying a camera, it is also a good idea to buy an extra battery which can be used as a backup when traveling," Mr. Fujiyama advised.
Hair dryers and facial massagers are highly recommended beauty appliances!
I recommend buying one of the unique beauty appliances to take back home by which to remember your visit to Japan.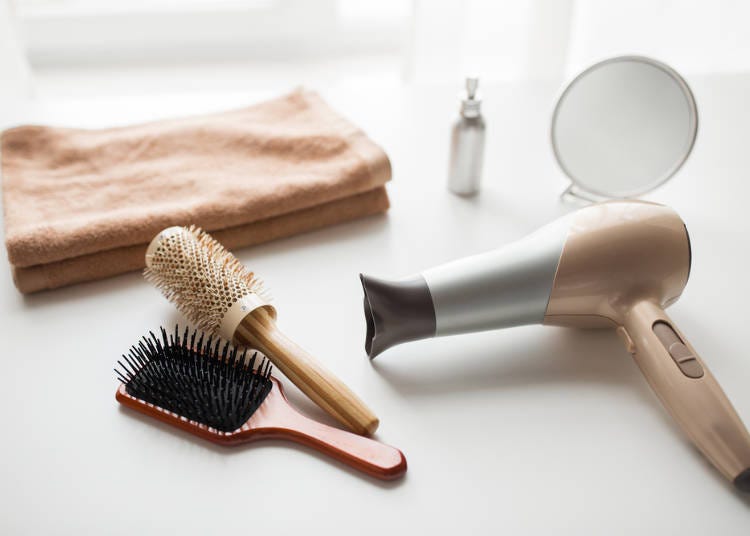 Many women shoppers like the high-performance hair dryers which release ion and reduce hair damage as well as face-care devices that tone up the skin. Many large-scale consumer electronics stores also have a cosmetics section in addition to home appliance floors, so you can also shop for cosmetics at the same time.

If you are looking for beauty appliances, then definitely you should buy them in Japan! The following products are recommended by Mr. Fujiyama.

(1) Panasonic Nano Care Dryer (EH-CNA5A / EH-TNA9J)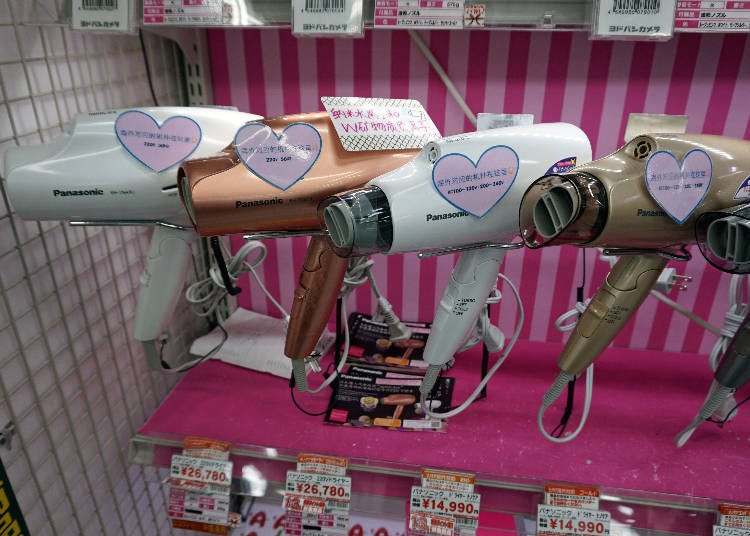 ▲ Nano Care Dryer EH-TNA 9 (two on left) 26,780 yen, EH-CNA 5A (two on right) 14,490 yen (both prices include tax)
The Panasonic Nano Care Dryer is a popular hair dryer in Japan. The Nanoe draws moisture from the air and thus keeps your hair smoother and shinier. The two on the right are the EH-CNA5A. It is also possible to use them overseas because the voltage can be switched between 100-120V and 200-240V. It also comes with a C-2 plug that allows for it to be used in other countries, such as Korea, Indonesia, and Europe.

The two on the left are the high-end model EH-TNA 9J (for overseas and 220V use). The copper-gold color is only available in Japan.

(2) Tescom Collagen Ion Hair Dryer (TCD5100)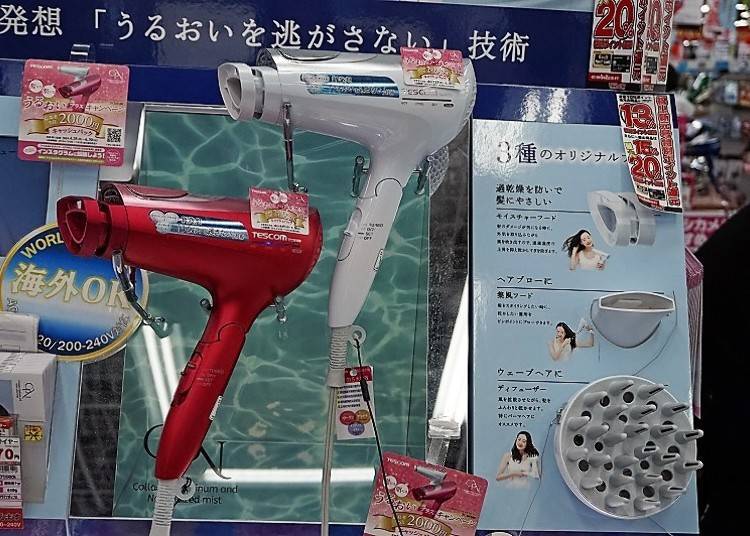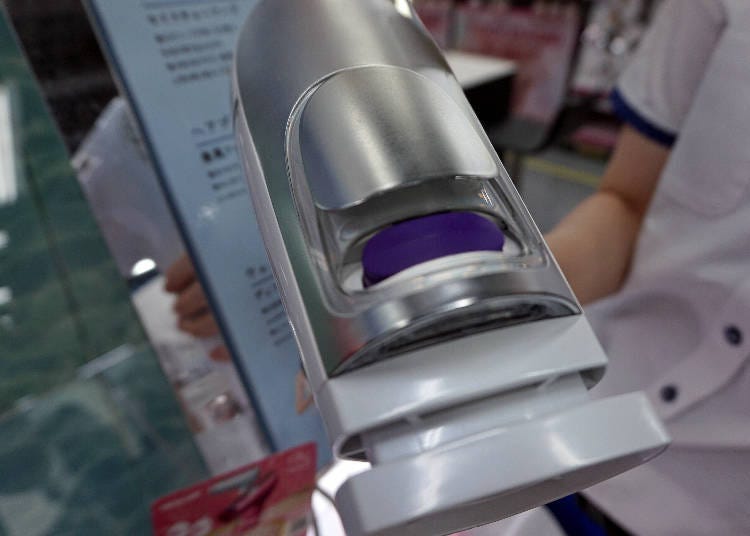 ▲ Collagen Ion Hair Dryer body 21,470 yen; collagen refill pack 1,080 yen (right, all prices include tax)
The Tescom "Collagen Ion Hair Dryer (TCD5100)" uses a collagen set especially designed for it. Not only does the hair dryer keep your hair shiny and smooth, but it also can be used for skin care.

Collagen packs are refillable. The collagen needs to be replaced in about 2 years, so it is a good idea to buy spares at the same time.

This is also designed for worldwide use and the voltage can be switched between 100-120V / 200-240V.

(3) MTG ReFa CARAT (PEC-L1706)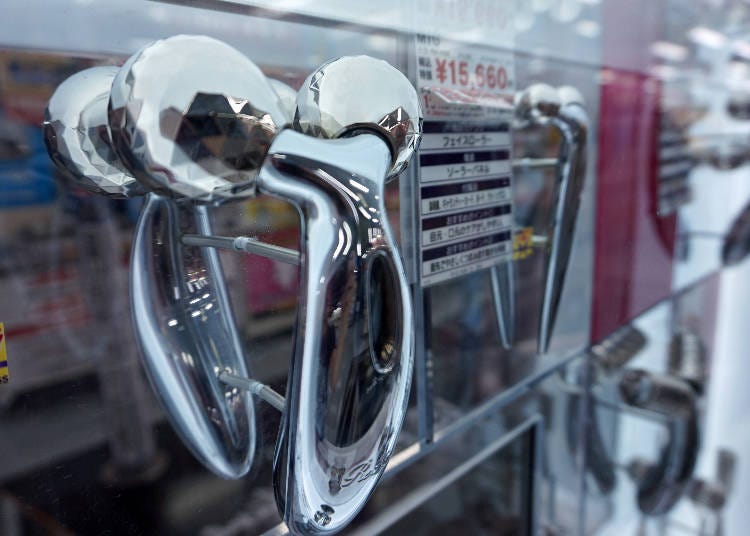 ▲ PEC-L1706 23,920 yen (tax included)
The MTG roller-type facial-care device ReFa CARAT is also a popular product. It does not require an electrical power source. It is powered by a weak electrical current generated from light absorbed by the solar panel built into the handle.

(4) Ya-man Photo Plus EX eye pro (HRF-20P-EYE)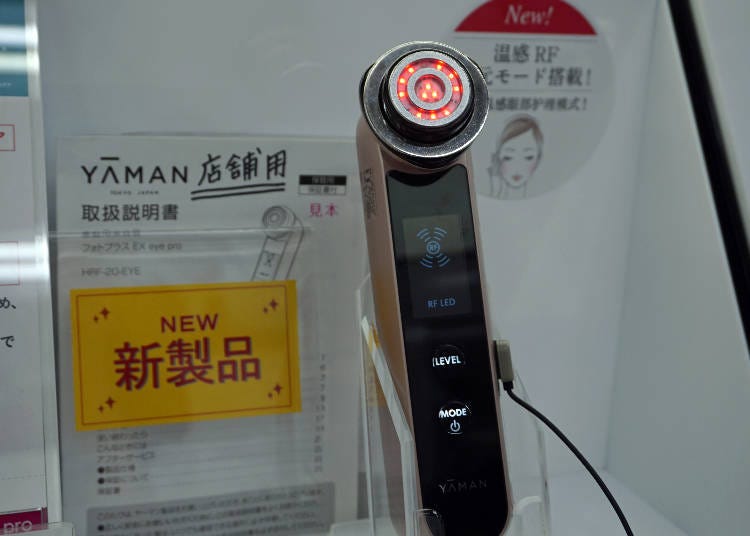 ▲ HRF-20P-EYE 54,000 yen (tax included)
This is a high-performance facial massager that can be used for various beauty treatments such as EMS, vibration, warmth, cooling, and iontophoresis. It is good for treating the age-telling lines around the eyes. 100~200V compatible.

For men: Panasonic LAMDASH Men's Shaver

"This is a good shaver for men. Only Japanese shavers can give you a close shave that is also gentle to the skin. I feel that because Westerners have more delicate skin than Asians, shavers made in foreign countries have been developed with a focus on being gentle on the skin. If you shave in the bath to get a really close shave, I would definitely recommend getting a shaver made in Japan. The shavers are rechargeable and compatible with world-wide power supplies, so they are easy to buy in that respect, too," said Mr. Fujiyama.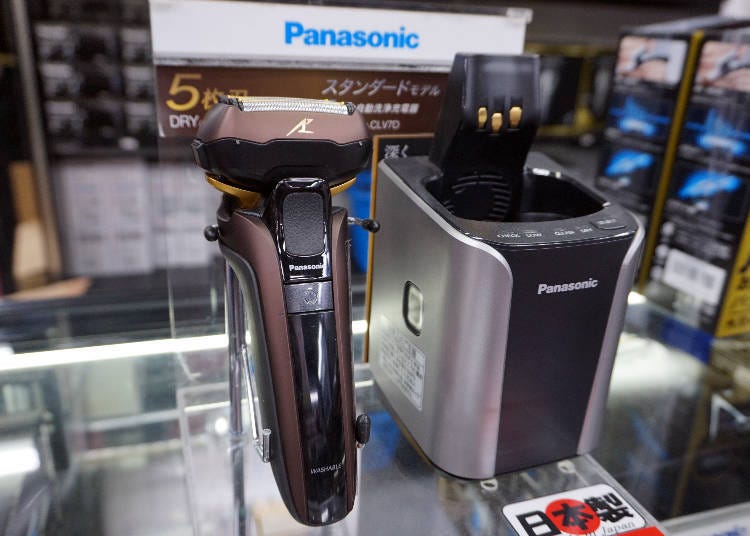 ▲ Panasonic ES-CLV7D LAMDASH Shaver Auto-washing machine set 33,260 yen (tax included)
The Panasonic LAMDASH is a unique five-blade system that is gentle on the skin and provides a really close shave. It is possible to buy only the shaver, but we recommend a set with a fully automatic washing charger that can be cleaned, disinfected, dried, and recharged.
I also recommend the warm-water washing toilet seat that also reflects Japan's spirit of "hospitality"!
One home appliance that Mr. Fujiyama recommends is the warm-water washing toilet seat that many people have experienced and been impressed by during their stay in Japan.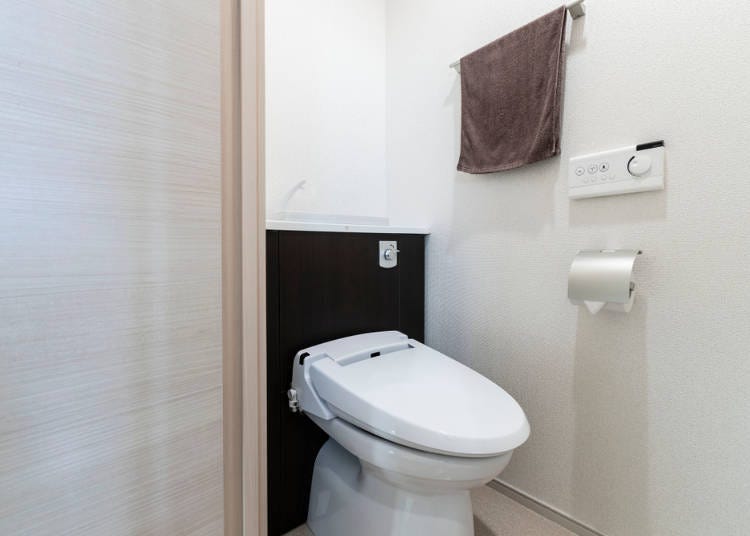 "The toilet seat is warm when you sit down, and your buttocks are rinsed and massaged with warm water delivered with rhythmic water pressure. It also can be used as a bidet by women. Japanese technology and "hospitality" culture are evident in this toilet seat that automatically opens and closes when it senses a person, and those who have used it once swear by it. At the time of purchase, pay attention not only to the voltage, but also to the shape and size of the water pipes and toilet bowl. That is because if they are not compatible it cannot be used," Mr. Fujiyama cautioned.

There are two types of warm-water-washing toilet seats: the "reservoir type", which stores warm water in a built-in tank, and the "instant type," which instantly heats and warms water when used.

INAX CW-EA24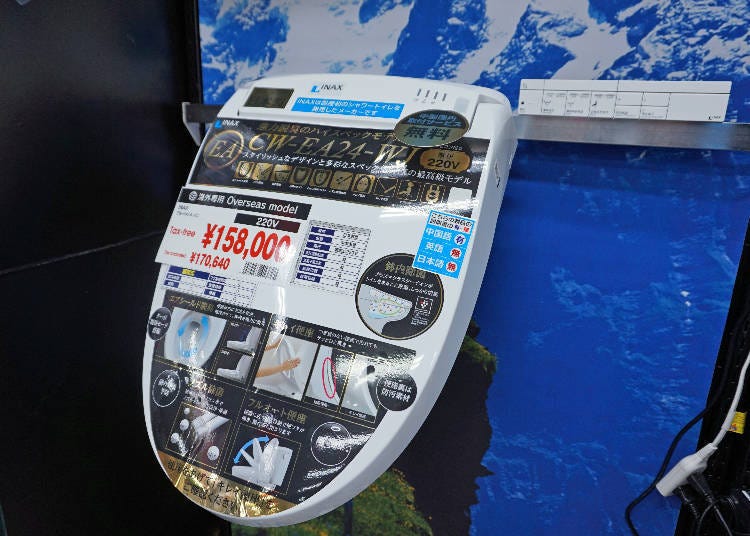 ▲ INAX CW-EA24 158,000 yen (excluding tax)
The INAX CW-EA24 is an instant type warm-water washing toilet seat. It has a powerful deodorizing function that does not leave unpleasant odors. After use, the nozzle is washed with silver ion water to suppress the growth of bacteria. In addition, the lid opens automatically when approaching the toilet seat, and it is also equipped with a "full-automatic toilet seat" that closes after you step away from it.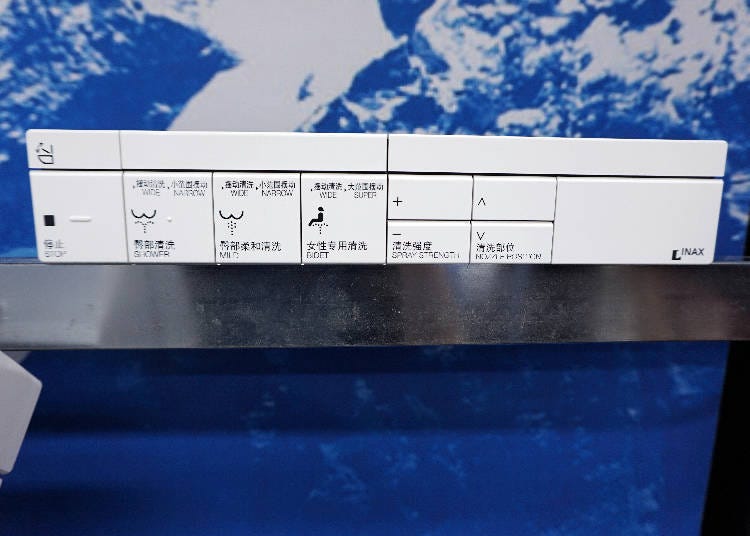 This product is easy to use for foreigners, too, because the switch panel can be displayed in Chinese or English.


All the products introduced in this article can be purchased on the 3rd floor of the Yodobashi Camera Akihabara Store (as of May 2019). This floor mainly handles consumer electronics made for overseas use. If you want to purchase products for use in your home country that are made for the Japanese domestic market, please consult with the staff.

*Prices are as of May 2019 and are subject to change. Product availability is also subject to change.

Written by MEDIUM Co., Inc.
ヨドバシAkiba

Address

1-1 Kanda Hanaokachō, Chiyoda City, Tōkyō-to 101-0028

Nearest Station

1-minute walk from the Asakusa Station on the Tsukuba Express Line and Tokyo Metro Hibiya Line


Phone Number

03-5209-1010

Open: 9:30 a.m. ~ 10:00 p.m.
Closed: Open daily
*This information is from the time of this article's publication.
*Prices and options mentioned are subject to change.
*Unless stated otherwise, all prices include tax.