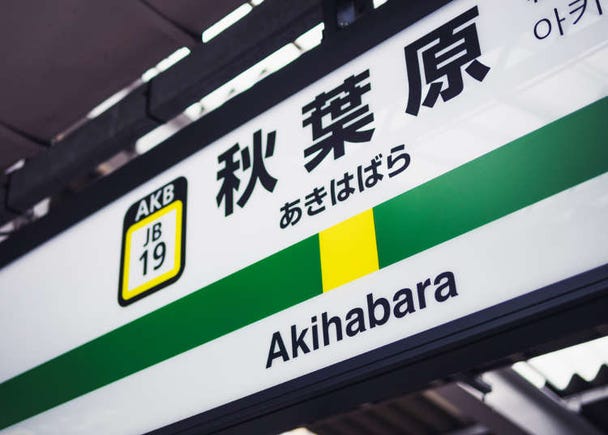 Akihabara is the town of video games, anime (Japanese animation), and electronics, and the train station by the same name is located within Tokyo's Chiyoda Ward.

In actual fact, though, the Sotokanda and Akihabara areas in Chiyoda Ward and Taito Ward respectively are what people often refer to when talking about Akihabara town. It is said there are more than 500 electronics shops within the area, in addition to other shops selling merchandise for anime, video games, idol celebrities, and other subcultures.

Fans of all interests from all over the world can be found doing their shopping here. Our quick but thorough guide will organize information about places of interest by the multiple Akihabara Station exits and their vicinities. Make your Akihabara visit count by checking out the information here before heading down!
Akihabara Station is one of the city's transport hubs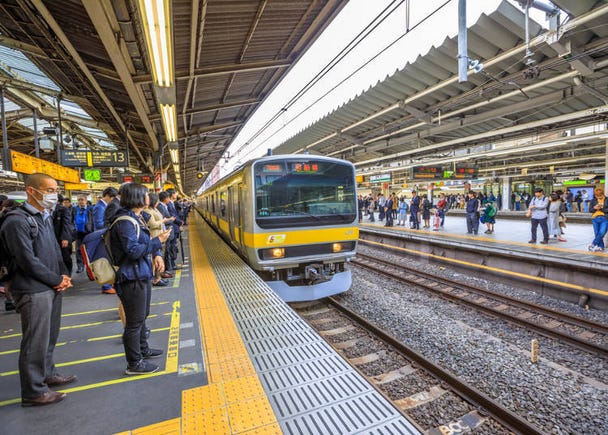 Benny Marty / Shutterstock.com
A total of five train routes ply through Akihabara, and they are: Yamanote JR Line, Keihin-Tohoku Line, Sobu Line, Tokyo Metro Hibiya Line, and Metropolitan Intercity Railway's Tsukuba Express.

The station is an interchange base for commuters coming and going from nearby commuter towns in Saitama, Chiba, and Ibaraki, so it sees heavy human traffic on any given day.

According to a basic survey of city planning by the Ministry of Land, Infrastructure, Transport and Tourism, daily average passenger flow at Akihabara Station is about 480,000 people.

Suehirocho Station on the Tokyo Metro and the Iwamoto Station on the Toei Shinjuku Line are both located within a short five minutes' walk from Akihabara Station, adding to its convenience.

(Basic survey of city planning [Japanese]:  https://www.stat.go.jp/library/faq/faq12/faq12a04.html)
Learn how Akihabara Station on the JR Lines is structured to facilitate smoother sightseeing!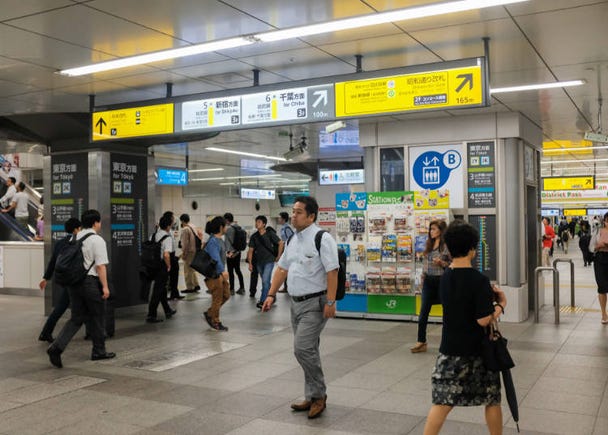 Terence Toh Chin Eng / Shutterstock.com
1) The Electric Town Gate and Central Gate are on the first floor, on opposite sides
Akihabara Station on the JR Lines has four gates in total: Electric Town, Central, Showa-dori, and Atre1. The gates for Electric Town and Central are on the first floor. One leads to the South Exit and the other, the North Exit. Both exits can lead pedestrians to Chuo-dori, a busy street full of shops and stores. Even though the two gates are located on opposite sides of each other, they are nevertheless connected by the Tozai Jiyu Tsuro (Free Road East to West).

2) Showa-dori Gate is connected to the second floor concourse
Showa-dori Gate is very easily accessible from the platform of JR's Sobu Line, whereas it can be a bit more complicated to get there from the Yamanote JR Line and Keihin-Tohoku Line. Disembark at the first floor where the Electric Town Gate and Central Gate are, then head up the concourse on the second floor in the direction of the Sobu Line platform. From there, take the escalator down to the first floor again to exit from the connected Showa-dori Gate. Can't begin to imagine how you're going to do this? Don't worry! Within the station, there are detailed signs and markings to guide you along should you falter, so don't be afraid and just keep walking while keeping an eye out for helpful signage!

3) Atre1 Gate is directly connected to the station building, Atre Akihabara
Atre1 Gate is connected to the Sobu Line platform going towards Chiba (platform 6). Simply walk down the staircase of the platform to the gate, which is linked to the third floor of station building Atre Akihabara. This gate is only open from 7:00 a.m. to 11 p.m.
Main Places of Interest Sorted By Exits of Akihabara Station on the JR Lines
Electric Town Gate
North Exit: Akihabara UDX, AKB48 Cafe, Gundam Cafe, Bic Camera Akiba, Toranoana, Animate, Sofmap Akiba, Kanda Shrine, etc.

South Exit: Yamada Denki Labi Akihabara, Radio Kaikan, Edion Akiba, Laox, Onoden, Tsukumo PC, etc.
Central Gate
Yodobashi Multimedia Akiba, Akiba Tolim, Iwamotocho Station on the Toei Shinjuku Line

Showa-dori Gate
Atre Akihabara 2, Yodobashi Multimedia Akiba, Tokyo Metro Hibiya Line

Atre 1 Gate
Atre Akihabara 1
Electric Town Gate takes you to Chuo-dori, the heart of Akihabara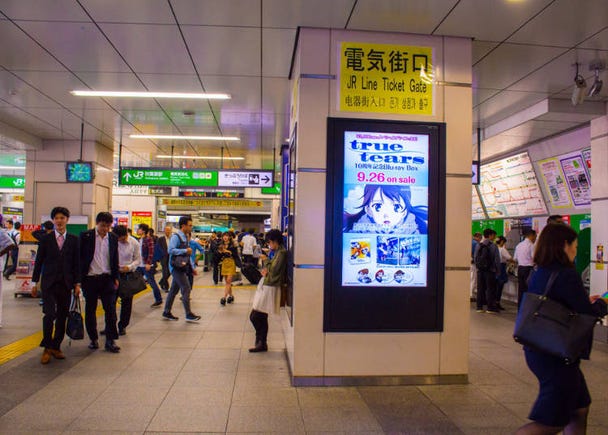 InfantryDavid / Shutterstock.com
Historically known as an electric town and sanctuary for all things subculture like anime, video games, manga (Japanese comics), figurines, idol celebrities, and other otaku, or enthusiast hobbies, it should come as no surprise that you'll be finding plenty of electronics shops and anime specialty stores in the area.

The Electric Town Gate is the best gate to use to dive right into the thick of the action. Chuo-dori is regarded as the center of Akihabara's Electric Town.

The North Exit contains a huge variety of shops, including major electronics super stores such as Bic Camera Akiba; PC parts and accessories retailer Tsukumo PC; comics, video games, and dōjinshi (fanzines made and distributed by fans with their own funds) specialist Toranoana; anime specialist Animate; Sofmap Akiba with multiple spaces for figurines, anime, PC, and other hobbies organized by genre; and much, much more!

The South Exit area is where you'll find a Sega amusement facility, PC specialist Labi Akihabara PC Store, and general tax-free electronics stores like Laox and Edion Akiba, among other interesting retail spaces.
Electric Town Exit Area: A place to fully immerse yourself in the latest subcultures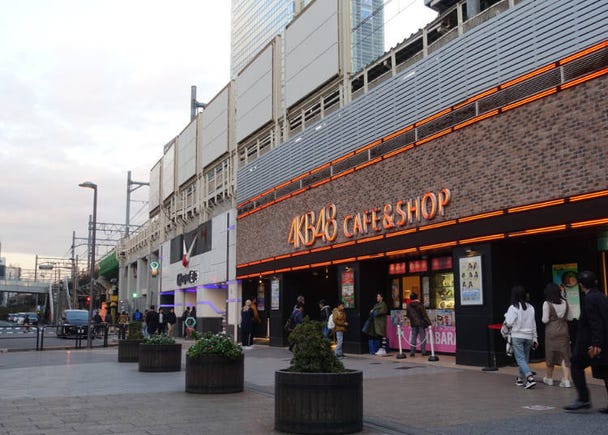 TokyoVideoStock / Shutterstock.com
Akihabara is birthplace of the popular Japanese idol celebrity unit, AKB48. Naturally, this is where you'll find AKB related places like the AKB Cafe and AKB Theater, both of which are regularly visited by non-fans as well! The Gundam series, a perennial anime favorite, has its own Gundam Cafe here.

You can also drop by maid cafes or cosplay photo halls for interesting entertainment experiences that can't be found elsewhere.

The latest attraction showcasing the charms of Akihabara is 2k540 Aki-Oka Artisan, where you can get quickly in touch with not just pop culture, but everything else Akihabara has to offer as well.

A short five minutes' walk from Electric Town Gate's North Exit, this commercial facility was built in 2010 using the space underneath the train tracks between Akihabara Station and Okachimachi Station on JR Lines.

Craftwork is the theme of many shops in this area, along with galleries, cafes, and stores reflecting their owner's particular preferences. Its unique name was taken from a phrase in rail terminology that indicates the place is 2.54 kilometers (about 1.5 miles) away from Tokyo Station.
Atre1 Gate: Directly connected to terminal building Atre Akihabara 1 for quick and easy shopping!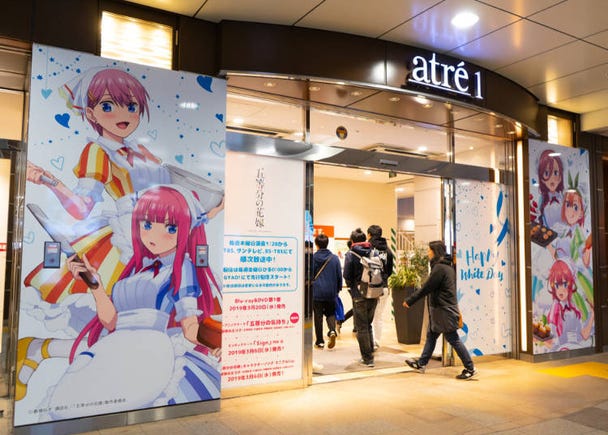 InfantryDavid / Shutterstock.com
The Atre1 Gate conveniently allows passengers to access the terminal building directly from their train platform. Actually, this is the best secret shortcut to reach Electric Town from the Sobu Line.

The gate is located on the third floor of Atre. Head down to the first floor after passing through the gate and exit through the Electric Town exit to get there.

Here's another plus point of this gate: You get to skip jostling with the crowds in the usually jam-packed Akihabara Station and reach your destination with lesser frayed nerves!
Central Gate: Where giant retailers like Yodobashi Multimedia Akiba and Tolim Akiba lie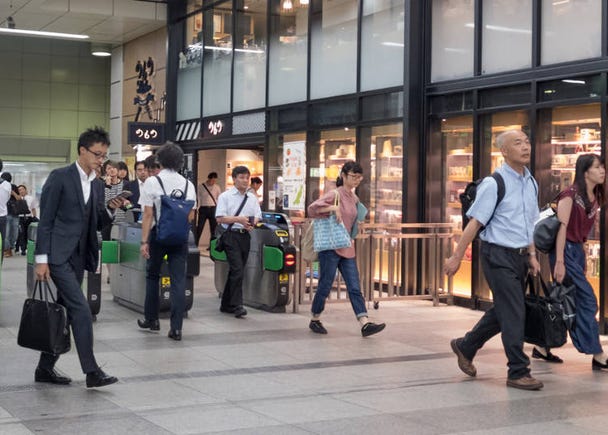 MAHATHIR MOHD YASIN / Shutterstock.com
The North Exit is on the left side of Central Gate, and there is a large rotary with bus stops and taxi stands located here.

Right in front of the exit is the building that houses Yodobashi Multimedia Akiba. Besides home electronics, the retail space in this building complex also contains bookstores, music record stores, general stores, apparel stores, and a restaurant street.

The South Exit of Central Gate is connected to Tolim Akiba, station building of high-speed rail Tsukuba Express that ferries passengers to Ibaraki. In this building, you'll find popular clothing and general stores like Muji, Uniqlo, Zoff, and others.

Next to Tolim Akiba is the Tozai Jiyu Tsuro that connects the two Electric Town exits to each other, allowing easy access to the entire area. This exit is the best one to use for passengers switching over to Tsukuba Express.
Showa-dori Gate: Feast on good food everywhere!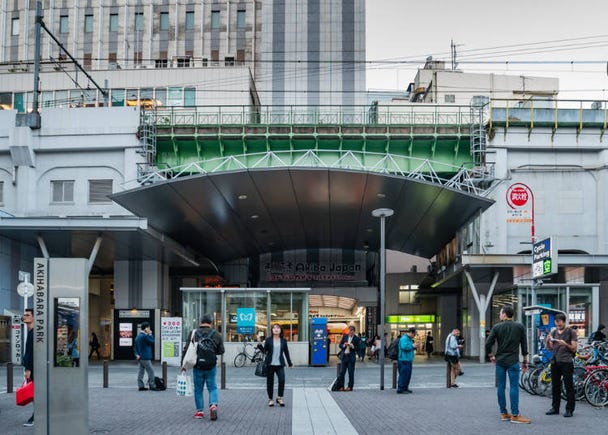 Phurinee Chinakathum / Shutterstock.com
Atre Akihabara 2 is Restaurant Central, so to speak. It's connected to the roofed entrance of Yodobashi Multimedia Akiba as well, allowing visitors to drop by even during bad weather.

Walk along Showa-dori street after exiting the gate and you'll pass by rows of office buildings. A little farther from the station are hospitals, schools, and other shops that give the area a warm, residential feel. The area around the street contains plenty of restaurants as well, including little known shops that offer great tasting food. This exit is our recommendation for those changing to the Hibiya Line on the Tokyo Metro.

While the gates and exits of Akihabara Station on JR Lines may seem complicated at first glance, don't worry too much! All exits offer great and convenient access to major places of interest, most of which are clustered around the vicinity of the station anyway!

Shops in Akihabara are so interesting that, before you know it, you've been walking down the street taking in the sights for a few hours already. Always plan carefully where to go next to maximize your vacation time!

Written by: Miyuki Yajima. English translation by: Huimin Pan
main image:VTT Studio / Shutterstock.com
*This information is from the time of this article's publication.
*Prices and options mentioned are subject to change.
*Unless stated otherwise, all prices include tax.