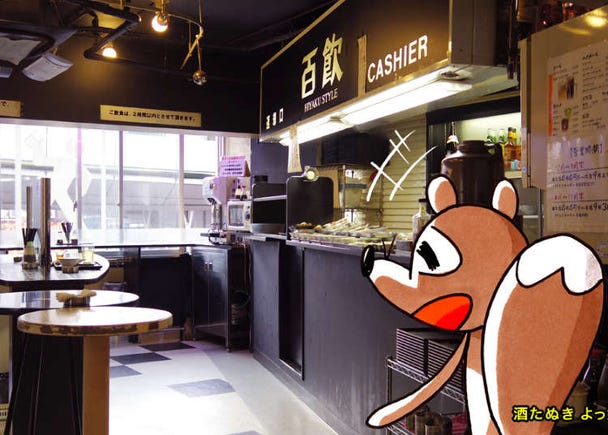 Hiyaku Style's Japanese name, Hyakuin, literally translates to "one-hundred drinks" and the concept of this standing bar in the heart of Akihabara is just that. All menu items, from snacks to drinks, can be ordered for a mere 100 yen!
Hiyaku Style, a Hidden Gem in Flashy Akihabara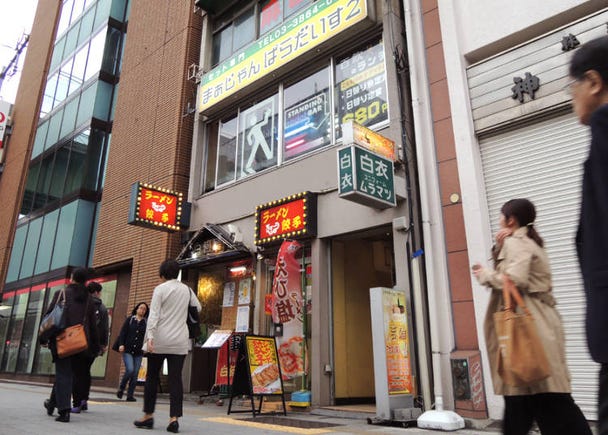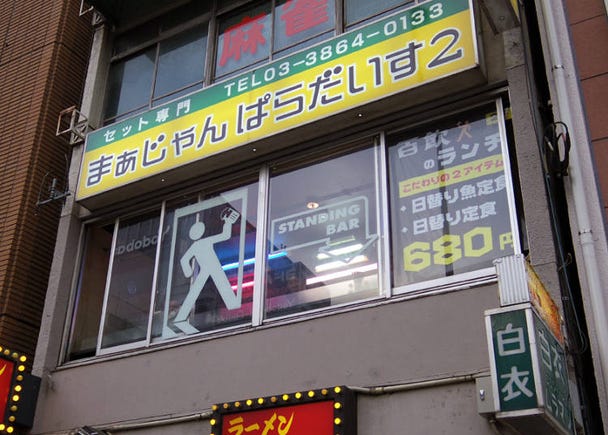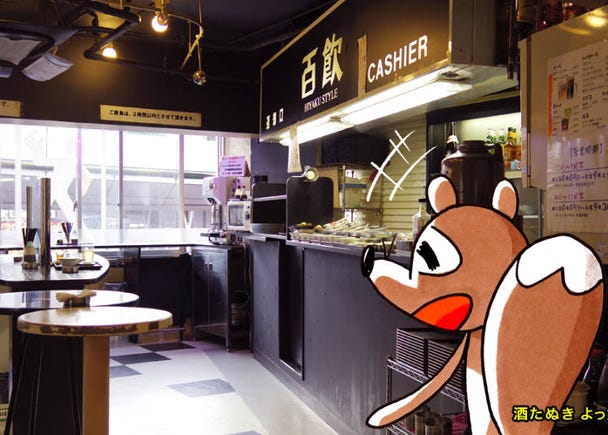 Hiyaku Style doesn't have flashy signs or colorful billboards like you would expect from a bar in Tokyo's famous otaku district of Akihabara. Instead, it can be found on the second floor of a rather ordinary looking multipurpose building. An emergency exit sign serves as Hiyaku Style's distinctive exterior feature.

Once you step inside, however, you'll be blown away by an interior so stylish, it barely seems fit for a bar that promises almost unreasonably cheap prices.

Although Hiyaku Style is a standing bar, it gets crowded as soon as the bar opens its doors in the evening. The majority of the guests are office workers dropping by for a drink - or ten - after work, but of course, everyone is welcome.
Delicious Self-Service Cuisine at Hiyaku Style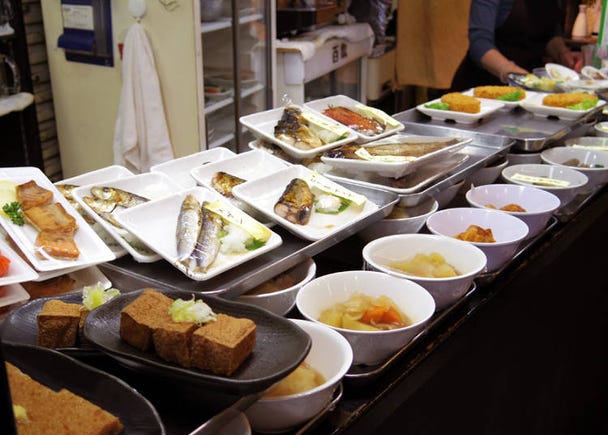 Hiyaku Style follows a pre-pay order system, meaning that you go to the counter each time you want to place an order and pay immediately. Various snacks are waiting to be picked up at the counter as well - make sure to keep an eye on them as popular dishes come and go! They're all incredibly delicious and it's hard to believe that you're snacking the many delicacies for a mere 100 yen each. In general, all food and drink items cost 100 yen, but there are some exceptions for 150 or 200 yen. Still, these are prices that are well below the Tokyo average for bars and izakaya.
Indulge in Snacks and Drinks for Little Money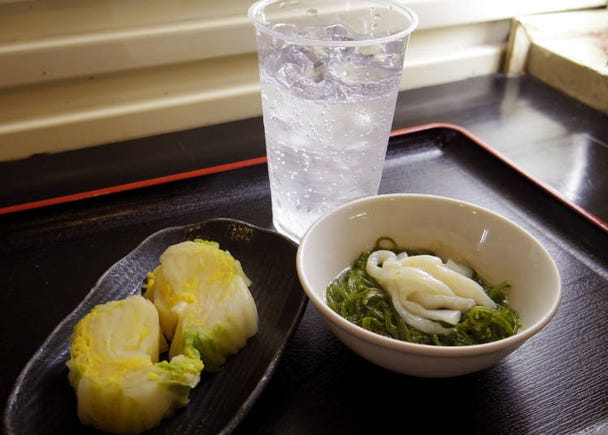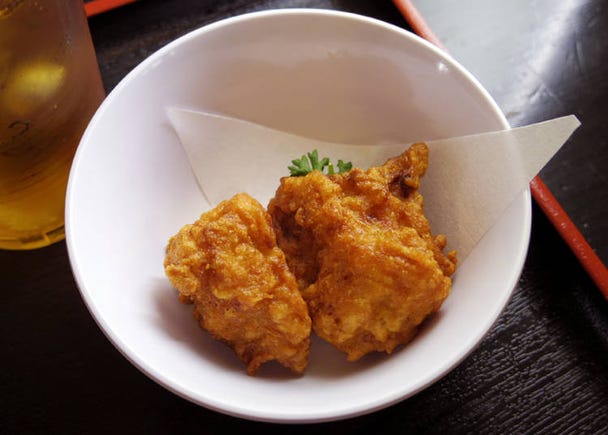 When we visited, we enjoyed three things at Hiyaku Style: chuhai, a cocktail of shochu and soda, ika-mozuku, squid and seaweed, and pickled cabbage for 100 yen each. The chuhai is served in a plastic cup that is supposed to be taken back to the counter if you want to order the same or a similar drink. The majority of the food menu is made up of meat and fried dishes, just the right snacks to go alongside the great, cheap selection of spirits.
Keep an Eye on the Food Selection!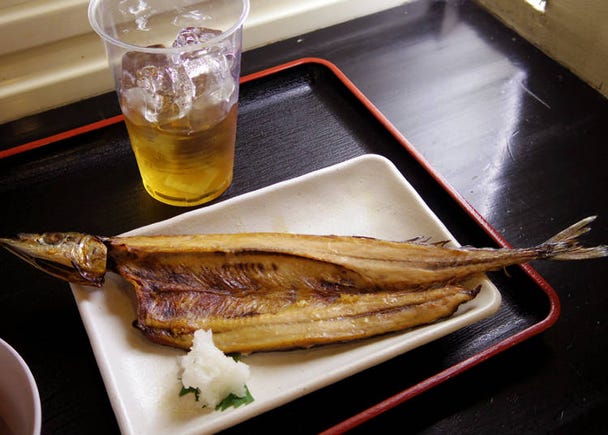 As we gazed over the bar, relaxing with a drink in hand, we suddenly heard a loud announcement coming from the counter: "The dried saury is ready!" Curious, we hurried over to the counter, only to find a big grilled saury that smelled unbelievably delicious! For a second, we hesitated: is this large, freshly prepared fish really just 100 yen?
At Hiyaku Style, dishes are coming out of the kitchen rather regularly, but you never know what is up next! Watching the counter and listening to the announcements for your favorite snacks are half the fun!
A Great Night with Only 1,000 Yen!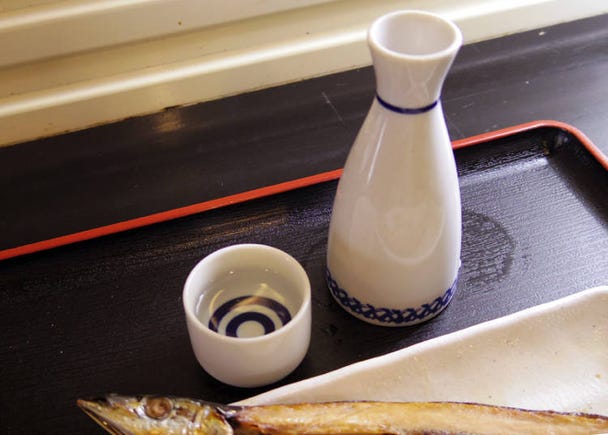 Japanese sake varieties are readily available in sake flasks. The amount is just right, and of course, the price for sake is also 100 yen. We enjoyed it together with the grilled saury and were surprised how well those two go together!

If you go to Hiyaku Style with 1,000 yen in your pockets, you'll be perfectly fine for an entire evening full of fun, food, and drinks! Hiyaku Style is just the right place to relax in after spending all your money on maid cafes and anime merchandise!

Hours:
December to end of March: 4:45 p.m. - 9:00 p.m. (last order at 8:30 p.m.)
April to end of November: 4:45 p.m. - 9:30 p.m. (last order at 9:00 p.m.)
Lunch: 11:30 a.m. - 1:30 p.m.
Closed: Saturdays, Sundays, national holidays
百飲

Address

2F, 2-4 Kanda-Hirakawacho, Chiyoda-ku, Tokyo-to 101-0027
Written by paricco
*This information is from the time of this article's publication.
*Prices and options mentioned are subject to change.
*Unless stated otherwise, all prices include tax.