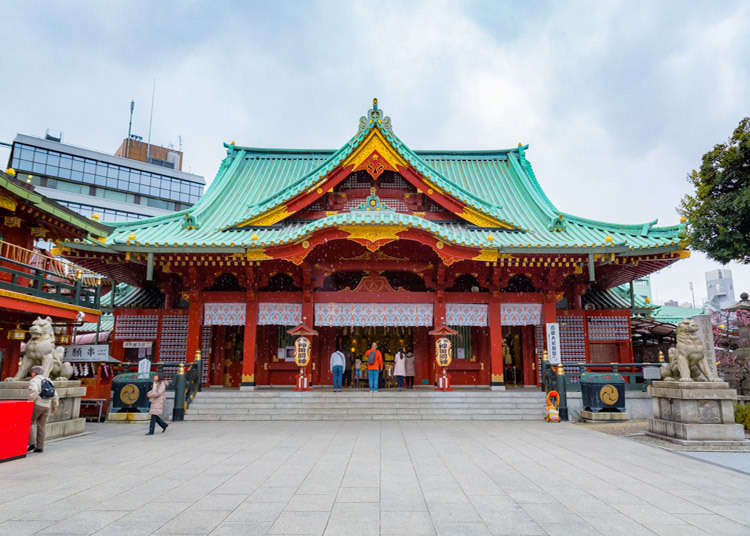 Dating back to the year 730, Kanda Myojin (also known as Kanda Shrine) is a Shinto shrine located in the Akihabara neighborhood of Tokyo. With a deep and long history, it has attracted thousands of people to its grounds to celebrate in festivals, pray for prosperity, and to enjoy the pleasant atmosphere that welcomes a harmony of traditional and modern themes.
The History of Kanda Myojin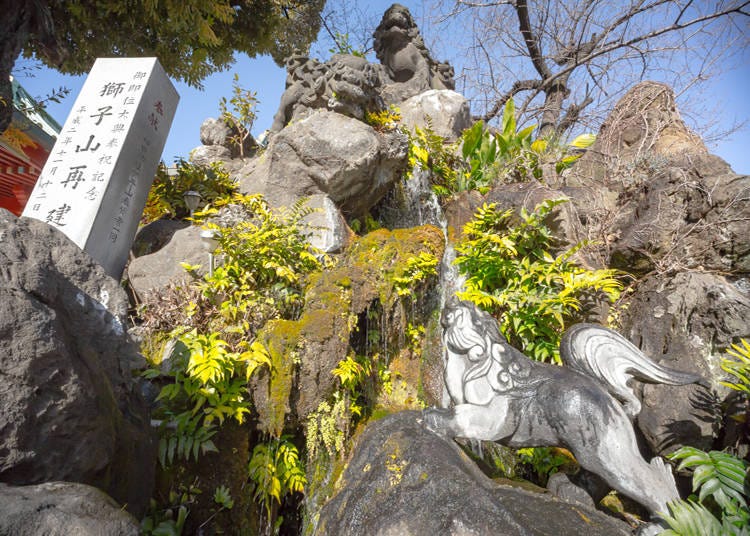 Originally built near the modern-day Otemachi district of Tokyo, it was later moved to the Kanda area around 1600, only to be moved again in 1616 to its current site on a small hill in Akihabara. Throughout the years, it has been restored and rebuilt, but it wasn't until the Great Kanto earthquake of 1923, that it was finally rebuilt with concrete, allowing it to survive the firebombing of Tokyo in World War II.
Kanda Myojin in the Modern Day
In 1995, the Zuishin-mon (gate), which marks the entrance of the shrine, was rebuilt. Painted in brilliant vermillion, and made of Japanese Cypress, the roof is made in a traditional style called "Irimoya Zukuri." Paying closer attention to the gate will reveal 4 Taoist gods: a white tiger, red phoenix, black turtle, and blue dragon. Once through the gate, you can explore the shrine grounds, along with the 9 other shrines that encompass Kanda Myojin itself. In 2005, further renovation work was carried out when the new Hou-ou-den (Phoenix Hall) and Soreisha (Shrine for Ancestral Spirits) were built.
The Gods Enshrined at Kanda Myojin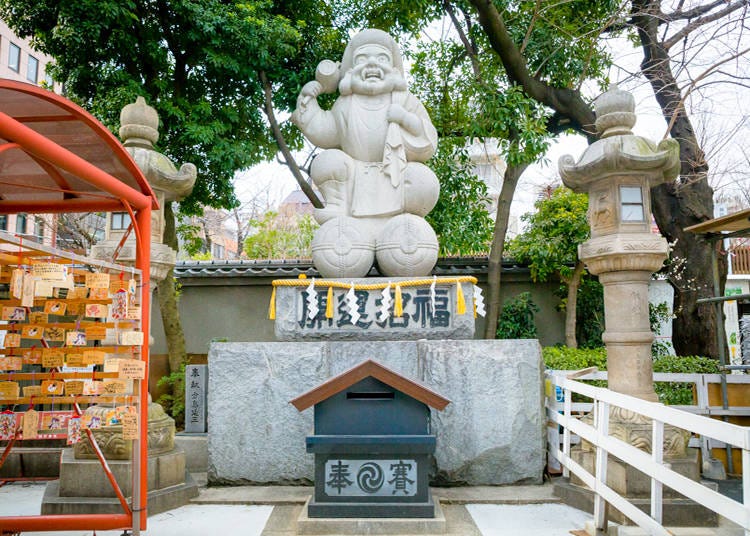 Being one of the oldest shrines in Tokyo, dating back almost 1,300 years, Kanda Myojin enshrines the deities Daikokuten, Ebisu, and Taira no Masakado. These deities are the guardians of Tokyo's 108 neighborhoods that include the Akihabara, Kanda, Nihombashi, Marunouchi, and Tsukiji areas. Prayers to these deities are particularly focused on prosperity and success in business, marriage, family happiness, recovery from illness, and protection against disasters and more.
The Kanda Matsuri: One of the Three Great Shinto Festivals of Tokyo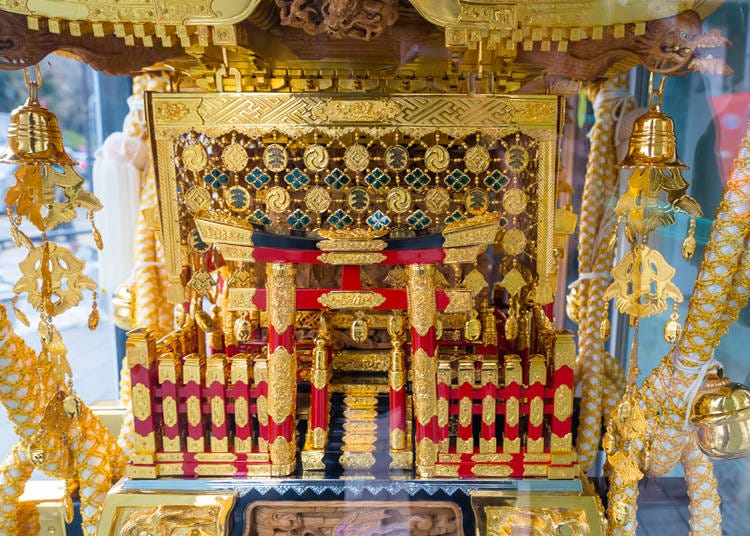 Held on the Saturday and Sunday closest to May 15th in every odd-numbered year, the Kanda Matsuri (Kanda Festival) has roots dating back to the beginning of the 17th century. It was created in 1600, the year Tokugawa Ieyasu celebrated his victory at the epochal battle of Sekigahara, effectively starting the Tokugawa Shogunate and the Edo period in Japan. Originally begun as a sign of the shogunate's prosperity, the festival has continued to this day.

During the festival, imperial palanquins and portable shrines called "mikoshi" are paraded through the neighborhood as thousands of people gather in an exciting procession leading to the individual machi-mikoshi (mikoshi belonging to specific neighborhoods) being paraded through their respective neighborhoods, and ending with all the mikoshi being blessed and purified by the deities of Kanda Myojin.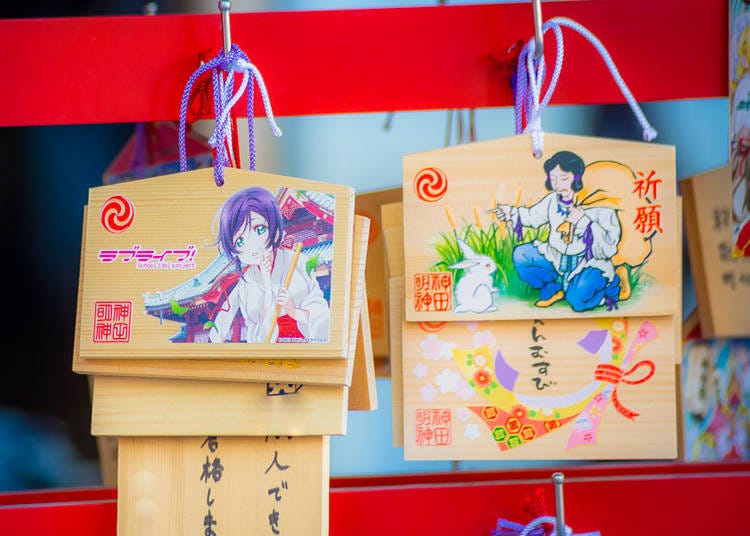 In recent years, Kanda Myojin experienced a rebirth of popularity thanks to something rather unexpected. In the 2010's, a very popular anime by the name of "Love Live!", which is about a group of fictional girls becoming an idol group to save their school from closing, featured the shrine in the show. Nozomi Tojo, one of the members of the group, is a shrine maiden at Kanda Myojin, and scenes of the shrine are featured in the animation. Welcoming a chance to attract a new generation of visitors, Kanda Myojin began producing "ema" (wooden tablets for writing prayers and wishes) with the Love Live! character on it. Since then, patronage to Kanda Myojin has significantly risen, with curious travelers and otaku alike making the journey to the shrine.

While anime tie-ins may seem far from the kind of thing you would expect to find at a Japanese shrine, there are other, more interesting items worth noting. Being close to the iconic Electric Town and IT goods center of Tokyo, it comes to no surprise that the shrine also has charms dedicated to IT. These unique charms, which look like printed circuit boards, come with stickers that allow you to place one in your wallet, on your computer, and on your phone.

If you can't visit the shrine itself, you can still download the online stickers for the LINE chat application. By evolving with the times and proving to be progressive-thinking, Kanda Myojin is able to stay relevant with modern-day Japan and the world.
Make a Wish, Say a Prayer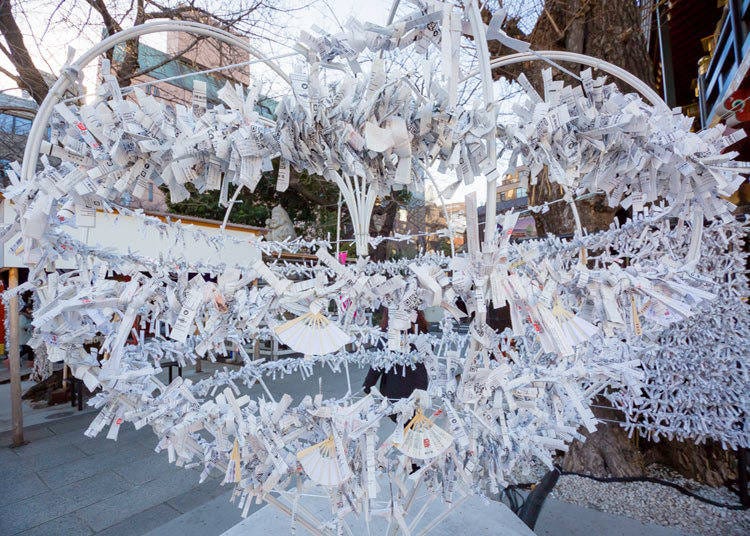 Aside from appreciating the many great works of art and the beautifully drawn ema throughout the shrine, don't miss an opportunity to say a prayer at the main shrine. Once you are done, you can receive an omikuji (fortune) and pick up a special charm from their wide selection. There are charms for success in business, marriage, sports, and more.

We here at Live Japan hope you have a pleasant visit to Kanda Myojin and are able to enjoy its unique appeal. If you take pictures there, make sure to tag them with #LiveJapan and share them with us on Instagram [@LiveJapan_Official] and Twitter [@LiveJapanGuide]!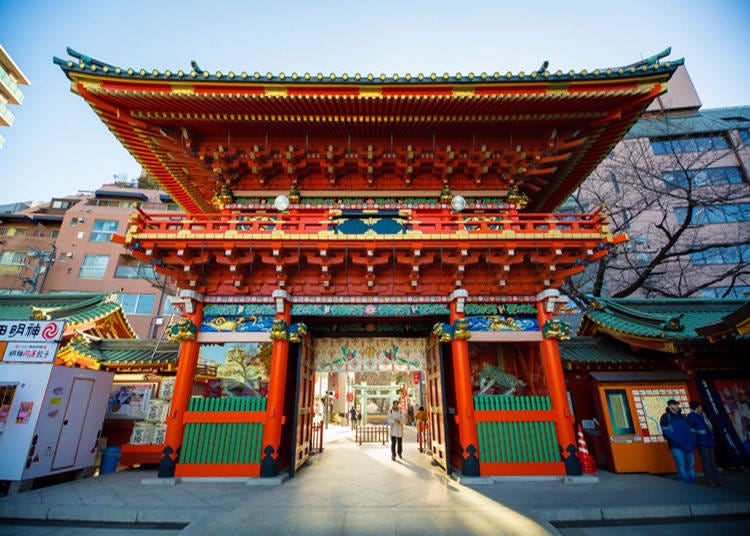 Kanda Myojin can be reached via a 10 minute walk from the JR Akihabara station or a 5-minute walk from either Tokyo Metro's Suehirocho station or Ochanomizu station.
Address

2-16-2, Sotokanda, Chiyoda-ku, Tokyo, 101-0021
View Map

Nearest Station

Suehirocho Station (Tokyo Metro Ginza Line)
5 minutes on foot


Phone Number

03-3254-0753
*This information is from the time of this article's publication.
*Prices and options mentioned are subject to change.
*Unless stated otherwise, all prices include tax.