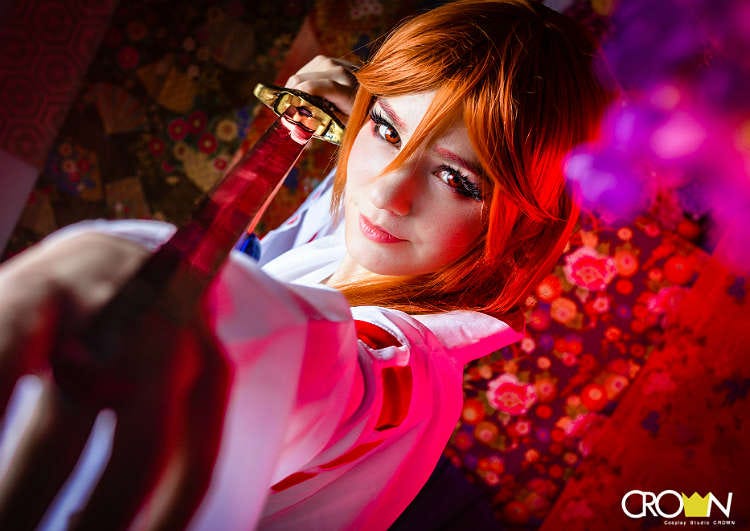 We're sure everyone who loves anime and manga has at some point wanted to become one of the heroes or heroines they saw on-screen. What better a time and place to have fun getting dressed up than during your Japan trip, in Akihabara! Today, we are going to visit the studio where your wish can finally be fulfilled!
Checking out Akihabara's Studio Crown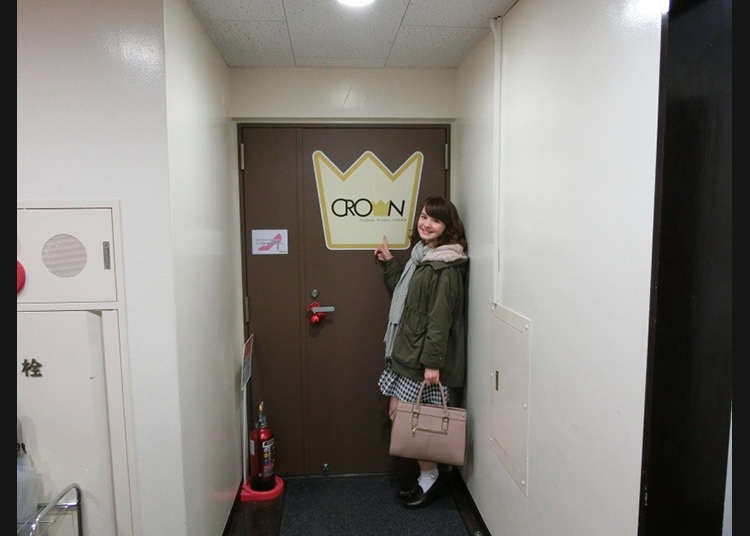 Studio Crown is a Tokyo cosplay studio perfectly located within a 6 minute walk from JR Akihabara Station's Electric Town Exit.

Given it's popularity, if you're itching to get your first cosplay here, you'll want to first make a reservation online at Studio Crown's website. This process is super easy, as an English version of the reservation form is available. Just enter your name, which country you are from, your email address, and telephone number, and simply select your preferred time. That reservation is your ticket to some serious cosplay fun!
Studio Crown's cosplay packages
There are three courses you can choose from to determine your cosplay experience.

With Course A at 3,000 JPY (excluding taxes), you get to dress in a Japanese costume such as a ninja or maid costume, miko (shrine maidens) costume, or yukata (summer kimono). You will be given one digital image and one Polaroid photo. You don't get to dress in a costume of an anime character, and the photo shoot time is rather short for this course, but this is the only course available that lets you stroll around Akihabara in a costume for an additional fee.

Course B is 6,800 JPY (excluding taxes), and you get to enjoy what Course A offers, as well as getting to rent an anime character's costume and wig.

Lastly, there is Course C. It is a bit costly at 12,000 JPY (excluding taxes), but this course includes what Courses A and B offer, plus more digital images, and makeup with the help of real Japanese cosplayers at the studio.
It's decided: Going for Miko Cosplay!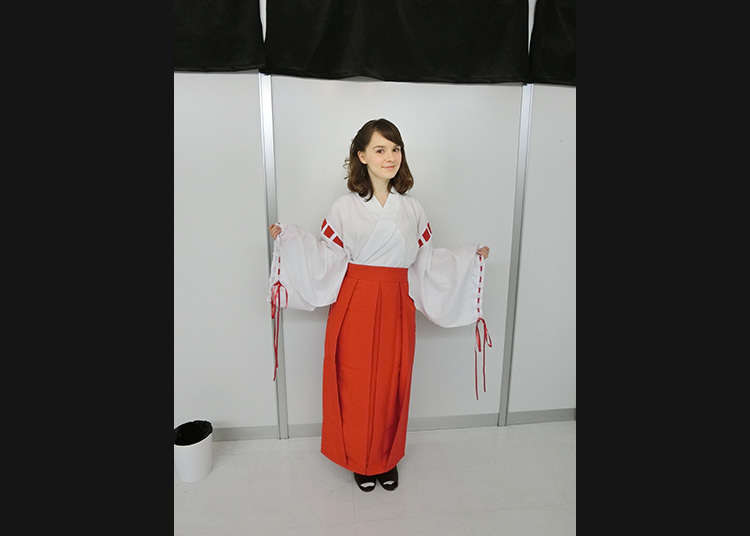 My choice is Course C. Makeup rather than the costume tends to be the more challenging aspect for cosplaying beginners, but, with this course, anyone can purely enjoy the cosplay experience without worrying about makeup.

You can even choose costumes of characters from the world-famous anime such as Naruto and Evangelion. You may also bring along your own costumes, but I have decided to dress in a simple miko costume this time!
Tape is a must-have for cosplay makeup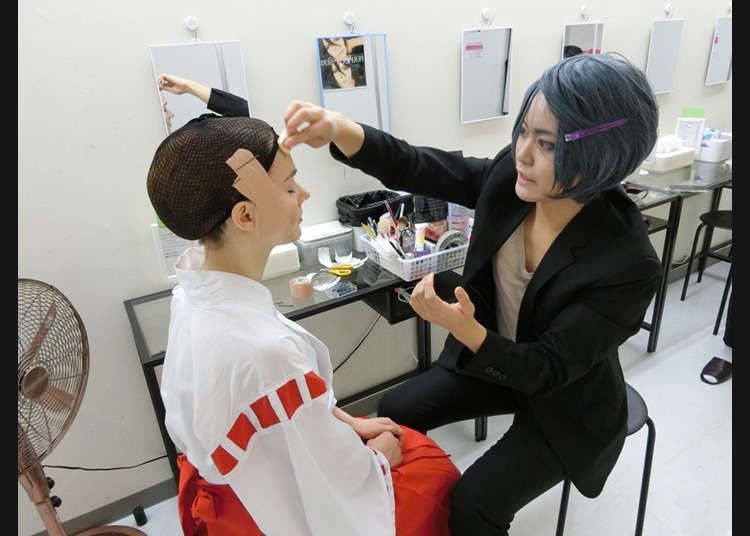 After your hair is fixed to prepare for putting on a wig and makeup, believe it or not, tape is up next. By reinforcing your face with tape, you can sharpen the contours of your face, and create the facial features of your desired character, such as slanted or droopy eyes. This tape is soft, so you don't actually feel pain, although you will feel a slight tugging sensation.
Experiencing cosplay makeup!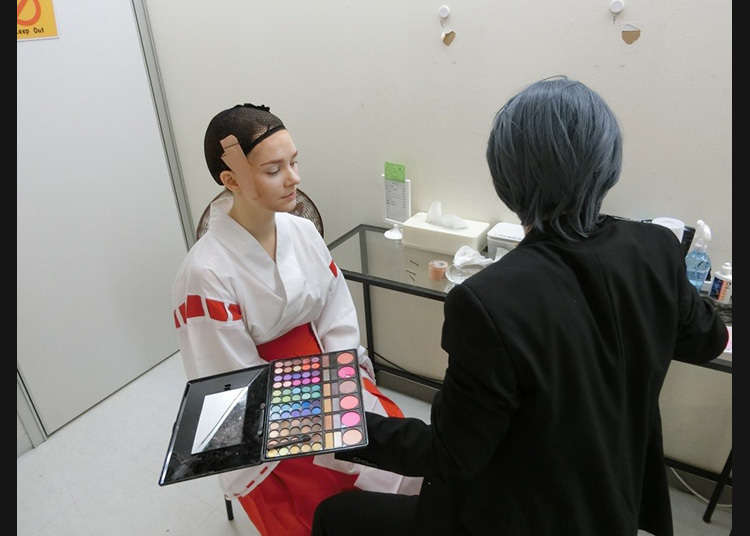 After your face is fixed up for cosplay, it's finally time for makeup. In order to get that anime character look, they do things like add shadows to the bridge of your nose, give a depth to the jawline so it looks narrow, change your eyebrow color to match your wig, and much more.
Putting on a wig for your cosplay outfit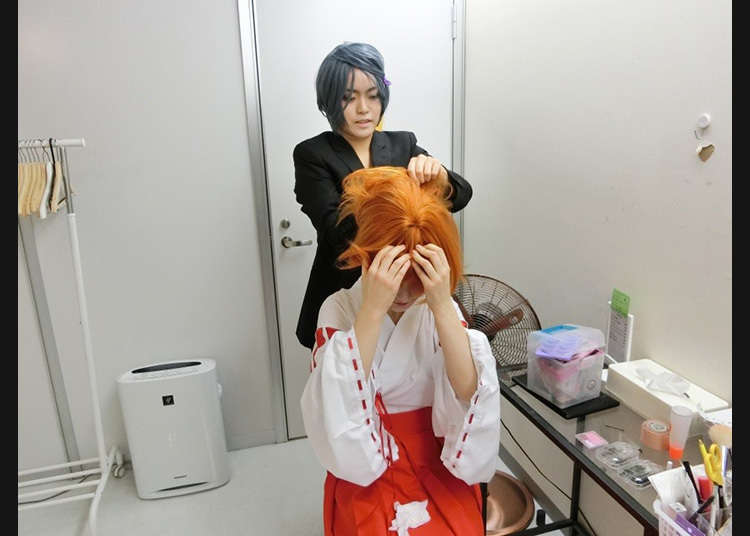 You do not simply wear a wig. Glue is applied over the tape on your face, and a wig is glued to your face. Doing so allows you to arrange your hair and makes your face look smaller. Regular makeup and cosplay makeup are very different, so getting the makeup done by real cosplayers is absolutely a worthwhile experience.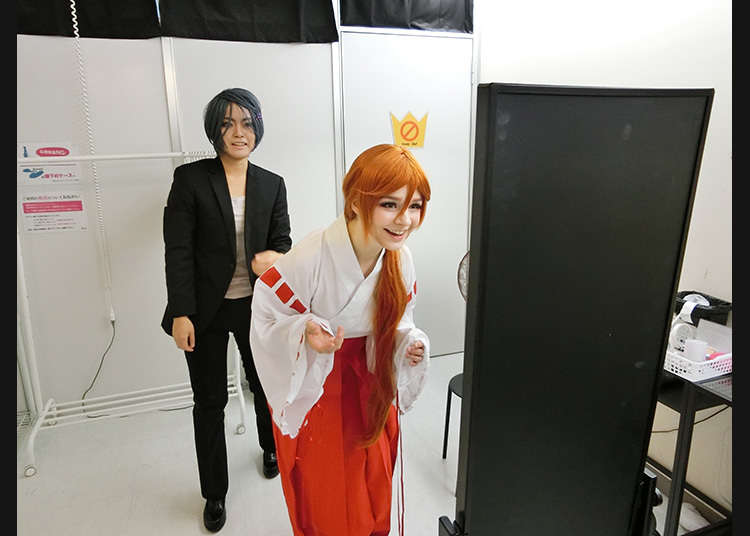 How surprising to see myself after cosplay preparation is done! Regular makeup and cosplay makeup are very different, so getting the makeup done by real cosplayers is absolutely a worthwhile experience.
Time for my incredible cosplay photoshoot!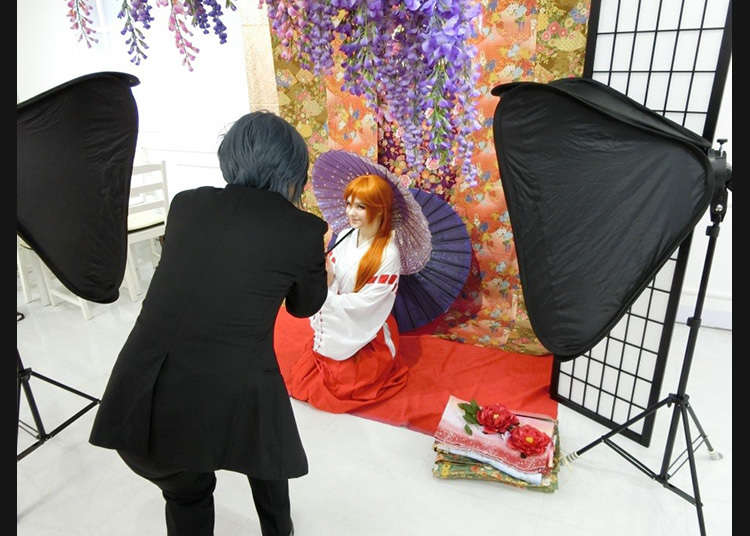 When your makeup and prep is done, it's time for your cosplay photoshoot! Professional staff are in charge of photo shoots, and about 100 photos are taken. The photos you receive are carefully selected from the many that were amassed during the cosplay shoot.
First cosplay photoshoot? No worries!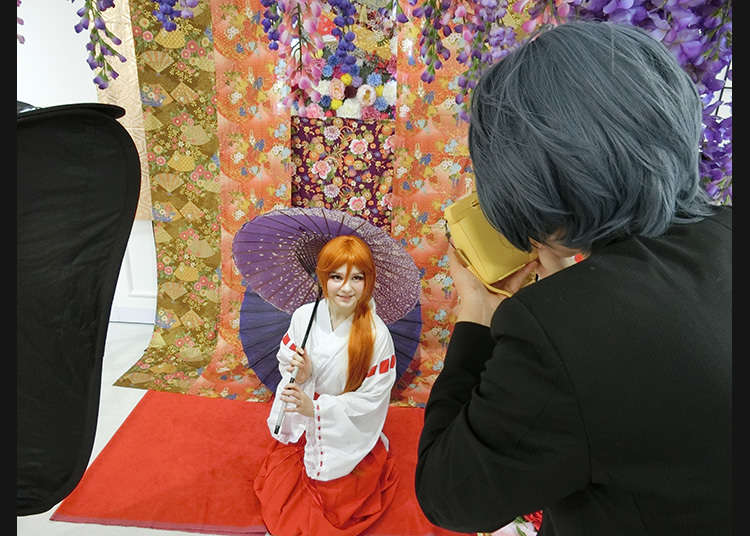 A photographer tells you how to strike the right pose for photos, so you don't have to worry even if you are not familiar with photo shoots or with posing for photos.
Make it a Japanese setting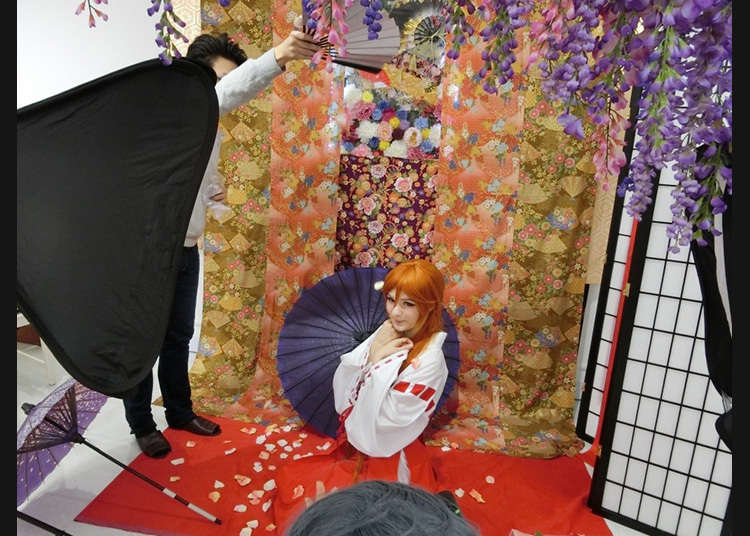 Only those who chose Course C get to pick the style of the studio setting for the photo shoot. The 4 settings available are a Japanese booth with a Japanese setting, a white booth with all-white interior decor, a modern and Gothic booth with gorgeous chandeliers and leather sofas, and a futuristic idol booth with shiny, sparkly holograms. You can rent accessories to go with each booth to create the photo of your dreams!
Looking like a completely different person in the cosplay photo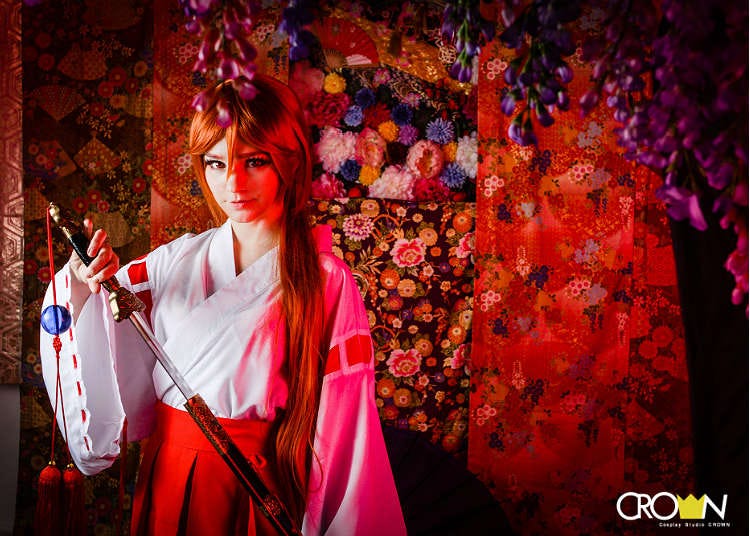 Here is the finished look. Because the studio tailored my look to a perfectionist's extreme, I look like a completely different person!
Leave your comment on the message board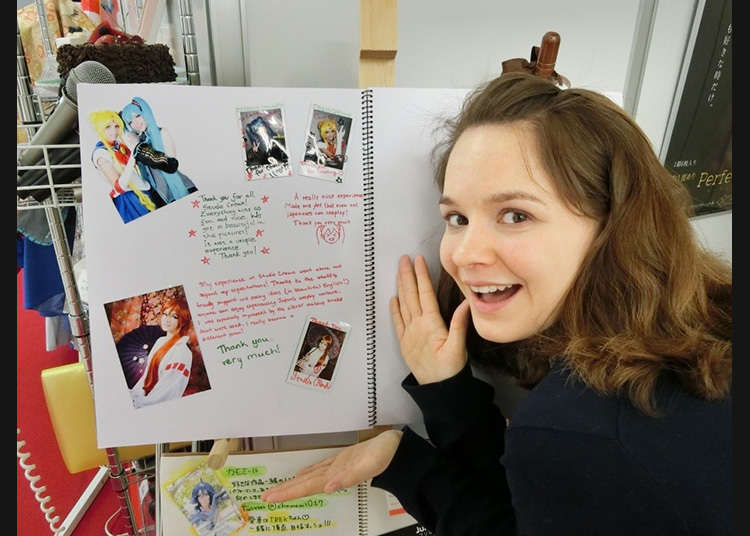 After your photo shoot, you can leave a comment on the message board and interact with others. My photo taken today is on display on the board, so do look for it if you happen to visit the studio.
Experience Japanese cosplay!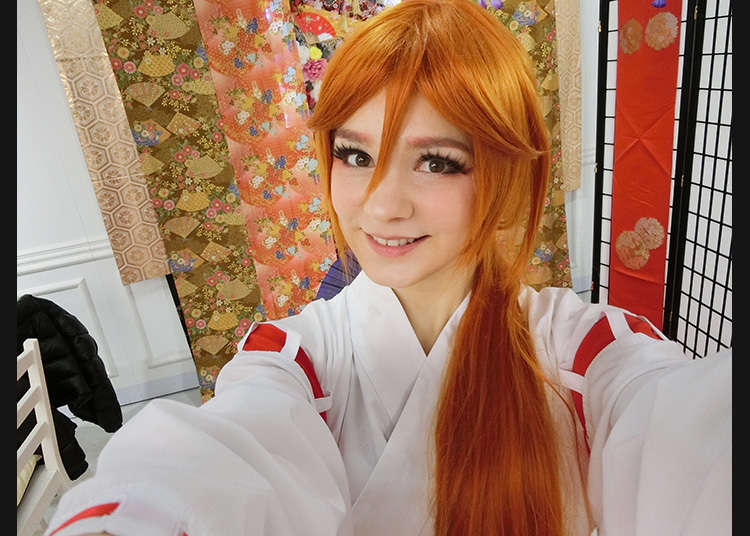 Make all your Instagram followers jealous by snapping photos in a costume you don't usually wear and with poses you don't usually strike! Unusual experiences excite everyone, and when in Akiba, well - why not experience Japanese cosplay?
スタジオクラウン

Address

2-4-6 Sotokanda, Chiyoda-ku, Tokyo 101-0021, Japan
*This information is from the time of this article's publication.
*Prices and options mentioned are subject to change.
*Unless stated otherwise, all prices include tax.
Limited time offer: 10% discount coupons available now!