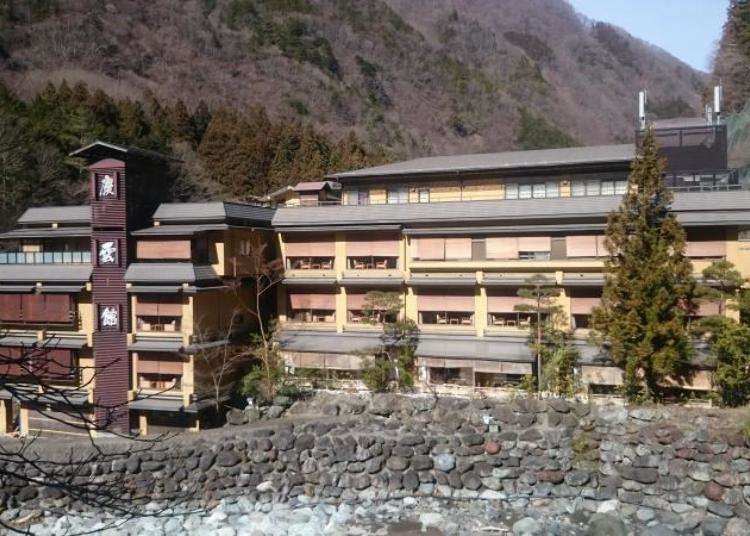 Japan is full of places with long histories and well-preserved traditions that have withstood the test of time. Through careful preservation, many still retain their old-fashioned atmospheres that modern structures do not have. This is a unique part of Japan, which values its history and traditions. And today's plan will introduce one highly-recommended spot you won't want to skip during your next visit to Japan!

Here, we'll check out Nishiyama Onsen Keiunkan, a traditional inn in Yamanashi Prefecture that the Guinness World Records have recognized as the oldest hotel in the world!
Nishiyama Onsen Keiunkan: The world's oldest hotel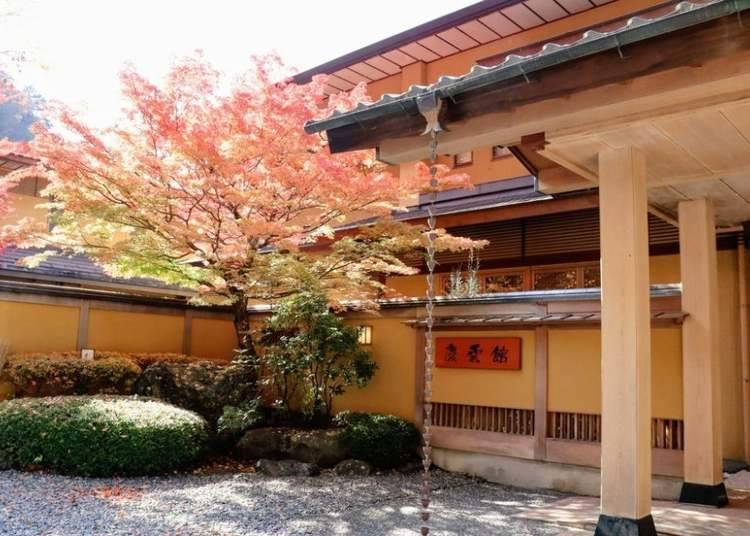 Nishiyama Onsen Keiunkan is located in the mountains of Hayakawa-cho in western Yamanashi Prefecture in the Chubu Region. It's about three and a half hours from Tokyo by car. Incidentally, Hayakawa-cho is also the town with the smallest population in Japan.

Its history is astonishing. The springs were discovered in 705, over 1,300 years ago! Since then, the water has gushed forth without pause, to this very day.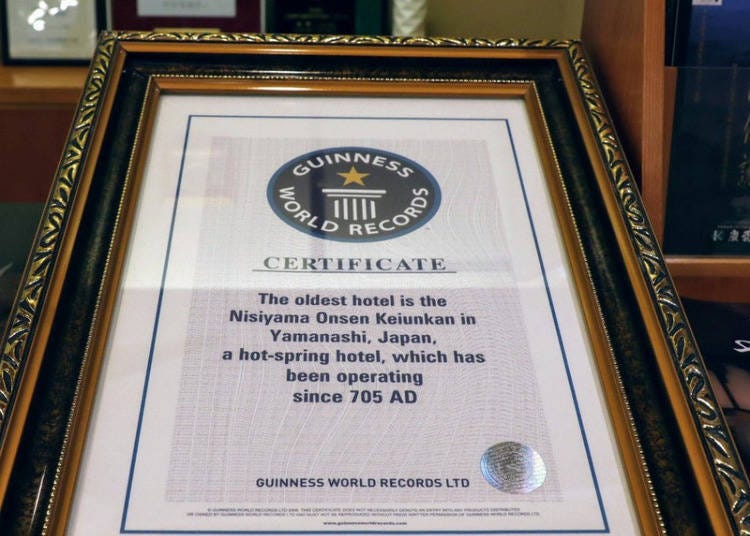 Keiunkan was established in 705, and in 2011, was recognized by the Guinness World Records as the inn with the oldest hotel in the world. As a result, tourists flocked in from all over pre-covid, despite the inn's out-of-the-way location.
Straight from the source! Authentic onsen with 6 different baths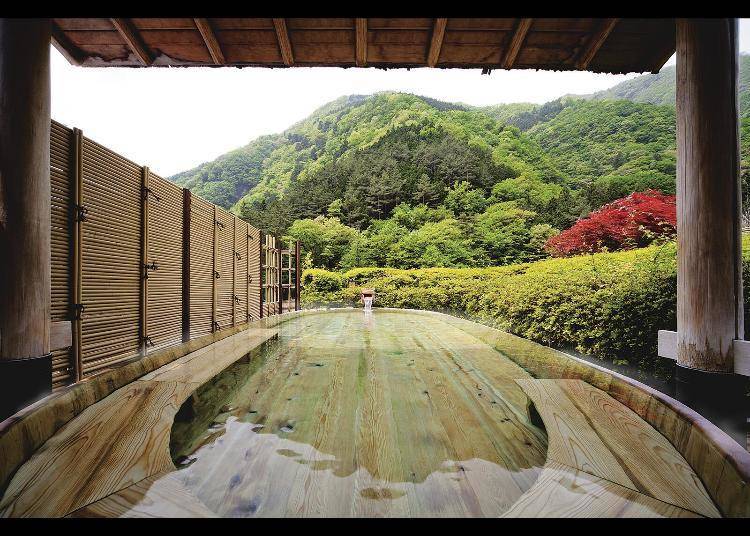 The appeal of Keiunkan is its historical, natural hot springs. There are five hot spring sources, which gush nearly 1,630 liters of hot water per minute. These springs also offer several health benefits, including alleviating gastrointestinal disease, muscle pains, and constipation, as well as providing beautifying effects for the skin!
What "from the source" means is that the water is taken from the springs and used as-is, without diluting it or artificially altering the temperature. This one spring provides all the water in its natural, unaltered state to not only the hot springs (in the large public bath) but also the guest room baths, showers, and general hot water supply.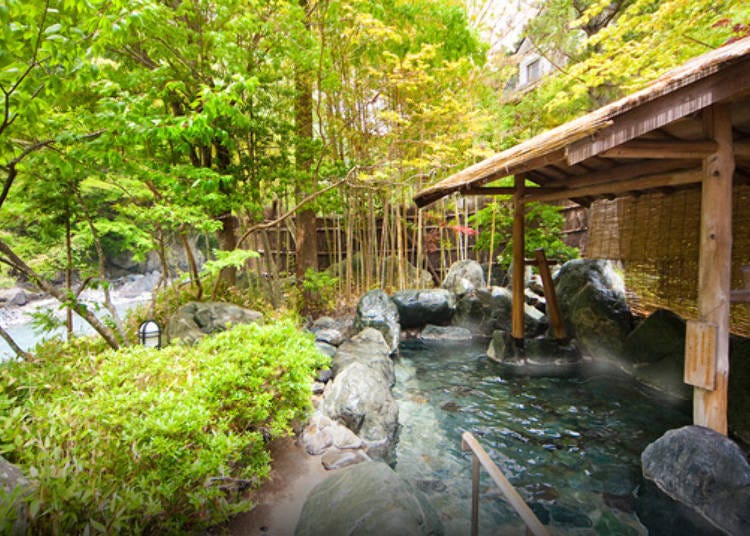 There are six types of hot springs, each with a different vibe. The open-air bath, cypress bath, and stone baths each boast a fantastic scenic view of the mountains surrounding the inn. The hot springs' bathing times differ for men and women, so pay attention to that as you make plans. For a soak to your heart's content, Keiunkan is the place to visit!
Authentic Japanese inn & guest rooms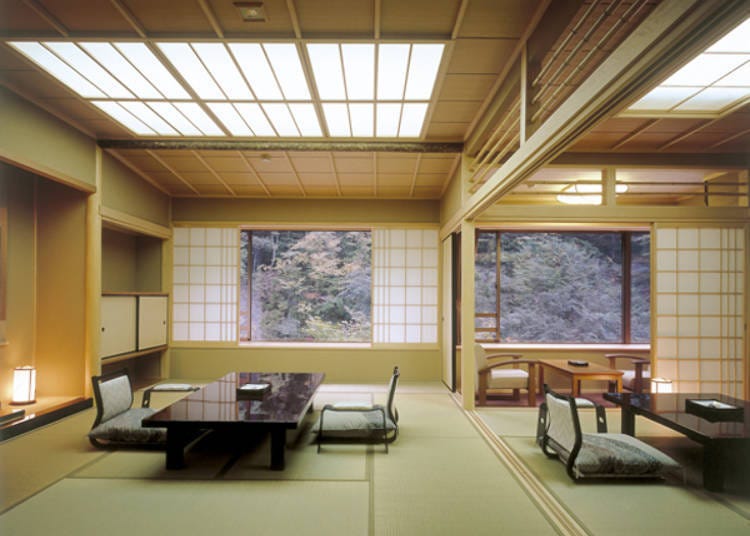 The current building was built in 1983. (The previous building was washed away by the river three times in the past.) However, all guest rooms retain traditional Japanese charm with wooden structures. All guest rooms are also equipped with hot spring baths, which are sure to be a welcome addition for all guests!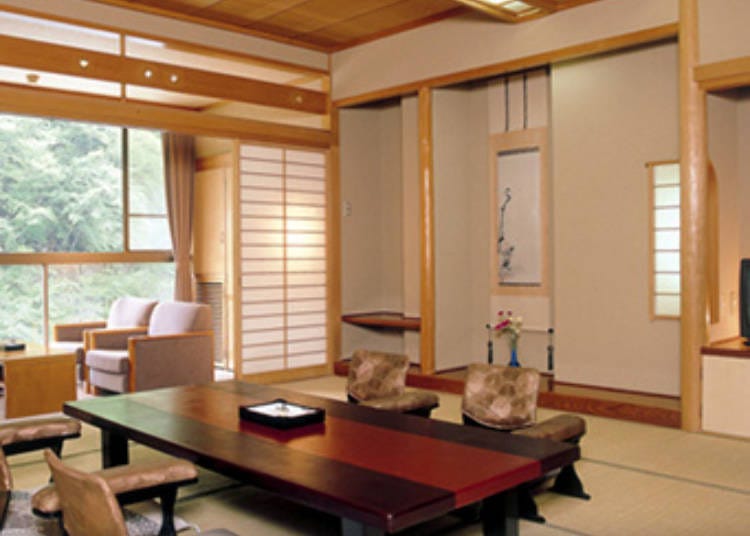 The image shows a standard Japanese-style room with its typical ryokan atmosphere. There are six special themed rooms, as well. For tourists, our top recommendations are the Tsukimidai Room and Kitadake Room.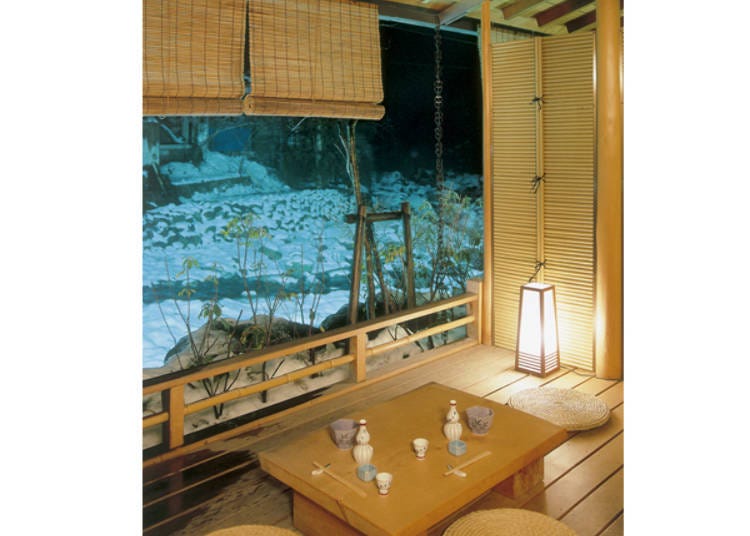 Special Room: Sukiya-zukuri guest room with tsukimidai (moon-viewing table)
This room is made in the traditional Japanese architectural fashion called sukiya-zukuri. This style incorporates the same construction methods as a tea room (a special room for serving guests during a tea ceremony).

As the name suggests, it also includes a tsukimidai - a scenic, veranda-like spot built explicitly for viewing the moon. It's the perfect place to kick back, grab a drink, and hang out with friends and family as you admire the moon and the surrounding nighttime scenery. This room is positioned right next to the river and makes you feel at one with nature.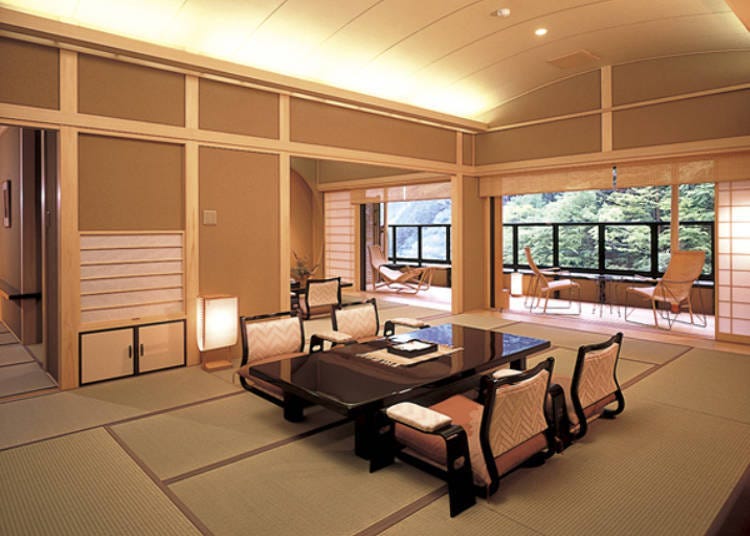 Special Room: Kitadake, a special guest room with an open-air hot spring bath
The Kitadake room's location makes the most of the inn's environment and boasts an outstanding view that overlooks the Yukawa and Hayakawa valleys. This private room has an open-air bath, a 16-tatami and 8-tatami room, and a front parlor, making it an ideal spot to spend your well-deserved vacation.
Enjoy delicious Kaiseki cuisine by an award-winning chef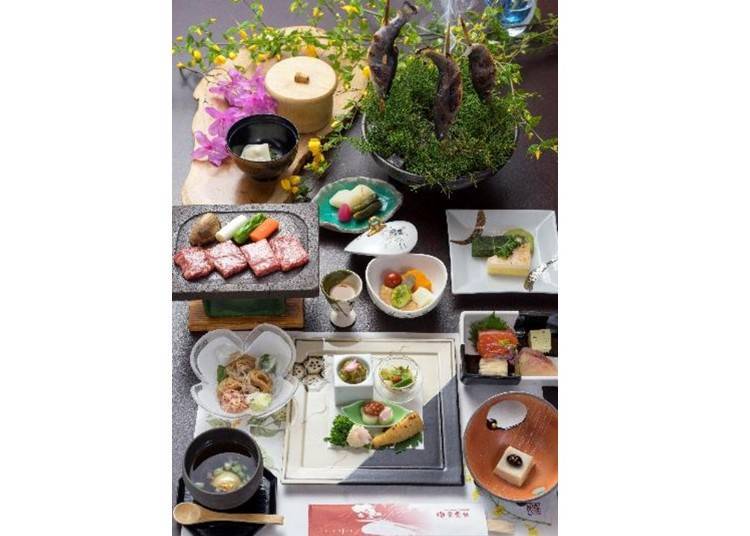 And you won't want to miss out on the traditional Japanese cuisine, kaiseki ryori*. This style focuses on keeping hot foods hot and cold foods cold, so you can indulge in each delicious dish as it's meant to be enjoyed.

Meals are prepped by an award-winning head chef, who has claimed victory at several Japanese cooking contests, using only the freshest ingredients from the local mountains and rivers.

One of the top recommendations is the A5-rank Koshu beef Yogan-yaki, grilled on hot lava stone. Feasting on delicious local delicacies is just one of the pleasures of a stay at Keiunkan!

(*Kaiseki ryori: Japanese multi-course meal served at parties and other occasions that typically include alcohol.)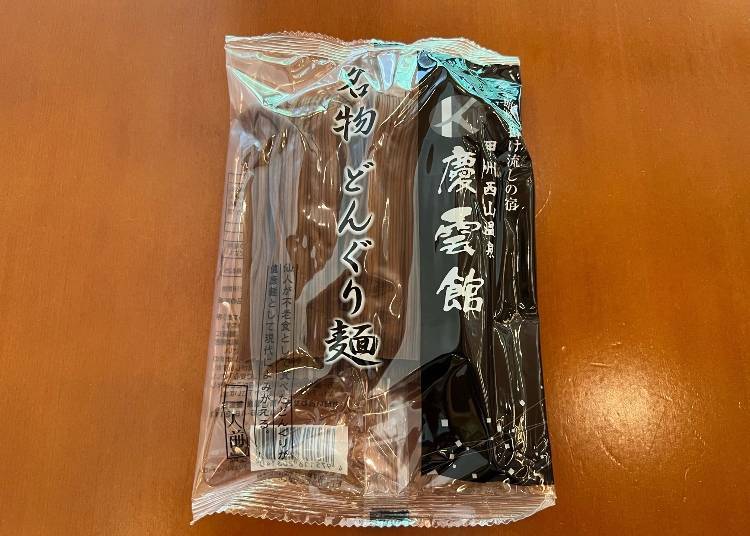 Keiunkan sells souvenirs, too! One popular must-buy item is their original 'Acorn noodles,' which are made using acorn flour.
Nishiyama Onsen Keiunkan - a historical ryokan inn that's been nestled deep in the mountains for centuries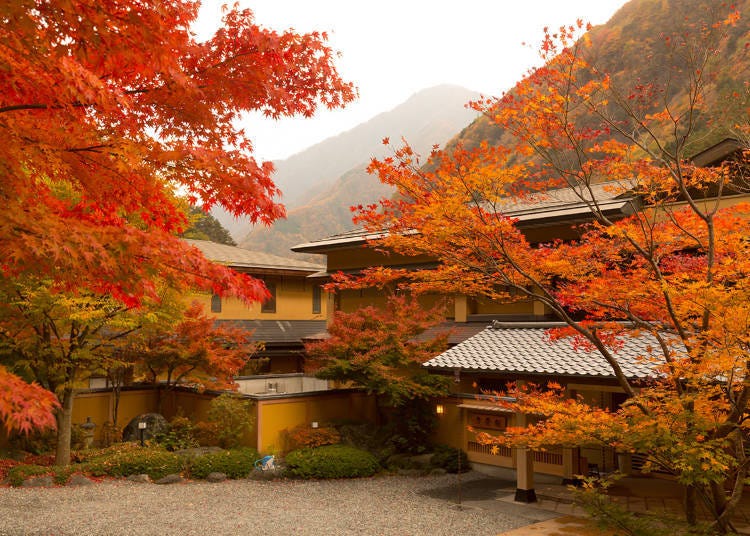 Springtime brings cherry blossoms and the songs of warblers, and mountains turn green in the summer. Bright oranges and reds decorate the foliage in autumn, and wintertime brings light snow and beautiful landscapes of the Hayakawa River. Keiunkan is an inn that offers a glimpse of nature as it appears in every season.

This traditional ryokan is located deep in the mountains, about an hour away by car from the nearest train station, JR Minobu Station (a free shuttle operates once daily). Whether visiting by train or car, you'll want to set aside plenty of time to get here.

However, it is precisely because of its location, nestled deep in the mountains and surrounded by rivers and hot springs, that its long history has been preserved as well as the world's oldest hotel.

Keiunkan is the only place in the world where you can soak in a spring that remains as it was 1,300 years ago. So take a trip, and relax body, mind, and soul with a valuable experience that only Keiunkan can offer!

Health & Safety Measures
Sanitizer available - Disinfected after each guest - Indoor disinfection measures taken - Coin trays used - Plastic partitions installed - Staff wear masks, gargle, wash hands regularly, and monitor body temperature - Capacity limited/increased space between seats - Admission restricted; reservations advised - Entry declined to anyone feeling unwell - Masks requested/temperature check enforced - Restrictions on room service (entry) for staff - In-room check-in available (Reduces time spent in the lobby)

Other measures:
Elevator entry limit - Vacant private rooms may be used for dining

Multilingual Support
Multilingual staff currently unavailable (Available pre-covid)

Facility Information
・No. of rooms: 22
・Hours: Check-in from 3:00 p.m. / Check-out at 10:00 a.m.
・Rates: From 25,300 yen

*Price per person, two people per room (includes room charge, breakfast, service fees, and tax)
Address

Nishiyama Onsen, Hayakawa, Yamanashi, 409-2702
View Map

Vacancy search, reservation

from

59,400JPY

1room, 2adults

Check with our partner site as the latest rates, rate details, and guest room requirements may vary.
Information in article as of September 2022. Please see official website for latest information.

Translated by Krys Suzuki
*This information is from the time of this article's publication.
*Prices and options mentioned are subject to change.
*Unless stated otherwise, all prices include tax.