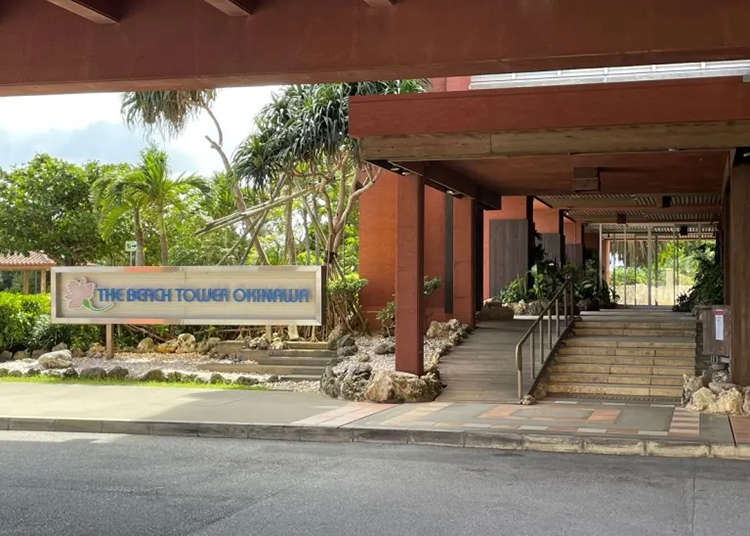 Sister property to Japan's best business hotel-breakfast chain lets you start your day the beer, steak, and ice cream way.


There are some pretty standard things that come to mind when you think of a hotel breakfast buffet. Scrambled eggs, sliced fruit, milk, orange juice, things like that. And yeah, that's all on offer at the hotel we stayed at on our recent trip to Okinawa, but it's the other things you'll find in their buffet line that made it a meal we'll never forget.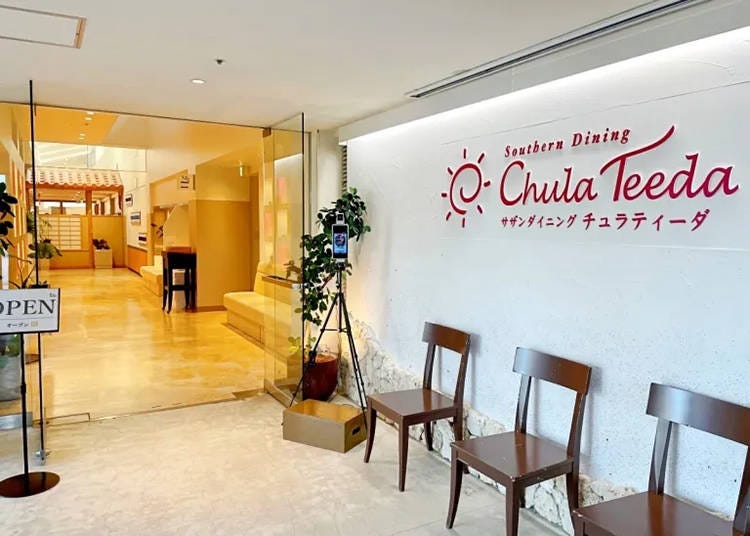 We stumbled across this amazing morning meal at The Beach Tower Okinawa, a seaside hotel located about 40 minutes by car from Naha Airport, Okinawa's main air travel hub. After our first night in the hotel, we got up bright and early the next morning and made our way to the Chula Teeda restaurant on the first floor, where the breakfast buffet is served, shortly after 7 a.m.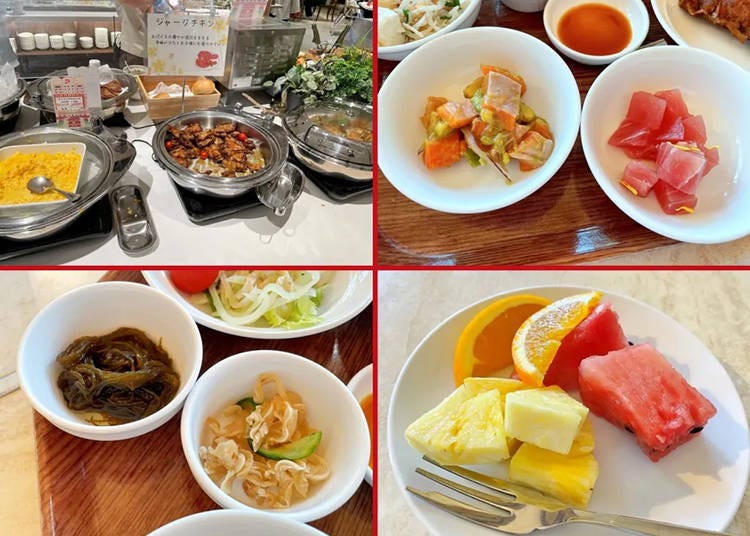 The buffet is a mix of Japanese and Western-style dishes, which is often the case at hotels in Japan. In addition, since Okinawa has a unique and rich food culture, there are also plenty of local specialties in the buffet line, like goya chanpuru (stir-fried bitter melon)...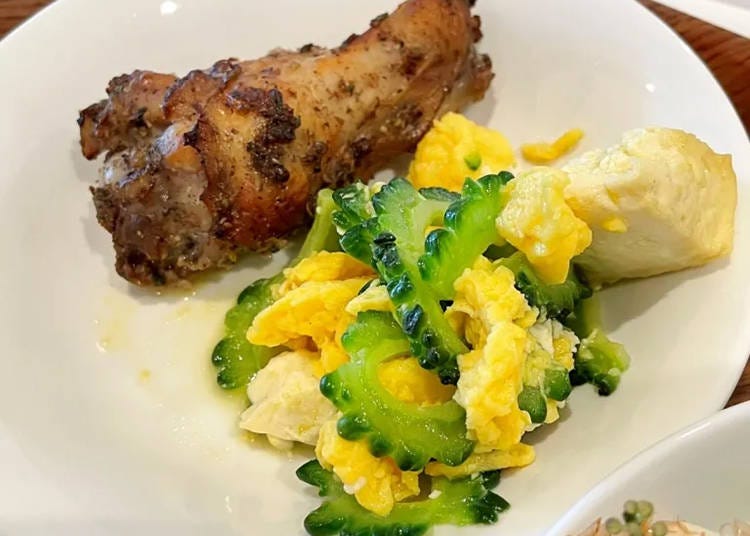 ...umi budo (literally "sea grapes"), a kind of bulbous seaweed...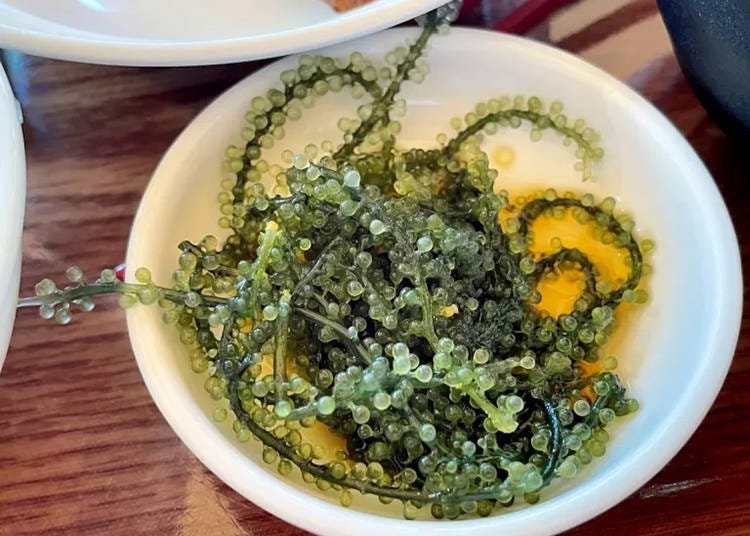 ...and taco rice.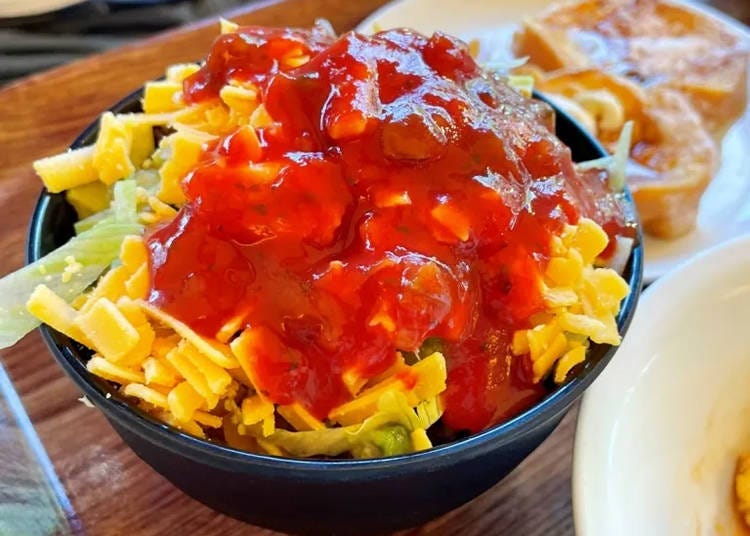 But then things start to get downright decadent. If you wake up with a big appetite, The Beach Tower Okinawa's breakfast buffet has a plate of hamburger patties next to a box of buns and all the fixings you need to make as many breakfast burgers as you want.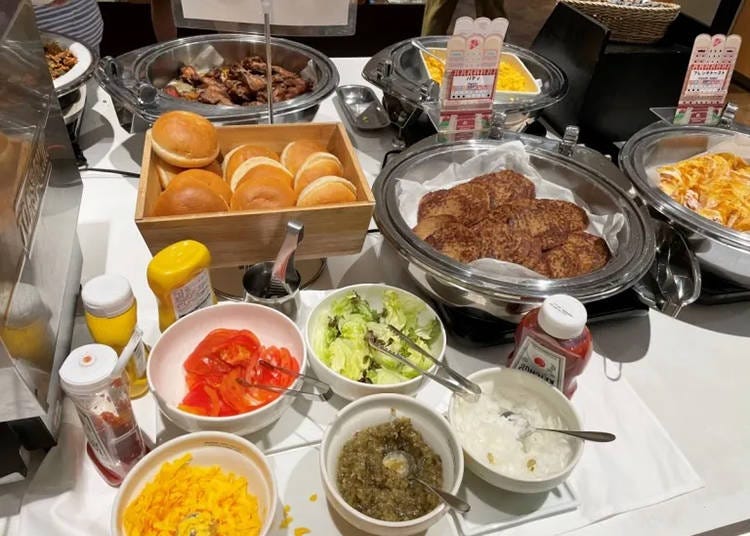 And if you think all that bread and veggies is just getting in the way of the beefy bliss you desire? No problem, because the buffet also has all-you-can-eat steak!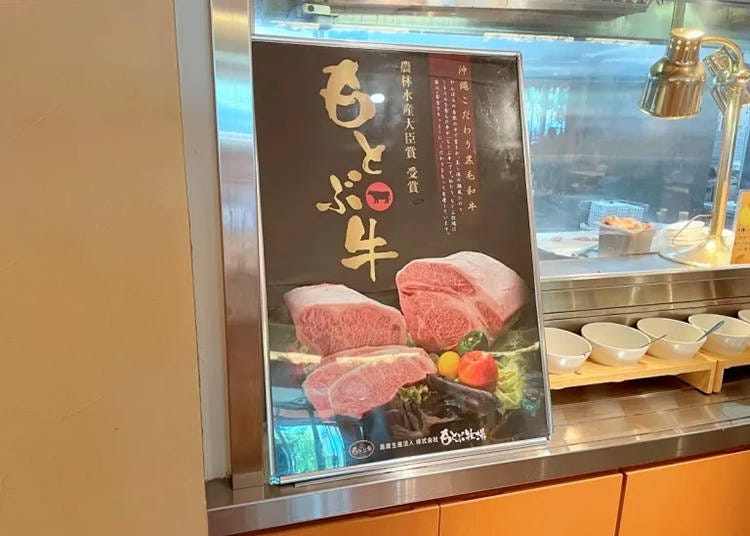 What's more, these steaks are premium Okinawa-raised Motobu beef.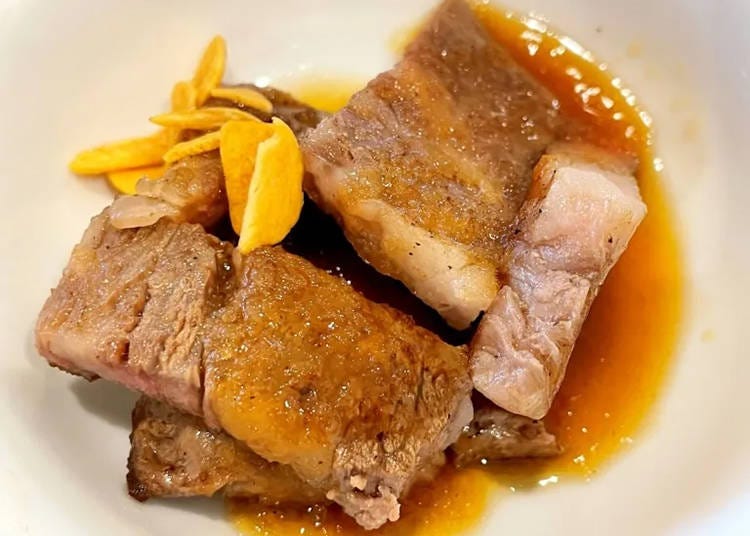 If you've never started your day the steak way, let us tell you, there are few things in life that will feel more luxurious. Oh, and don't worry – the hotel doesn't cheap out with cheap, tough cuts of beef either. Our steak was tender, juicy, and thick, and we could go back for as many more slices as we wanted.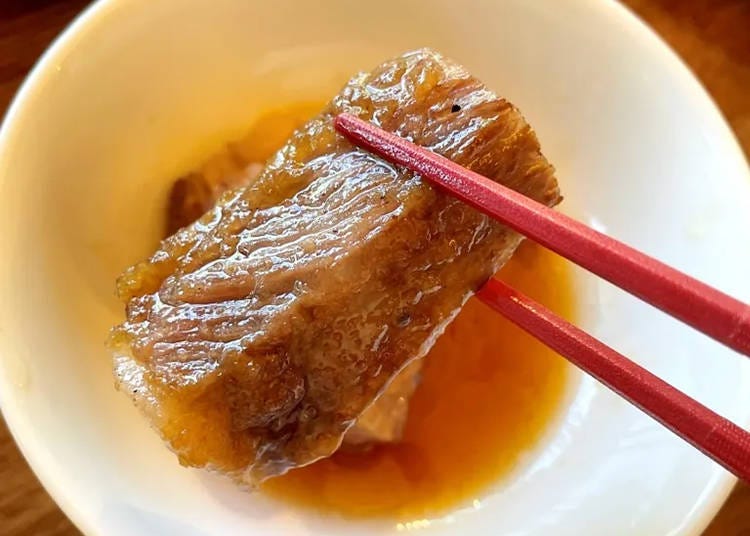 But since we said there are few things more luxurious in life than having steak for breakfast, that means that there is, in fact, an even higher level of luxury, right? Yep, and it's waiting in the buffet's drink corner...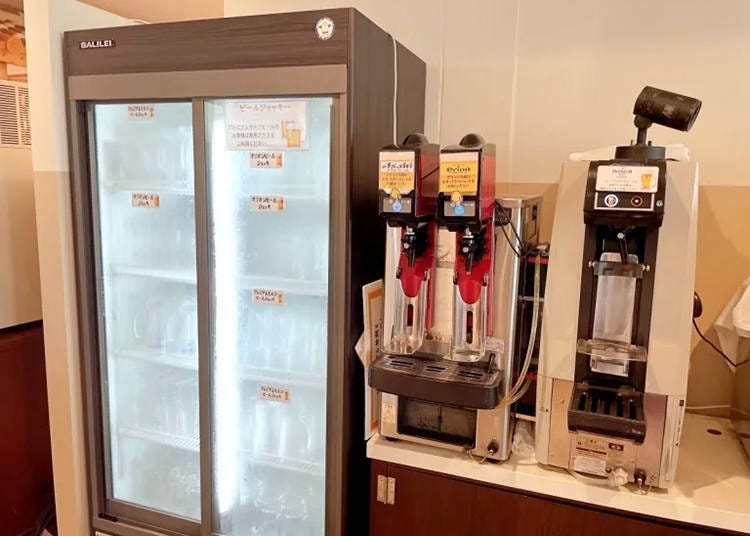 ...where we found a self-serve draft beer machine!?!

▼ Three of them, actually, with separate pouring stations for Asahi Beer, Suntory's Premium Malts, and Orion, Japan's favorite locally produced brew.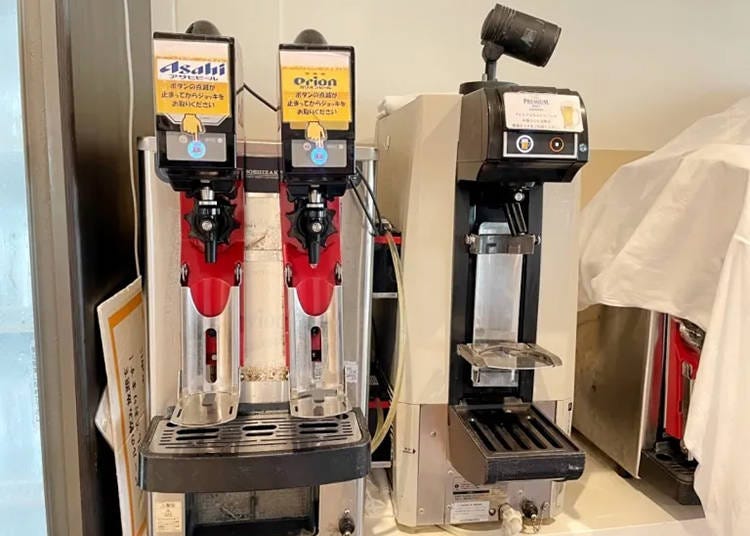 At first we figured these had to be for the dinner buffet the hotel has in the same spot. But nope, The Beach Tower Okinawa is proud to offer all-you-can-drink beer from 7 in the morning, even going so far as to post signs letting everyone know about it.

▼ 朝バイキングで生ビール飲み放題 = All-you-can-drink draft beer with our breakfast buffet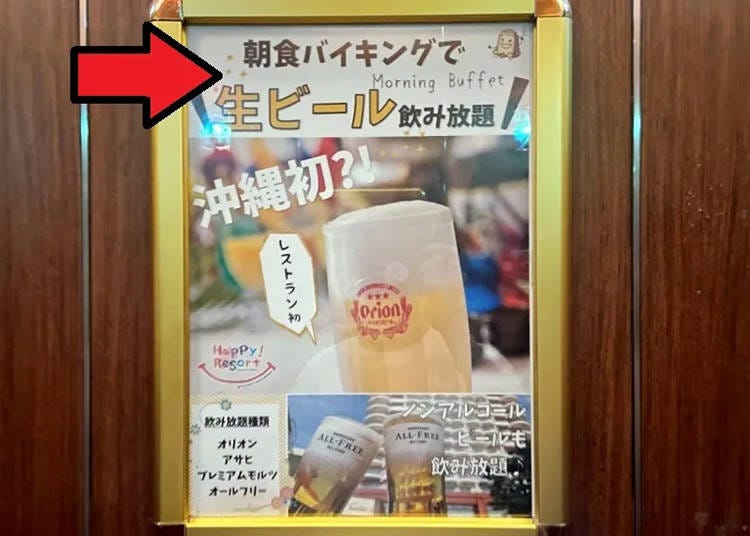 It's not like this is a half-effort afterthought by the hotel either. The refrigerator next to the beer servers is filled with frosted mugs to make sure your morning beer is extra crisp and refreshing.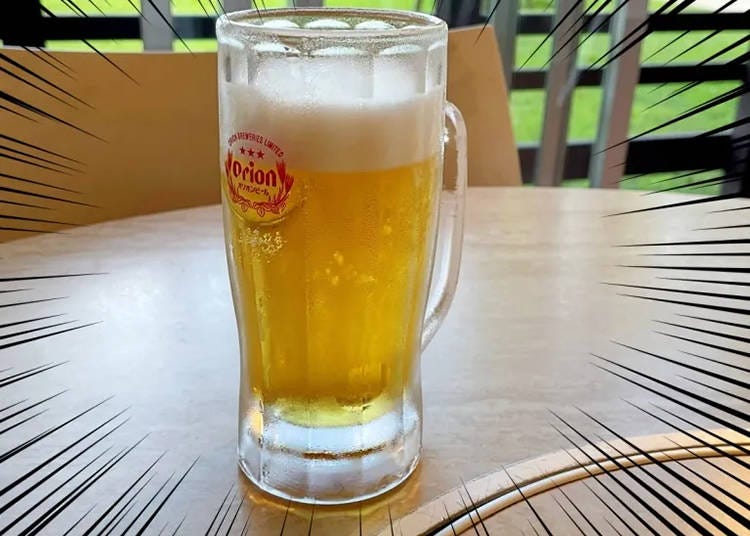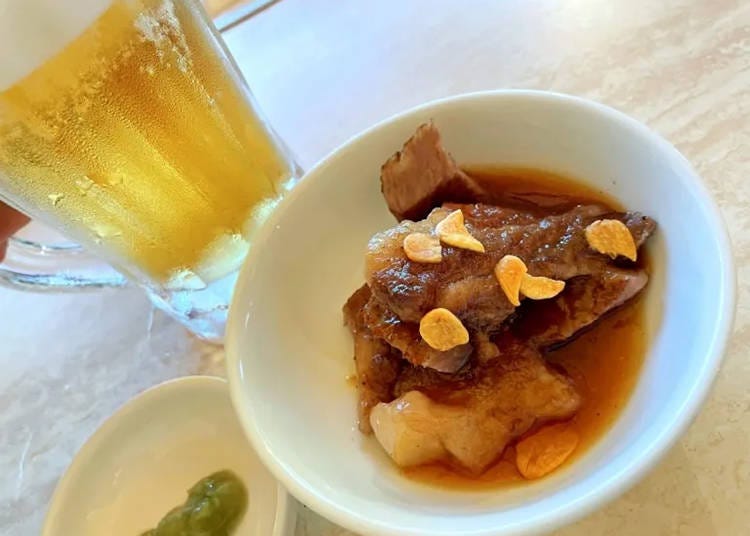 Taking a seat on the terrace and alternating between bites of steak and sips of beer, we found ourselves feeling immensely satisfied with how our day was turning out, even though it was just getting started. And just when we thought this meal couldn't get any better, we noticed another local Okinawan specialty that's part of the breakfast buffet...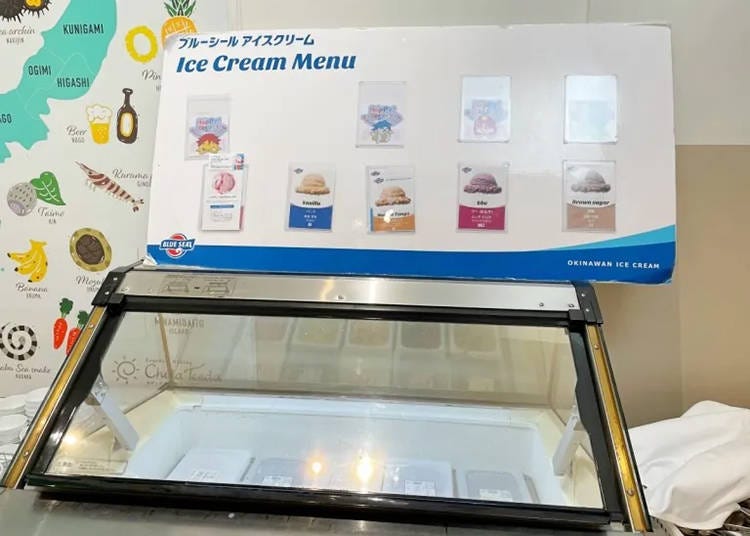 ...Blue Seal ice cream!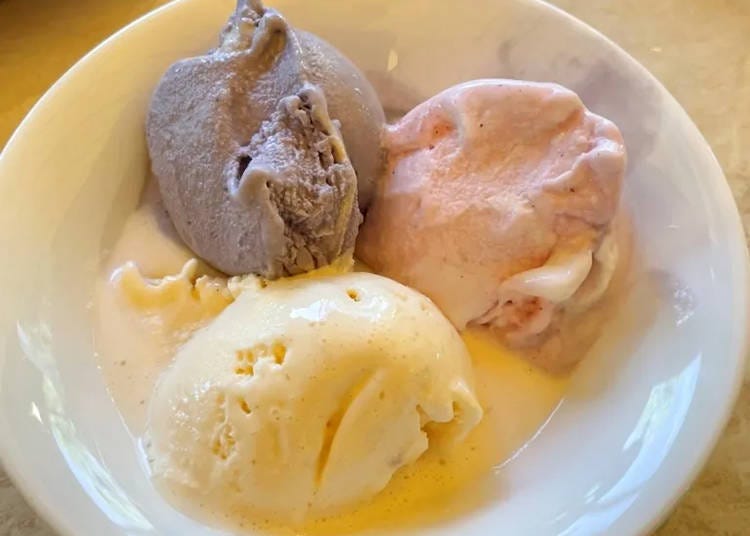 So how much does The Beach Tower Okinawa's breakfast buffet cost? For adults staying at the hotel, it's 2,200 yen (US$16), which is very reasonable for a hotel of this caliber in Japan, and even the non-guest price of 3,300 yen is low enough that you could easily come out ahead on the unlimited steak and beer. For elementary school-age kids the guest price is 1,100 yen and the non-guest 1,650, and for children not yet in elementary school guests are free and non-guests 1,100 yen. Obviously little tykes won't be able to take advantage of the all-you-can-drink beer, but the unlimited ice cream will still make you a hero in their eyes.

All in all, The Beach Tower Okinawa's breakfast buffet is one of the most memorable we've had, but after doing some more checking around, maybe we shouldn't have been so surprised since it turns out the hotel is managed by the same group as the Dormy Inn hotel chain, which also has some of the best breakfasts budget-minded travelers will come across in Japan.

Hotel information
Address

Mihama 8-6 , Chatan, Okinawa, 904-0115
View Map

Vacancy search, reservation

Please enquire directly about rates.

Check with our partner site as the latest rates, rate details, and guest room requirements may vary.
Photos ©SoraNews24
Related stories
*This information is from the time of this article's publication.
*Prices and options mentioned are subject to change.
*Unless stated otherwise, all prices include tax.
Limited time offer: 10% discount coupons available now!